This post may contain affiliate links. Full disclosure policy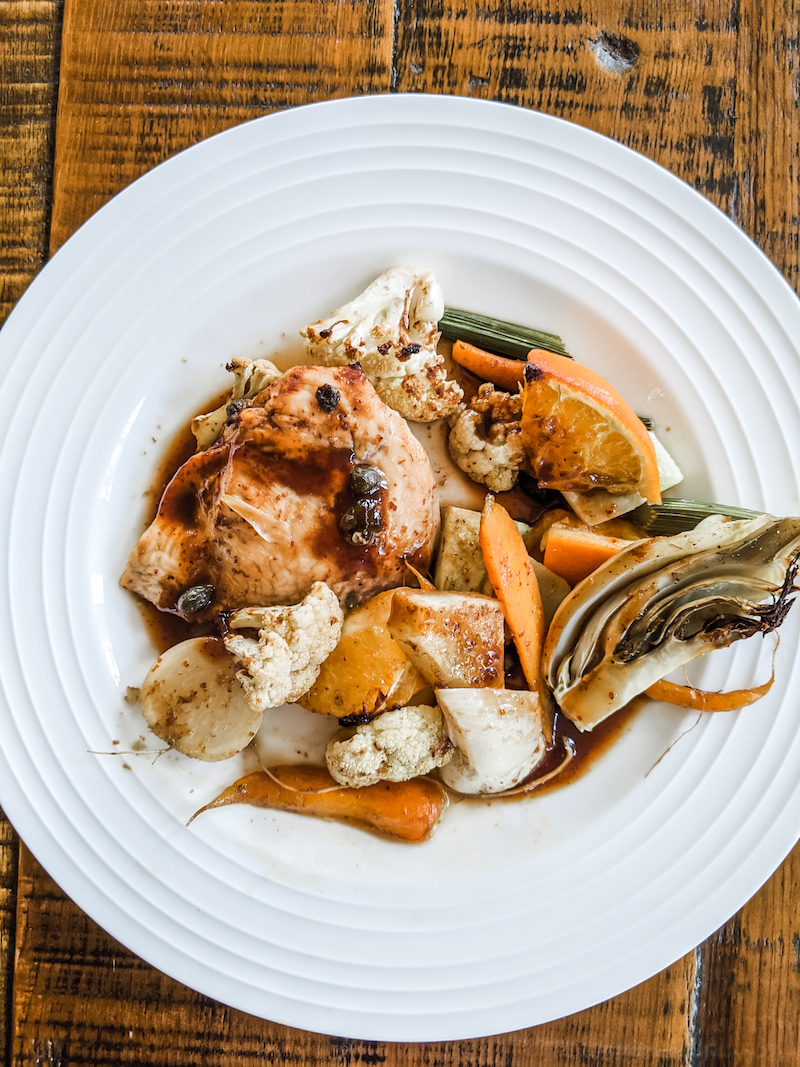 This summer, Wednesday has become my favorite day of the week. That's the day I drive to town and pick up a CSA share of summer vegetables from my local organic farm.
I never really know what I'm going to get and that's part of the fun. It's like one of those cable cooking competitions where the chefs have to create a recipe from a mystery ingredient. Picture it with me. The drum rolls. The handsome host lifts a domed lid from a tray with a flourish and shouts, "This week's ingredient is…kohlrabi!"
New Veggies Call for New Sheet Pan Chicken Recipes
My local farmer has introduced me to all kinds of veggies, things I've eaten only rarely, and some that I've never even heard of. And this time of year, my CSA share is bursting with so much bounty that I really have to get creative to find ways to use it all. But it's a good problem to have and the kind of culinary challenge I look forward to meeting.
Some of my attempts are more successful than others. But I have to say, I kind of hit it out of the park with this recipe for my Citrus Sheet Pan Chicken with Summer Vegetables. It's super tasty, healthy, loaded with a variety of beautiful fresh summer vegetables, and transforms plain chicken breasts into tender mouthfuls of absolute yum!
You know, I have a kind of love/hate relationship with boneless skinless chicken breasts. I love that they're a low-fat, low-calorie protein. And I really love that they're ZERO points on my Weight Watchers blue program (also on purple). But what I DON'T love about chicken breasts is the taste – there kind of isn't any.
Not so with my Citrus Sheet Pan Chicken with Summer Vegetables!
A Plethora of New Veggies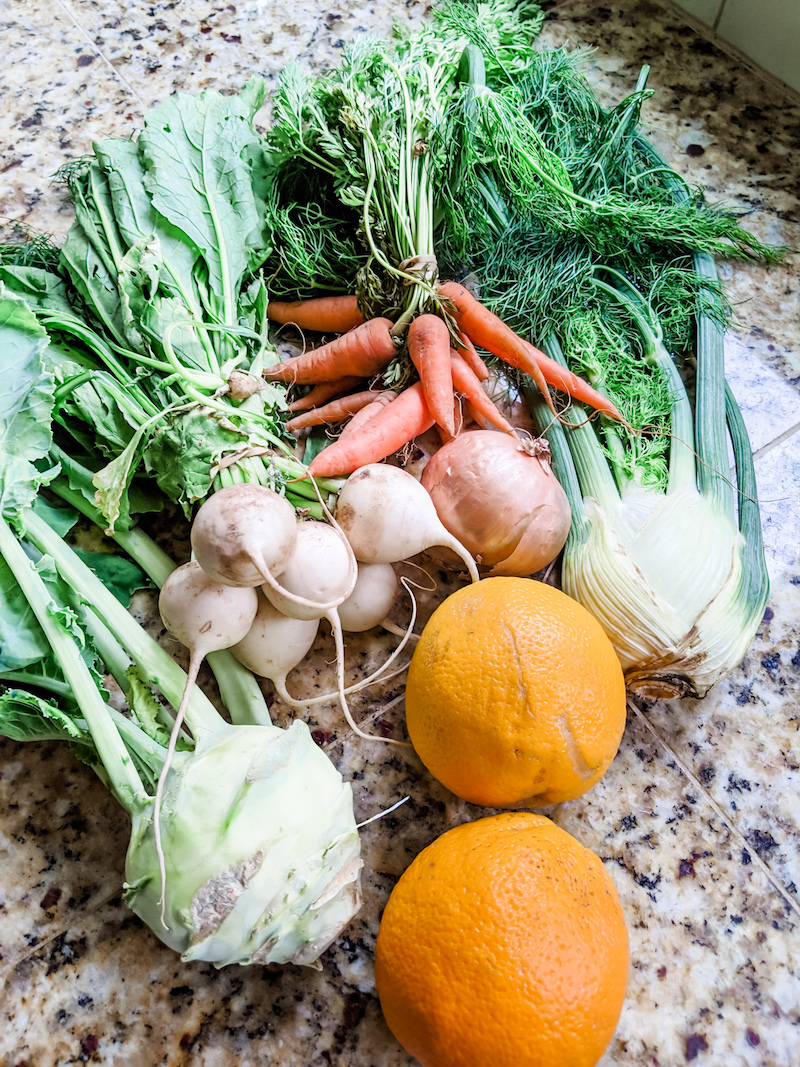 My simple-to-make sauce of orange juice, balsamic vinegar, honey, Dijon mustard, and capers is kind of magical. It turns boring old chicken breasts into something you'll actually look forward to eating. And that's the kind of magic trick that everybody can use, right?
But let's talk about those summer vegetables for a moment.
For this recipe, I just used whatever came in my CSA that would stand up well to oven roasting. Carrots and cauliflower are always great in the oven, so are fennel bulbs. Some people aren't crazy about the taste of fennel but it takes on a mellow sweetness when it's roasted in the oven. The same is true of radishes. For years, the only way I'd eat radishes was if they were spread with butter and sprinkled with salt. But that was before I realized that radishes could be oven roasted – now they're one of my favorite summer vegetables.
(If you're looking for more radish recipes, be sure to check out my recipe for Roasted Radishes with Feta Mint Sauce. It's a winner!)
The Secret Touch to This Sheet Pan Chicken
Kohlrabi is another one of those summer vegetables that I'm not always sure what to do with. Normally, I just peel it, slice it thin, and serve it raw with some dip. But kohlrabi becomes a whole different thing when you roast it in the oven, especially when you add an orange to the mix.
Yes, that's right. I roasted an orange alongside my summer vegetables – peel and all. That fresh orange flavor gives my Citrus Sheet Pan Chicken With Summer Vegetable the perfect balance of sweet to savory. It's also really pretty! We eat with our eyes as well as our stomachs, so making a dish that's colorful adds a lot to the pleasure of eating.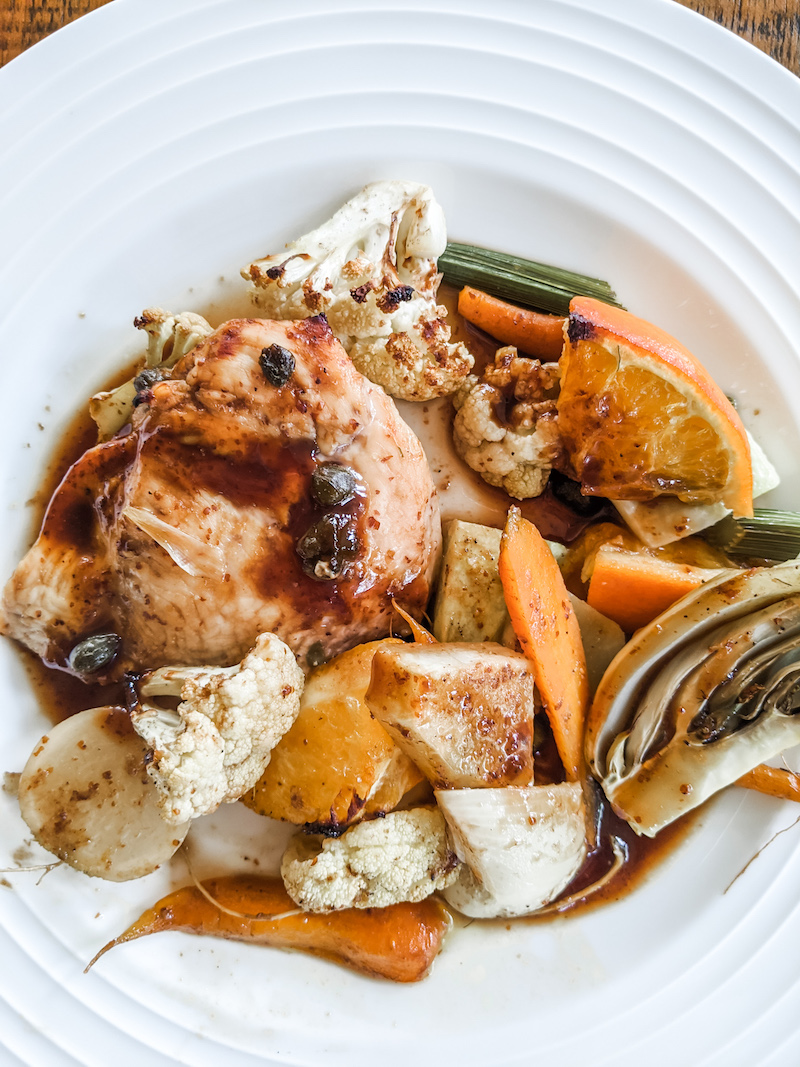 Tasty, Easy Cleanup, Healthy, What's Not to Like?
The orange is a must-include ingredient for this dish. But when it comes to the summer vegetables, the possibilities are really endless. You could try it with bok choy, squash, peppers, green beans, celery – any vegetable that can stand up to oven roasting would work well here. That's what I love about this recipe, it's flexible.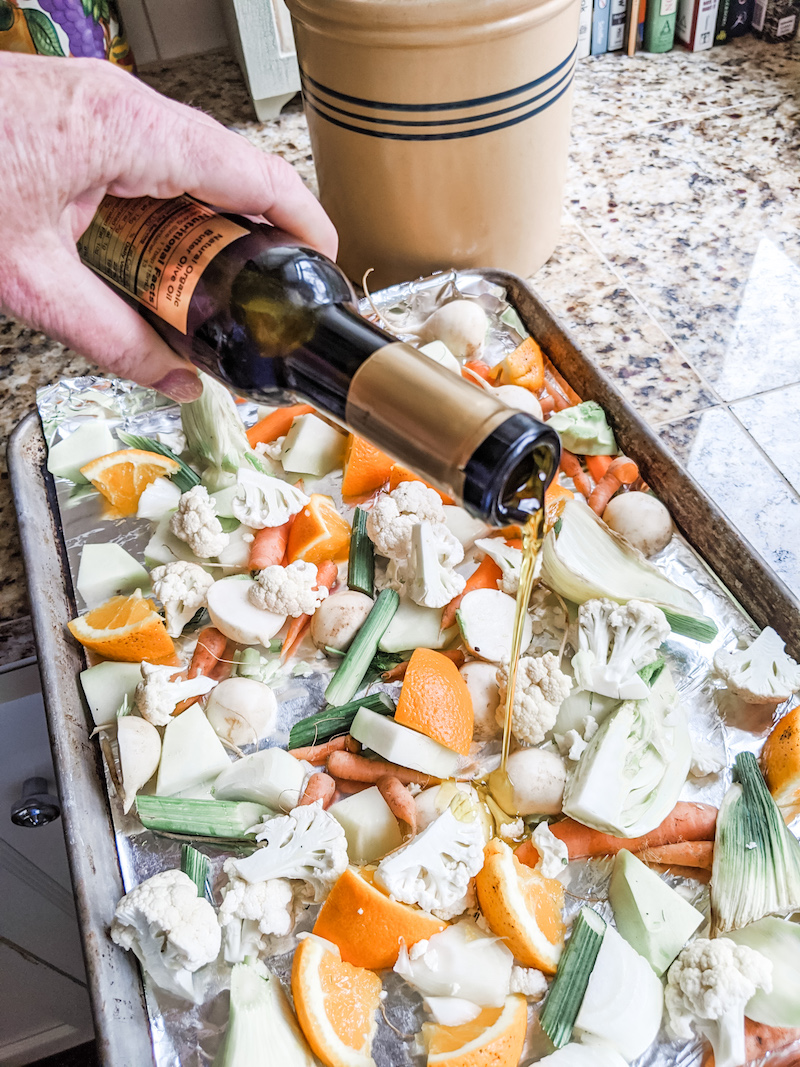 Something else I love about this recipe? Easy cleanup! When you're done cooking, you just wash out the pan for the sauce, toss the baking sheet foil into the trash, and you're done. (Oh, and did I mention that each serving is only 6 points on Weight Watchers Blue or Purple?)
There's really nothing not to love about my Citrus Sheet Pan Chicken with Summer Vegetables. Try it for yourself and see!
Print
Citrus Sheet Pan Chicken with Summer Vegetables
---
Author:

Yield:

4

servings

1

x
1

large fennel bulb, quartered

1

onion, peeled and cut into chunks

1

bunch radishes, halved

1

bunch small carrots (or large carrots, cut into sticks)

1

kohlrabi bulb, peeled and sliced

1

large orange, cut into chunks

1 cup

cauliflower florets

1 ½

pounds boneless skinless chicken breasts

2

T olive oil.
Sauce:
1 cup

orange juice

4

T balsamic vinegar

1 ½

T honey

2

T Dijon mustard

1

T capers
Kosher salt
Pepper
---
Instructions
Preheat oven to 400 degrees.
Put orange juice, balsamic vinegar, honey, mustard, capers, ½ tsp kosher salt, and ¼ tsp fresh ground pepper in small saucepan over medium heat. While preparing the vegetables, bring sauce to a low boil and simmer until the slightly thickened and syrupy, about 5 minutes.
Line a sheet pan with foil. Place prepared vegetables on sheet pan. Drizzle with oil, then use your hands to make sure all the vegetables are coated with oil. Sprinkle lightly with salt and a few grinds of pepper.
Cut the chicken into four pieces. Pound pieces so they are flattened to approximately one inch thick.
Divide the thickened sauce, pouring half into a small bowl and set aside. Dip chicken pieces into sauce. Place chicken on top of vegetables, sprinkle lightly with salt and pepper. Pour the remaining sauce over the vegetables and chicken.
Place sheet pan in preheated oven. Bake for approximately 30 minutes, until vegetables are soft and beginning to brown slightly on the edges and the interior temperature of the chicken reaches 160 degrees.
Arrange chicken and vegetables on four plates, drizzle each serving with the set aside sauce.