This post may contain affiliate links. Full disclosure policy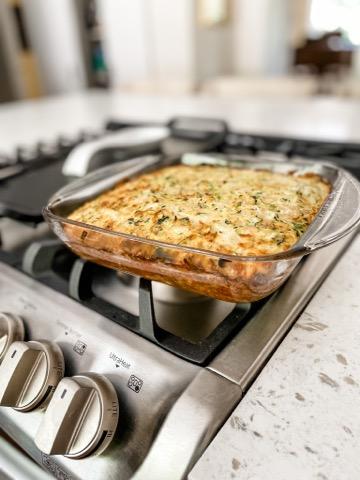 Looking for new ways to use up summer's most prolific vegetable? Give my Parmesan Zucchini Casserole Recipe a try! It's easy to make, terrific as a side dish or main course, and uses lots of zucchini!
Parmesan Zucchini Casserole Recipe: The Answer to Summer's Most Pressing Question
There's so much to love about zucchini. Zucchini is tasty, versatile, and good for you. It's also incredibly easy to grow. Maybe even too easy? This time of year, gardeners across the country are asking themselves the same question. What the heck am I going to do with all this zucchini?
Gifting your extra zucchini to non-gardening friends is always a good option. So is cutting it into chunks and freezing it to use later. Frozen or fresh zucchini works equally well in my Crockpot Zucchini Soup.
If you're really desperate, you might even be tempted to leave a bag of zucchini on a neighbor's doorstep late at night, ring the bell, and run. (Pro Tip: Make sure neighbor's guard dog is inside the house before attempting the ring and run method.)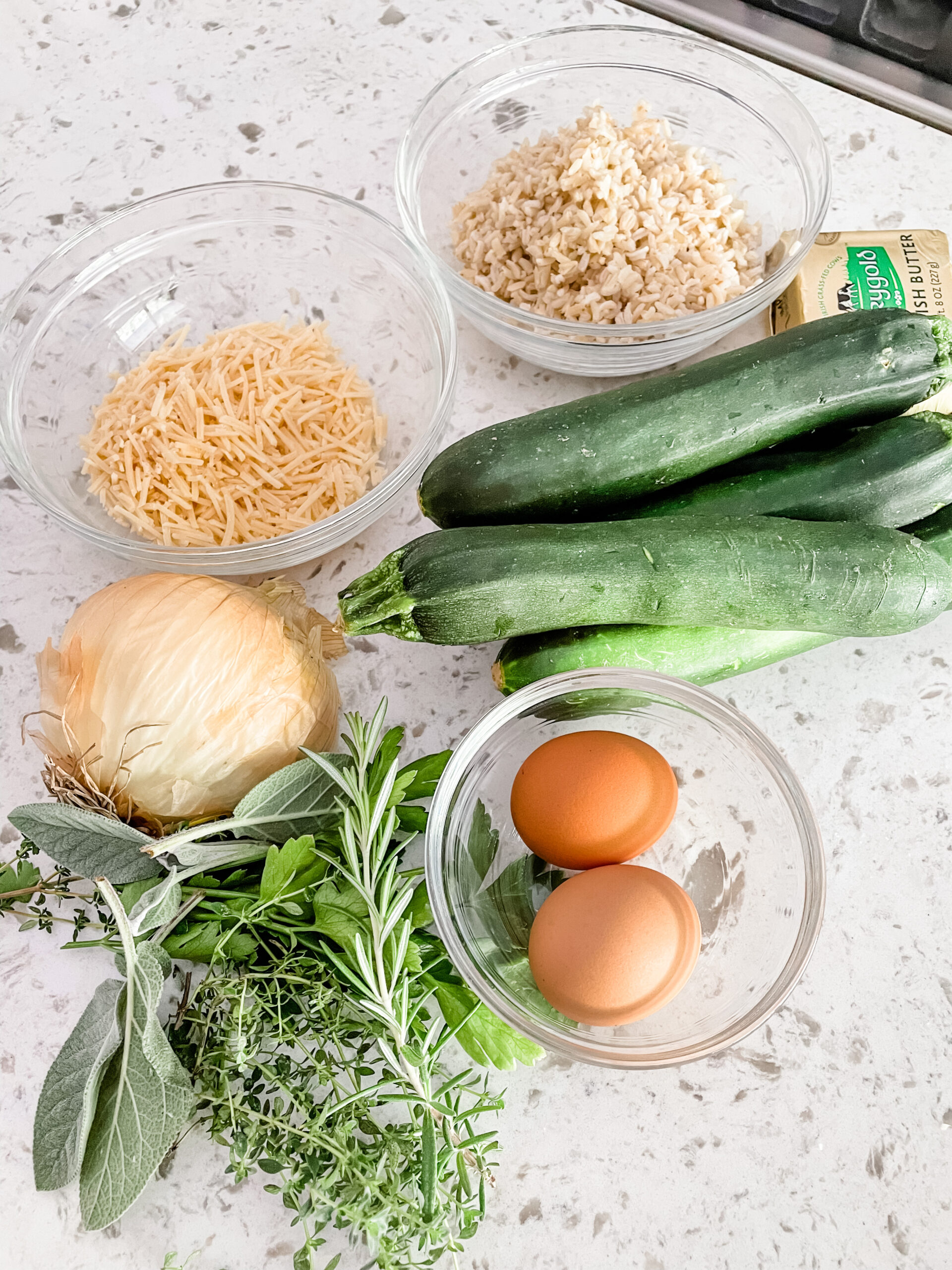 Or you could give my new Parmesan Zucchini Casserole Recipe a try.
With parmesan cheese, eggs, rice, plenty of fresh herbs, plus a whole lot of zucchini, it's a delicious way to use summer's most prolific vegetable.
It's also really easy to make!
Tips on How to Make My Parmesan Zucchini Casserole Recipe
This Parmesan Zucchini Casserole Recipe is simple to prepare and the instructions are fairly straightforward. But I do have a couple of tips, starting with how to prep the zucchini.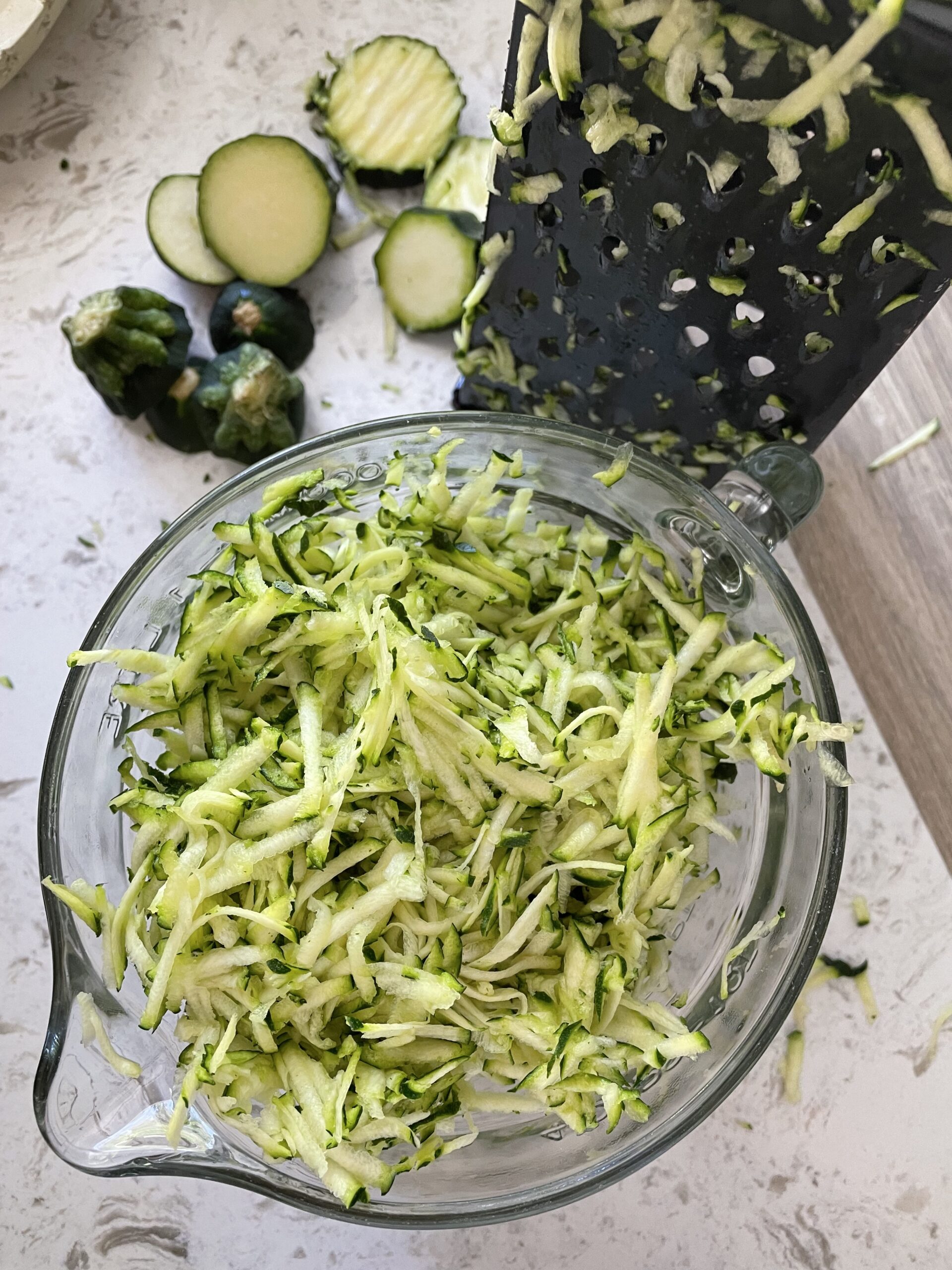 The recipe calls for raw, shredded zucchini. Since the skin of zucchini is delicate, tasty, and adds some pretty color to the casserole, there's no need to peel them. Just rinse the zucchinis, cut off the stem ends, and shred them using a box grater or food processor.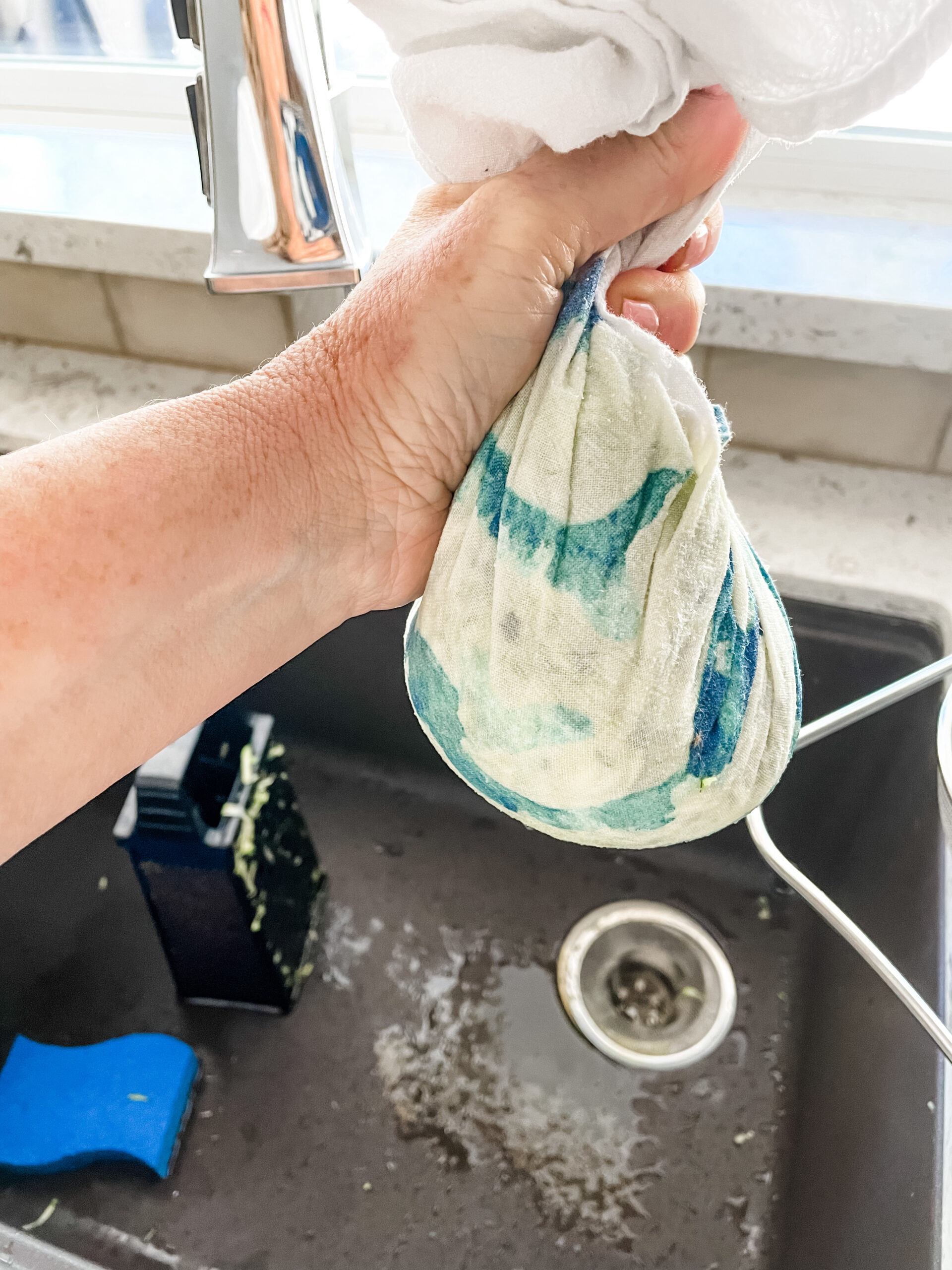 Next, you'll need to get as much excess liquid out of the shredded zucchini as possible. To do that, you'll sprinkle the zucchini with salt and let it sit for 10 to 15 minutes to help draw out the water. After that, you'll mound the zucchini into the center of a thin cotton tea towel, draw up the edges and twist them as tightly to squeeze out as much liquid as you can.
This is the most important step in the recipe! If you skip it, you're going to end up with a watery casserole. And no one wants that, right?
The Final Tip: Herbs
My last tip involves herbs. My zucchini casserole calls for a lot of fresh herbs, a loosely packed half cup that you'll mince into a quarter cup of finely chopped herbs. The reason I used so many is that zucchini has a very mild flavor.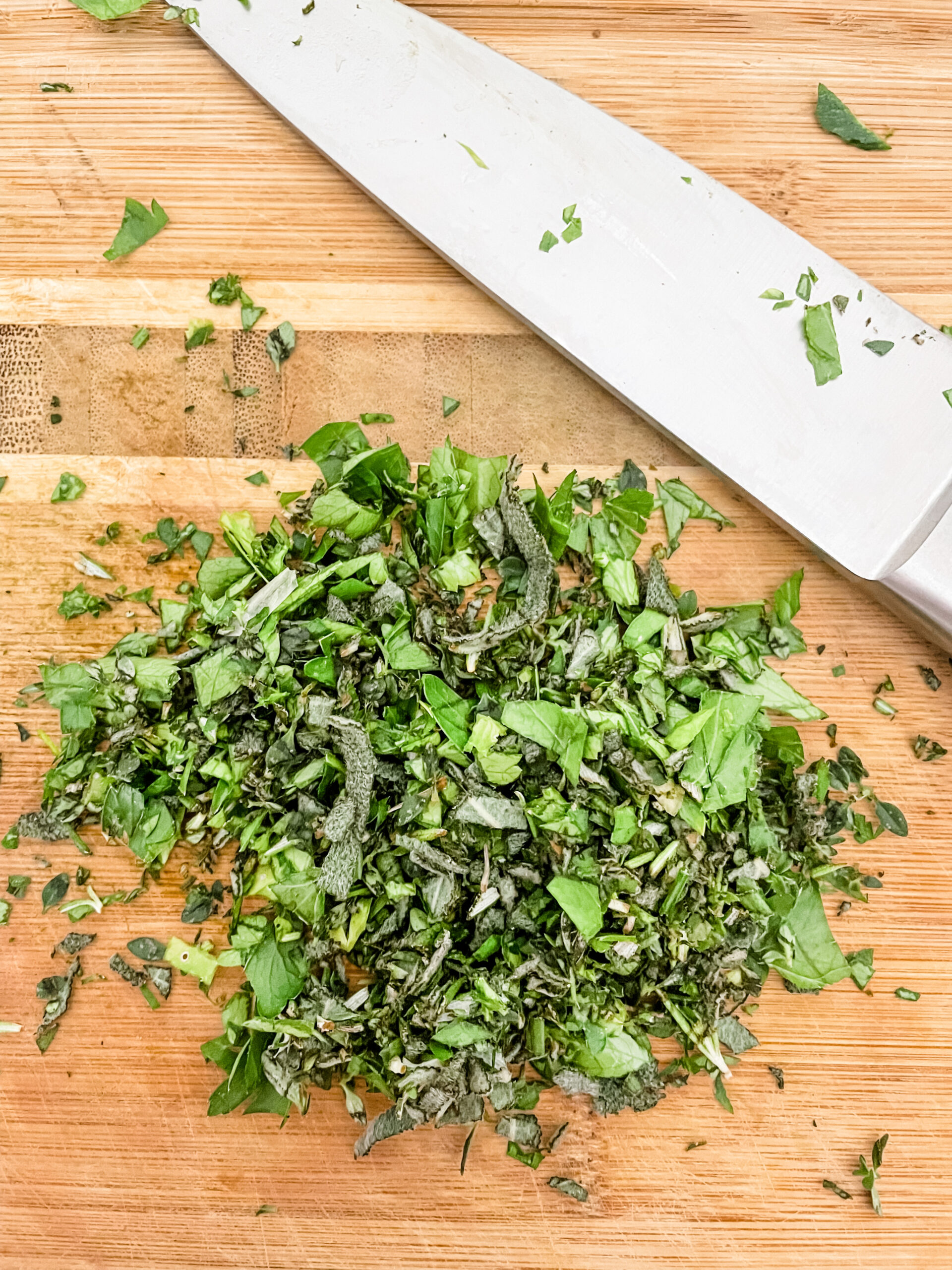 Often, people add loads and loads of cheese to keep zucchini dishes from tasting bland. To make my Parmesan Zucchini Casserole Recipe healthy and tasty, I chose to use a moderate amount of cheese and double down on the fresh herbs. The result is a satisfying, delicious dish that doesn't kick healthy eating to the curb.
As far as which herbs to use, pick your favorites and feel free to mix them up. I walked out into my garden and snipped a little of whatever I had on hand – parsley, sage, rosemary, and thyme. (Hmm…maybe I should have called it Zucchini Garfunkle?) You can use whatever mix of herbs you like. Basil, cilantro, or oregano would work well too. If you're using rosemary, don't go overboard because it does have a pretty strong flavor.
How to Serve My Parmesan Zucchini Casserole
One of the things I like about this recipe is that it's super versatile.
I initially made it to use as a side dish, served hot. It's a great accompaniment to just about any grilled, roasted, or baked meat, poultry, or chicken.
It's also really good cold. Today, I took some of the leftover Zucchini Casserole out of the frig, spooned a little light sour cream on top, and served it as a main course. It makes a terrific lunch on a hot day. And since it's got vegetables, protein, and whole grains, it's a healthy, light one-dish meal.
Print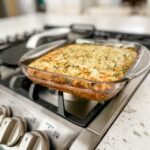 Parmesan Zucchini Casserole Recipe
---
Author:

Yield:

6

servings

1

x
6 cups

shredded zucchini (about

3

–

4

medium zucchini

2 cups

cooked rice, brown or white

6

eggs

1/3 cup

Greek yogurt

1 cup

shredded parmesan (

4 oz

)

¼ cup

minced herbs of your choice (

1/2 cup

loosely packed herbs will be about

¼ cup

minced)

½

large onion, diced

1

T butter

1 tsp

salt

½

ground pepper
---
Instructions
Preheat the oven to 375.
Wash and dry the zucchini, cut off the stem end. Shred the zucchini using a box grater or food processer. Place shredded zucchini into a colander in the sink. Stir in 1 tsp of salt and allow to sit for 10 to 15 minutes.
While the zucchini is resting, chop the onion. Melt butter in a saucepan on stove over medium heat. Cook the onion for 7-8 minutes, until soft and caramelized, beginning to turn golden brown. Turn off heat and set onion aside.
Mound the salted zucchini in the center of a thin, cotton tea towel. Standing over the sink, twist the edges of the towel, forcing the zucchini into a ball and squeezing out as much liquid as possible.
Place zucchini, cooked onion, cooked rice, herbs, parmesan cheese, and pepper into a large mixing bowl. Stir with a large spoon to distribute ingredients.
Crack eggs into a smaller bowl, add yogurt and whisk until smooth and thick. Pour egg mixture over the zucchini mixture and stir to combine.
Spray an 8 x 8 glass casserole lightly with cooking spray. Pour zucchini and egg mixture into the casserole dish and place in preheated often. Bake for 50 minutes, until casserole is golden brown. Serve hot or cold.