This post may contain affiliate links. Full disclosure policy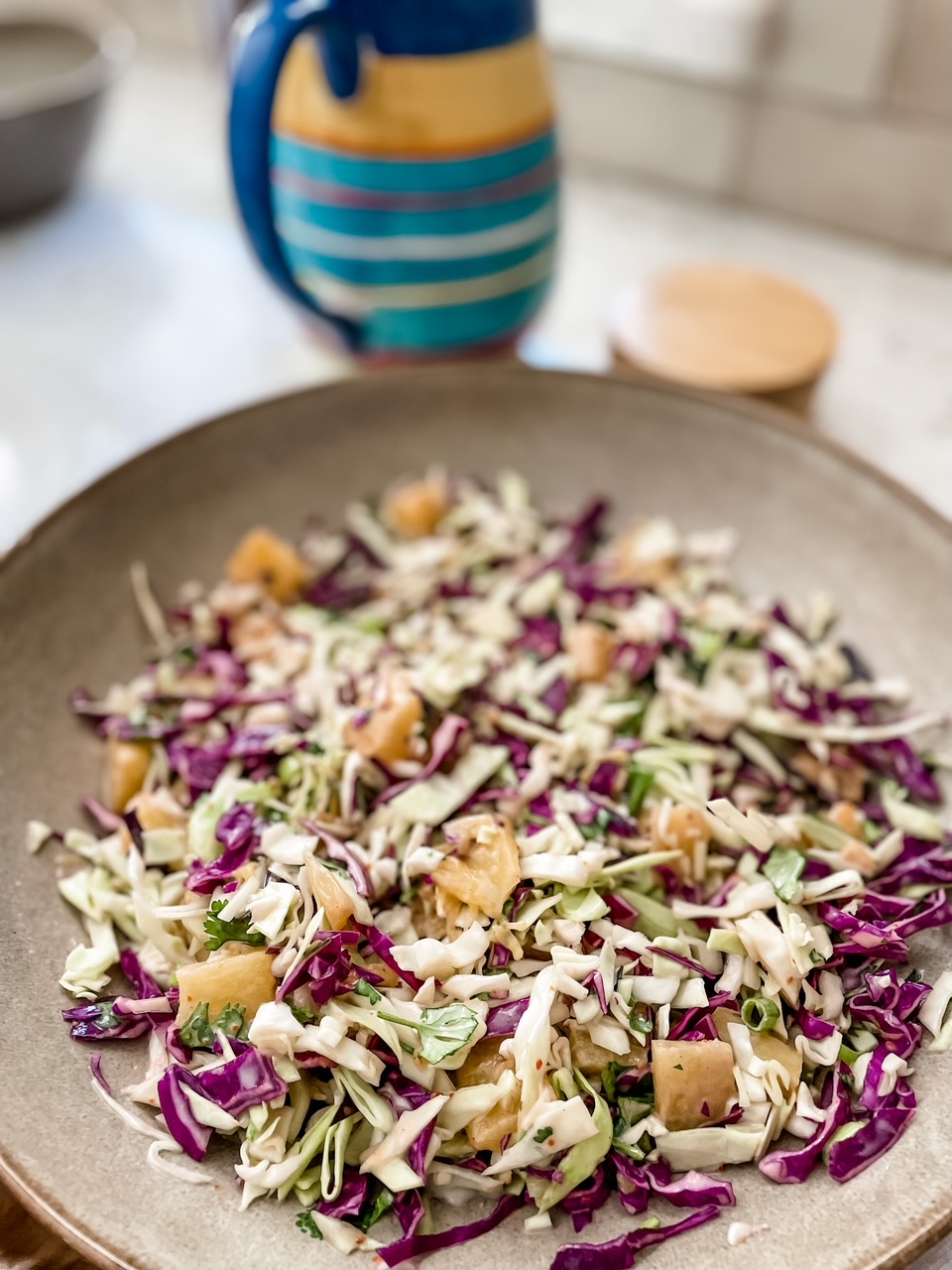 Ready to kick your coleslaw up a notch? Give my Spicy Pineapple Coleslaw a try! Sweet, juicy pineapple paired with just enough tongue-tingling spice makes this coleslaw recipe a winner!
Get Out of the Coleslaw Rut with Spicy Pineapple Coleslaw
Coleslaw is one of the world's most reliable side dishes, right up there with potato salad. Go to just about any deli or diner in the country, and you'll find both listed as accompaniments for all kinds of sandwiches and burgers.
But have you ever noticed how often the coleslaw that comes along with the sandwich goes unfinished? Or even untouched?
Look, there's a lot to be said for reliability. But reliable can also be another word for dull, or something that's simply become a little too familiar.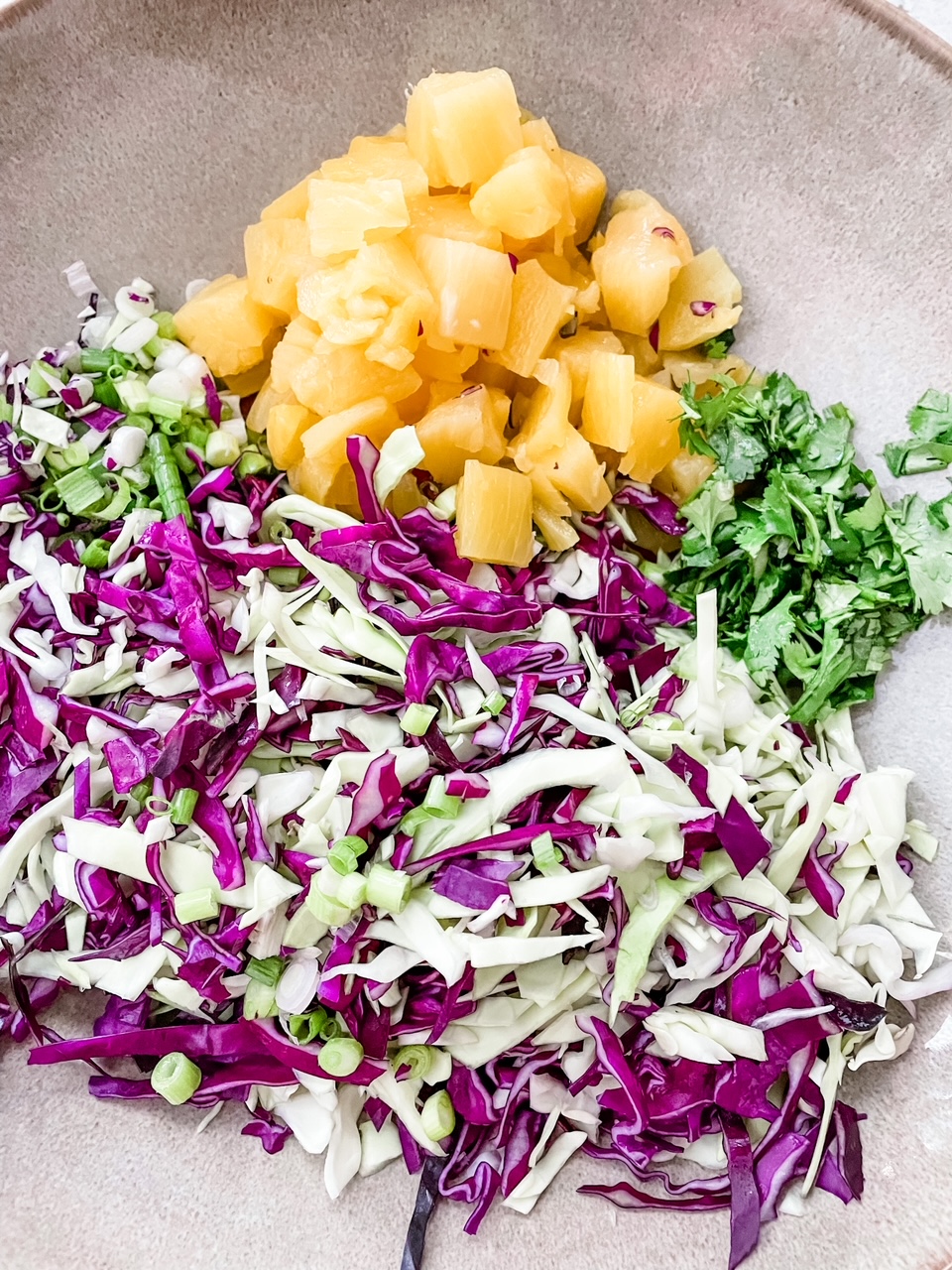 My Spicy Pineapple Coleslaw is a tasty twist on the classic. Crunchy and colorful cabbage in a sweet and spicy dressing (but not too spicy) comes together in a side salad that will get you out of your coleslaw rut.
More importantly, this is a coleslaw that people will actually want to eat. Because, even if it's something as simple as coleslaw, who wants to waste time and money making a dish your family doesn't finish?
What's in My Spicy Pineapple Coleslaw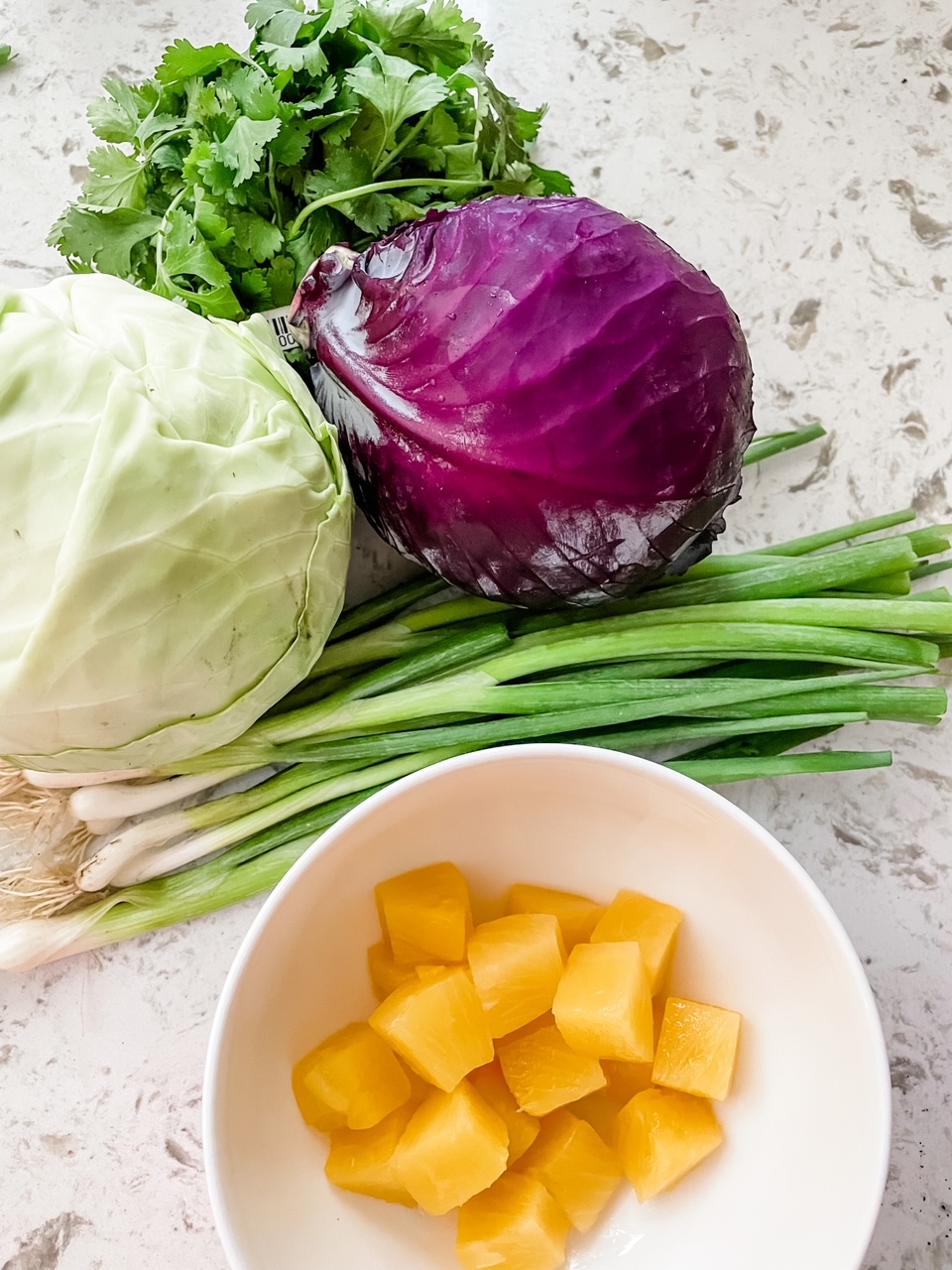 Green cabbage
Red cabbage
Green onions
Cilantro
Pineapple
Mayonnaise
Pineapple juice
Lime juice
Chile Lime Seasoning (Tajin)
Cayenne (optional, for those who love some extra heat)
Chile? With Pineapple? And Coleslaw?
Chile and pineapple might not be a pairing that comes immediately to mind for a lot of people. But believe me, it works. In fact, it's kind of a marriage made in heaven.
When I lived in Mexico, I discovered the joy of adding a little sprinkle of chile lime seasoning to fresh fruit. Fruit cups sprinkled with a generous dash of "chile para frutas", also known as tajin, was a common street food in Mexico, and something I learned to relish.
Those memories came flooding back when I discovered a bottle of Chile Lime Seasoning in my local Trader Joe's. That became the inspiration for my Spicy Pineapple Coleslaw. (Most grocery stores carry a version of chile lime seasoning these days. If you don't see it with the regular spices, look for tajin or chile para frutas in the Mexican food aisle.)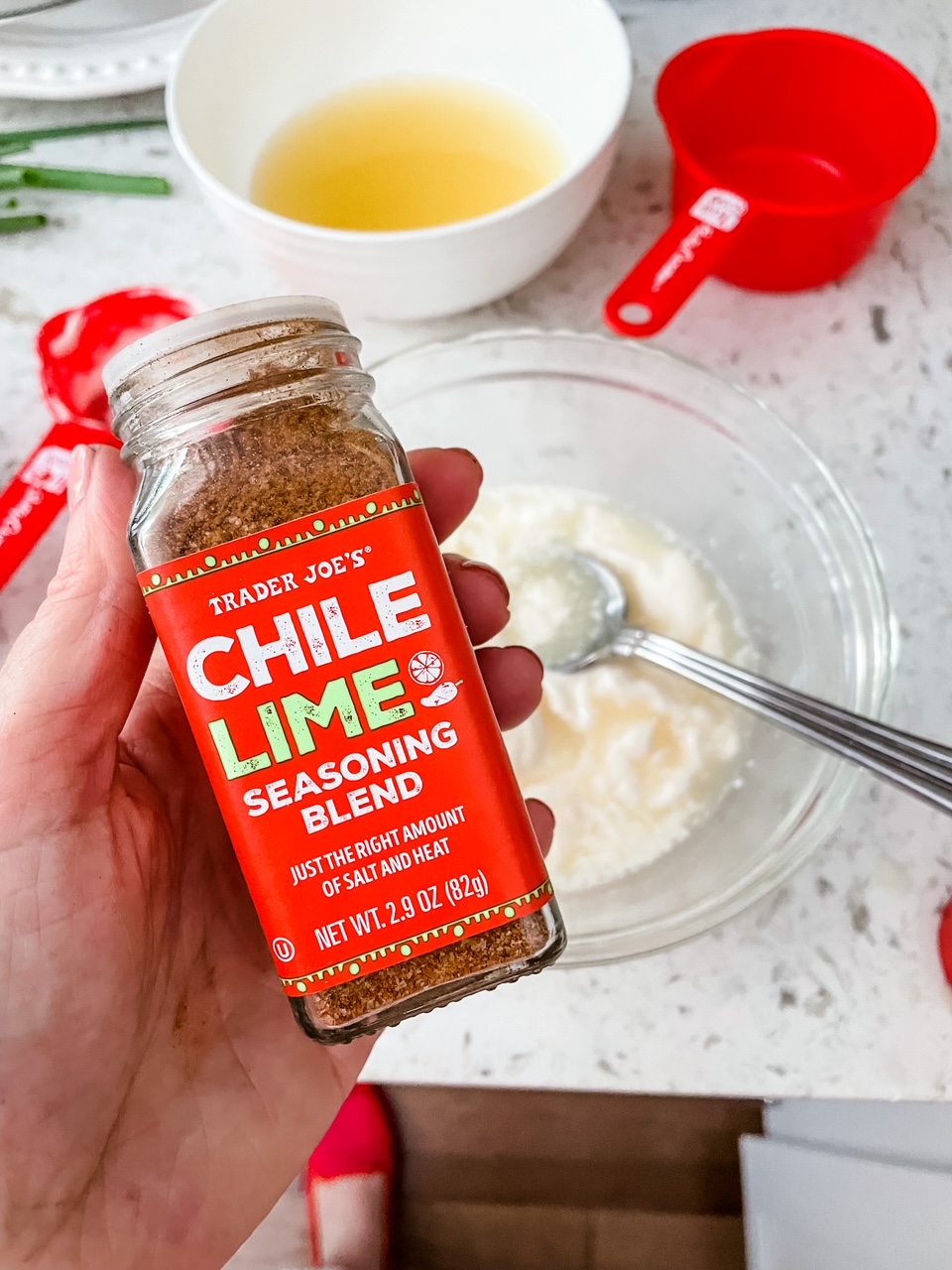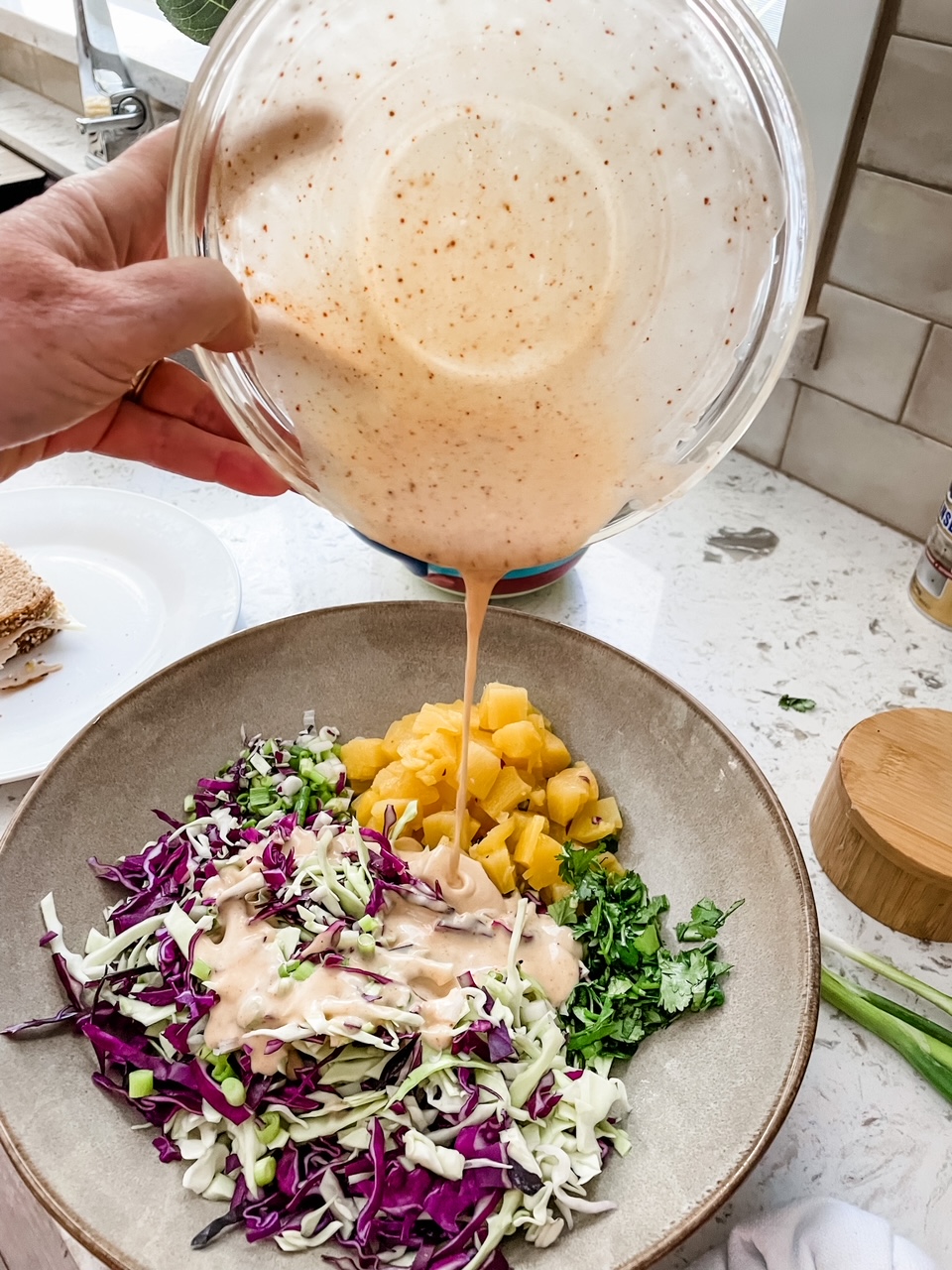 That little touch of chile plus pineapple and lime juice transforms this coleslaw dressing into a mouthful of spicy-sweet deliciousness.
Hot not your thing? Don't worry! The level of heat you'll get from the chile lime seasoning is very mild, really more piquant than hot.
In fact, it might be too mild for some. If you're looking for a little more heat, just add a pinch of cayenne to the dressing. But just a pinch! A little cayenne can go a long way. The best method is to stir in a teeny bit, then taste to see if you want to add more.
Just slightly spicy or with extra heat, my Spicy Pineapple Coleslaw is a terrific side for sandwiches or burgers. Give it a try soon!
Print
Spicy Pineapple Coleslaw
---
Author:

Yield:

6

servings

1

x
For Slaw:
2 cups

shredded green cabbage

2 cups

shredded purple cabbage

1 cup

canned pineapple chunks, juice from can reserved

3

green onions, white and pale green parts, thinly sliced

½

small bunch cilantro, leaves chopped
For Dressing:
½ cup

regular or light mayonnaise

2

T reserved pineapple juice

2 tsp

lime juice

1.5 tsp

lime chile seasoning
* Pinch ground cayenne (optional for people who like extra heat, see notes in blog post)
---
Instructions
Roughly chop the pineapple chunks. Toss pineapple in medium sized mixing bowl with cabbage, green onion, and cilantro. Set aside.
Place mayonnaise in small bowl. Whisk in pineapple and lime juice until smooth. Whisk in chile lime seasoning (and cayenne, if using). Taste dressing and adjust seasonings as necessary.
Pour desired amount of dressing over slaw (you may or may not want to use all of it). Stir to coat slaw evenly with dressing. Slaw can be served immediately but will taste better if allowed to sit in the refrigerator for 2-3 hours. Can store covered in refrigerator for up to 3 days.