This post may contain affiliate links. Full disclosure policy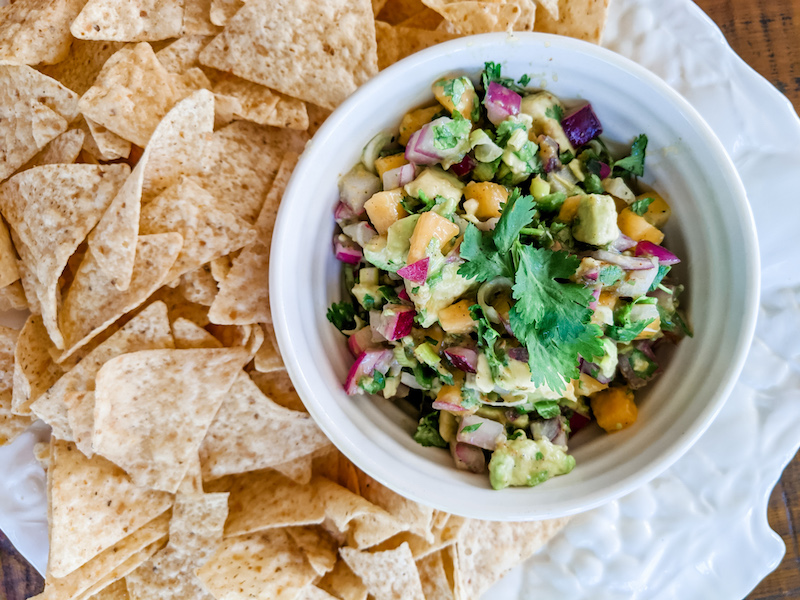 We just can't seem to get enough peaches around here.
Last summer, I dried two huge crates of peaches in my dehydrator. It seemed like overkill at the time, but we finished the last of them in May. This year, I'm planning to buy three crates for the dehydrator.
But fresh peaches really are my favorite. Thankfully, they have just begun showing up at our local fruit stands. I've wasted no time in incorporating those gorgeous, sweet, tree-ripened peaches into our meal rotation! Fresh peaches are a delicious addition to salads, desserts, yogurt parfaits, or simply devoured whole while standing over the sink with that sweet summer juice streaming down your arm.
Introducing my Fresh Peach and Avocado Salsa
One of my favorite ways to use fresh peaches is in salsa. That combination of sweet with a small kick of spice is a little slice of heaven and a perfect accompaniment to all kinds of dishes. And it really has many applications – peach salsa is terrific on top of grilled fish, chicken, or pork.
But one of my favorite ways to serve peach salsa is as an appetizer with some crispy tortilla chips for dipping. That's what I did last weekend when my husband called and to let me know he'd extended a last-minute invitation for another couple to join us for drinks on the deck.
Lucky for me (and for my guests) I'd just picked up some gorgeous fresh peaches from a produce stand off the highway. I also happened to have a couple of perfectly ripe avocados and a jalapeno on hand. A little chopping, a squeeze of lime, a few herbs and spices, and we were in business!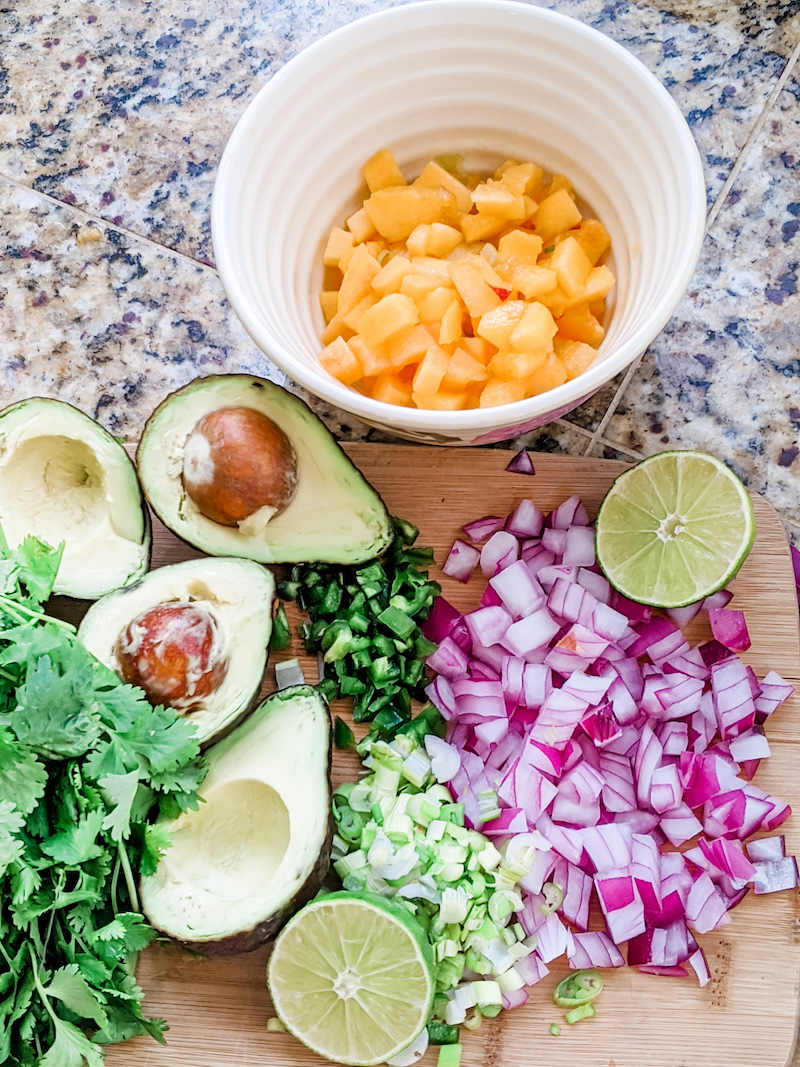 A Less than Traditional Salsa
That last-minute Peach and Avocado Salsa was the perfect appetizer to serve on a hot summer afternoon. The peaches gave it a fresh light flavor, but the avocados add a heft of healthy fats that make it just filling enough without being overly heavy.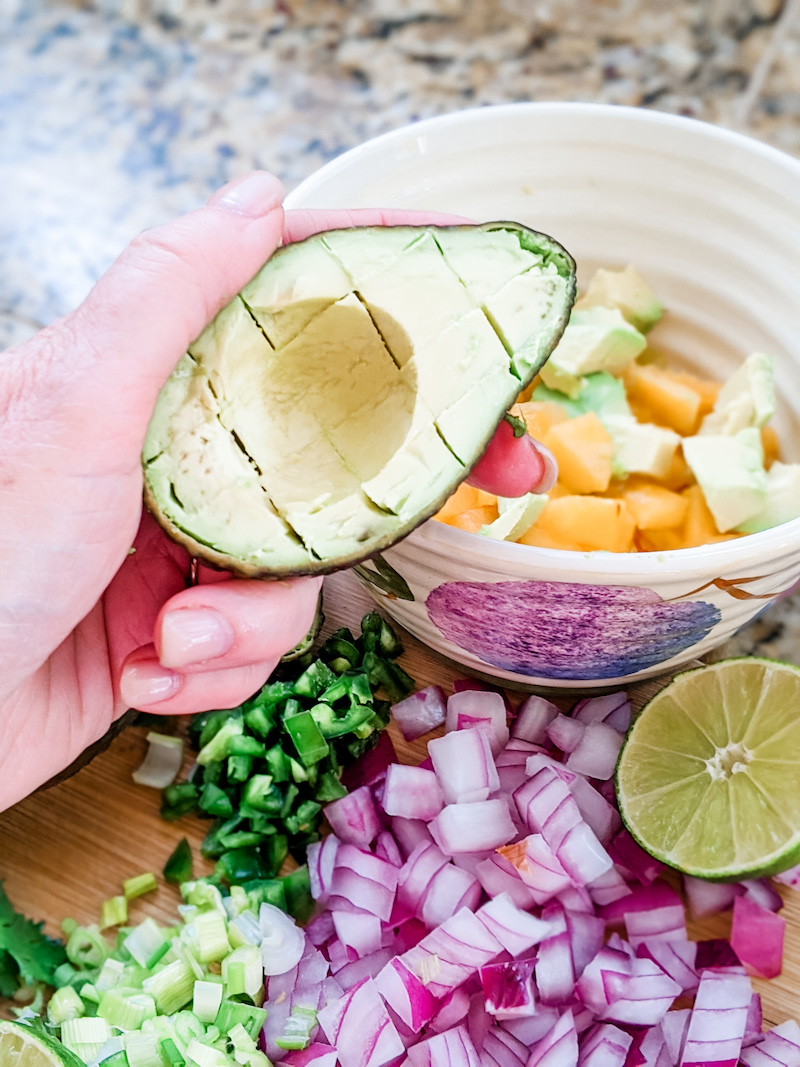 When you hear the word salsa, you often think of tomatoes and Mexican food. But I don't include them in my Peach and Avocado Salsa because I really wanted to keep the peach and avocado flavors at the forefront. However, I did include some of the veggies, herbs, and spices that are traditionally associated with a Mexican salsa.
Diced raw red and green onions add a nice little bite, as does the minced jalapeno pepper and a generous helping of chopped cilantro. Even so, this is a fairly mild flavored salsa, with little to no heat. When you're serving guests, it's always difficult to know how spicy is too spicy. I added a dash of chipotle chili powder to my Peach and Avocado Salsa, just enough to wake up the taste buds and balance the sweetness of the peaches. If you like your food hotter, add an extra dash or two. If you hate spices, feel free to leave it out entirely.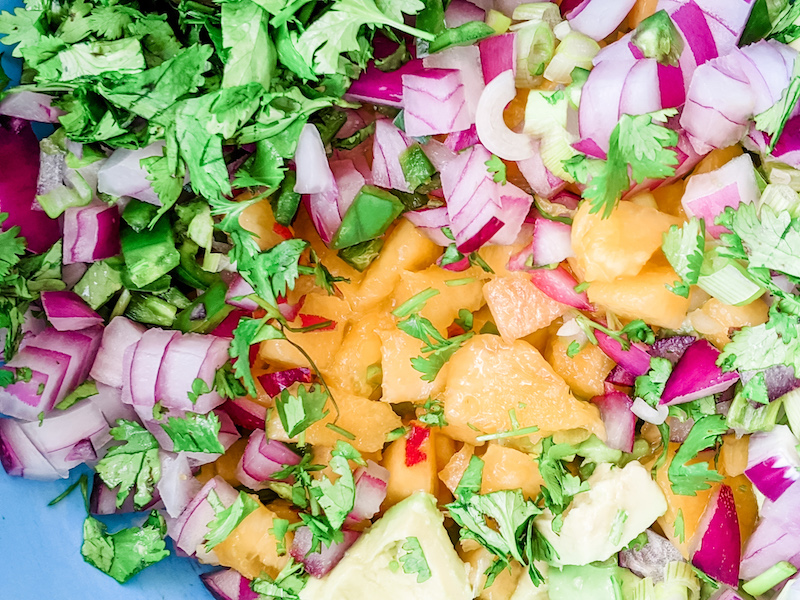 The Perfect Starter to a Perfect Night
Any way you spice it, my Peach and Avocado Salsa is a delicious treat for you and your guests. It's a quick, easy to prepare appetizer that looks just as good as it tastes!
Serve Peach and Avocado Salsa with some tortilla chips and a batch of homemade margaritas. Or pull out the blender and get the party started by mixing up a batch of the frozen strawberry daiquiri base I used for my Strawberry Daquiri Ice Pops.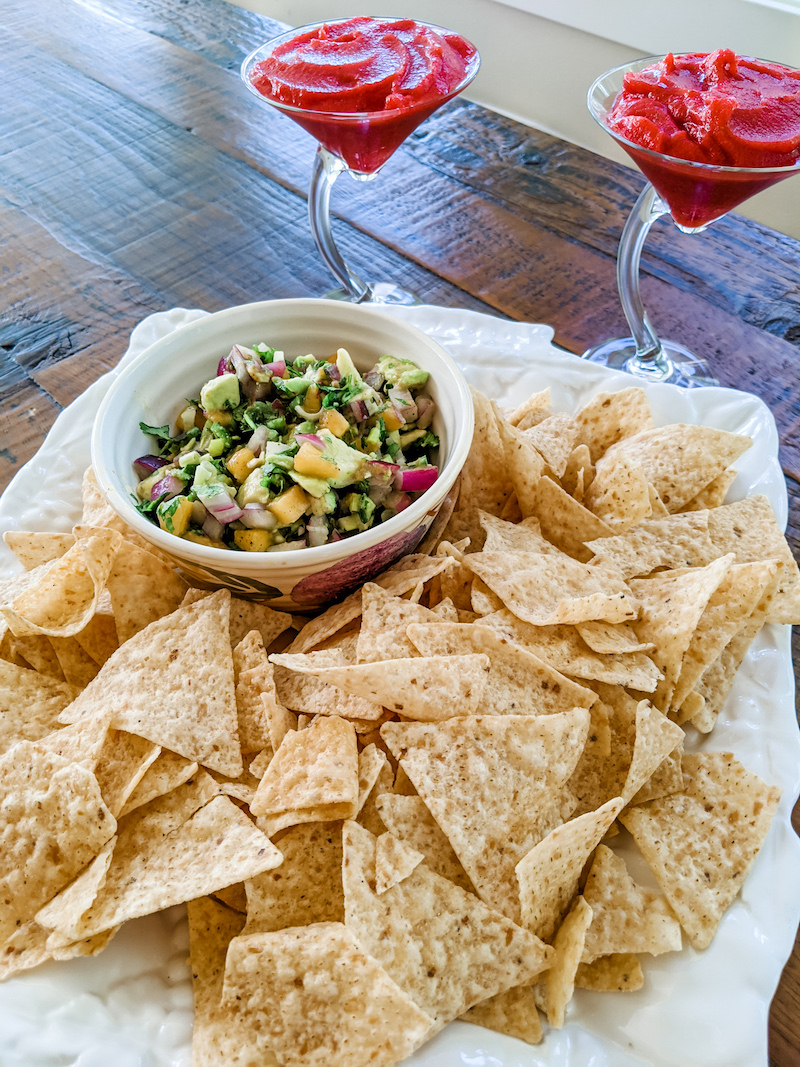 There's no better way to make your guests say, "Ole!"
Print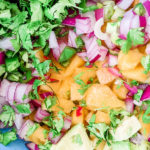 Peach and Avocado Salsa
---
Description
Place diced peaches and avocados in a medium-sized bowl. Pour lime juice over the mixture and stir carefully (Lime juice will keep the avocados from turning brown).
Add green and white onions, diced jalapeno, and chopped cilantro to the bowl. Sprinkle with salt, pepper, and dash of chipotle chili powder. Stir gently to mix fruit, vegetables, herbs, and spices.
Place salsa in the refrigerator for 15 to 20 minutes, to allow flavors to meld.
Remove from refrigerator, taste. Adjust seasonings and spices as desired.
---
2

large, ripe peaches, peeled and diced

2

medium-sized ripe avocados, peeled and diced
Juice of

one

fresh lime

½

medium red onion, diced

2

green onions, green and white parts, diced

1

jalapeno pepper, seeds removed, minced

½

bunch cilantro, chopped

½

salt
Dash of fresh ground pepper
Dash of chipotle chili powder (optional)
---