This post may contain affiliate links. Full disclosure policy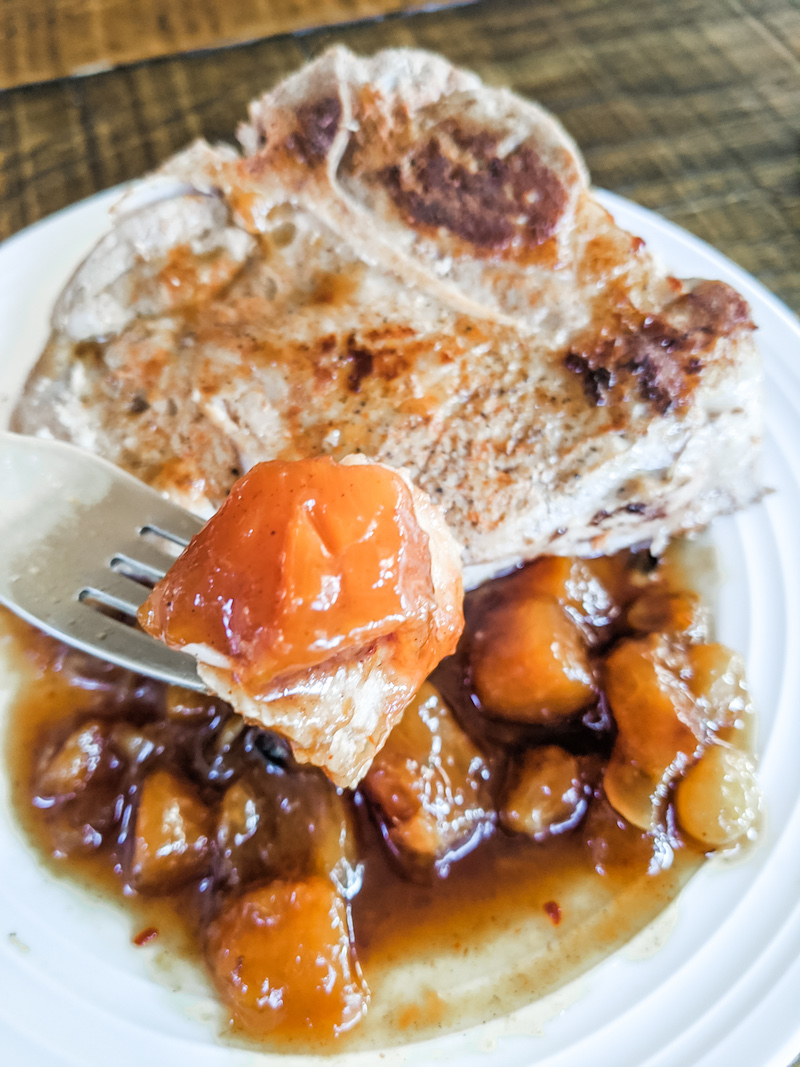 I've lost count of how many fresh peaches I've eaten this summer but I know it's a lot. I'm also working overtime to preserve as much of that delicious peachy goodness for winter consumption as possible. I've dehydrated whole cases of peaches, made peach jam, peach jelly, and am even experimenting with making some peach liqueur (I'll let you know if it turns out).
But of all the peach-based recipes I've made this summer, my favorite by far is my Peach Chutney. Like so many of my best recipes, it was born from equal parts necessity and inspiration.
A couple of months back, I was making a simple chicken curry for dinner and realized that we were out of chutney. Our neighborhood market is just a hop, skip, and jump from our house so I ran over and bought a jar. Problem solved but the whole experience kind of bugged me.
Equal Parts Healthy and Budget Friendly
Now, look, I wouldn't necessarily call myself frugal. But shelling out more than five bucks for a little bitty jar of chutney did not seem like a good value for money to me. That got me thinking…Couldn't I make my own chutney?
Yes, I could!
The chutney I've always bought at the store uses mangos. I do love mangos. When we lived in Mexico back in the 90s, I ate mangos every single week. They were delicious, plentiful, and inexpensive. The mangos I can buy in Oregon are still delicious but not nearly as plentiful. And definitely not cheap.
When I started thinking about a more affordable alternative to mangos that would work well in homemade chutney, peaches came immediately to mind.
And I'm so glad I did because homemade peach chutney is my new favorite! The fresh ginger and powdered cardamom give it the savory depth of a traditional store-bought chutney. Adding some dried red pepper (you can adjust the amount according to your heat tolerance) gives it a spicy kick!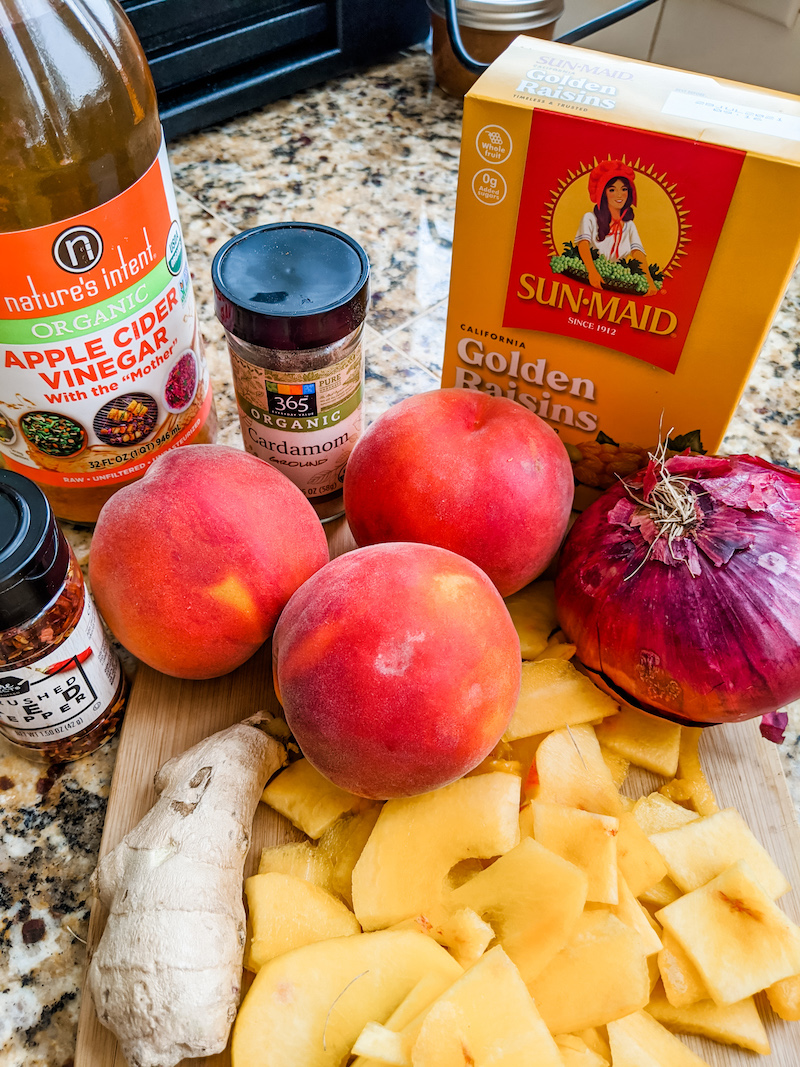 So? What is Chutney?
If you're not familiar with it, chutney is a spicy or savory condiment. Chutney can be made with fruit, vegetables, or a combination of the two, slowly stewed with spices to create a thick, jam-like texture. It's a condiment, meant to enhance the flavors the dish it is served with rather than be eaten alone.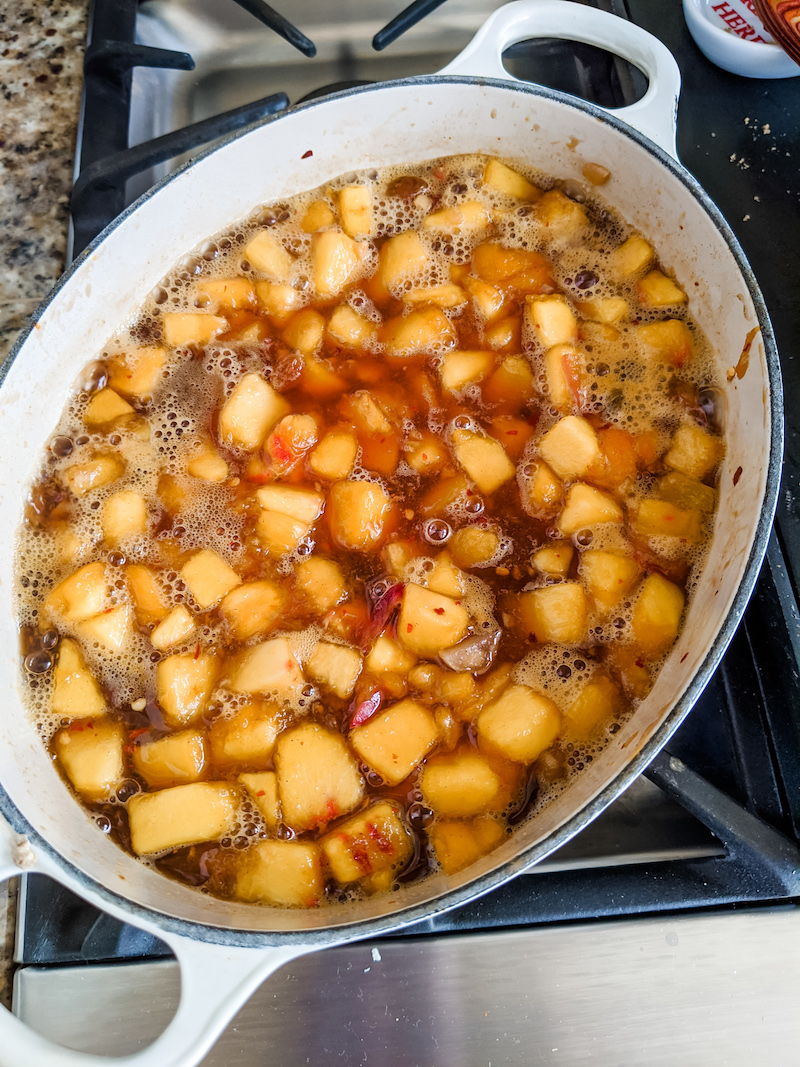 Mango chutney is probably the type that people are most familiar with. Tamarind, mint, tomato and peach chutney are also common varieties.
What is Chutney Used for?
Chutney originated in India and is most commonly used as a condiment with Indian food. At our house, serving curry without chutney would be like serving a peanut butter sandwich without jelly. It simply is not done (thus my emergency run to the market when I discovered we were out)!
But chutney is also delicious served alongside grilled or roasted meat or fish. Pork chops and peach chutney is one of my favorite meals. Chutney also makes a delicious addition to a grilled cheese sandwich.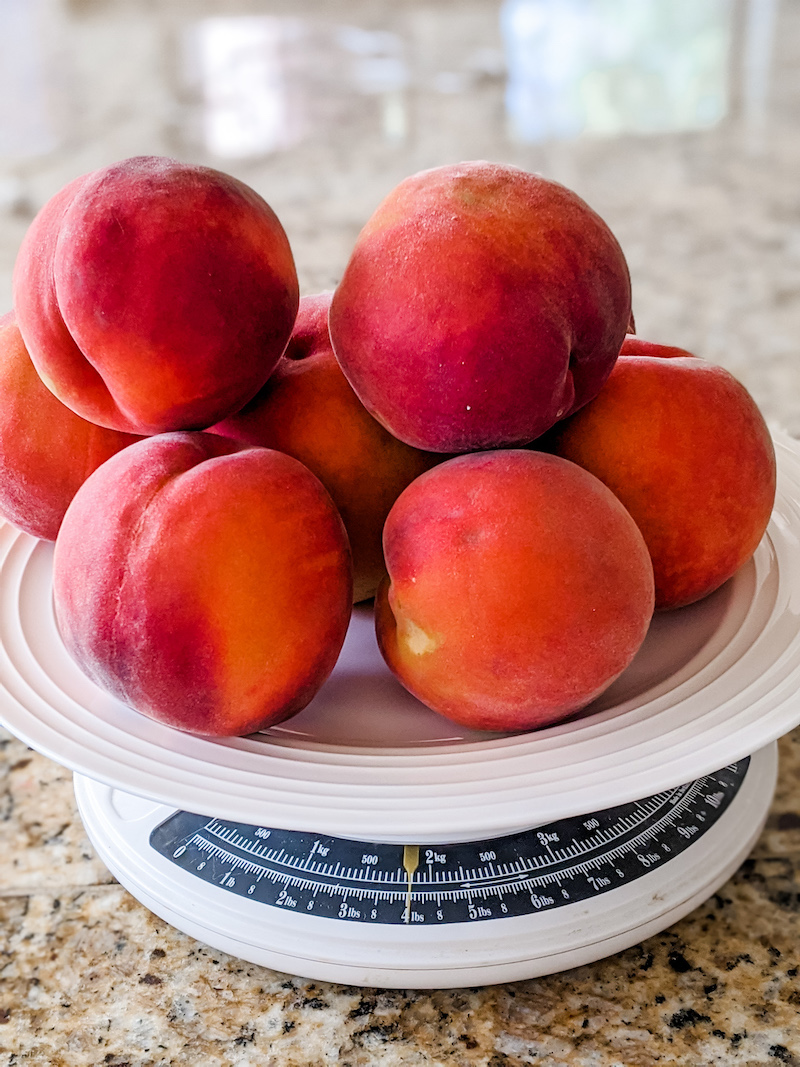 If you need a quick and delicious appetizer, pour my peach chutney over a block of cream cheese and serve with crackers. I guarantee that your guests will gobble it up within minutes!
How Do You Make a Peach Chutney?
Glad you asked!
Once you've added the ingredients, you simply simmer the peach chutney for a long time over a low, steady heat. That gives the flavors a chance to meld and the chutney time to cook to a thick, jam-like consistency.
My peach chutney includes a fair amount of brown sugar, as well as the natural sugars of the fruit. As you're probably aware, sugar can burn easily. And while burnt sugar may be delicious over a crème caramel, it's not a flavor we want in our chutney.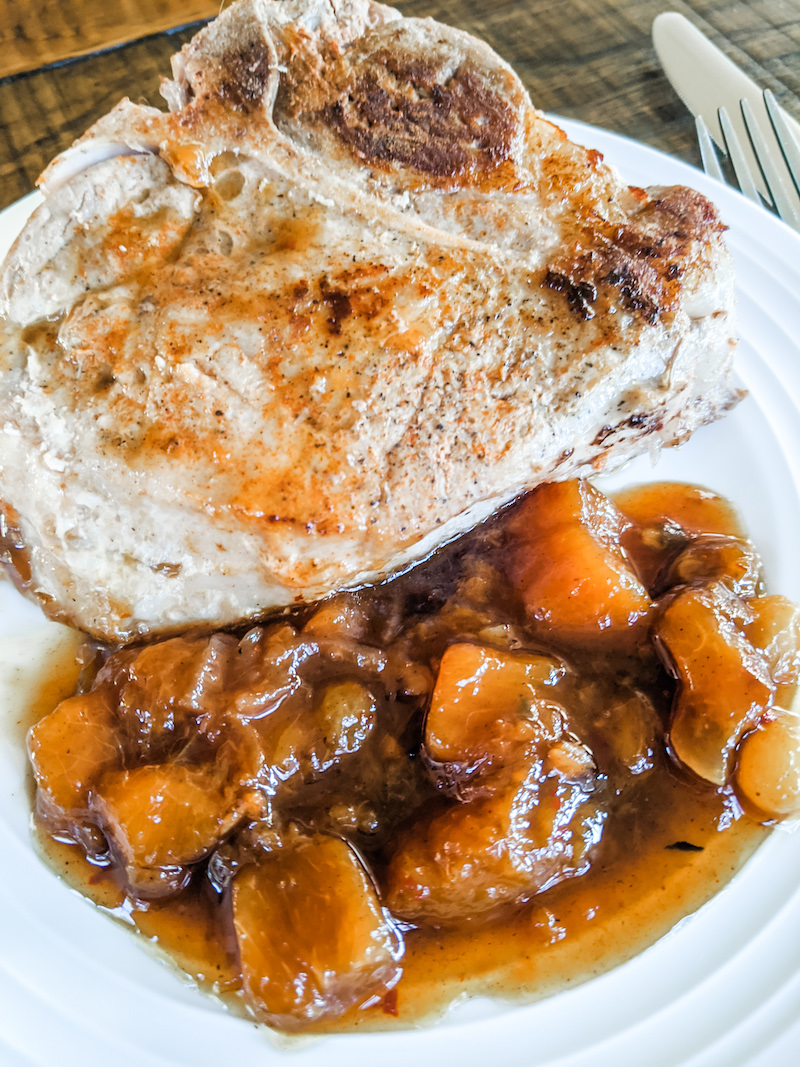 That's why I cook my chutney in my Le Creuset oval Dutch oven. The heavy, cast iron bottom spreads heat evenly to prevent burning and the enamel interior makes cleanup easy. My Le Creuset Dutch oven gets lots of use in the winter when I'm roasting chicken or making beef bourguignon (Julia Child couldn't live without hers and I feel just the same). I love how it goes from oven to table. But it also turns out to be the ideal pot for making peach chutney.
How Do You Store Peach Chutney?
I loved the taste of my homemade peach chutney so much that I made three batches of the recipe. (So far. It's quite possible that I'll make more. It's that good.) Because I had so much, I decided to water bath can mine in half-pint jars. They'll make great Christmas gifts – assuming they last that long in the household – and can be stored in the pantry for 2 years. If you've never canned anything before, it's really pretty easy. This article from freshpreserving.com gives a good overview of the process.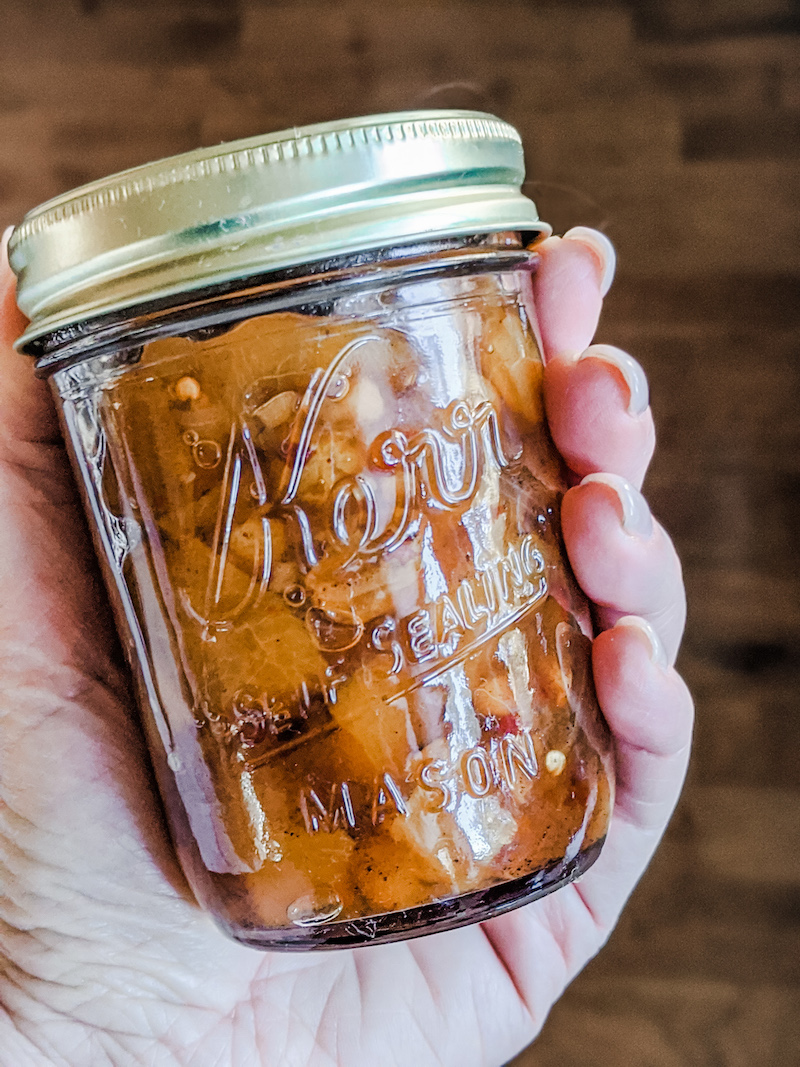 It will also keep in the freezer for up to a year, or will keep fresh in the refrigerator in a closed container for up to a month.
Print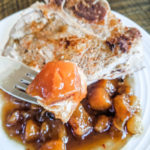 My Peach Chutney
---
Author:

Yield:

5

-

6

Half-pints

1

x
1 cup

apple cider vinegar

1

medium red onion, thinly sliced and slivered

2

inches fresh ginger root, peeled and minced

1 cup

golden raisins

1 tsp

ground cardamom

1 1/2 cups

brown sugar

4

lbs ripe but slightly firm peaches, peeled, pitted and cut to approximately 1-inch dice

1 tsp

. dried red pepper flakes (

1 tsp

is hot but not blazing,

½ tsp

is spicy but mild)

½ tsp

salt
---
Instructions
Place vinegar, onion, ginger root, raisins, and cardamom an enameled cast-iron Dutch oven, casserole, or very heavy-bottomed pot. Add brown sugar and stir until dissolved.
Simmer vinegar and onion mixture over low heat for about 10 minutes, until onions are soft. Add peaches and red pepper flakes to the pot. Simmer chutney over low heat, stirring occasionally, for one hour, until the peaches are soft and the chutney is golden brown and slightly thickened.