This post may contain affiliate links. Full disclosure policy
THIS POST MAY CONTAIN REFERRAL LINKS. IF YOU CLICK THROUGH AND TAKE ACTION, I MAY BE COMPENSATED, AT NO ADDITIONAL COST TO YOU.
When we moved into our new home on May 28thof last year it wasn't exactly finished.
The trim work, tile work, and interior painting weren't quite finished. The upper kitchen cabinets had yet to be delivered and installed. And the built-in bookshelves hadn't even been started. Oh, yes.  And there were no rods or shelves in the bedroom closets.
Move in ready? Uh…no.  Not quite.
But the lease was up on our apartment and so – short of putting our apartment stuff in storage and going on a month long cruise, an option I lobbied for heavily and lost – we had no choice but to move in.
Sort of.
The lack of finished closets, shelves, and cabinets made it basically impossible to unpack our boxes and settle in.  We set up the beds, a couple of chairs, and unpacked enough dishware so I could serve a meal. That was about it.  Everything else we owned was stacked and stuffed into the garage until construction was really finished.
It was like camping but with less scenery and more stress. Did I mention that I was on deadline for a new book?
For most of the summer, I sat at the kitchen counter and tried to type, surrounded by the sound of hammers, saws, and constant interruptions as tradesmen dropped in to ask my opinion on everything from paint colors and water pressure to outlet and shrubbery placement.
When the Garage is on the Back Burner
By Labor Day, the house was finally finished and truly move-in ready. In spite of the delays, we were thrilled with the end result. However, the biggest thrill of all came when we were finally able to unpack enough stuff to be able to pull our cars into the garage. Talk about a happy dance!
Maybe that's why, until a couple of months ago, we didn't really pay much attention to sorting out the garage and getting it organized.
I mean, considering where we started, it was practically pristine. But now that the dust has (quite literally) settled, I've taken a second look at the garage.  It definitely needs help.
There's just so much….stuff.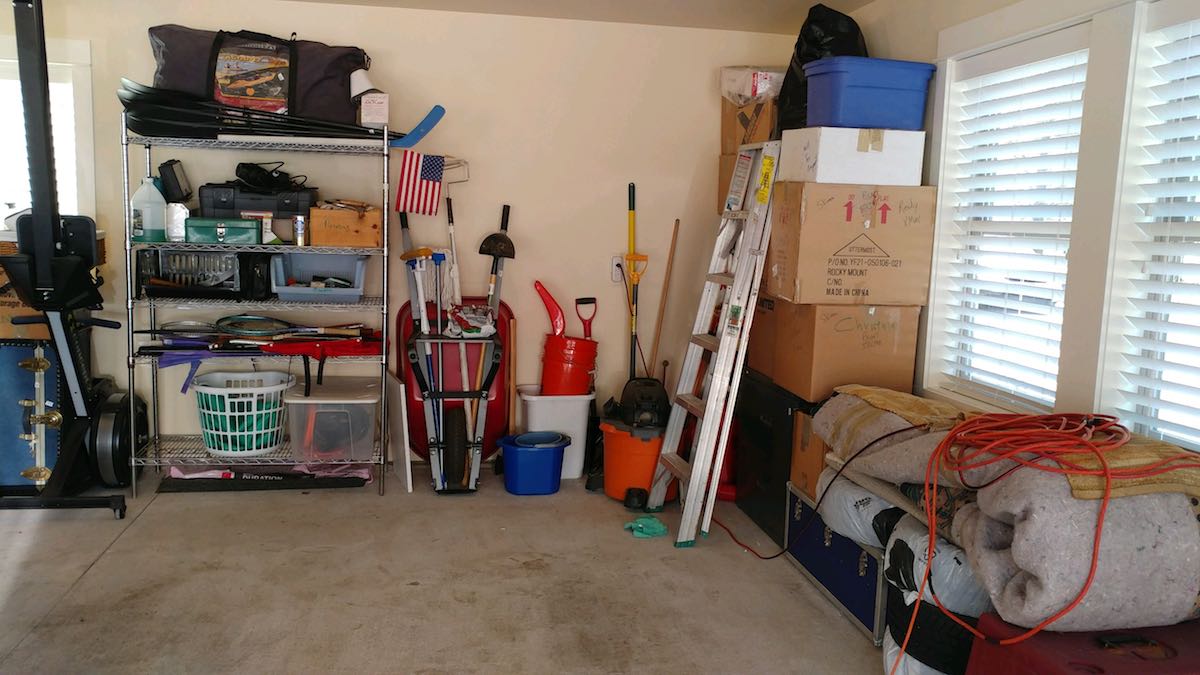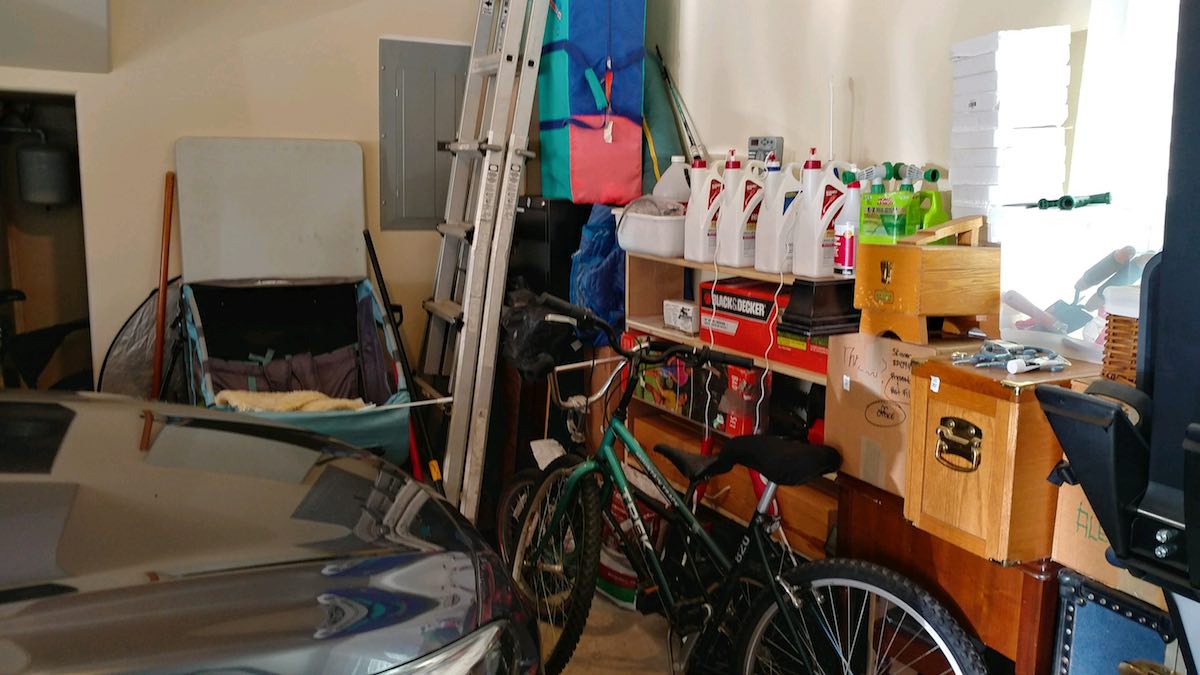 Managing the Clutter
Even though we pared down possessions considerably before the move, there are still a lot of things we simply don't need stored in the garage. The first step in my garage reorganization will involve another round of sorting, selling, repurposing, and donating.  After all, what we own actually owns us, as I shared in my recent blog on decluttering your life. 
But…after that?  No clue.
I just can't wrap my head around how this is going to work. Organizing my sewing/crafting/writing studio was pretty straightforward because most of the items I needed to find places for were smaller, of a more uniform size, and suited a similar purpose.  Garages aren't like that.
I've got a find sensible storage solutions for all kinds of awkwardly sized stuff – everything from wood screws, painting supplies, and garden rakes to snow tires, twelve foot ladders and mountain bikes.  Four of them.  And a toddler trailer that hooks behind when the granddarlings come to visit. And the patio furniture. And the dog stroller. And the rowing machine. And…
Well. You get the idea.
The bottom line is, we've got a lot of stuff out there. I need to find ways to store it in an organized fashion that makes it easy to find what we need, when we need it.  And it has to look pretty too. (Okay, I know. The garage doesn't have to look pretty but I want it to look pretty.  I just do. So there.)
How to Store Your Stuff, According to Pinterest
I've spent the last few days scouring Pinterest for ideas and inspiration. I'm definitely still in the planning stage so I don't know which, if any, of these clever garage organization ideas I'm going to use but there are a few that have gotten my attention.
SLATWALL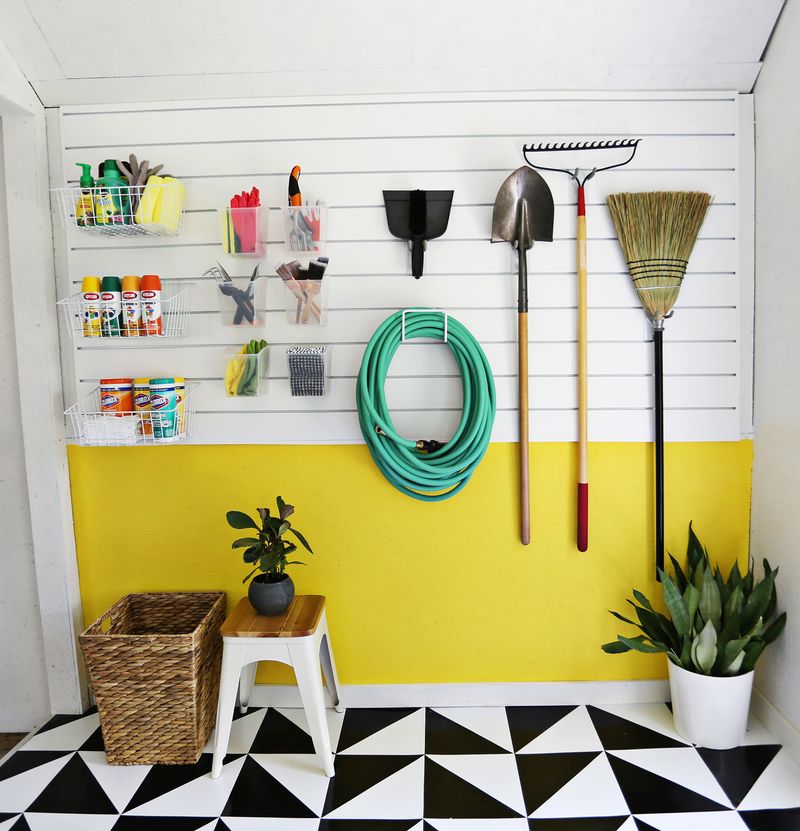 Slatwall seems to be all over Pinterest these days, and for good reason. It's just so clean and pretty! What's more, I love how its customizable to your needs and you can place items wherever you want, grouping them together, offering easy access to things you find yourself reaching for often. This example from A Beautiful Mess is, well, a beautiful mess. It's so pretty it would make me want to do yard work and home repairs. Don't even get me started on that floor.
VERTICAL BIKE STORAGE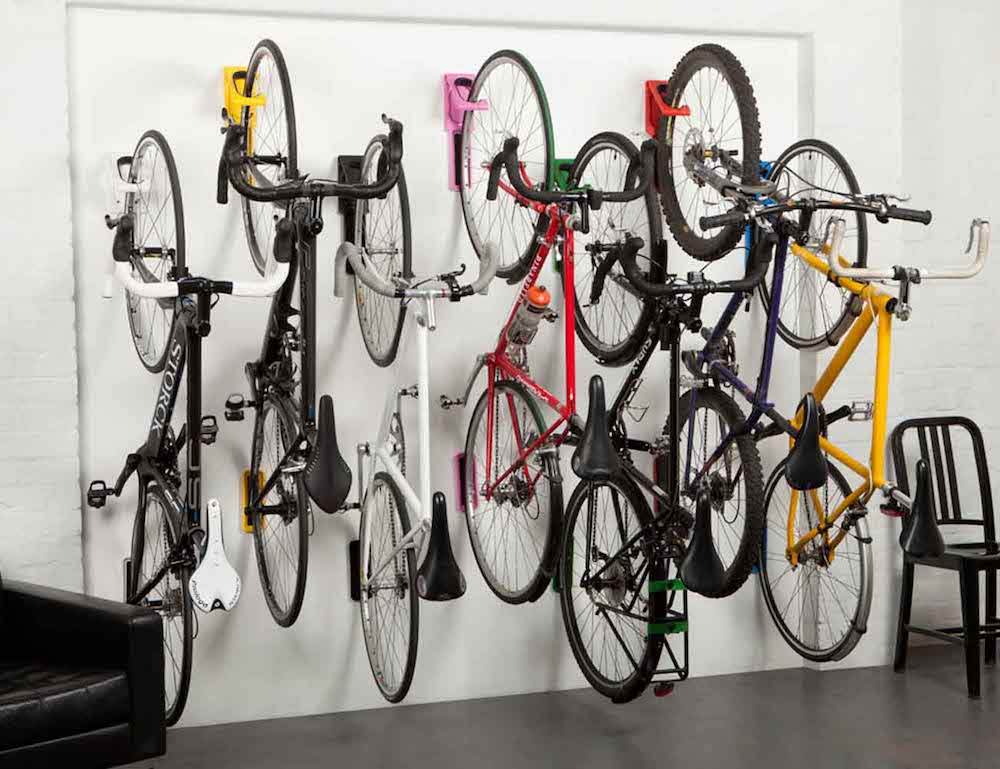 As I mentioned, we have multiple bikes and I'm even buying yet another for my upcoming triathlon. I love how orderly they all look in this bike storage system from Cycloc! Plus, they can be color coded! Another win in my quest for organization.
PEG BOARDS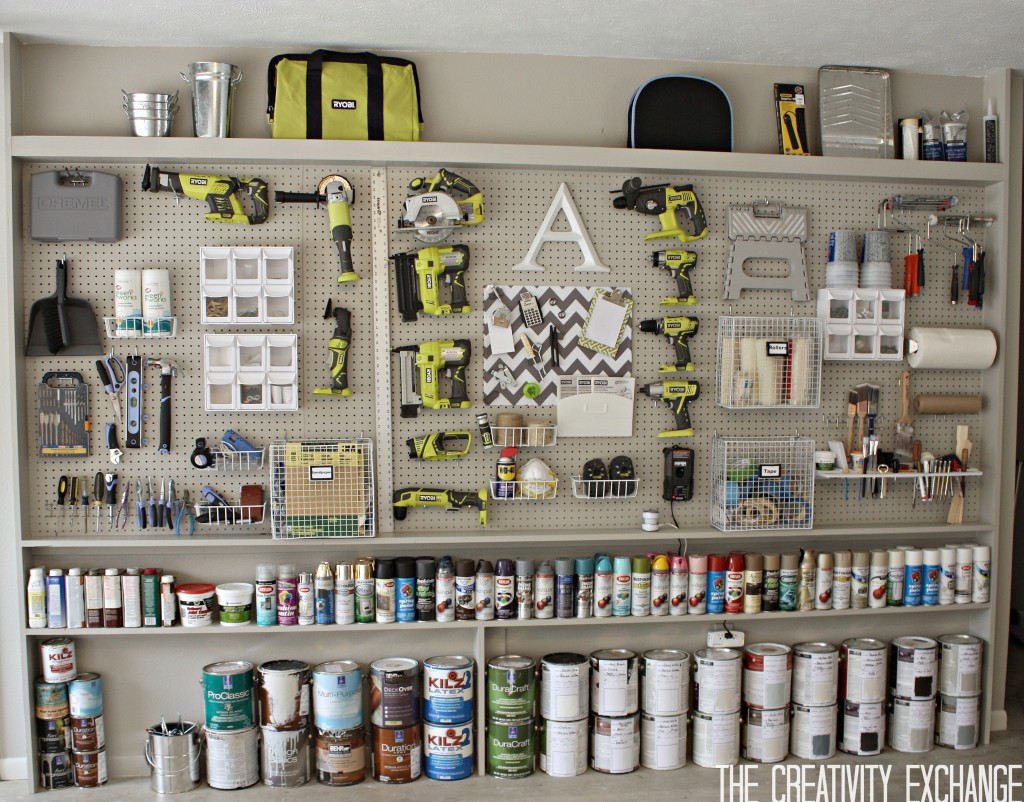 Pegboard is another one of those tools that helps keep everything easy to find. It might be easy to throw a bunch of screwdrivers into a bin, but why not put them out on display? Make them feel special. This pegboard project from The Creativity Exchange makes my heart skip a beat. They have matching tools. And chevron. And an initial. Oh my!
OVERHEAD STORAGE
This one literally does the heavy lifting for you with a pulley system. We have a handful of heavy items we seldom ever use (like a kayak) that really should be kept out of the way most of the time. This Racor Heavy Lift retractable storage unit looks like the ticket.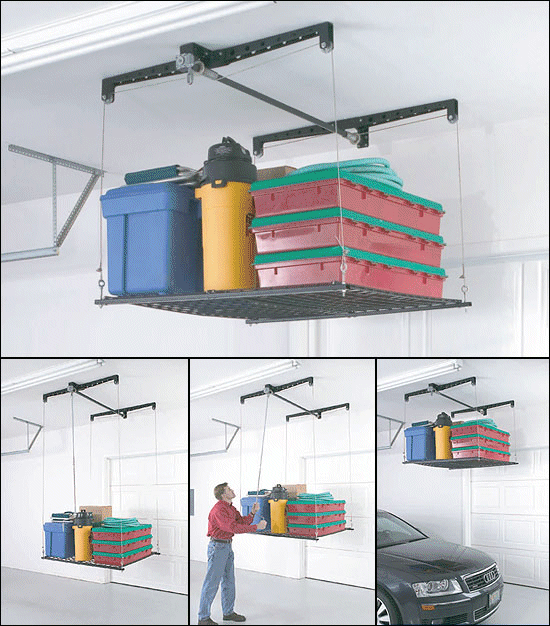 Bins
I'm a sucker for a label maker. This definitely would accommodate all kinds of shapes and sizes. I also love that it can be organized by activity, like beach supplies, camping supplies, emergency kits, etc. This particular example from A Bowl Full of Lemons even covers the clear plastic bins at the bottom with pretty fabric to hide the clutter. Decorating and hiding clutter with pretty fabric might be a metaphor for my life (I'm not ashamed!)

CABINET STORAGE
If this isn't the prettiest garage I've ever seen, I don't know what is. This ClosetFactory example I found on Freshome might just be too pretty.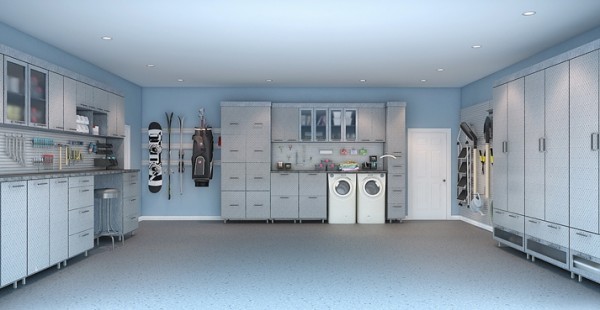 There are so many great ideas here! I can't wait to get started on my garage organization project.  I'm hoping to have to finished by the end of June. Stay tuned for updates!