This post may contain affiliate links. Full disclosure policy
THIS POST MAY CONTAIN REFERRAL LINKS. IF YOU CLICK THROUGH AND TAKE ACTION, I MAY BE COMPENSATED, AT NO ADDITIONAL COST TO YOU.
Have you ever stood in the aisle reading card after card and feeling like none of them really hit the right notes?
Too generic. Too clever. Too millennial. Too expensive. Too. Much. Glitter.
For the moms in your life, whether they are your actual mom, an honorary mom, your daughters, daughters in law, or your friends, sometimes a homemade card is the best way to show how much you care.
While a handmade card might take more time, it certainly will be more meaningful. It's also extremely likely that it will be prettier and more appreciated.
Here's a roundup of my very favorite ideas for creating something beautiful for Mother's Day. It goes without it saying that you should put your thoughts on paper and actually write a heartfelt letter, given that the lost art of letter writing is in full revival mode. I love the idea of writing a poem, or listing favorite memories or most appreciated traits that mom handed down.
The Pop Up Card
I know, I know. This seems a little complicated. The instructions actually made me go a little cross-eyed given that I don't exactly have a three dimensional brain, but how neat is this? For those of you that are good at following directions, this one is for you! Plus, if the fierce (and certainly over fifty) Martha Stewart can figure it out, surely we can too.
Image Credit: Martha Stewart
Homemade Flower Paper
Handmade flower paper cards are another idea that looked a little tricky at first but after perusing the instructions, I think I can do this! Homemade paper seems like a great way to save a tree–you can use old receipts, scrap paper, or junk mail to create something beautiful and unique. And, it has the added bonus of being able to customize with your mom's favorite flowers, colors, and scents.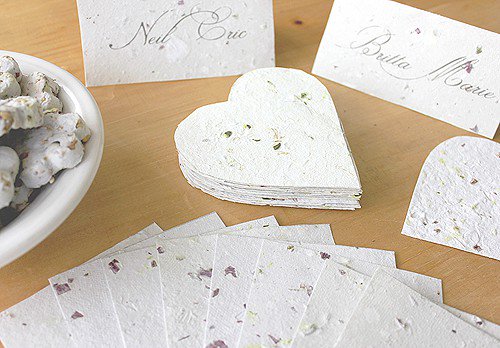 Image Credit: One Good Thing by Jillee
Plantable Seed Cards
Brace yourself. This one is exceptionally clever. A card that grows into a flower. What could be cuter? This one is probably better suited for a mom who actually likes to garden.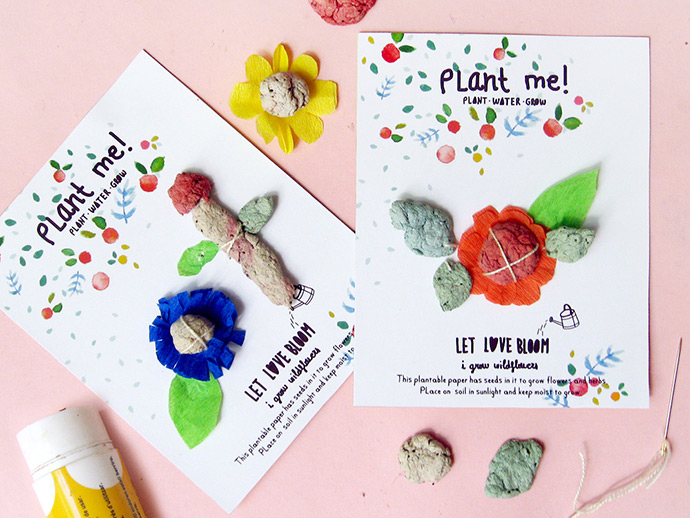 Image Credit: Handmade Charlotte
Button Flower Pot Pocket Cards
These darling flower pot cards can contain a secret message when the flowers go into the pot and you probably have many of the supplies at home–extra buttons, construction paper, and ribbon. This tutorial leads you through step by step with helpful images.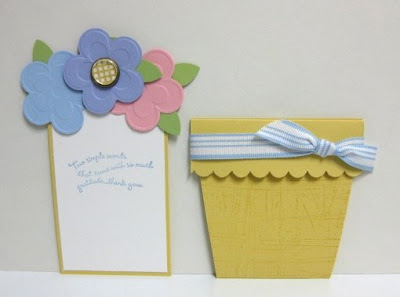 Image Credit: Confessions of a Stamping Addict
Origami Rose
My boys used to love origami projects when they were young. I loved to join in as well, for obvious reasons. For one, I feel like origami just makes you smarter. Secondly, there's pretty paper involved so naturally I'm into it. And third, origami is one of those rewarding crafts that takes a good deal of focus and precision, but once you are done, you are really proud of what you've made! This Origami Rose would certainly be on display at my house.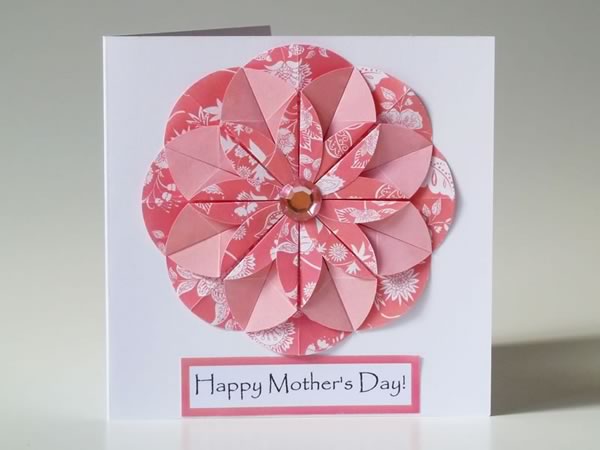 Image Credit: Homemade Gifts Made Easy
Stitched Flower Card
We've talked about how I am a bit of a fabric hoarder, right? I'm not apologizing for it. I'm actually quite proud of my stash. It would come in handy if I choose to make a stitched fabric card on the fly. It's about as close as a quilt can get to a greeting card. It's also infinitely more charming that it says "Lovely Mum" on it. Oh, to be British…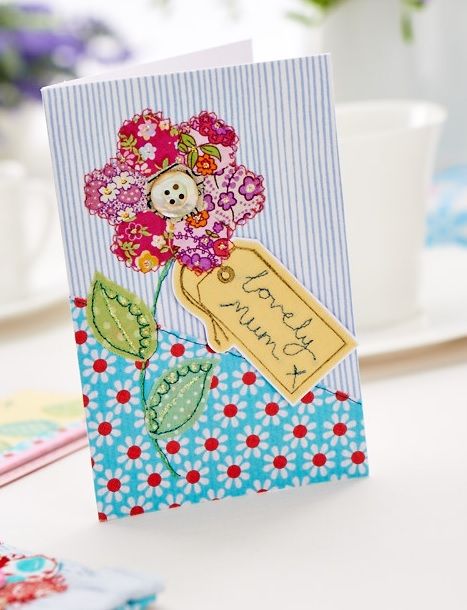 Image Credit: Crafts Beautiful 
Finally, whatever you do, do it with love! The special moms in your life will hold these tokens close to their heart for years to come.