This post may contain affiliate links. Full disclosure policy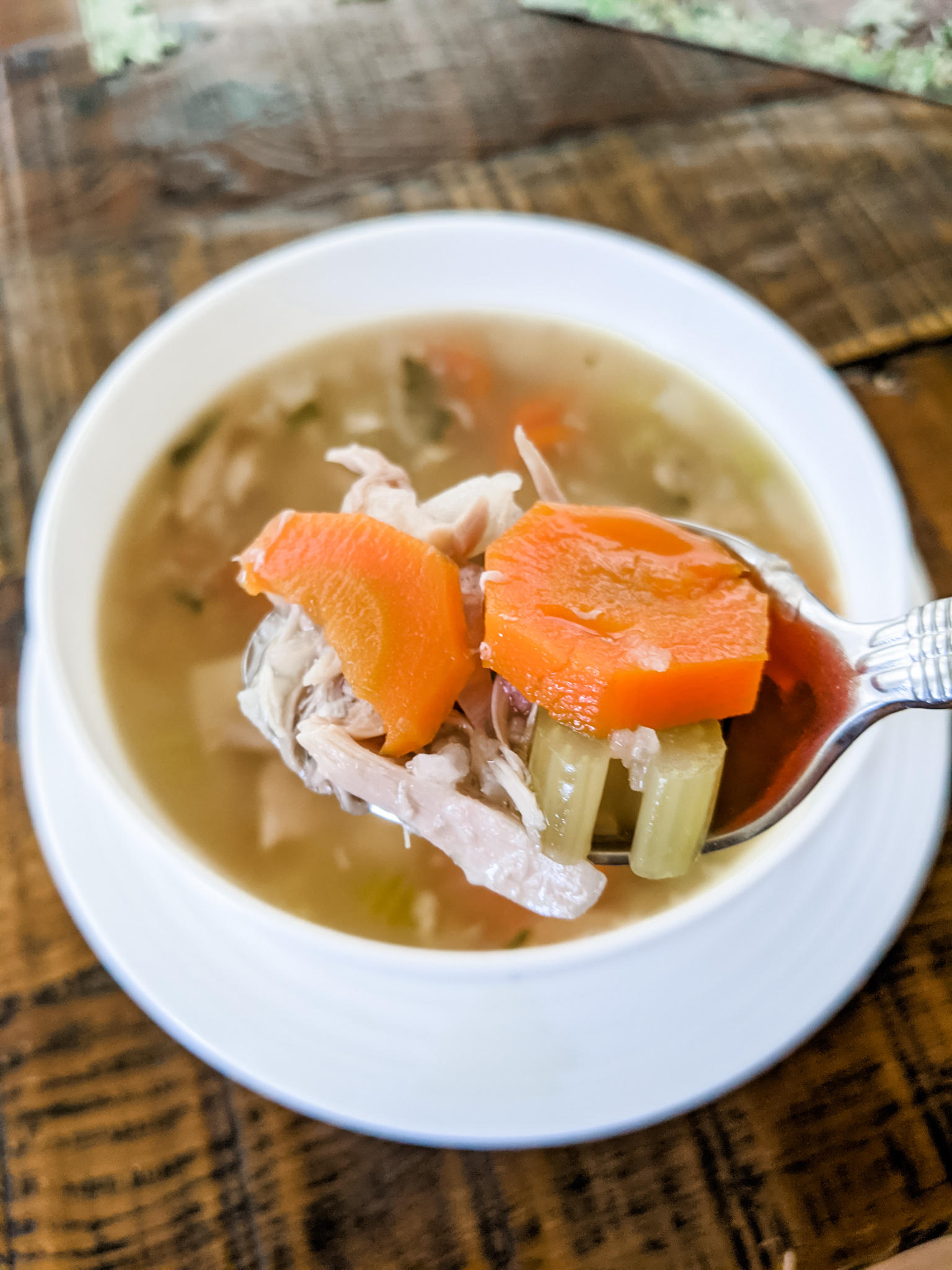 A bowl of turkey soup, brimming with tender leftover turkey and vegetables in a flavorful homemade broth, is a post-holiday favorite at my house. So good! And so easy to make!
Sometimes I'm not sure which I enjoy most, roast turkey or the leftovers that come with it!
There are just so many great ways to use up leftover holiday turkey. A turkey sandwich with lettuce, mayo, and lots of cranberry sauce is always delicious. My recipe for Healthier Turkey Tetrazzini is a winner too, especially if you've done a little too much indulging during the holidays.
But my hands-down favorite way to use leftover turkey is by making a big bowl of homemade turkey soup! It's healthy, hearty, delicious, and so easy to make.
Homemade Stock Makes It Better
This time of year, you can probably find ready to use turkey broth or stock at the store. My local Trader Joe's is carrying it. You can certainly make my Leftover Turkey Soup Recipe with store-bought broth too. But this soup is so much more delicious when it's made with homemade broth!
Making your own turkey broth at home does require a little more effort. But the difference in the flavor is so worth it, especially when you're making leftover turkey soup. The broth is the main ingredient for turkey soup, so you'll want to make sure yours is as rich and flavorful as possible. And when it comes to flavor, homemade broth just can't be beaten.
What Do You Need to Make Homemade Turkey Stock?
In a word – leftovers. Which is great!
Not only is homemade broth easy to make, it's also a tasty and thrifty way to get every last bit of goodness out of your turkey, as well as any slightly past their prime vegetables you've got in the refrigerator.
But before we discuss veggies, let's talk turkey.
If you roasted a whole bird, you can use the carcass bones for making your stock. Just be sure to slice as much meat as you can first, reserving it to add to the soup at the end.
You can also make your stock from uncooked turkey parts. Since we had a small Thanksgiving this year, I asked my butcher to cut up a whole bird for me. I roasted the breast and thighs to serve on the holiday, and put the neck, back, and wings in the freezer to make soup.
When you're making stock for soup, it's perfectly acceptable to use veggies that are a little past their prime. Carrots or onions that have gone a little soft are great for stock. So are the celery ends and feathery celery tops.
Sometimes, I save celery ends, carrots peelings, and tops in the freezer for making soup later. Nothing gets wasted in our house!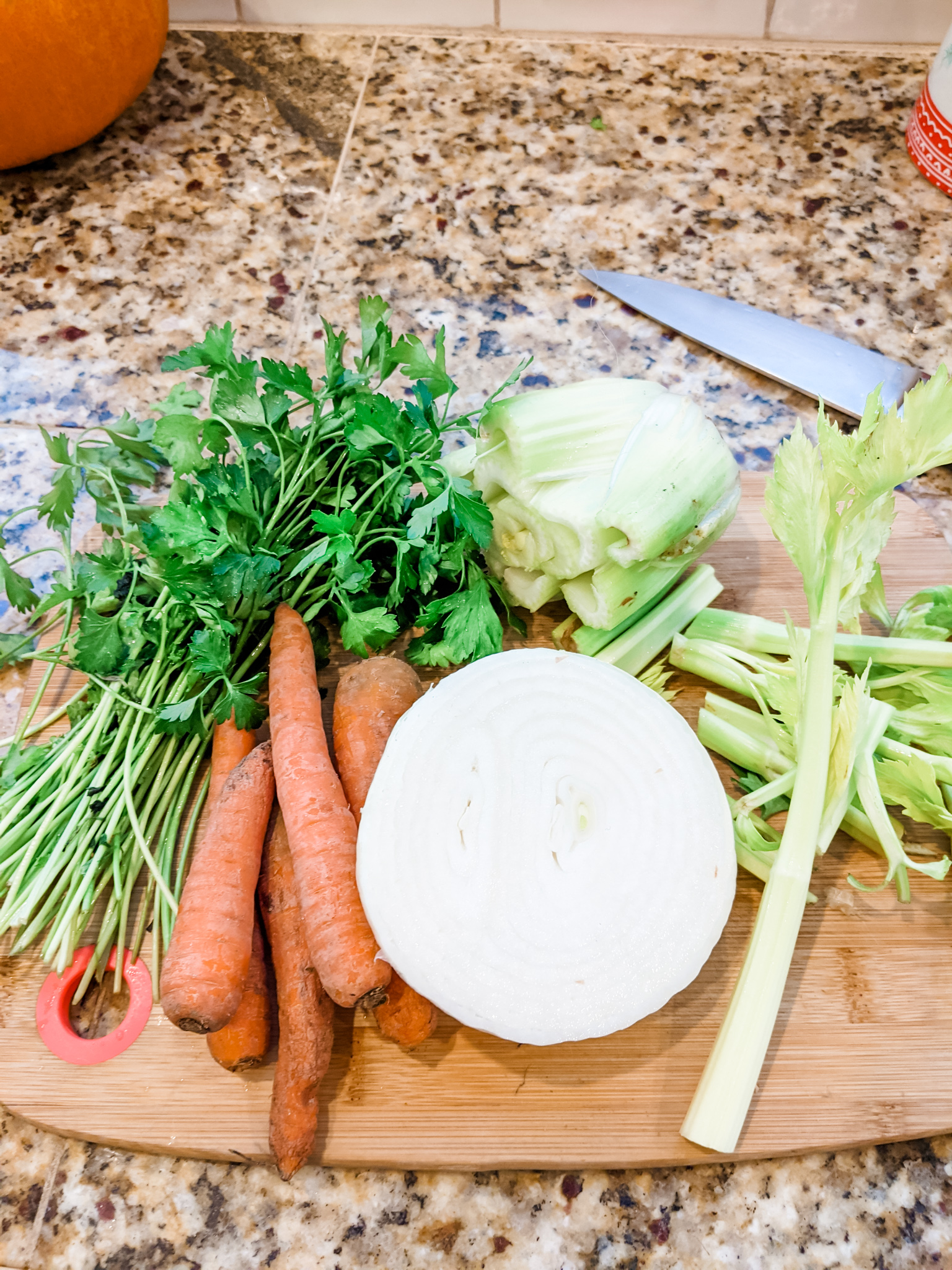 How to Make Turkey Stock at Home?
Whether you're using the leftover turkey carcass or uncooked parts, the process for making stock is the same.
Place the turkey carcass or parts in a stockpot. Add two or three peeled carrots, two or three celery ribs, and a peeled and quartered onion, some parsley if you have any, a bay leaf, and a few peppercorns to the pot.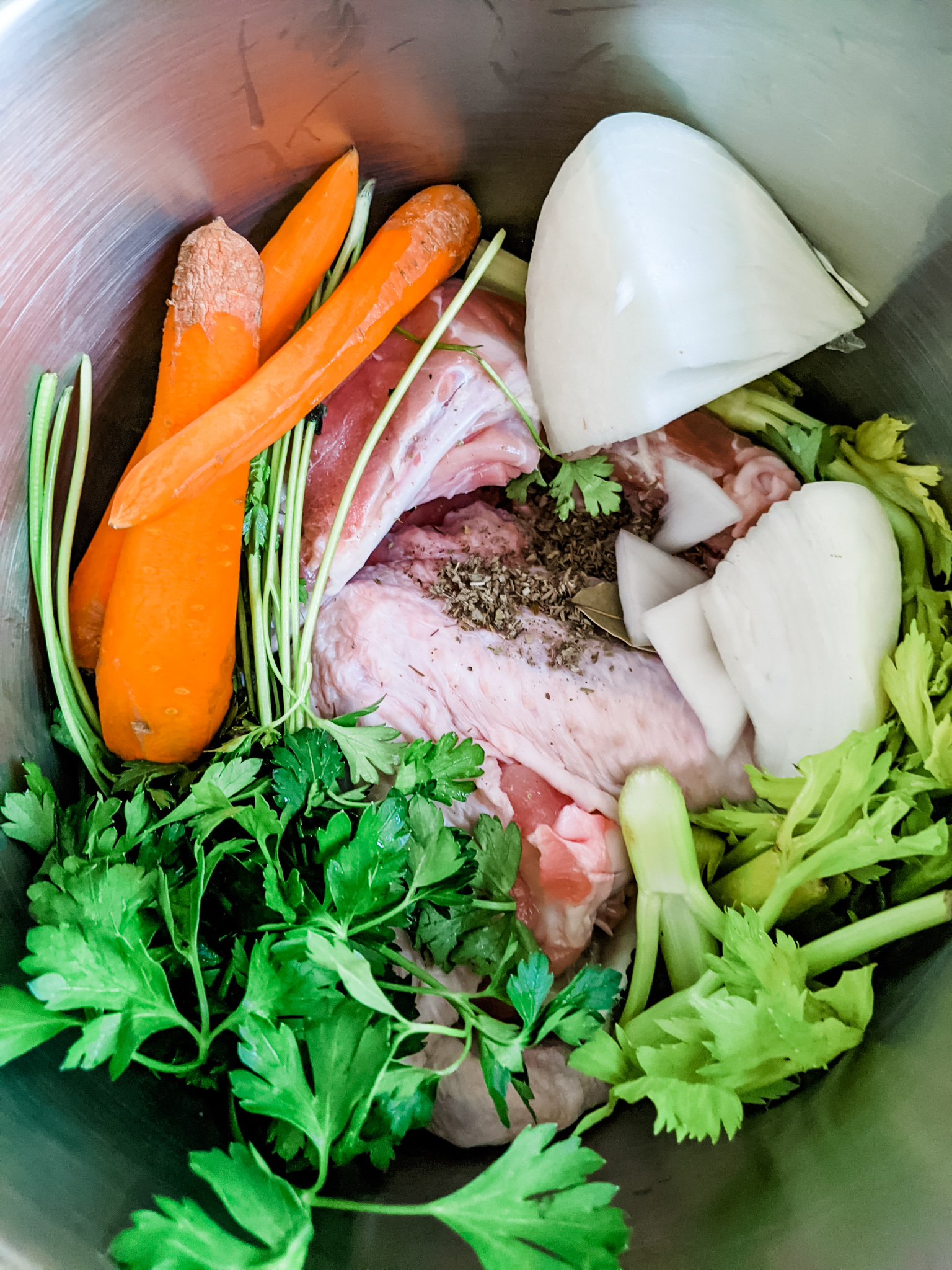 Cover the turkey, vegetables, herbs, and spices with water. Bring the pot to a boil, then turn the heat down to low and simmer for about two hours. Remove the pot from the heat and allow it to cool. Remove the bones, vegetables, and other solids.
Place the broth in the refrigerator until it's cold. Skim off any fat that's risen to the top. Taste the stock and add kosher salt to taste if desired.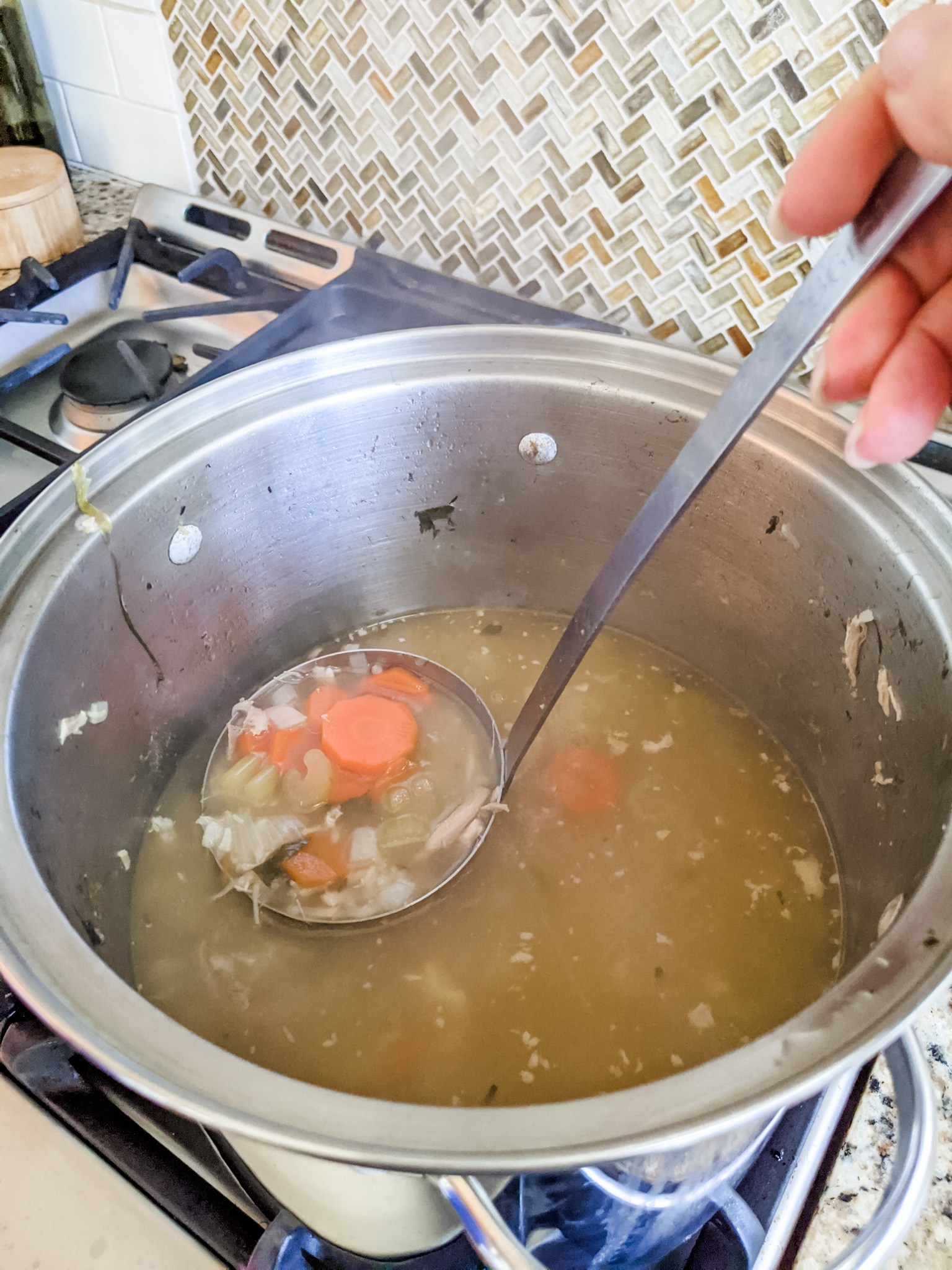 (If you've used a turkey carcass to make your stock, there's probably not much flavor left in the meat, so I don't add that back to the finished soup. But when I use uncooked turkey parts for the stock, I do pick the meat from the bones and use it in the soup. Really, there's right or wrong here. Do what makes sense to you.)
How to Make and Store Leftover Turkey Soup
Though I really prefer homemade, my leftover turkey soup works with store-bought stock too. Beyond that, all you'll need to make my Leftover Turkey Soup Recipe is a couple of cups of leftover turkey and some vegetables.
You don't have to but I almost always add leftover cooked rice or noodles to my Leftover Turkey Soup. It really is a meal in a bowl.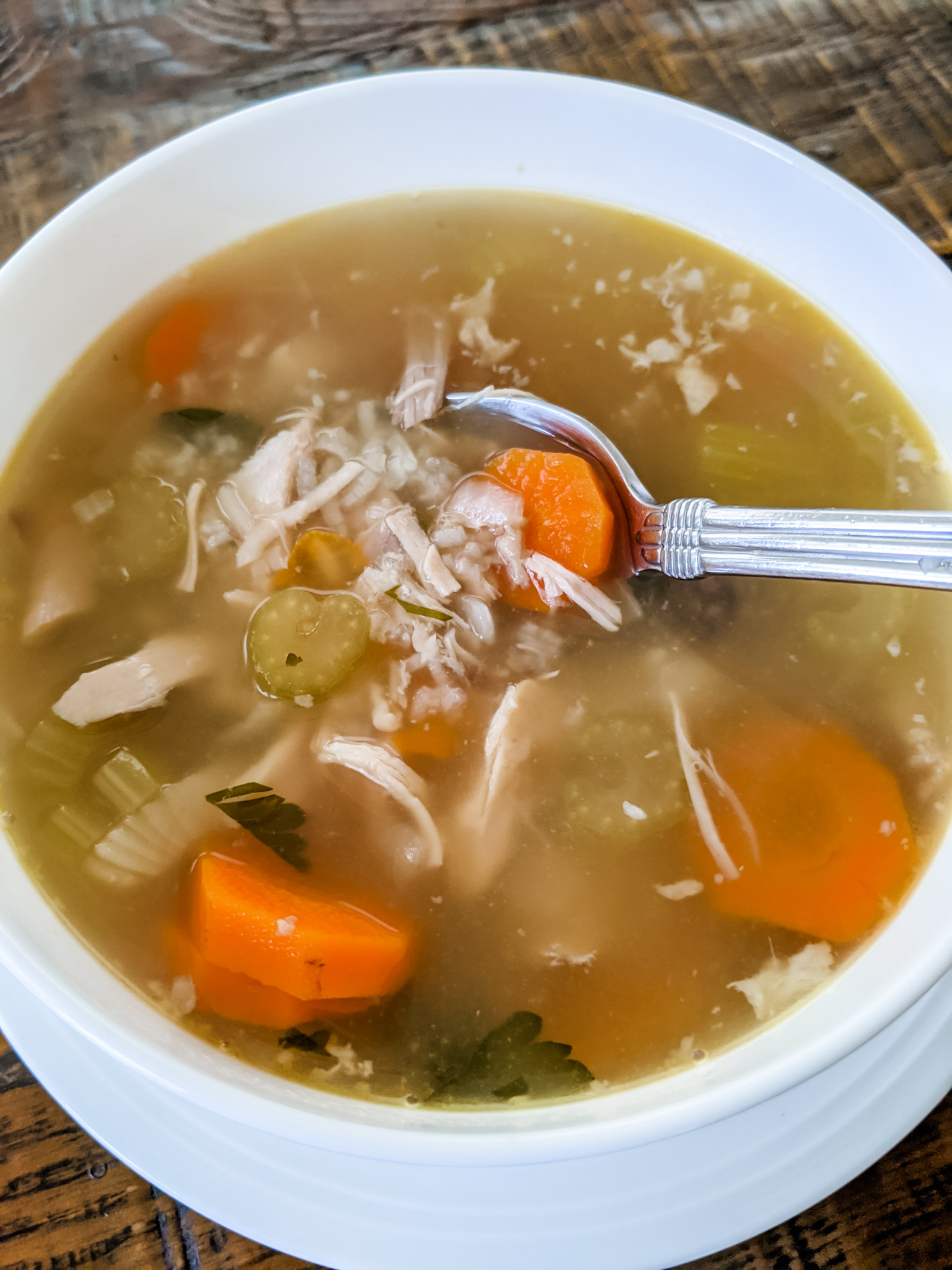 This is a very generous recipe. And that's a good thing!
Leftover Turkey Soup will keep just fine in the refrigerator for 3 or 4 days. But if you can't finish it in that time, just store it in the freezer. It will keep in the freezer for up to 6 months. That means you'll have plenty of quick, healthy meals to serve on busy days. (And isn't that pretty much how it is every day?)
If you've got some leftover turkey at your house, try cooking up a pot of Leftover Turkey Soup this week. It's nutritious, filling, and great for a quick lunch or dinner!
Print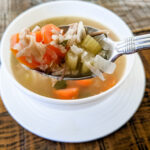 Leftover Turkey Soup Recipe
---
Author:

Yield:

Makes

10

-

12

servings

1

x
3 quarts

turkey broth or stock, store-bought or homemade* (See blog post for homemade stock tips.)

1.5 cups

carrots, peeled and sliced

1.5 cups

of celery, sliced

1 cup

of onions, diced

2

T fresh parsley

2

–

3

cups leftover turkey meat

1

–

2

cups leftover cooked rice or noodles (optional)
Kosher salt to taste
Fresh ground pepper to taste
---
Instructions
Add broth, leftover turkey, carrots, celery, and onions to a large stockpot. Bring to a boil, then lower heat and simmer for 15-20 minutes, until vegetables are soft.
Add leftover turkey, parsley to pot, along with rice or noodles if using. Simmer soup for an additional 5-7 minutes.
Taste soup, add salt and pepper as desired, and serve.
Soup will keep in refrigerator for 3 to 4 days. Frozen turkey soup will keep from 4 to 6 months.