This post may contain affiliate links. Full disclosure policy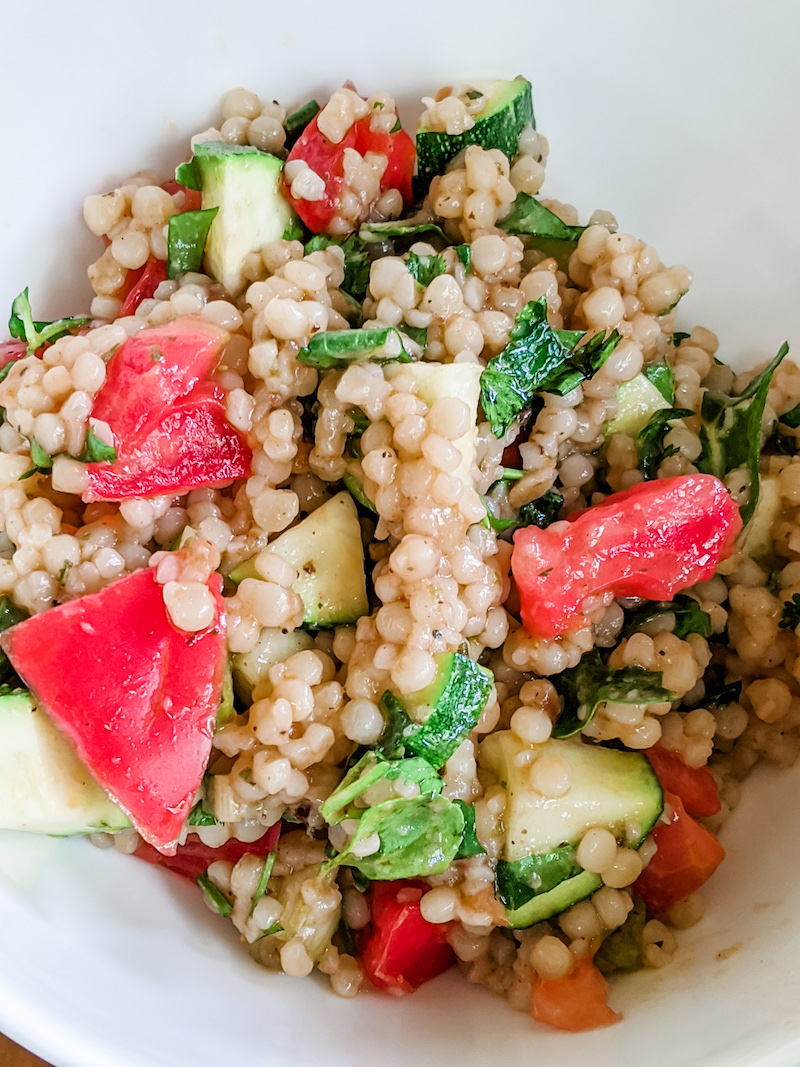 Remember that old saying, "If you can't take the heat, stay out of the kitchen"? My fourth recipe of Zucchini Week features is ideal for chefs who are trying to beat the heat.
Like revenge, my Israeli Couscous Salad with Zucchini and Tomato is a dish best served cold. And not only does it require no heat-intensive cooking beyond a little bit of boiling, but it's also one of those recipes becomes even more flavorful the second or third day.
That's why even though there are only two people in my house, my recipe makes a big salad. This Israeli Couscous Salad with Zucchini and Tomato gives me leftovers we actually look forward to eating. And in the heat of late summer, I'm all about a dish that gets me in and out of the kitchen quickly. Especially if that means I don't have to go back for a day or two.
What Makes an Israeli Couscous Salad
So what's in my Israeli Couscous Salad with Zucchini and Tomato?
Well…zucchini and tomato. No surprise there, right? Especially during Zucchini Week. Tomatoes are almost as plentiful as zucchini right now and these two late summer vegetables really are a match made in heaven. Green onion adds a nice bite of sharpness and fresh parsley and basil round out the fresh from the garden flavors of this beautiful summer salad.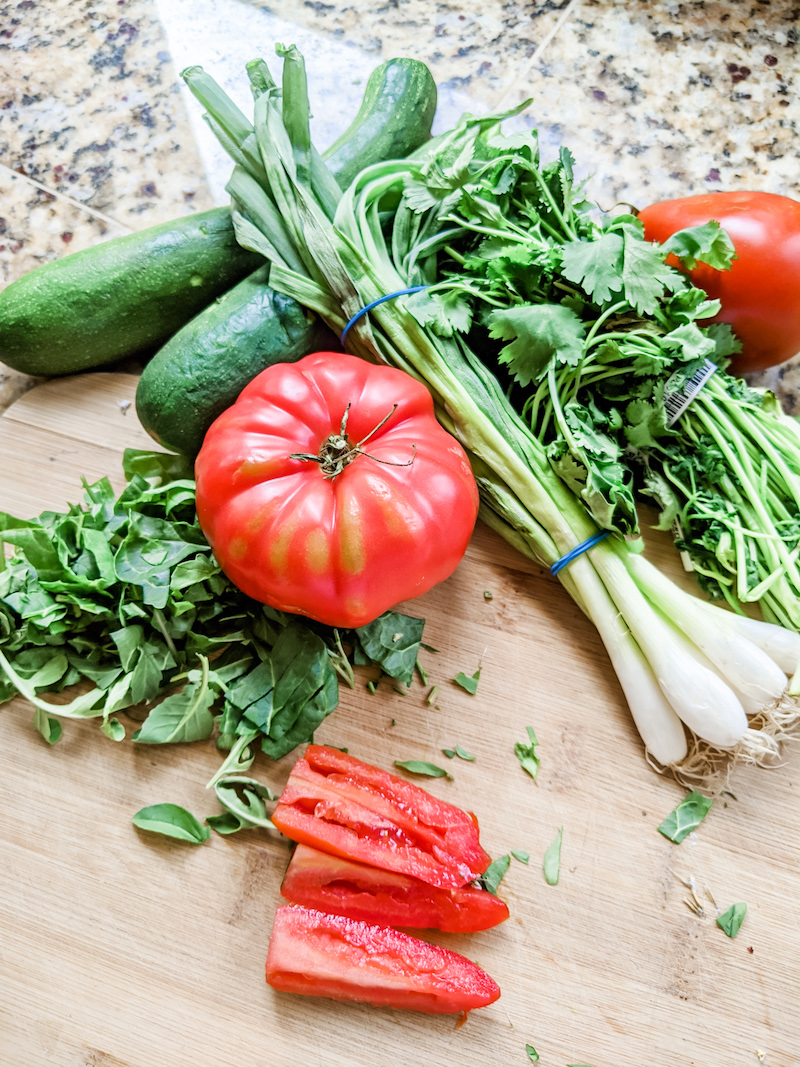 The whole thing is brought together by a red wine vinaigrette that makes the veggies play well together and permeates every delectable bite of the couscous. But if you've never used it before, you might be wondering what Israeli Couscous is?
The Right Types of Couscous for your Couscous Salad
Regular couscous is actually a grain. But Israeli couscous is really a pasta, shaped into rice grained size balls. That's why it's sometimes called pearl couscous. One of the advantages of those little pearls is that the couscous cooks quickly, which helps get you out of the kitchen more quickly. Definitely a plus in this hot weather! Also, those little pearls absorb the vinaigrette quickly and easily.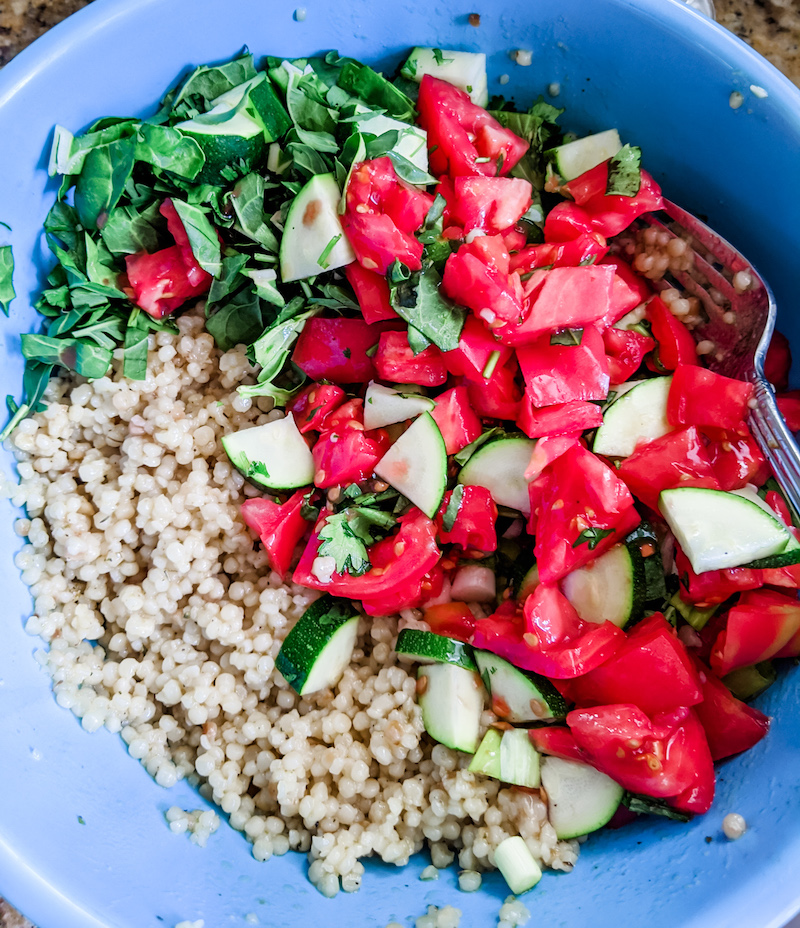 Israeli Couscous Salad with Zucchini and Tomato makes a wonderful change when you're tired of those summer side dish standbys – potato or macaroni salad. It's a great accompaniment to basically anything you want to toss on the grill – chicken, fish, beef, or pork. It's better for you than potato and macaroni salad too, because it's got such a variety of healthy vegetables.
Want to Bulk Up Your Israeli Couscous Salad?
As a side dish, Couscous Salad with Zucchini and Tomato is pretty hard to beat. But lately, I've been making it into a main dish salad by adding two 6 oz cans of pink salmon to the mix. That's been a big hit at our house! If you're looking for a vegetarian main dish, toss in some small balls of mozzarella, cut in half. Yum!
If you're staring at that pile of zucchini your neighbor left on your doorstep and wondering what you're going to do with it – Israeli Couscous with Zucchini and Tomato is the answer! You're going to love it.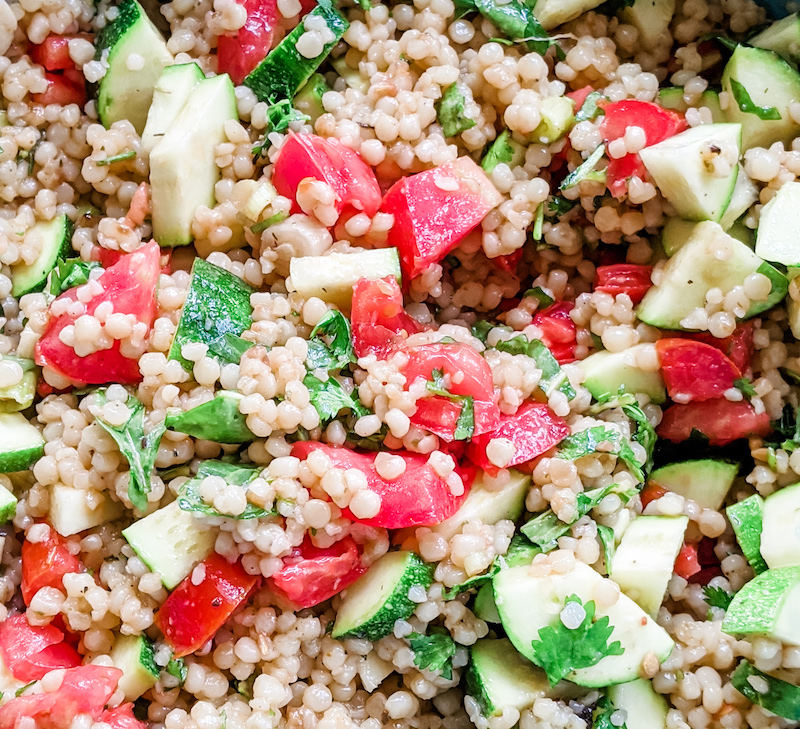 Be sure to check out all five of my Zucchini Week recipes for more ideas about how to cook with summer's most popular (and populous) vegetable!
Print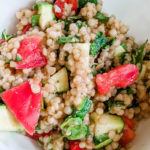 Israeli Couscous Salad with Zucchini and Tomato
---
Author:

Yield:

8

servings

1

x
1

T olive oil

2

C uncooked Israeli Couscous

4

C chicken or vegetable broth

1 tsp

Kosher salt

2

large tomatoes, seeded and chopped

2

medium zucchini, quartered lengthwise and cut into

1

-inch chunks

1

bunch green onions, chopped, white and green parts

¼ cup

fresh basil, chopped

½

bunch fresh flat-leaf parsley, chopped
For vinaigrette:
½ cup

red wine vinegar

½ cup

olive oil

1

T Dijon-style mustard

1 tsp

Italian seasoning

½ tsp

Kosher salt

¼ tsp

garlic powder

¼ tsp

onion powder
Fresh ground pepper to taste
---
Instructions
In a small bowl or large glass measuring cup, mix together vinegar, oil, and all other ingredients for the vinaigrette, whisking vigorously to combine. Set aside while making the salad.
Put 1 T olive oil in a heavy-bottomed pot and place on the stove over medium heat. Pour couscous into the pot and stir to coat with oil. Cook for 3-4 minutes to toast, stirring frequently.
Pour in broth. Bring couscous to a boil, then lower heat, cover couscous, and simmer for about 10 minutes. Check every few minutes, stirring to make sure couscous isn't burning or sticking to the bottom.
When couscous is al dente (cooked but still slightly firm, not mushy), fluff with a fork and set aside for five minutes while you chop and prepare vegetables.
Place cooked couscous into a serving bowl. Pour vinaigrette over couscous and stir to combine, then gently stir in vegetables, distributing evenly. Serve immediately or cover bowl and place in the refrigerator to chill. Will stay fresh in the refrigerator for two to three days, covered.