This post may contain affiliate links. Full disclosure policy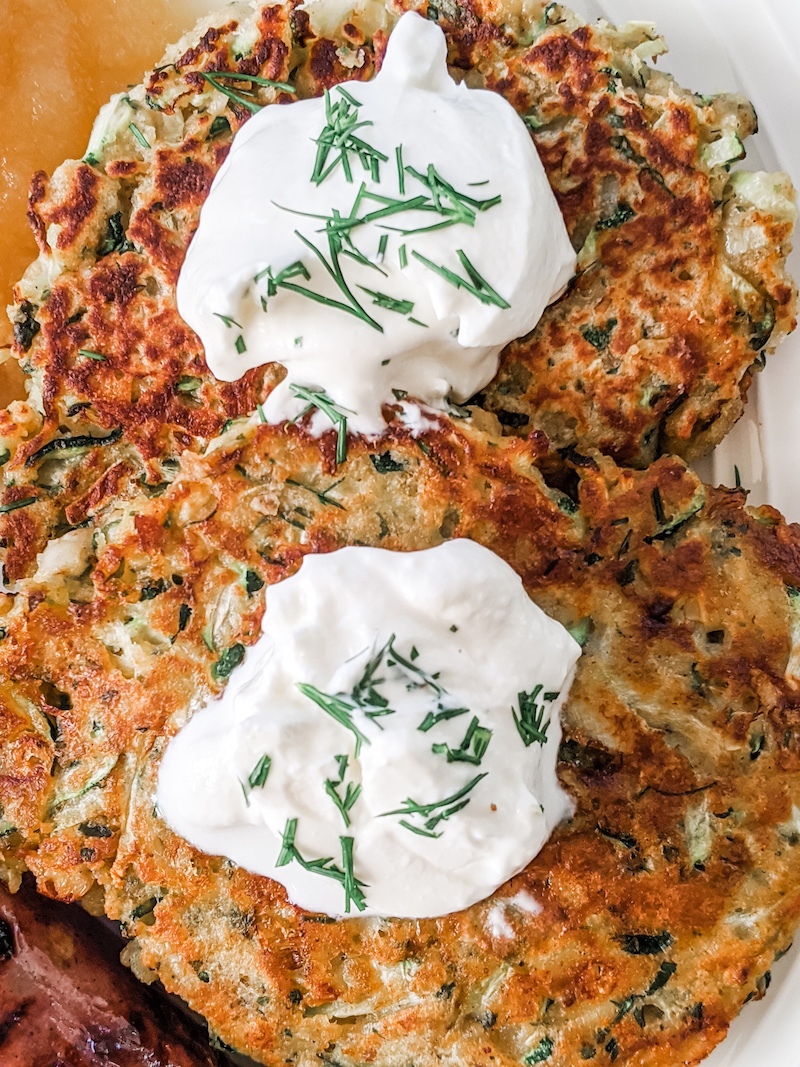 Let's hear it for zucchini! That most flexible member of the squash family that grows like a weed and plays well with so many ingredients in so many different dishes. I love zucchini so much that I am devoting an entire week of recipes to it. Recipe number two for Zucchini Week are my Savory Zucchini Cakes with Fresh Herbs (Monday's was a Curried Zucchini Soup!).
My mother was from a one hundred percent Irish family, so potatoes were a staple at our childhood dinner table. Meanwhile, my dad was of German ancestry and loved potato cakes, a popular German dish. Maybe that's why they made such frequent mealtime appearances when I was a little girl. Potato cakes were something everyone could agree on, a kind of ecumenical side dish. On the other hand, maybe they just tasted good.
A Childhood Favorite-Inspired Dish
I was definitely thinking about the potato cakes of my childhood while creating my Savory Zucchini Cakes with Fresh Herbs. And I can honestly say, I like them just as much as the potato version. Maybe even a little more!
In many recipes, zucchini plays a supporting role and serves as a complement to other ingredients. Nothing wrong with that. I'll be sharing more than on recipe like that this week. But my favorite squash variety takes center stage in these Savory Zucchini Cakes with Fresh Herbs and the results are absolutely delicious. I love that they require a lot of zucchini – three whole cups.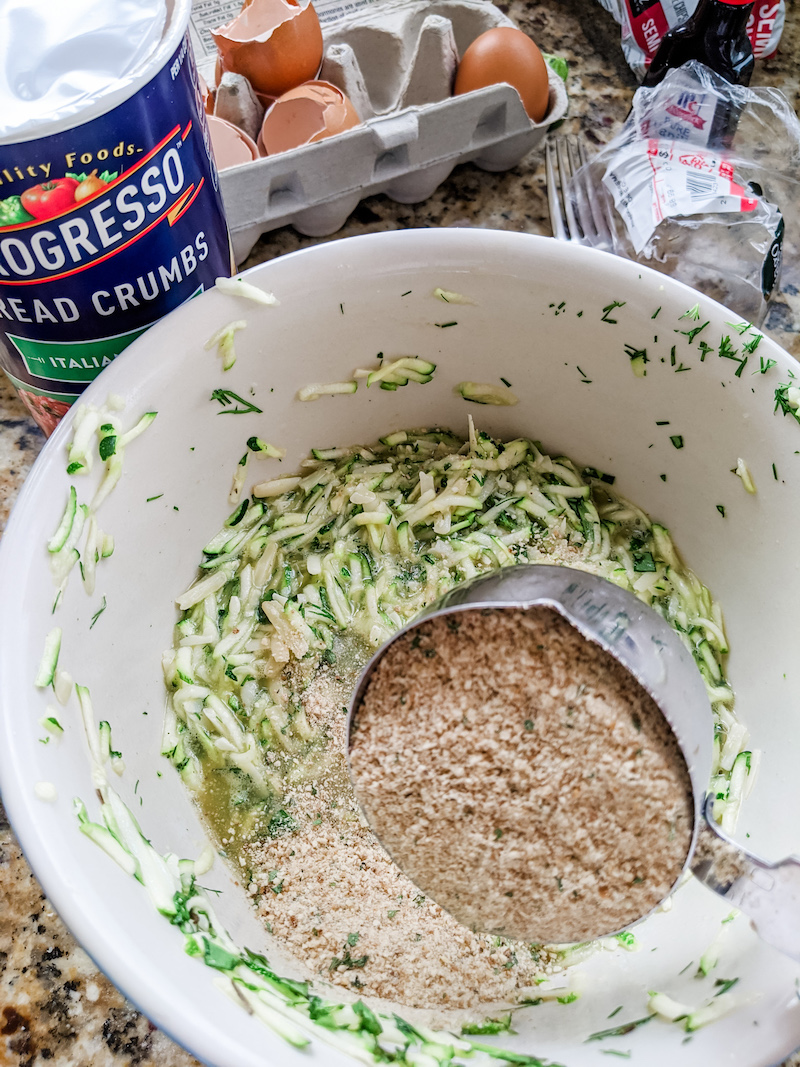 I'm also happy that they're a good way to use up any extra fresh herbs from the refrigerator or garden. My recipe calls for basil and dill, but just about any herb would do here. Thyme would be really lovely. Parsley or cilantro would work too. I do think fresh herbs are best for this recipe. However, if you don't have fresh on hand, you could substitute the dried variety, but in a lesser amount. Use one teaspoon dried herbs in place of a tablespoon of fresh.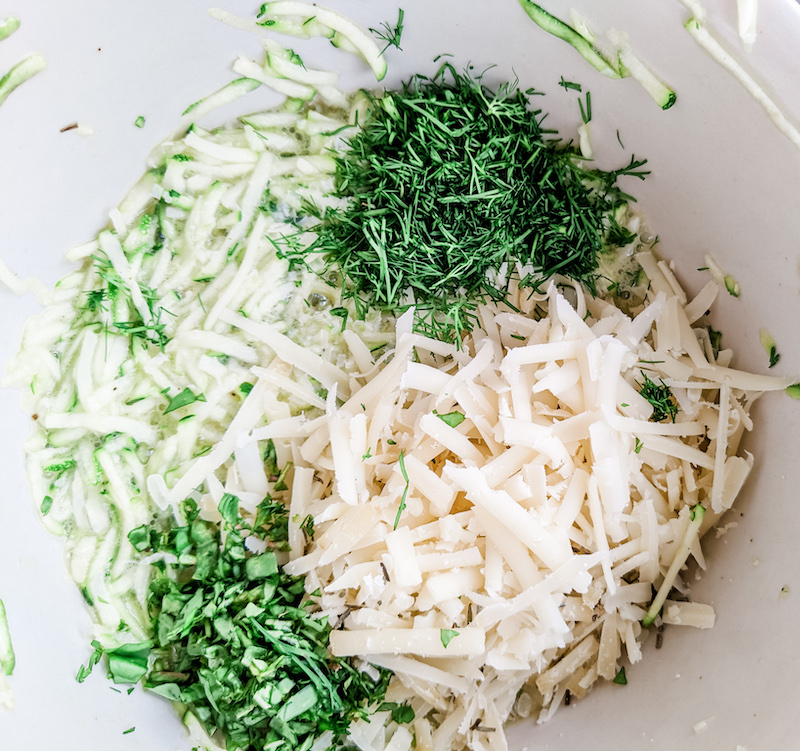 Be Creative with Your Zucchini Cakes!
While we're on the topic of variations – let's talk about oil. I was trying to keep my Savory Zucchini Cakes with Fresh Herbs on the healthy side, so I cooked them in a nonstick skillet, using just four teaspoons of oil for the whole recipe. That worked really well, the cakes had a nice crispy texture around the edges.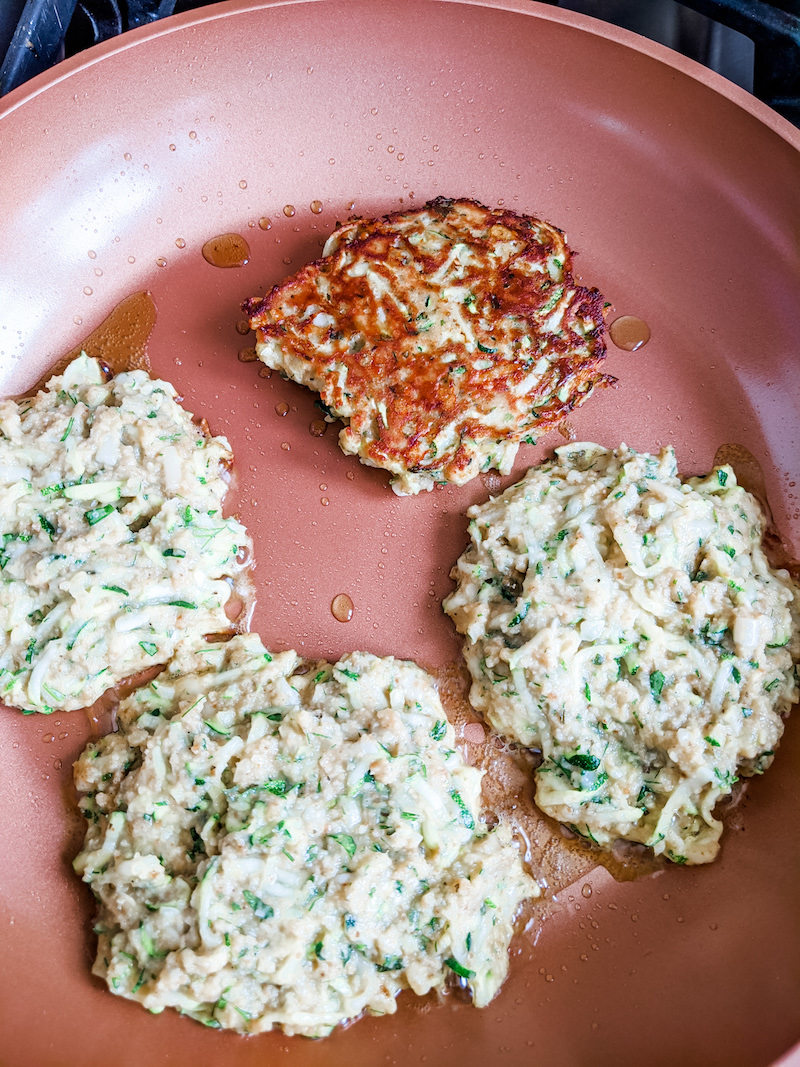 Olive oil tends to be my go-to oil for most recipes. But since zucchini is one of those ingredients that lets other flavors come through, using some different flavors of oil could be fun. For example, walnut or peanut oil would be really nice here. I'm also thinking that using sesame oil and 2 tablespoons of Thai basil would be great if I wanted to serve zucchini cakes as a side dish for something with a more Asian influence, like teriyaki chicken. I'm sure you can come up with ideas of your own.
What to Serve with Zucchini Cakes?
I served my zucchini cakes the same way my mom served her potato cakes, paired with sausages, apple sauce, and a little dollop of sour cream. But there's lots of room for interpretation here! Depending on the herbs and spices you use, you could easily come up with Indian, Mexican, Spanish, or Asian cakes. As I said, zucchini is easy to love and gets along with just about everybody.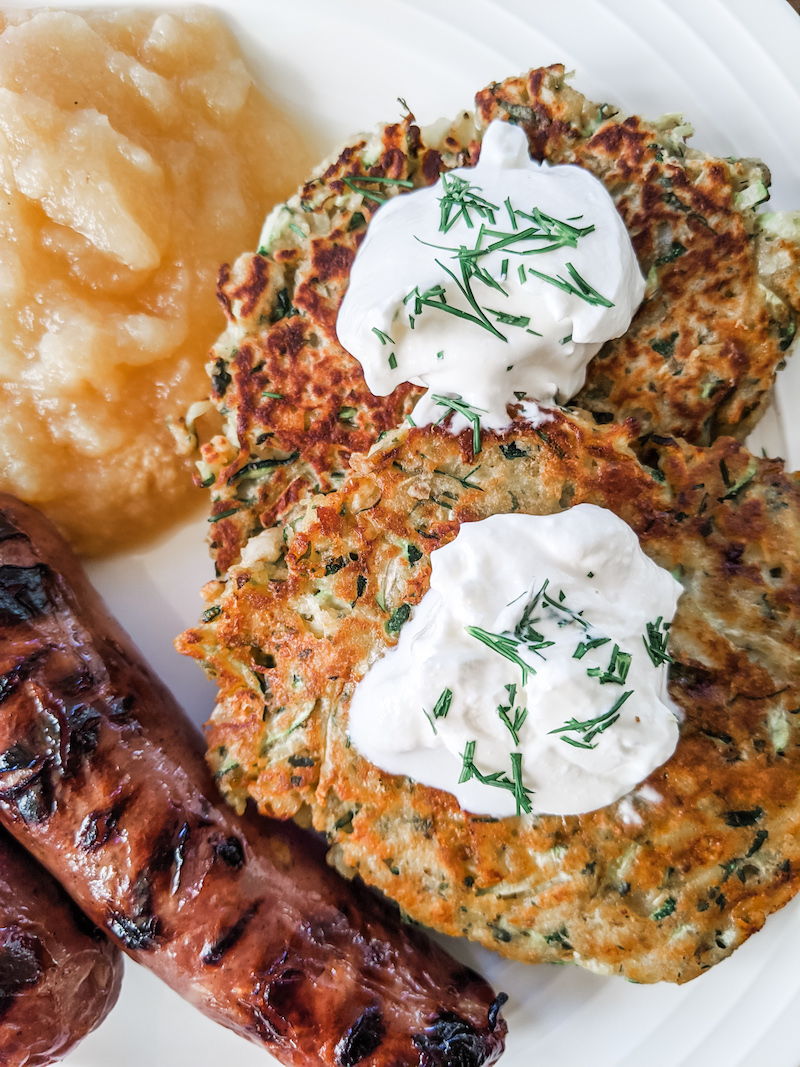 Veggie lovers will love digging into a stack of these crispy, savory little patties. But the flavor is so delicate that even people who aren't quite as crazy about vegetables will gobble them up. If you're looking for a sneaky way to incorporate more veggies into meals, Savory Zucchini Cakes with Fresh Herbs are the answer!
Print
Savory Zucchini Cakes with Fresh Herbs
---
Author:

Yield:

8

cakes, serves 4

1

x
3 cups

shredded zucchini

1

small onion, shredded

3

eggs

4 oz

. shredded Parmesan, Asiago, or other hard cheese

1 ¼ cups

bread crumbs

1 tsp

. salt

½ tsp

. fresh ground pepper

1

T fresh dill, minced

1

T fresh basil, minced

4 tsp

olive oil, divided
---
Instructions
Crack 3 eggs, salt, and pepper into a large mixing bowl, beat thoroughly with whisk.
Add zucchini, onion, and bread crumbs to bowl, mix thoroughly. Stir in cheese and herbs.
Heat 2 tsp of olive oil in a nonstick pan, over medium heat. Put four uncooked cakes in the pan, using 1/8 of batter for each cake. Cook cakes for 3-4 minutes, until edges are dry and golden brown. Flip cakes over in pan and cook for an additional 3-4 minutes.  Repeat step 3 with remaining oil and batter.