This post may contain affiliate links. Full disclosure policy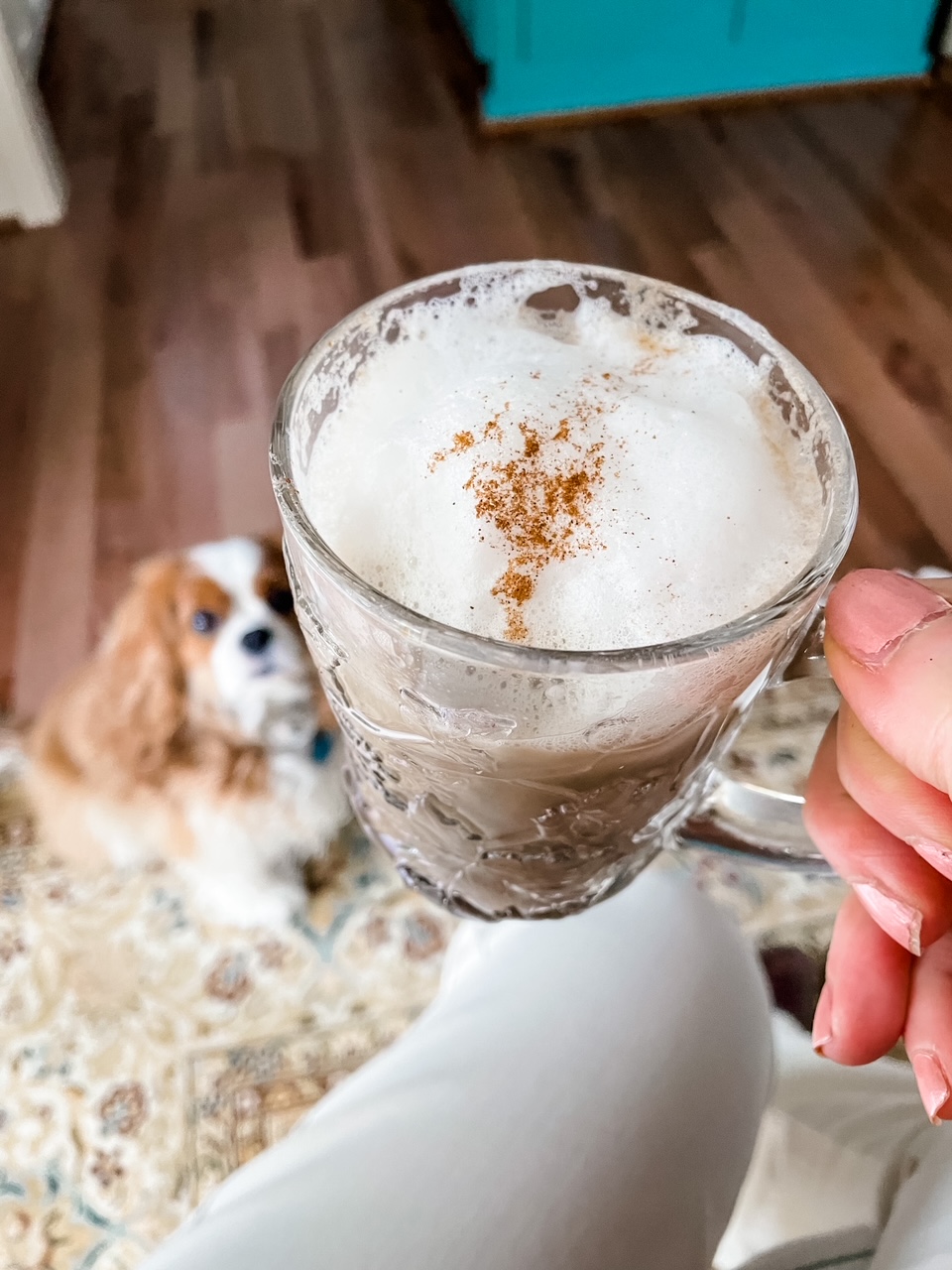 Fall is here! Bring on the pumpkin spice lattes, everybody's favorite fall beverage! But did you know it's easy to make them at home? And without any fancy equipment? Read on for my recipe and tips on How to Make Pumpkin Spice Lattes at Home!
Pumpkin Spice Lattes – The Good, The Bad, and The Solution
When it comes to pumpkin spice lattes, also known as PSL, people seem to love them or hate them. Once fall as arrived, I stand firmly in the "love 'em" camp. A warm, sweet, delicious PSL, fragrant with cinnamon, clove, and fall spices, is the ideal way to begin a crisp autumn morning. So good!
However, much as I love them, PSLs do have a couple of downsides.
For one thing, as I write this post, the cost of a 12-ounce PSL at my local Starbucks is $5.25 before tax. That seems like a lot, especially for something I'm going to consume in less than 10 minutes.
I mean, for about the price of two tall PSLs, you could buy a paper copy or e-book version of my latest novel, The Restoration of Celia Fairchild, providing hours of entertainment. If buy a hard copy, not only can you can it read over and over again, you can share with friends!
And if you're trying to focus on healthy eating, those yummy PSLs cost quite a lot in calories as well as cash. A 12-ounce PSL from Starbucks clocks in at 300 calories.
Fortunately, there's an easy solution to the problem – learning how to make pumpkin spice lattes at home.
Making Pumpkin Spice Lattes at Home – Simple, Lighter, and Less Expensive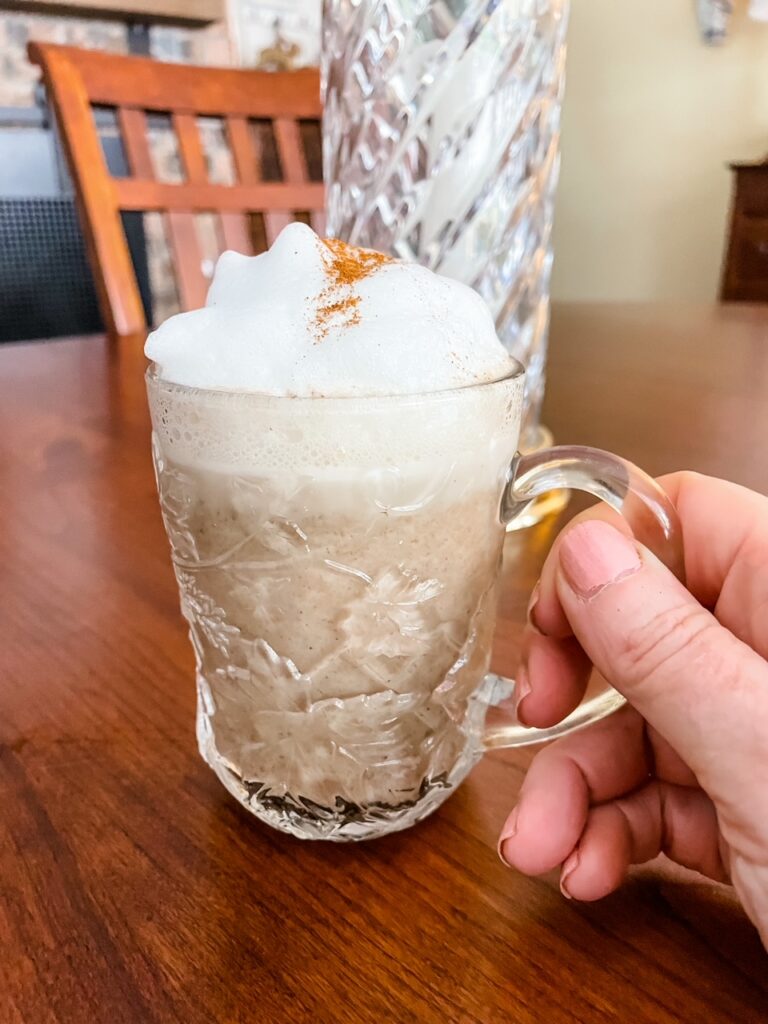 My homemade PSLs taste just as good as coffee shop versions, but cost much, much less.
I'm not enough of a mathematician to figure out the per teaspoon or tablespoon price of the ingredients needed in my PSL recipe, but I know it's less than a dollar a serving. Think of the savings compared to the store bought PSL! And all the books you could buy with it!
(I guess you could buy shoes, or sweaters too but books are my indulgence of choice. Always.)
Learning how to make pumpkin spice lattes at home will save you on calories too. A 12-ounce PSL from Starbucks clocks in at 300 calories, but my same-sized homemade version is only 185, or even less if you decide to make it a little less sweet.
With the calories you save, you could enjoy an extra treat, like one of my Chewy Pumpkin Harvest Cookies, alongside that PSL.
Here's more good news; making pumpkin spice lattes at home is really easy. You don't need an espresso machine, a frother, or any fancy equipment. If you've got a stove, microwave, saucepan, and a glass jar, you can learn how to make pumpkin spice lattes at home.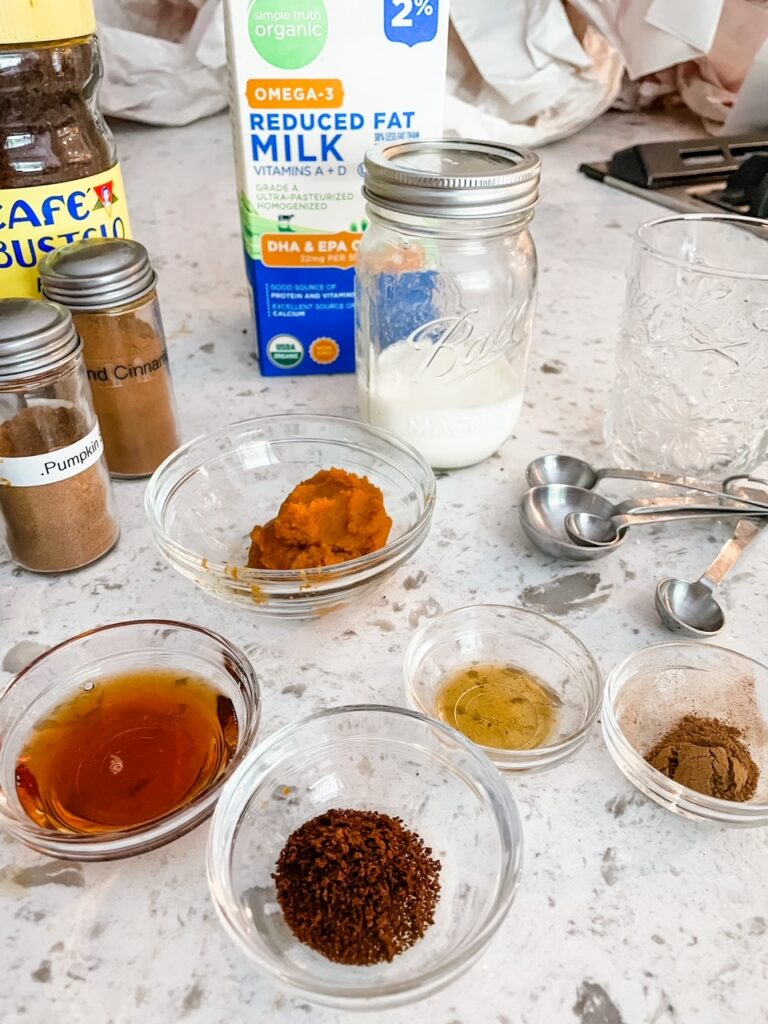 How to Make Pumpkin Spice Lattes at Home – Coffee, Flavoring, Foam
There are three important components in a PSL, coffee or espresso, pumpkin spice flavoring, and hot milk with a nice cap of foam. Here are some tips for making all three at home.
Coffee – If you like, you could just use really strong coffee for this recipe. However, I like the extra flavor punch that comes from using espresso. If you don't have an espresso machine or a Keurig-type coffee maker that can uses an espresso pod, instant espresso will work just fine. One teaspoon of instant espresso powder to six ounces of hot water will give you a flavor that's very similar to a coffee shop PSL.
Flavoring – Commercial coffee shops use prepared syrups to sweeten and flavor their PSLs. I prefer natural flavors and sweeteners, including pumpkin spice powder, vanilla extract, maple syrup, and real cooked pumpkin.
Foam – A lovely and stable cap of foam is crucial to a good latte. That's why I never tried making them at home before because I figured you needed an espresso machine or frother wand to make the foam.
Making Pumpkin Spice Lattes Without A Machine or Frother
Then I stumbled upon a post at Fountain Avenue Kitchen, explaining how to make lattes without any fancy gadgets.
The post includes some interesting details so you may want to check it out. But making latte foam at home comes is easier than you might think.
Just put a little milk into a fairly large jar with a lid (for a half cup of milk, use a pint-sized jar) and shake it vigorously for about 90 seconds, until it about doubles in volume.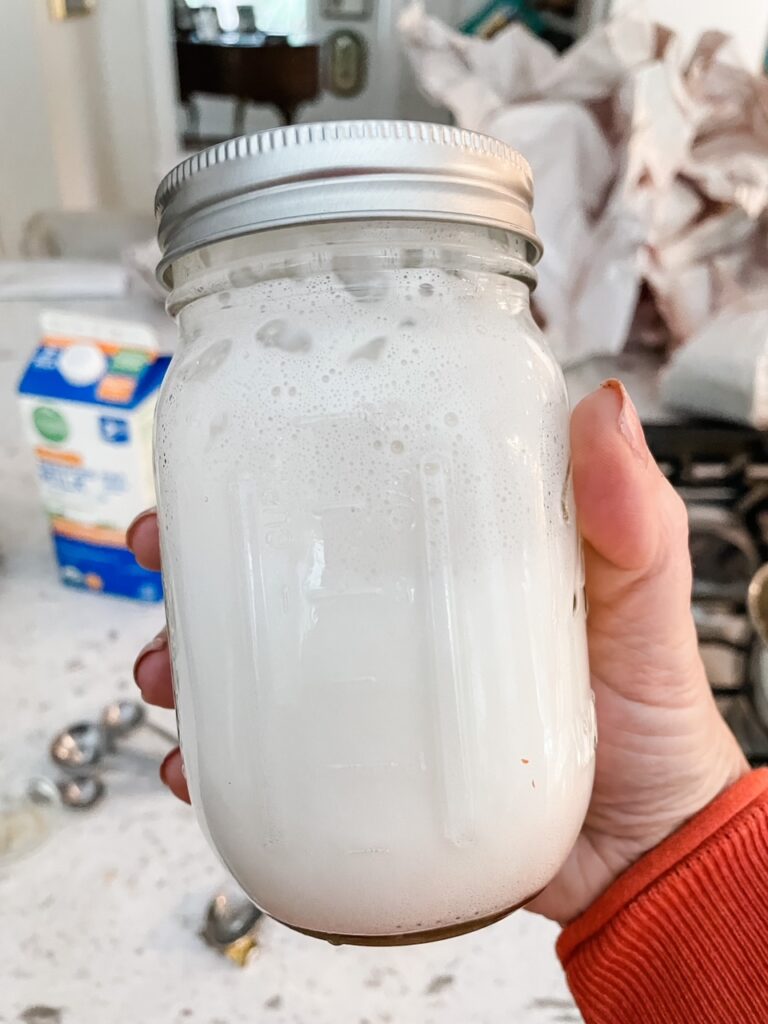 Next, take the lid off the jar and heat the milk/foam in the microwave for 30 seconds. If the foam threatens to spill over, turn the microwave off for a couple of seconds so the foam settles a bit, then continue heating. You may need to stop and start more than once.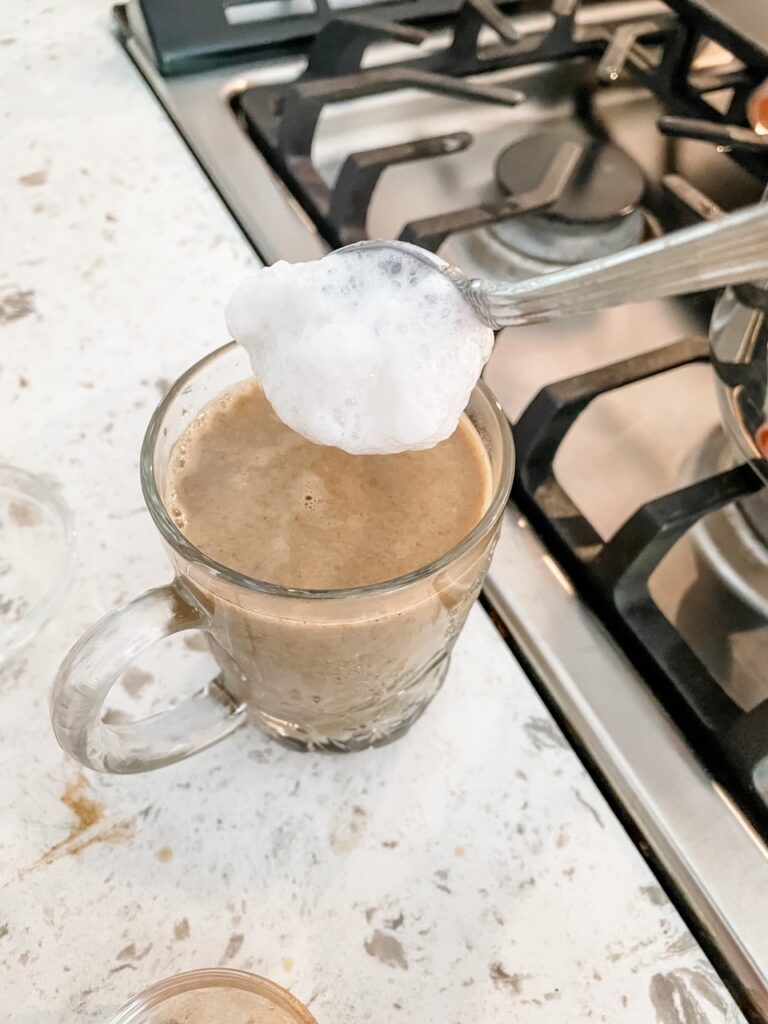 My recipe calls for 2% milk but you can use almost any type of milk for lattes – even nonfat milk. Though I haven't tried it myself, I understand that even nondairy alternatives such as oat milk will work for lattes.
Making Pumpkin Spice Lattes at home is easy, and a delicious way to celebrate the arrival of fall. Try it yourself this week!
Print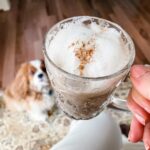 How To Make Pumpkin Spice Lattes at Home
---
Author:

Yield:

Makes

one

latte, approximately 12-ounces

1

x
1 tsp

instant espresso powder in 6 oz hot water. (Can sub

6oz

strong coffee or espresso)

3

T canned pumpkin

2

T real maple syrup

½ tsp

pumpkin pie spice powder

½ tsp

vanilla extract

½ cup

2% milk
---
Instructions
Place espresso powder and 6oz hot water in a small pot on stove at medium-high temperature. Heat to dissolve espresso powder. (If using premade coffee or espresso, simply add 6 oz to the pan.)
Stir pumpkin, syrup, spice, and vanilla into the pan with the coffee until completely combined. Heat to desired temperature. Turn off heat but leave coffee mixture on stove while preparing milk and foam
Place ½ cup of milk in a pint sized or larger jar with a lid (if doubling the recipe to make 2 lattes, you'll need a larger jar). Close the lid and shake the jar vigorously for about 90 seconds, until the milk about doubles in volume.
Remove the lid from the jar. Place it immediately in the microwave and heat on high for 30 seconds. (If foam starts to spill over, stop the microwave, allow foam to settle briefly, then continue cooking. You may need to do this more than once.
Pour the coffee mixture into a mug. Add the hot milk from the jar, stirring into coffee. Spoon the foam onto the latte and enjoy! (You may want to add a sprinkle of cinnamon or cocoa powder on top for a garnish.)