This post may contain affiliate links. Full disclosure policy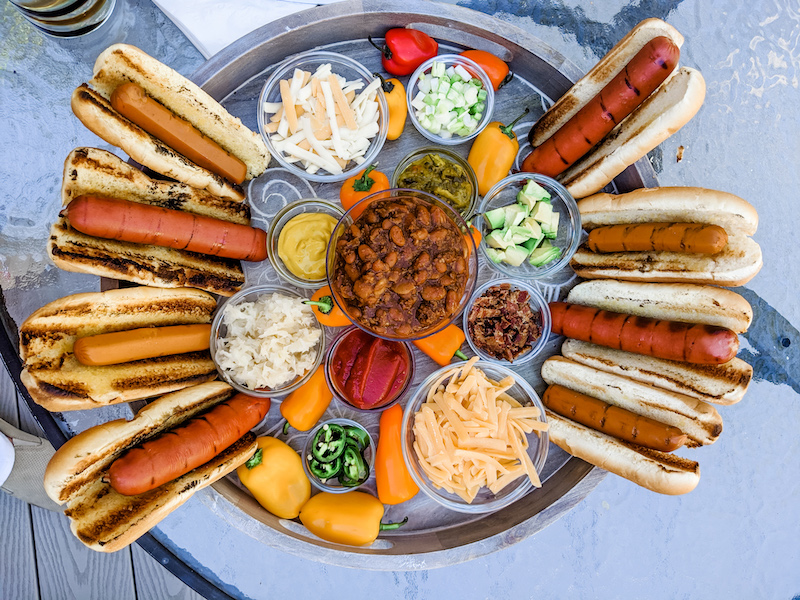 My oldest son and his family were visiting last week, which meant we were very busy! Since I only get to see them once or twice a year, I wanted to spend more time with my granddaughters and less time in the kitchen. Putting together a big, beautiful Hot Dog Board was a perfect solution to the problem.
This time-saving dinner appealed to the adults as well as the kids. My family just raved about the board! Creating a hot dog board is a fun way to feed guests of all ages. It's an ideal meal for family get-togethers or a festive Fourth of July repast!
Start with the Board
Boards are so perfect for all kinds of holiday entertaining. As I explained in my post about the Brunch Board I made for Easter, choosing the right board is crucial. And, as I learned from my friend Sandy, who pretty much led the charge for popularizing boards through her blog, The Reluctant Entertainer, picking a board with a lip is a must. It keeps the food from slipping off the board and makes it easier to arrange the toppings in a visually appealing manner.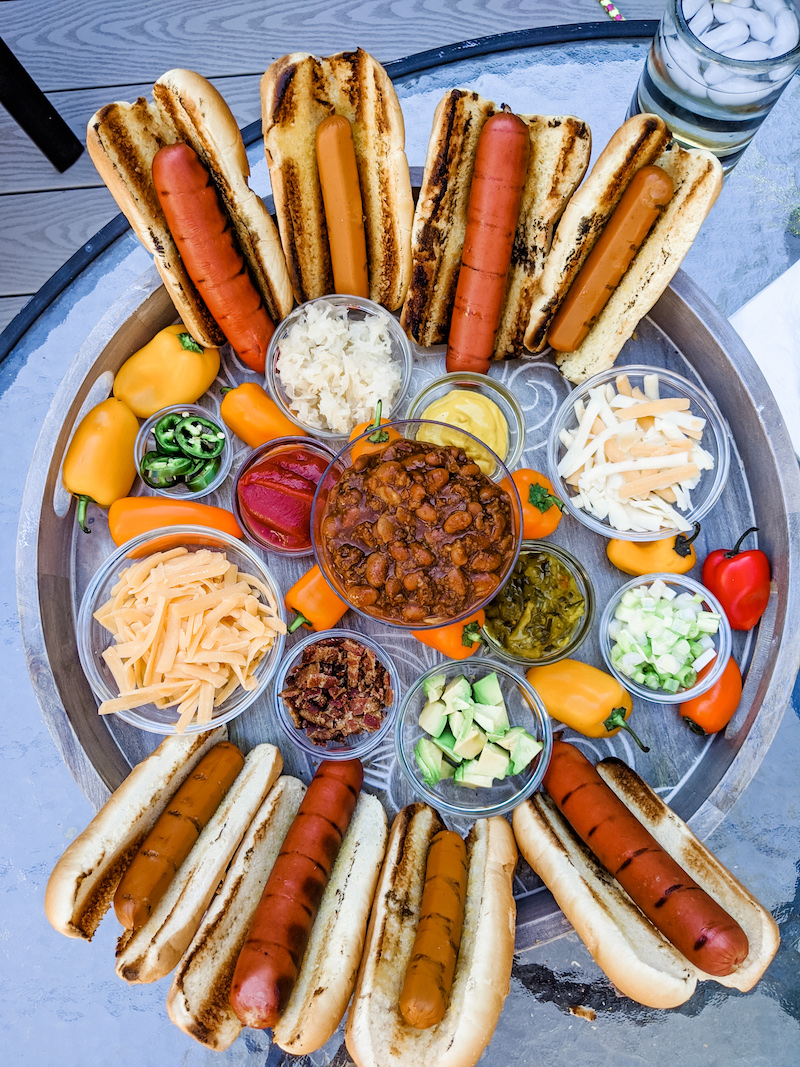 My board is made of mango wood and is 18 inches in diameter, which a perfect size for boards that will feed four to six people. I got mine from Pier One which, unfortunately, is going out of business. They don't seem to have the medium-sized version which I have anymore, but the large is still available. I'm thinking about getting one of those too, so I can make boards for bigger crowds.
Since my board isn't certified as food safe, I just line it with parchment paper when I put edible items on it. When I'm serving most of the food in glass bowls, as I did with my Hot Dog Board, I don't bother with the parchment.
A professional chef introduced me to these little mise en place bowls years ago and I've been using them for food prep ever since. The good news is, they're also great for boards. The clear glass bowls come in a variety of sizes and let the colorful selection of foods take center stage.
That's just what you want when you're making a hot dog board, or any kind of board.
The Trick: Make Your Hot Dog Board Abundant!
Boards are all about abundance, that's what makes them so much fun! Guests get to pick the foods they like, pass up those they don't, and make a meal that's perfect for them. Especially for a hot dog board, that's important. As my daughter-in-love told me when she was fixing her plate, "I feel like hot dogs are very personal."
Indeed!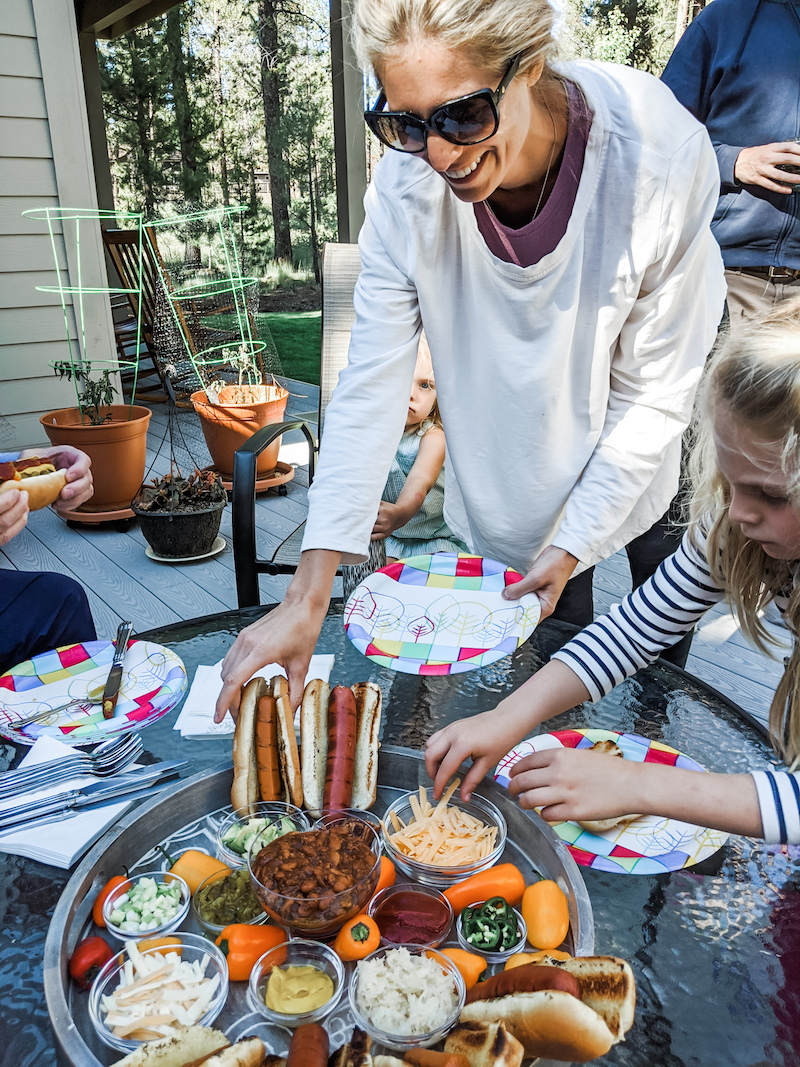 Some people (especially younger guests) might choose to keep things simple – a dog, a bun, and maybe a little ketchup. Others may be willing to embark on more exotic culinary adventures.
That's why it's important to have a lot of variety on your hot dog board. It allows your guests to choose their favorite combination of ingredients. It also allows them to dream up new combinations and invent a personal and perhaps entirely new way to enjoy the classic hot dog. No matter how you pile on the toppings, dinner from a hot dog board is delicious and fun!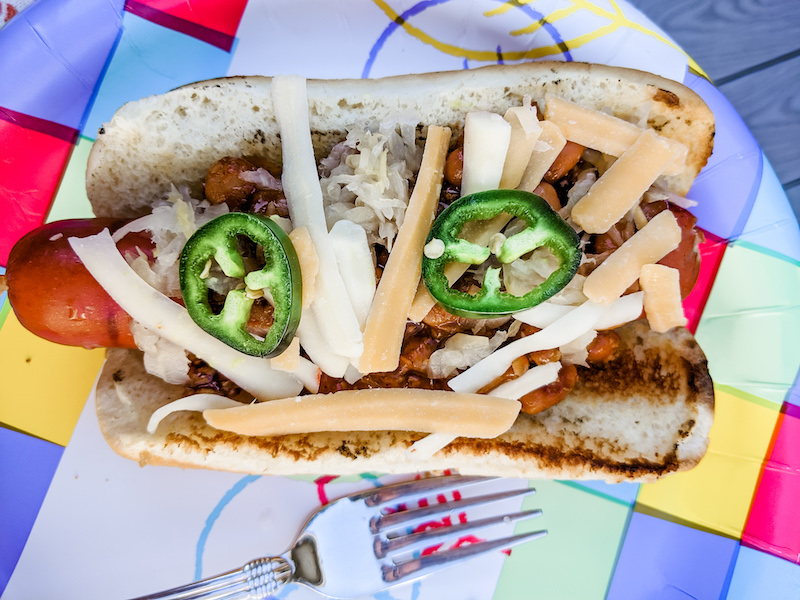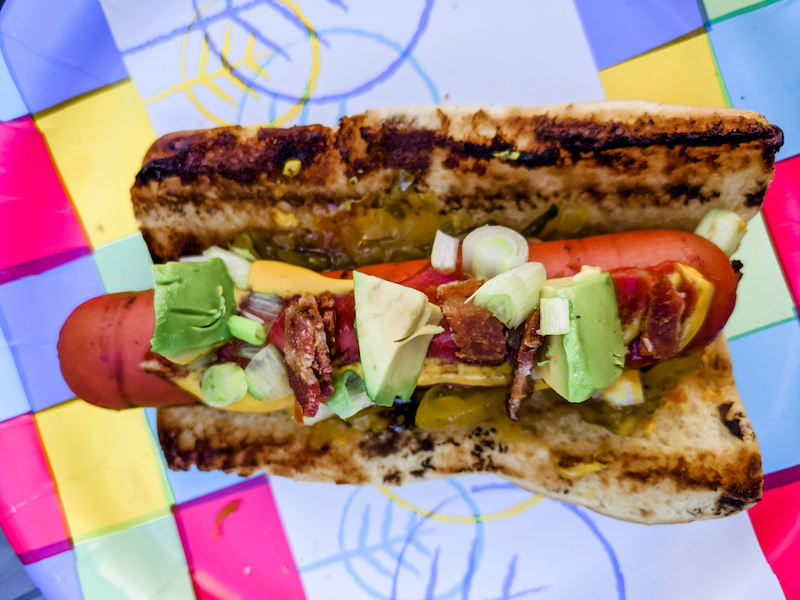 Making a Beautiful Hot Dog Board, Not Just a Tasty One
Adding lots of variety to your hot dog board will also assure that this easy to make dinner looks as good as it tastes.
My board included two kinds of grilled hot dogs – a plant-based hot dog for vegetarians (which tasted surprisingly like the real thing) and a fancy, locally produced gourmet beef hot dog. I used two different buns as well, a regular white bun and a sweeter Hawaiian style bun. I brushed each bun with a little olive oil, and then toasted them on the grill for a couple of minutes. Toasting the buns makes a big difference!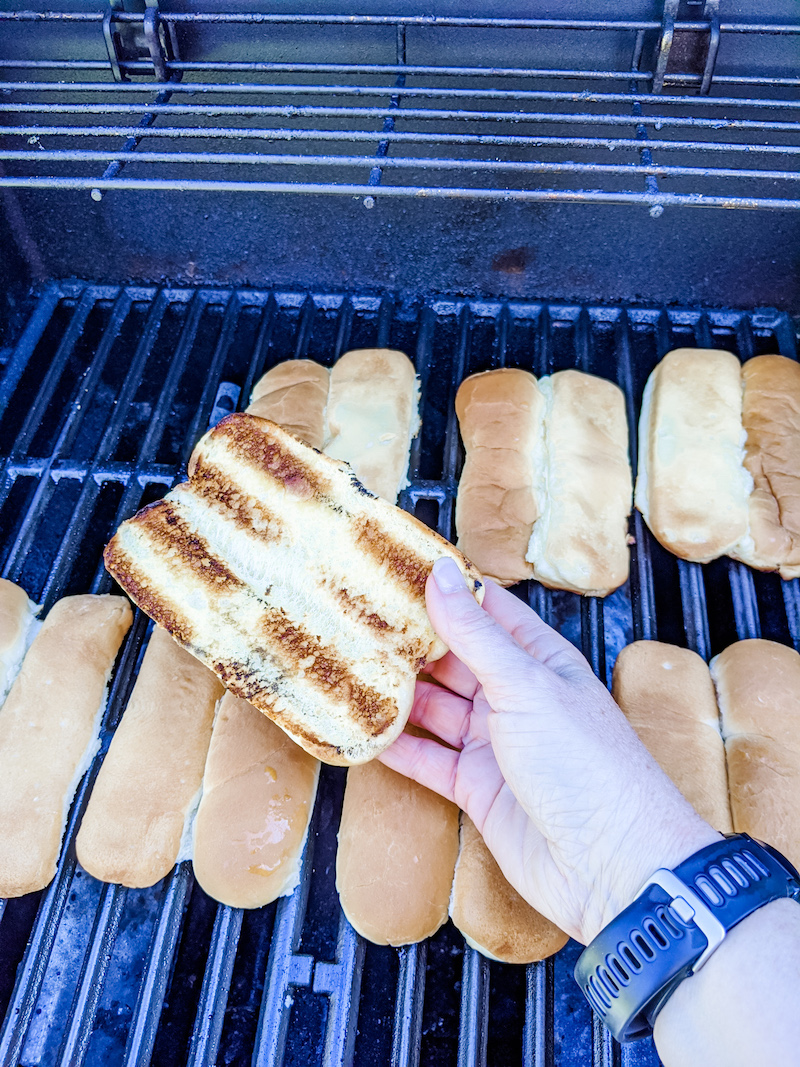 When it comes to condiments, start with the tried and true – ketchup, mustard, and relish –– and work your way out from there.
My board includes chili, sauerkraut, cheddar cheese, jalapeno cheese, bacon bits, green onion, jalapeno slices, and even chunks of avocado. (Turns out that avocados are fabulous on hot dogs. Who knew?) I placed a few sweet peppers around the dishes to fill in the gaps around the bowl. They were perfect to much on. Potato chip, corn chips, or tortilla chips could be enjoyable too.
Don't be afraid to get creative here. And don't limit yourself to my suggestions! I can think of so many options for hot dog board toppings. If you give it some thought, so can you.
Hot dog boards are an easy, delicious solution to summertime entertaining. Give it a try at your next family gathering or Fourth of July cookout!