This post may contain affiliate links. Full disclosure policy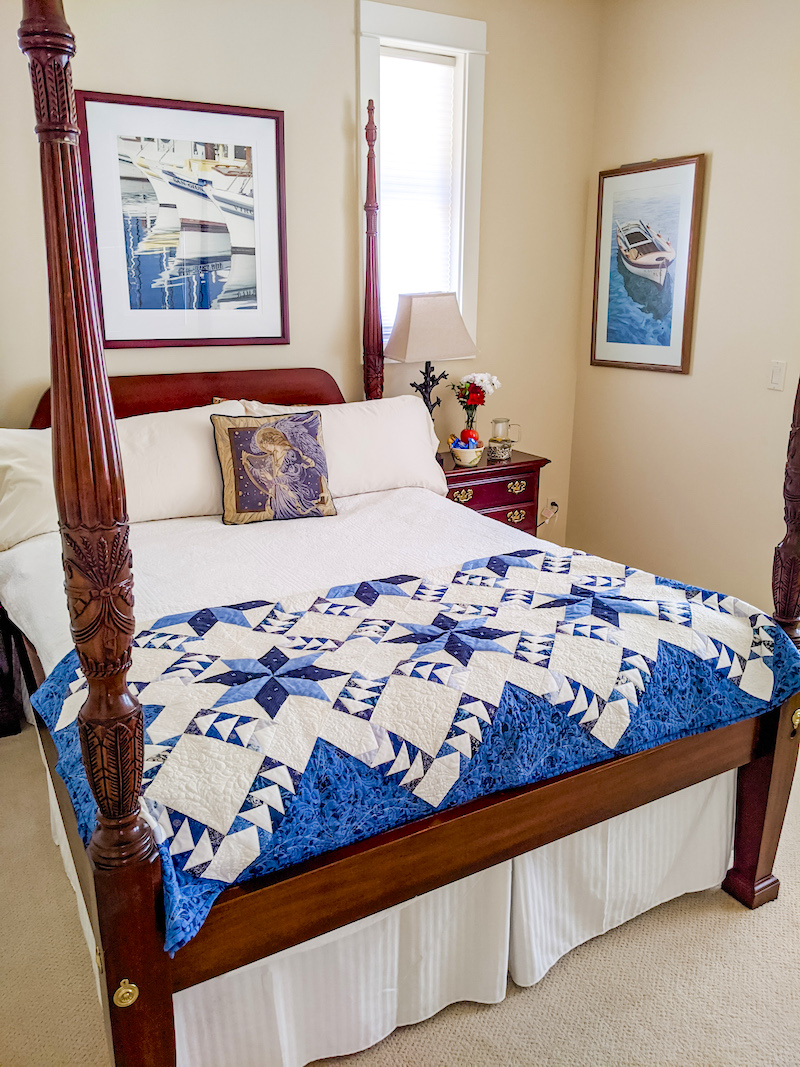 My husband and I are fortunate to live in a beautiful part of Central Oregon, in a community that is basically a resort. It's a spot that people love to visit, which means our guestroom is in high demand!
Our guestroom is really pretty small – about eleven feet by eleven feet – with room for a queen-sized bed, nightstands, and not much else. Even so, our guests often exclaim with delight when I show them into this cozy space.
Why? Because over the years, I've learned how small but thoughtful touches can transform even the smallest, simplest guestroom into a space that will make your guests feel cozy, comfortable, and even a little bit spoiled! Read on for my Guestroom Tips.
It Starts with the Bedding
Climbing into a bed made up with crisp cotton sheets, topped by cozy a quilt, coverlet, or comforter and small mountain of pillows is one of life's small but lovely luxuries. It's also part of what makes a hotel stay such a pleasure. But you don't have to run a hotel (or spend a fortune) to give your guests the luxury of hotel-style bedding. With a few simple but thoughtful touches, the bed in your guestroom can be a five-star experience for overnight visitors.
Crisp, cool cotton sheets are a must for the guestroom. A high-thread-count is a plus, but what's most important is how the sheets feel. Be sure to open the package and run your hand across the sheet before you buy them. Unless you live in a cold climate, I'd stay away from sateen sheets. They sleep warmer and tend to be slippery. I prefer organic cotton percale. They're soft, cool, and look smooth and crisp right out of the dryer.
Sheets come in a huge range of price points. It's possible to spend many hundreds of dollars on a good set of sheets, but why would you? Another one of my guestroom tips of mine is to wait for sales from your favorite stores and then stock up. Or check out the options at your local discount store. TJ Maxx and Home Goods are great sources for hotel quality sheets at excellent prices.
Variety is Key
Outfitting your guestroom with lots of pillows is another luxurious but thoughtful touch your guests will appreciate. Pillow preference is very personal but having a comfortable pillow is essential to a good night's sleep. My guest beds are made up with several pillows in varying sizes and degrees of firmness. Pillows can wear out quickly, so be sure to replace them often.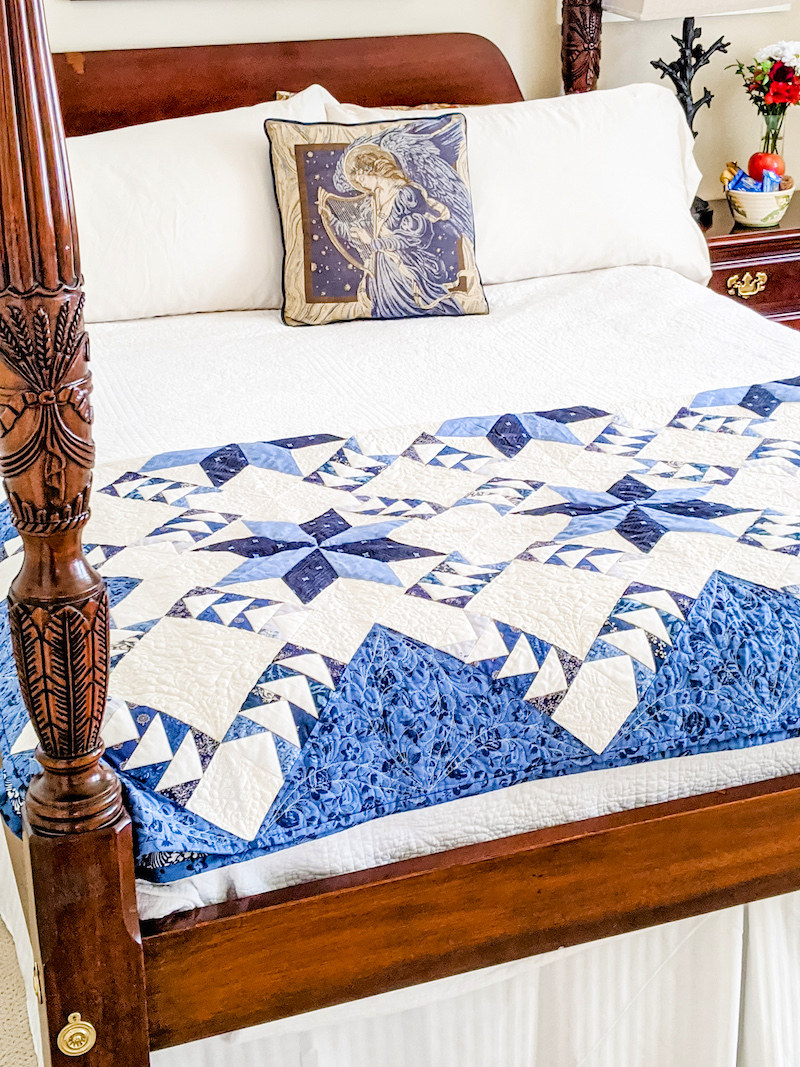 Variety is important in bed coverings too. Some people like a lot of blankets, some don't. That's why another guestroom tip of mine is to always fold an extra quilt at the foot of the bed. A colorful quilt dresses up the room and can easily be pulled up to provide extra warmth on a chilly night. When I give my guests the grand tour, I always point out the linen closet. It has lots of extra blankets in case they want more.
Luxurious Amenities to Pamper Your Guests
Whenever I stay in a hotel, one of the first things I do is check out the amenities. It seems like such a small thing but the quality and number of amenities I'm offered definitely influences how I feel about the hotel. It also helps me decide how the hotel feels about me.
Though my guestroom is small, I try to load it up with as many five-star amenities as possible. It's a simple but thoughtful way to make my visitors feel welcomed, pampered, and loved.
When my guests arrive, they find a small basket filled with a variety of small soaps, shampoos, conditioners, body lotions, and the like. It's fun to see how excited people get about this. Often, they'll start digging through the basket like a kid opening a Christmas stocking. It always makes me happy to see how this simple but thoughtful touch delights my guests.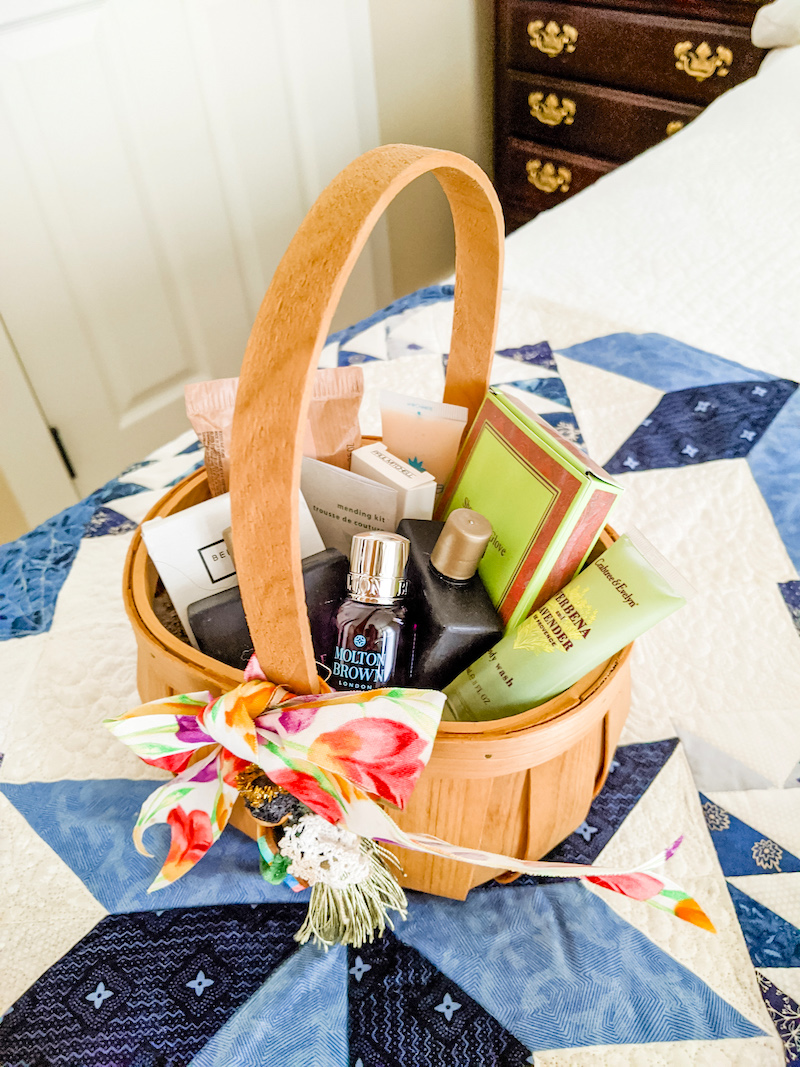 Using someone else's bathroom is one of the parts of staying with friends that can feel awkward. Nobody wants to bother the hostess with requests for things they might have forgotten. I always make sure the bathroom is supplied with extra toothpaste and unopened toothbrushes and razors, feminine products, and a hairdryer. And, of course, it goes without saying that you should provide lots of clean, fluffy towels in the bathroom. Like pillows, towels wear out quickly and should be replaced often.
Small Touches for a Special Experience
Another one of my guestroom tips to make sure my guests feel at home is by placing a small bouquet of flowers and a small bowl filled with healthy snacks and treats on the nightstand. It usually includes a few pieces of fruit, small packets of nuts or crackers, and some chocolates. Guests may be used to eating on different schedules than you do, so supplying some on-demand snacks is a thoughtful gesture.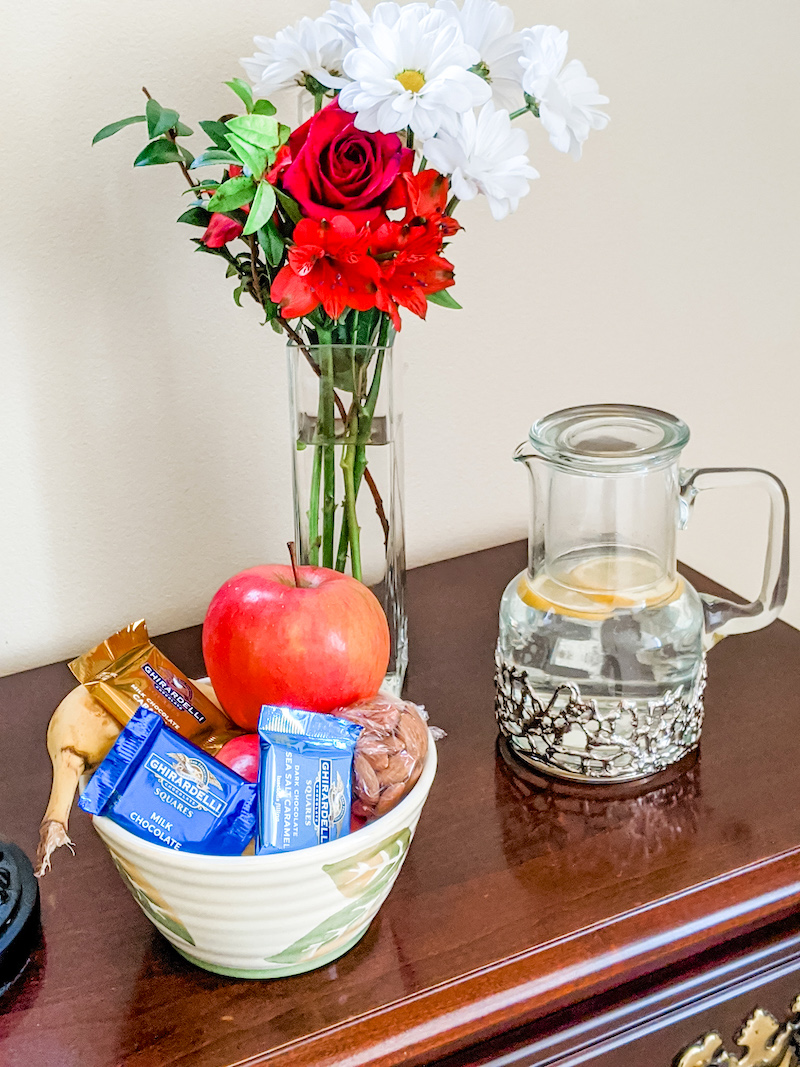 Putting a water carafe on the nightstand is a good idea too, in case your guest gets thirsty at night. I prefer carafes that include a matching tumbler, like this one.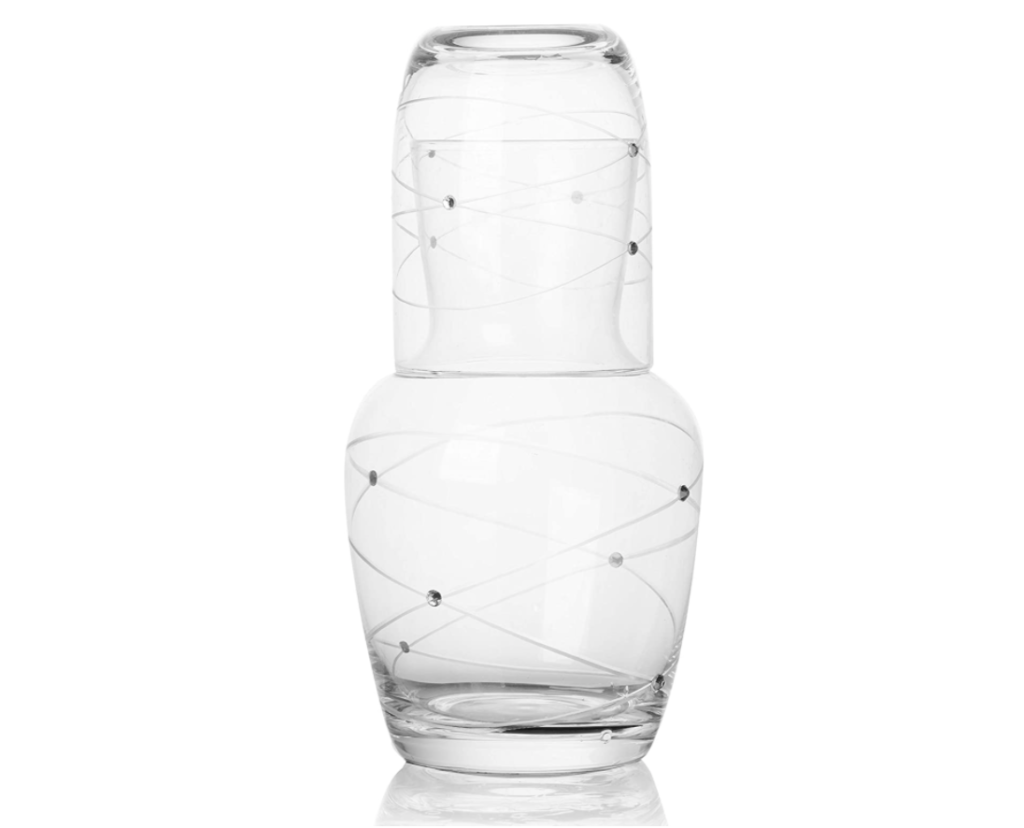 Chances are good that you use your guestroom closet for storage but you should make sure that guests have room to hang up their things and plenty of empty hangers. I also have a folding stand for suitcases, in case my visitor doesn't want to unpack completely. In a small room like ours, having places to easily stow luggage makes for a much more comfortable visit.
Providing robes is another thoughtful way to pamper your guests. I place terrycloth, unisex robes on the bed for guests upon arrival, which are washed along with the sheets after my visitors depart. Especially if your guest room doesn't have a private bathroom, having a robe available makes early morning bathroom trips less awkward for everyone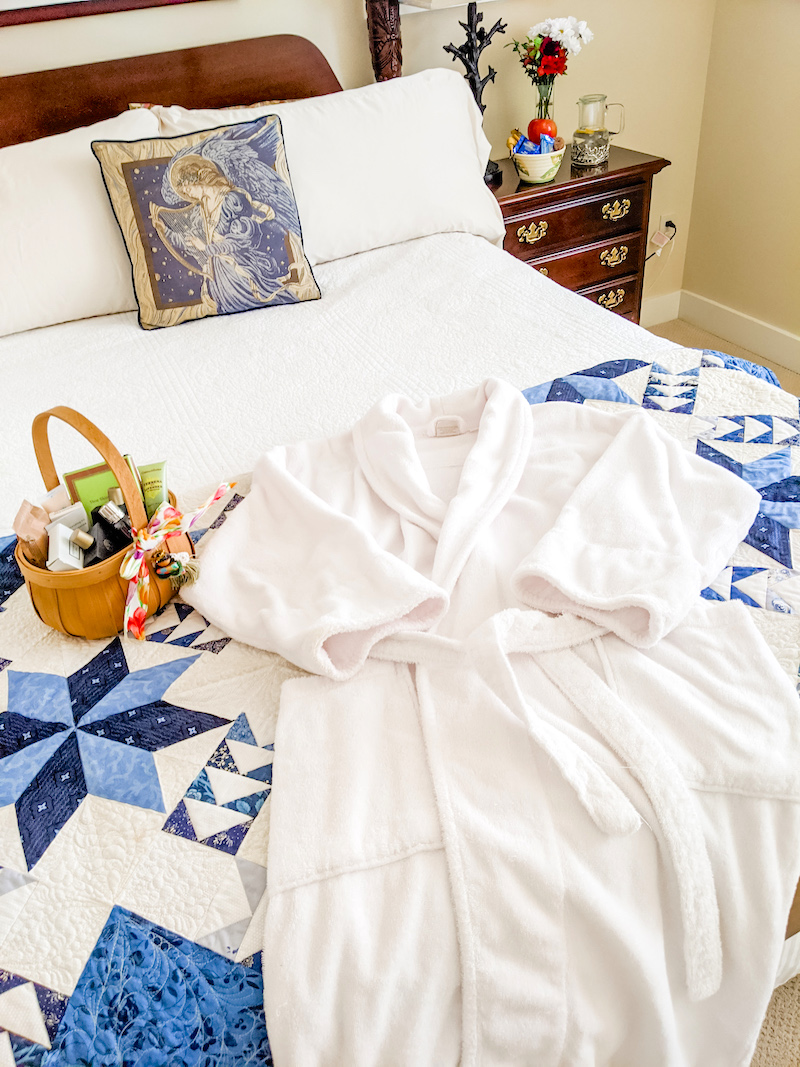 Take these Guestroom Tips for a Test Run
Once or twice a year, I spend the night in my own guestroom, setting the room up just as I would for visitors. It's a good way to make sure that everything in the guestroom is still in good repair and stocked with everything my guests could want or need.
I always ask my guests to let me know if there is anything they need, but people sometimes feel hesitant to do so. No guest wants to be seen as complaining, even when you ask for their feedback. Spending the night as a guest in your own room will give you a clear picture of what your guests experience when they stay in your home and help you make that experience even better.
Just a few thoughtful touches can transform even a small guest room like mine into a welcoming, five-star oasis of luxurious comfort. It will also let your friends and family know how happy you are to have them under your roof. I'm always looking for ways to improve. Please let me know if you have any guestroom tips of your own!