This post may contain affiliate links. Full disclosure policy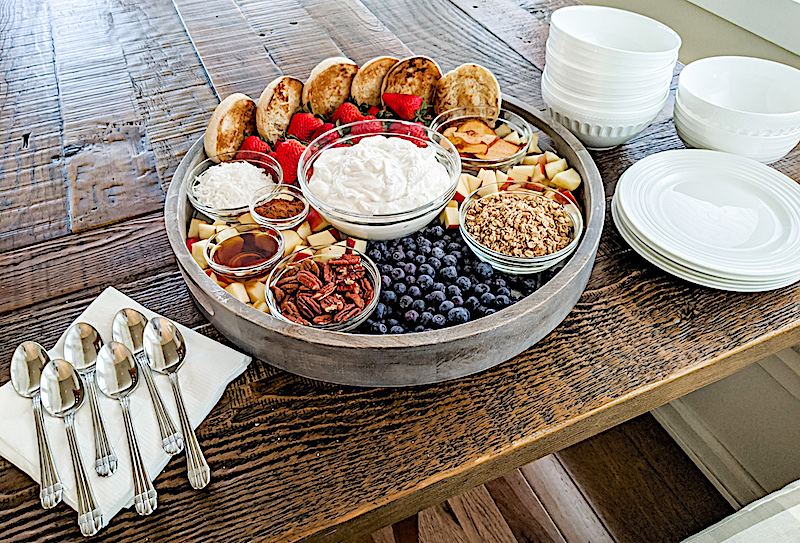 A 2021 Note…
Last Easter, we were all still figuring out what this Covid thing was and how to navigate our lives in the midst of a pandemic. For those of us who love big family gatherings – and I definitely count myself in that camp – figuring out how to celebrate holidays with a drastically scaled-down guest list was especially hard.
This Easter, many of us are beginning to see a transition back to something that looks and feels more like what normal used to be.
Restaurants and retailers are reopening their doors, but perhaps serving fewer customers. The same is true for many places of worship. Rules regarding the size of family gatherings are beginning to relax. Many people have been vaccinated. Hopefully, many more will be able to do so in the coming weeks and months.
There is light at the end of the tunnel, my friends! Though the train hasn't quite pulled into the station, and though it may arrive sooner or later depending on where you live, the new normal on the way!
Hooray!
Perhaps you're planning a larger Easter gathering than was possible last year. Perhaps you're going to keep holiday celebrations to a small scale until the situation is more secure.
Either way, the Easy Easter Brunch Board post that I shared with you last year is worth revisiting in 2021. It's deliciously sumptuous but healthy repast, a delight to the eyes, and a wonderful way to welcome Easter.
If you're celebrating on a small scale, stick with the amounts I suggested originally. If you're having a larger gathering of family and friends, simply double or triple the amounts and use a larger board.
(Recently, I bought a fabulous, food-safe, 26-inch board from The Reluctant Entertainer. It's huge! And so beautiful that I gave it a permanent home on my kitchen island. It was an investment but it's American made and the quality is incredible. It'll last me a lifetime. There are other sizes and shapes too.)
Whether you're feeding a crowd or keeping things intimate, an Easy Easter Brunch Board is a fantastic way to kick off your holiday celebration. Read on for all the details!
New Ways of Celebrating
If your family is anything like mine, Easter is an important celebration. For us, Easter ranks very high on the holiday hierarchy, right up there with Christmas. It's a day when you plan a big family gathering with lots of people and lots of food.
But this year is going to be different, not just for my family but for most families. Few, if any, will be traveling to visit with family during this Easter holiday. Our family gatherings, if we're able to gather at all, will be small.
Even so, Easter is coming. It's a very special holiday, and a day worth celebrating. I've already been thinking about we're going to do that.
Adjusting to Change this Easter
Normally, we would start our day with Easter services at our church. That won't be possible this year, but my church has been doing a wonderful job creating a digital liturgy, with songs, readings, prayers of the people, and an online sermon. We'll be participating in that, as we have these last few Sundays.
If you belong to a church, the chances are good that you have something similar available to you. If you aren't a regular church attender but are feeling the desire to join with others in prayer and celebration this year, do a Google search for "online Easter services 2020". Lots and lots of options will come up. I'm sure you'll be able to find a service that will mesh with your faith tradition.
If you've got kids in the house, an indoor egg hunt could be a lot of fun, or a backyard hunt if that's an option where you live. And, of course, you can still dye Easter eggs. Kids would love that – adults too!
Musing on Easter Pasts – With Great Ways to Celebrate
When my children were little, we lived in Mexico for several years. One of the things my kids loved most during our time there was the tradition of confetti eggs. They were basically colored eggshells, stuffed with confetti, which we could buy very inexpensively in the local street markets. The boys loved chasing each other around, then cracking the eggshells on each other's heads to release a shower of confetti.
One year, after we returned to the states, we made dozens and dozens of our own confetti eggs, hid them in the yard, and had the wildest egg hunt ever. Such chaos! And such fun! If you've got little ones at your house, making confetti eggs might be a fun and memorable Easter activity. They're really pretty easy to make. Here's a good tutorial I found on A Pumpkin and A Princess blog.
There won't be any egg hunts on my agenda this year, but I am still planning to make Easter a special day for my family – just on a smaller scale.
A New Tradition: Easy Easter Brunch Boards
For most of us, our Easter gathering will be limited to the people who are already in our homes – one, two, three, or four people instead of the usual packed house. Given the circumstances, we really have no need to purchase a fifteen-pound ham, five bunches of asparagus, and half a bushel of potatoes.
But we still can and should enjoy a special and delicious meal on this special day!
This year, I'm opting to focus on a fun Easter brunch rather than a big dinner. I'm also planning to make our Easter morning repast a feast for the eyes as well as our stomachs by preparing a big, beautiful, and easy Easter brunch board!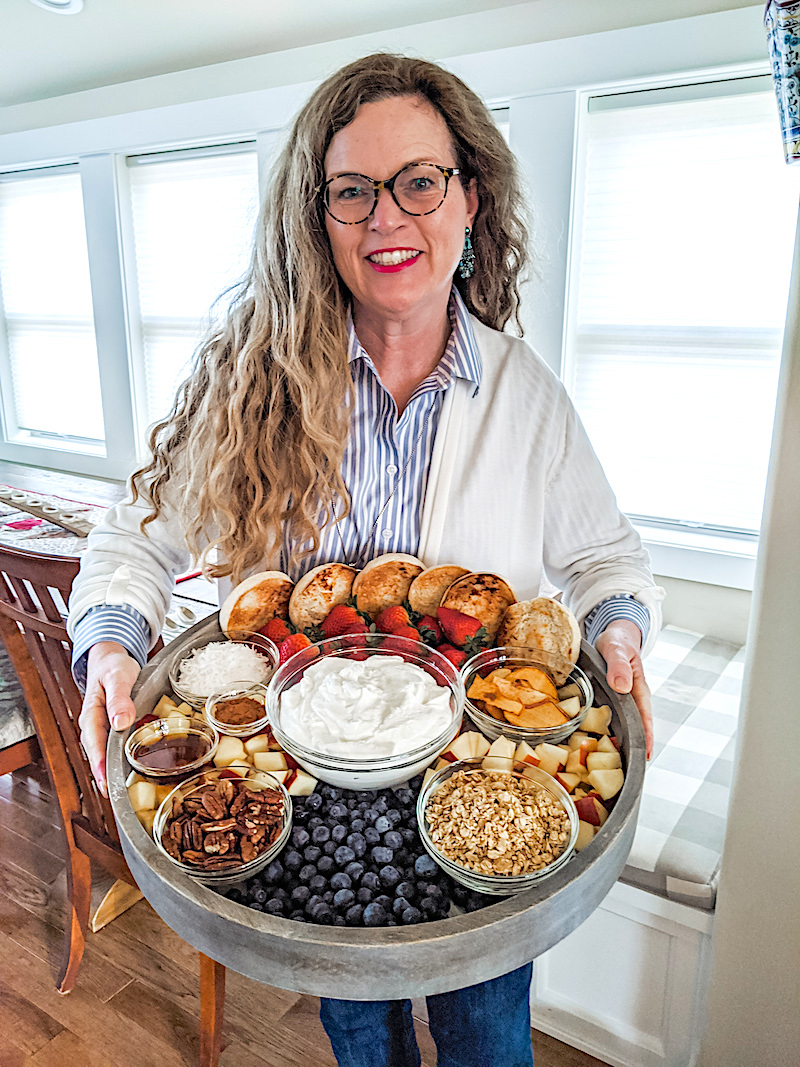 Boards are so popular and it's easy to see why. They're visually appealing and so very, very flexible. Also, preparing a board makes life easy for the cook. Instead of slaving over a hot stove preparing endless made to order pancakes or omelets, you can actually sit down and enjoy the meal and the company. Nothing not to love about that!
So, how do you go about making an Easter Brunch Board? I'm glad you asked.
Getting Started on this Easy Easter Brunch
First, start with a board. I used a beautiful wooden tray from Pier One Imports. What I like about this is that it has a nice big lip around the edge so the food doesn't slide off. Normally, I'd tell you to order one like mine. But in our current circumstances, just work with what you've got. (If you will be celebrating Easter alone this year, take a look at this post about personal boards for ideas. Even if you're on your own, you can still make Easter a special occasion.)
Really, just about any tray will do in a pinch. If yours isn't food safe, you can simply line it with parchment or wax paper, or even plastic wrap if that's all you've got. I used parchment.
Topping it Off
Remember, we eat with our eyes as well as our stomachs, so be sure to use lots of variety in colors, textures, and flavors when you're assembling your Easter Brunch Board. The beautiful red strawberries and vibrant blueberries just look so inviting, don't they?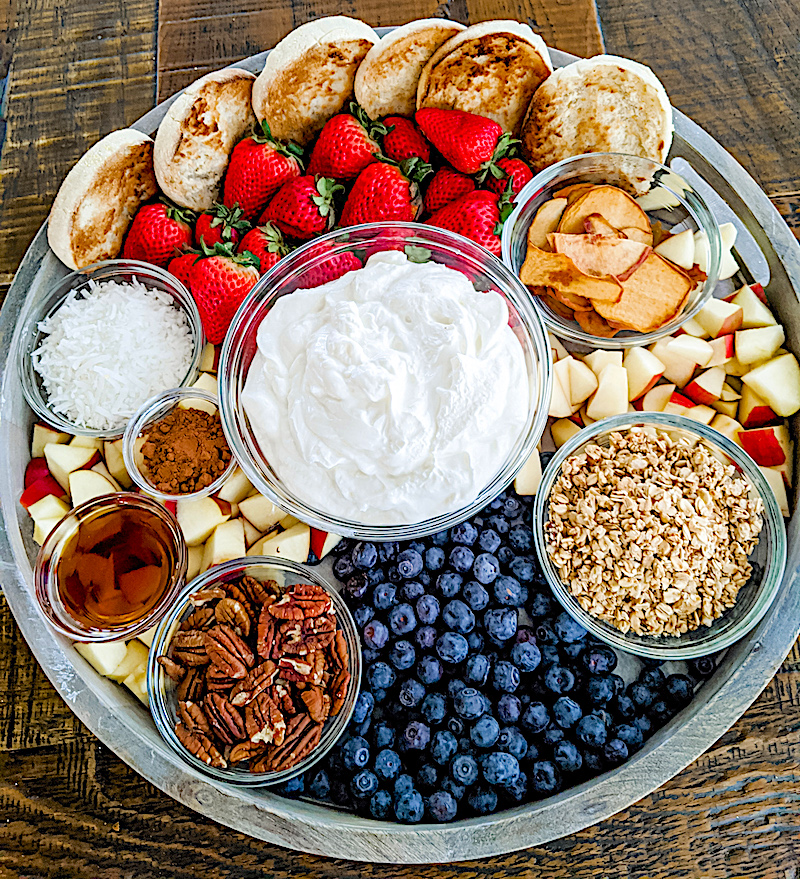 I've been overindulging a little too much of late, so the centerpiece of my Easter Brunch Board is a big bowl of non-fat Greek yogurt. It serves as a healthy base for brunch but every person can add their own toppings to make their brunch selection as decadent or as healthy as they wish.
That's really my favorite thing about boards. Every person at the table gets to create a personalized feast. And it's really fun to gather around the board, picking and choosing and talking while you do.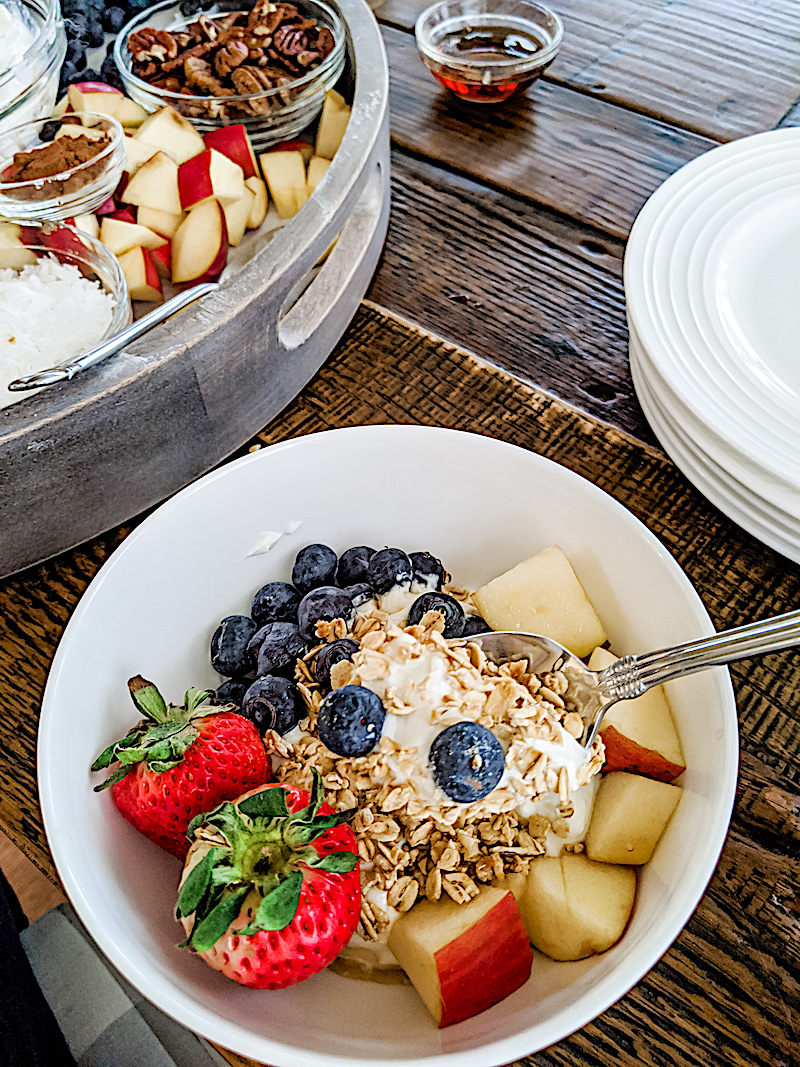 Whether your gathering is large or small, you really can't go wrong with this easy Easter Brunch Board. I hope that you'll make this idea a part of your very special and happy Easter celebration!
Print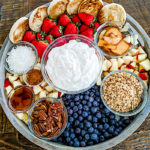 Easy Easter Brunch Boards
---
1 large container non-fat Greek yogurt (or vanilla if you prefer)
1 quart strawberries, washed thoroughly
1 pint blueberries
3–4 apples, washed, cored, and cut into bite-sized chunks (I prefer Fugi apples)
3 English muffins, toasted and halved
1 cup granola
1/2 cup pecan halves
1/4 cup shredded coconut
1/4 dried peach slices (dried apricots or cranberries would be good too.
2–3 T maple syrup or honey
1 T ground cinnamon
Lemon juice
Butter for muffins
---
Instructions
Place yogurt in largest glass bowl in center of the tray. Place strawberries and blueberries on opposite sides of the tray, filling up ¼ of the space with each type of berry, and reserving a spot for the toasted muffins behind the strawberries.
Sprinkle a little lemon juice over apple chunks to keep them from getting brown. Spread apple chunks into spaces between the berries. Place remaining toppings into small bowls and nestle among the fruit.
Toast muffins and place behind strawberries. Serve immediately.