This post may contain affiliate links. Full disclosure policy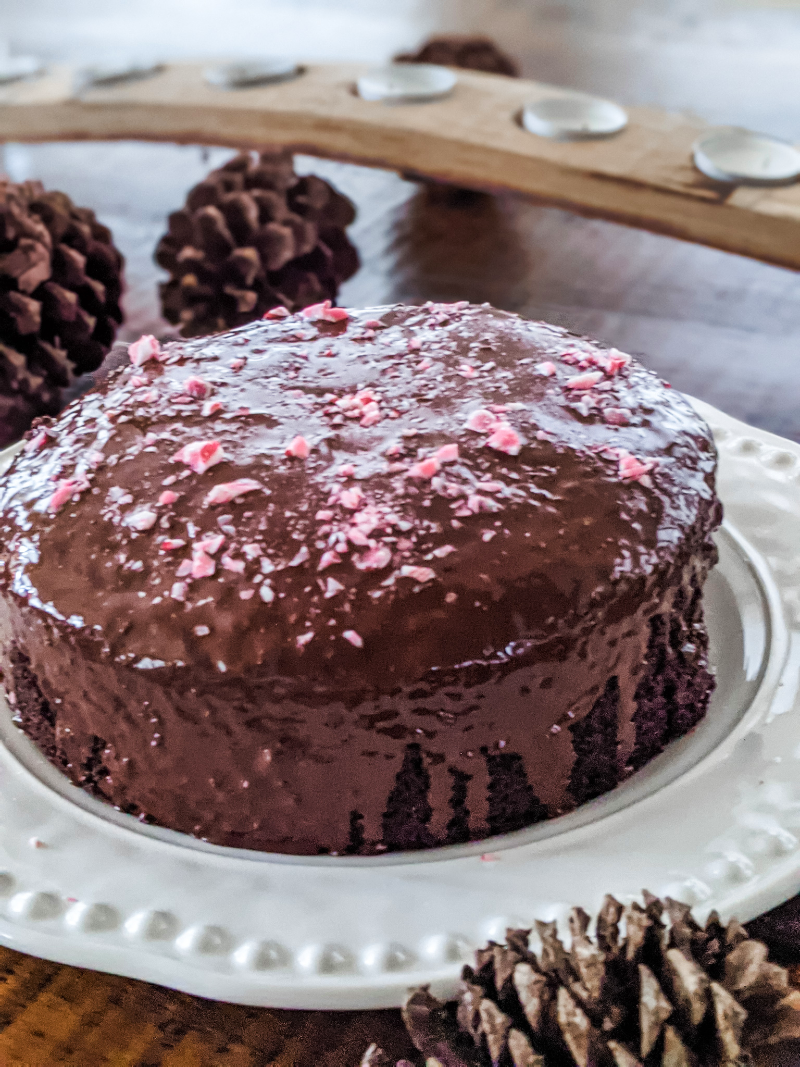 If you've never tried using beets in chocolate cake, you're missing out on a treat! Chocolate Peppermint Beet Cake is extra rich and moist, and packed with our favorite holiday flavors!
Searching for New Ways to Use Beets – Chocolate Peppermint Beet Cake
Until last year, I'd never heard of adding beets to a cake. But since my monthly winter farm share of vegetables from our local organic farm always includes a lot of beets, I've been on a search for new ways to prepare them. I mean, there are only so many times I can plunk a platter of oven-roasted beets on the table before my family starts giving me the stink eye.
Happily, my search for new ways to serve beets turned up some recipes for chocolate beet cake. The ones I tried were greeted with enthusiasm.
What a Sweet Surprise!
I didn't tell my husband about the ingredients until after he'd had a slice of cake and given it a big thumbs up. He was so surprised when I told him that cake he'd just devoured included a generous amount of beets!
If you've never tried it, you might have some doubts about putting beets in a cake. But trust me, it works. In fact, it's terrific! If you stop to think about it, mixing beets into your chocolate cake really makes sense. Many types of sugar are made from beets. Their natural sweetness works beautifully in cake.
Also, adding pureed beets into the chocolate cake batter makes the cake rich and extra moist and actually seems to highlight the chocolate flavoring.
Try my experiment; serve this cake without telling your family about the ingredients. I guarantee they won't guess that the recipe includes beets. All they'll taste is peppermint chocolate deliciousness.
And who doesn't love that?
Chocolate and Peppermint for the Win!
As I said, those chocolate beet cake recipes I tried last year were big hits with my family. But this year, I decided to create my own version, using my favorite holiday flavor combination, peppermint and chocolate! It's a combination that evokes very sweet memories for me.
Many years ago, when my husband and I were dating, he took me to a restaurant that served ice cream sundaes with pink peppermint ice cream and hot fudge topping. It was a revelation!
I won't say that the experience tipped the scales toward me accepting his proposal but it definitely didn't hurt. I've been wild about peppermint and chocolate (and my husband) ever since.
Especially during the holidays, chocolate and peppermint is an ideal combination. It's like turkey and cranberry or Currier and Ives – they're even better together.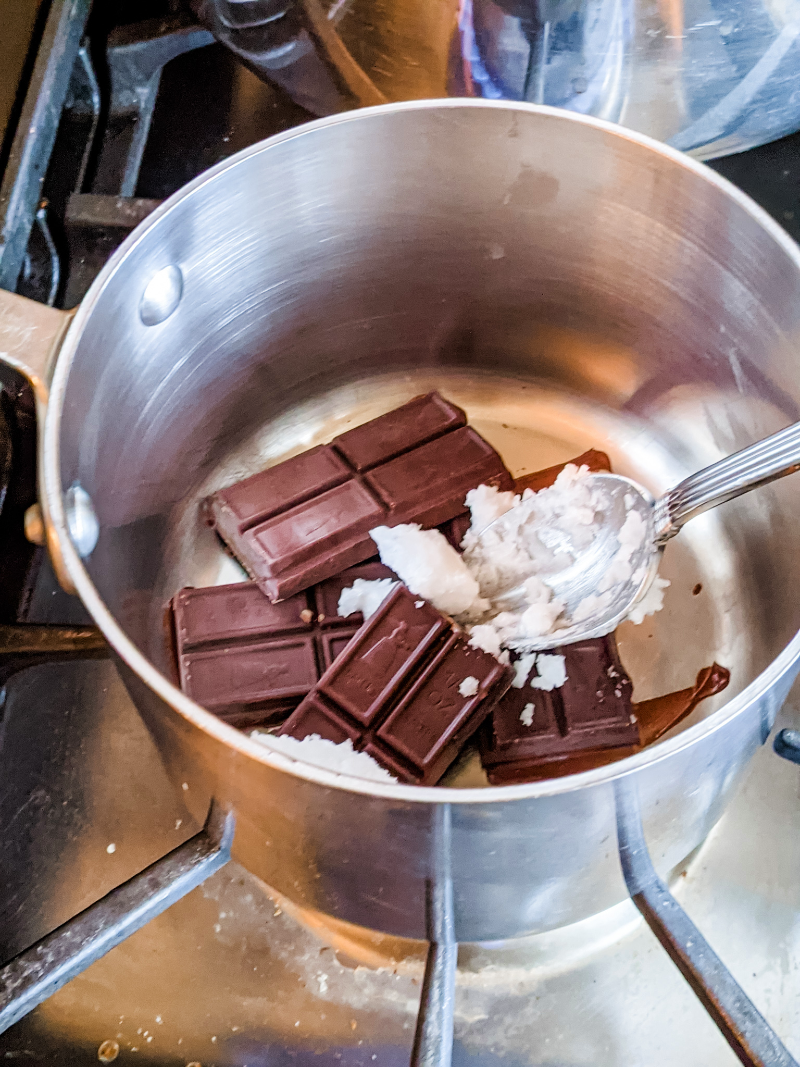 Almond Flour is Optional But Brings A Lot to the Party
I love the health benefits of baking with almond flour.
Using almond flour instead of wheat flour adds protein and nutrients while lowering the carbohydrates of baked goods. It also tastes good.
However, almond flour also makes baked goods a bit denser. Since my Chocolate Peppermint Beet Cake is already quite moist, I decided to use only one cup of almond flour in the recipe, and one and a half cups of regular flour.
If you don't have almond flour on hand, you could substitute wheat flour. The cake will still be delicious.
But if possible, I really do recommend using the almond flour that's called for in the recipe. The natural nutty sweetness of almond flour adds a lovely flavor and texture to the cake.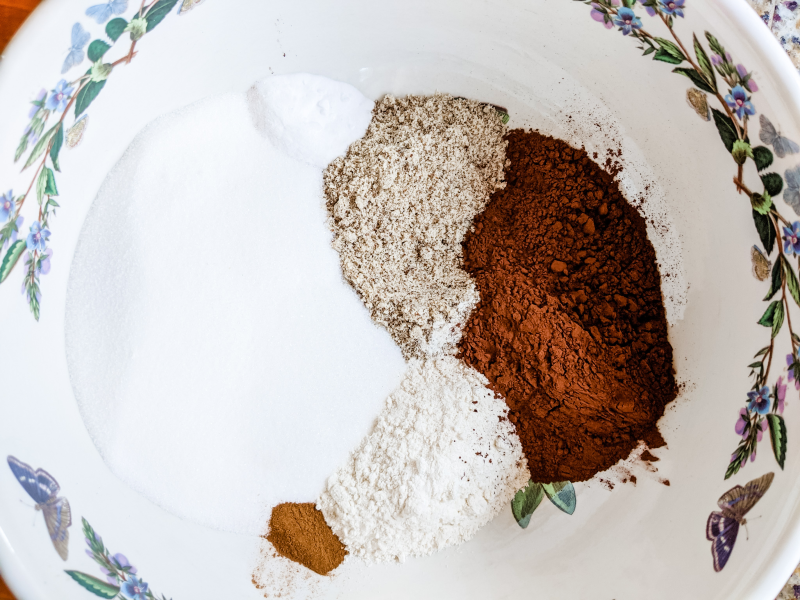 All About the Beets in this Chocolate Peppermint Beet Cake
Of course, you could make a plain old chocolate peppermint cake and it would be good. But the beets really do add something wonderful to this cake. They help create a texture that is rich and moist but not overly dense.
I used regular red beets for my recipe but any sweet beet should work. There's quite a bit of chocolate in the cake, so the beets won't turn the cake red.
Making the Beet Puree
Making the beet puree is easy.
You can either boil peeled beets on the stove or pierce whole beets with a fork, wrap them in foil, and roast in a 400-degree oven until tender, slipping the skins off after cooking.
Next, put the cooked beets in a food processor to puree. If needed, add water a tablespoon at a time as you're pureeing, until you get a texture that is smooth but still nice and thick. Don't use more water than is absolutely necessary.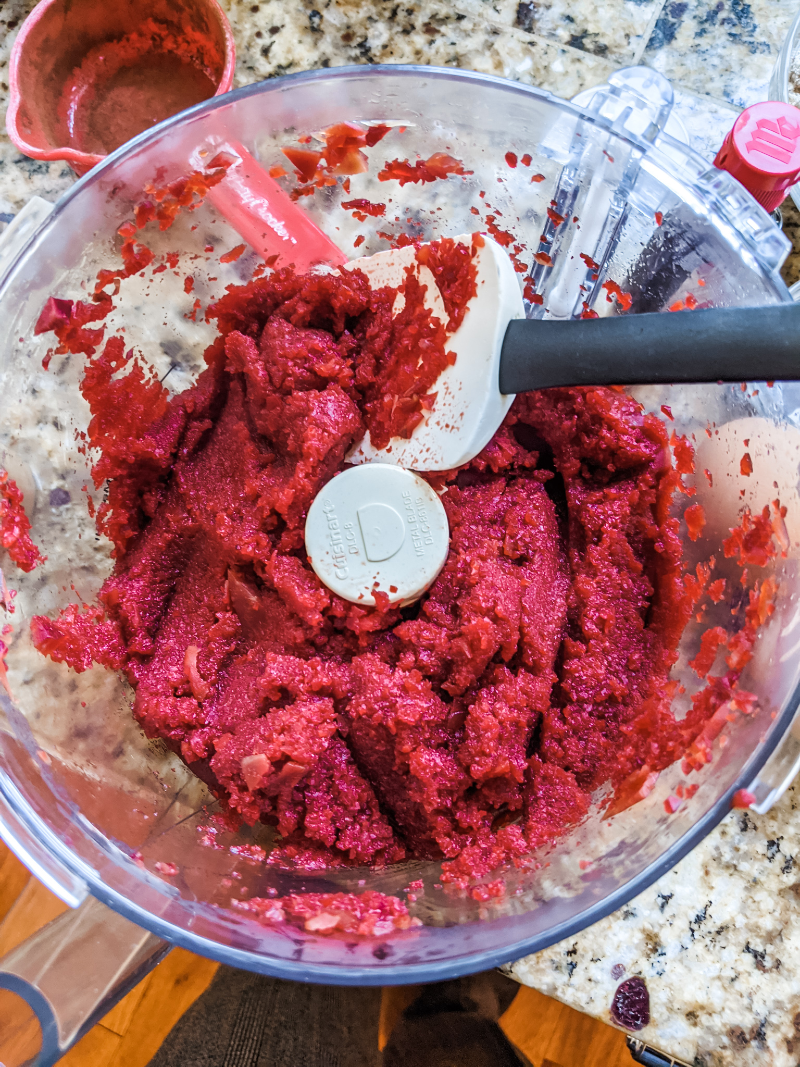 Baking the Chocolate Peppermint Beet Cake
My Chocolate Peppermint Beet Cake has only one layer with no filling, finished with a mirror glaze that drips down the sides of the cake. Because there is only one layer, I used a cake pan that is about 3 inches deep.
If you don't have an extra deep pan, you could use a different size or shape of pan, or make two layers (some whipped cream sandwiched between might be nice). Just be aware that this might alter the cooking time of your cake. Also, line the bottom of the pan with parchment paper to make it easier to remove the cake from the pan.
If you use a wooden skewer to test the doneness of your cake, be aware that the skewer may not come out perfectly clean after the suggested baking time. If you've baked it for the full 45 minutes at the correct temperature and the top looks dry, it should be done.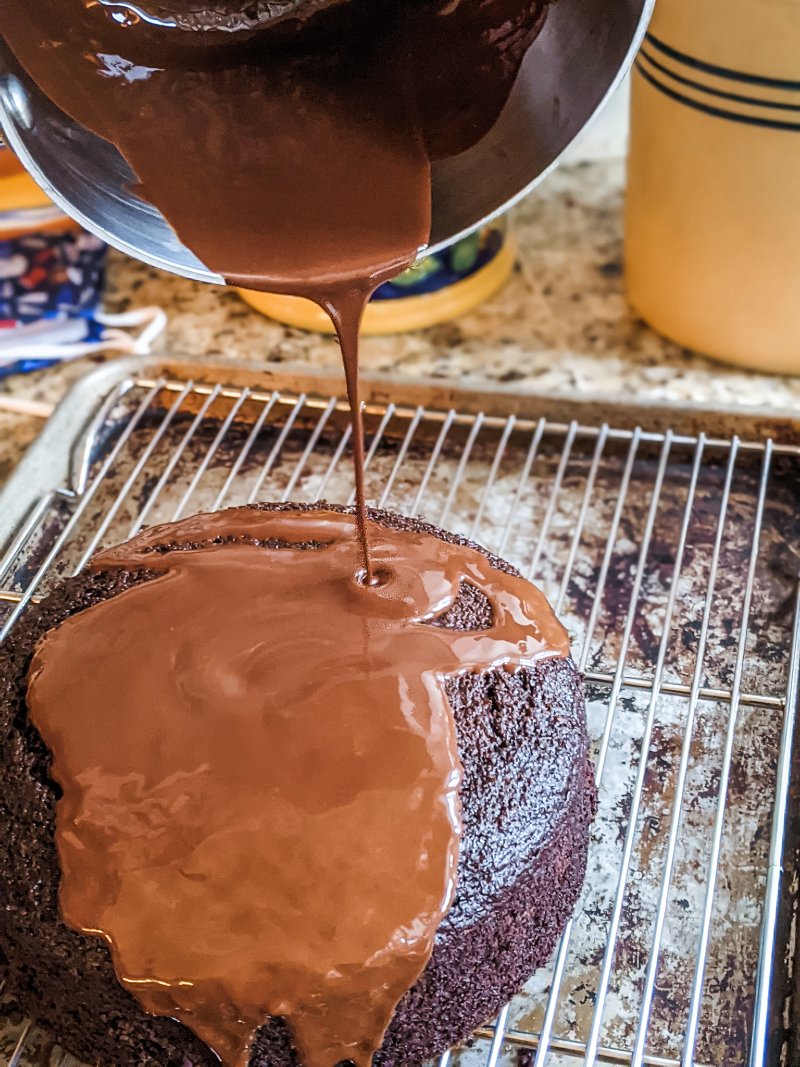 But if you're concerned, you can leave it in for a few more minutes. The beets make the cake so moist that there's little chance of it drying out.
Finally, be sure to let the cake cool on a wire rack for at least 20 minutes before trying to remove it from the pan. Let the cake cool completely before pouring on the glaze.
If not serving immediately, store the cake at room temperature. Putting it in the refrigerator may make the glaze look cloudy. It would still taste wonderful, but it wouldn't be as pretty.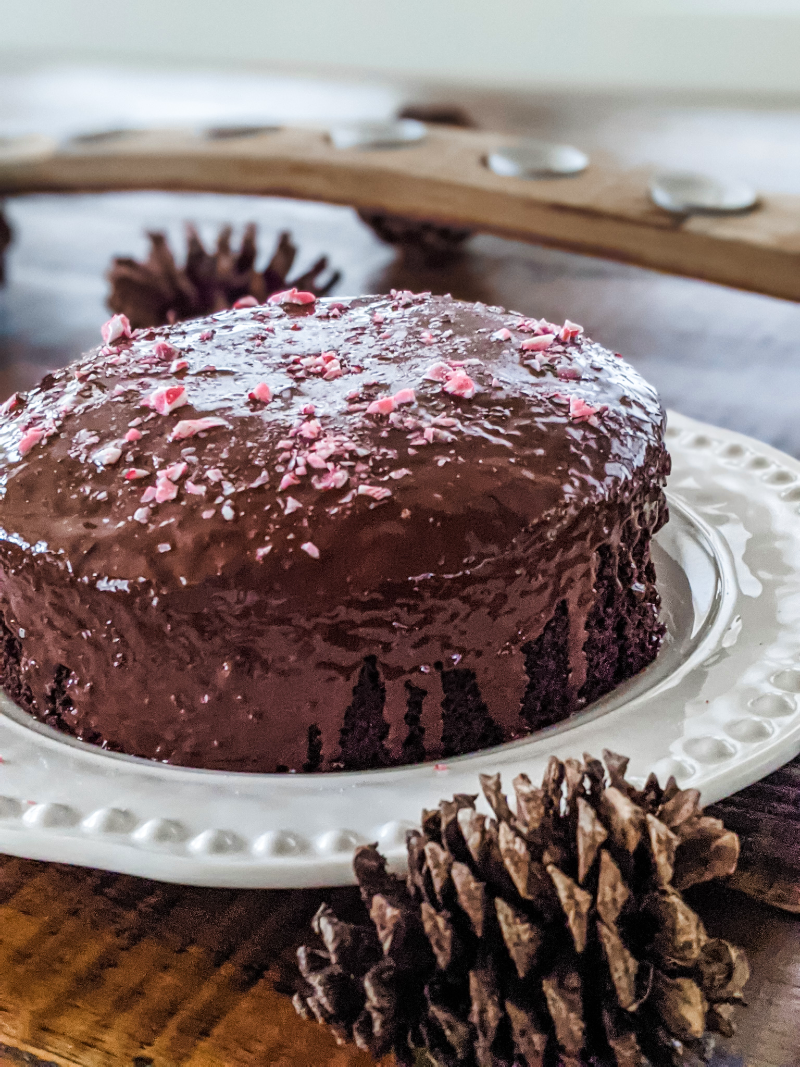 A Chocolate Peppermint Finish to a Happy Holiday Meal
Chocolate and Peppermint is a classic flavor combination. Those wonderful holiday flavors are even better as part of a wonderfully moist and rich beet cake, topped with a beautiful chocolate peppermint mirror glaze that's sprinkled with red and white confetti of crushed peppermint candy. So pretty! And SO good!
Chocolate Peppermint Beet Cake is a good way to use up your supply of winter beets. More importantly, it's a scrumptious treat for family and friends, and a peppermint perfect finale to your special holiday dinner!
Print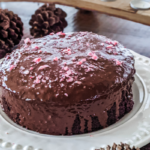 Chocolate Peppermint Beet Cake
---
Author:

Yield:

8

-

12

servings

1

x
Cake
1 ½ cups

all purpose flour

1 cup

almond flour

1 1/2 cups

sugar

½ cup

unsweetened Dutch process cocoa powder, plus 1 tsp for dusting pan

1 ½ tsp

baking powder

½ tsp

salt

1/2 tsp

ground cinnamon

1½ cups

pureed beets

2

eggs

¾ cup

water

¼ cup

vegetable oil

1 tsp

. peppermint extract
Glaze
4 oz

. good semisweet chocolate

1

T coconut oil

¼ tsp

peppermint extract
Crushed peppermint candy for decorating
---
Instructions
Preheat the oven to 350 degrees. Coat a 9-inch cake pan (3 inches deep) with cooking spray. Line the bottom of the pan with parchment paper, spraying paper lightly with cooking spray. Dust pan with a teaspoon of cocoa powder, tapping out any extra.
Place flours, sugar, cocoa powder, baking powder, cinnamon, and salt together in a bowl and whisk to combine. Set aside.
Place eggs, water, oil, peppermint extract, and beets in large bowl or stand mixer bowl. Mix wet ingredients at medium-high speed, until well combined. Add dry ingredients to wet ingredients, a third at a time, mixing after each addition.
Pour batter into the prepared pan. Bake for 45 to 55 minutes. Cool cake on wire rack for at least 20 minutes before removing from pan. Allow cake to cool before pouring on glaze.
To make glaze, place semisweet chocolate and coconut oil into a heavy bottomed pan over medium low heat, stirring to melt. Stir in peppermint extract.
Allow glaze to cool for 15 minutes. Pour glaze over cake, using a spatula to even out the glaze and drip it down sides. Allow cake to sit at room temperature for an hour or two before serving, so glaze can set.