This post may contain affiliate links. Full disclosure policy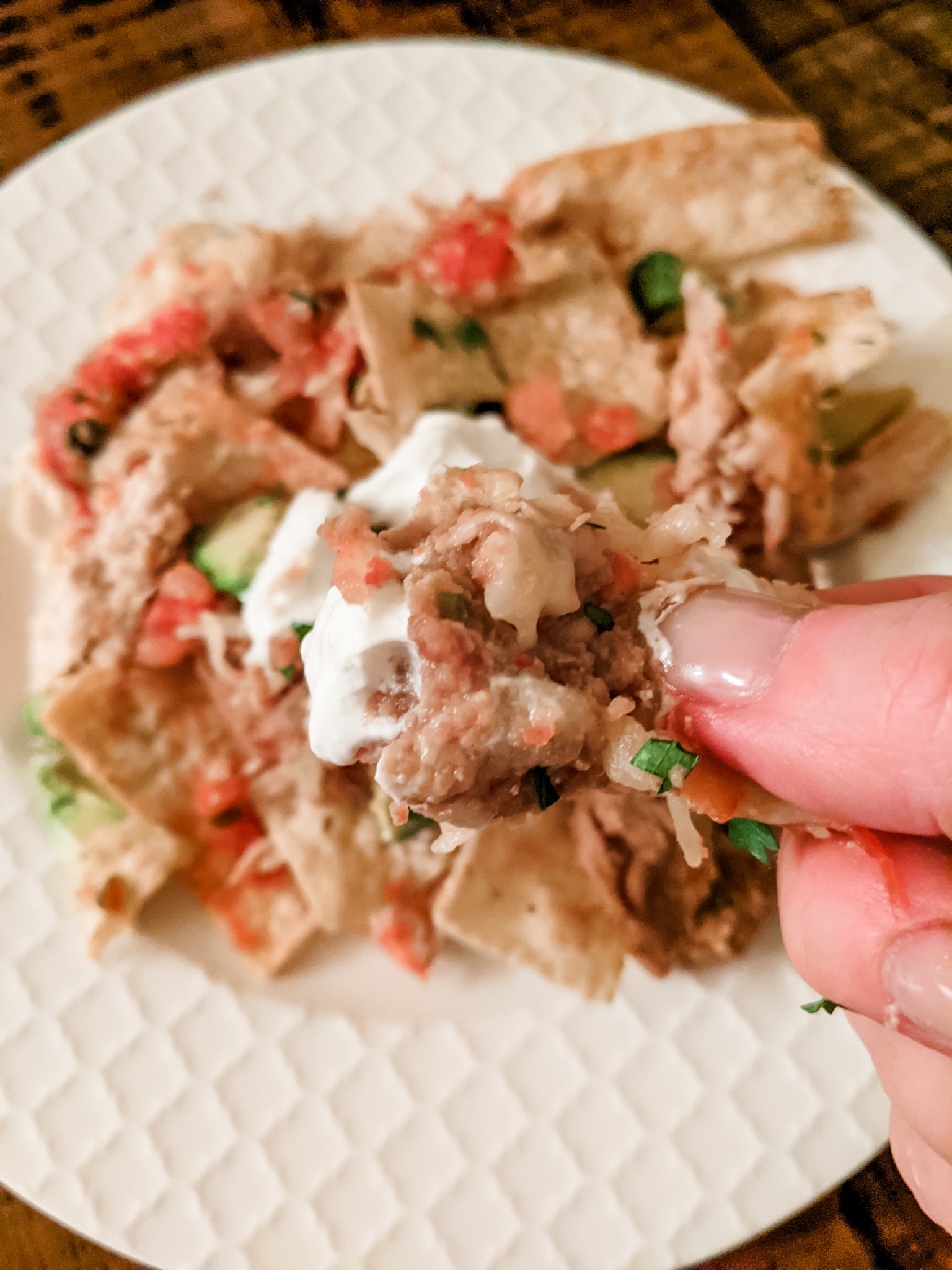 If you are looking for ways to transition to healthier eating habits that can take hold over the long haul, take a look at my Chicken Nacho recipe. It's a delicious and healthier take on a traditional pub food favorite!
The Season that Can't Last
It's January, the traditional start of diet season. It's the annual and generally short-lived season of guilt, repentance, and self-denial that comes right after the holidays. And this year, it seems more prevalent than ever. Just about everybody I know packed some extra pounds on during the pandemic and is pledging to take it off.
I get it! In the hideous year that was 2020, food was a means of finding comfort and slaying boredom. And as we launch into a new year, we're realizing that we simply cannot go on this way.
But if there's one thing I've learned in life, it's that dieting doesn't work – at least not over the long haul. Let's face it – tasty food is one of life's primary pleasures. The idea that you're going to permanently throw over your favorite dishes and subsist on boiled broccoli and quinoa is just unrealistic. If you try, it won't be until you dive headfirst into a bag of kettle chips and start there for a month.
A Lifestyle You Can Live with Over the Long-haul
Reaching and maintaining a healthy weight requires sensible habits you can stick with month after month and year after year. Most of the time, that means making small, incremental changes in the way we eat, move, and care for ourselves that, over time, add up to real results.
One of my favorite strategies I've found for doing that involves making healthier versions of the dishes I already love, such as my Healthier Chicken Nacho recipe.
But before we get into the recipe – let's take a minute to talk about the basics of healthy recipe makeovers.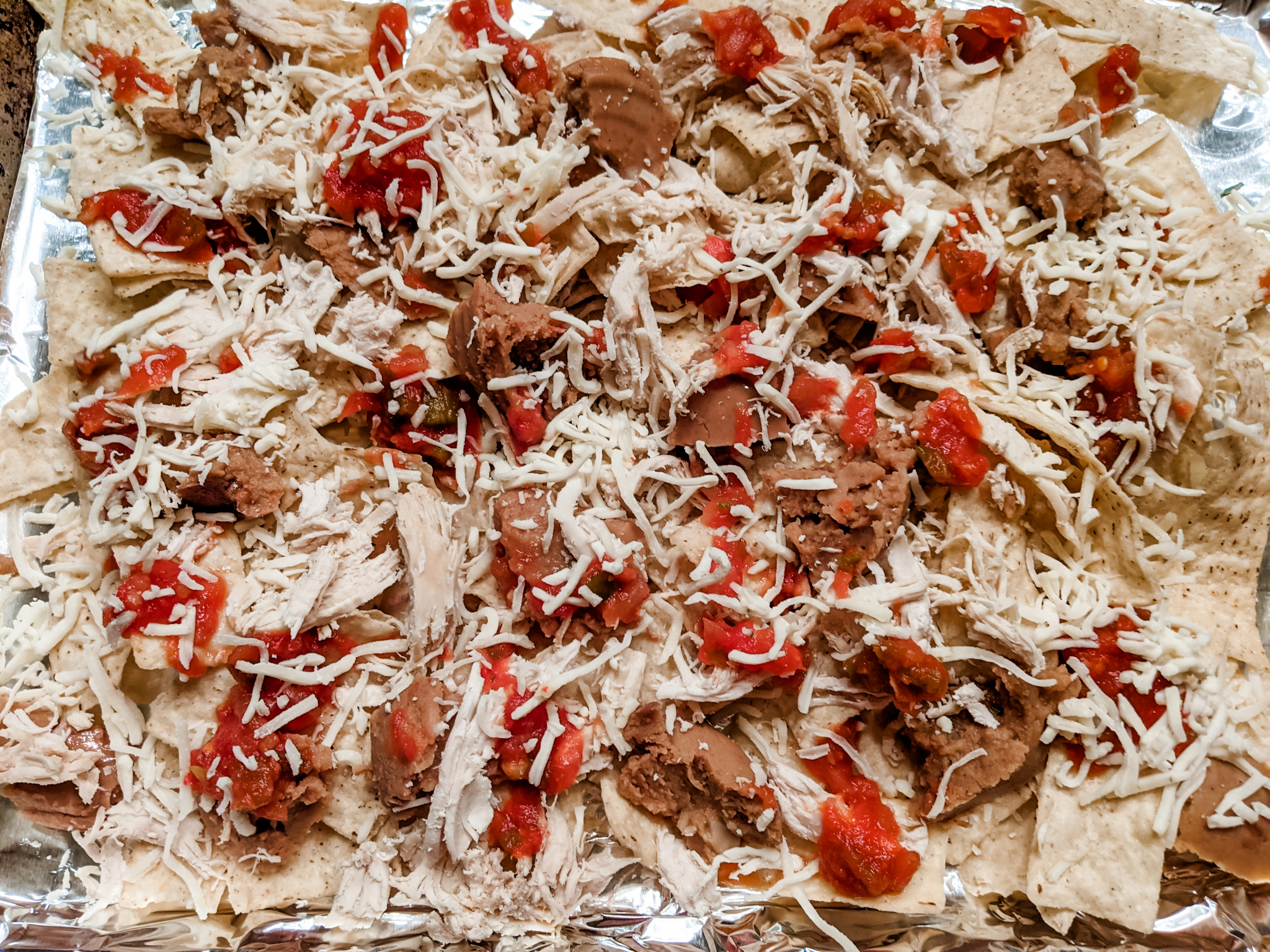 Recipe Remodeling 101 – My Healthier Chicken Nachos
My Healthier Chicken Nacho recipe is just one example. Almost any recipe can get a health makeover when we apply a few basic criteria.
Pay attention to portion size (this means actually measuring the ingredients).
Look for lower-fat ingredient options that still taste good.
Add more vegetables.
Choose small portions of healthy fats (avocado, oil olive, etc).
Replace some or all fatty meat with leaner cuts, poultry, or fish.
Replace some or all sugar with fruit.
Notch up spices and flavor-forward ingredients.
Go easy on the salt.
I'm not saying that you need to use all these criteria all the time. But making even a couple of these changes will nudge any recipe into a healthier direction.
Try applying them to a few of your favorite recipes. See how many healthy changes you can make that still give you tasty results that you'll actually enjoy eating. Once you get the hang of the basic principles, healthy recipe remodeling will become second nature!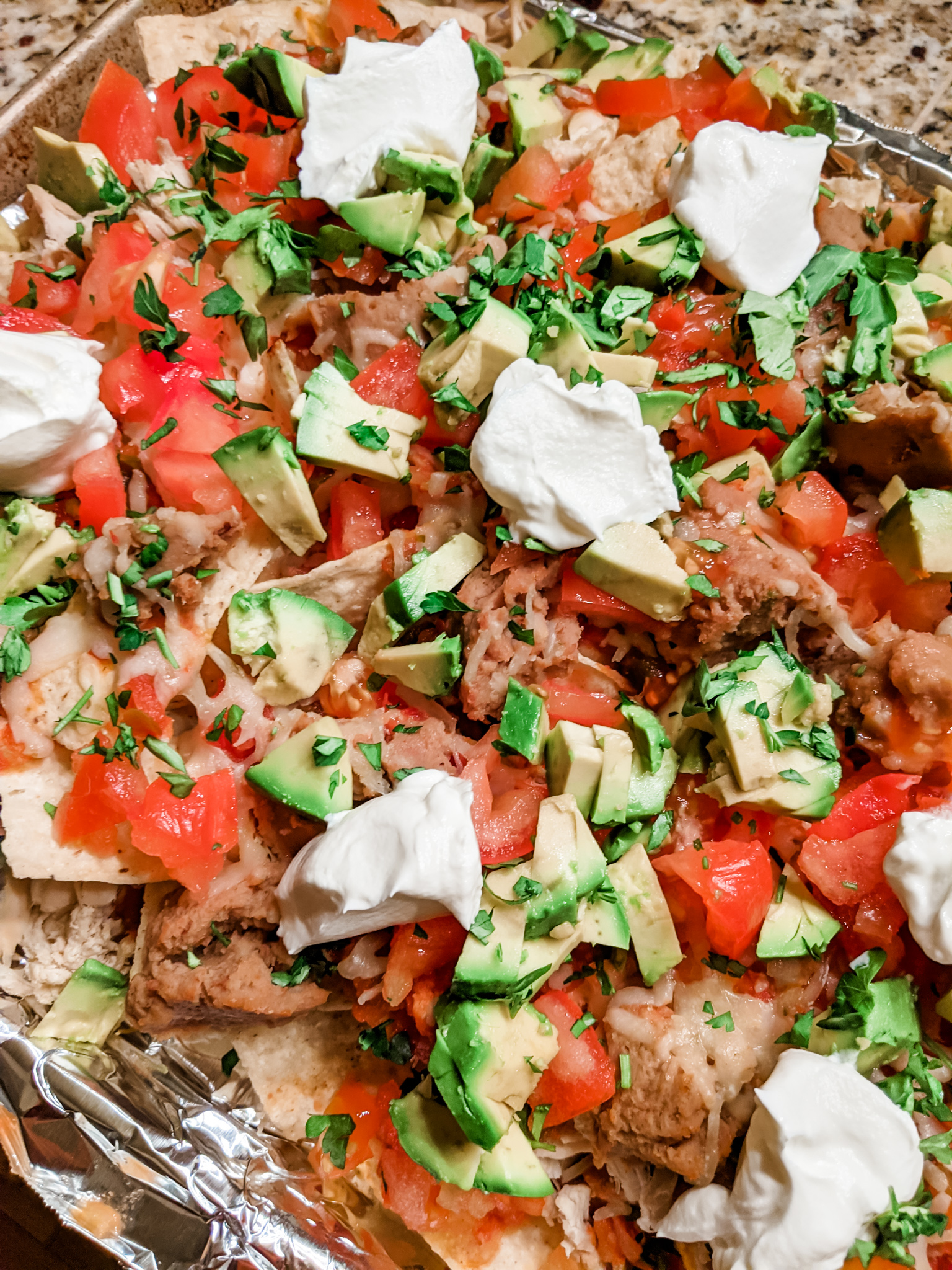 Small Changes for My Healthier Chicken Nachos
Several of my recipe remodeling criteria came into play when I was making my Healthier Chicken Nacho Recipe.
Let's start with the tortilla chips. They're not exactly healthy but you really can't make nachos without them, so I chose a lightly salted version and kept the portions to two ounces per serving. If you like them, using baked tortilla chips is another way to make your chicken nacho recipe a little healthier.
Using shredded chicken breasts instead of beef definitely makes these nachos healthier. It tastes great and is really easy to make!
Just boil a chicken breast in lightly salted water until it's cooked through, with no pink inside the meat. Drain off the water and allow the breast to cool. Take two forks and drag them across the surface of the chicken in opposite directions to shred the meat. That's all there is to it!
(Pro Tip: Make extra shredded chicken breasts to keep on hand in the refrigerator. They're great to toss onto a salad, add to soup, or wrap up in a small tortilla for a quick lunch.)
Other Small Changes for Healthier Ingredients
Here's how I applied some of those recipe remodeling tips into my Healthier Chicken Nachos.
Beans are really good for you – filled with protein and lots of fiber that will help you feel full and satisfied. But refried beans are loaded with fat so I chose a non-fat alternative.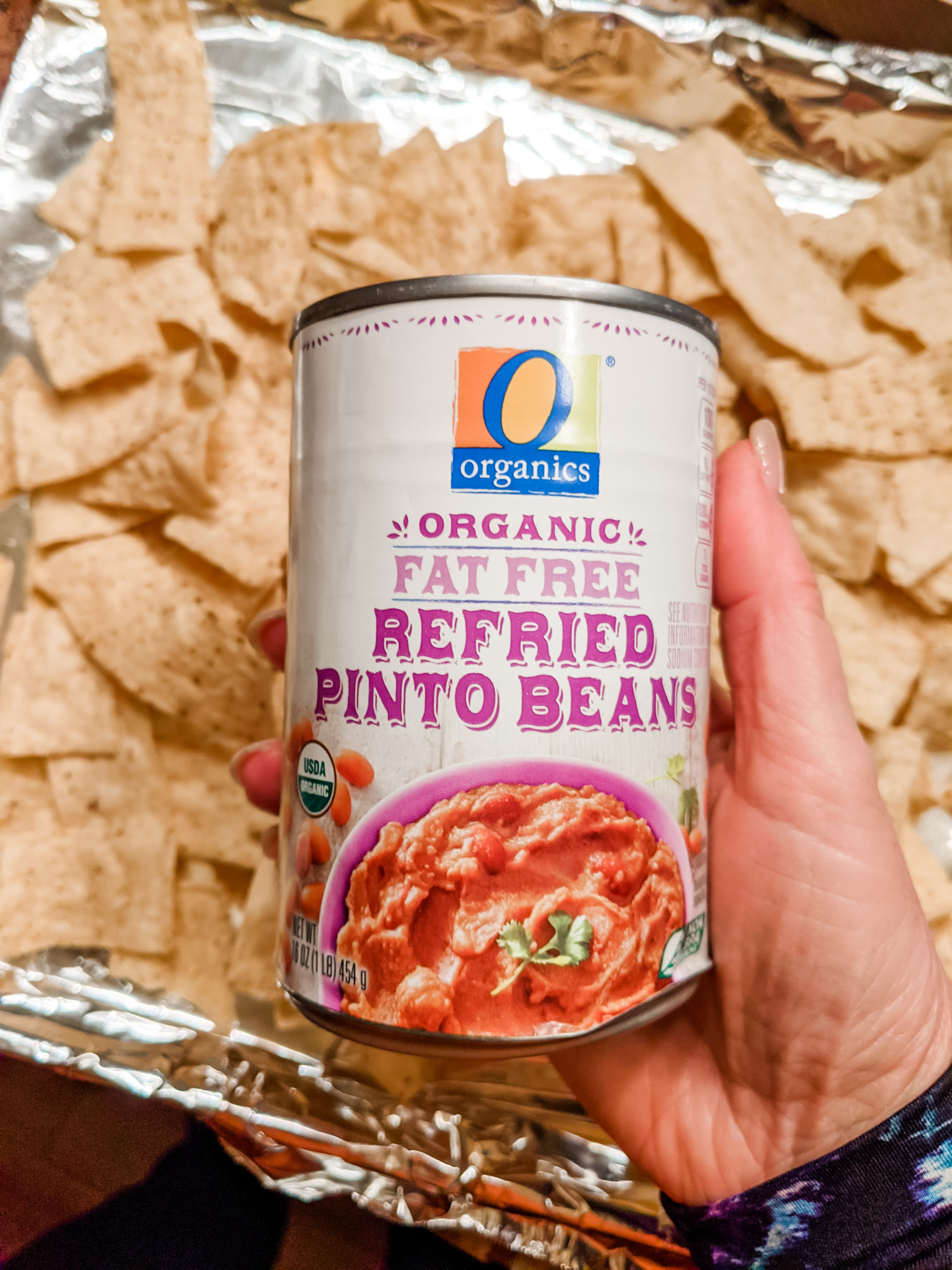 Non-fat options can be great – as long as they taste good! Otherwise, what's the point? Non-fat cheese does NOT taste good, in my opinion. So I used a smaller amount of low-fat sharp cheddar (sharp cheese is more flavorful) and topped it off with a few dollops of low-fat sour cream. Yum!
I also kicked up the flavor with some spicy salsa, a little fresh avocado, diced tomato, and a sprinkle of fresh chopped cilantro. Lightly sauteed onions and peppers would be a good addition too, as well as sliced black olives or sliced fresh jalapenos. And if you've got a fresh lime, squeeze the juice over to top just before serving.
A final tip, assemble the nachos in two layers. That way, you get more of the cheese, salsa and beans in every bite.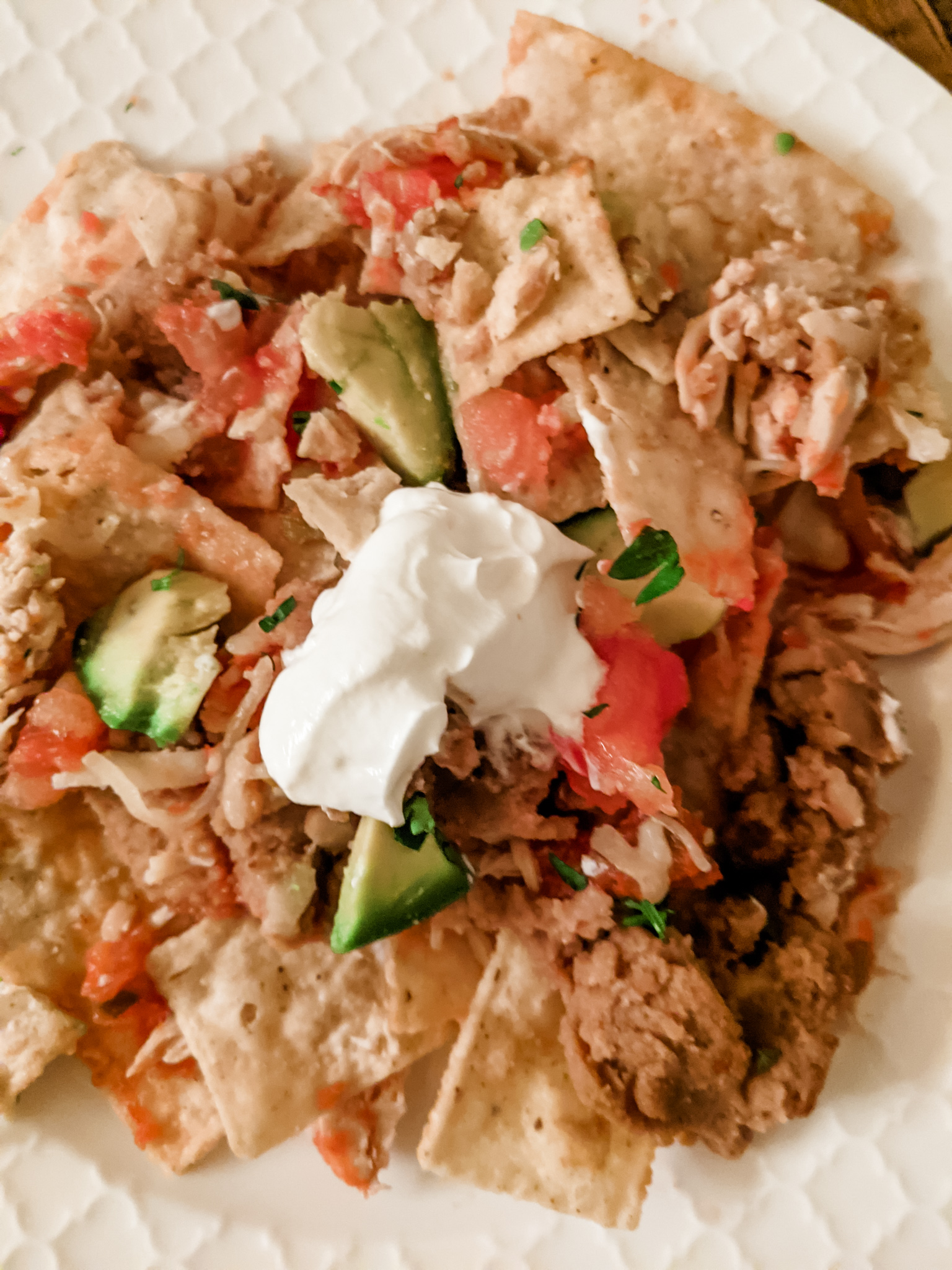 A Healthier Take On a Family Favorite
I'll be straight with you. If you're trying to lose those post-pandemic pounds, eating nachos on a regular basis – even my healthier chicken nachos – probably isn't a good idea.
But when we're trying to achieve and maintain a healthy weight and lifestyle, we've got to play the long game. That means planning for little treats and celebrations that help us enjoy life and stay the course.
If that's your aim, then Healthier Chicken Nachos is a recipe you'll definitely want to add to your repertoire!
Smart amounts of all those nacho-licious flavors and cheesy gooeyness make this recipe a great, healthier alternative to the traditional high-fat version. My family and I absolutely loved them. I'm sure yours will too.
Print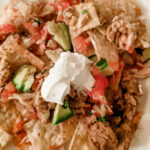 Healthier Chicken Nacho Recipe
---
Author:

Yield:

6

servings

1

x
12 ounces

corn tortilla chips, divided

1

jar chunky salsa or pico de gallo, divided

2 cups

low-fat sharp cheddar cheese, divided

1

can non-fat refried beans, divided

1

lb cooked, shredded chicken breast, divided (see blog post for instructions)

1

medium avocado, cut into small chunks

1

large tomato, seeded and diced

2

T chopped cilantro

1/2 cup

low fat sour cream
*Optional additions – lightly sauteed onions, green or red peppers.  3 T sliced black olives. Sliced or minced fresh jalapeno. Juice of one fresh lime, squeezed over top just before serving. Additional salsa for dipping.
---
Instructions
Preheat oven to 325 degrees. Spray a rimmed baking pan lightly with cooking spray.
Layer half the tortilla chips on the baking pan. Dot with half of the salsa, cheese, chicken, and beans. Layer the rest of the chips on top and top with the remaining salsa, cheese, chicken, beans. (If using, add sauteed veggies or jalapenos at this time.)
Place baking pan on rack in the center of preheated oven. Bake for 7 to 10 minutes, until cheese is melted.
Remove pan from oven. Sprinkle avocado, tomato and cilantro over the top. Dot the nachos with small dollops of the low-fat sour cream. (Add olives or lime juice if using). Serve and enjoy!