Scale
Ingredients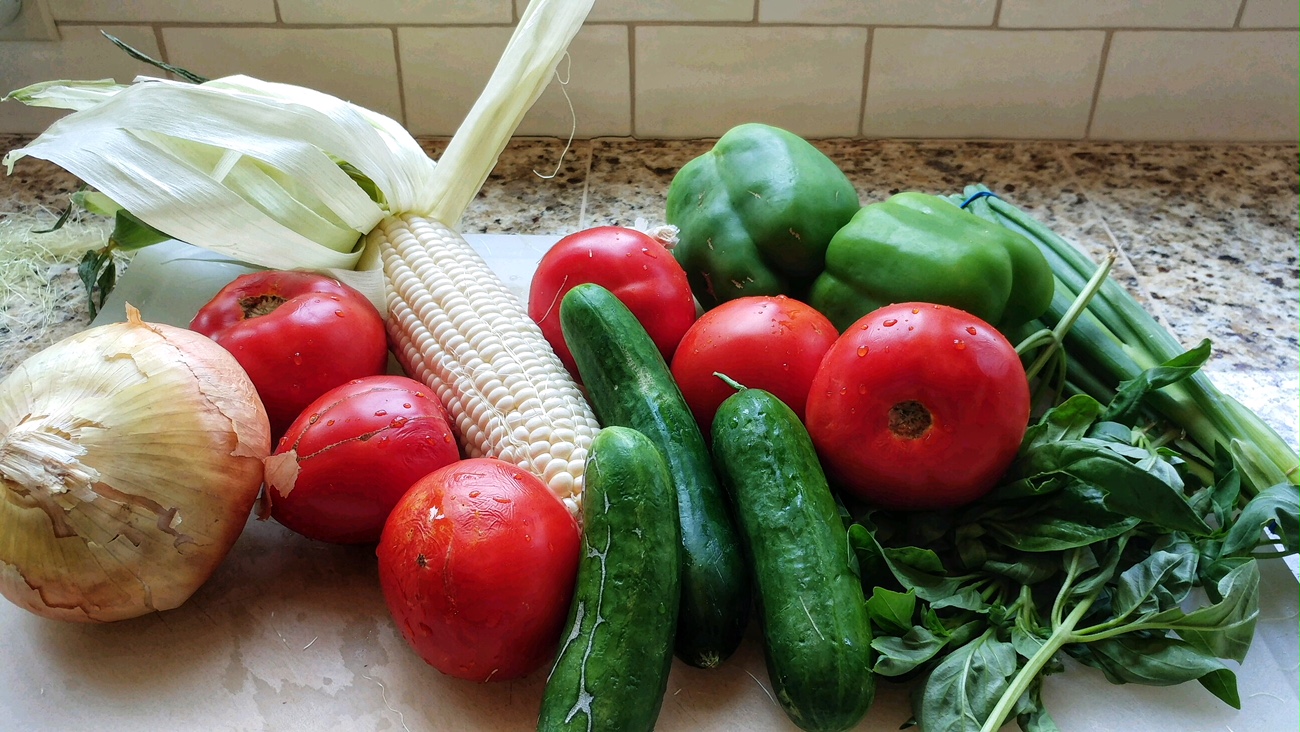 3 pounds fresh, ripe, local tomatoes (reserve 2 smallish tomatoes to dice)
1 large green pepper (reserve 1/3 to dice)
1/2 cup basil, loosely packed (reserve a few leaves to dice)
3 small, thin-skinned cucumbers (reserve one to dice)
Half a large sweet onion
1 ear of fresh corn
2 cloves garlic
1 bunch scallions
1 Tablespoon olive oil (use an herb flavored oil if you have it) (4 Points)
1 Tablespoon balsamic vinegar                                                       (2 Points)
A few dashes of hot sauce to taste (Tabasco, Cholula, or Sriracha)
Salt and pepper to taste
---
Instructions
Wash all the produce, setting aside reserved veggies (2 tomatoes, one third pepper, 1 small cucumber, a few basil leaves) including scallions and corn.
Remove corn husk and silk, cut kernels from cob. Briefly boil corn in a little salted water, for about three minutes, just to remove the starchiness. Take off heat, drain liquid, and set aside.
Cut the unreserved tomatoes, green pepper, basil, cucumber into chunks. Place in food processor or blender.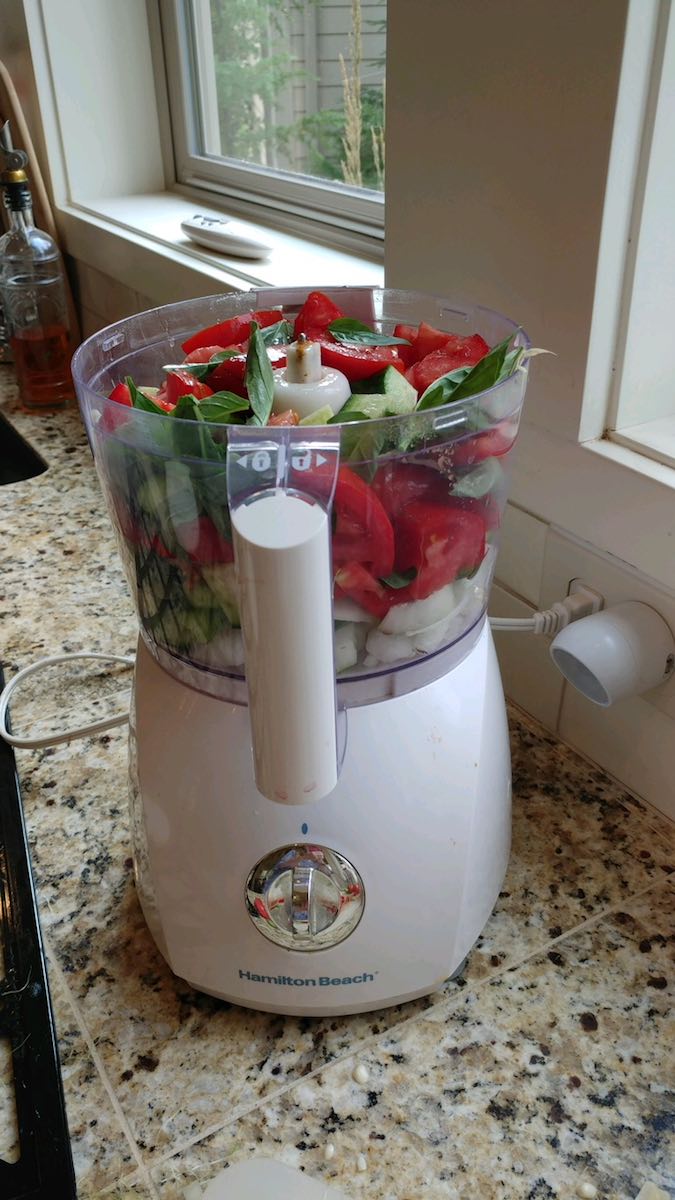 Dice onion and garlic, add to the vegetable mixture.
Puree the vegetables thoroughly.
Place a colander over a large bowl. Pour the vegetable puree into the colander.  Using a spatula or wooden spoon, stir puree and press against colander sides to drain the liquid, leaving solids in the colander.
(Tip: the vegetable solids mix nicely into a meatloaf.  But I added spices, sesame seeds, and a little tapioca flour to mine, then put them in my food dehydrator to make vegetable leather.)
Add olive oil, vinegar, hot sauce, salt and pepper to gazpacho liquid. Adjust seasonings to your taste.
Dice reserved tomato, green pepper, and cucumbers. Slice scallions. Add to vegetables to the gazpacho, along with the corn.
Slice basil into thin ribbons and use for a garnish.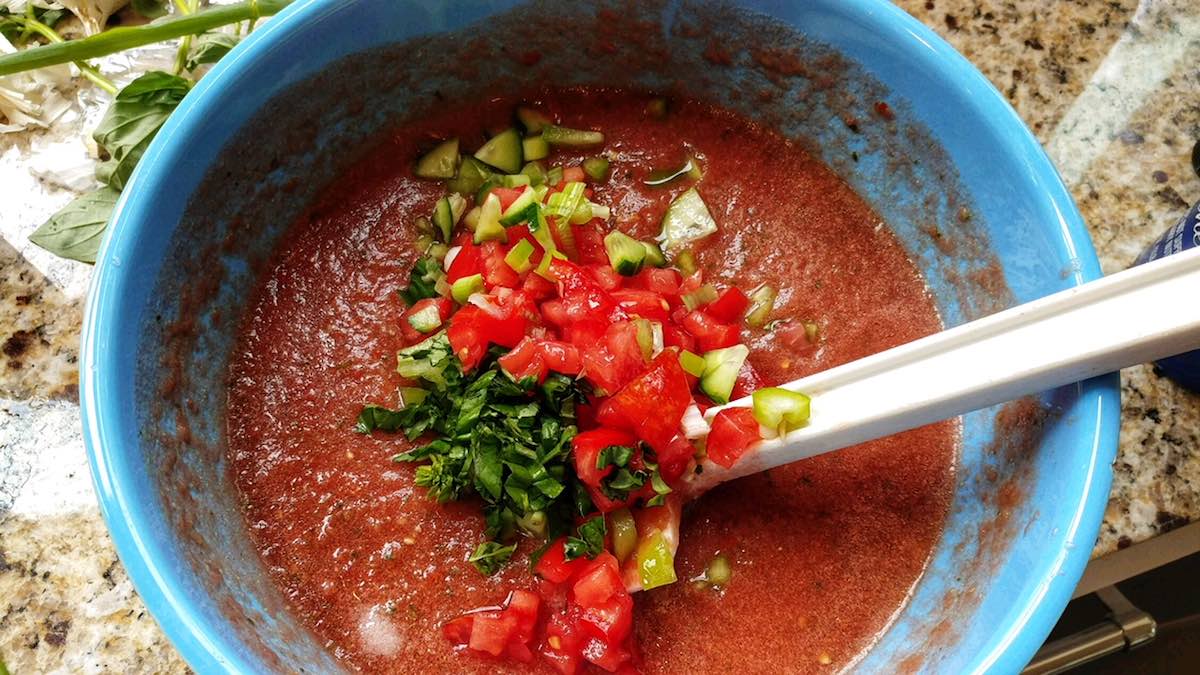 ---
Notes
Only 1 WW Freestyle point per serving!
Category:

lunch

Method:

no cook
Keywords: weight watchers recipes, WW freestyle, healthy lunch, gazpacho