This post may contain affiliate links. Full disclosure policy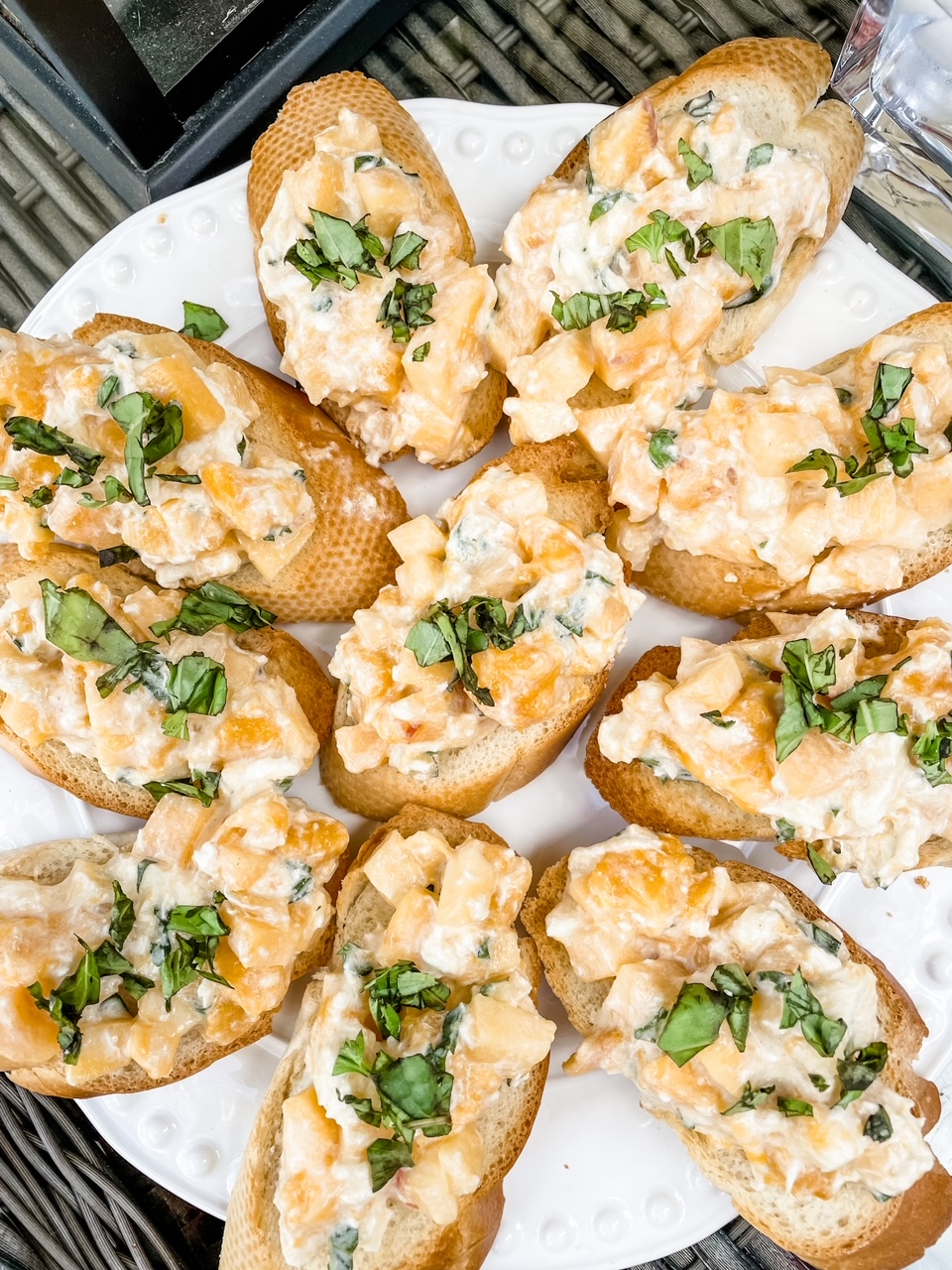 My Fresh Peach and Burrata Bruschetta Appetizer is a delicious, easy-to-prepare recipe that makes the most of peak of the season peaches! An elegant summertime appetizer! So easy but SO good!
No Such Thing As Too Many Peaches – Even in Burrata Bruschetta Appetizers
Oh, how I love fresh peaches!
When the first tree-ripened peaches arrive in my local market, I always buy a big bag and eat at least one a day, and sometimes two. I love standing over the sink and consuming them as is, letting the juice drip down my arm as I relish every luscious bite. When I'm not in the middle of a move, as is the case this summer, I dehydrate at least two crates of peaches for winter consumption, and can dozens of pints of peach jam and peach chutney.
And, of course, I also love cooking with fresh peaches and am always looking for ways to include them in new recipes. I came up with the idea for a Fresh Peach Burrata Bruschetta appetizer a few weeks ago, while thinking about a way to incorporate peaches into an easy appetizer for my guests.
Fresh Peaches and the Three B's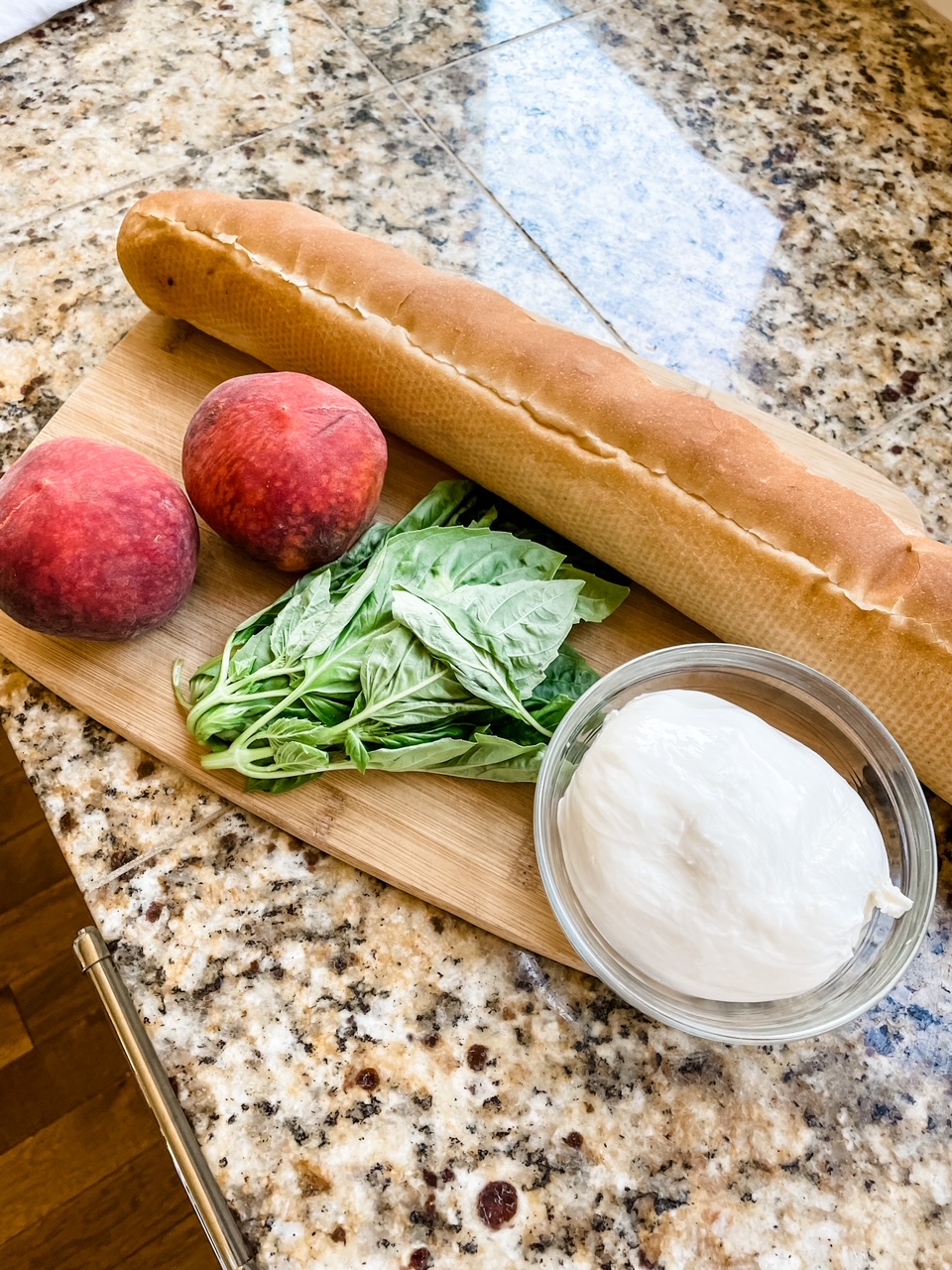 I wanted to create an appetizer that was hearty but simple to prepare, that would let the peaches take center stage. And since the temperatures were flirting with the triple digits that day, a recipe that only involved minimal cooking would be a big plus.
Bruschetta has always been one of my favorite appetizers. My Easy Tomato Bruschetta is a summertime staple around our house. It's tasty and delicious but the only cooking required is briefly popping the bread slices into the oven to brown.
And that got me thinking. Wouldn't it be fun to take bruschetta in a different direction by using fresh peaches? But what would that look like? What ingredients would I use besides the peaches?
Suddenly, the answer popped into my head – bruschetta, burrata, and basil! Those three B's plus some fresh, perfectly ripe peaches would be fabulous together!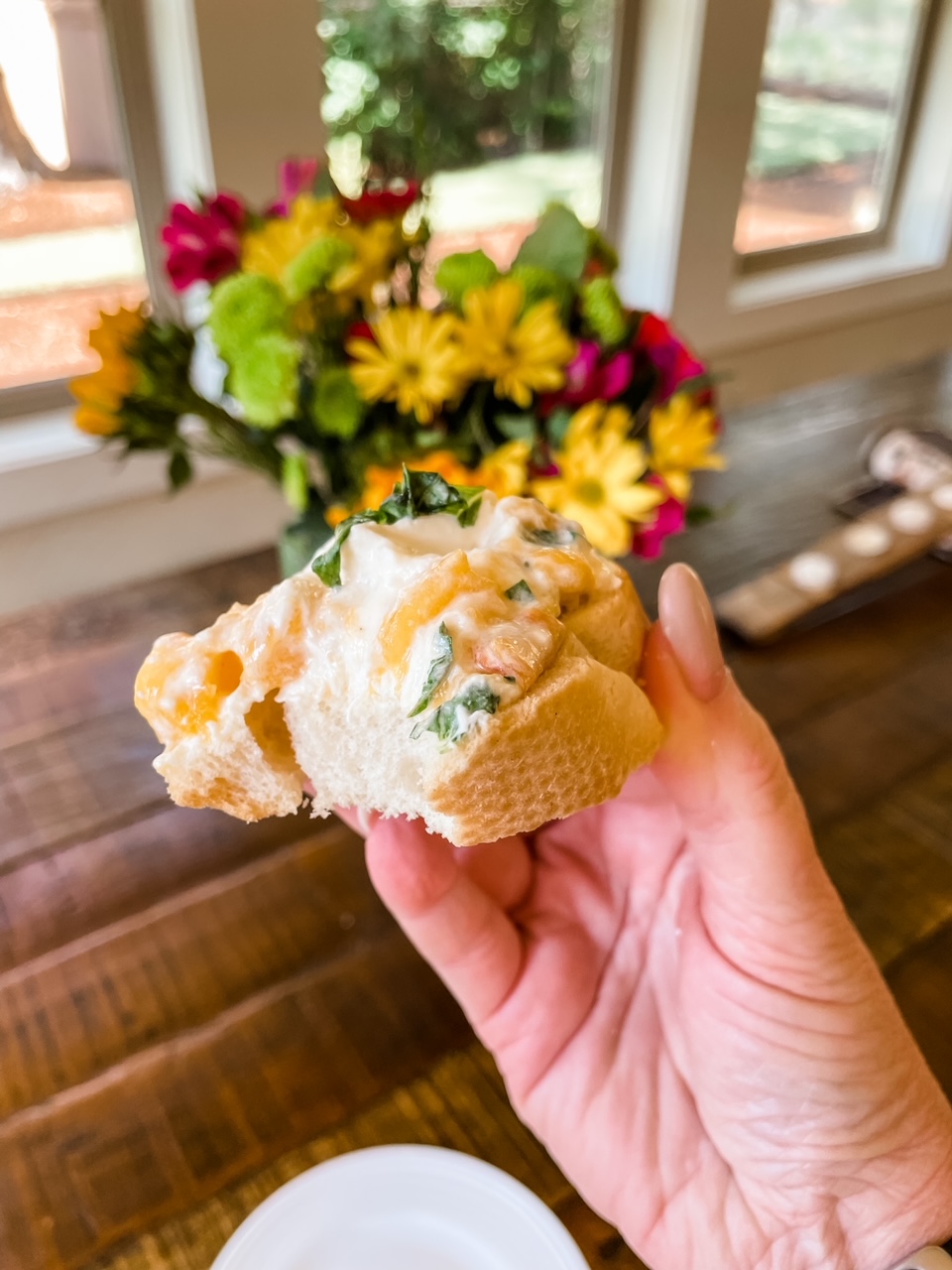 Defining Our Terms
I'm sure you already know all about peaches but let's talk about those three Bs….
Bruschetta sounds fancy but is surprisingly simple. It's just slices of bread brushed with olive oil and then toasted in the oven. The traditional topping for bruschetta involves tomatoes, garlic, and cheese. But you can put just about anything you want on top of bruschetta, including fresh peaches.
Burrata is a soft, fresh cheese made from cow's milk. It generally comes in large balls, about four to eight ounces each. It looks a lot like fresh mozzarella and has a similarly mild flavor, which means it pairs beautifully with other ingredients, providing a savory depth and richness while letting the other flavors take center stage.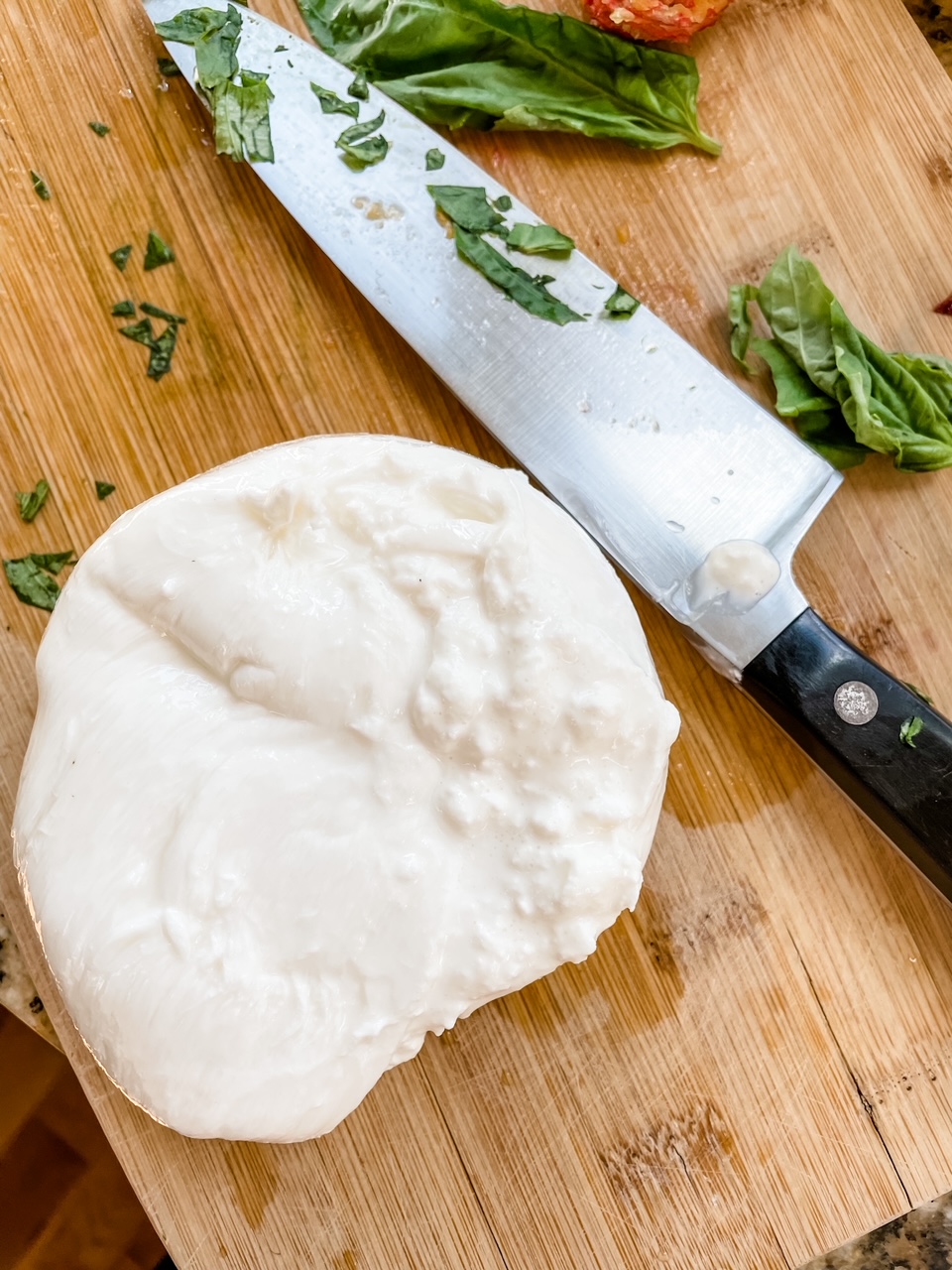 But when you cut through the exterior layer of the burrata, you'll realize that it's very different from mozzarella! The center of the burrata cheese is soft – very, very soft – and filled with an ooey, gooey, absolutely divine mixture of cream and curds. So decadent!
You probably know all about the third B – basil. There are very few dishes that don't benefit enormously from the addition of some fresh herbs and basil is one of my favorites. It plays nicely with so many other flavors, whether savory, spicy, or sweet.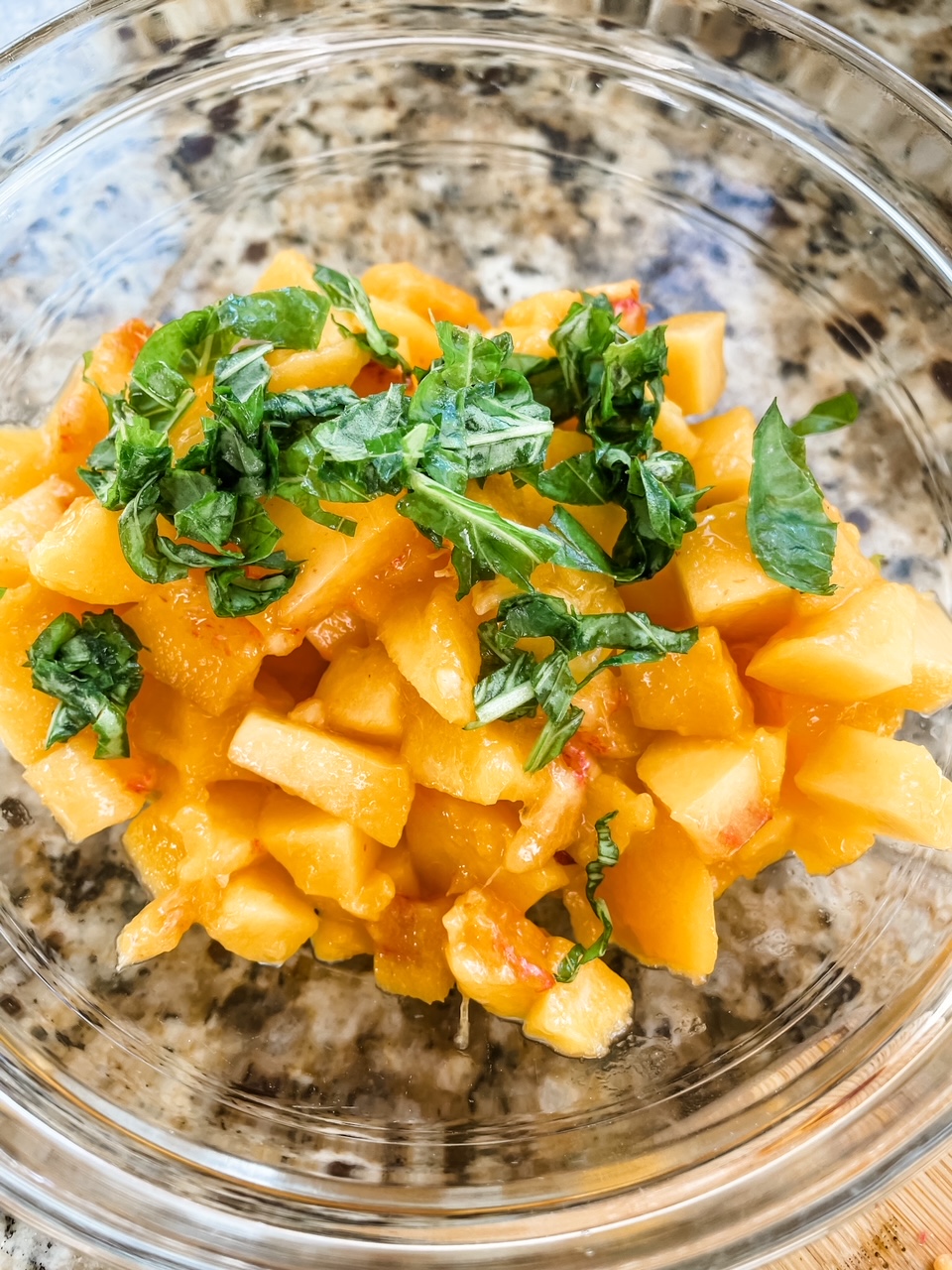 What it does so perfectly in my Fresh Peach and Burrata Bruschetta is add a subtle but pleasantly present bite to the dish, a touch of resiny tartness that keeps those sweet, ripe peaches from tasting too sweet. It's a small addition that helps balance the flavors. Plus, that touch of bright green is just so pretty!
Fresh Peach and Burrata Bruschetta Appetizer
If you're looking for an easy appetizer that makes the most of peak of the season peaches, you're definitely in the right place! Give my Fresh Peach and Burrata Bruschetta a try this week!
Looking for more peach appetizers? Check out this recipe for Pancetta Wrapped Peaches with Balsamic from Food and Wine!
Print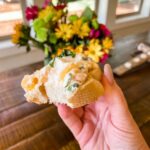 Fresh Peach and Burrata Bruschetta Appetizer
---
1

baguette, cut crossways into

12

slices

¼ cup

good olive oil

2

large, ripe, fresh peaches

8 oz

. burrata cheese

¼

chopped fresh basil

1

T white balsamic vinegar

¼ tsp

salt

1/8 tsp

fresh ground white pepper
---
Instructions
Preheat oven to 350
Lightly brush both sides of the baguette slices with olive oil. Place bread slices on baking sheet and toast in preheated oven for 3-4 minutes, until golden brown. Remove pan from oven, flip each bread slice and return to oven to toast the other side until golden brown, another 3-4 minutes. Remove pan from oven and set aside to cool.
Peel the peaches, cut into approximately one inch dice, and place in a bowl. Add fresh chopped basil, vinegar, salt, pepper to bowl. Stir to combine.
Place the burrata on a cutting board. Cut through the outer membrane of the cheese into the soft, creamy center. Use two forks or your fingers to shred the harder, outer portion of the burrata. Scrape the cheese from the cutting board and into the bowl with the peach mixture. Stir gently to combine.
Top each toasted bruschetta slice with generous spoonful of the peach and burrata topping. Serve immediately.