This post may contain affiliate links. Full disclosure policy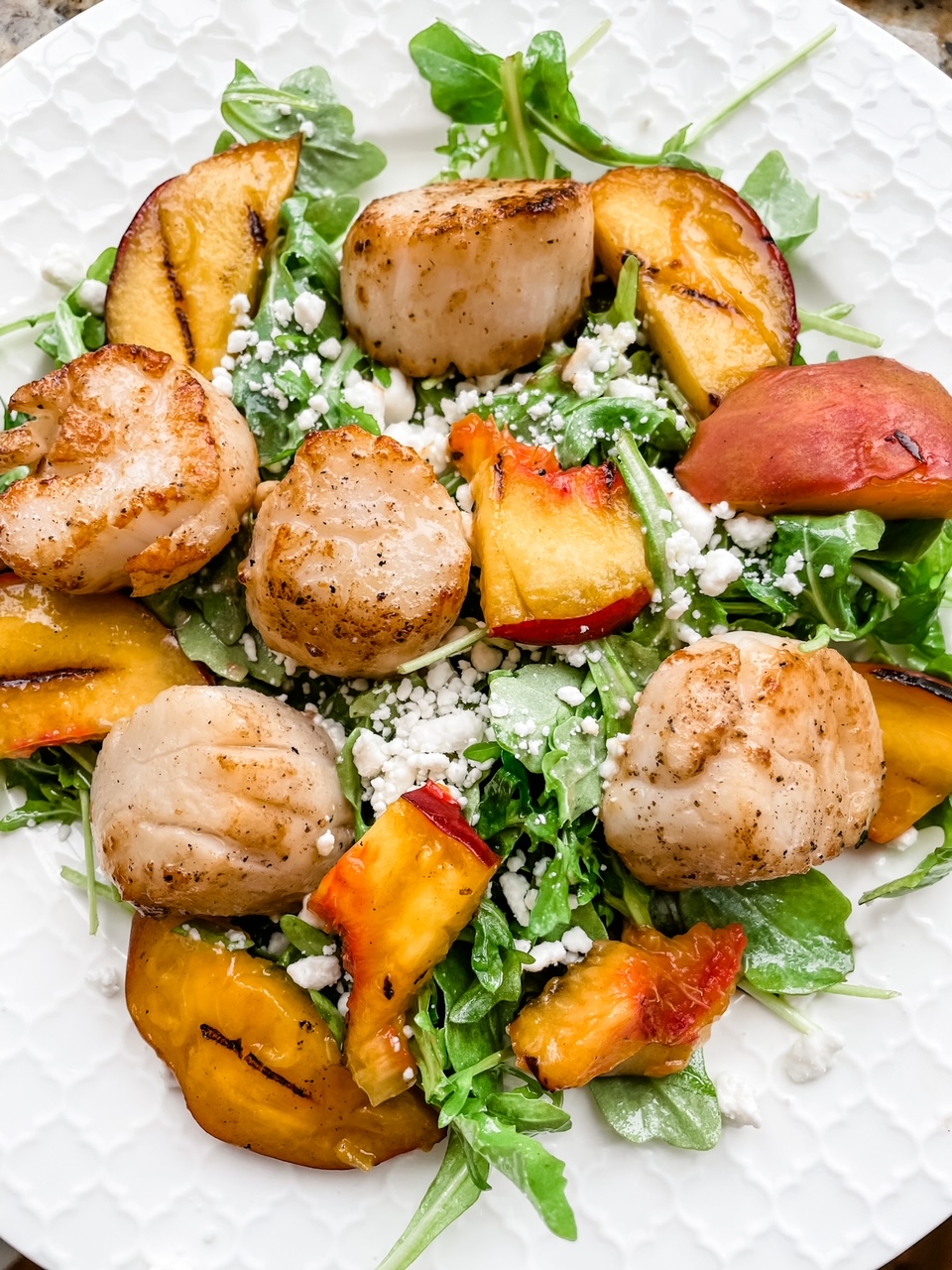 Fresh, flavorful, and healthy, Arugula Salad with Scallops and Grilled Peaches is perfect for a light summertime dinner or girlfriend's luncheon dish. Simple to make and simply delicious!
Summertime is Salad Time!
I do love to have salad for supper, especially during the summer. The dog days of August call for light and fresh meals that leave you feeling satisfied, not overstuffed.
My Arugula Salad with Scallops and Grilled Peaches fits the bill and tastes as good as it looks. Simple but elegant, it's the ideal dinner or company lunch for a warm summer day!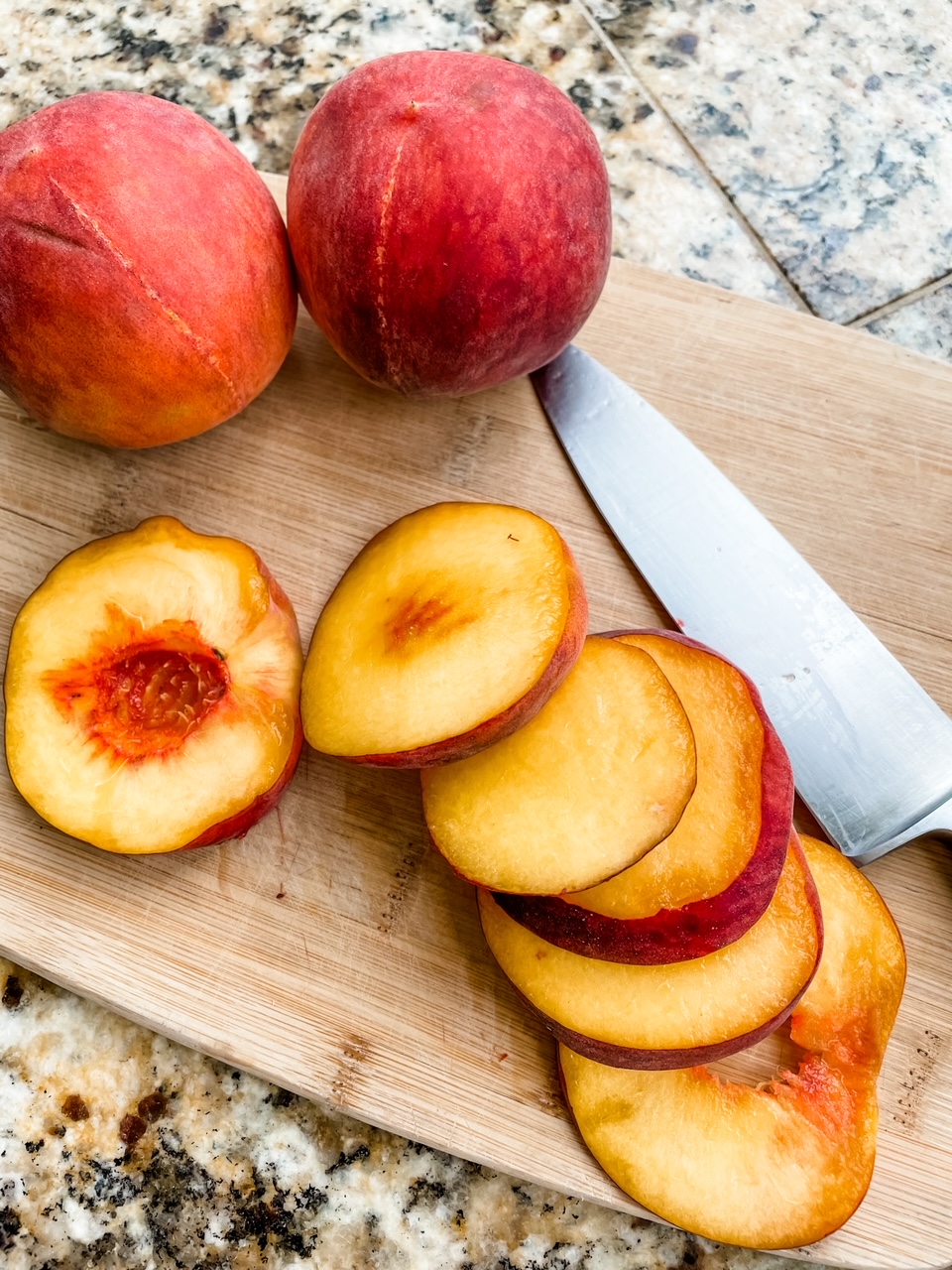 The slightly sweet flavor of pan-fried scallops and luscious grilled peaches is a mouth-watering combination that pairs beautifully with the subtle tang of creamy goat cheese. A simple citrus and white balsamic vinaigrette bring all the ingredients together into a gorgeous plate of yum.
What Do You Need to Make Arugula Salad with Scallops and Grilled Peaches?
Though the flavors in this salad are satisfyingly complex, the list of ingredients is relatively short and sweet. Here's what you'll need…
Scallops
Peaches
Arugula
Goat cheese
Butter
Olive oil
Lemons
White balsamic vinegar
Honey
Salt
Pepper
Making the Scallops and Grilled Peaches
If you want to, you could absolutely make the scallops and peaches in a regular frying pan. But I think that scallops taste best prepared in a cast-iron skillet. It gives the scallops a beautiful golden crust that tastes just wonderful.
And if you've got a cast-iron grill pan, that's my preference for making the peaches. Those grill marks look so pretty against that juicy peach flesh. Alternatively, you can cook the peaches on an outdoor grill, or simply cook them in a regular pan. But if you've got cast iron, use it!
When preparing scallops for the pan, I like to pat them dry with paper towels, then sprinkle with a little salt and pepper and let them sit for a few minutes. Then I put a combination of olive oil and butter into the pan and turn the heat up to the high side of medium. You want the butter and oil to be bubbling hot, but not so hot that you burn the butter.
After placing the scallops in the pan (make sure you don't crowd them) let them cook for about two to three minutes so they develop a nice golden-brown crust. Then flip them over, squeeze some fresh lemon into the pan, and cook for another two or three minutes.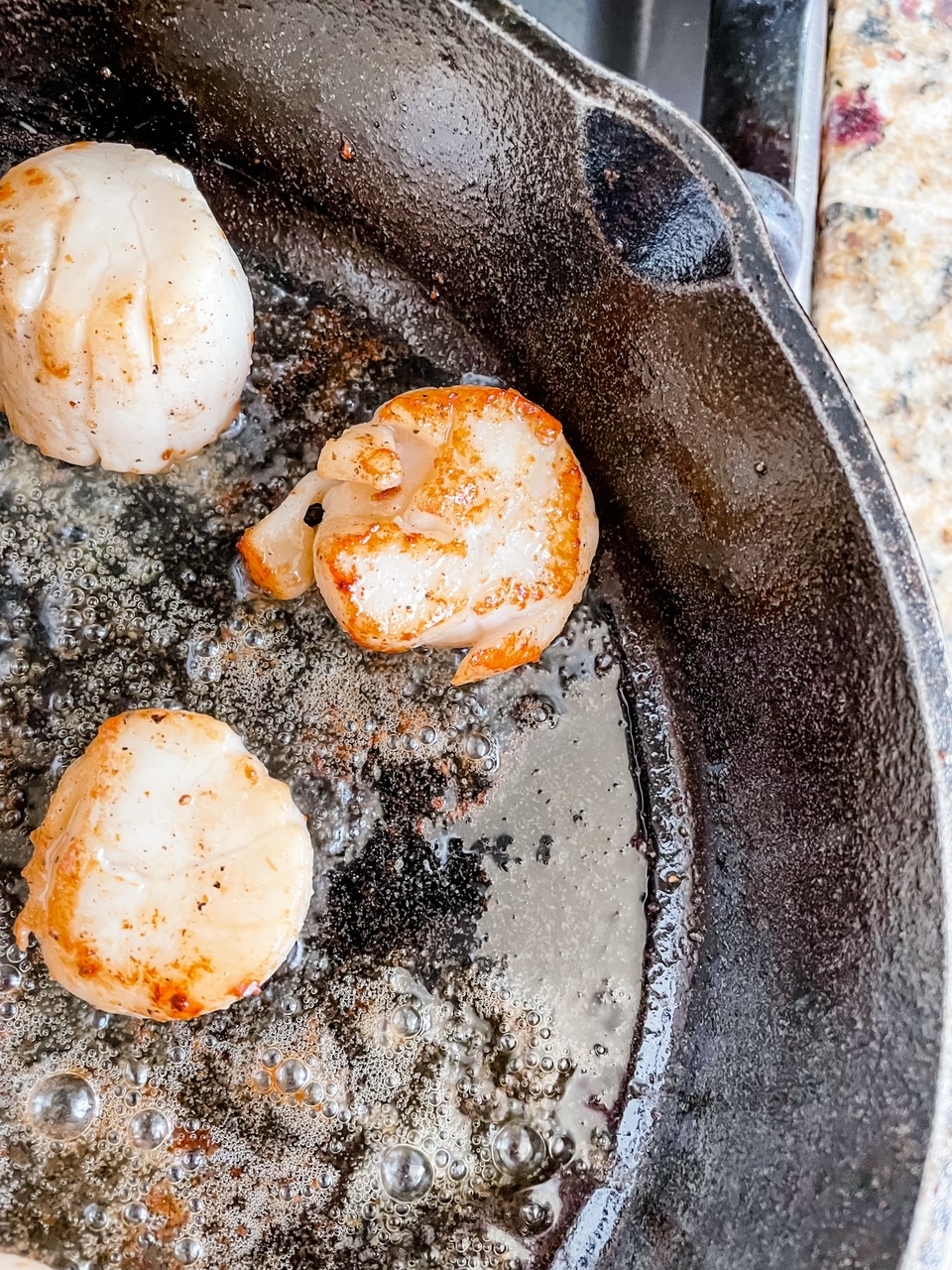 That's it! Scallops cook quickly and are so much easier to prepare than people think. So don't let yourself be intimidated. You can do this!
The grilled peaches are easy to make too. Just slice fresh peaches about a quarter-inch thick, brush with olive oil on both sides, and cook in a cast iron grill pan (or in a regular skillet or on the grill) for about two minutes on each side. The peaches should be slightly soft but not mushy or falling apart.
Subs and Add-Ons to My Arugula Salad with Scallops and Grilled Peaches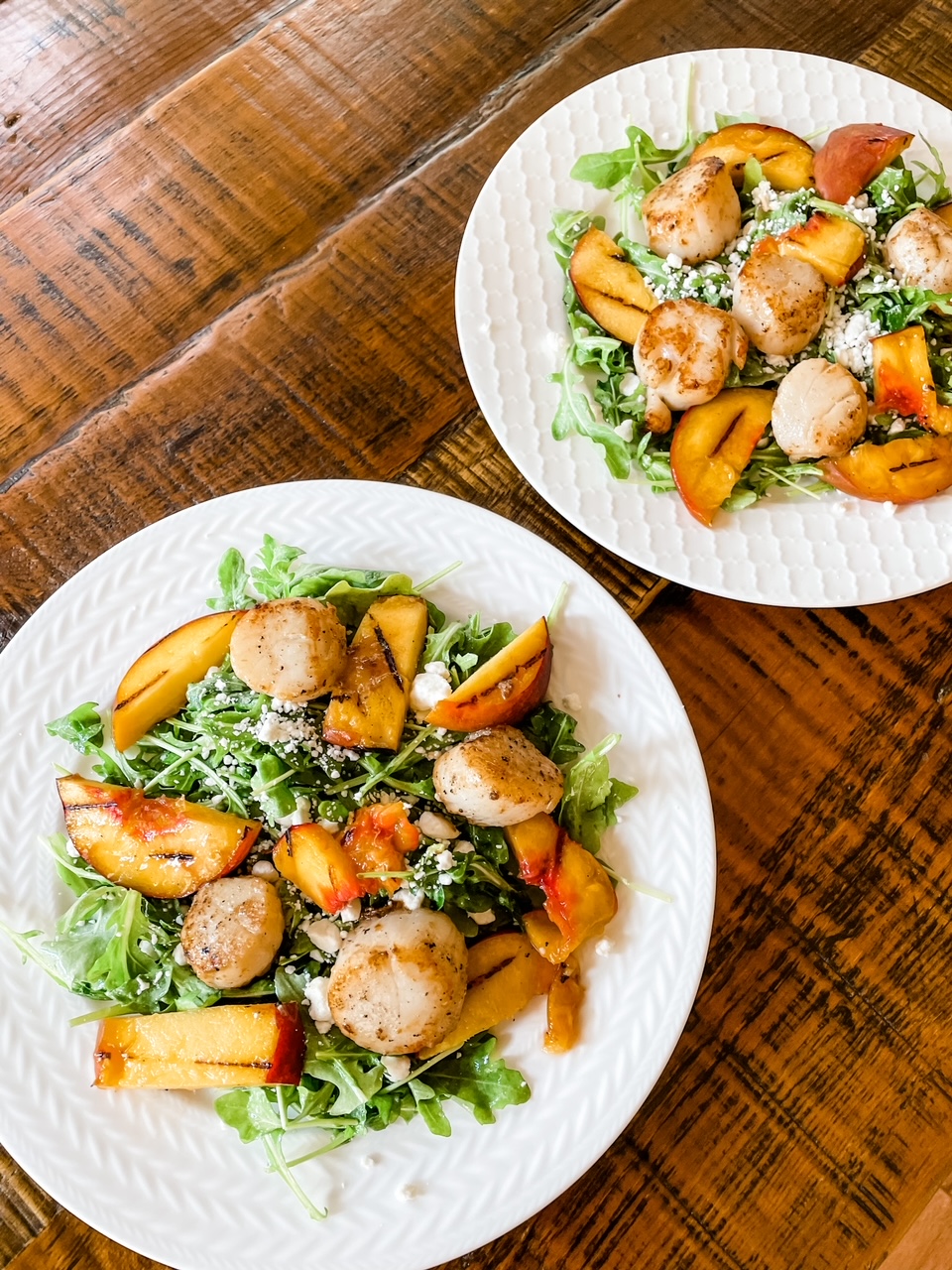 This is a very flexible recipe.
If you don't like scallops, try it with shrimp. If you don't care for goat cheese, try it with feta or some fresh mozzarella or burrata cheese.
I love arugula in this salad but you could use just about any tender green lettuce – green leaf, red leaf, spring mix, or baby romaine. If you use a different lettuce than arugula, consider adding a handful of fresh herbs such as basil or flat-leaf parsley to the mix, just to bump up the flavor profile.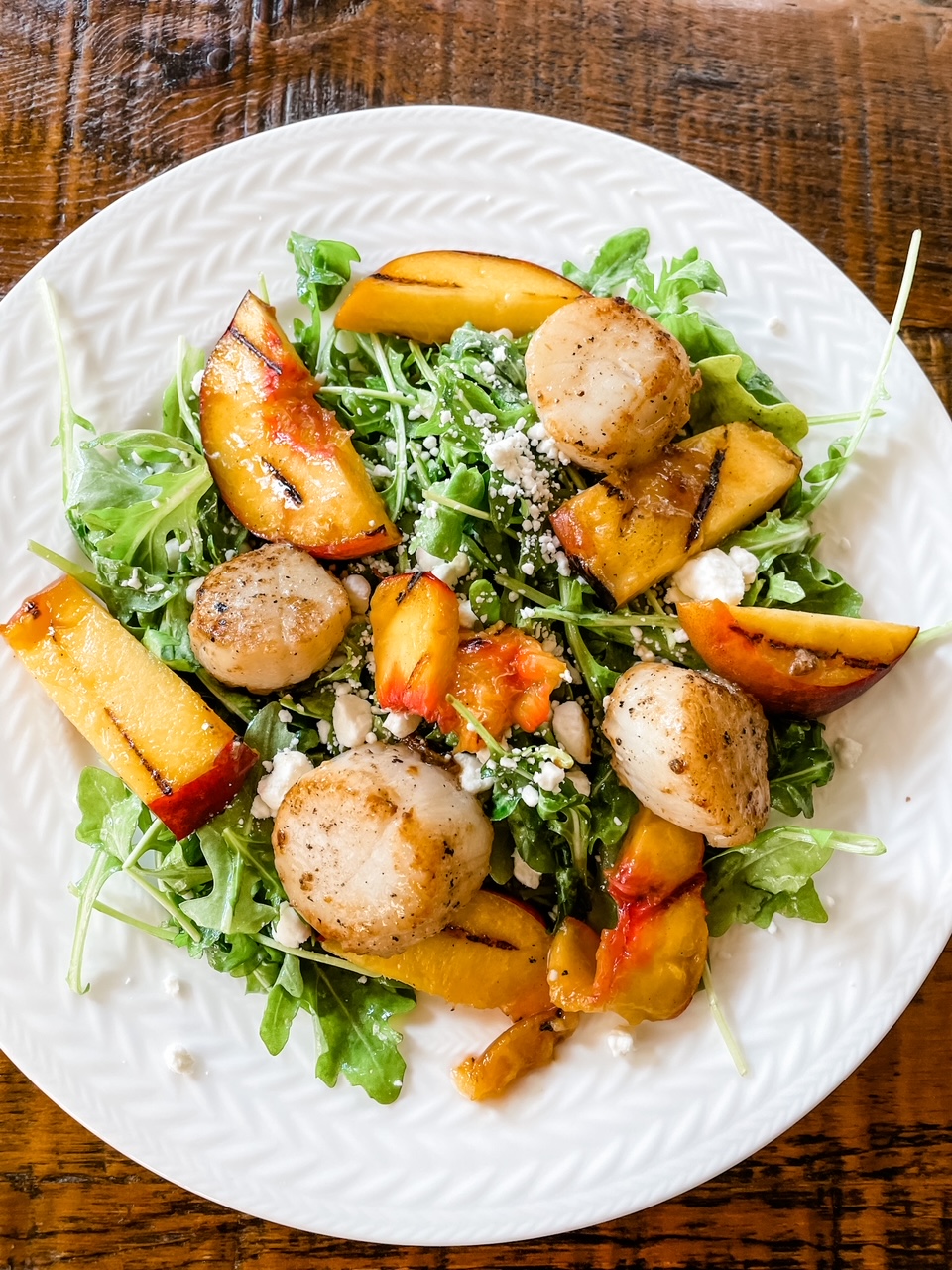 This is optional, but in addition to the citrus vinaigrette, I decided to top each of my scallops with a little bit of homemade pesto that I had in the freezer. It tastes wonderful with the scallops – and so many other things! (If you want to make your own pesto, check out my Best Homemade Pesto recipe.)
Whether you prepare the recipe as written or change it up to make it your own, my Arugula Salad with Scallops and Grilled Peaches is a deliciously easy and healthy meal for family or friends. Try it this week!
Print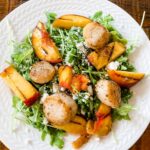 Arugula Salad with Scallops and Grilled Peaches
---
Author:

Yield:

4

servings

1

x
16

large scallops, about a pound in weight

2

large ripe peaches, sliced ¼ inch thick

3

T olive oil, divided

2

T butter

2

T fresh squeezed lemon juice

8 cups

arugula, rinsed and dried

4 oz

goat cheese, crumbled
Salt
Pepper

2

T pesto (optional)
For Vinaigrette
1/3 cup

olive oil

1/4 cup

white balsamic vinegar

1

T fresh squeezed lemon juice

2 tsp

honey
Salt
Pepper
---
Instructions
Rinse scallops and gently pat dry with paper towels. Sprinkle lightly with salt and pepper. Set aside.
Make the vinaigrette by whisking olive oil, vinegar, lemon juice, honey, and salt and pepper to taste together in a small bowl. Set aside.
Place cast iron grill pan or skillet on stove over medium high heat. Brush peach slices lightly with olive oil on both sides (using approximately 1 T oil). Place peach slices in pan and cook until slightly soft, about two minutes on each side. Remove from pan, cut into bite-sized pieces and set aside.
Place arugula in a large bowl and toss with the vinaigrette. Divide the salad onto four plates. Sprinkle 1 ounce of cheese onto each plate and top with ¼ of the grilled peaches. Set aside.
Place a cast iron skillet on stove over medium-high heat. Working in batches, add 1 T olive oil and 1 T butter to pan. When butter is melted and beginning to bubble, place 8 of the seasoned scallops in the pan. (Don't crowd the scallops). Cook scallops for two to three minutes, until they develop a golden-brown crust. Flip the scallops over, add 1 T fresh squeezed lemon juice, and cook for an additional two minutes. Remove cooked scallops from pan, then repeat the process above with the remaining olive oil, butter, scallops, and lemon juice.
Place four of the grilled scallops on each salad plate. If using, top each scallop with approximately ½ tsp of pesto.
Serve immediately.