This post may contain affiliate links. Full disclosure policy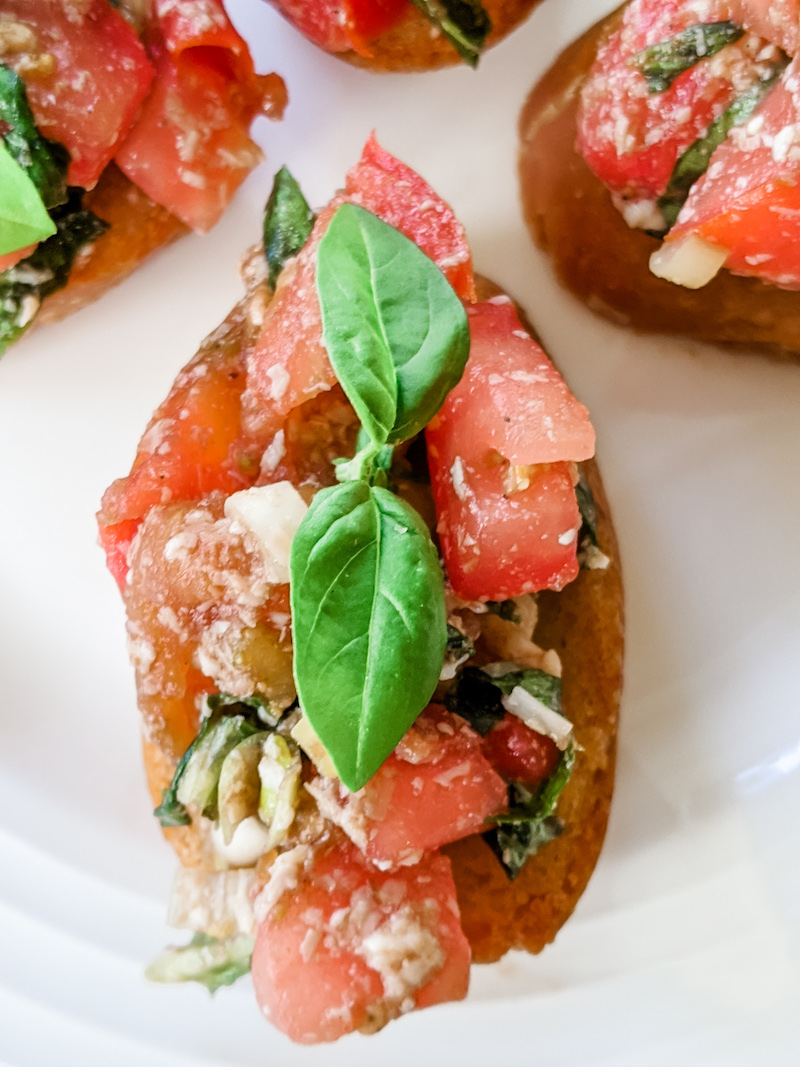 There really is no bad time to make tomato bruschetta. But right now, when summer gardens are bursting with flavorful, sun-ripened tomatoes and gorgeous fresh basil, is definitely the best time to make tomato bruschetta.
Bruschetta is one of my favorite easy to prepare appetizers. There are all kinds of variations for bruschetta. You can add white beans, red pepper, or mozzarella, avocados, bacon, and even strawberries!
Basically, just about anything you can layer on a slice of toasted baguette can be labeled as bruschetta. At least technically.
But this time of year, when tomatoes are at their flavorful peak, I like to stick with the classic tomato bruschetta preparation.
Tomatoes, basil, mixed with a splash of balsamic vinegar and layered on top of crispy, crunchy garlic toast is hard to beat. Is there any better accompaniment to a robust glass of red wine and a lazy summer evening than a garden-fresh tomato bruschetta? I doubt it.
My Tips for a Great Tomato Bruschetta
Tomato bruschetta is one of those recipes that's very flexible and forgiving. You can add more or less of just about any of the basic ingredients and still come up with a good result. But I do have a few tips that will take your tomato bruschetta from good to gorgeous.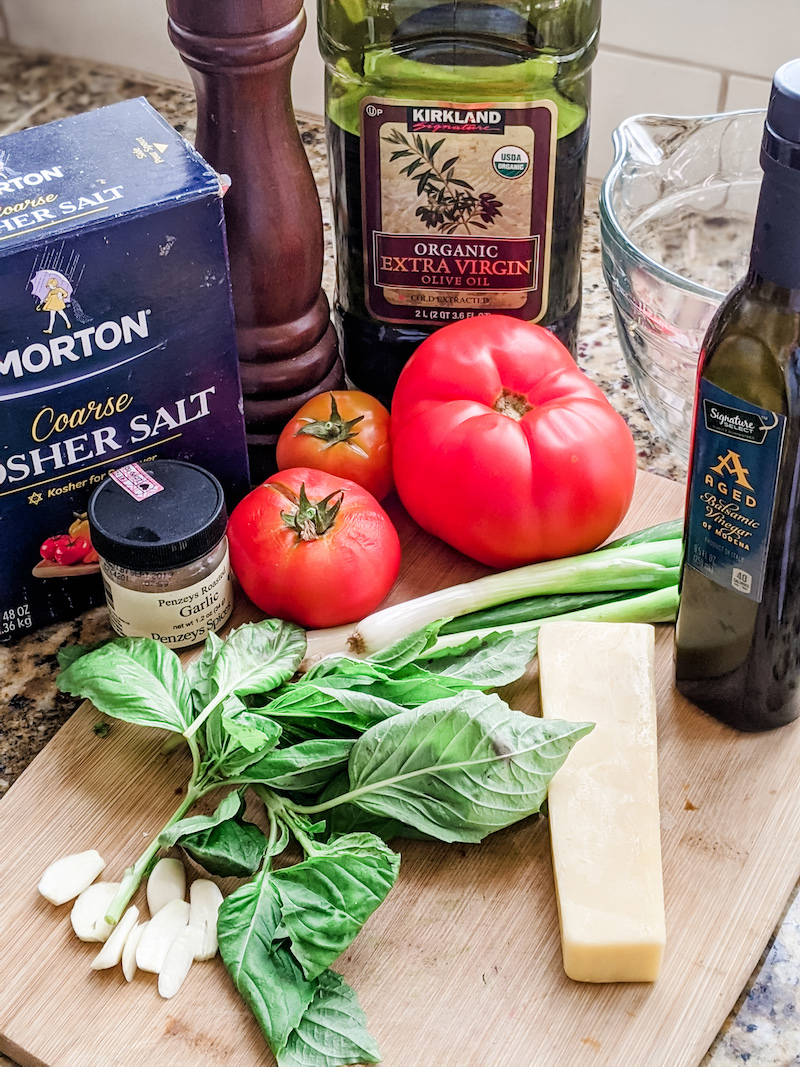 If possible, use vine-ripened, garden-grown tomatoes for your bruschetta. A really flavorful tomato makes all the difference. If garden tomatoes aren't available or out of season, go with Roma tomatoes. They're widely available in grocery stores and have a good, true tomato flavor. Whatever type of tomato you use for your bruschetta, make sure it's ripe!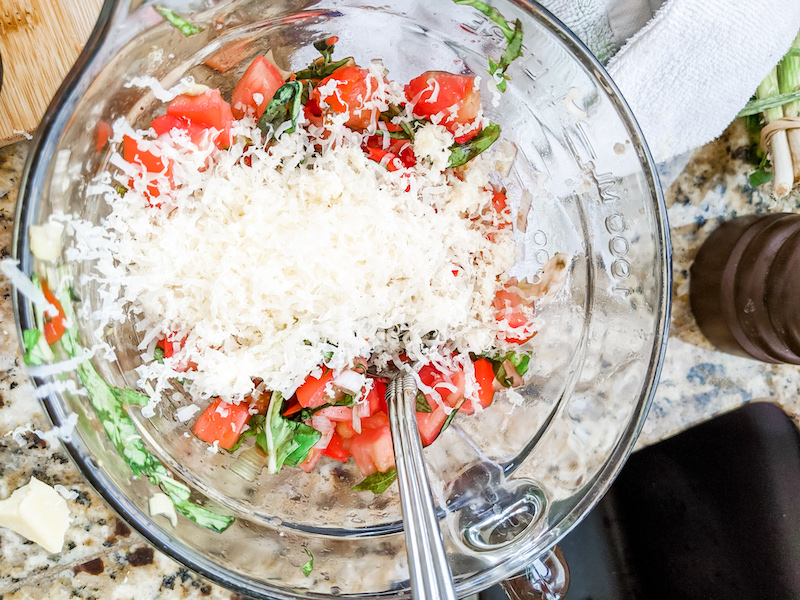 Fresh basil is another key ingredient for tomato bruschetta. I use quite a bit and cut it in chiffonade. To cut in chiffonade, just stack the basil leaves on top of each other and roll them up into a cigar shape. Then, make thin slices across your "cigar" to create ribbons of basil. Those little ribbons look pretty and make sure you just a nice taste of basil in each bite.
Another little tip? If you're a single or in a small family, keep leftover baguette slices in the freezer. That way you can make just a few at a time whenever you're in the mood for a special treat. Appetizers aren't just for company, you know!
Bring on the Garlic!
So, let's talk about garlic.
Many tomato bruschetta recipes call for minced garlic. Garlic is a must for a classic tomato bruschetta, but I use different methods for bringing in that garlic flavor. For the tomato and basil topping, I prefer to add garlic powder rather than minced fresh garlic. Garlic powder permeates the whole mixture, so you get a consistent flavor throughout. I prefer Penzey's garlic powder for cooking. Like all of Penzey's high-quality spices, their garlic powder is always fresh and flavorful.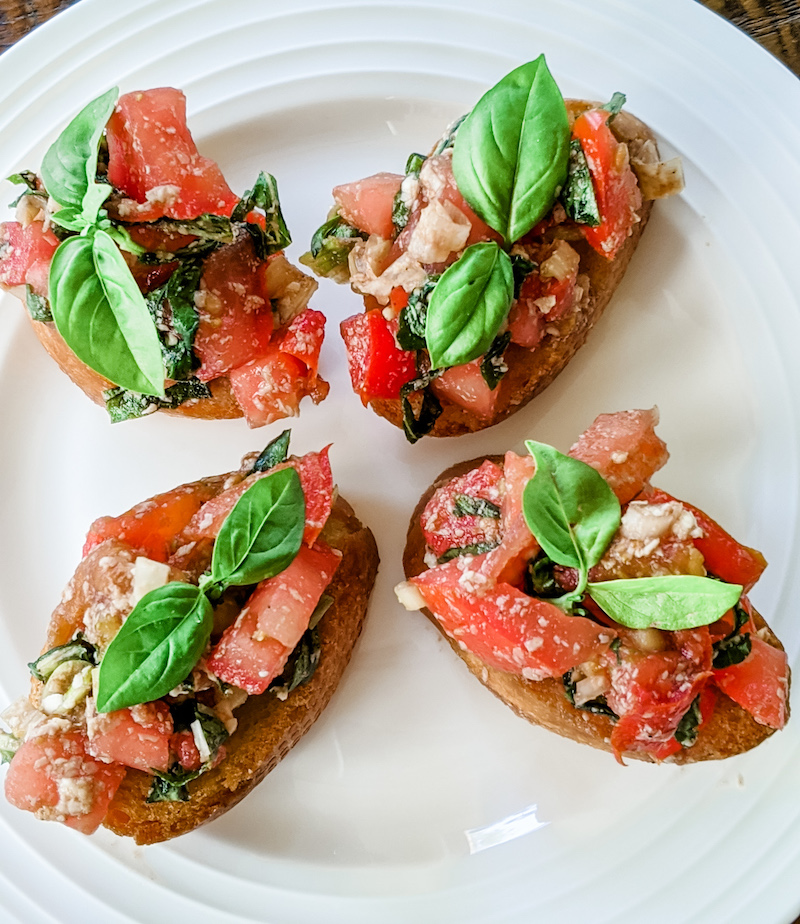 I include more garlic flavor to my tomato bruschetta by using garlic oil on the oven-toasted baguettes. Making your own garlic oil is easy. You just slice up some fresh garlic and fry it in olive oil until it starts to turn golden brown. The fresh garlic permeates the oil quickly and gives you a just-right bite of garlic in every mouthful of your tomato bruschetta.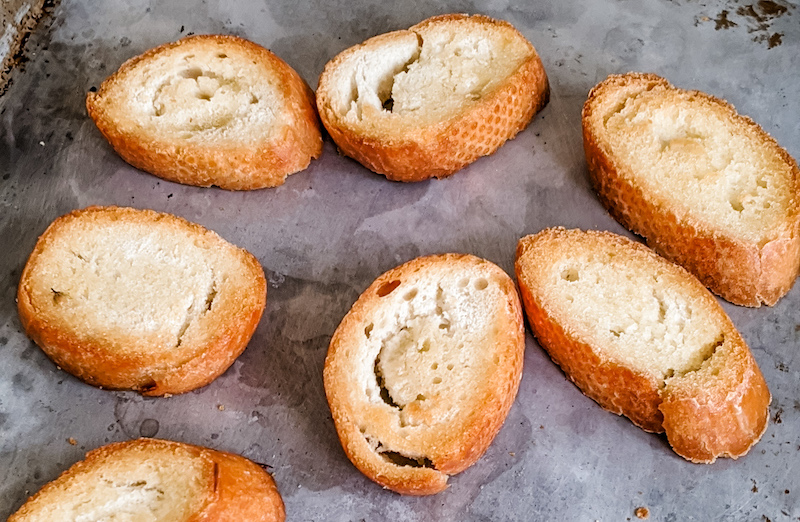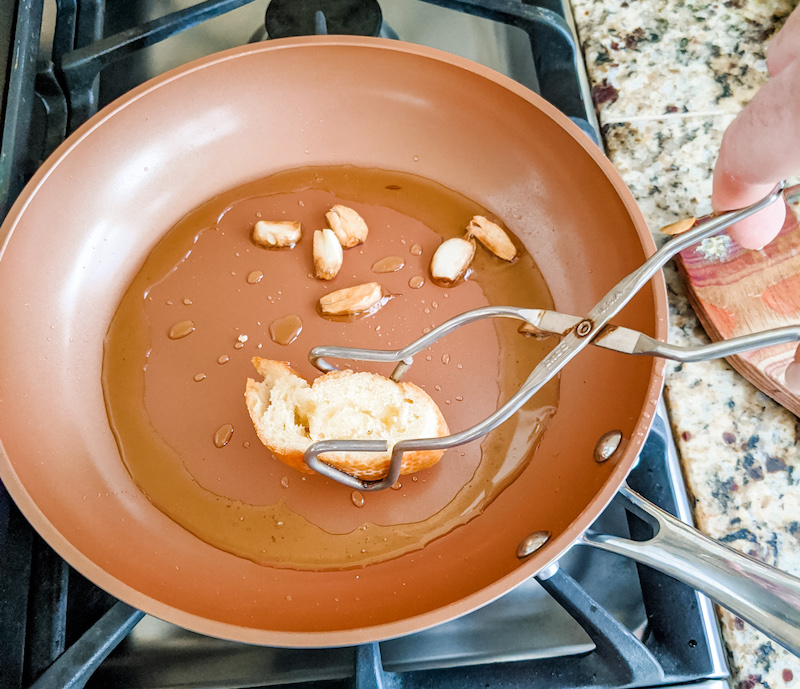 You can brush the oil onto your baguette slices before baking if you like. I actually prefer quickly dipping both sides of my baguette directly into the oil, and flipping the bread over halfway through baking. This ensures that the toasted bread has lots of garlic flavor and will stay crunchy even after I pile on those gorgeous juicy tomatoes. So good!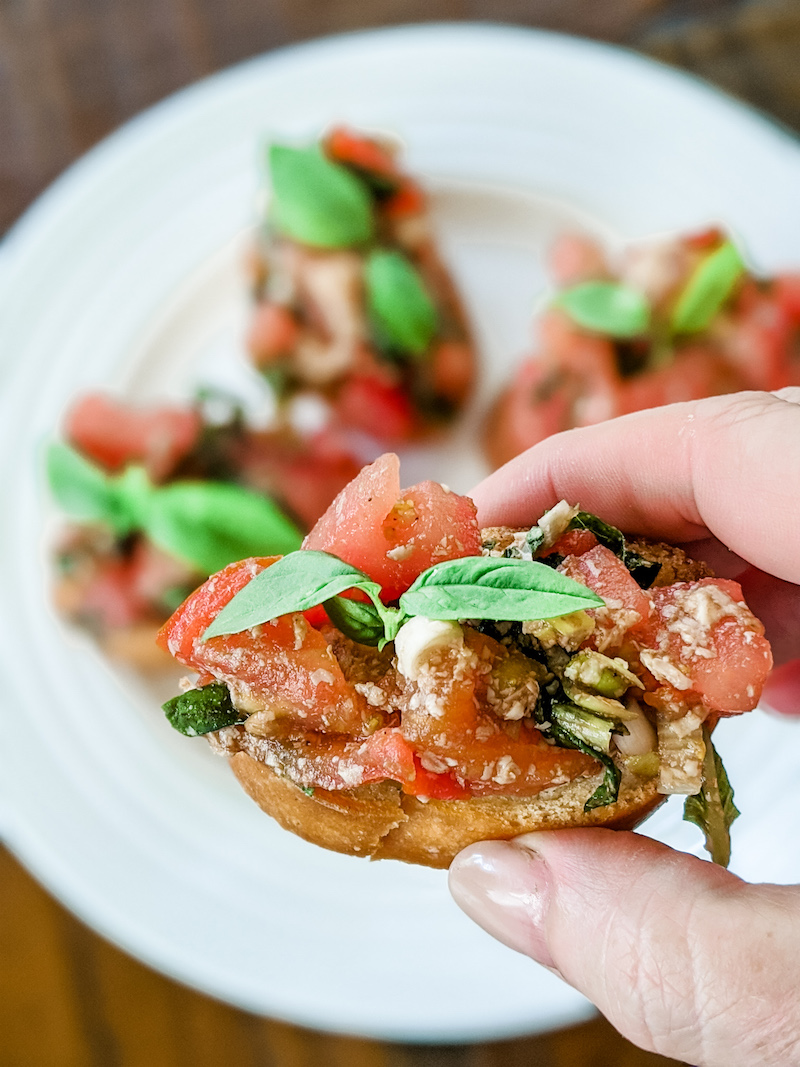 Give my tomato bruschetta a try this week. There's no better way to celebrate these last days of summer!
Print
My Easy Tomato Bruschetta
---
Topping:
2

large, ripe tomatoes, chopped

10

large basil leaves, sliced in chiffonade, plus more or garnish

3

green onions, white and pale green parts, sliced thinly

1

T balsamic vinegar

1/8

t. garlic powder
Kosher salt and fresh ground pepper to taste

2 oz

grated Parmesan cheese (real cheese, not the kind in the green can)
Bread:
1

baguette, sliced

1/3 cup

olive oil

3

large cloves fresh garlic, peeled and sliced
---
Instructions
Preheat oven to 350 degrees
Mix tomatoes, basil, onions, vinegar, and garlic powder together in bowl. Set aside, allowing flavors to meld while making the toast.
Place olive oil in a skillet over medium heat. Add sliced fresh garlic to pan. Fry garlic in oil until fragrant and golden brown.
Briefly dip top of baguette bread slices into oil on both sides, then place on baking sheet.
Put baking sheet in oven to toast bread, flipping slices halfway through. Toast about 3-4 minutes on each side, or until bread is just beginning to brown. Remove pan from oven and allow toast slices to cool.
Mix shredded Parmesan into tomato basil mixture. Add salt and pepper to taste.
Spoon a generous scoop of the tomato mixture onto each slice of toast. Garnish with a fresh basil leaf and serve.