This post may contain affiliate links. Full disclosure policy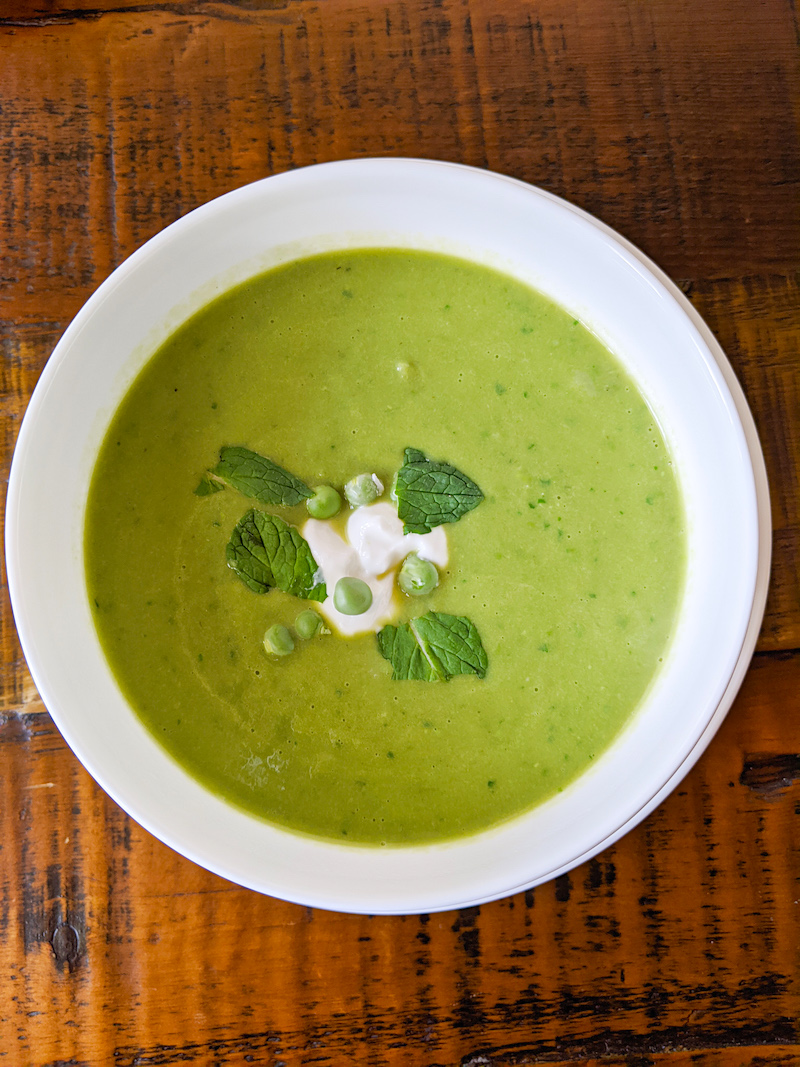 Fresh peas are one of my favorite harbingers of summer. When I was a little girl, creamed potatoes and peas were a summertime dinner staple. Fresh pea soup made its appearance on our table too, as well as brilliant green boiled peas topped with butter and a sprinkle of salt. But one of my favorite ways to eat peas was fresh, right from the pod.
I still remember sitting under the shade of a big tree on a hot summer day, with a huge bowl of just-picked peas from my grandma's garden. Though I was supposed to be shelling the peas for our supper, almost as many ended up in my stomach as in the bowl.
How could I resist? Fresh peas are delicious!
A Delicious, Hard to Find Childhood Favorite
I couldn't get enough fresh peas when I was growing up. But somewhere along the line, I got out of the habit of eating them. Growing peas requires quite a bit of garden space, which is something I don't have anymore. Sometimes I'll buy fresh peas from the grocery store, but it's always hard to know how many actual peas you'll get from a pound of pods.
But guess what I spotted on a recent trip to Trader Joe's? Lovely little bags of fresh shelled green peas – two cups of peas to a bag!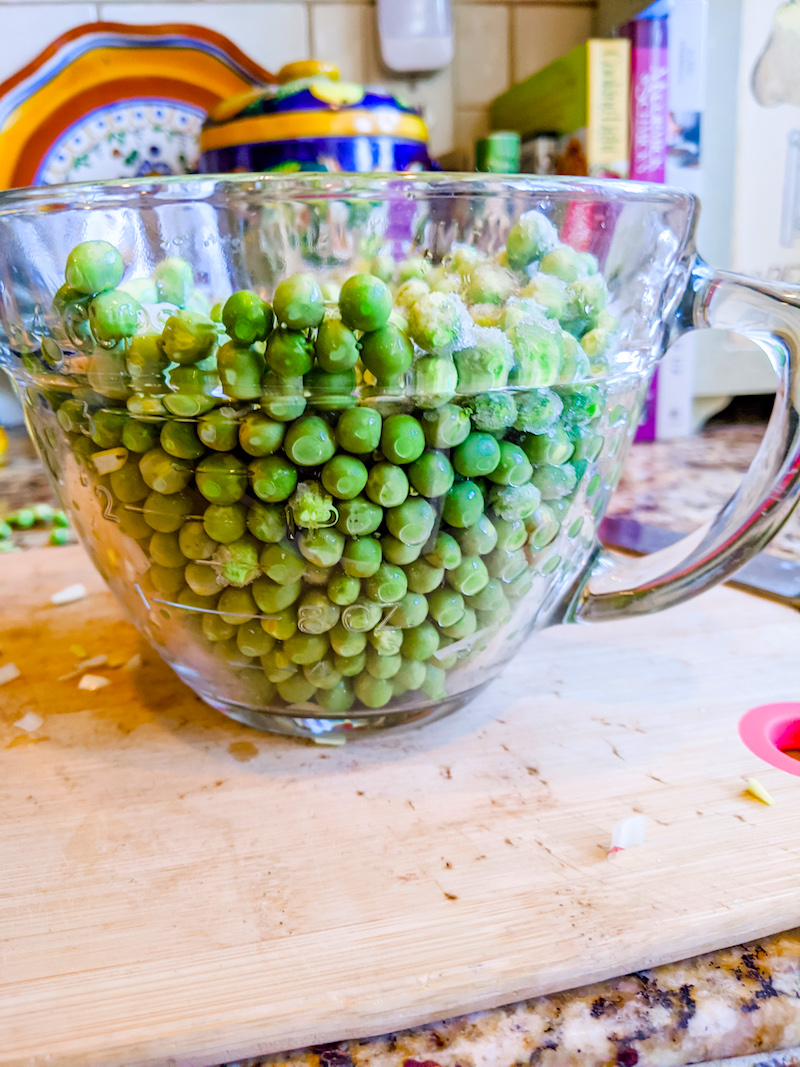 I didn't have a particular dish in mind when I bought them, but since I already had some mint on hand, I decided to make a pot of Fresh Pea Soup garnished with Mint.
Peas and mint are really a classic flavor combination, so refreshing and light, with just the right balance of sweetness and tang. Sometimes I like to serve pea soup chilled, perhaps adding cucumber to give it an even lighter texture. But the temperatures have been unseasonably cool lately, so I wanted to serve my Fresh Pea Soup hot.
New Flavor Combinations for a Unique Pea Soup
I started thinking about what I could add to my Fresh Pea Soup to give it a little more depth and widen the range of flavors. After digging around the refrigerator, I found two perfect flavor foils – a shallot and a big, beautiful apple.
What a happy accident that turned out to be!
The cooked and pureed apple along with the peas added a bright note and just a touch of extra sweetness to those already sweet peas. The shallot is mild, with just a touch of garlic and a little less bite than regular onions. And especially after being cooked in butter, they bring in a mellow heartiness that balances beautifully with the sweetness of the peas and apple.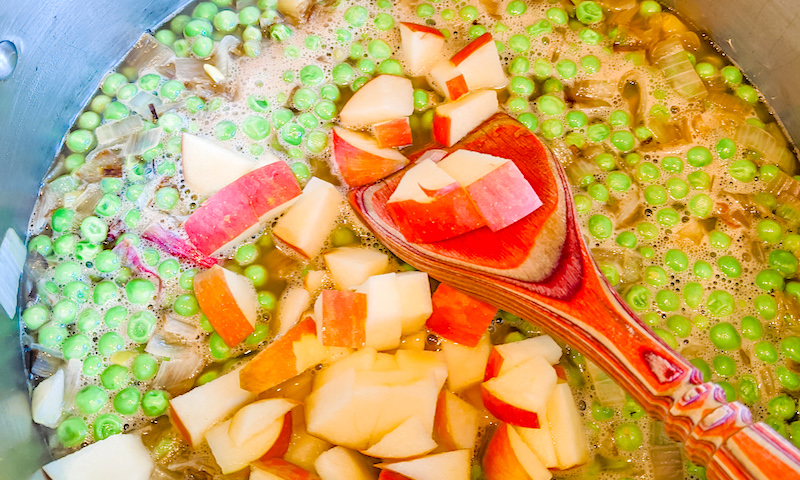 And the mint? Well, the mint just brings a whole different dimension to this beautiful fresh pea soup. It's not enough to overwhelm the other flavors – it's just barely there and perfectly ramps up the flavor on this delicious fresh pea soup.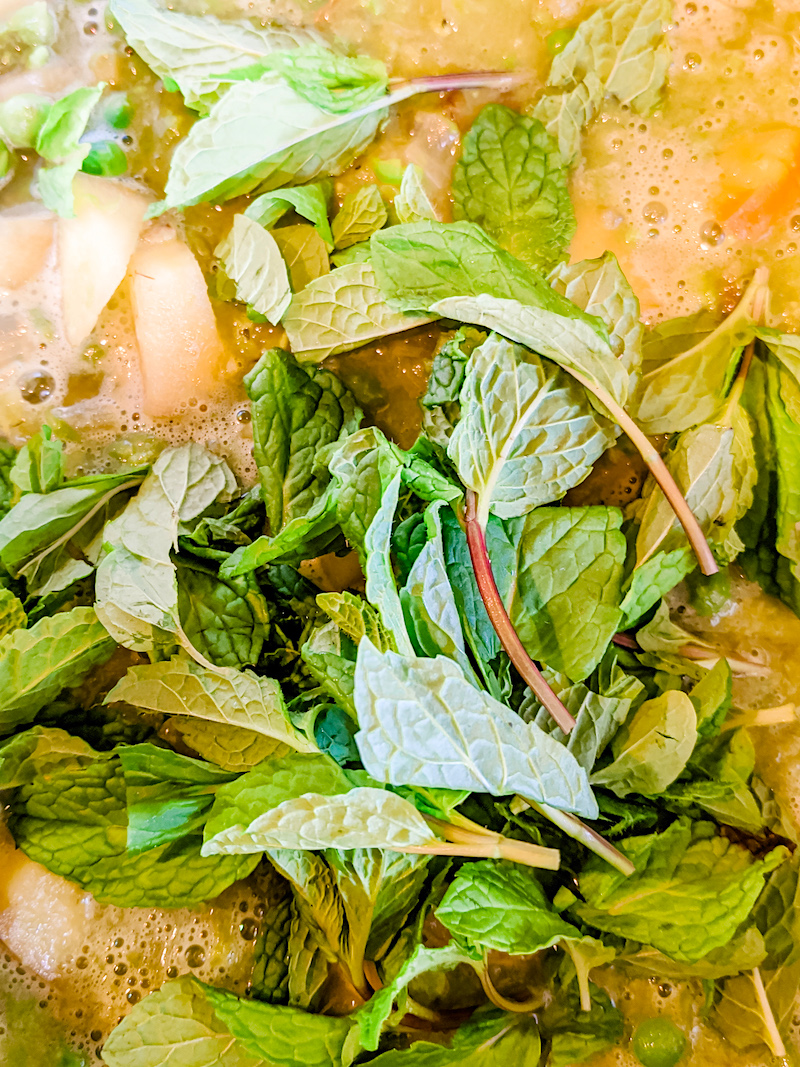 Easy, Pea-sy (Get it?)
Another thing to love about this pea soup is how quick and easy it is to make! Once you've chopped your apple and shallots and put them in the pot, your soup will be ready to eat in less than half an hour.
Also, it only requires a few, easy to find ingredients. And don't worry if you can't find fresh peas. Frozen peas will work too. (When I got home from Trader Joe's, I realized I should have bought a second bag of fresh peas so I added one package of frozen peas to 2 cups of fresh. It worked just fine but if you can find fresh peas, I'd recommend them.)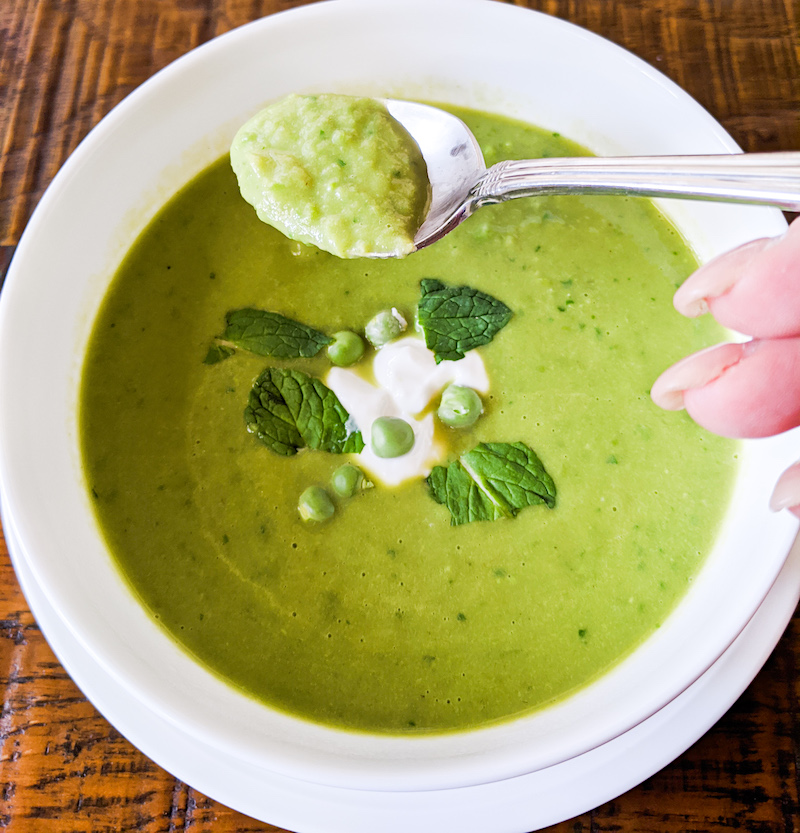 This fresh pea soup is also really healthy. Many pea soup recipes include cream, but I just don't think it's worth the calories. Also, using a lot of cream can overwhelm the flavor of the other ingredients. This is a flexible recipe too. With a couple of substitutions, it can be made vegetarian for vegan.
However you prepare it, my fresh pea soup lets the taste of peas, apple, and mint take center stage, which is just where they belong. Give it a try this week.
Print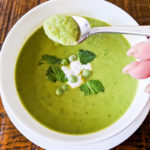 Fresh Pea Soup with Apple and Mint
---
Author:

Yield:

4

servings

1

x
4 cups

fresh peas (can substitute 2

10 oz

. packages of frozen peas if needed, reserve a few for garnish)

4 cups

chicken broth (can substitute vegetable broth for vegetarian or vegan soup)

1

large fugi apple, cored and chopped

¼ cup

packed mint leaves, chopped (extra for garnish)

1

large shallot, peeled and chopped

2

T butter (can substitute olive oil for vegan soup)
Salt and pepper to taste
Greek yogurt or crème fraiche to garnish (leave out if making vegan soup)
---
Instructions
Place butter in a heavy-bottomed pot over medium-high heat.  Add chopped shallot to melted butter. Cook for five to seven minutes, until shallots are soft, translucent, and just being to caramelize.
Add chopped apple and peas to pot. Cook two more minutes, to slightly soften apple and peas.
Add chicken or vegetable broth. Raise temperature to bring soup just to boiling. Then reduce heat to low and simmer, covered, ten minutes.  Add mint leaves to soup and cook for an additional two minutes.
Remove soup from heat. Use an immersion blender to puree soup in the pot, or puree in batches, using a blender. (Soup can be a perfectly smooth puree or a little chunky, with pieces of vegetable present, it's up to you.)
Add salt and pepper to taste. Serve with a garnish of fresh mint, whole peas, and a dollop of yogurt or Crème Fraiche.