This post may contain affiliate links. Full disclosure policy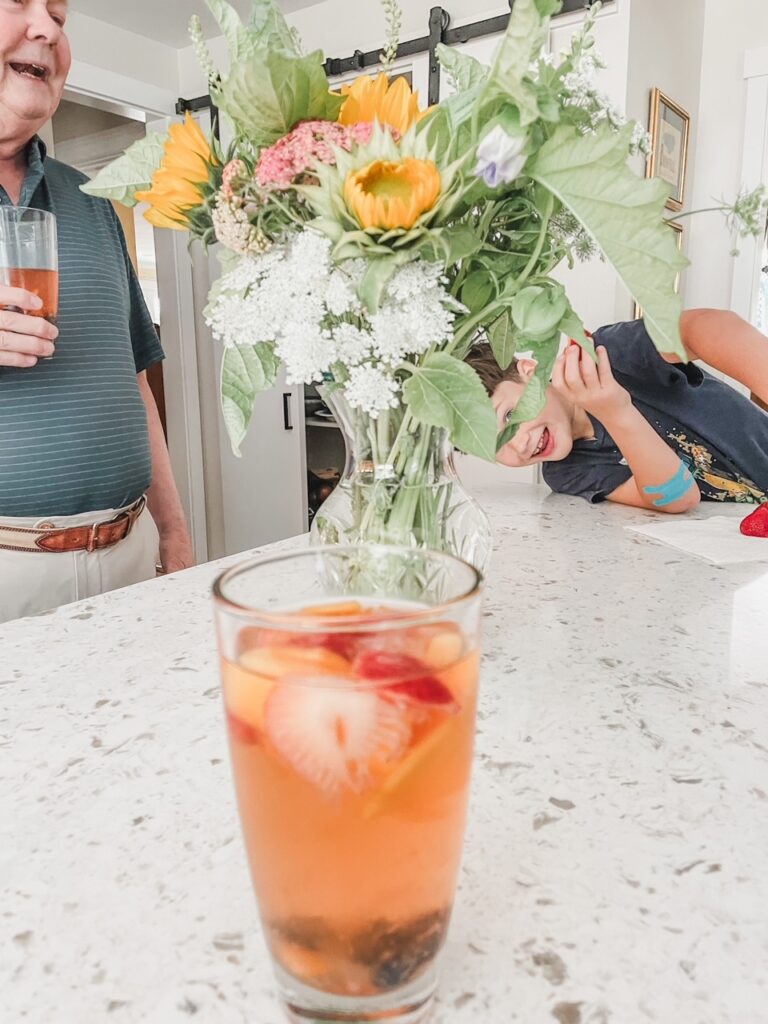 This fresh and beautiful Easy White Fruit Sangria stirs up in minutes. After a few hours in the fridge, you'll have a pitcher of beautiful, flavorful, fruity sangria to share with family and friends! Que facil!
Easy White Fruit Sangria – Emphasis On Easy
When I got home from the most intense part of my Esme Cahill Fails Spectacularly book tour on June 30th, I had no plans for the 4th of July holiday.
Well, okay. That's not entirely true. But my plans were decidedly modest.
After so many weeks on the road, I figured that doing laundry and taking long naps would be about all I could handle. If was feeling really ambitious, maybe I'd sit on the patio and read a book. But entertaining was definitely not on the docket.
Until, of course, it was.
Really, it's amazing what a night of uninterrupted sleep in your own bed can do for a person. On July 1st, I woke up feeling rested, refreshed, and eager to see my granddarlings, so I texted my son to see if they had plans for the holiday.
When he said they didn't, I invited the family to a barbeque at our house and started making menus – easy menus.
Just because I was getting my second wind didn't mean I was ready to spend a day on my feet in the kitchen. Grilled steak and shrimp for the adults and hot dogs for the kids, plus green and potato salads, and ice cream for dessert was all I could handle.
Still, I wanted one special item that would taste fantastic and looked impressive but be actually be very simple to prepare.
This Easy White Fruit Sangria ticked off all the boxes!
Loaded with colorful, fresh summer fruit, few things are prettier than a pitcher of sangria. And though nothing could be easier to make, a chilled glass of fruity sangria makes any day feel like a special occasion!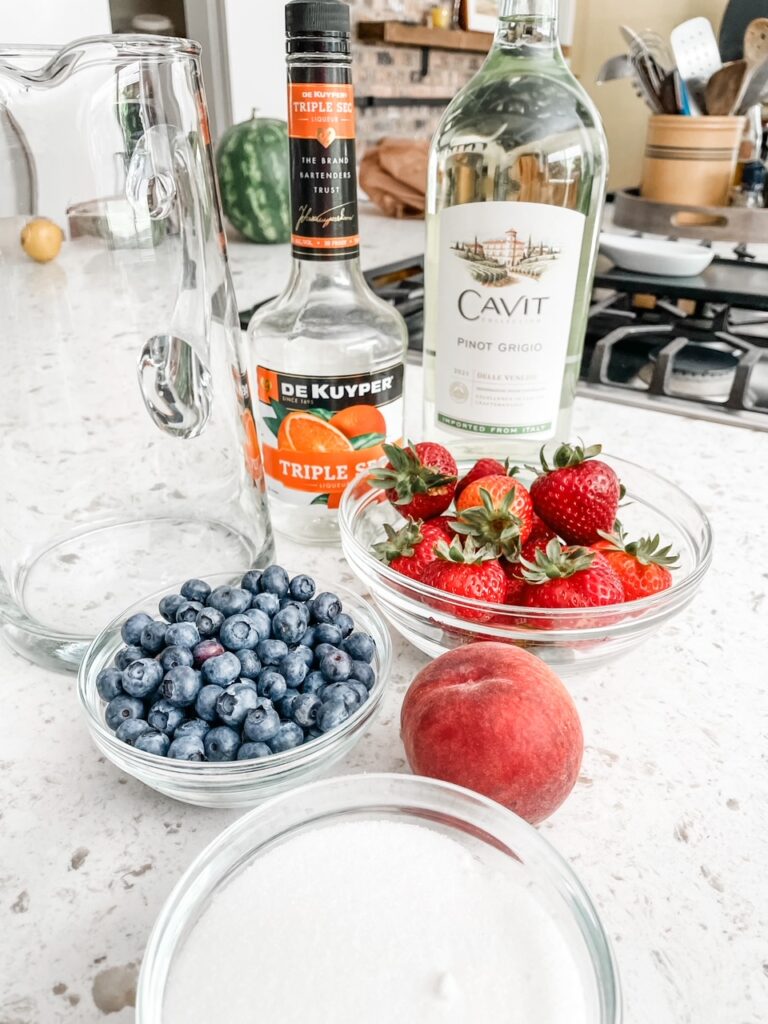 Easy White Fruit Sangria – Make It Easy, Make Your Own!
There are a lot of good recipes for fruit sangria out there, with all sorts of delicious little twists. That's one of the things I love about making sangria. As long as you're using decent quality, drinkable wine and good, ripe fruit, it's going to taste terrific.
Let's start by talking about the wine and liquor.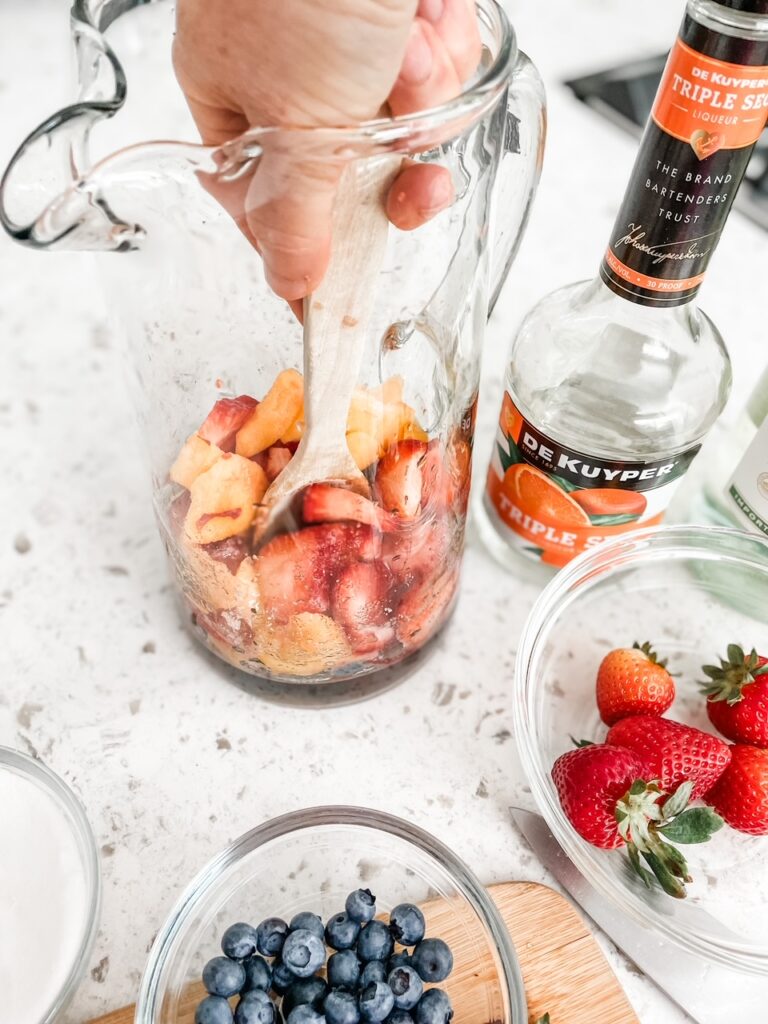 You can use either red or white wine to make fruit sangria. You can even use rose if you want. However, since I'm all about letting the fruit flavor come through, I like to use a light white wine.
Almost any variety will work, but a nice pinot grigio or sauvignon blanc would be ideal. Chardonnay would work too, just make sure it's not too heavy or oaky. Again, you want to let the fruit flavor shine through. While you don't need to spend a lot on the wine, it should be a good enough vintage so you'd be happy to drink it alone.
Many fruit sangria recipes call for brandy or schnapps flavored with apple, peach, or apricot. If you've got those on hand, by all means, give them a try! As I said, there are all kinds of tasty twists on sangria. I used triple sec in mine. The sweet, orangey flavor compliments all sorts of summer fruits.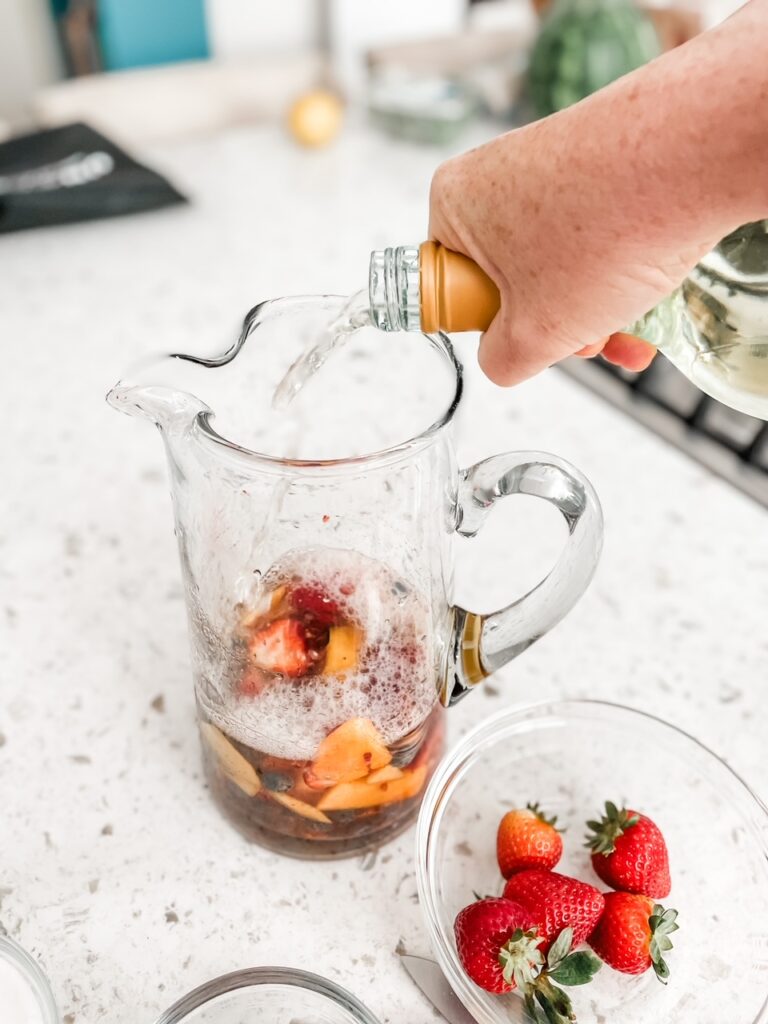 Let's Talk Fruits
When it comes to fruit, I love to use berries and soft, juicy summer fruits that will easily infuse the liquid with flavor and color. Blueberries, blackberries, strawberries, cherries, peaches, plums, or apricots work well. Or you can add orange or lemon slices for a sweet, citrusy twist. In the fall, I often use a combination of apples, pears, and oranges.
Again, flexibility is one of the things that make fruit sangria so great. It's hard to go wrong, so don't be afraid to experiment!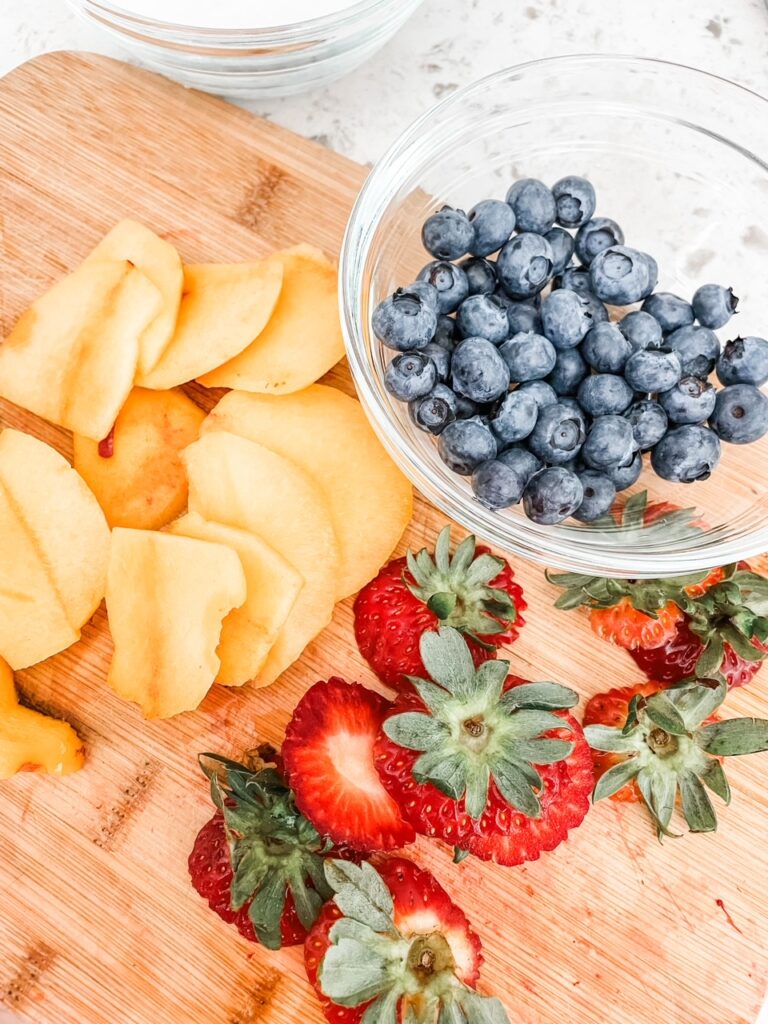 Finally, a word about sugar. I only use 1/3 of a cup of sugar to make a whole pitcher of fruit sangria. You may want to add a little more, especially if you're using a liquor that isn't as sweet as triple sec.
Even so, you don't want to go overboard on the sugar. Remember, you're making fruit sangria, not fruit punch!
Steps For Making And Serving Fruit Sangria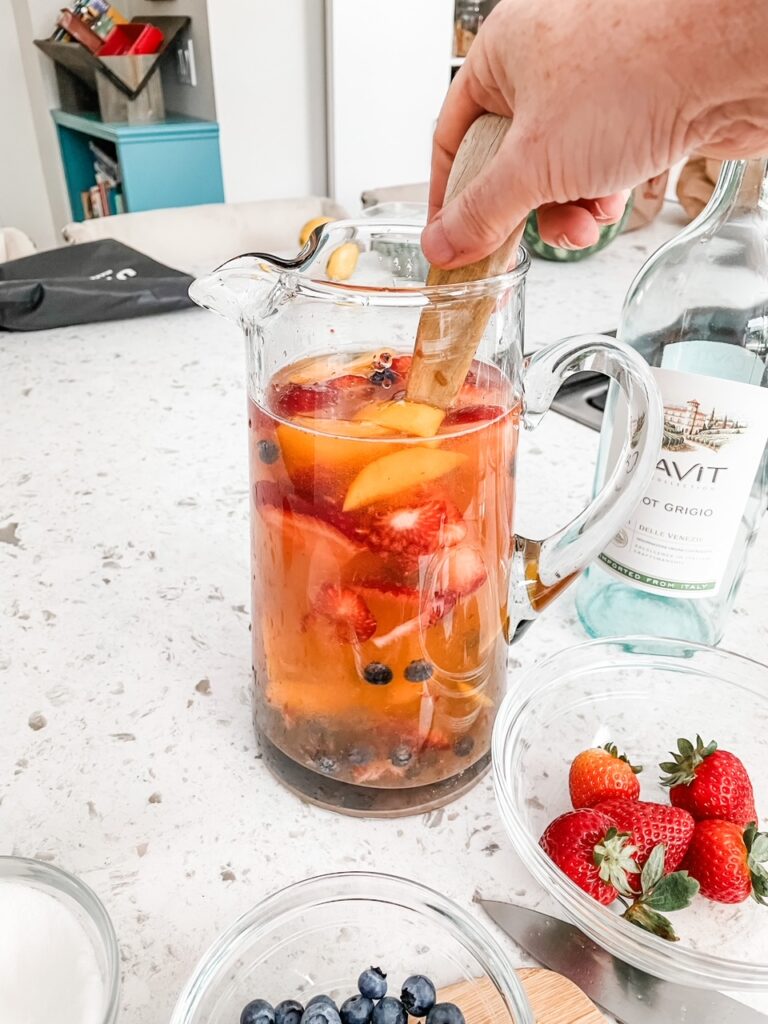 Making a pitcher of fruit sangria is fast, then slow.
You'll start by putting all your fruits into a pitcher, then stirring in the sugar to it coats the fruit. Next, crush the fruit with a wooden spoon to help release the juices. Do this for about a minute, so the fruit becomes slightly soft and syrupy but still has large pieces of fruit.
After that, pour in the wine and triple sec and give it all a good stir to help dissolve the sugar.
That's the fast part.
The slow part involves covering the pitcher and putting it in the refrigerator so the flavors have a chance to infuse. That will take a minimum of two hours. My preference is to make it the day before and let it sit overnight.
When you're ready to serve, spoon some of the fruit into each glass and fill it to the brim with your tasty, colorful, refreshing fruit sangria!