This post may contain affiliate links. Full disclosure policy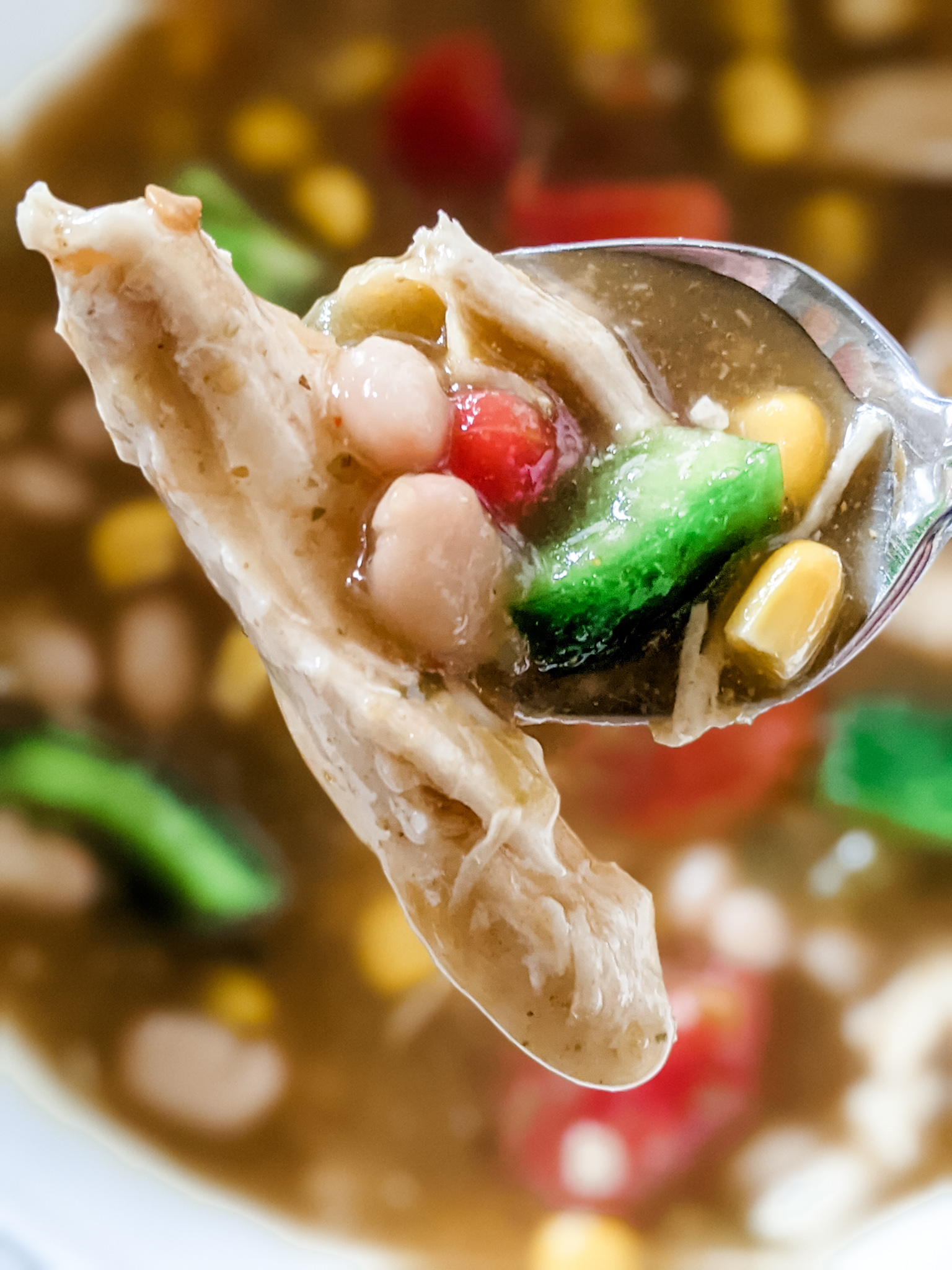 If you're looking for an easy, tasty, healthy dinner the whole family will love, try my Easy Weeknight Chicken Chili. Made with simple ingredients and canned enchilada sauce, it's a hearty, healthy, one-pot meal with a south of the border flair.
Two Jobs – and No Time
It's going to be a busy week here at Casa Bostwick.
I'm on deadline to finish writing my 2022 novel and while working on the promotional details for my 2021 book. (In case you're curious about that, the new book is called The Restoration of Celia Fairchild. It will be released on March 2nd. But you can pre-order it now and I'd love it if you would.)
Writing a book is a full-time job. So is promoting a book. So, yes, right now I am working overtime and then some. That means that I really have zero time to cook. In spite of this, everybody around here seems to want to keep eating. (The nerve!)
Fortunately for me, and my hungry family, this isn't my first time at the rodeo. When it comes to solving dinnertime conundrums, I've got a few tricks up my sleeve. One of my favorite solutions to make a great big batch of chili in the slow cooker.
Chili. The Solution to Just About Everything.
There's a lot to love about chili. It's healthy and satisfying, loaded with heart-healthy legumes and savory flavors. And especially during the winter months, just about everybody loves tucking into a big bowl of hot chili.
One of my favorite things about chili is that it's so simple to make! Also, chili is flexible. There are so many delicious versions of this easy to make, one-pot favorite. And most utilize pantry staples you probably have on hand already.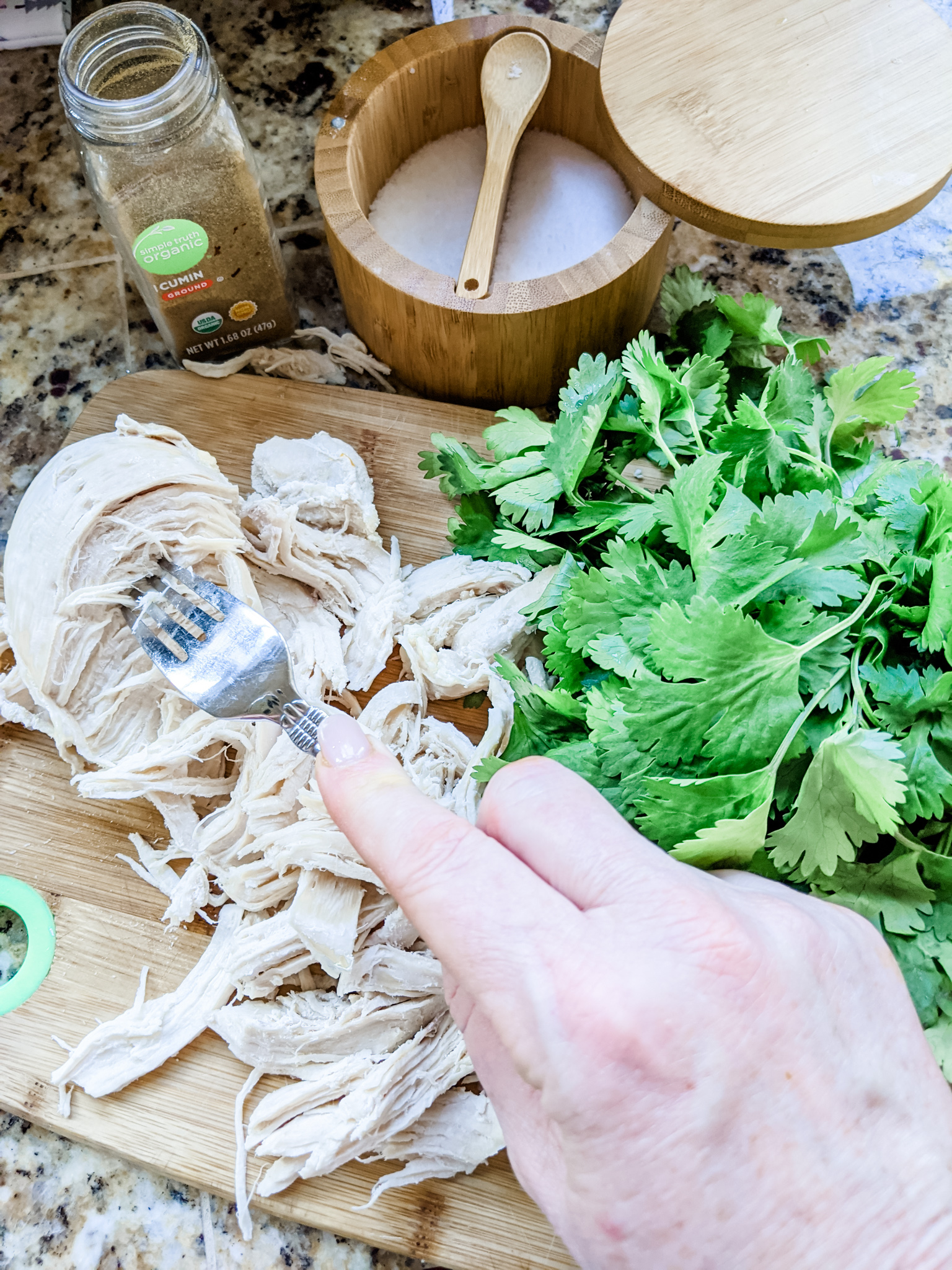 Easy to Make
I often make chili with ground beef and a tomato-based sauce. But this week, I had some shredded chicken breast that was leftover from the Healthier Chicken Nachos I made recently. (Cooked ground chicken or leftover rotisserie chicken would work here too.)
When I spotted a couple of cans of green enchilada sauce in the pantry, I knew I had the making of a quick and easy dinner that would taste like I'd spent hours making it – even though I honestly didn't do much besides put the ingredients in the slower cooker and walk away.
No kidding. If you can open cans and stir, you can make this recipe. It's that easy.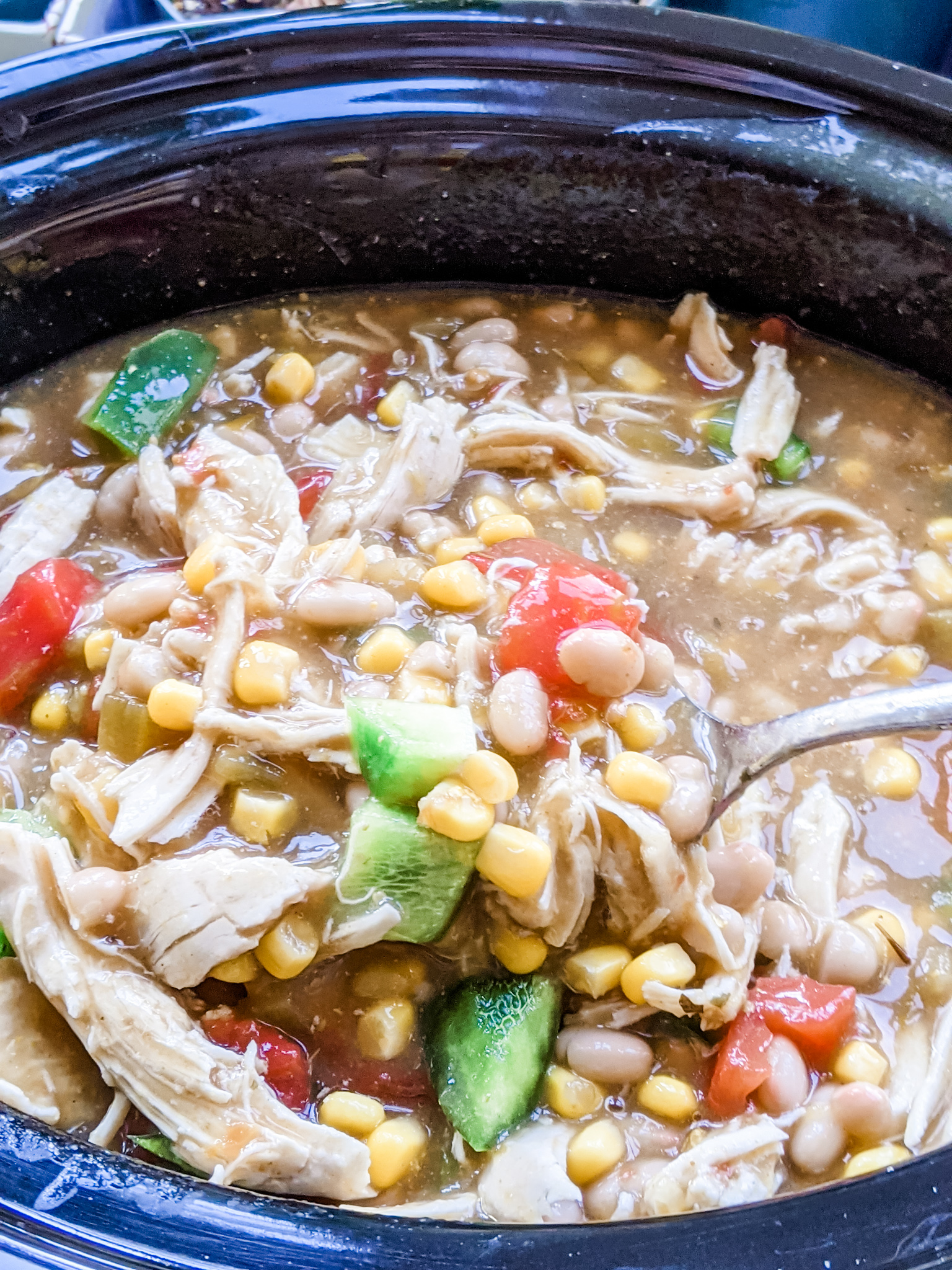 Even Easier to Love
Yes, normally I am a big fan of "made from scratch". But when you've got more tasks than time, you do what you have to do. And I honestly don't see using canned enchilada sauce for my Easy Weeknight Chicken Chili as a culinary compromise. I know my family won't either.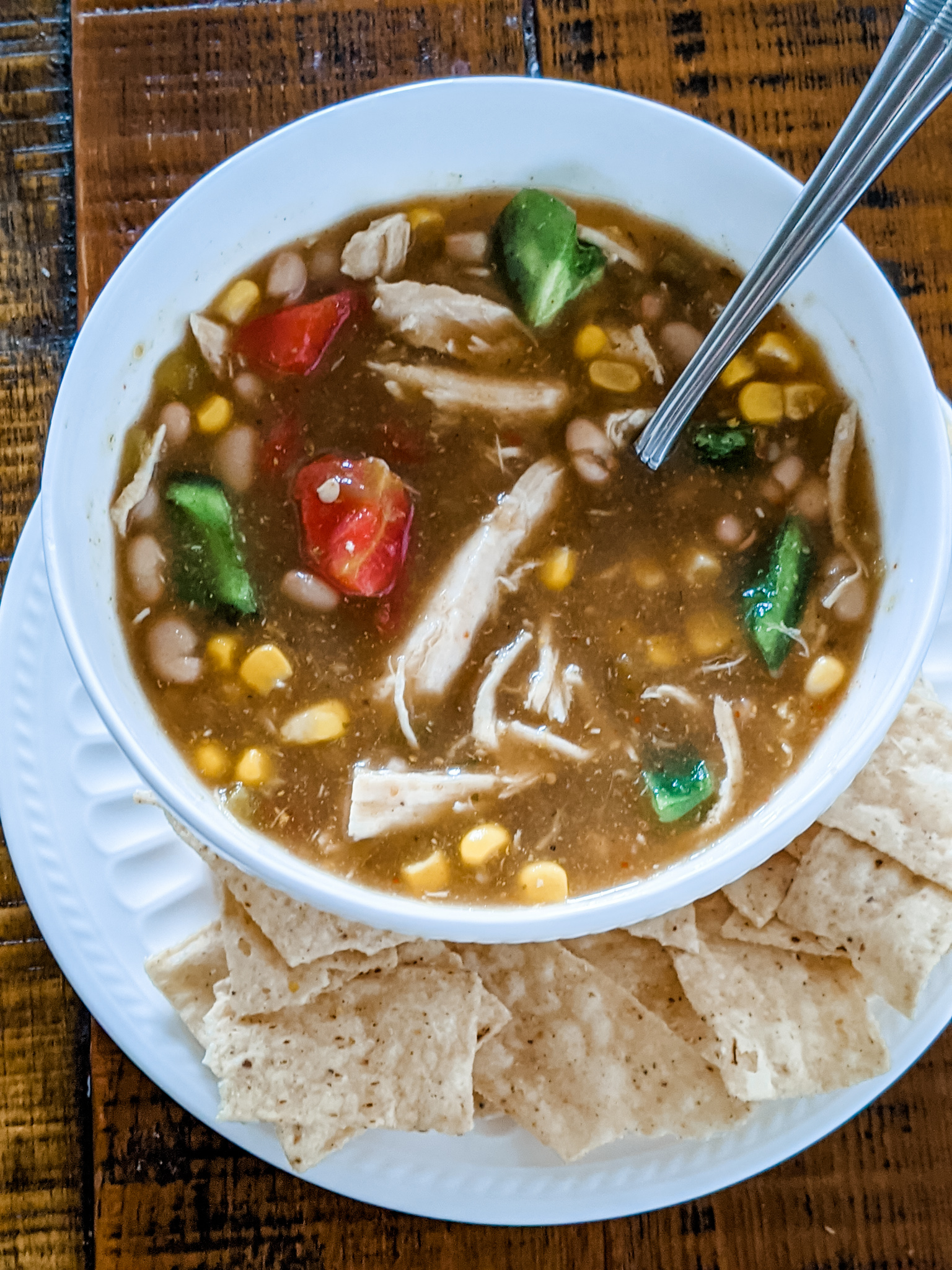 Made tender chicken, hearty white beans, tomatoes, corn, and peppers swimming in a mild, piquant green enchilada sauce, my easy Chicken Chili reminds me a little of pozole, one of my favorite Mexican dishes.
With so much lean protein, fiber, and vegetables, this Easy Weeknight Chicken Chili is a great dinner all on its own. You can also serve it with a green salad, tortilla chips, or rice, and garnished with a little shredded cheese, sour cream, or a sprinkle of chopped fresh cilantro.
If your week is as busy as mine, you definitely need to give my Easy Weeknight Chicken Chili a try!
Print
Easy Weeknight Chicken Chili
---
3 cups

cooked, shredded chicken breast

1

green pepper, seeded and chopped

2

15 oz cans small white beans

2

15 oz cans green enchilada sauce

1

4 oz can diced green chilis

1

15 oz can diced tomatoes, drained

1

15 oz can corn, drained

1 tsp

ground cumin

1 tsp

kosher salt

¼ tsp

cayenne
---
Instructions
Add cooked chicken, green pepper, and all canned ingredients to slow cooker.
Stir in cumin, salt, and cayenne.
Cook in slow cooker for 6 hours on low, or 3 hours on high.
Makes 6 to 8 servings.