This post may contain affiliate links. Full disclosure policy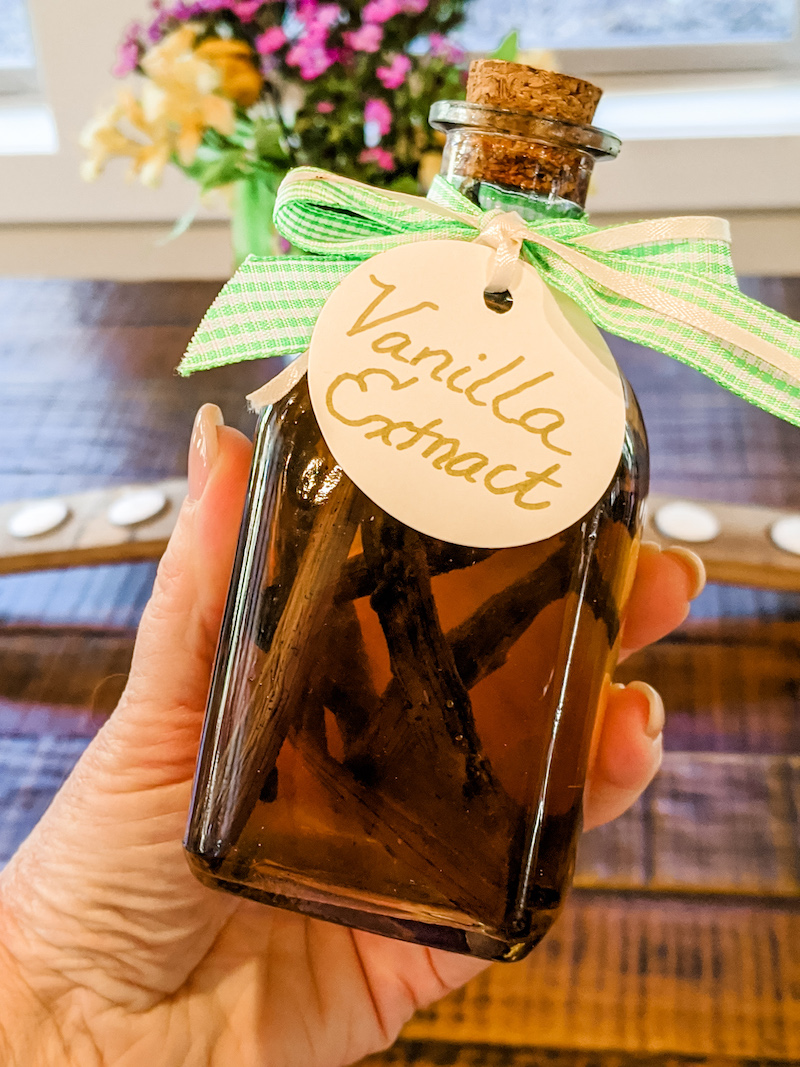 A friend recently told me how to make easy homemade vanilla extract. I gave it a try and, I have to say, it's pretty cool! And so easy.
Making homemade vanilla extract is the perfect project for people who like the idea of creating homemade gifts but claim not to have a crafty bone in their body.
By the way, I don't buy that for a minute. I believe that absolutely everyone has an inner crafter that's waiting to get out. But I digress. Right now, we're talking about how to make vanilla extract at home, which is so easy that literally anyone can do it. Even you!
But Why Would You Want to Make Homemade Vanilla Extract?
Why not just buy it?
There are a lot of reasons to make your own vanilla extract. First off, making stuff is just fun. And giving gifts you've actually made yourself is so much more special than buying them.
But there are also some practical reasons for making homemade vanilla extract. Using real vanilla extract, as opposed to imitation flavoring, makes a big difference in the taste of baked goods. Even if you buy real vanilla extract in the grocery store, it's probably a "single fold" extract, which uses fewer vanilla beans. Using fewer vanilla beans means the flavor isn't as strong.
The best, most flavorful vanilla extract for baking is double fold. Double fold extract uses twice the number of vanilla beans. It's generally only available in specialty stores and is very pricey. Two ounces of double fold vanilla extract can set you back $18 or more.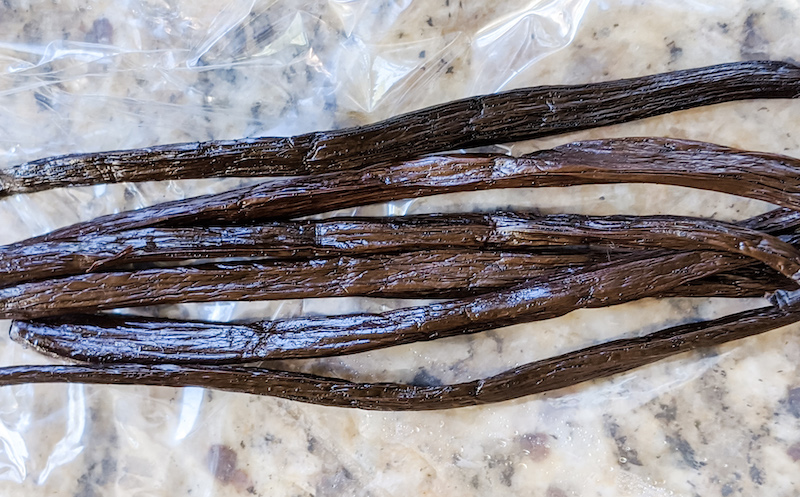 Good quality vanilla beans aren't cheap but making this easy homemade vanilla extract is still a lot less expensive than buying it.
Buying Your Vanilla Beans
If there is one thing I learned during this project, it's that vanilla beans are expensive! A fancy-schmancy grocery store in my town wanted $776 a pound for theirs. Yikes! Fortunately, there are other options for good quality vanilla beans online. Like these.
Though you don't want to overpay for vanilla beans, you don't want to skimp either. The best vanilla beans are the Madagascar or Tahitian variety. Grade B beans are what you'll need for homemade vanilla extract. The more expensive, grade A variety are used for cooking.
What else will You Need for Your Homemade Vanilla Extract?
You'll need 80 proof liquor (40% alcohol) to make your extract. Just about any kind will work. However, I'd stay away from gin as it has a strong juniper flavor that wouldn't play well with vanilla.
While vodka is commonly used because it doesn't have any other flavor, I used rum for my first batch of easy homemade vanilla. I'm planning on using bourbon next time. Varying the liquors can help you create interesting flavor profiles. Use inexpensive spirits for homemade vanilla extract. There's no need to spend extra for top-shelf liquor.
The last thing you'll need for this homemade vanilla extract is a glass bottle with a lid, stopper, or cork. I found a bottle for my first batch at a local craft shop. However, I've also ordered these bottles for my next batch. They're a perfect size, leak-proof, and pretty to boot!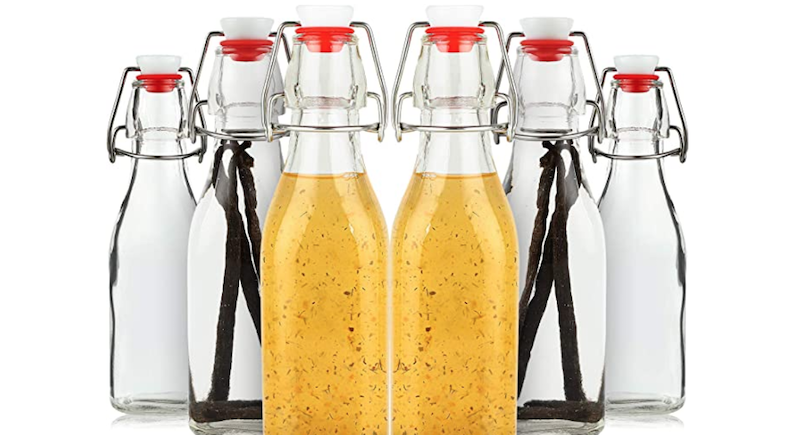 I'm going to use some for my homemade vanilla extract and some for gift bottles of my fruit shrub.
If you've got vanilla beans, 80 proof alcohol, and bottles, you're all set to make your vanilla extract. Let's do it!
My Easy Homemade Vanilla Extract Recipe
Making easy homemade vanilla extract is a cinch!
Slit six to eight vanilla beans lengthwise to expose the seeds.
Insert the beans into a clean glass bottle.
Pour 8 ounces of 80 proof alcohol into the bottle, completely immersing the beans. Put a lid or stopper into the bottle and store in a cool dark place for at least 2 months, giving them a shake every week or so. The longer you store the beans, the better the flavor will be. Six months to a year is really optimal.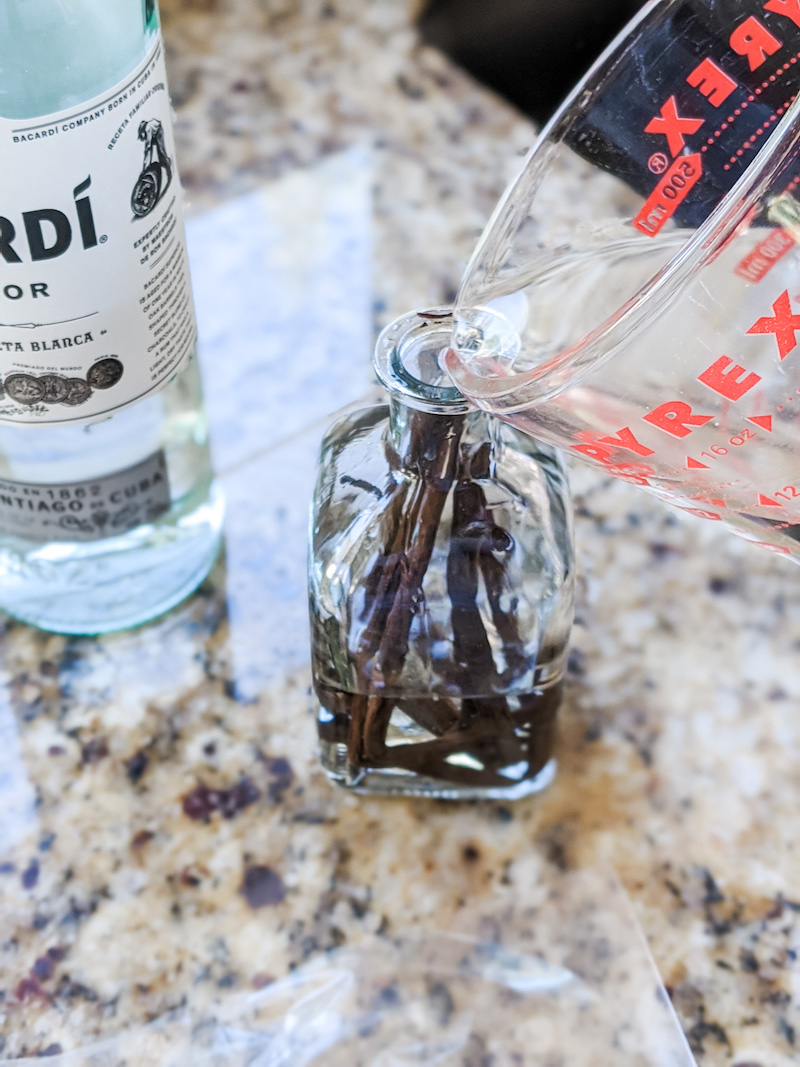 That's it!
When you first make your extract it will be pretty clear, but it will turn a deep dark brown and become infused with vanilla flavor in time for holiday gift-giving. You can already see the different in this photo and the picture at the top of the post, taken just a few days after I made my extract.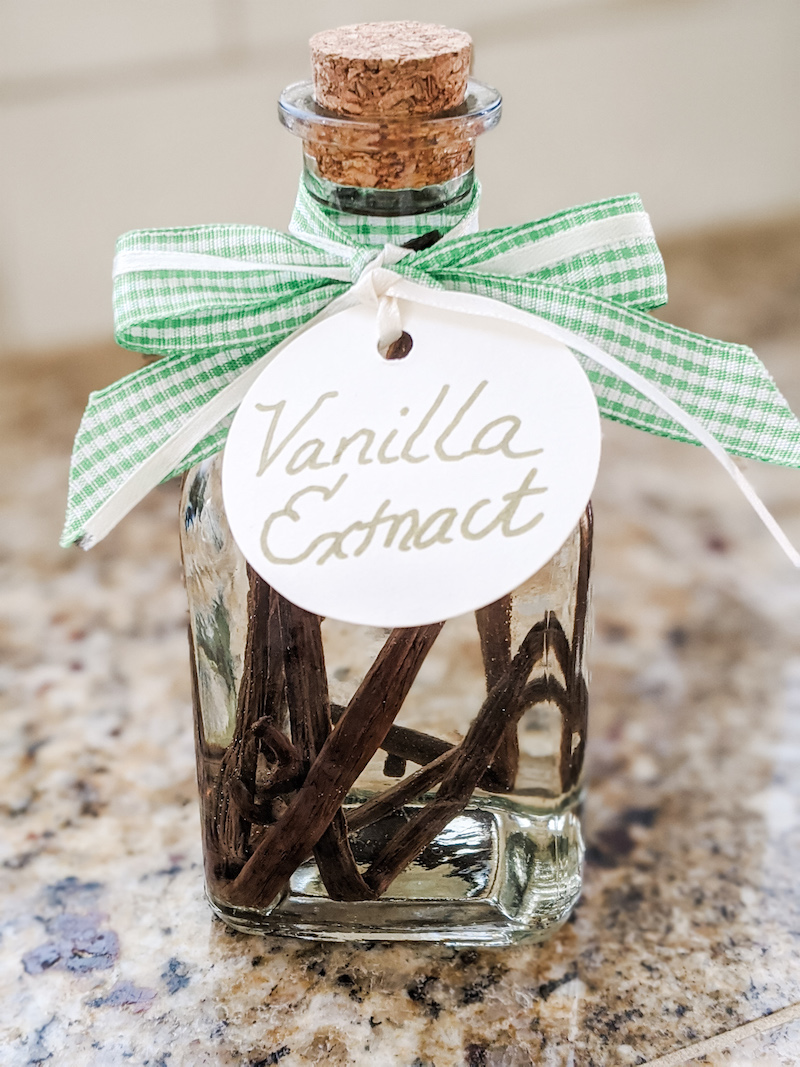 Make it Easy. Make it Pretty.
Because I intend to give my vanilla extract as gifts, I decided to dress it up the bottle with ribbons. I also added a pretty label and used a gold paint pen for the lettering, to give my gift a little extra panache.
You could also add little charms, beads, or silk flowers to dress up your homemade vanilla extract gift. The aisles of your local craft shop are loaded with inspiration for ways to make your homemade extra special!
Dressed up or down, easy homemade vanilla extract is a delicious addition to all kinds of baked goods and makes a wonderful gift! Make a batch soon, in time for holiday gift-giving!