This post may contain affiliate links. Full disclosure policy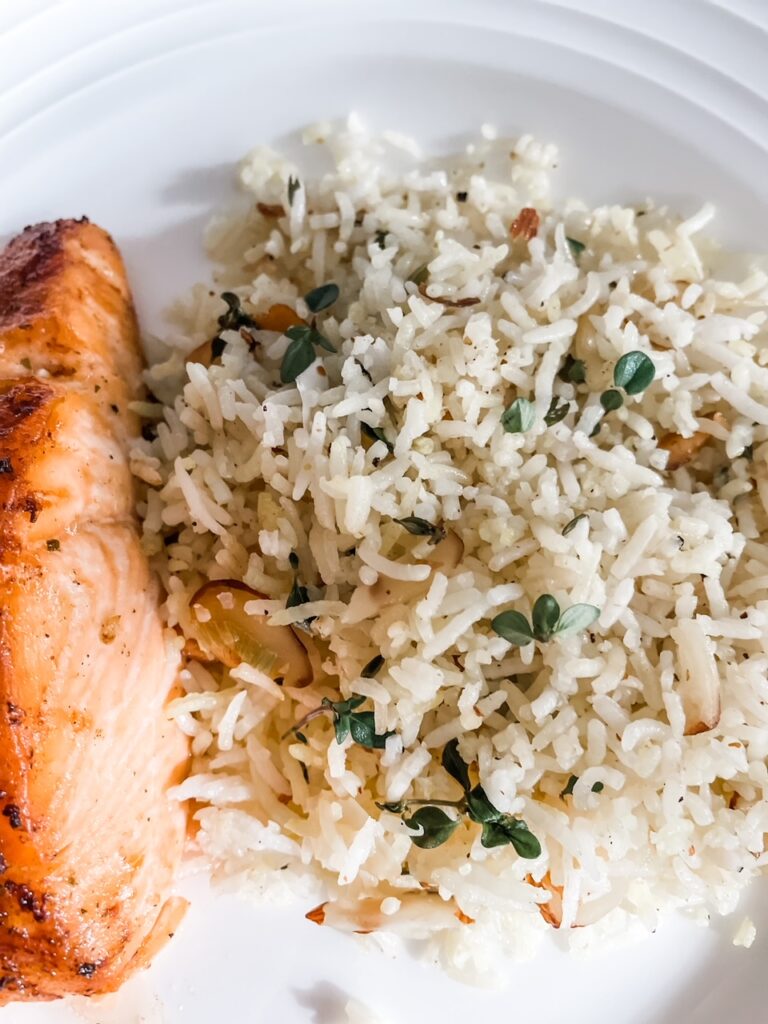 Side dishes shouldn't be an afterthought! My flavorful Lemon Herb Rice Pilaf transforms plain rice into a side dish that makes the meal—a perfect accompaniment for chicken, fish, beef, or pork.
Lemon Herb Rice Pilaf – An Easy Alternative to Plain Rice
Rice is a staple in our house. So much so that I buy it in twenty-pound bags. And why not? Whether you're serving the brown or white variety, long-grain or short-grain, boiled rice is just so versatile.
It's a great addition to soups, casseroles, or even a cold salad. If you're serving something with a really yummy sauce, serving it on top of some rice is a great way to enjoy every delicious drop. Also, rice is gluten-free.
Though gluten intolerance isn't an issue for anyone in my family, more and more people are eating gluten-free these days. So, rice has become a go-to when I'm cooking for company. But not a week goes by when rice doesn't also make at least a couple of appearances on our family dinner table.
Thanks to one of the greatest culinary inventions of the age – i.e., the programable rice cooker – rice is a lifesaver for busy people, which is pretty much everybody.
So, yes. There's lots to love about rice. But as good as a bowl of fluffy, steaming rice might be, sometimes you want to jazz it up. That's where my Lemon Herb Rice Pilaf comes in.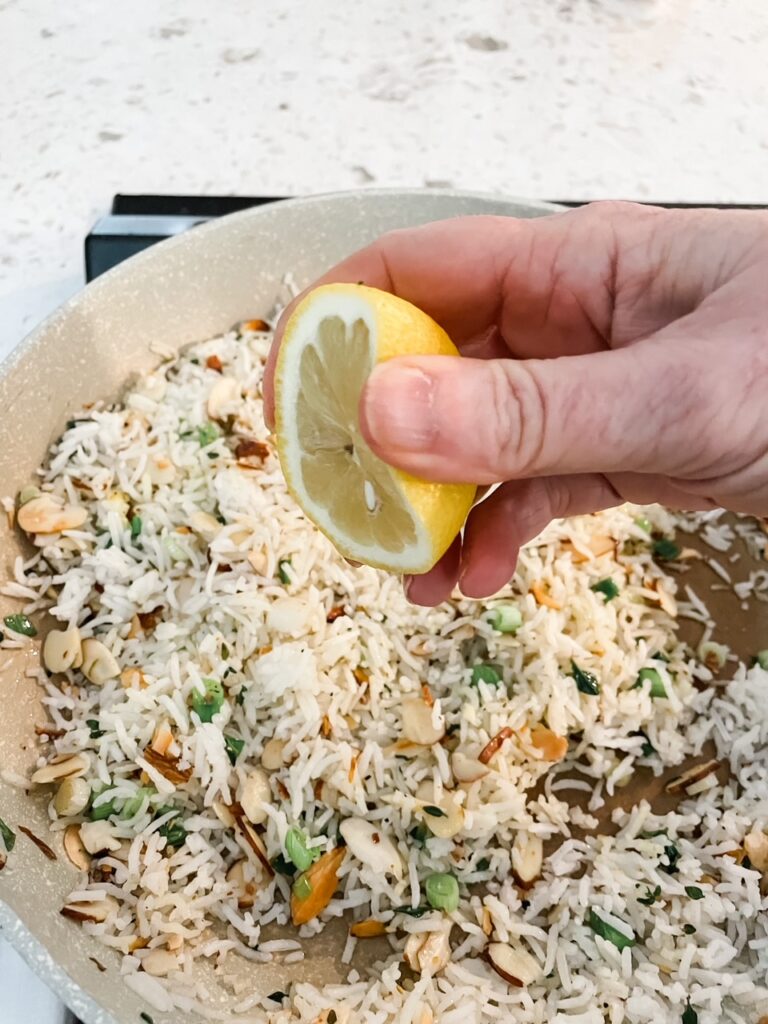 Lemon Herb Rice Pilaf – Make with Real Stuff You Can Actually Pronounce
Now, maybe you're asking yourself, why not just go to the market and buy the boxed stuff? Wouldn't that be easier?
Honestly, not really. It'll take you about the same amount of time as you would making your own Lemon Herb Rice Pilaf. Also, have you ever read the ingredient list on those boxes? A lot of it is stuff you can't spell or pronounce.
Which leads us to the next question….
What Do You Need to Make Lemon Herb Rice Pilaf?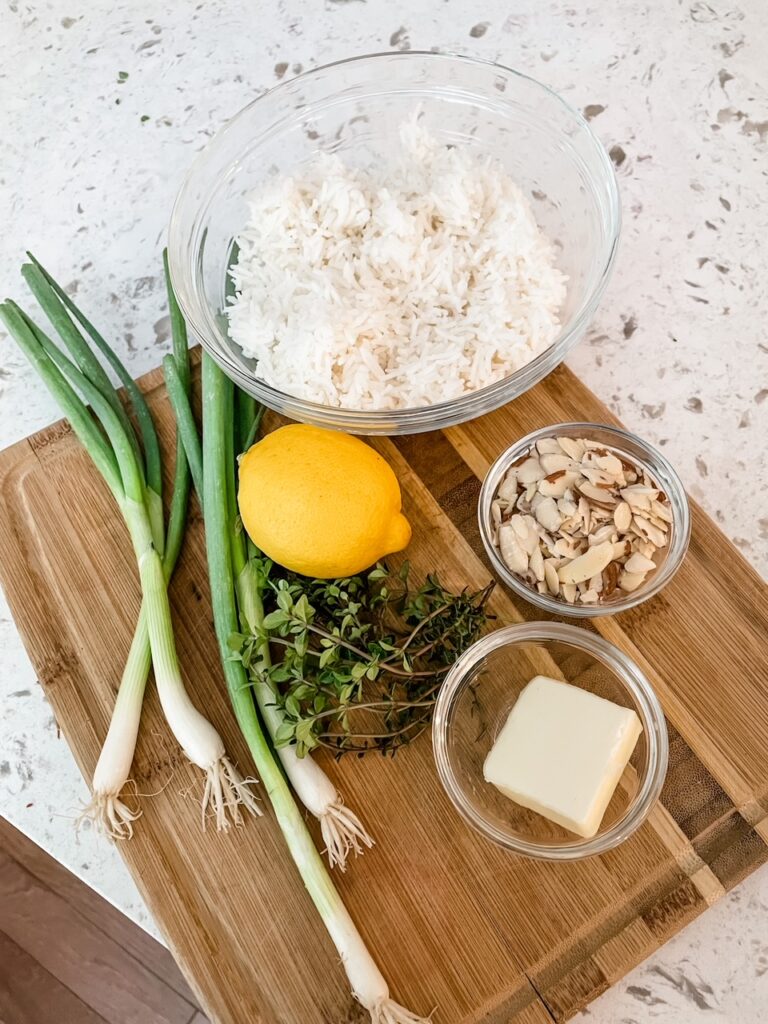 All you'll need to make this terrific side dish is a few minutes and a few easy-to-find ingredients. Chances are good that you already have them on hand.
Cooked rice, white or brown
Butter
Sliced almonds
Scallions
Fresh herbs
Seasonings
That's it!
Perfect with So Many Entrees and Perfectly Simple to Prepare
Herb and rice pilaf is a delicious accompaniment for all sorts of dishes. This is my favorite side to serve with salmon or almost any kind of fish. Add a green salad, and dinner is served.
But it's also terrific with roast chicken, oven-baked pork chops, broiled steak, or pan-sauteed garlic shrimp. It's also a great way to use up leftover rice. Almost any type of fresh herb works beautifully with the flavor of lemon, so pick your favorites. Changing up the herbs allows for a nearly endless variety of flavors, so don't be afraid to experiment.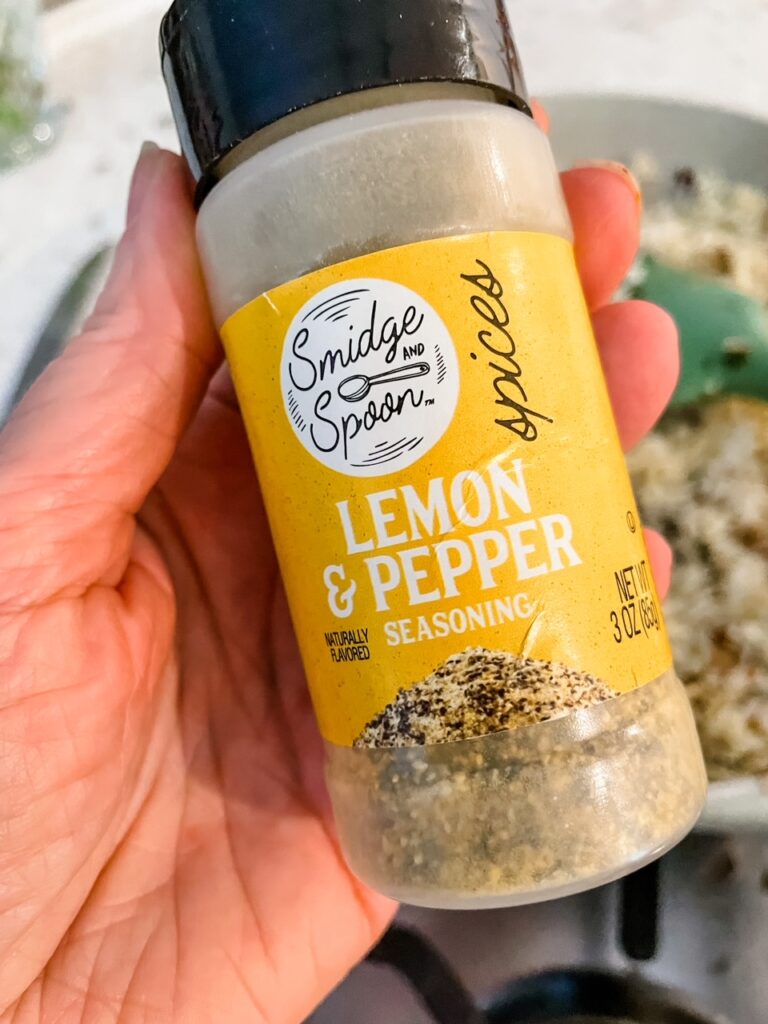 Fresh lemon juice brings a lot to the party here, but I like to kick things up a notch with a nice sprinkle of lemon pepper seasoning. However, if you don't have any on hand you could add a little extra pepper and adding a scant teaspoon of lemon zest to the pan along with the scallions.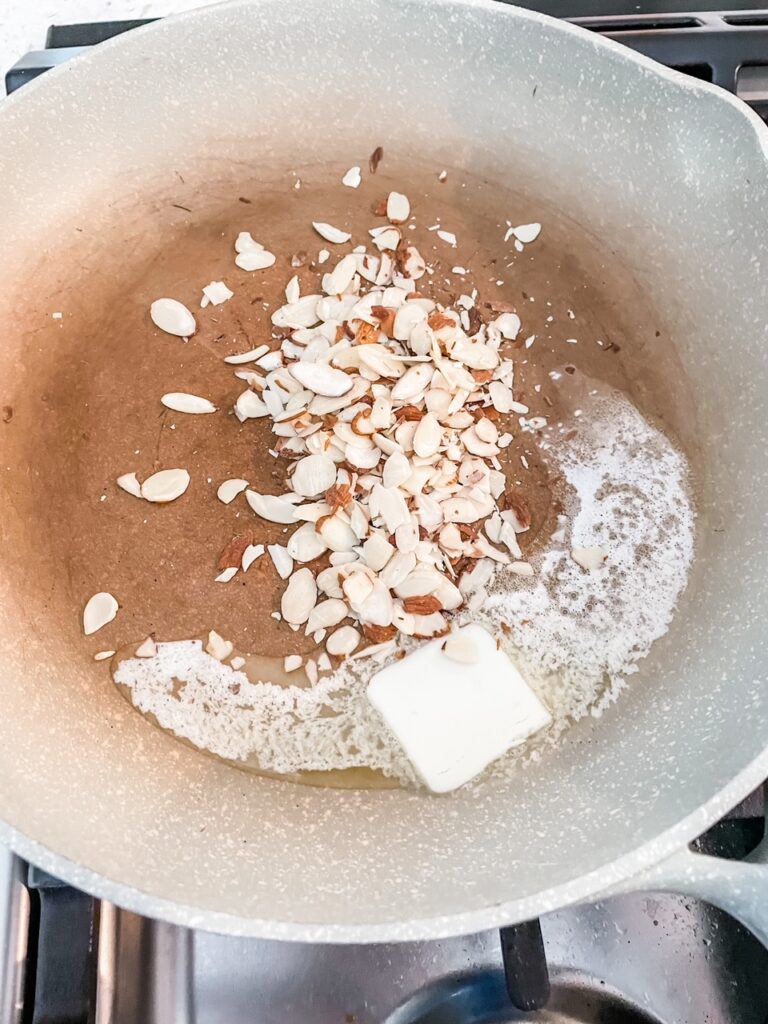 When it comes to preparation, making Herb and Rice Pilaf really couldn't be simpler. I'll spell out the details in the recipe, but it's all done on the stovetop and takes less than ten minutes.
Nothing not to love about that, right? Give Lemon Herb Rice Pilaf a try this week!
Print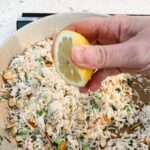 Easy Side Dishes: Lemon Herb Rice Pilaf
---
Author:

Yield:

4

–

½

cup servings

1

x
2 cups

cooked rice, white or brown

2

T butter, divided

¼ cup

sliced almonds

4

scallions, white and pale green parts of the stalk, sliced thinly

1

T fresh minced herbs (dill, thyme, sage, oregano, cilantro, parsley – or a mixture)

1

lemon

½ tsp

lemon pepper seasoning (Optional. Can also sub extra pepper and tsp of lemon zest, added with the scallions)
Kosher salt and pepper to taste
---
Instructions
Melt 1 T butter in a large, shallow pan on the stovetop over medium heat.
Add almonds to melted butter and saute for 2 minutes. Add sliced scallions and cook for an additional 2 minutes, until scallions are slightly softened.
Turn heat to medium-low. Add cooked rice, minced herbs, and an additional 1 T of butter to the pan, cook for another 2-3 minutes, stirring to combine ingredients and heat rice through.
Squeeze juice from one-half of the lemon over the pilaf, sprinkle in salt, pepper, and lemon pepper if using, and stir to combine. Taste and adjust seasonings, adding more lemon juice if desired or additional seasonings.