This post may contain affiliate links. Full disclosure policy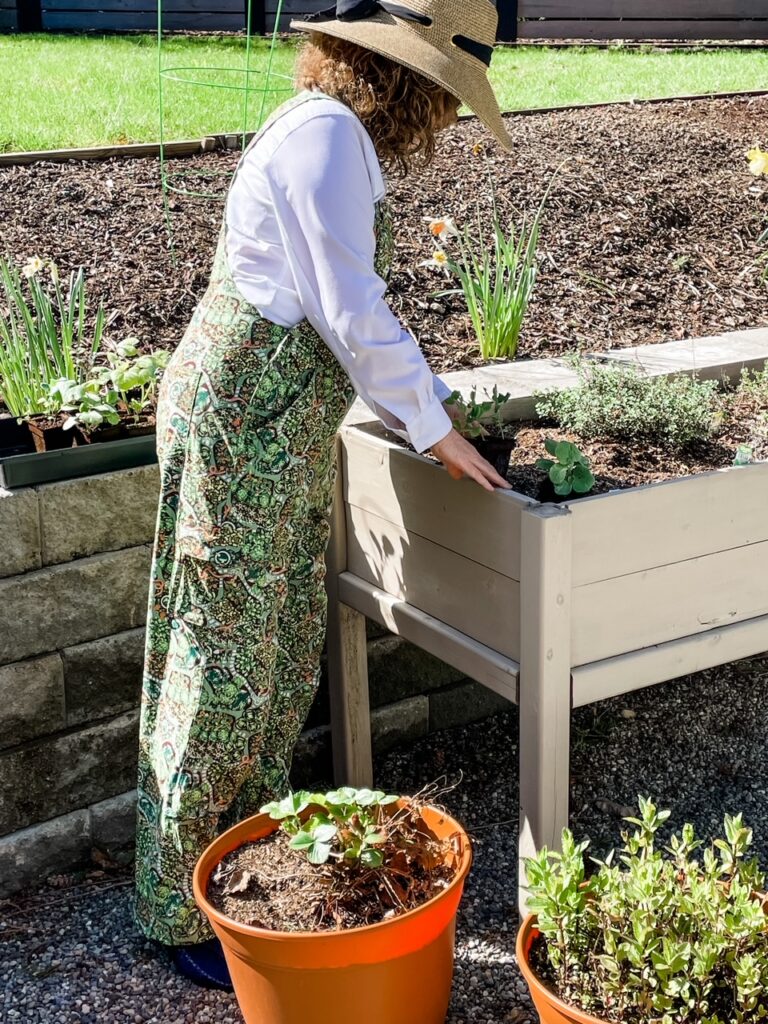 Anybody who knows me at all understands that when I get excited about something, I've simply GOT to tell people about what I'm loving.
And why not?
If you stumble onto a good thing, the natural response is to share the news with your friends. When it comes to my blog, the place where I connect with so many friends, I consider the sharing of good things to be a public service, and perhaps even a duty.
With that in mind, here are some things I'm loving in the Spring of 2023…
What I'm Loving in The Kitchen
Something I have loved for a long, long time are the Big Boards from Reluctant Entertainer.
They're beautiful, useful, and made in America. I own four sizes – 26" round, 20" round, 36" rectangle, plus the handy folding travel board – and have given several as gifts.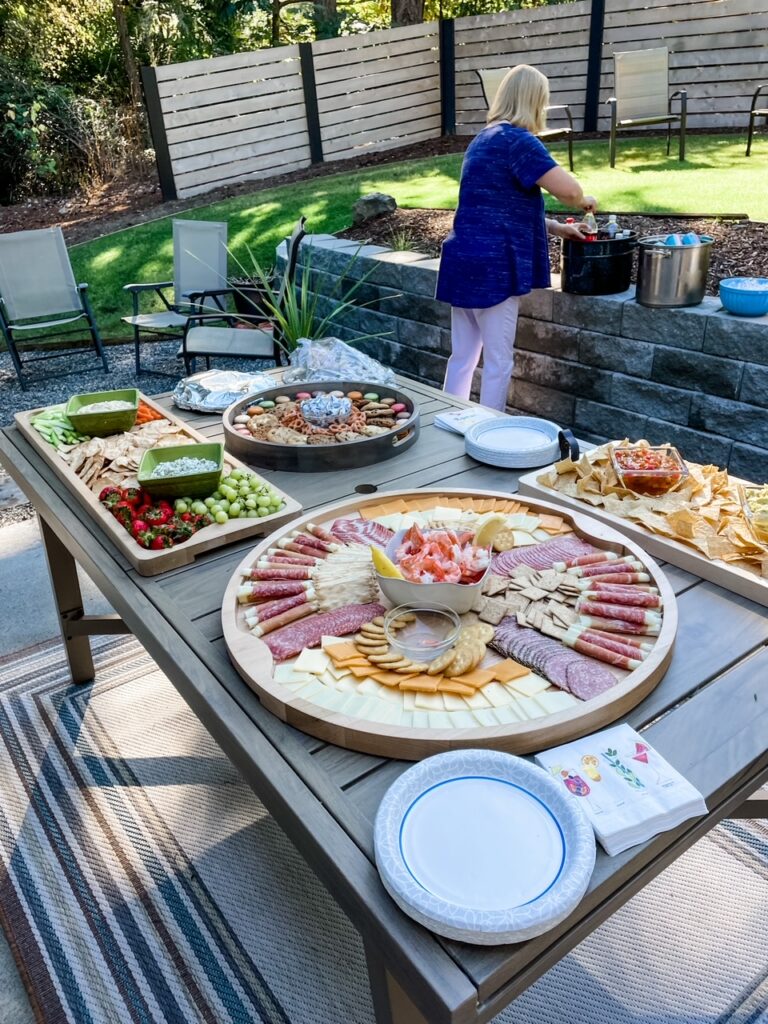 My latest obsession is the extra-large mango wood salad bowl.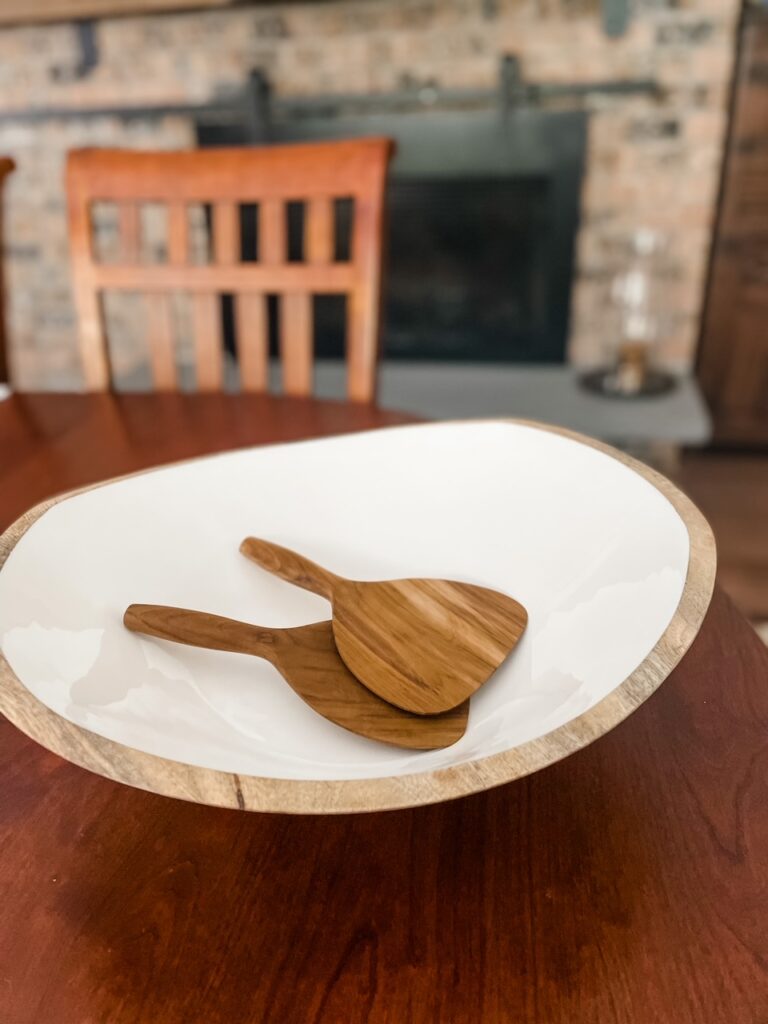 The enamel lining looks great with all my dishes and makes cleanup a breeze. I use this bowl nearly every day.
Fresh lemon juice makes such a difference in recipes. Juicing my own lemons got a whole lot easier after my daughter-in-love gave me this citrus juicer. How did I ever cook without it?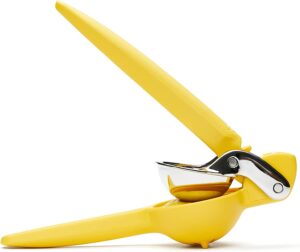 Another kitchen tool I can't live without is my digital meat thermometer. An accurate temperature appears instantly in big, easy-to-read numbers. Not having to worry about over or undercooked meat, chicken, or fish makes cooking so much easier!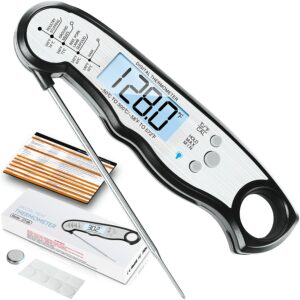 Le Creuset baking dishes get a regular workout at my house. They're oven, microwave, and dishwasher safe, pretty enough to go from the oven to the table. The quart size is great for one or two people.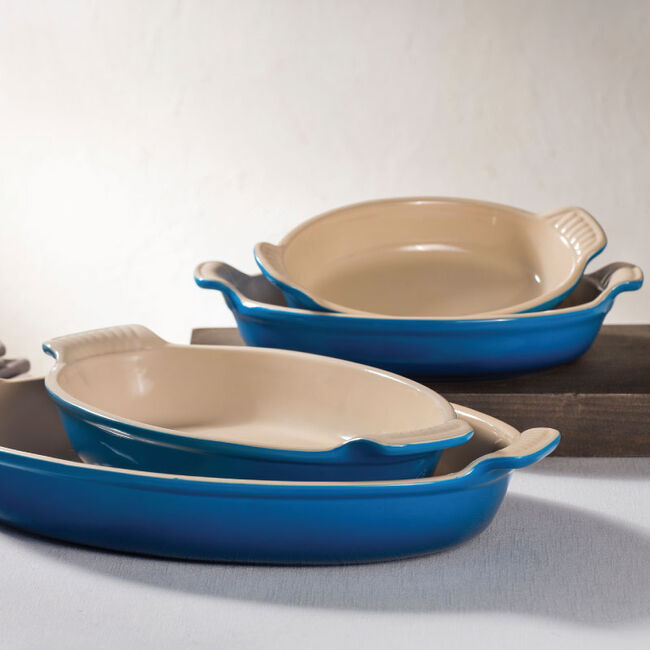 What I'm Loving in My Closet
This pretty no-iron linen top from Chicos is comfortable but crisp and looks great with jeans or white pants.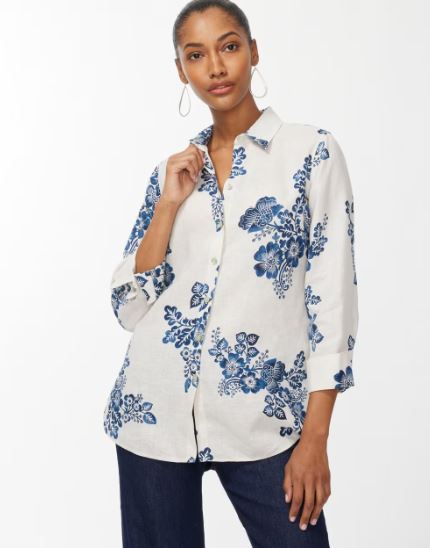 From J. Jill, this light mocha-colored cotton sweater is the perfect weight for spring. Love the fact that it falls just past my hips (and that I got it on sale!)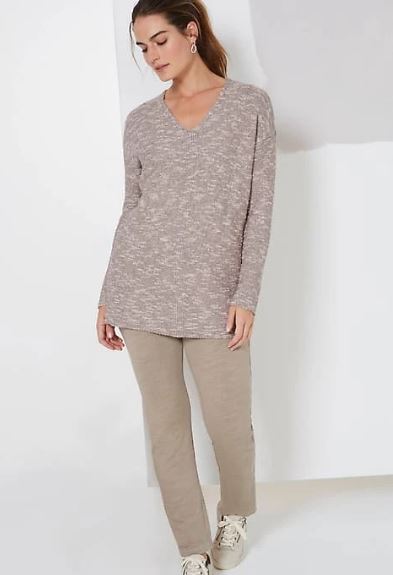 My absolute favorite new thing are these utterly adorable gardening overalls from Duluth Trading Company. The sweet garden-themed fabric, with beds of lettuce, tomatoes, gardening gloves, and spades, makes me smile every time I wear them. There's a darling red pair with garden gnomes too. Both are cute, comfortable, and practical – lots of nice big pockets.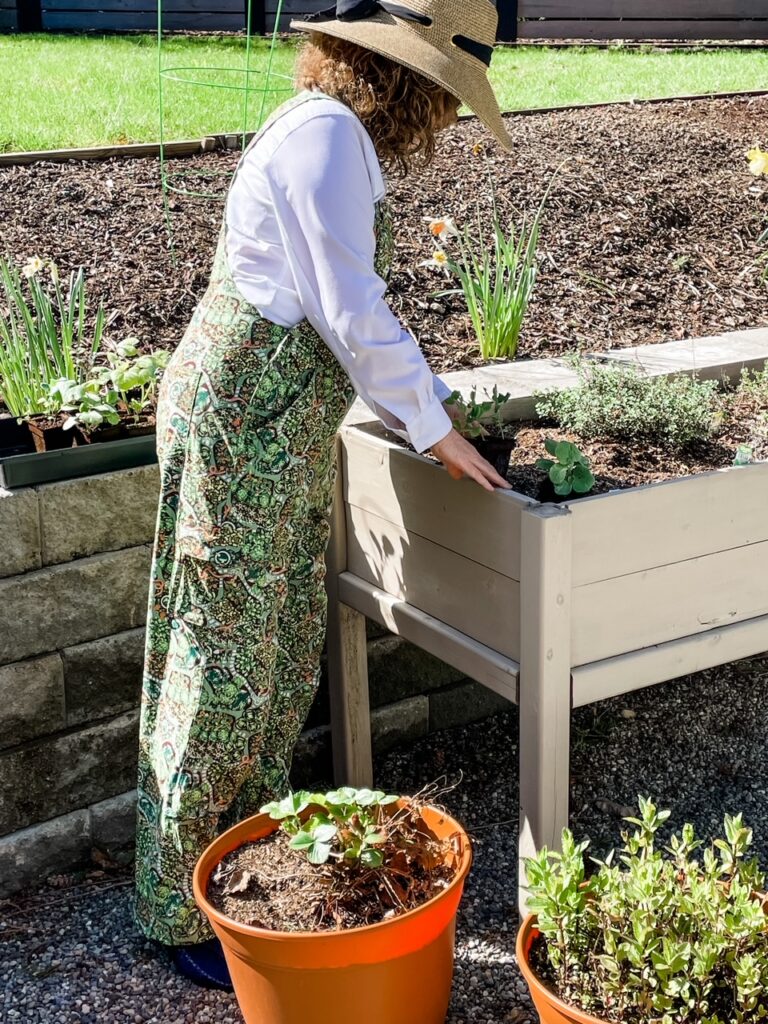 And speaking of my garden…
What I'm Loving in The Garden
My original version of this post hadn't included the wonderful raised beds I got from Home Depot a few years ago. But when I reader saw them in the photo above and emailed to ask about them, I realized they shout be included because really are terrific! Ours have held up for four years and through two moves now. (You should note that we painted the outside of our planters.)
Our overgrown side yard was recently transformed into a gorgeous little garden (I'm planning to talk about it soon.) The focal point is the sweet little fountain that I found on Wayfair. It's so pretty, and the sound of the water is so relaxing.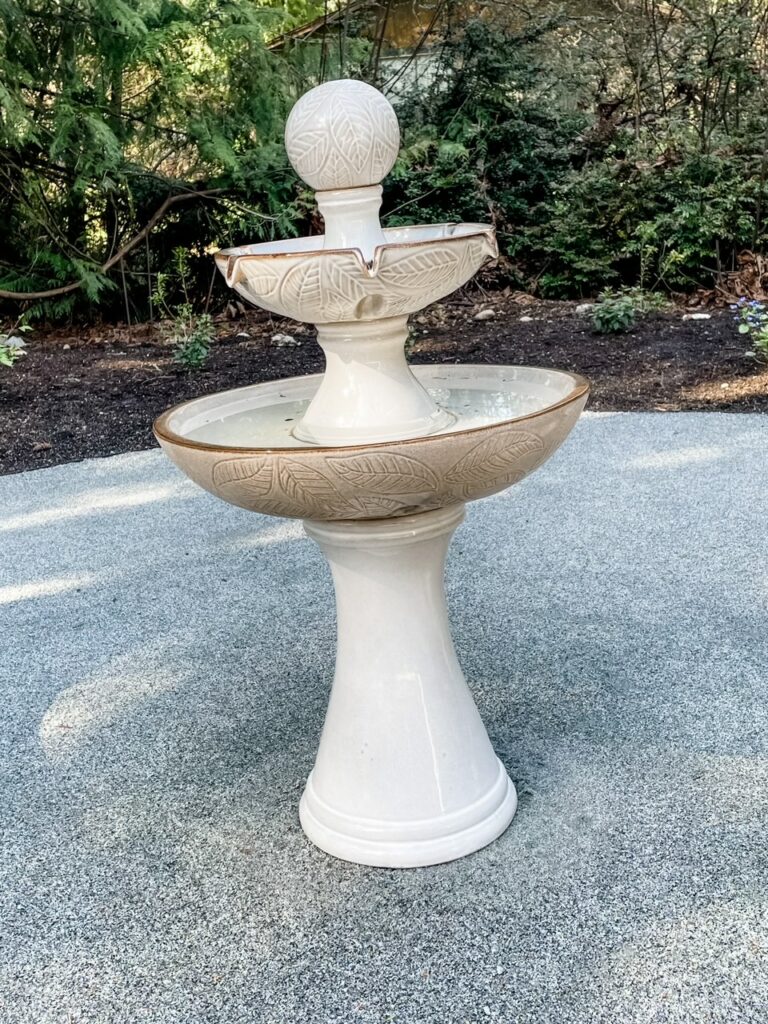 On the first fall in our new home, I bought and planted a collection of 100 daffodils from White Flower Farms. They've been blooming for weeks now and make me so happy!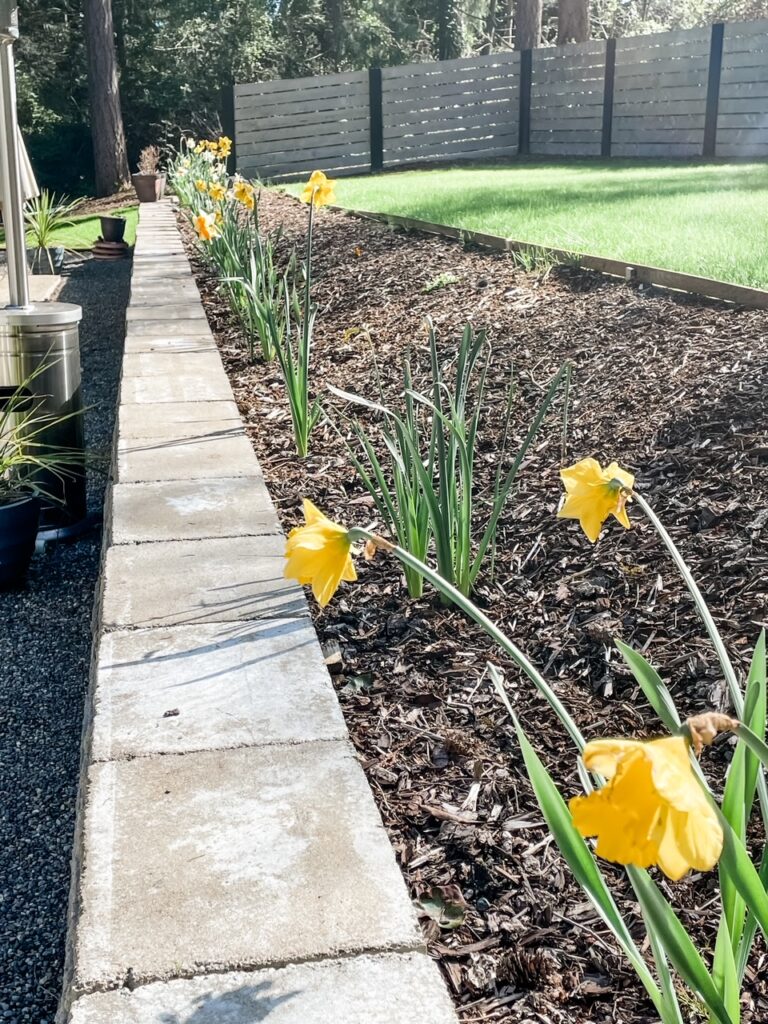 The thyme we just planted between some of the pavers is making me smile too! This is something I've been wanting to try for a long time. Can't wait to see what they look like once they fill in a bit!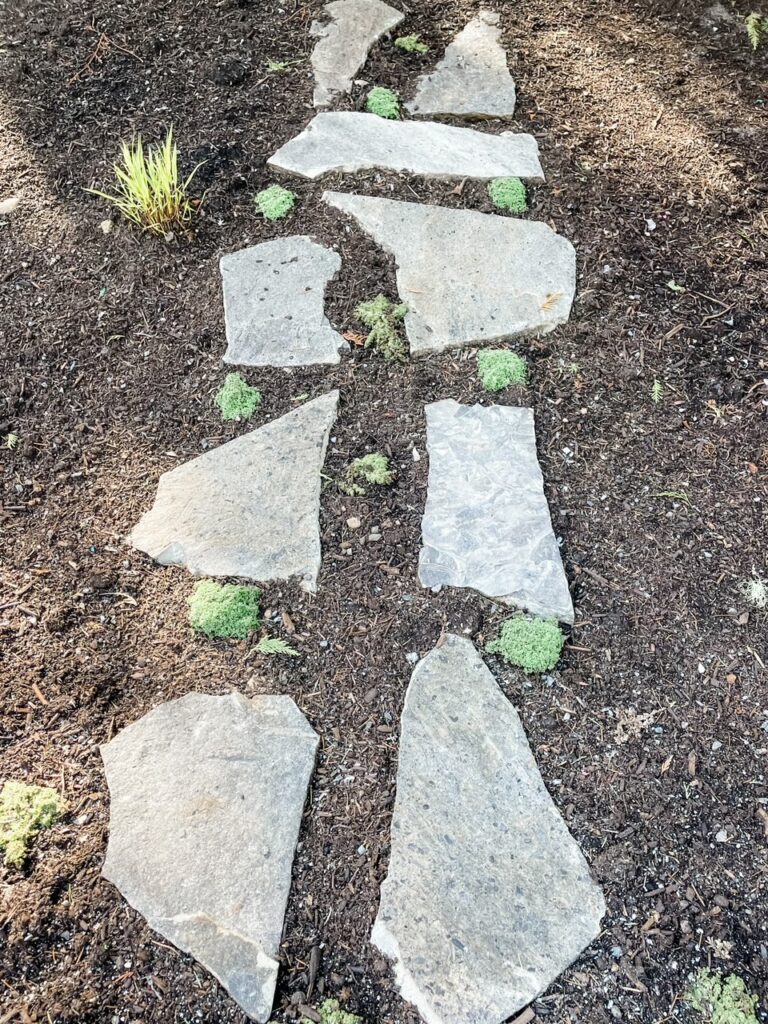 What I'm Loving – Health And Beauty
After years of searching, I have finally found the perfect body lotion. Gold Bond Overnight Deep Moisturizing absorbs easily, smells great, and doesn't cost a fortune. Most importantly, it's exactly what my dry skin needs. I love this stuff!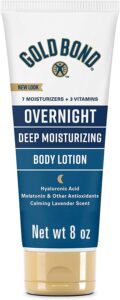 I'm sure the day will come when I'm ready to let my hair go gray, but I'm just not there yet. Until that day comes, Style Edit Root Concealer helps me camouflage gray between visits to the salon. I like the powder – my last box lasted for years – but it also comes in a spray.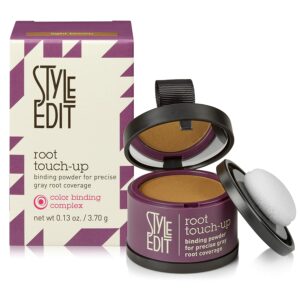 Even after cutting off a good 8" of hair recently, it still takes a long time for my thick hair to dry. Having these super absorbent microfiber drying towels in the bathroom has cut my drying time in half.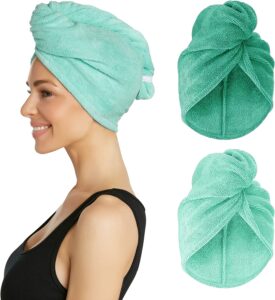 More to Love – Miscellaneous
With my big, 12-state book tour only weeks away, I'm spending a fair amount of time thinking about how to fit a month's worth of clothes into one suitcase. This set of packing cubes – with a toiletry bag, shoe bag, and even a bag for cords and charging cables – keeps everything organized. I like mine so much that I bought another set as a gift for a friend.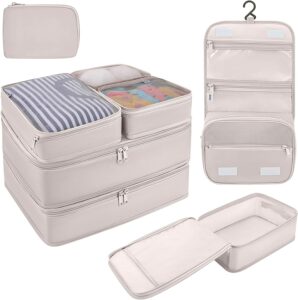 Recently, I stumbled across Thrifty Traveler, a website to help people find out about discounts from airlines all over the world. They have a free newsletter, which I tried and liked a lot. But after a while, I upgraded to a premium subscription because I wanted alerts on flights out of Seattle. Last week, I booked 3 round trip flights to Los Angeles for only $413, so the subscription has already paid for itself and then some. I'm a big fan!
Some friends recently told us about a new Netflix series, The Diplomat. As soon as I found out Rufus Sewell was one of the stars, I was on board. But it's a terrific show – great characters, smart writing, and lots of twists and turns. The Chairman and I have watched four episodes so far and are really enjoying it.
The last thing on my list of things I'm loving right now is the fact that, at very long last, the forecast says we're in for several days of warm, sunny weather. Hallelujah! Spring really is here!
And you know what that means, don't you? Soon I'll be able to spend time doing something else I love – watching baseball games. Go Rainers!