This post may contain affiliate links. Full disclosure policy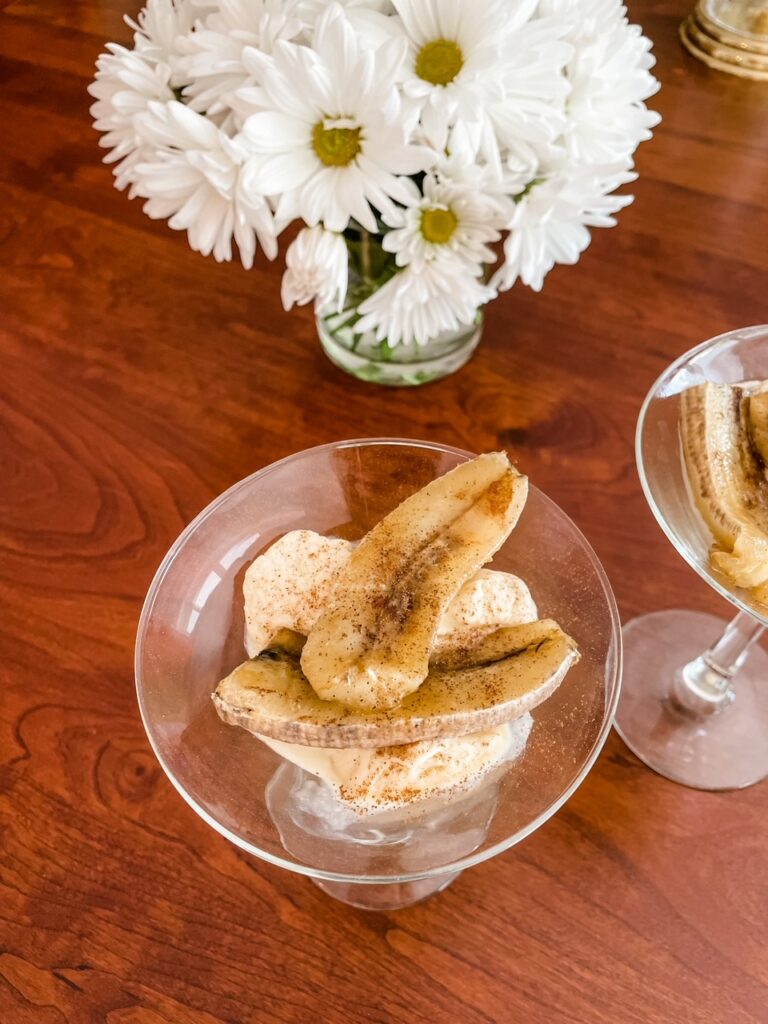 Cooking with kids is a great way to make family memories. And even the youngest chefs will love making these tasty broiled banana sundaes. They're easy, fun, and oh-so-yummy!
Cooking With Kids And Other Delights
Two of my sweet granddarlings came for a sleepover last weekend. Naturally, a full schedule of fun, age-appropriate activities was planned.
As an experienced grammy, I know keeping kids busy doing things they enjoy is the best way to ward off homesickness. It's also a great way to make sure the kids will want to come back for future visits. (My main job as a grammy is to be popular, and I am nothing if not hardworking.)
Our first activity was getting into the garden and planting some flowers. They had fun and did a great job. And I was surprised and pleased to learn that one of the girls really enjoys weeding. Who knew? (My flower beds have never looked better!)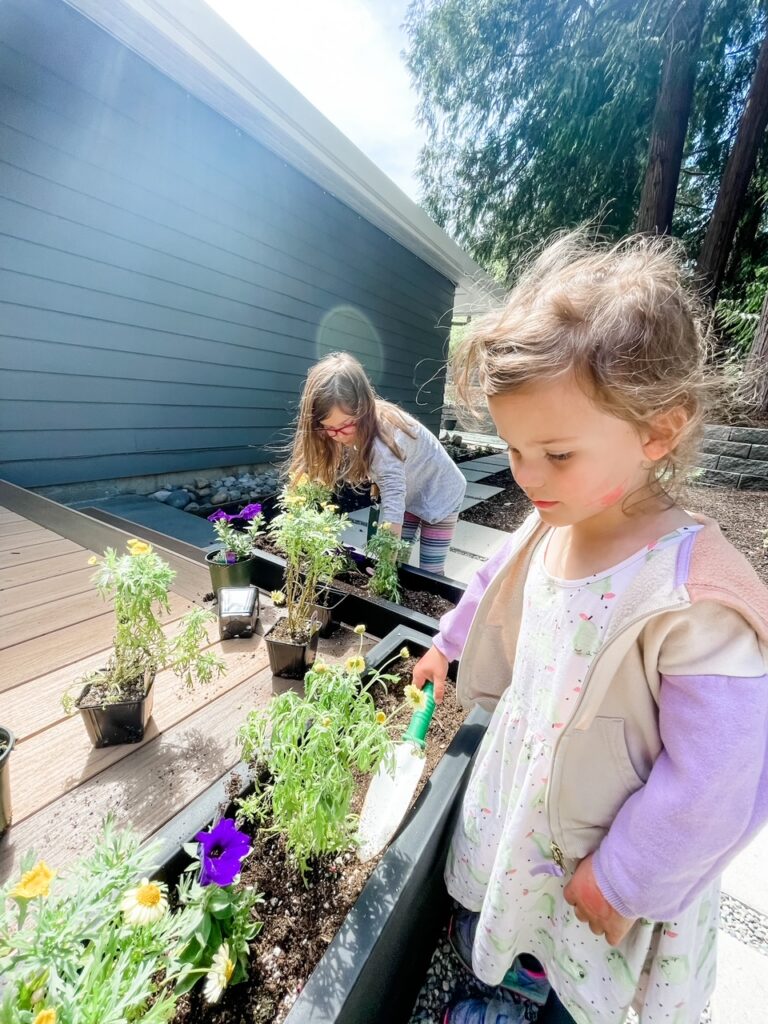 We also went to the park and out for bubble tea and cupcakes, read several books, watched a kid-friendly movie, drew pictures, and painted ceramics at our local pottery studio. It was a very eventful two days!
But I think the activity we all enjoyed most was making dinner together. Cooking with kids is always a joy, and lots of fun for big and little people alike.
Broiled Banana Sundaes – Three Generations Of Cooking With Kids
The girls helped me make the whole dinner. We started off with a recipe that I only created recently – Five Ingredient Easy Cheesy Ham and Apple Hand Pies. They were a hit!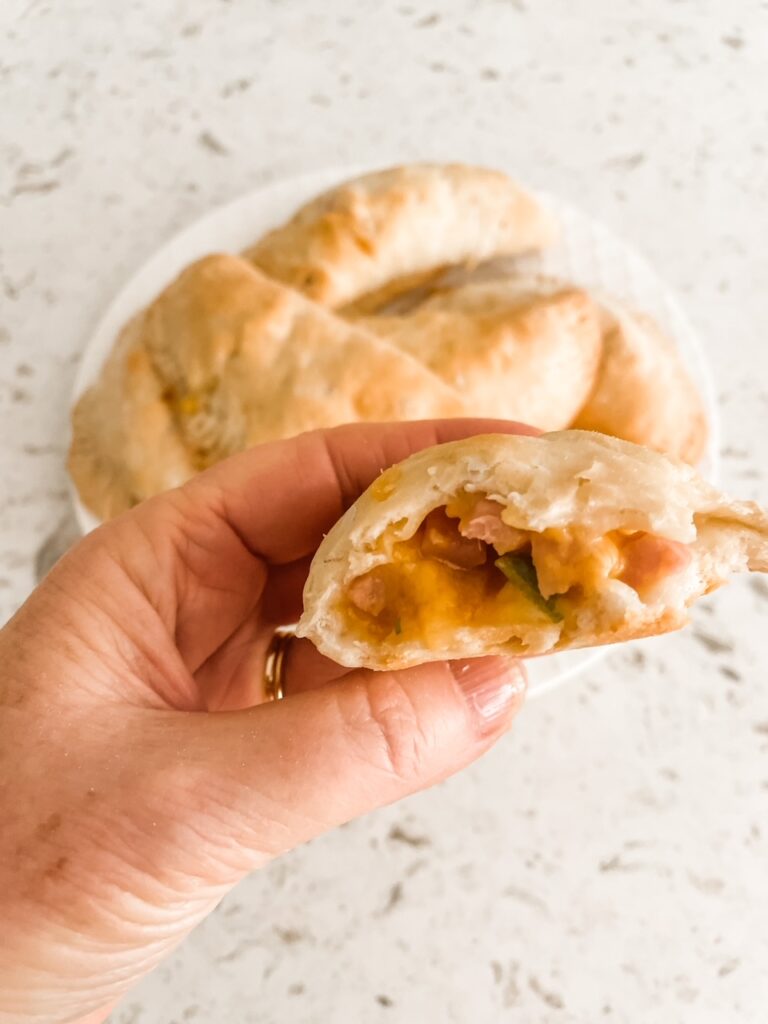 Even the four-year-old could roll out the dough and assemble her hand pie. More importantly, both kids actually ate them. We've got some picky eaters in the family, so I counted this as a win!
Dessert was broiled banana sundaes. It's a recipe that goes back three generations in my family.
Though my Aunt Hazel and Uncle Homer didn't have children, they loved kids and often hosted sleepovers for their little nieces, including me. My aunt and uncle weren't wealthy people, and their pleasures were simple. Even so, I have such fond memories of my visits with them.
I remember running through the sprinkler on hot days, reading books, cutting "Betsy McCall" paper dolls out of magazines, helping Aunt Hazel feed tea towels into the huge, hot mangle for ironing, and learning to crochet. Aunt Hazel was a world-class crocheter! Even as a very little girl, I knew that the delicately crocheted bedspread she'd made while Uncle Homer was off fighting in the second World War was a treasure and real masterpiece.
Aunt Hazel knew cooking with kids was a great way to make memories. We cooked and baked all kinds of things together, but the recipe that stuck with me over the years was broiled banana sundaes. Aunt Hazel made them with me, and when I grew up, I made them when cooking with my kids.
Now, half a century later, I introduced my grandarlings to this simply scrumptious, fun-to-make, kid-friendly recipe.
How To Make Broiled Banana Sundaes
I'll spell out all the details in the recipe section below. But honestly, broiled banana sundaes are so simple to make that it almost doesn't count as a recipe.
That – and the fact that they're so yummy – is a big part of the reason they're perfect if you're cooking with kids. They're pretty much foolproof.
Only five ingredients are needed….
Bananas
Butter
Brown sugar
Cinnamon (optional)
Ice Cream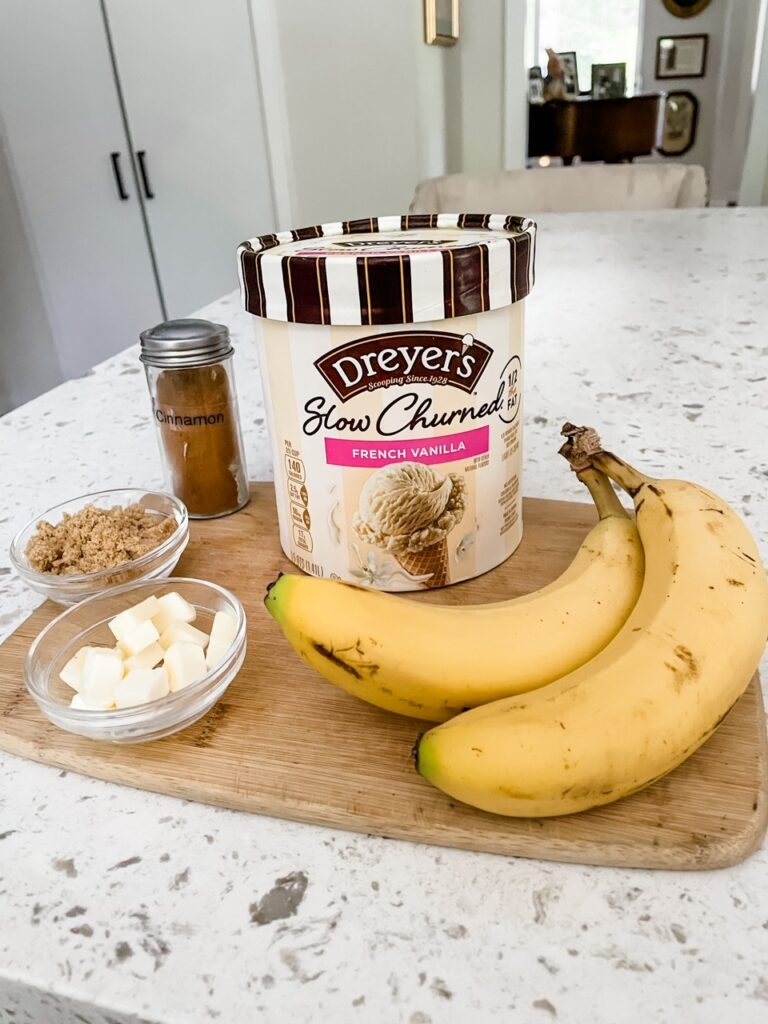 First, you'll preheat the broiler and peel the bananas. (Peeling bananas is the perfect job to hand off to the littlest chefs.)
Then, you'll slice them in half crossways, then lengthwise. A grownup helper might need to handle the slicing. But if the child has good small motor skills, let them use a regular, non-sharp dinner knife or a plastic knife to do the slicing.
Next, you'll place the bananas with their cut side on a baking sheet, dot them with butter and sprinkle with a dash of cinnamon, if you're using it. After that, you'll spoon a little bit of brown sugar on top before putting them in the oven to broil.
A Few Tips…
Keep an eye on the bananas so they won't burn. They don't need much time under the broiler, no more than a two to four minutes. Once the butter and brown sugar have melted, pull the cooking sheet from the oven.
Scoop ice cream into bowls. Vanilla is a classic, but don't be afraid to try other flavors such as chocolate, strawberry, peanut butter, or rocky road. Broiled bananas taste good with almost any flavor of ice cream.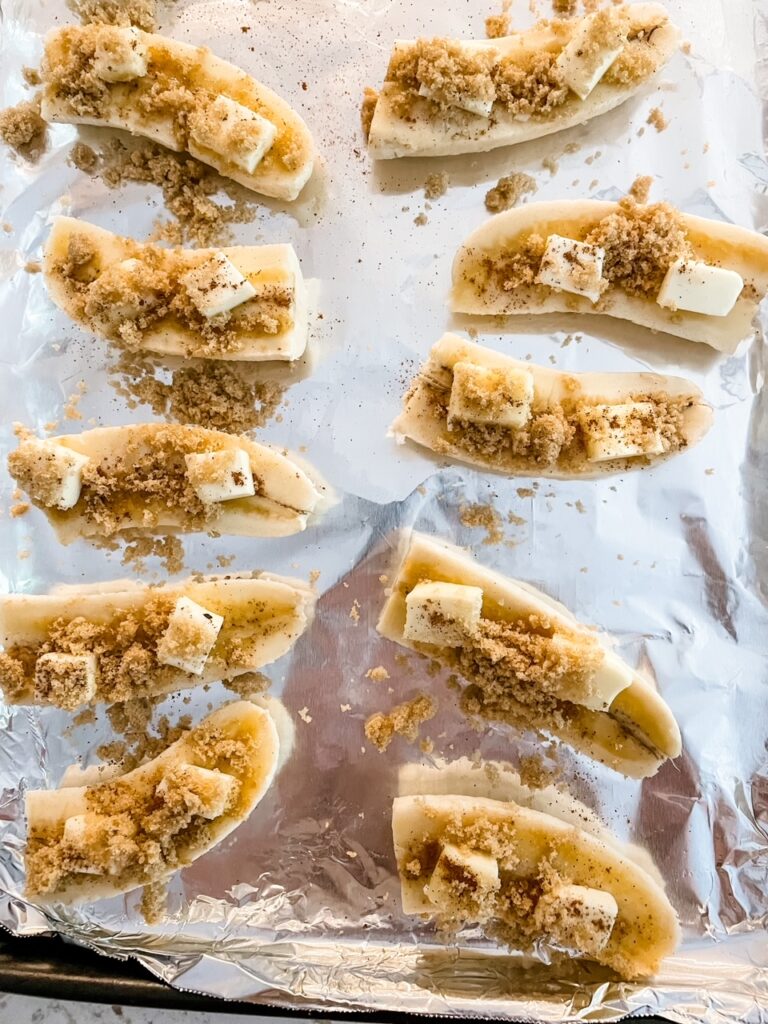 Top the ice cream with the broiled bananas (don't forget to scoop on any melted butter and sugar!)
If you want to get fancy, add other sundae toppings such as chocolate, caramel, strawberry sauce, whipped cream, sprinkles, mini chocolate chips, or sliced almonds. Yum!
Three generations of kids in my family will tell you that broiled banana sundaes are a deliciously sweet way of cooking with kids, while making some sweet memories in the process. I hope you and the little chefs in your life try this recipe soon!
Print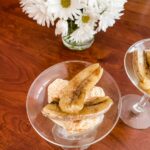 Cooking with Kids: Broiled Banana Sundaes
---
Author:

Yield:

2

servings

1

x
2

medium-size bananas

2

T butter, cut into small pieces

2

T brown sugar
Ground cinnamon
Ice cream – (flavor of your choice)
Optional sundae toppings (see post for ideas)
---
Instructions
Position an oven rack about 3-4 inches below the broiler. Preheat the broiler while preparing the bananas. Cover a rimmed baking sheet with foil.
Peel the bananas. Cut each banana in half crossways, then cut the in half again lengthwise. Place sliced bananas on the prepared baking sheet, cut side up.
Dot the bananas with small pieces of butter. Sprinkle a dash of cinnamon onto each banana. Spoon on the brown sugar, dividing it equally among the bananas.
Place the baking pan on the pre-positioned rack under the broiler. Broil the bananas for 1-2 minutes, just until the butter and sugar melts, and remove baking sheet from the oven. Keep a close eye so the bananas don't burn!
Scoop ice cream into bowls and top with the warm, broiled bananas and any optional sundae topping you've decided to try. Serve immediately and enjoy every yummy bite!