This post may contain affiliate links. Full disclosure policy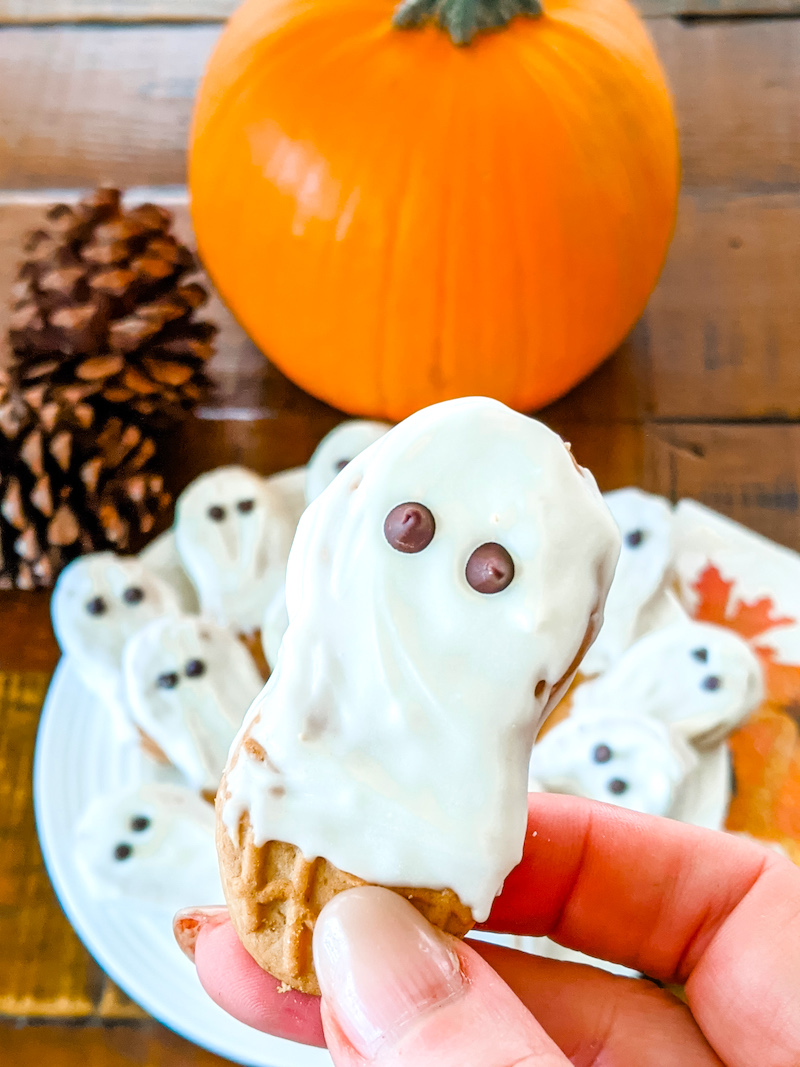 Will you be celebrating Halloween at home this year? These easy Nutter Butter Ghosts are a simple way to bring the spirit of fun to your homey Halloween.
I don't generally do much to celebrate Halloween. For one thing, I've spent most of my life in rural areas, where trick or treaters are few and far between. Also, the minute basically every women's Halloween costume had the adjective "sexy" added to it, I was out.
Sexy nurse. Sexy librarian. Sexy Minnie Mouse???
Puh-leeze. Two guesses who thought up the whole "sexy" Halloween thing. (Hint: it wasn't women).
If I'm going to dress up for Halloween, it's going to be something kind of badass, like a pirate or a paratrooper. Or something scary, like a visiting in-law.
Making Halloween at Home Special
So, no. I haven't done much for Halloween since my kids grew up. But, like everything else about 2020, this year is different. I'm looking for any excuse to celebrate just about anything, especially if I can do it from home. I know I'm not the only one.
These Easy Nutter Butter Ghosts will help make your Halloween at home a little more special. They're incredibly simple to make and so darned cute!
The recipe only requires three ingredients and makes over two dozen darling little ghosts. You'll have plenty of snacks to accompany Halloween at-home activities like watching your favorite Halloween movies, or as fun dessert for a special meal.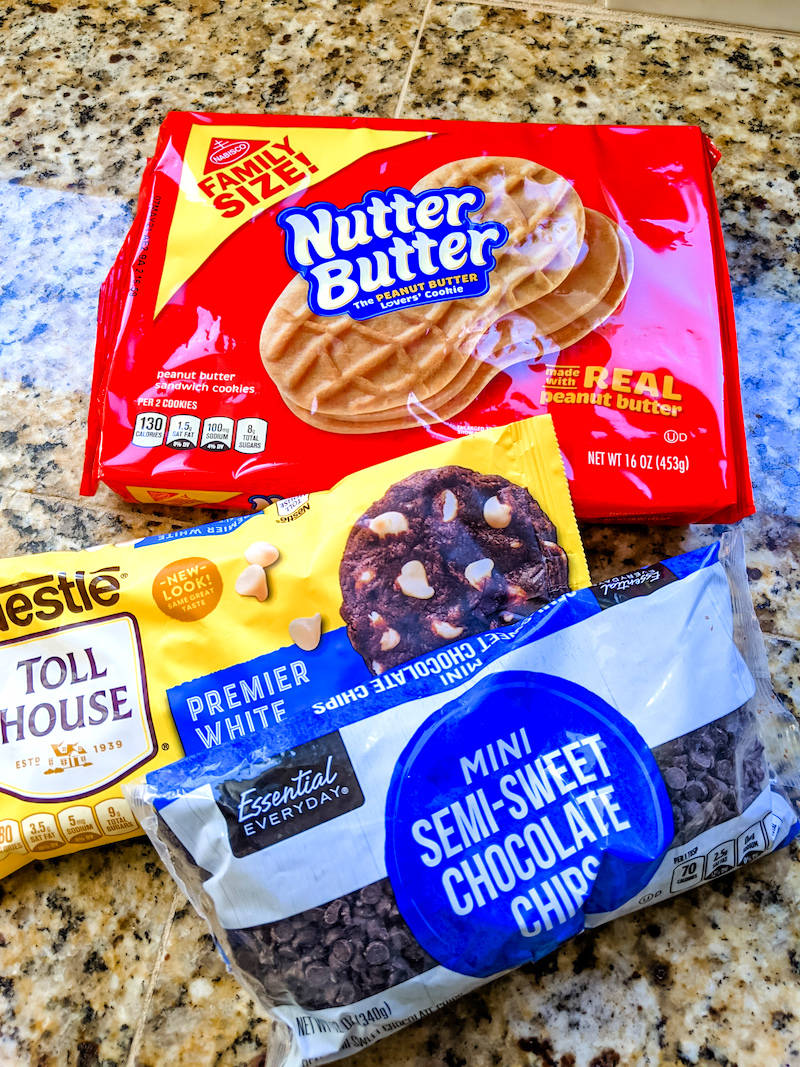 (If you're looking for a main dish to celebrate Halloween at home, be on the lookout for my stuffed pumpkin recipe. I'll be adding it to the blog on Wednesday.)
Easy to Make and Fun to Share
I'm going to be sharing my Easy Nutter Butter Ghosts with my neighbors, dropping a few off at everyone's door. It's kind of a reverse trick or treat. But, if you do get trick or treaters in your area, these would be lots of fun to hand out.
And if you've got little ones in the house, my Easy Nutter Butter Ghosts are a great project to make together! They come together quickly and are so easy to make that even the littlest members of the family will be able to help.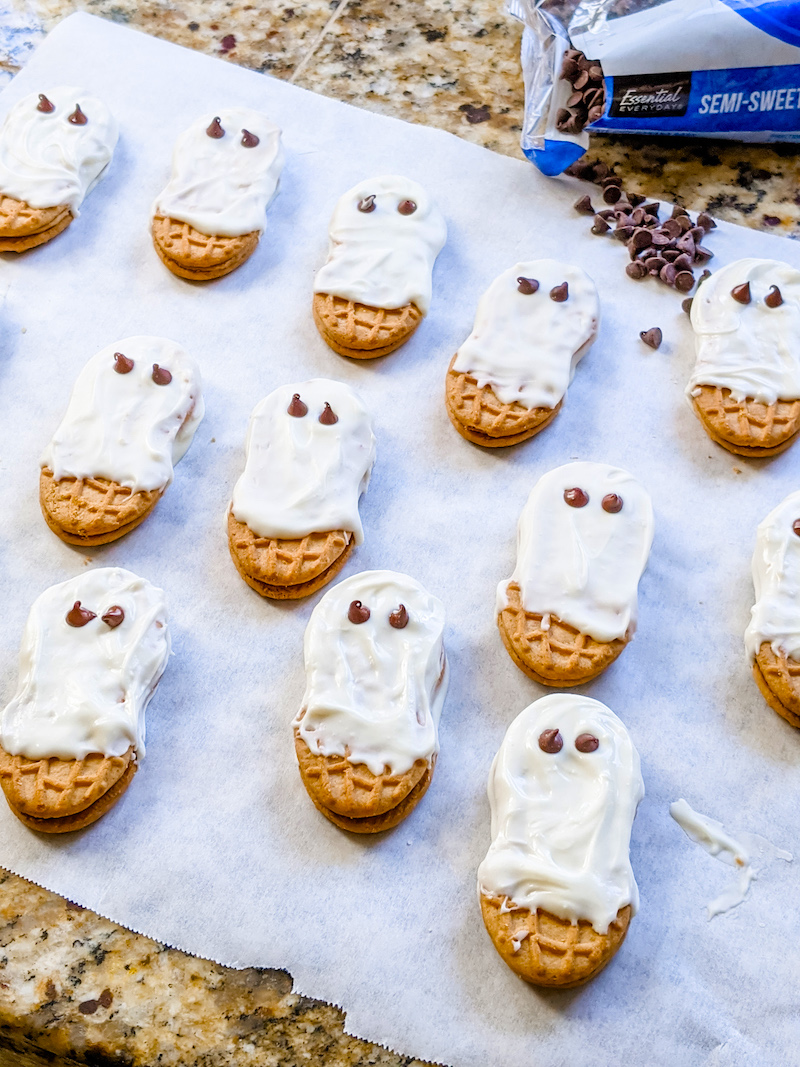 Easy Nutter Butter Ghosts Tips
When I say that these Easy Nutter Butter Ghosts are easy, I'm truly not kidding.
Basically, you're just dipping store-purchased cookies in some melted white chocolate and sticking on two mini-chocolate chips for eyes. That's it. If you hate to cook, or can't cook, or are just too busy to cook, my Easy Nutter Butter Ghosts are the ideal project for you!
The only real trick here is melting the white chocolate. You don't want to burn it. You also want to keep it warm but not too warm while you're working. If it cools too quickly, you'll have trouble coating the cookies.
A lot of people melt the chocolate in the microwave but I really don't think that's ideal for this project. A double boiler works much better.
Put some water in the bottom pan of the double boiler and set it on medium heat until it's simmering, then put the white chocolate chips in the upper pan and stir until the chocolate is smooth.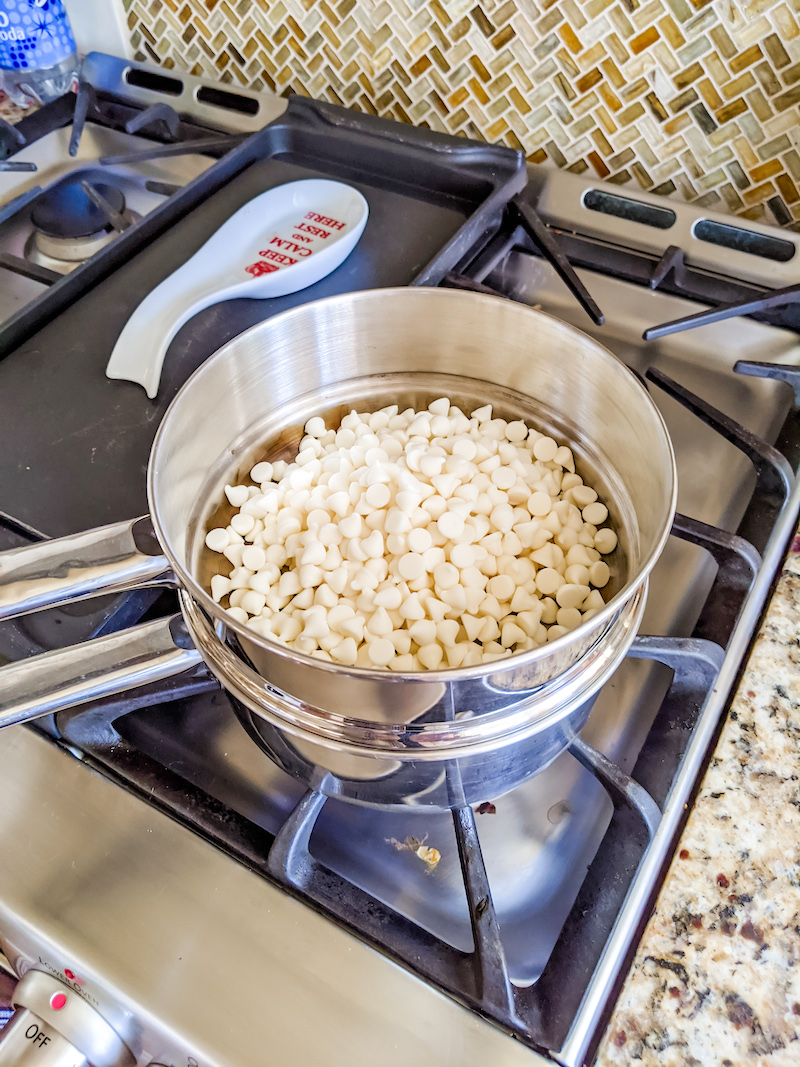 If you don't have a double boiler, you can use an ovenproof casserole dish or ramekin. Just place it inside a pan of gently simmering water and stir until smooth.
Adding Sheets and Eyes to Your Easy Nutter Butter Ghosts
The ghostly "sheets" of these cute little confections are just the melted white chocolate. You can dip the cookies directly into the pan, but I found that spooning the chocolate onto the cookie worked best. Just hold onto the end, spoon the chocolate over the cookies, and then smooth it onto both sides and the edge with the back of the spoon. To minimize mess and spills work directly over the pan of melted chocolate.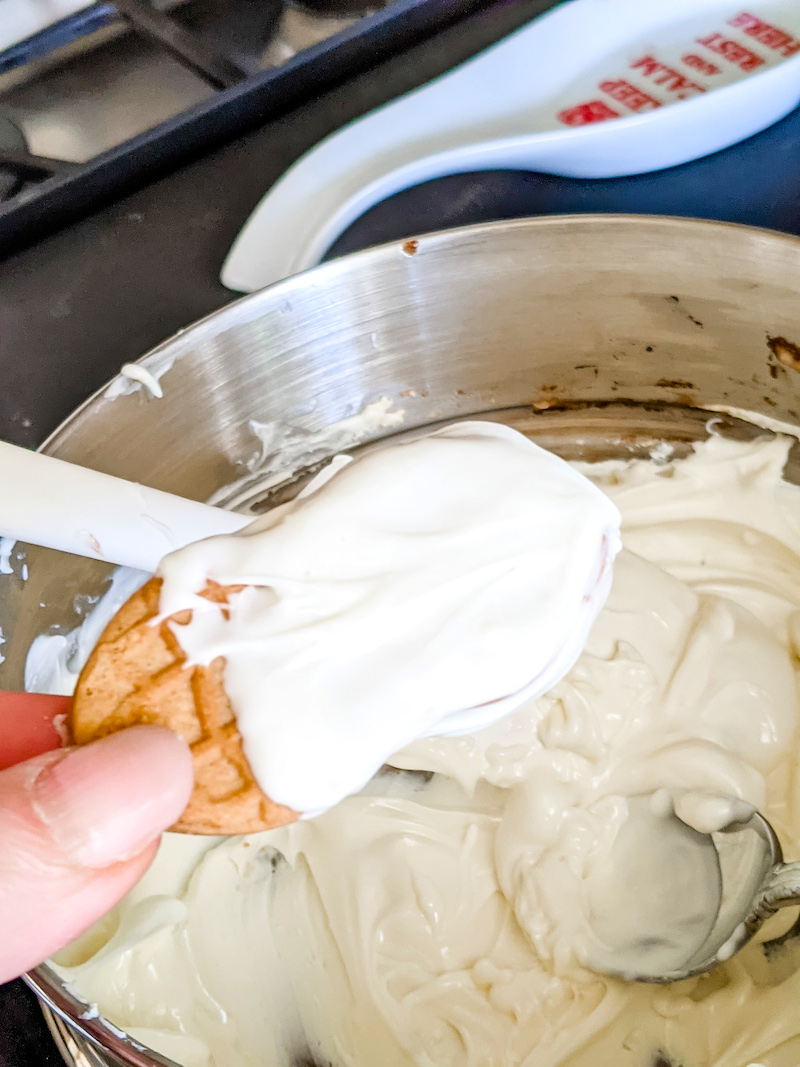 As soon as your ghost is dressed in its sheet of white chocolate, place it on a piece of parchment paper. Use two mini-chocolate chips for eyes, pushing them gently down into the white chocolate while it's still warm. Let your Nutter Butter Ghost cool completely before eating.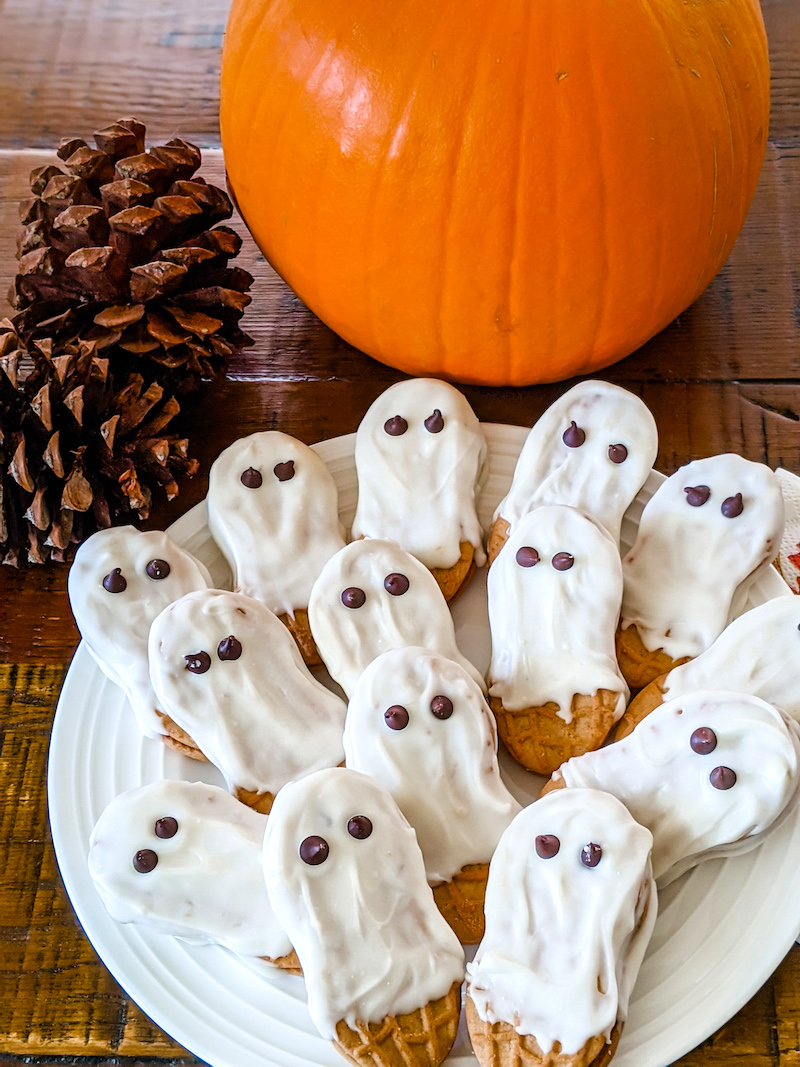 That's all there is to it!
I hope you'll give Easy Nutter Butter Ghosts a try. They're a fun and easy way to treat yourself to a sweet Halloween at home!
Print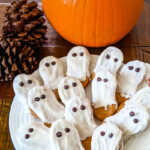 Easy Nutter Butter Ghosts: Halloween at Home
---
Author:

Yield:

Makes

24

to

30

, depending on how thickly you coat the chocolate on the cookies.

1

x
24

to

30

Nabisco Nutter Butter cookies

12 oz

white chocolate chips
Miniature chocolate chips
---
Instructions
Fill the bottom pan of a double boiler with water and place it on the stove over medium heat until it is simmering.
Place white chocolate chips in the upper pan of the double boiler and put on top of the lower pan of simmering water. Stir to melt chocolate.
3) When the white chocolate is completely melted, use a teaspoon to coat each Nutter Butter cookies on both sides. Leave a little bit of the cookie uncoated at the bottom.
Immediately place the coated cookie onto a sheet of parchment paper. While chocolate is still warm, press two mini chocolate chip cookie "eyes" into the ghost.
Make ghosts one at a time. Allow the chocolate to cool completely before eating or removing from parchment.