This post may contain affiliate links. Full disclosure policy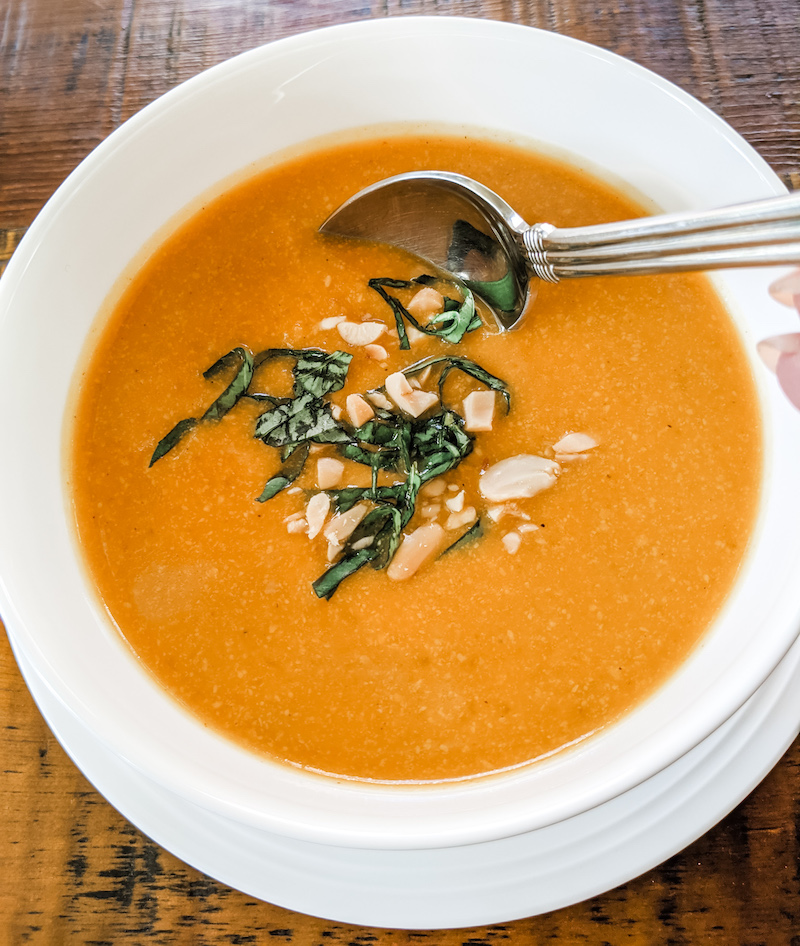 My Slow Cooker Thai Butternut Squash Soup, featuring its namesake's Thai-inspired flavors as well as peanut butter, is a deliciously different take on butternut squash. This rich, velvety, just-spicy-enough soup will remind you of a visit to your favorite Thai restaurant.
I really never met a squash I didn't love. Maybe that's why fall is one of my favorite seasons.
But I have to admit, I've never been all that wild about butternut squash soup. I know, I know. It's a soup pot staple, especially in fall. But so often, I find butternut squash soup to be kind of bland. Not bad. Not great. Just okay.
Taking just okay dishes and transforming them into recipes I'm actually excited about eating is something I really enjoy. I take it as a personal challenge. Why? Who knows? I just do.
So when I went to the market this weekend, I plucked a big ol' butternut from the squash display and wheeled it around the store for a while, seeking inspiration.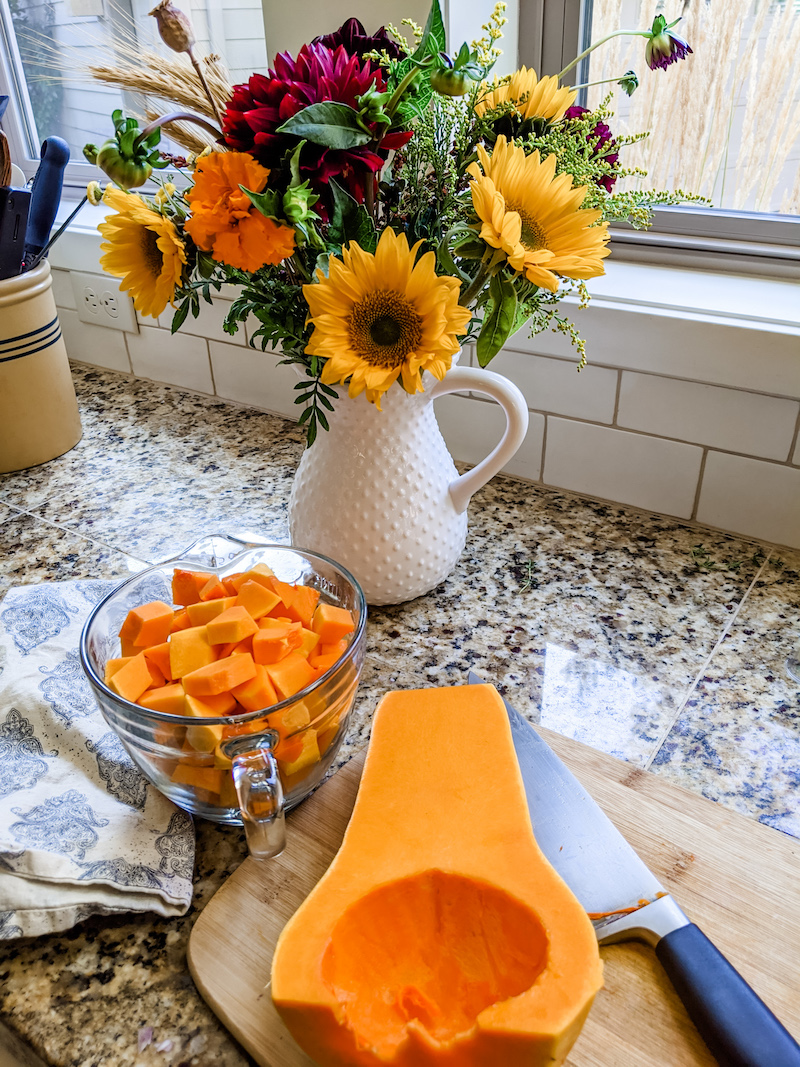 Inspiration was Only Steps Away
It turned up in the herb section of the produce department when I spotted a package of lemongrass. Lemongrass is one of my favorite flavors and a staple of Thai cooking.
One of the upsides of the subtle taste of butternut squash is that it can serve as a great vehicle for other, stronger flavors. I was pretty sure that lemongrass and butternut squash would play well together.
That got me thinking. What other Thai inspired flavors might help jazz up a butternut squash based soup?
Thai Flavor Equals Big Flavor in My Slow Cooker Thai Butternut Soup!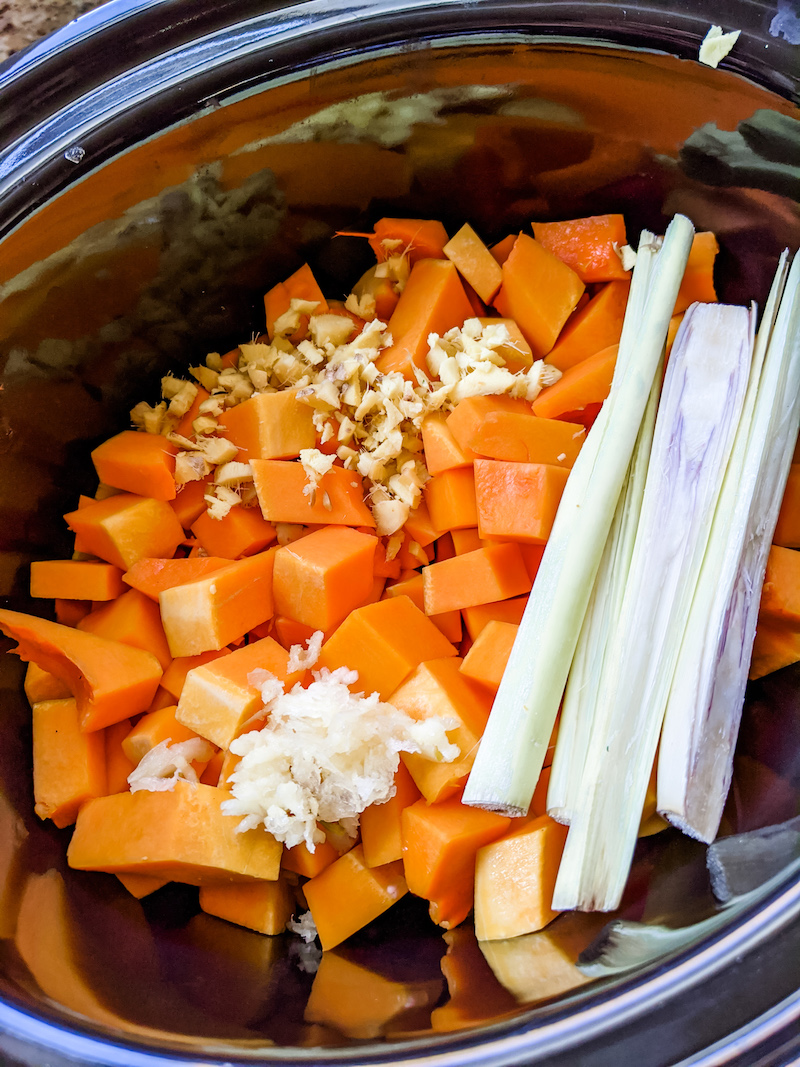 One of the reasons I love Thai food is the range of flavors. It runs the gamut of sweetly savory to tongue-tingling spicy and everything in between. I love it all.
But my husband isn't as wild about spicy food as I am, so I stuck to the middle ground when choosing Thai flavors for my butternut squash soup.
Lemongrass was a good start and not spicy at all. But to create a butternut squash soup that was just spicy enough, I decided to include two more Thai flavor favorites – garlic and lots of fresh ginger.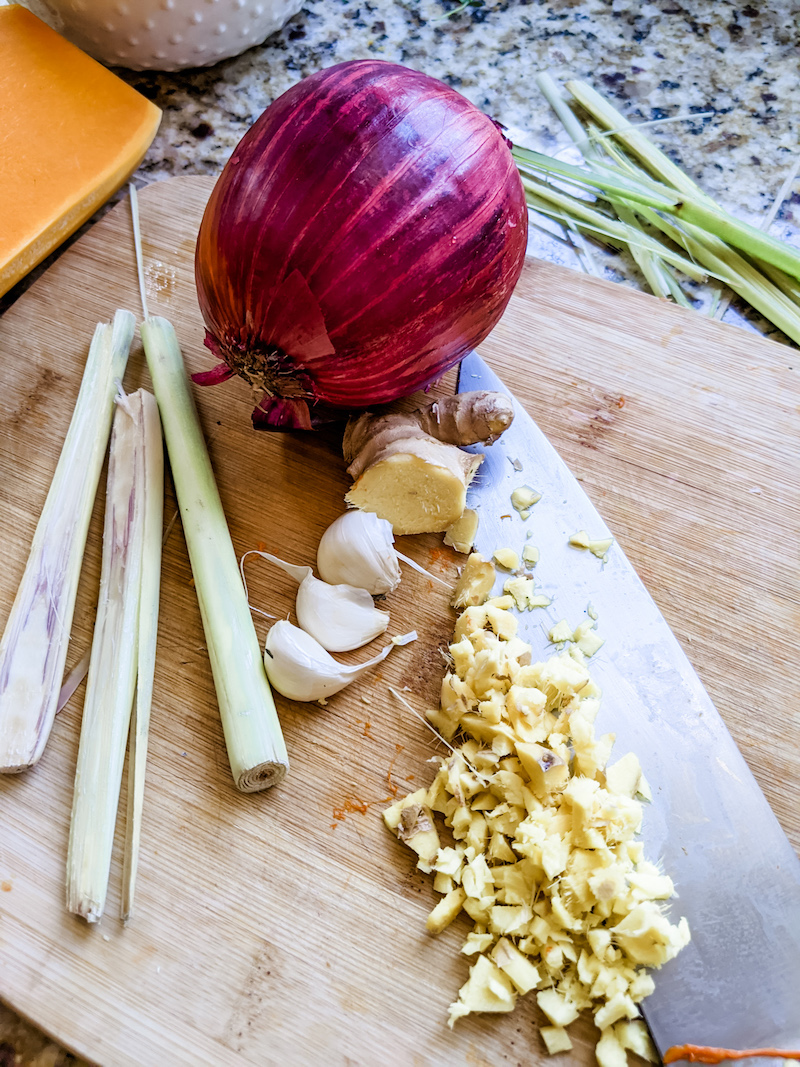 I also included a little cayenne, just to add a bit of kick. If you're not a big fan of spicy food, maybe just use a dash. Even a little cayenne can go a long way. Or you can leave the cayenne out entirely.
This slow cooker Thai butternut squash soup will still be wonderful and filled with great Thai flavor, including one of my very favorites.
Peanut Butter? In Soup? Oh, Yes!
If you've ever had Thai food, you've probably had a dish that came with peanuts or peanut sauce. It's delicious. And one of my very favorite things about eating Thai food.
Adding peanut butter to my slow cooker Thai butternut squash soup gave it a velvety texture and a deliciously savory taste that beautifully balanced the other spices.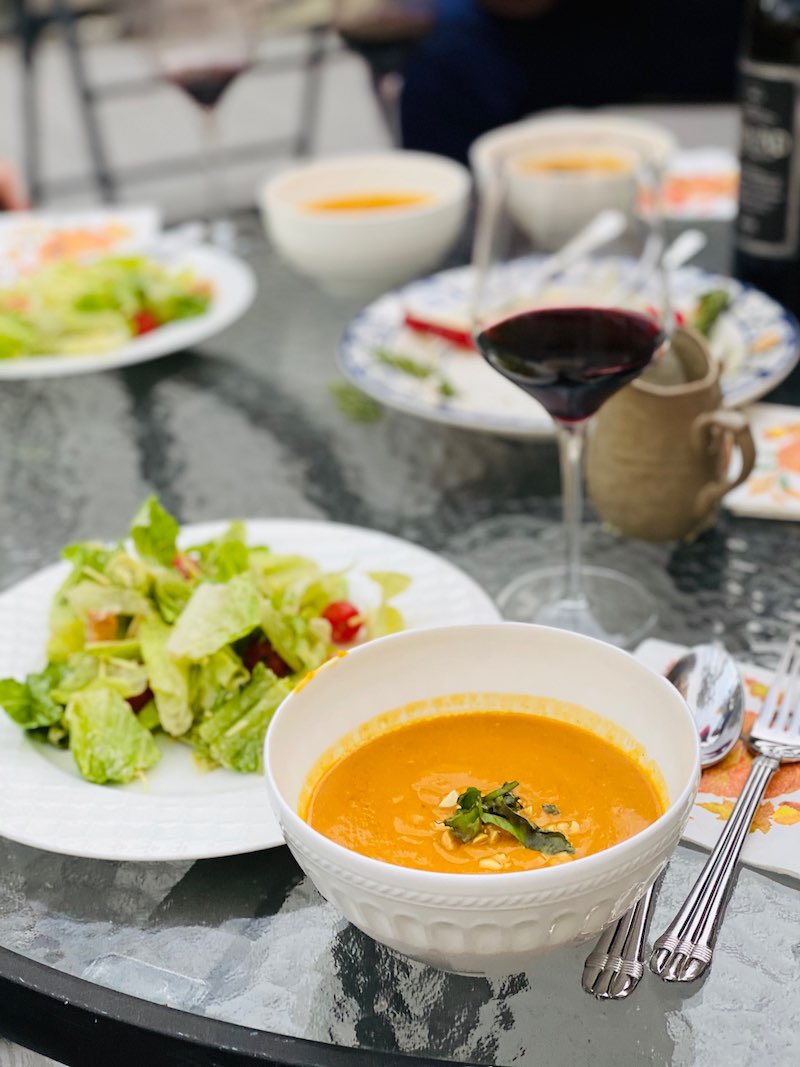 At the last minute, I decided to squeeze in a little fresh lime juice to the recipe. That turned out to be a very good idea. The subtle acidity of the lime adds a beautifully bright finish to what was already a wonderful soup.
Soup is a staple in our house. I make a lot of it.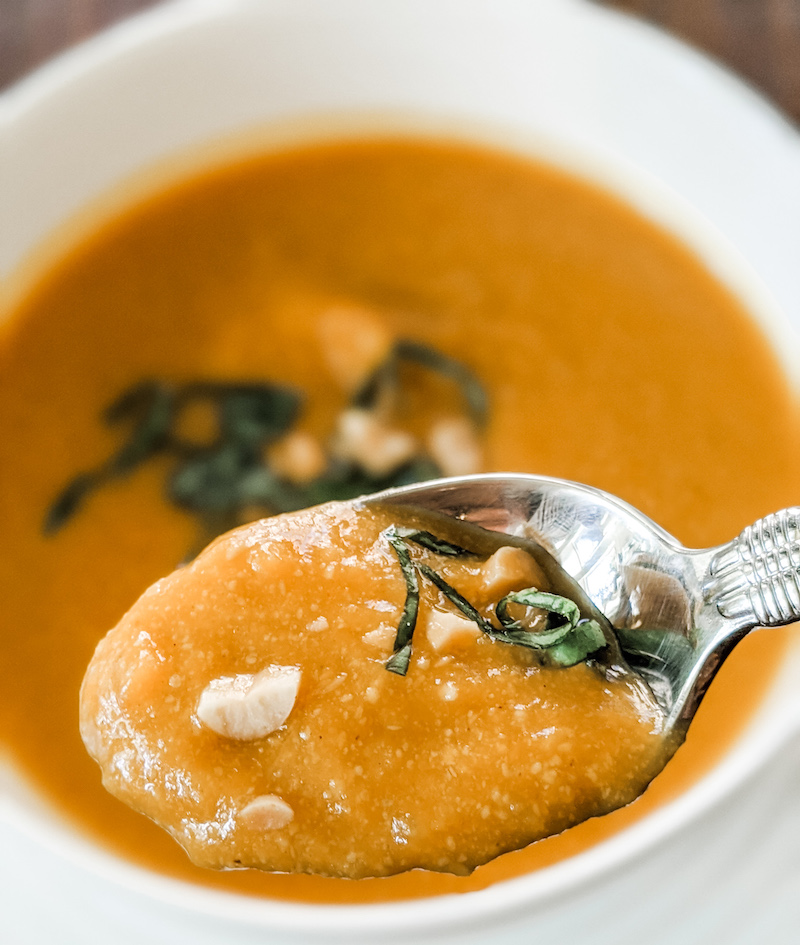 But my Thai Butternut Squash Soup with peanut butter is one of the best soup recipes I've come up with in quite a while. Give it a try soon and you'll see what I mean!
Print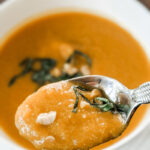 Slow Cooker Thai Butternut Squash Soup with Peanut Butter
---
Author:

Yield:

Approximately

8 cups

1

x
6 cups

butternut squash, peeled and diced into

1

-inch cubes

1 cup

red onion, peeled and diced (white or yellow onion is fine too)

3

lemongrass stalks, 4 to 6 inches each, sliced in half lengthwise

2

inches of fresh gingerroot, peeled and minced very fine

3

large cloves of garlic, minced

¼ tsp

cayenne* (optional – see notes in post)

4 cups

chicken or vegetable stock

1

t. Kosher salt, or to taste
Fresh ground pepper, to taste

½ cup

of creamy peanut butter
Juice of

one

lime
Chopped peanuts and basil to garnish (optional)
---
Instructions
Place squash, onion, lemongrass, ginger, garlic, and cayenne in a crockpot or slow cooker. Make sure that the lemongrass is buried in the diced squash pieces.
Pour chicken or vegetable broth over squash mixture. Cook on high for four hours, or on low for 6.
Puree the soup, using an immersion blender. Alternatively, puree in batches using a regular blender. (Be careful! Soup will be hot!)
Add creamy peanut butter into the pureed soup, stir until it is completely melted and combined.
Taste, then adjust seasonings, adding salt and pepper to taste. Squeeze in fresh lime juice and stir.
Ladle soup into bowls. Garnish with a few chopped peanuts and ribbons of fresh basil.