This post may contain affiliate links. Full disclosure policy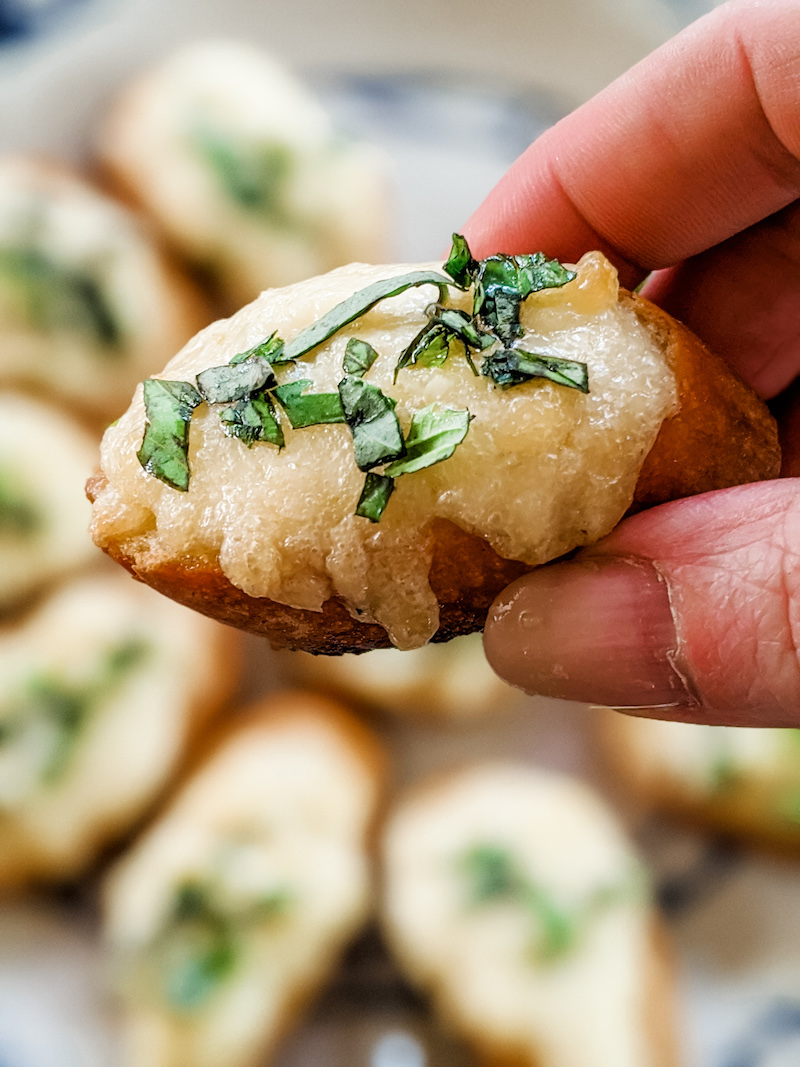 What would you do if I told you that you could make a batch of to-die-for delicious appetizers in about ten minutes, using only 3 ingredients? Probably kiss me right on the lips, right? Well, get ready to pucker up, bunny. Because these Parm Bread 3 ingredient appetizers are that easy. And that good!
But before I tell you the secret to the world's easiest, most wonderful appetizers, let me tell you the story of where they came from.
My Favorite Chef Fooled Me
If you've read any of the books in my Cobbled Court novels you probably remember the Grill on the Green restaurant and the curmudgeon with a heart of gold owner, Charlie Donnelly. (And by the way, if you haven't yet read those books you probably should. Here's a link to the series.)
Normally, my characters are completely imaginary. But Charlie was loosely based on my friend, James, co-owner of The West Street Grill restaurant in Litchfield, Connecticut. When we lived in Litchfield, my husband and I were frequent patrons and developed a friendship with James and his partner, Charlie.
When we would come in for dinner, James would often tell the kitchen to send out a complimentary order of Parm Bread Appetizers. A few minutes later, a plate of light rye bread topped with cheesy, gooey, oven-broiled deliciousness would arrive. It was heaven!
Chefs rarely give away their secret recipes, so I never dreamed of asking James for his. I figured that something that good must involve really expensive ingredients. Perhaps aged truffle oil imported from France. Or maybe unicorn tears.
But lucky for me, not long before we moved away from Litchfield and our favorite chef, another restaurant patron whispered into my ear. She told me that the basic recipe for the amazing Parm Bread Appetizers involved 3 common ingredients.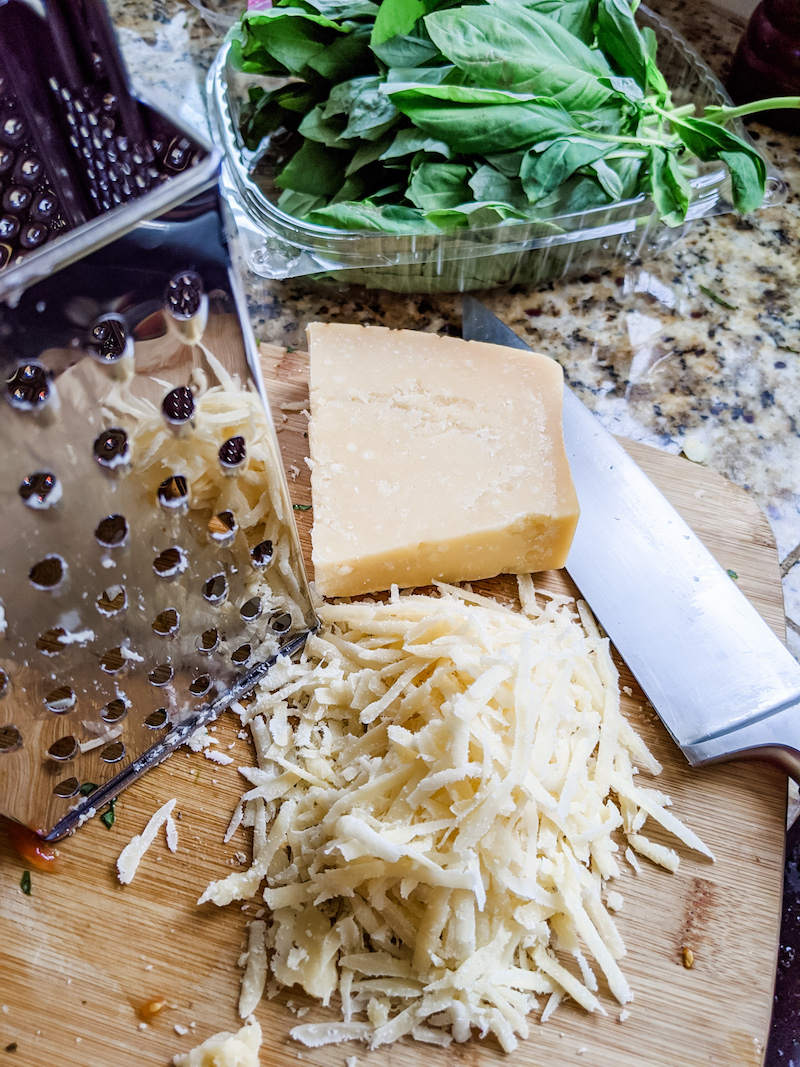 3 Ingredient Appetizer = A Little Slice of Heaven
Now, I still don't know the exact recipe for my favorite chef's delectable Parm Bread Appetizers. Chances are good that James added a few extra touches to his Parm Bread. And I do think that enjoying something so wonderful in the warm and friendly atmosphere of my favorite restaurant added to the experience.
However, since I've moved to Oregon and had to recreate this recipe for myself, I can report that what the other patron told me was true.
The basic recipe for Parm Bread involves only three commonly available ingredients – bread, mayonnaise, and parmesan cheese.
Seriously! That's it!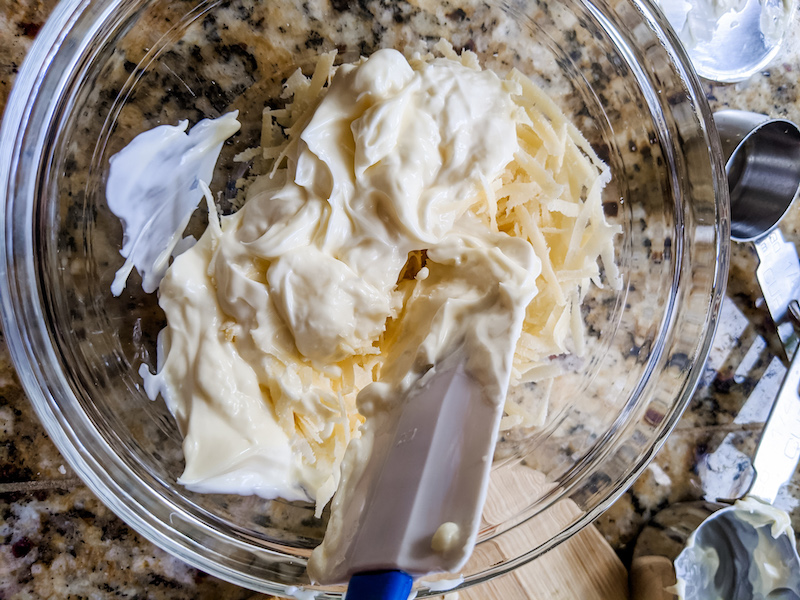 I have served this 3-ingredient appetizer recipe for easy Parm Bread to family and friends on multiple occasions. It always wins raves and requests for the recipe. When I tell guests that it only takes ten minutes to make and requires just three ingredients, sometimes they don't believe me. It's like they're convinced I must be leaving something out.
I'm not. Bread, grated parmesan, and mayonnaise are all you need to make this incredible Easy Parm Bread Appetizer. It's good as is. However, if you want to gild the lily a bit, you can include some additional ingredients.
Easy Parm Bread Variations
My recipe for Easy Parm Bread uses little slices of toasted baguette bread. However, you can also use light or dark rye bread, sourdough, pumpernickel rounds, focaccia, or toasted slices of pita bread. Basically, if you can use it to make a sandwich, you can use it for Parm Bread.
The basic topping is just mayonnaise and grated parmesan in a one to one ratio.That means it's easy to make more or less of the recipe, depending on how many appetizers you want to serve. If it's just me and my husband, I'll mix up a tiny bit of the topping and make just a couple of Parm Bread Appetizers as a cocktail hour snack. It's also a nice side to accompany a bowl of hot soup.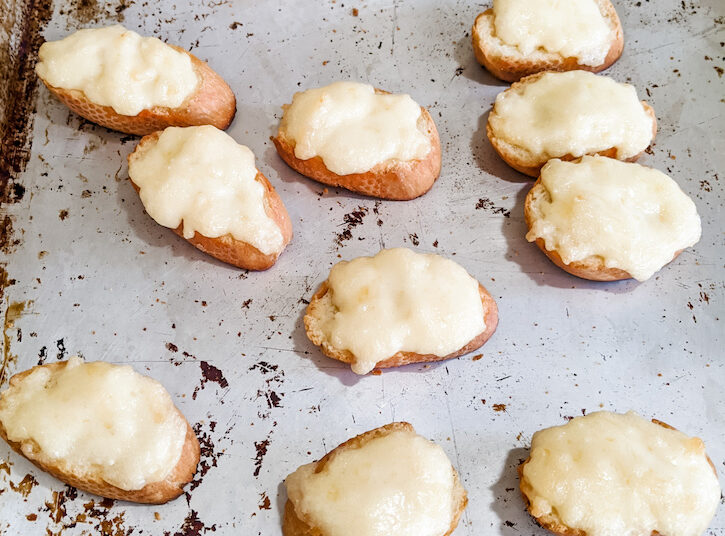 The recipe is pretty flexible but one thing you shouldn't change is the cheese. You need real parmesan cheese to make Parm Bread. That stuff in the green can won't do!
My favorite parmesan is Parmigiano Reggiano. However, it's pricey. For this recipe, I like to use Grana Padano Parmesan from Trader Joe's. It's tasty and a good value.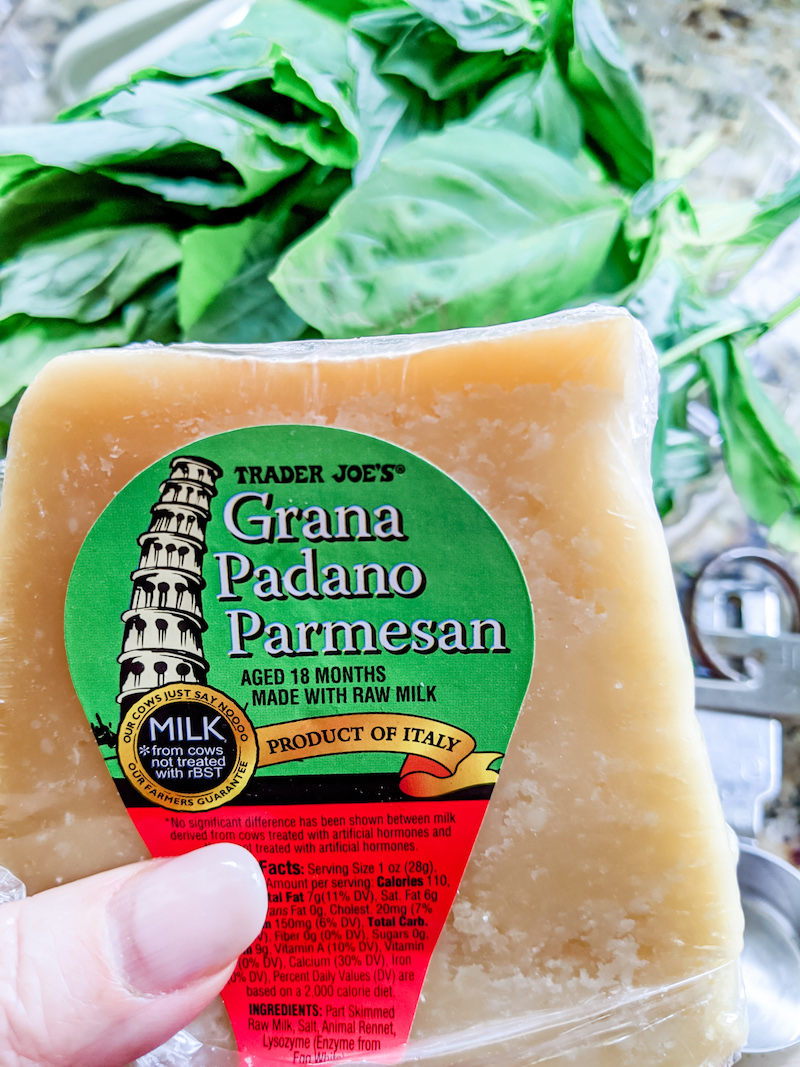 If I've got fresh basil or thyme on hand, I sprinkle a little on the top to add flavor and make it look pretty. When I'm making a full recipe, I often include a clove of garlic, put through the garlic press. Sometimes, I include a couple of tablespoons of grated white onion.
If I'm making a small batch, adding just a dash of garlic or onion powder can add a little extra flavor without overpowering the parmesan.

Can't Go Wrong with this Tasty, Easy 3 Ingredient Appetizer!
This 3 ingredient appetizer, Easy Parm Bread, is so simple that virtually anyone can make it. And so delicious that your friends and family are going to rave and ask for the recipe. Make a batch soon and get ready for compliments!
Print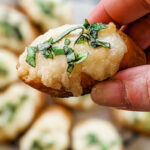 3 Ingredient Appetizer: Easy Parm Bread
---
1

long, thin baguette, cut crosswise into

24

slices

¾ cup

mayonnaise

¾ cup

freshly grated, real parmesan cheese
---
Instructions
Preheat oven broiler
Put bread slices on a cooking sheet and place in the oven on a top rack to broil. Toast for a just a minute or two, until bread begins to turn golden brown. Remove pan from oven, flip slices over and repeat the above to toast the other side.  (Watch bread carefully! You want slices that are golden brown, not burnt.) Remove toasted bread from oven and set aside.
In small bowl, use a fork or spoon to mix together mayonnaise and cheese.
Spread mayonnaise/cheese topping onto toasted bread slices, approximately 1 tablespoon of topping per slice.
Return prepared toast slices to cooking sheet. Place cooking sheet back under broiler for 2 to 4 minutes, until the appetizers begin to bubble and turn pale golden brown. Remove pan from broiler.
If desired, sprinkle appetizers with a little fresh chopped basil or thyme before serving.  Serve warm or cooled. (But warm is my favorite!)