This post may contain affiliate links. Full disclosure policy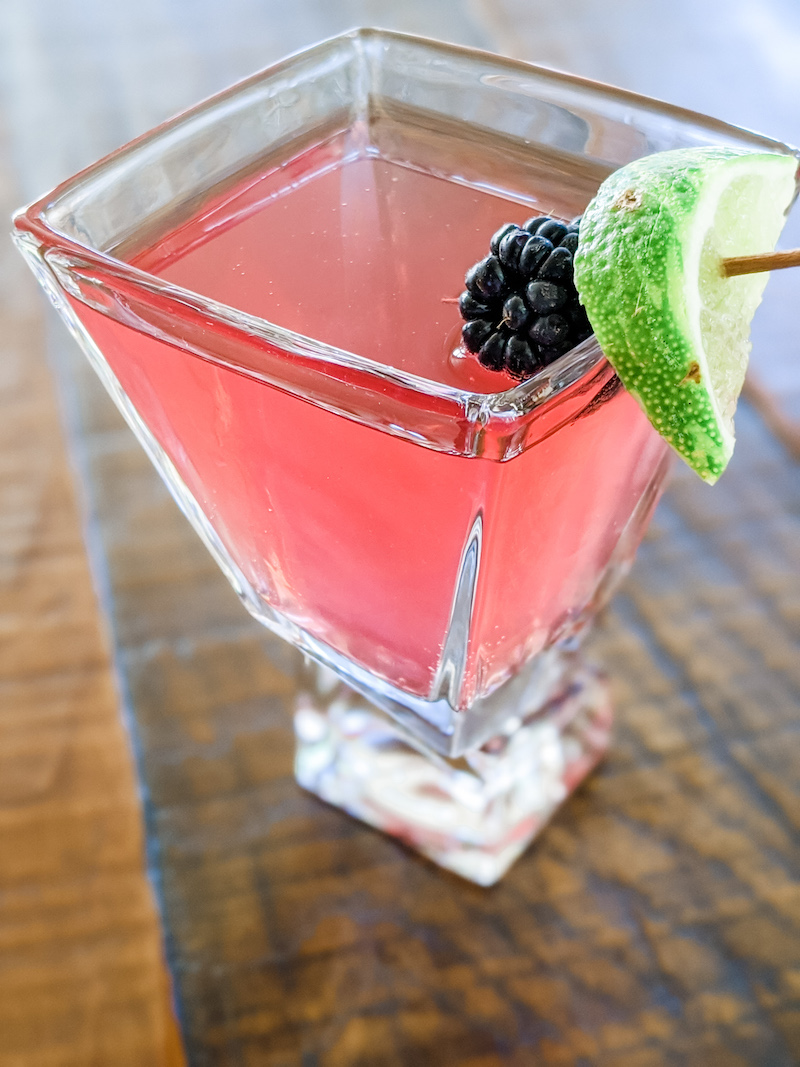 Some of you may have clicked onto this post in search of gardening tips. But the shrub I'm talking about today is the kind you drink, not grow. Fruit shrubs have been around for a long time and it's easy to see why. They're an absolutely delicious base for all kinds of beverage recipes. I'll share some of those along with a basic recipe for an Easy Fruit Shrub in this post.
But before we get to that part, you may have a couple of questions.
What are Fruit Shrubs, or 'Drinking Vinegar'?
Shrubs are an easy way to preserve and enjoy summer fruits. Fruit shrubs, sometimes made with brandy or rum to preserve the fruit, were popular in Europe as far as the 15th century. Initially, they were "medicinal" in purpose (sure, that's what they all say). In the 17th and 18th centuries, fruit shrubs were used to make an alcoholic punch that was popular in English pubs. The basic idea for fruit shrubs came to American shores with the colonists. But instead of using alcohol to preserve the fruit, the American version uses vinegar.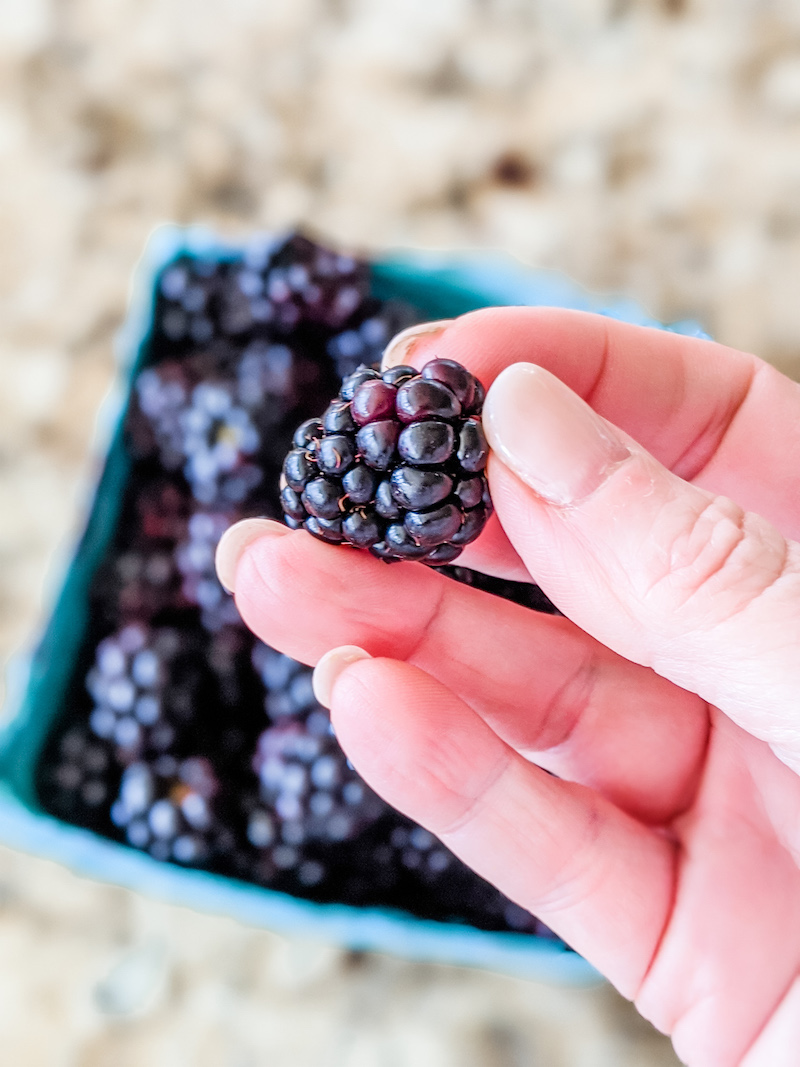 Fruit shrubs have made a comeback in recent years. Now they're often known as "drinking vinegar" but it's the same thing as a fruit shrub.
How Do You Make This Easy Fruit Shrub?
There's a reason I titled the post 'Easy Fruit Shrub' because making fruit shrub at home really could not be easier!
You simply combine fruit, sugar, and vinegar and let it sit covered in the refrigerator until it becomes a delicious, sweet but tart syrup. Fruit shrubs should sit for at least 2 days or up to a month. I generally let mine sit for about 2 weeks.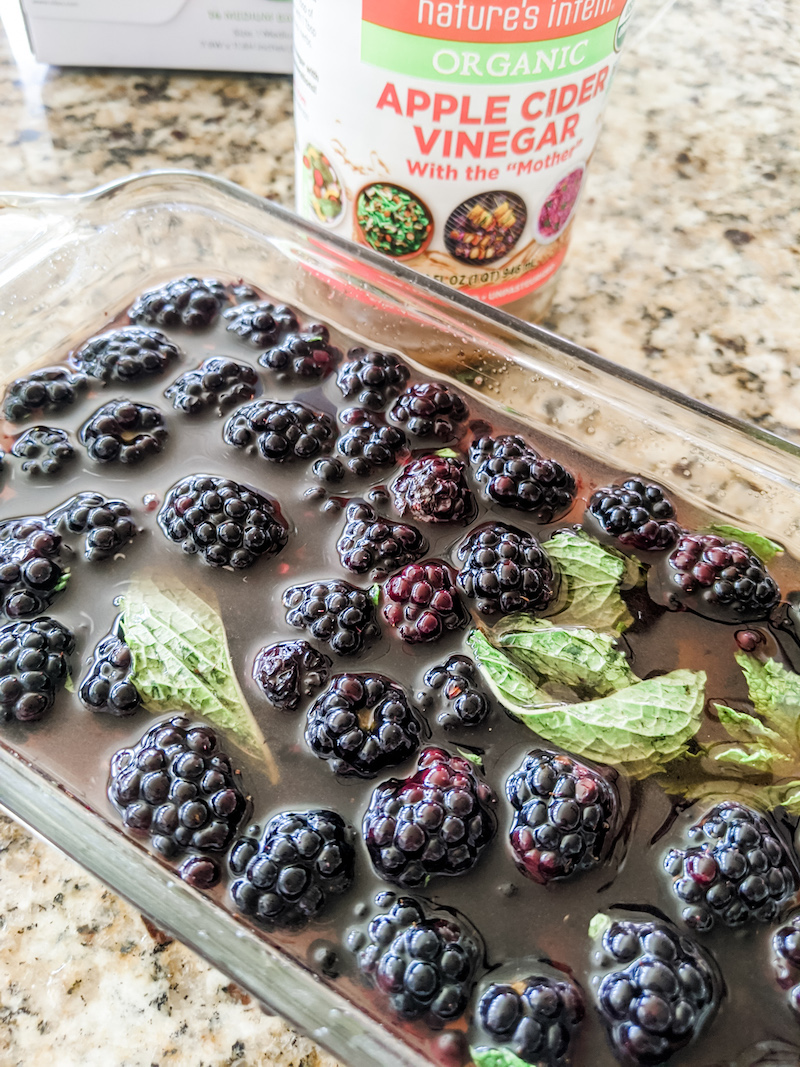 You can use just about any kind of fruit to make your shrub. But I think the best results come from soft fruits with lots of juice, such as berries, peaches, nectarines, plums, mango, or even pineapple.
My favorite vinegar for making easy fruit shrub is apple cider vinegar, but regular white vinegar, red or white wine vinegar also works well. Balsamic vinegar has a very strong flavor. If you decide to use it in your recipe, use only one part balsamic vinegar to three parts of another, more subtly flavored vinegar. Experimenting with different kinds of vinegar is an easy way to create different flavor profiles for your fruit shrub.
I also like to add some fresh herbs to my fruit shrubs. A little herb flavor in the background helps balance the sweetness of the fruit and gives fruit shrubs a bright, fresh taste that's a little more complex and interesting. Basil or fresh mint work beautifully in my Easy Fruit Shrub. One of my very favorite combinations is blackberry and basil.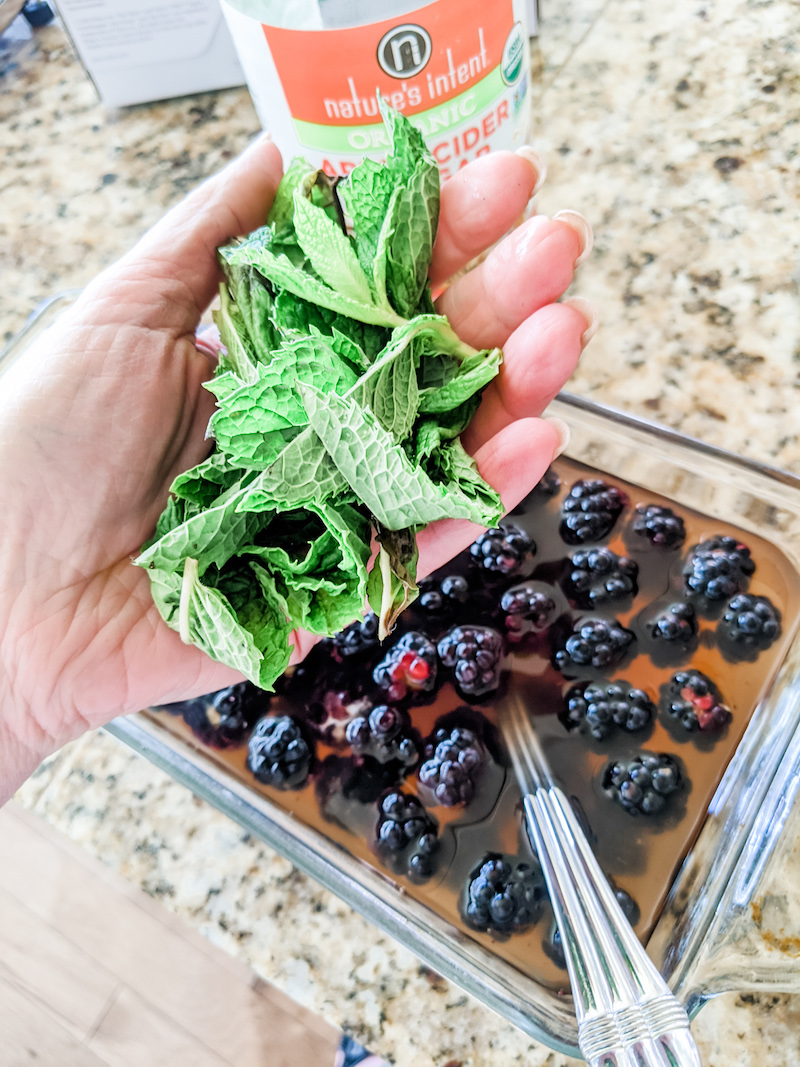 What can You Do with Your Fruit Shrub?
If you want, you can drink your fruit shrub as is, right from a glass and served over ice. However, I like to use this Easy Fruit Shrub as a base for making cocktails and mocktails or as a replacement for store-bought soda.
My favorite way to drink fruit shrub is to put 2 or 3 tablespoons in a glass over ice and then top up the glass with plain soda. It's a really refreshing drink on a hot day! If I want to get fancy, I'll replace a quarter cup of the soda with ginger beer.
For a fruit shrub cocktail, combine 3 ounces fruit shrub, 1 to 2 ounces vodka, a teaspoon of lime or lemon juice, and ice in a cocktail shaker. Shake thoroughly to chill. Pour into a cocktail glass, garnished with a bit of the fruit from your shrub. If you want to get creative, try some of the many flavored vodkas that are available now – whipped cream, coconut, cinnamon, and all kinds of fruit flavors. There really are endless combinations that would work beautifully in a fruit shrub cocktail.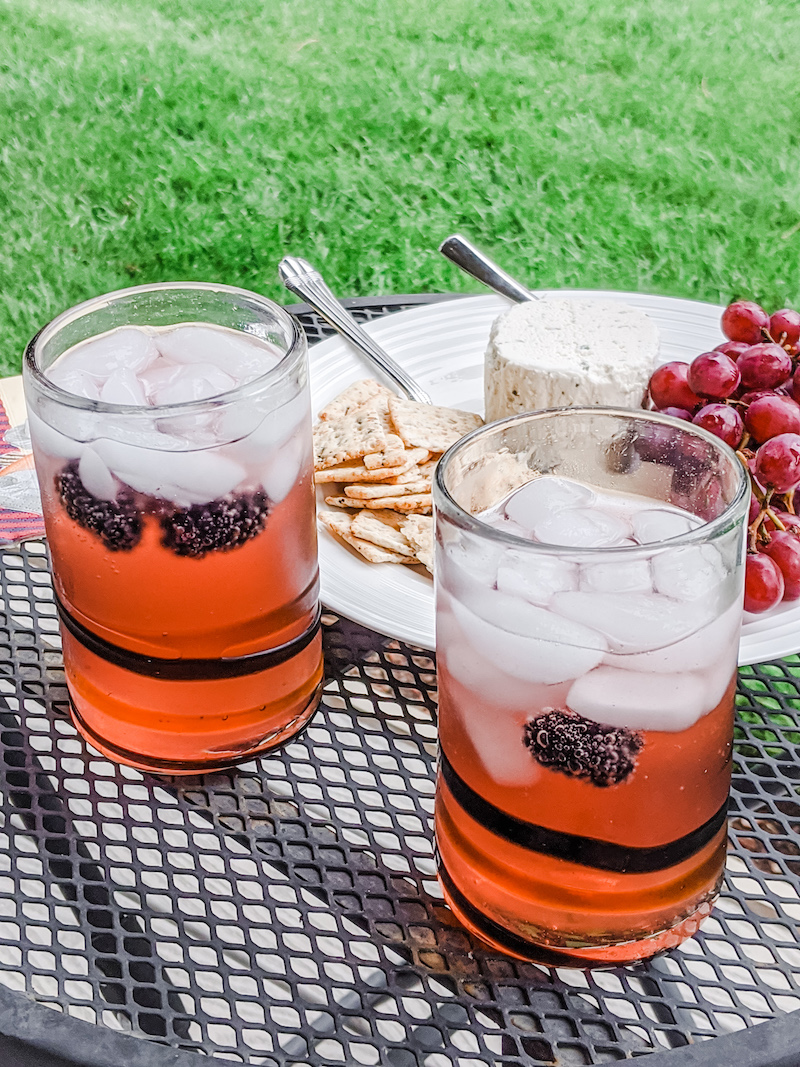 One of the things that makes my Easy Fruit Shrub so easy is that it really is a "choose your own adventure" kind of beverage. Mix up a batch this week and start imagining the delicious, refreshing cocktails and mocktails that you'll create!
Print
My Easy Fruit Shrub or Drinking Vinegar
---
Author:

Yield:

Makes

2

to

3

cups, depending on the fruit

1

x
2 cups

fresh soft fruit of your choice (berries, peaches, apricots, mango, etc.) peeled and sliced if appropriate

2 cups

vinegar of your choice (apple cider, plain white, white or red wine vinegar)

2 cups

white, granulated sugar
*¼ cup fresh basil or mint leaves (optional)
---
Instructions
Place berries or fruit slices, and herbs if using, in a clean glass container (a medium-sized bowl or jar with a lid)
Stir in sugar, then pour vinegar over the top. Stir to combine and dissolve sugar. (You can actually cook the fruit, vinegar, and sugar in a heavy-bottomed pot on the stove if you'd like, then pour into your container, but it really isn't necessary.)
Cover the prepared fruit and vinegar mixture and store in the refrigerator for at least 2 days or up to 4 weeks. (The longer it sits, the more intense the fruit flavor.)
When your shrub is ready, place a fine mesh sieve over the top of a large bowl. Pour shrub into sieve. Using the back of a wooden spoon, press down on the fruit to release even more juice.  Discard the leftover fruit solids or save for another purpose.
Wash the sieve. Line it with cheesecloth or a coffee filter and pour the shrub syrup through the sieve into a bowl once, to catch any remaining residue or seeds.
Use your fruit shrub as a base for mocktails and cocktails, or drink it straight, served over ice. Leftover fruit shrub can be stored in a covered container in the refrigerator for up to 6 months.