This post may contain affiliate links. Full disclosure policy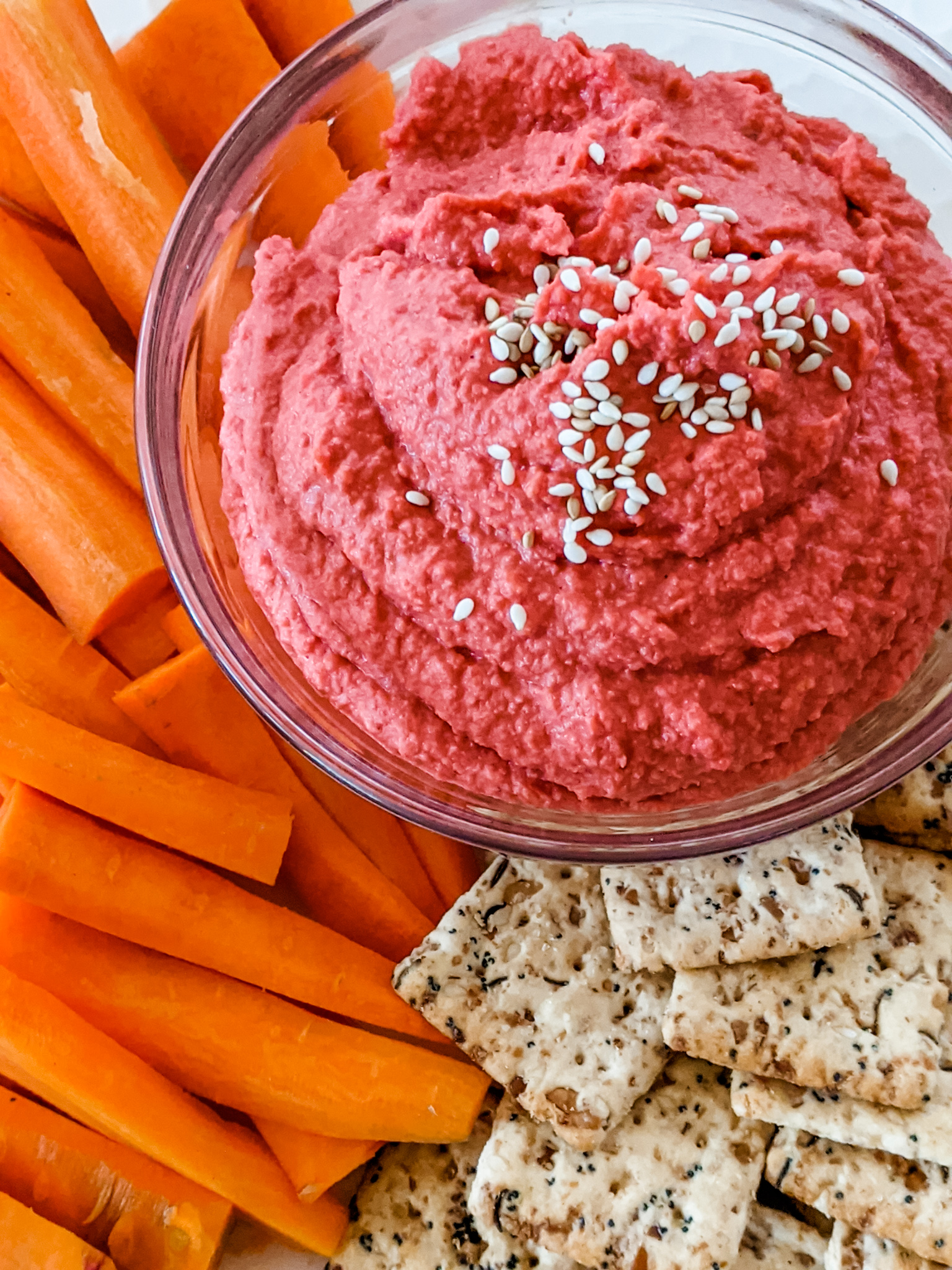 My Easy Homemade Beet Hummus is a great choice if you're trying to focus on healthier eating. It's packed with plant-based protein, fiber, and heart-healthy ingredients. Best of all, it's easy to make and home and tastes terrific!
Homemade Beet Hummus – Made from Home!
As I said in my recent post about 10 Healthy Snacks, hummus is one of my go-to appetizers and snacks. Grocery stores sell a huge selection of prepared hummus in all kinds of flavors.
But making homemade hummus is incredibly easy and usually much less expensive than buying it in the store. And preparing homemade hummus gives you a chance to try adding different ingredients and flavors.
This winter I've been making and enjoying lots of healthy, tasty, and absolutely beautiful beet hummus! My family just loves it. I bet yours will too!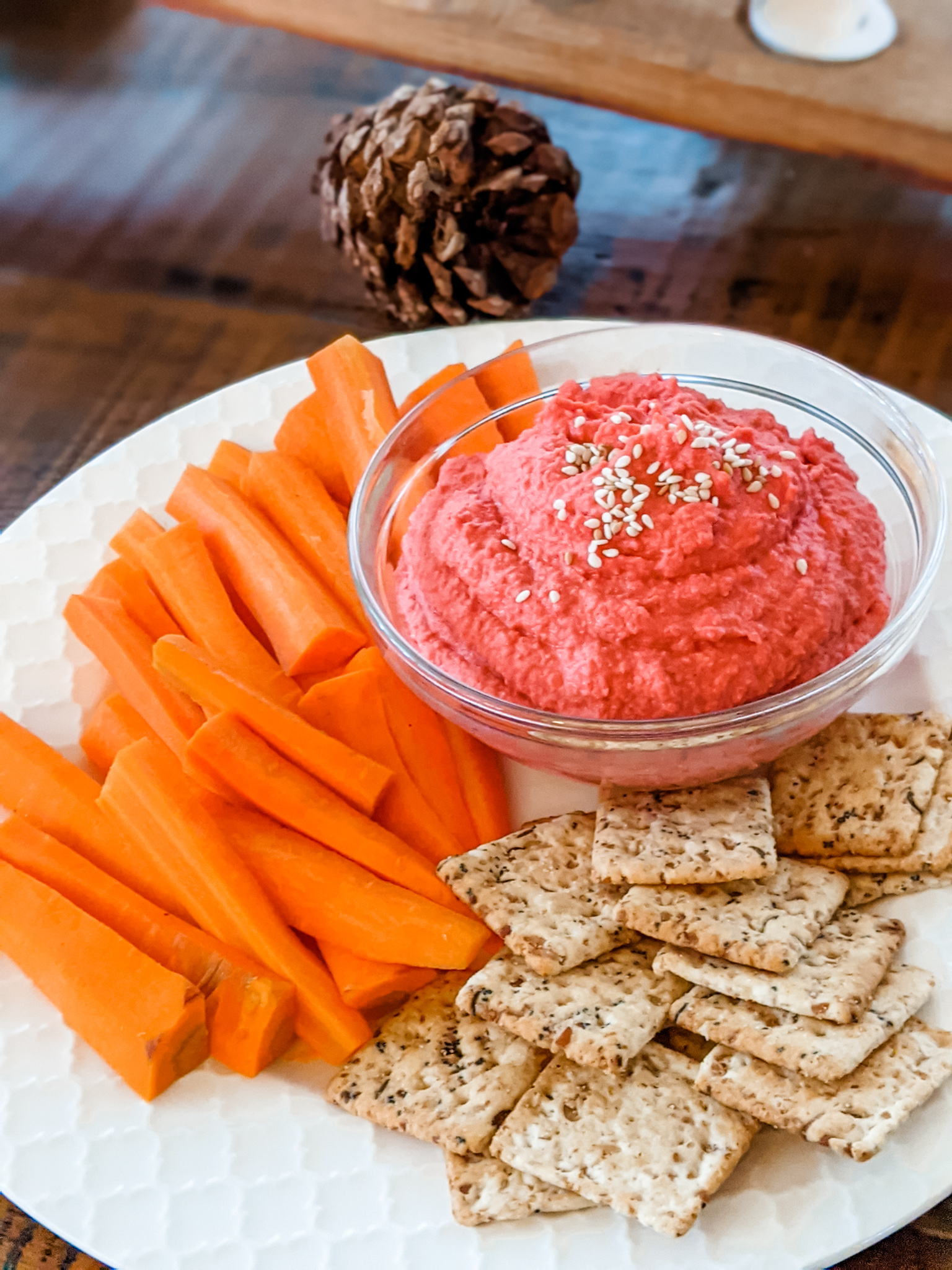 What is Hummus? And What Can You Do with It?
Hummus has been a popular element in Middle Eastern cuisine for…well, basically forever.
It's most commonly used as a dip. I like to serve it with sliced raw vegetables such as celery, carrots, and sliced red or green peppers. Sometimes, I'll eat hummus as a sandwich spread, with cucumbers and sliced tomatoes, or stuff it into a piece of pita bread.
The most basic ingredients are tahini (a thick paste made from sesame seeds, you can find it in the international section of most grocery stores), olive oil, garlic, and cooked chickpeas. However, it's easy to make different varieties of hummus by including different spices or additional ingredients, like beets.
Beets Make it Better. And Beautiful!
If you've been reading my blog, you know that the monthly farm share I get from my local organic farm includes a LOT of beets.
Fortunately, I like beets. So does my family. But there are only so many times that a person wants to eat or serve a platter of oven-roasted beets. That's why I've been looking for more creative ways to use beets, including my Chocolate Peppermint Beet Cake.
That was a big hit with my family and so is this Easy Homemade Beet Hummus. I've made it four times this winter and people keep asking for more.
The sweetness of the cooked beets balances beautifully with the savory sesame flavor of the tahini, a subtle bite of garlic, and the creamy texture of the pureed chickpeas. So good! No wonder it disappears so quickly around here!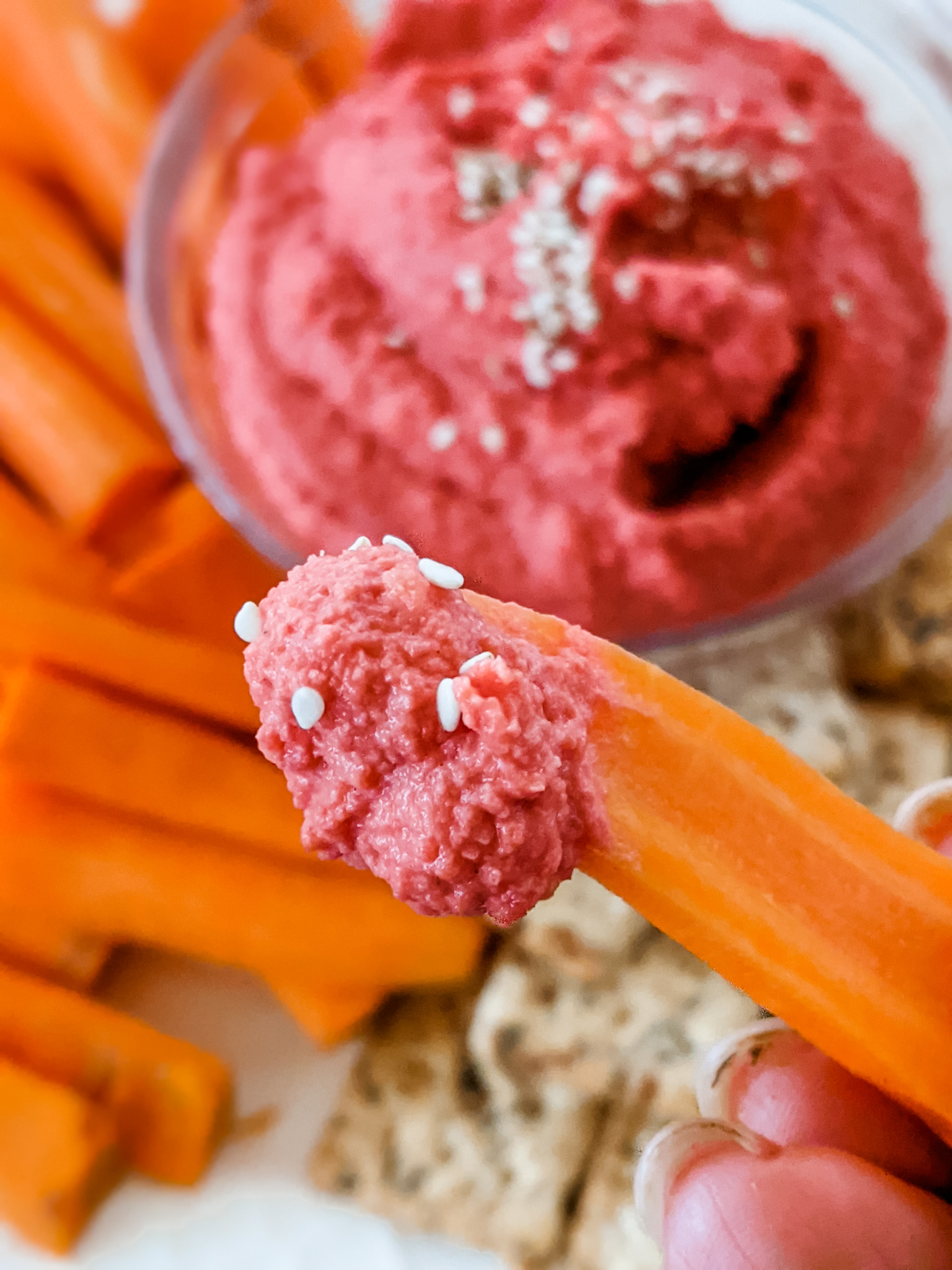 But What if You Hate Beets?
Okay, fine. I like beets a lot. But I know that not everyone does.
If you just can't stand beets, you can substitute an equal amount of pureed carrots for the beets. Your homemade hummus will still taste delicious. But it might not be quite as beautiful as if you made it with beets. (I seriously love the color!)
A Homemade Beet Hummus So Easy, You'll Wonder Why You Ever Bought It
Making homemade hummus is insanely easy.
Once you try it, you'll probably start asking yourself why you ever paid three to five bucks for a teeny container of hummus when you can make twice as much at home for half the price. (Seriously, what were you thinking?)
All you really need to do to make homemade hummus is toss the ingredients in a food processor (or even a blender) and press pulse. That's it.
The only real cooking here involves making the beet puree. It takes a little time but it's not at all difficult.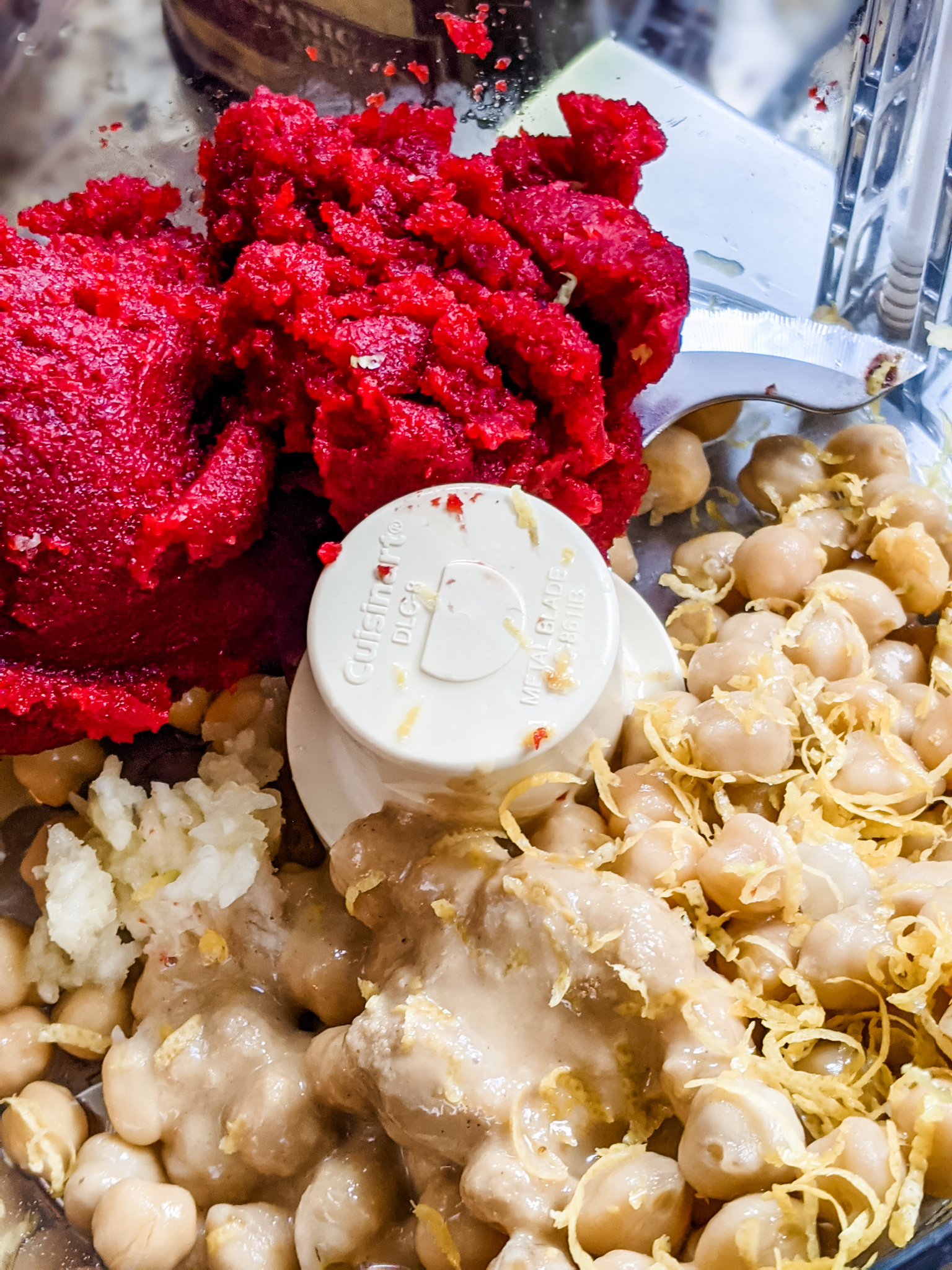 Cooking the Beets
There are two basic methods for making the beet puree.
You can either boil peeled beets on the stove or pierce whole beets with a fork, wrap them in foil, and roast in a 400-degree oven until tender, slipping the skins off after cooking.
Next, put the cooked beets in a food processor to puree. If needed, add water a tablespoon at a time as you're pureeing, until you get a texture that is smooth but still nice and thick. Don't use more water than is absolutely necessary. That's all there is to it.
When it comes to healthy snacks that you and your family will actually enjoy, hummus is hard to beat. My family just loves my Easy Homemade Beet Hummus. I bet yours will too!
Print
Easy Homemade Beet Hummus
---
Author:

Yield:

Approximately

2 cups

1

x
1 cup

pureed beets (can substitute pureed carrots if desired)

1

15 oz. can chickpeas, drained

2

T tahini

1 tsp

fresh lemon zest

2

T lemon juice

1

large clove garlic, peeled and minced

1/2 tsp

salt

¼ cup

olive oil
Sesame seeds (optional, for garnish)
---
Instructions
Place pureed beets, chickpeas, tahini, lemon zest, lemon juice, salt, and garlic in the bowl of your food processor. Pulse a few times, just to combine ingredients.
Pour olive oil to chickpea mixture in a slow stream while food processor is on, blending until the ingredients are well combined and the hummus is completely smooth.
Serve hummus with crudites or crackers and a sprinkle of sesame seed on the top for garnish.
Store unused hummus in an airtight container in the refrigerator for up to one week.