This post may contain affiliate links. Full disclosure policy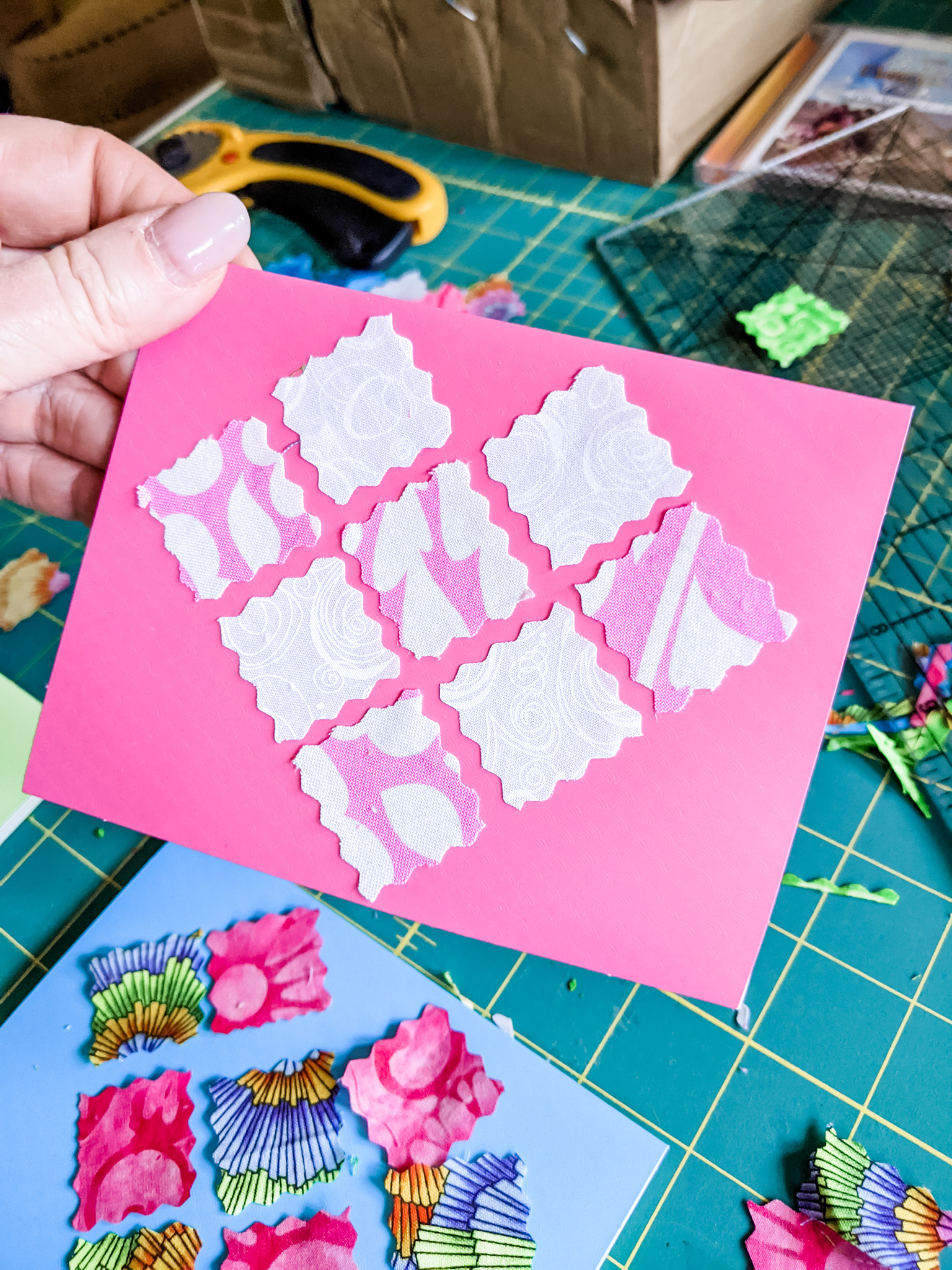 My Fabric DIY Valentines Cards are super cute, unique, and quick to make. These one-of-a-kind cards are a fun and creative way to show some love to your one-of-a-kind Valentine!
So Much to Love about Valentine's Day!
I've said it before, and I'll say it again – I never met a holiday I didn't love! But Valentine's Day holds a special place in my heart.
(Pun intended. Forgive me. It was beyond my control.)
I mean, how can you not love a holiday that was created especially for the purpose of celebrating and spreading love? You can't!
Okay, sure. It was also created to help sell chocolate and valentine's cards.
But, come on. You're not really sorry to have an excuse to purchase or, better yet, to receive chocolate, are you? Or to indulge in guilty pleasure desserts such as my Maple and Almond Panna Cotta? No. I didn't think so. And as far as spending your hard-earned cash on overpriced Valentine cards, I'm here to rescue you from all that!
And Even More to Love about a Valentine that's Handmade!
My Fabric DIY Valentine Cards are simple to make and cost a lot less than store-bought cards. But they're far more precious than any card you can buy because each they'll be made by you!
And as we all know, nothing says, "I love you" like a gift from the heart that's made by hand.
My idea for creating these Fabric DIY Valentine Cards came from a Christmas card that one of my sweet readers, Shelly, sent to me.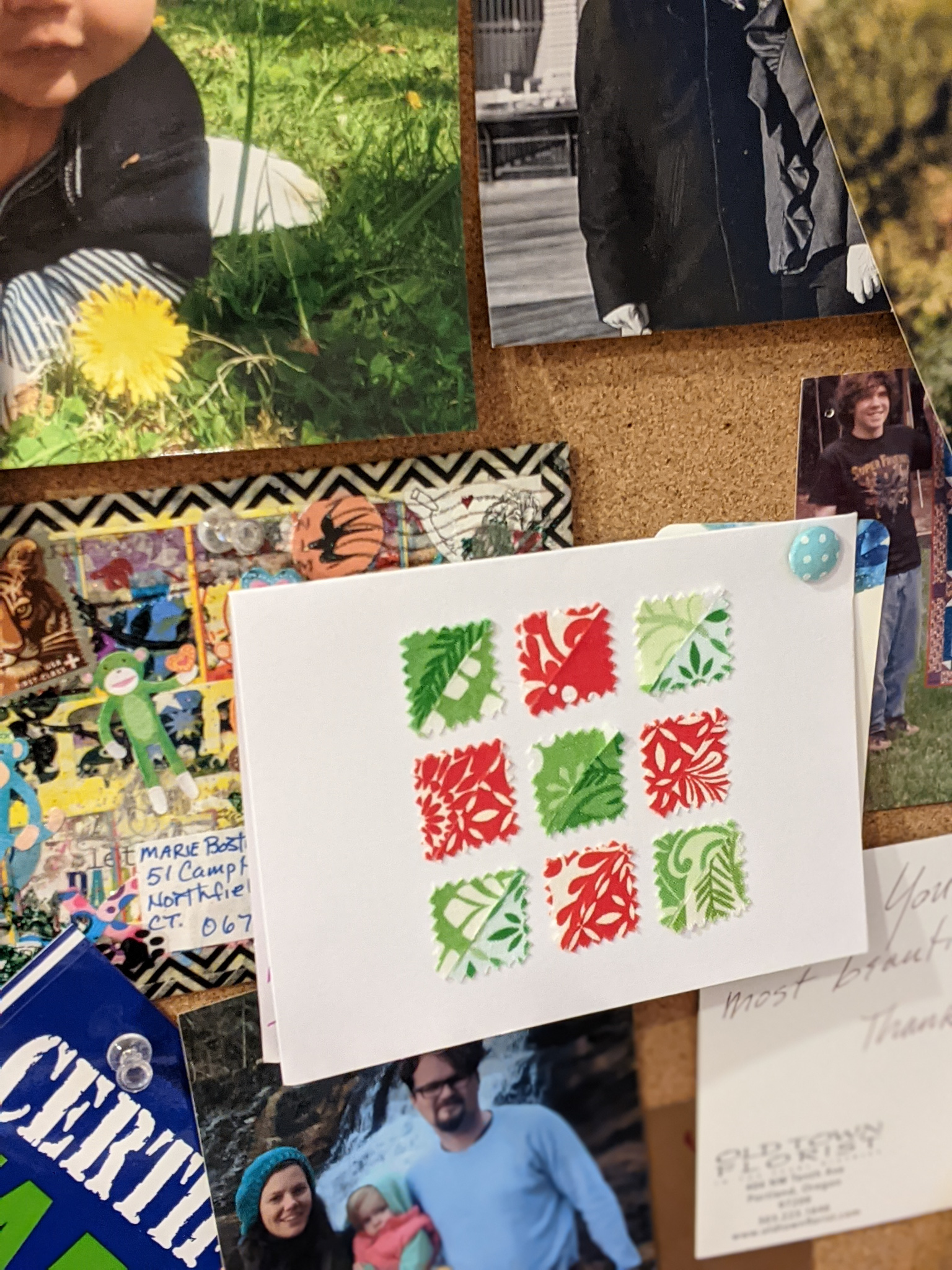 It was cheerful and bright and I love that Shelly had made it herself. In fact, I loved it so much that I pinned it to the bulletin board in my office, where I like to save special pictures, notes, and cards that mean a lot to me.
A couple of weeks ago, I glanced at my bulletin board and realized that the nine-patch scrap pattern on Shelly's card could easily be adapted to an eight-patch heart pattern.
What fun! And what a great way to use up some of my fabric scraps!
No-Sew Fabric DIY Valentines Cards – Cute, Fun, & Special
These cards are such fun to make and so simple that almost anyone can do it! They're a great craft to make with kids. They're also perfect for older people whose crafting or stitching days have been cut short by arthritis.
Though the cards make use of pretty fabric scraps, there is no sewing required! And the tools and supplies you'll need are inexpensive and fairly common. If you do any crafting at all, you probably have the supplies on hand already.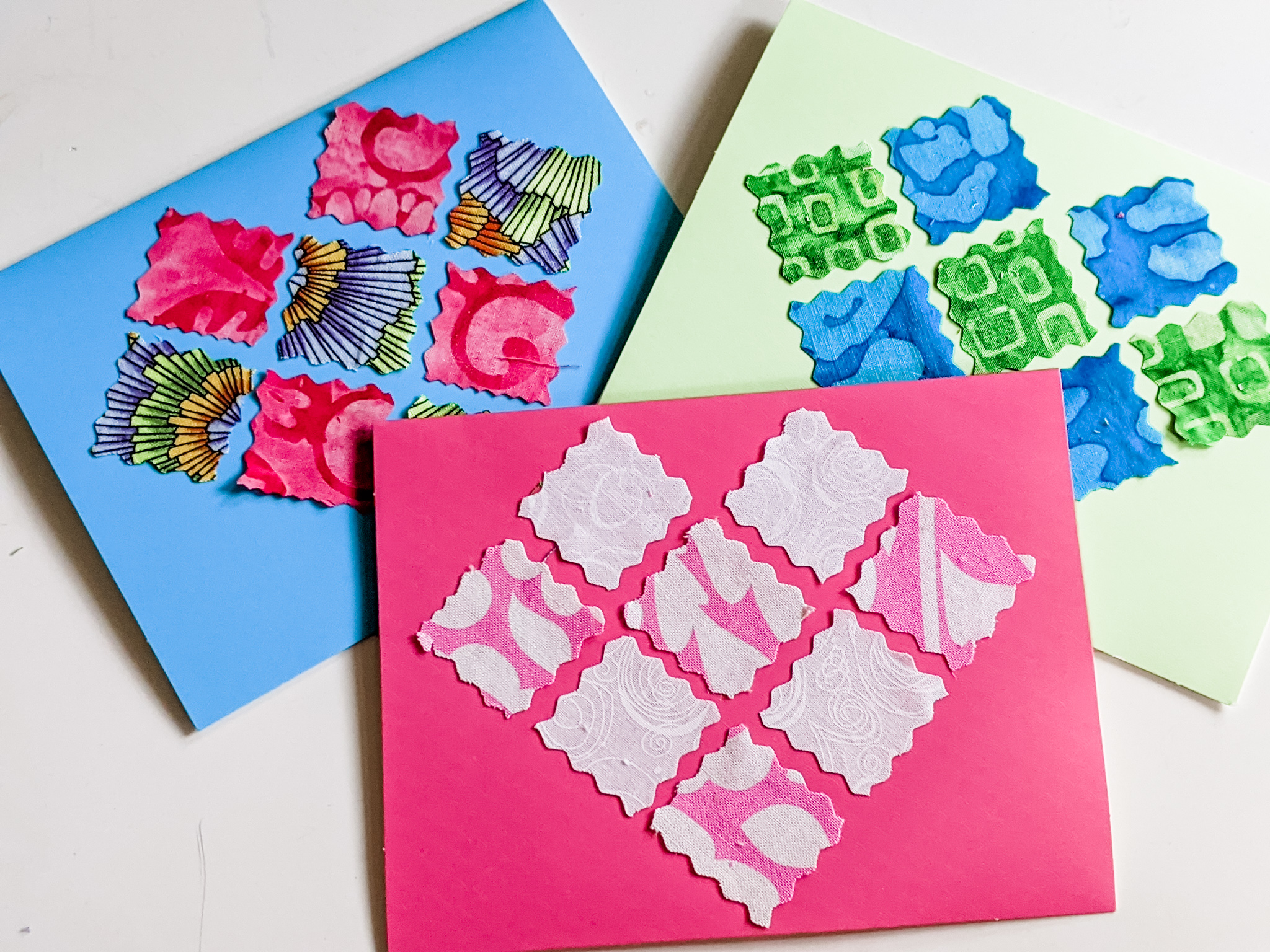 What do You Need to Make Fabric DIY Valentines Cards?
This is all you'll need to make your own Fabric DIY Valentines Cards…
Fabric scraps, two different colors that look good together for each card, small scale prints are best.
Colored cards with envelopes, at least 5.5 inches x 4.25 inches, but larger is fine too. (I got mine at Michael's years ago. Here are some 5 x 7 flat cards and envelopes that would work well.)
Glue stick or regular glue. (I used a fabric glue stick but a regular glue stick or good old Elmer's glue should work too.)
Rotary cutter with a regular or pinking blade. You can also use regular scissors or pinking shears if you like, you'll just need to mark the fabric before cutting so your squares are even. (I like the look that you get from pinking the edges of the fabric but it's not required.)
Ruler and cutting mat if you're using a rotary cutter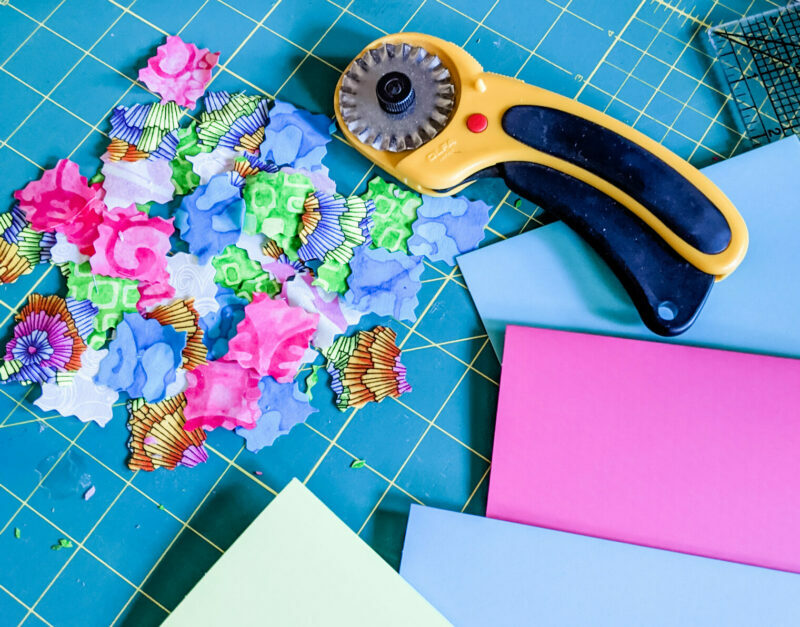 How to Make Your Fabric DIY Valentines Card
To make one card…
First, cut eight one-inch square patches of fabric, four each of two different colors. As I said above, I do like the look you get from pinking the fabric edges but it's not required.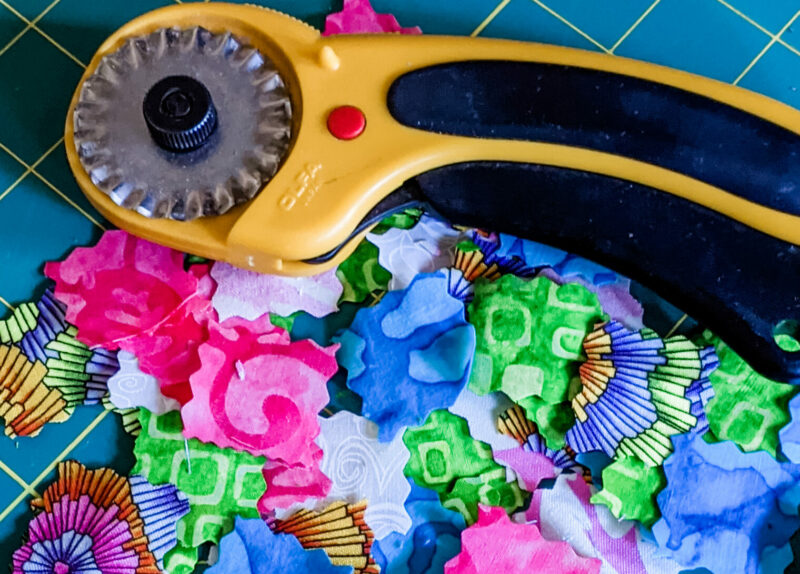 Lay out the squares on top of the card to create a heart pattern as shown. It's easiest to begin with the center point of the heart at the bottom of the card, centering it along the lower edge of the card and going up from there. Nudge your patches into place so they're evenly spaced.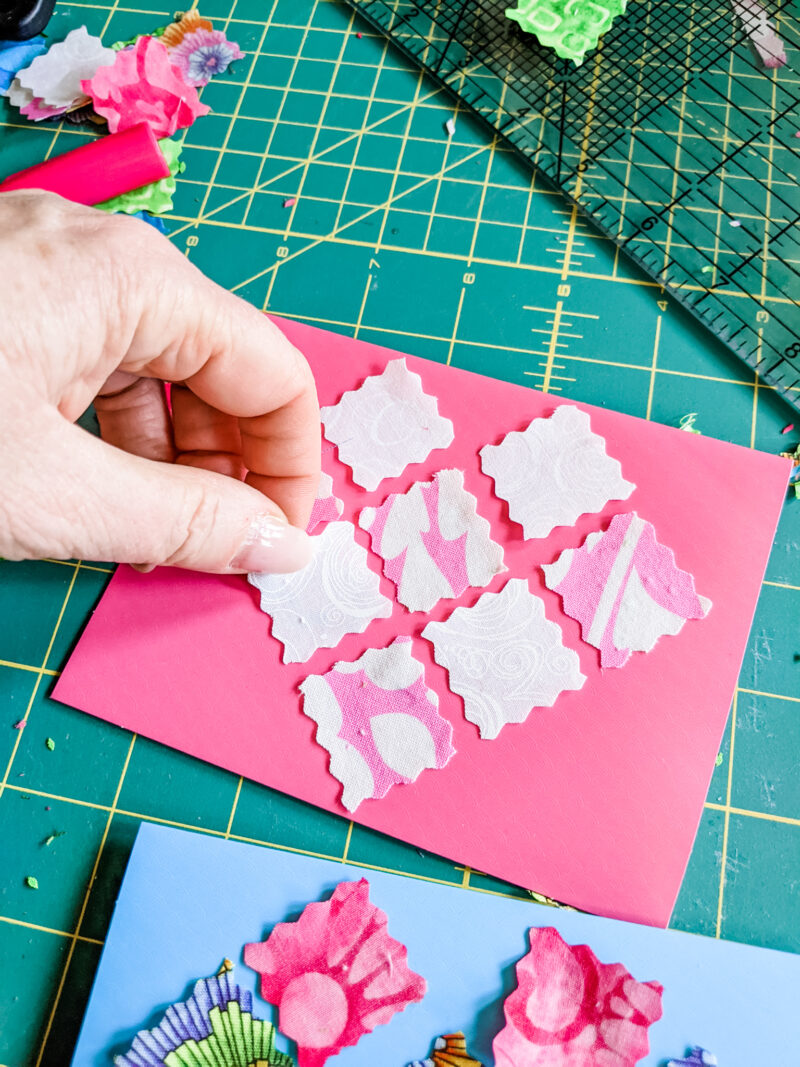 When you're happy with the placement of the patches, it's time to glue them down.
Again, it's easiest to start with the single patch that's the center point of the heart. Pick up the patch, flip it to the wrong side of the fabric, and apply glue evenly to the patch along all four edges. Press the glue patch down onto the card, making sure it's centered.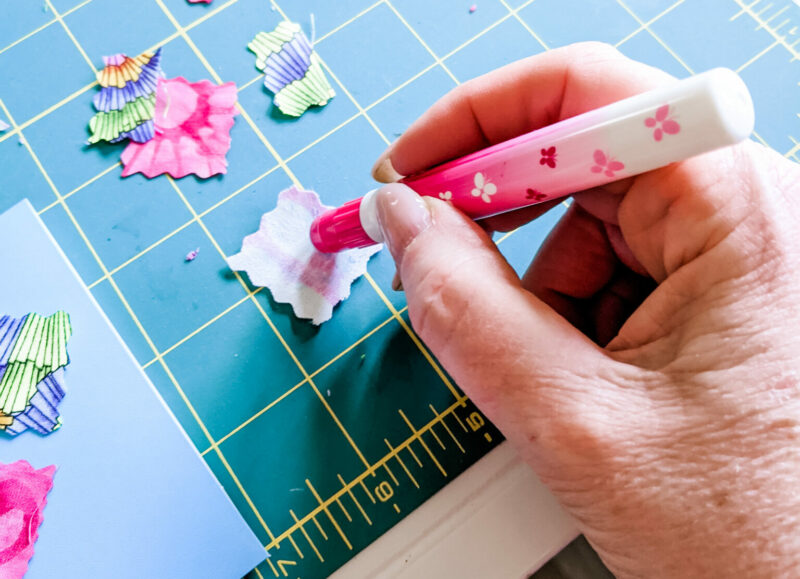 Continue gluing the remaining seven patches down, one at a time, until all the patches are glued and your heart pattern is complete. Allow the glue to dry before writing on the card or placing it in an envelope.
A Valentine for Your Valentine
Making your own Fabric DIY Valentines Cards is a fun and easy way to let your special someone know how much you care. I hope you'll make some in time for Valentine's Day. If you do, I'd love to see photos of your creations!