This post may contain affiliate links. Full disclosure policy
THIS POST MAY CONTAIN REFERRAL LINKS. IF YOU CLICK THROUGH AND TAKE ACTION, I MAY BE COMPENSATED, AT NO ADDITIONAL COST TO YOU.
Looking for that healthy glow? Especially in the dead of winter when nothing is glowing and nothing feels healthy? I've got the answer.
Smoothies!
I know what you're thinking.
Ok, Marie, don't tell me that I can just live off of green smoothies and magically drop a ton of weight. 
Don't even think about asking me to forego a meal and eat pureed vegetables.
Don't tell me I need to buy a $700 Vitamix for the occasion. 
Do not worry, my Fierce friend! I don't advocate any of those things. What I do recommend is swapping out unhealthy snacks for a frosty, fresh smoothie that you'll enjoy. I look forward to mine. I crave them. It's usually a mid-morning or post-workout treat for me.
While I don't claim that drinking smoothies, donning the right pair of yoga pants, setting fitness goals, or trying a new workout is the key to achieving your healthiest self, they can't hurt. They might help. So why not give them a try?
What I love about smoothies is that it's an easy way to cross off a few fruits and vegetable serving suggestions for the day and get a full dose of protein from greek yogurt.
You can also add in all sorts of things that I believe can really help with healthy aging, like chia seeds or flax oil.
If you use something like chocolate protein powder, you can trick yourself into thinking that you are enjoying a milkshake.
How to Keep Your Smoothies Healthy
Let's quickly recap what to be aware of when you make a smoothie. I have a sweet friend who just loves his smoothies and drinks them out of a half gallon size tumbler and loads them with nuts and granola and a ton of protein powder and his usual "Secret ingredients." I always remind him that while that might taste good and likely offer lots of protein and vitamins and minerals, it's a huge amount of sugar and probably enough calories for the entire day. At least for me, anyway.
Here's how to stay out of trouble:
Smoothies can have a boatload of calories and sugar if you don't work on portion control. Use plain Greek yogurt and unsweetened soy or almond milk (not anything with added sugar) and try to avoid adding extra sweetener like honey If you're using fruit, it's already sweet enough. Smoothies run the risk of having a super concentrated fruit sugars. This doesn't need to scare you away, but makes sure that is balanced out with a dark leafy green (like kale) and plenty of protein to keep your blood sugar in check.
On a similar note, if you plop dollops of various nut butters into your smoothie, it's going to be high calorie. I know calories aren't everything but try to keep almond butter or peanut butter to only a serving size, like a tablespoon.  Same goes with added nuts or granola.
If all the ingredients are fresh it loses its ethereal milkshake-like qualities. It also runs the risk of leaving organic produces to sadly rot in your refrigerator. I like to freeze my bananas, berries, and even things like fresh ginger root. That way, I always have what I need on hand
The bottom line? Smoothies need to strike the perfect balance of health fats, protein, fruits and vegetables.
How to Start A Smoothie Habit
Think you know how to make a smoothie? Yogurt, bananas, blueberries, blender? Well guess what. The world is so much bigger than that. And your body needs more than just the same thing every day. Switching up your smoothies helps you have a more varied diet and eat the rainbow, an essential part of staying healthy over 50.
To help you navigate this unchartered blender territory, I recommend starting with a smoothie recipe book. And not just any book, it has to be beautiful. It has to have a healthy glow. It has to inspire you. This one fit the bill for me. In fact, I gave away a copy at Christmas as well.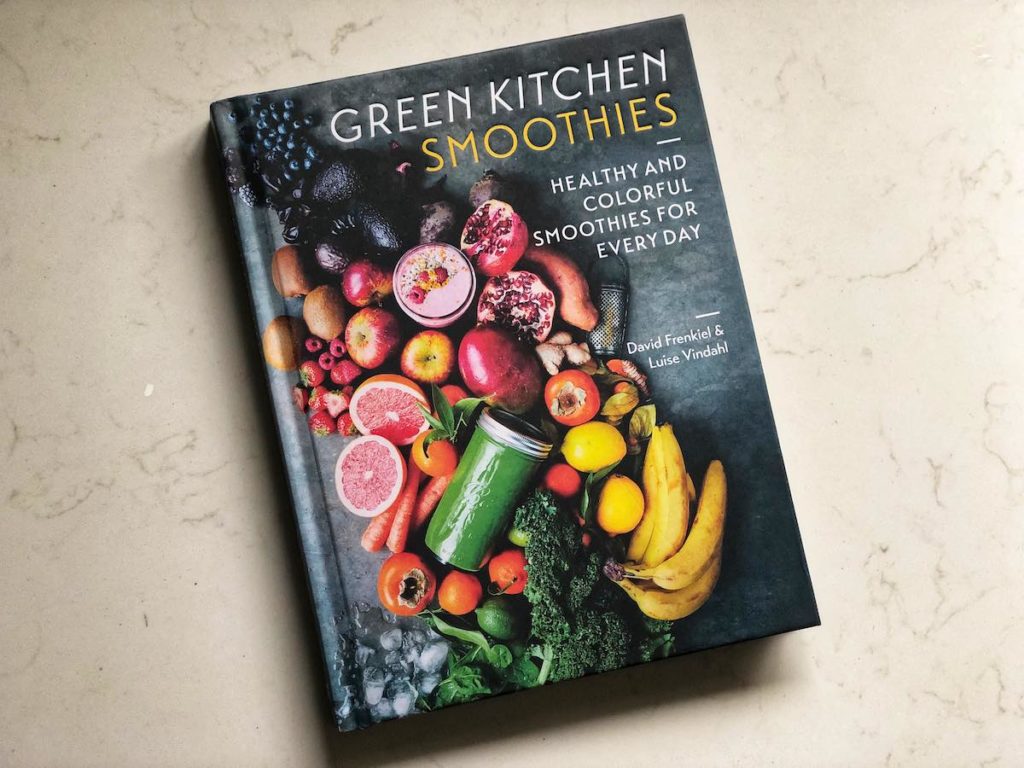 This book has a prescriptive approach, and it offers different types of treats like simple smoothies, post-workout favorites, breakfast ideas, energizers, and even desserts. They even include a whole section of what you need in your pantry for smoothie-mania.
The recipes that stuck out to me were thinkings like avocado, mango and lime, a chamomile and magnesium-filled smoothie that helps with sleep, a green goodness smoothie bowl, and an orange sesame smoothie with muddled raspberries.
I can't wait to try every kind!
My Favorite Go-To Smoothie
Here is my favorite smoothie that I always seem to crave and usually have the ingredients for. I mix it up with different kinds of fruit, but the main ingredients are the same: unsweetened almond milk, frozen berries or frozen mango or frozen pineapple, kale, chia seeds, flavor oil, ginger, turmeric, plain non-fat greek Yogurt, and a half frozen banana.
Print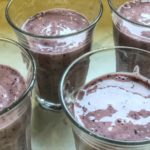 My Go-To Easy Healthy Smoothie
---
Author:

Total Time:

5 minutes

Yield:

1

serving

1

x
Description
Ginger helps with inflammation, muscle pain and soreness (hello, triathlon training!), indigestion, blood sugar issues, lowers cholesterol, and helps combat certain heart disease risk indicators. Turmeric is the other powerful spice I add to my smoothies. And it's just as potent: it can lower risk of heart disease, slow aging and protect against age-related chronic disease, and also can serve as an anti-inflammatory and a natural anti-depressant. So basically, I'm not messing around.
---
1/2 cup

plain non-fat greek yogurt

1/4

unsweetened almond milk*

half of a

frozen banana

1/2 cup

frozen fruit of your choice

1/2 cup

kale (stems removed)

one

inch piece of peeled fresh ginger

1 teaspoon

of turmeric powder
half tablespoon of chia seeds
half tablespoon flax oil
*Use milk of your choice here and use as much as it takes to get the texture you want. A quarter cup usually does it for me.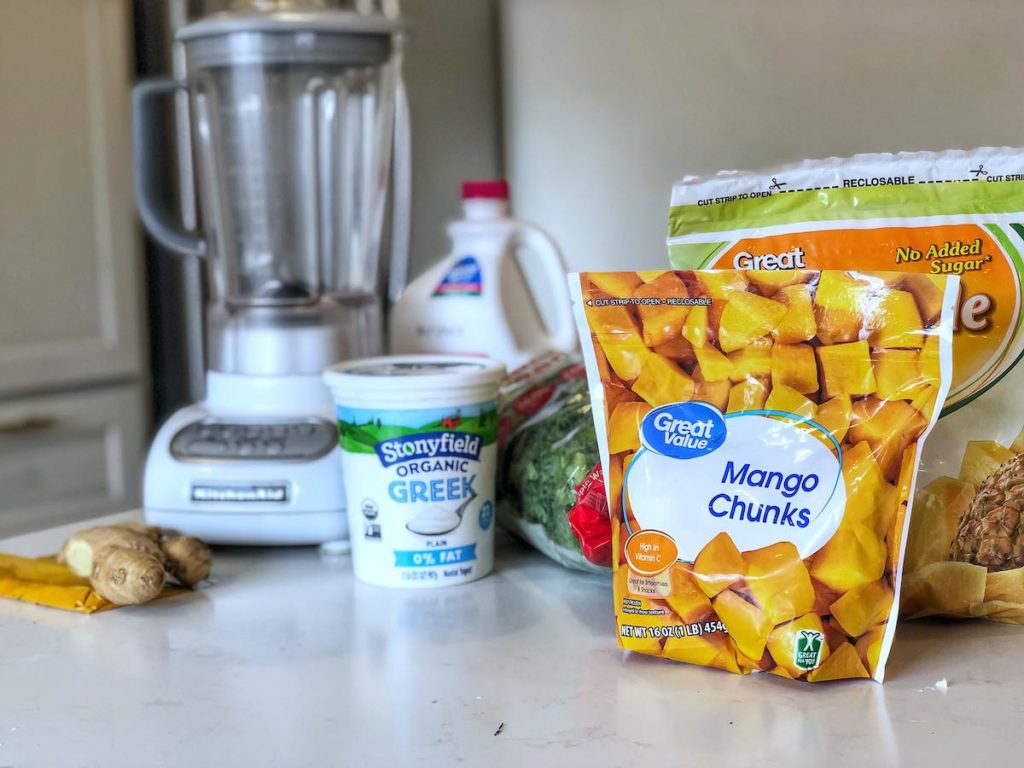 ---
Instructions
You know what to do. Blend. Serve.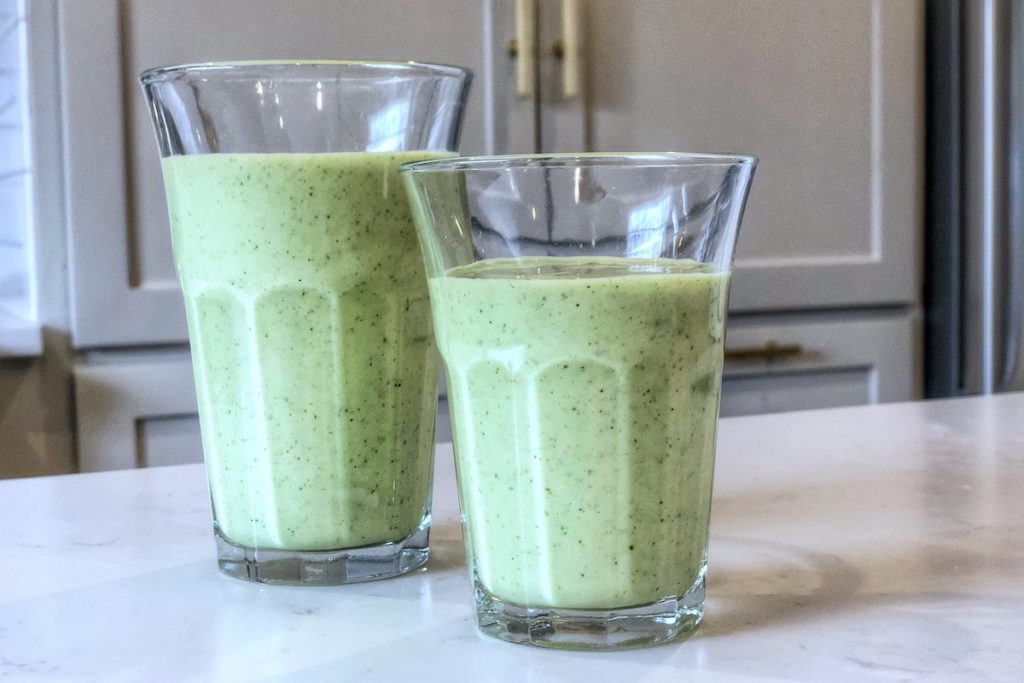 Prep Time:

5

Category:

smoothies
Keywords: easy health smoothie recipes, healthy snacks, weight watchers freestyle