This post may contain affiliate links. Full disclosure policy
I've been keeping the secret for months now, counting down the days and hours until I could spill the beans. My new novel, Hope On The Inside, now available for pre-order, will hit bookstore shelves on March 26th, 2019!
Let's start by talking about the cover. Because you know how I am with pretty things.
I know we're not supposed to judge a book by its cover but just this once, let's break the rules. I mean, how sweet is this cover? It looks like springtime! So pretty I could wear it as an accessory.
Come to think of it, that's not a bad idea. What better fashion statement could there be than a beautiful book? Tells the world you're so much more than just another pretty face. Could be the start of a trend!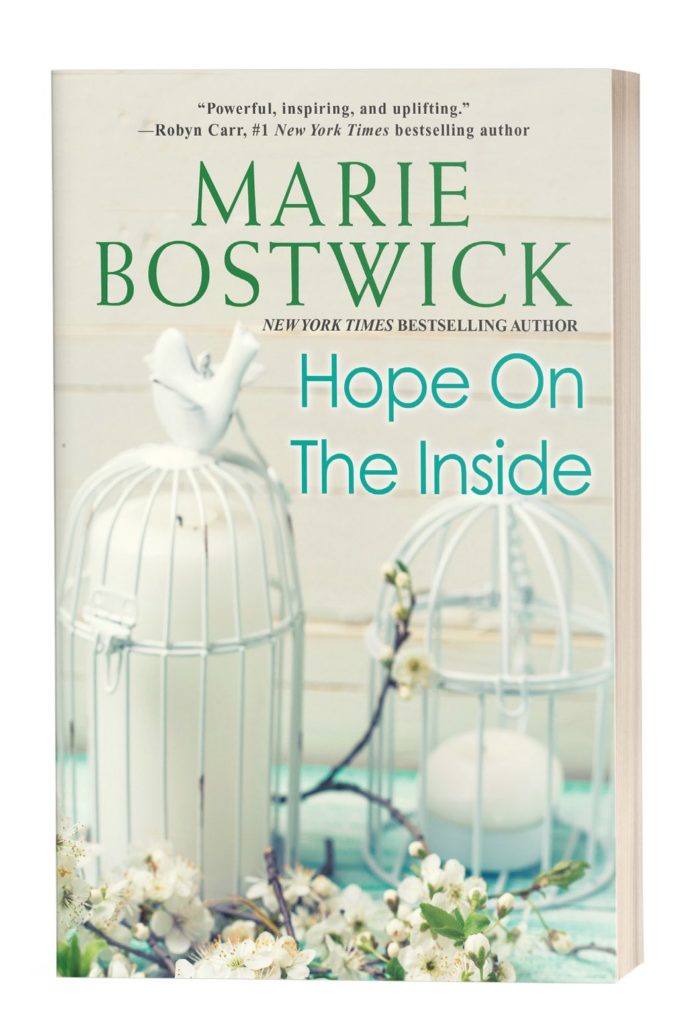 So, now that I've shown off the cover, watch this super high-tech video to hear about what you'll find inside!
And here's a teaser, just to give you a deeper glimpse into Hope's story.
In this compelling, heartwarming novel from New York Times bestselling author Marie Bostwick, one woman finds new purpose in a new phase of life . . .
"Whatever comes your way, find the happiness in it." Hope Carpenter received that advice from her mother decades ago. Now, with their four children grown, Hope and her husband, Rick, are suddenly facing an uncertain future, after a forced retirement strains both their savings and their marriage. Seeking inspiration and a financial boost, Hope gets a job teaching crafts to inmates at a local women's prison.
At first, Hope feels foolish and irrelevant, struggling to relate to women whose choices seem so different from her own. But with time, and the encouragement of the prison chaplain, she begins to discover common ground with the inmates, in their worries about their children and families, their fear of having failed those who need them. Just like her, they want to make something of themselves, but believe it might be impossible.
Embarking on an ambitious quilting project, Hope and her students begin to bond. Together, piece by piece, they learn to defy expectations—their own and others'—and to see that it's never too late to stitch together a life that, even in its imperfections, is both surprising and beautiful.
I can't wait for you to meet Hope Carpenter, a women who I believe we can all relate to. Make sure to pre-order your copy today!