This post may contain affiliate links. Full disclosure policy
THIS POST MAY CONTAIN REFERRAL LINKS. IF YOU CLICK THROUGH AND TAKE ACTION, I MAY BE COMPENSATED, AT NO ADDITIONAL COST TO YOU.
We're going to talk about workout clothes today. Why?
Well, if someone hasn't already told you, I'm the friend who is here to say it. Your husband's old college t-shirts just aren't cutting it anymore.
Workout clothes have changed so much since we were kids. Back then, heavy, suffocating polyester was the height of chic.  "Athletics", and the gear that went with it, was for people who played a specific sport. There wasn't an entire industry devoted to making clothes just for working out.
We put a man on the moon and deregulated the telephone industry. Then finally we learned how to make a supportive and comfortable sports bra. Which is to say, the innovation took time. But now that it's here, let's take advantage of it!
First off, let's be clear. Yes, you burn the same number of calories wearing that old t-shirt as you do a new lightweight cami with a cellphone pocket. But if you're anything like me, feeling good is part of the battle. If I feel good (and feeling like I look good is part of that) I'm more likely to take in that barre class this afternoon. If I feel good there is a better chance I'll feel like grabbing the Chairman for a brisk after dinner walk.
It comes down to this. A little workout wardrobe refresh puts a pep in my step and each of those peppy steps make me healthier!
There's a chance one of those SMART goals you've just worked on has something to do with working out. One of my goals this year to participate in another sprint triathlon (my first was last year) but with a faster finishing time. Reaching that goal will mean upping my game when it comes to training. I decided to get some new workout gear because I know that feeling good and looking good while I'm at the gym will inspire me to get there more often. Want to see some of what I found?
ATHLETIC WEAR ISN'T JUST FOR ATHLETES
It's comfortable, it's spandex, it's colorful. What's not to love? Even if you don't have a yoga class that afternoon you can still be stylish. As far as I'm concerned tights are a necessary part of the process to walk the dog, write big, beautiful words and/or frantically pace the floor looking for my reading glasses. All require spandex.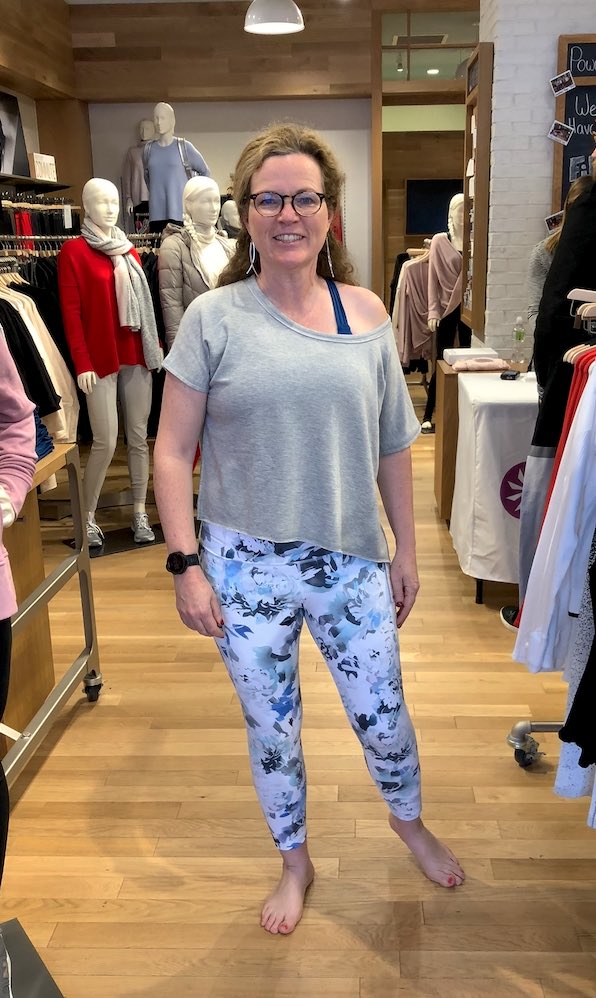 Mix and match is the name of the game. Choose some solids. As we all know classic, black bottoms hide a multitude of sins. But the bright floral pattern I found will make your heart swoon when it's frosty outside and you haven't seen a proper flower in months. Or maybe that's just me in the northwest. Anyway…mixing and matching gives you lots of selection. Which is important because once you discover how amazing this stuff is you'll catch yourself wondering where you can't wear it. (Apart from a wedding, opening night at the opera, or a white tie charity gala – I haven' been able to think of any place.)
Look at these ombre polka-dotted tights, worn two ways? It's like 'Who Wore It Better' in those magazines, but the answer is always you!
(Sorry I can't share my goofy smiles with you, sometimes cropping photos on the internet is hard. My head was a casualty of the process.)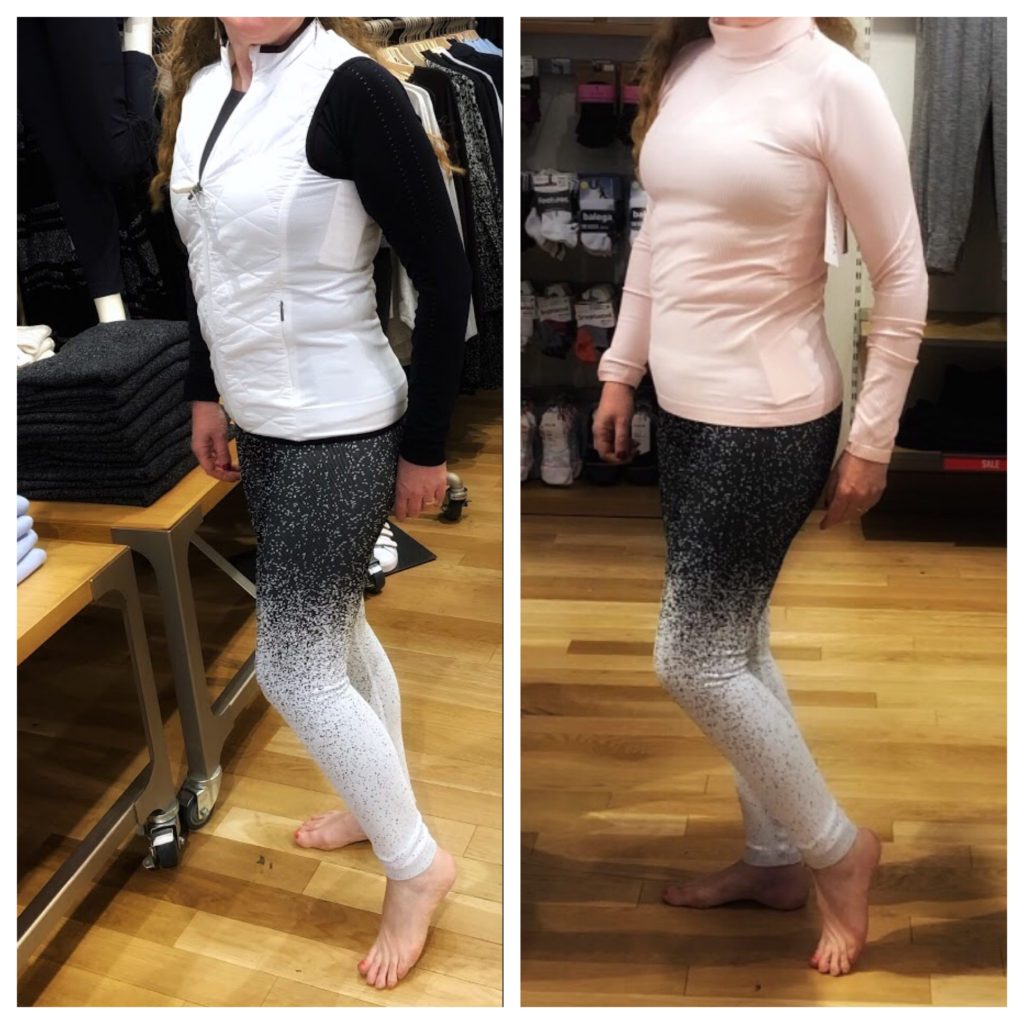 SAFETY FIRST
Sun safety is number one. And number two. And number one-hundred. Use a moisturizer every day that has SPF. Personally, I use this classic CeraVe with SPF 30 but use whatever you like that you are willing to slather on every day. And don't forget the backs of your hands, ears, or neck.
If you're a little scatterbrained and struggle to put on that SPF (I wouldn't know anything about that, nope, not at all) then look for clothes with SPF built in. This top is adorable and has SPF 50+ built-in to the material, so does this hoodie!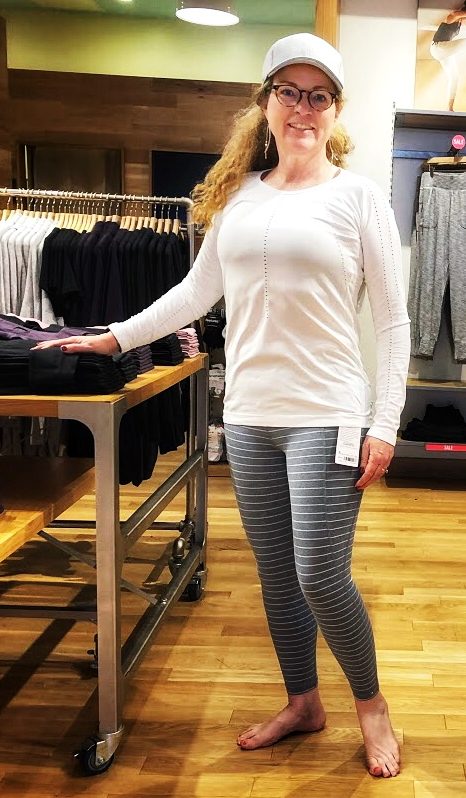 Are you a runner? I change up my workout routines but when I'm training for triathlons, I do a lot of outdoor running and I love a baseball hat like this with a little bit of reflective trim. Squinting into the sun without proper protection like a hat and sunglasses isn't doing your face any favors.
LET'S START ON TOP
Alright ladies, about your ladies. If you're doing much activity, you want something that gives you support and wicks away sweat. Yes, you read that right, it wicks away sweat – there's that innovation! This sports bra is medium support so good for your yoga or cycling classes, but you'll probably want something more substantial for running. (This is the same bra, but for larger cup sizes)
Here's the thing about buying sports bras (same advice applies to buying swimsuits); when trying them on you need to make peace with the fact that you do not and cannot look like the skinny, tanned 20-something who modeled it in the magazine or on the store website. Honestly thanks to airbrushing, chances are good that she might not even look like that.
That, my friends, is why I decided to let you see this utterly unairbrushed, unphotoshopped picture of me and my rolls in all their glory!  Because here is the thing; for the last year and half, I've worked out six days a week, hard. In that time, I've reached my goal weight, improved my stamina, energy, and cardiovascular health. I've lost fat and gained muscle.  I feel healthy, fit, and good about myself. But guess what? In spite of all my healthy habits and vigorous workouts, I've still got rolls in places that used to be smooth.  And no matter how hard I work out, there always will be.  It's just reality, so set your expectations accordingly. Embrace a healthy lifestyle and love your fierce, beyond-fifty body!  That is wisdom.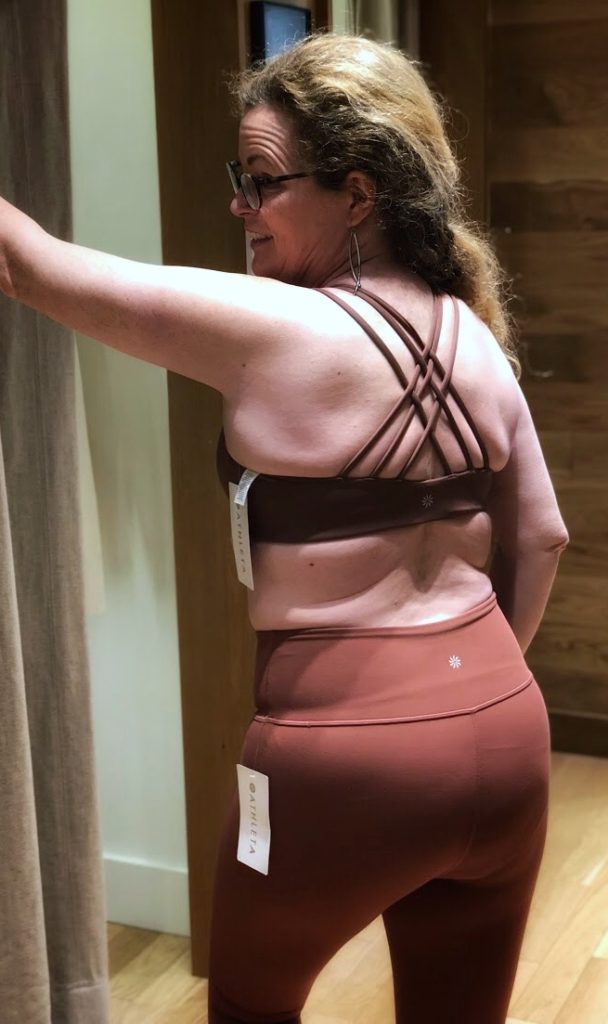 OVER THE TOP
Now that you've got this sweat-wicking and supportive bra, what goes on top of it? No surprise, I've got suggestions on that too.
Personally, I recommend longer tops, they cover those panty lines. I refuse to wear a thong so my apologies to whoever is running behind me. The panty line will be there. But really no apologies, I'm embracing my reality. All you have to do is embrace the view! For slightly longer tops choose something like this for sleeveless, this for a short-sleeved option,  or a long-sleeved option that yours truly modeled for your viewing pleasure!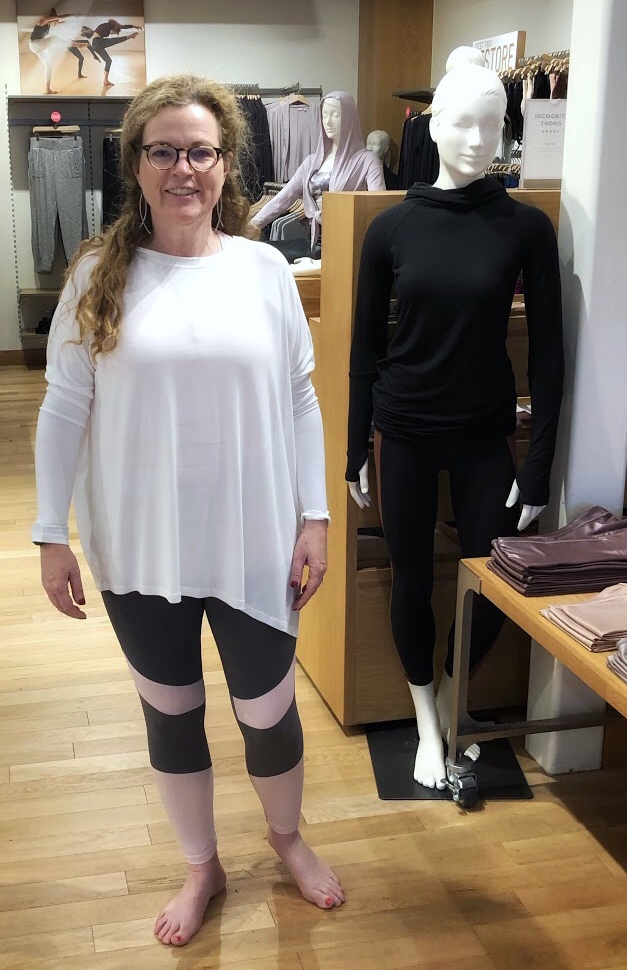 TO THE BOTTOM
Call them tights, call them leggings, call them whatever you want. I call them bliss.
There are a lot of people out there with strong feelings about wearing these in public. In my opinion, as long as they aren't so thin we see everything when you bend over, it's all good.
A cute, well put-together athletic wear outfit is on par with an outfit that includes pants.
However, a sloppy, ill-fitting athletic wear outfit is also on par with sloppy, ill-fitting outfit that includes pants.
Make sure it's the former, leave the house looking sharp and pulled-together, and wear your outfit with pride!
As previously mentioned, just make sure the fabric isn't too thin. Buy from a brand name you know and trust and you should be covered (literally!)
I also suggesting looking for higher-waisted options like these solid ones, or the striped ones. You don't necessarily need to look at high waisted *only* but certainly don't look for anything low-rise. Low rise = muffin top. And I'm not talking yummy muffins, I'm talking the unflattering evidence of possibly having eaten too many yummy muffins. It's not a good look. A longer tops help with this. Also, tops that are a little flowey at the bottom, such as the white one I'm wearing above, are especially flattering and fun to wear.
A final note.  Potentially the best innovation in workout clothes ever? Pockets in tights! Honestly, once you have a pair with them you'll wonder how you ever got along without pockets! These pastel colorblock tights have them, these with mesh panels do as well and these come in every color of the rainbow!
Get yourself some spandex courage and tackle that workout class. You know the one. The one you've always wanted to try but been intimidated by.
Spandex courage, my friend.
Go!