This post may contain affiliate links. Full disclosure policy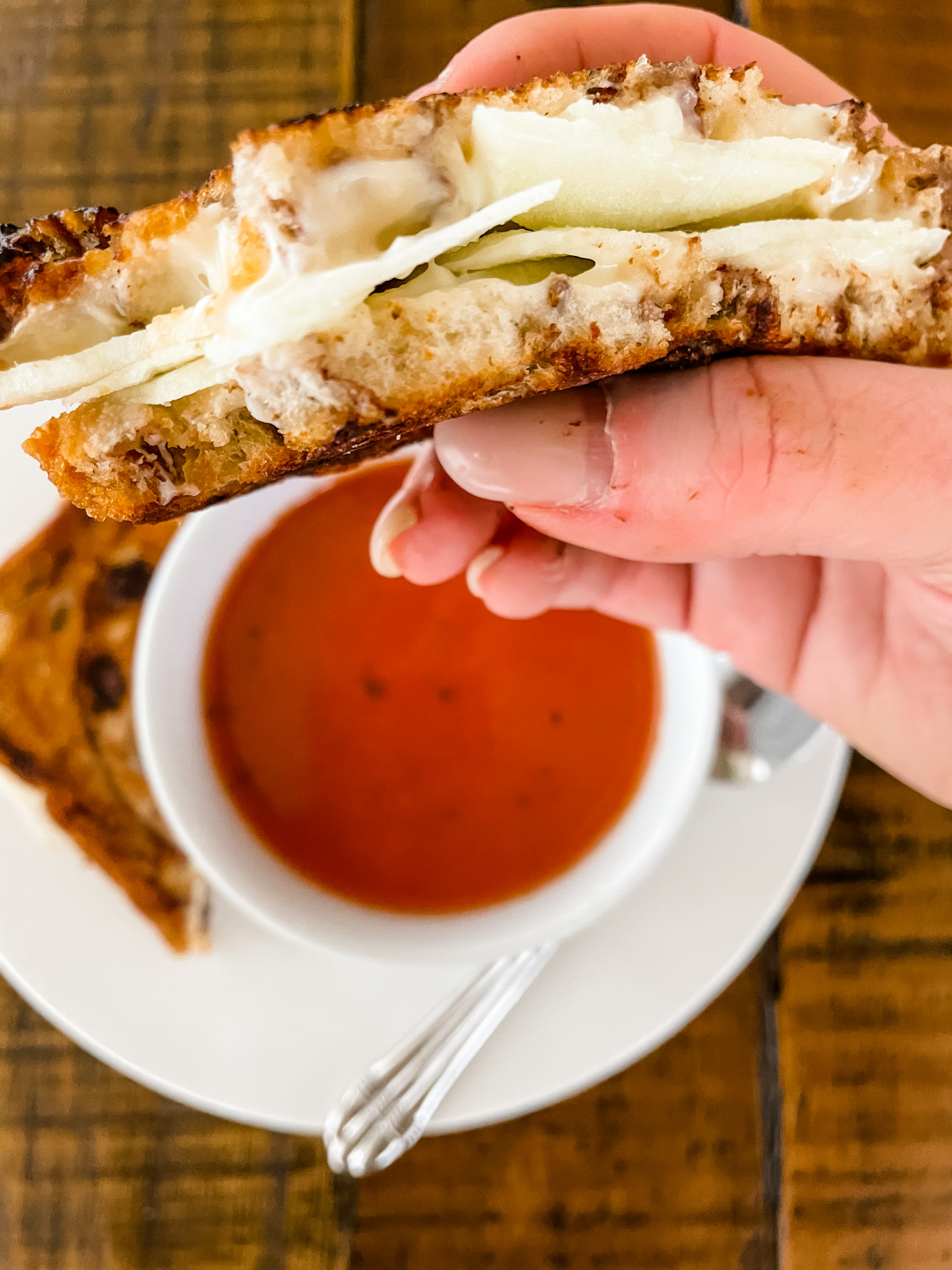 Grilled Apple and Brie Cheese sandwiches are cheesy, gooey, savory and sweet mouthfuls of pure heaven! Perfect for a quick lunchtime treat to as an accompaniment to a soup or salad. So easy! SO good!
Sometimes Simple Can Be Amazing
I've been making Grilled Apple and Brie Cheese Sandwiches for years and years now. Like so many of my go-to recipes, it came together kind of by accident.
I was standing in front of the refrigerator, trying to decide what to make for lunch. I spotted an apple, a little bit of brie, and half a loaf of raisin bread and the wheels started turning. You can't ever really go wrong when combining apples and cheese, am I right?
Ten minutes later, I was tucking into a hot, gooey, scrumptious grilled cheese sandwich that was absolutely to die for. It's been part of my repertoire ever since!
My Easy Grilled Apple and Brie Sandwiches are one of those recipes that's so simple to make, I almost hesitate to call it a recipe. But it's also something you might not think of making unless somebody told you about it, so that's why I decided to share my idea today.
Because sometimes, simple dishes can be absolutely amazing.
Four Ingredients, Ten Minutes: Lunch is Served
Years ago, I bought a cookbook of recipes that had five ingredients or less. It quickly became one of my favorites, especially when I found myself in the kitchen at the end of a really busy day. And let's be honest, who doesn't love a really delicious recipe that's also quick and easy to prepare?
These Grilled Apple and Brie Cheese Sandwiches are all that. The combination of warm, mellow brie cheese and tart apple, sandwiched between slices of cinnamon or raisin bread and then grilled to crispy, golden brown goodness is simply divine.
What's even more divine is having a meal that good, that's ready in about five minutes!
Let's Talk Ingredients
As I said, you only need four ingredients to make Grilled Apple and Brie Cheese Sandwiches. But they need to be the right four ingredients.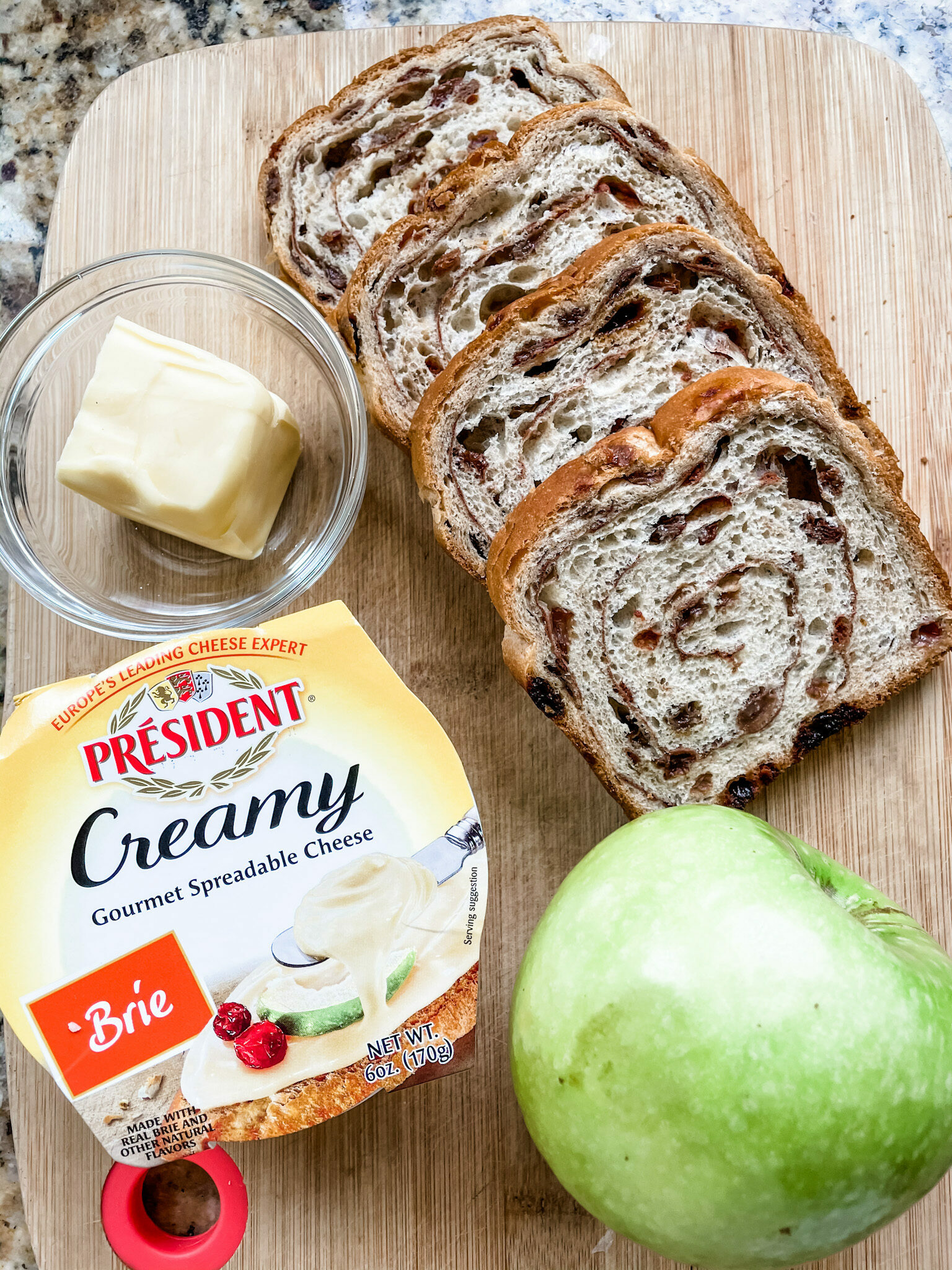 There all kinds of cheese out there, and you can try substituting a different type if you want. But I really think that brie is the perfect choice for this recipe. It's rich, creamy, and melts quickly. It's also got a distinct but mild flavor that doesn't overpower the taste of apple. And you really do want that tart apple flavor to come through here.
For these sandwiches, I like to use a spreadable brie. It just makes prep a little quicker. But you can really use any type of brie here. Just be sure to leave off the rind if it has one.
My apple of preference for Grilled Apple and Brie Cheese Sandwiches is the Granny Smith variety. It's a little bit tart, which tastes wonderful with the cheese and provides a nice balance with the sweetness of the raisin or cinnamon bread.
When I first started making this sandwich, I just put some apple slices on top of the cheese called it a day. I soon realized that using several really, really thin slices of peeled apple makes a big difference.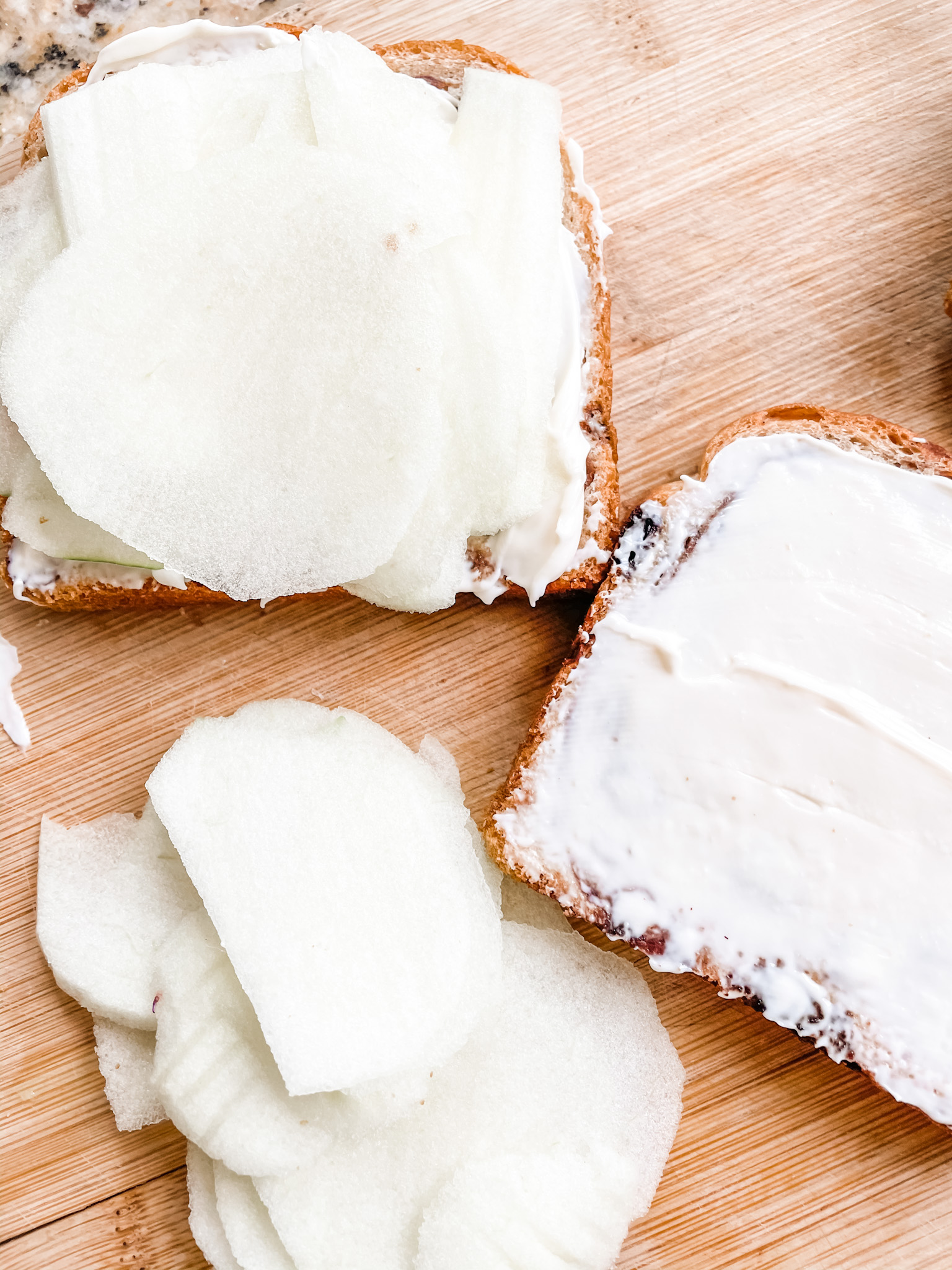 An Extra Boost: Thinly Sliced Apples
Now I put the peeled apple on my V-slicer, cut almost paper-thin slices of apple, and pile them on. Those really thin slices get just a little bit soft when the sandwich is grilled, but still retain slight crunch, which is lovely to bite into.
My V-slicer is one of those kitchen tools I use all the time and wouldn't want to be without. If you don't have a V-slicer or mandolin, just try to cut your slices as thinly as possible.
I prefer cinnamon raisin bread for this sandwich. But if you don't like raisins, just use cinnamon bread instead. There's something kind of wonderful about how the slight sweetness of the bread with the mellow brie cheese and tart apple.
The cheese is rich enough so don't overdo the butter when you grill your sandwiches. A thin spread of butter on each side will do the trick; just enough to get a nice, crispy golden brown.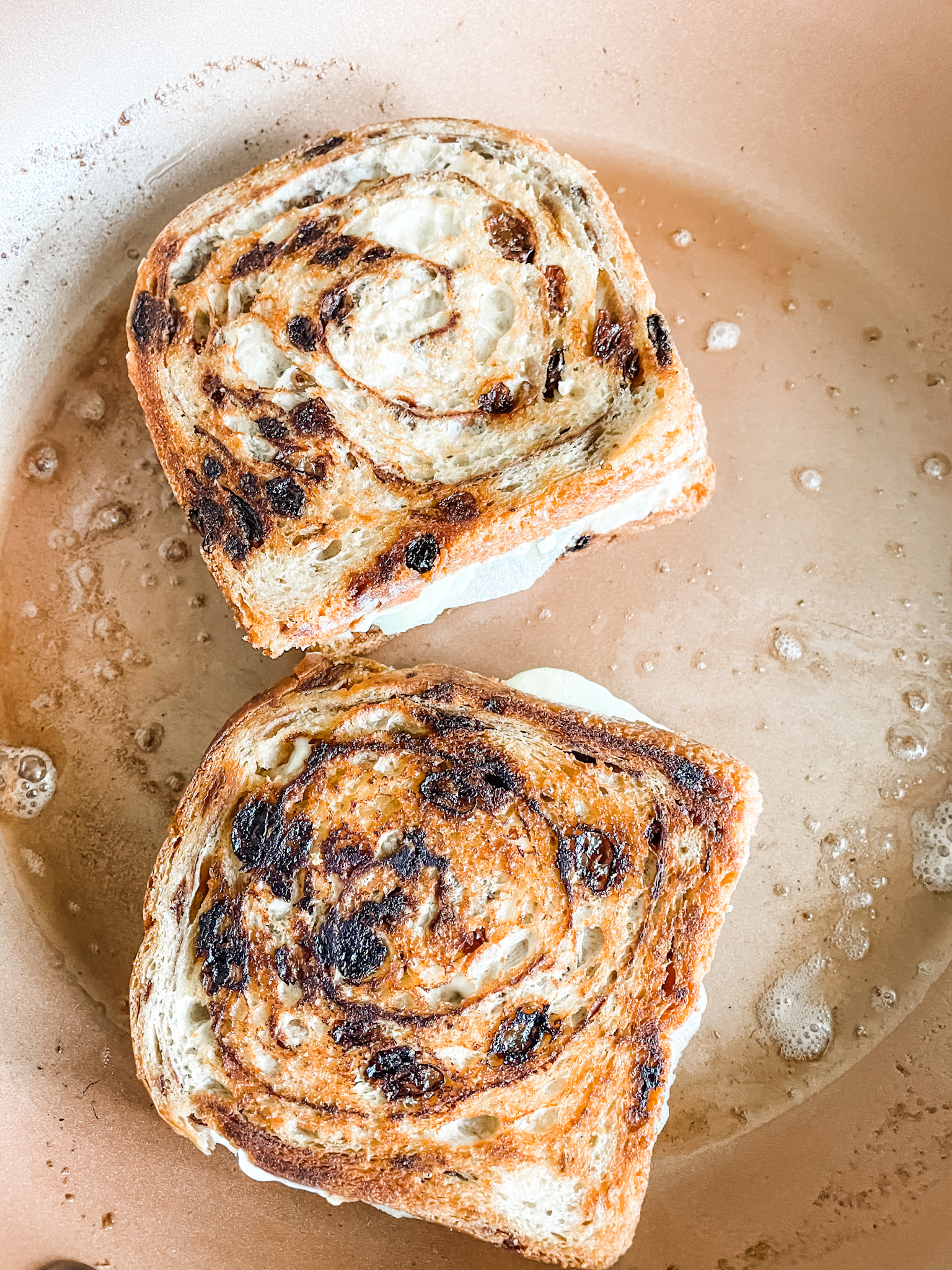 What to Serve with Grilled Apple and Brie Cheese Sandwiches
These cheesy, gooey, sandwiches are great all on their own for a quick lunch. But I also love eating them alongside a cup of hot tomato soup. They're great for dipping! If you're serving these sandwiches for dinner, you might want to add a fresh green salad as well as the soup.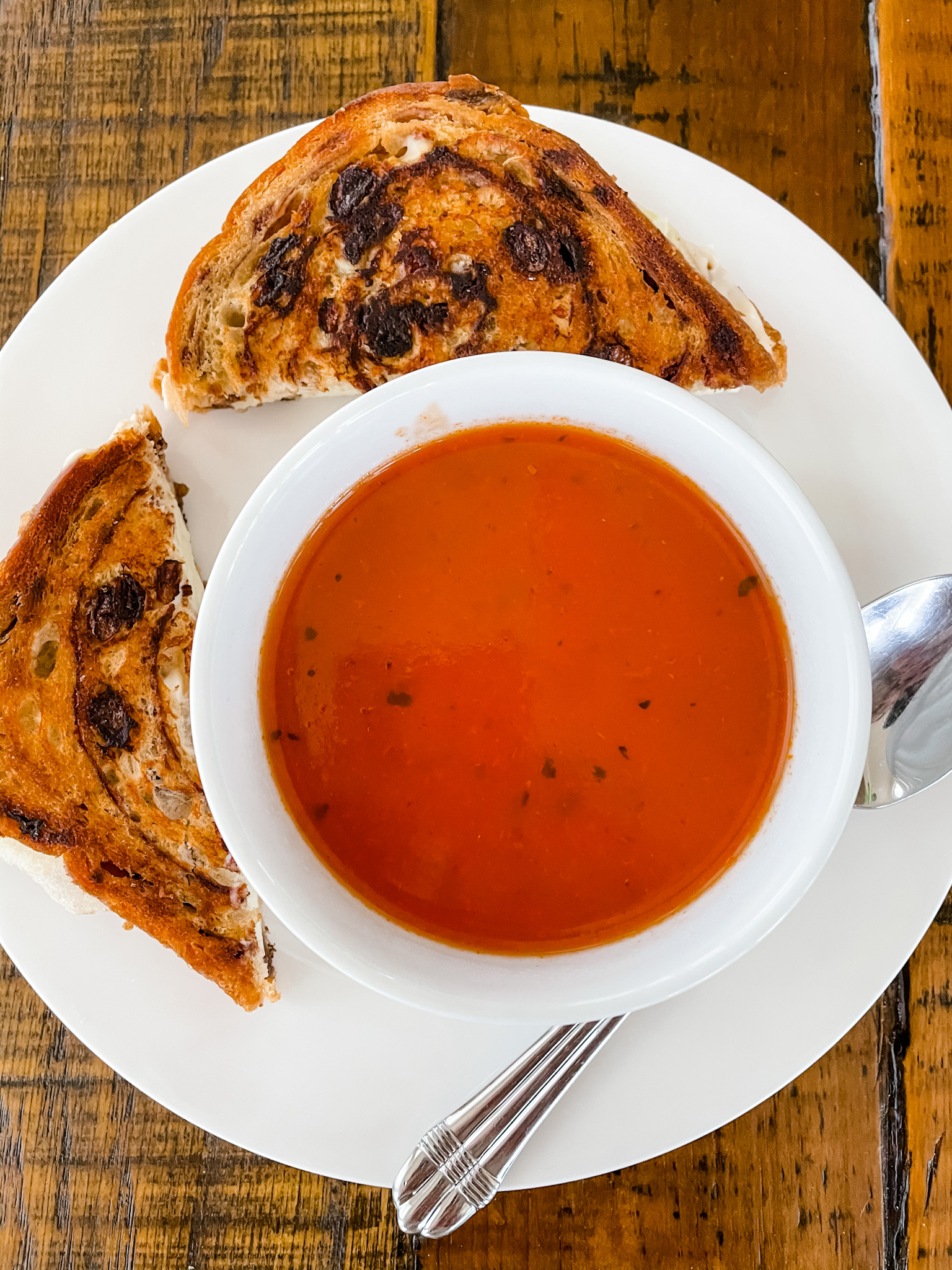 Whether you make them for lunch, dinner, or a mid-afternoon snack, my Easy Grilled Apple and Brie Cheese Sandwiches are one of my favorite easy recipes. Give them a try soon – I bet they'll become your new favorite too!
Print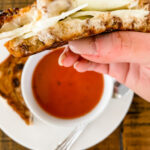 Easy Grilled Apple and Brie Cheese Sandwiches
---
Author:

Yield:

2

sandwiches

1

x
4

slices cinnamon or cinnamon raisin bread

4 ounces

of spreadable brie cheese (or regular brie, rinds removed and sliced)

½

large Granny Smith Apple, peeled and sliced as thinly as possible

2

T slightly softened butter
---
Instructions
Spread one ounce of the brie on each slice of bread. Layer the apple slices onto two pieces of the bread and top with the remaining pieces of bread.  (Apple will be sandwiched between the cheese on both sides).
Spread softened butter on both sides of each sandwich. Place sandwiches into a skillet (preferably non-stick) over medium-high heat, and cook 2-3 minutes, until bread is golden brown. Flip sandwiches and grill for an additional 2-3 minutes.
Remove from pan. Serve while still warm.