This post may contain affiliate links. Full disclosure policy
It's not every day that one of my books is adapted into a Hallmark Hall of Fame movie, so I'm throwing a party this Saturday, November 24th! And you are personally invited!
I know, I know. You've probably heard me talking about this already. Or shouting it. Or bursting into song about it. I'm just really excited! 
So here's the deal.
Join me for a virtual Premiere Watch Party for Christmas Everlasting, the upcoming Hallmark Hall of Fame movie based on my novel, The Second Sister. It's going to be so much fun! When you RSVP, I'll email you two exclusive party favors – a collection of holiday recipes inspired by The Second Sister and a free downloadable pattern for a beautiful Christmas wall hanging, designed by Deb Tucker.
Look at this pretty flier!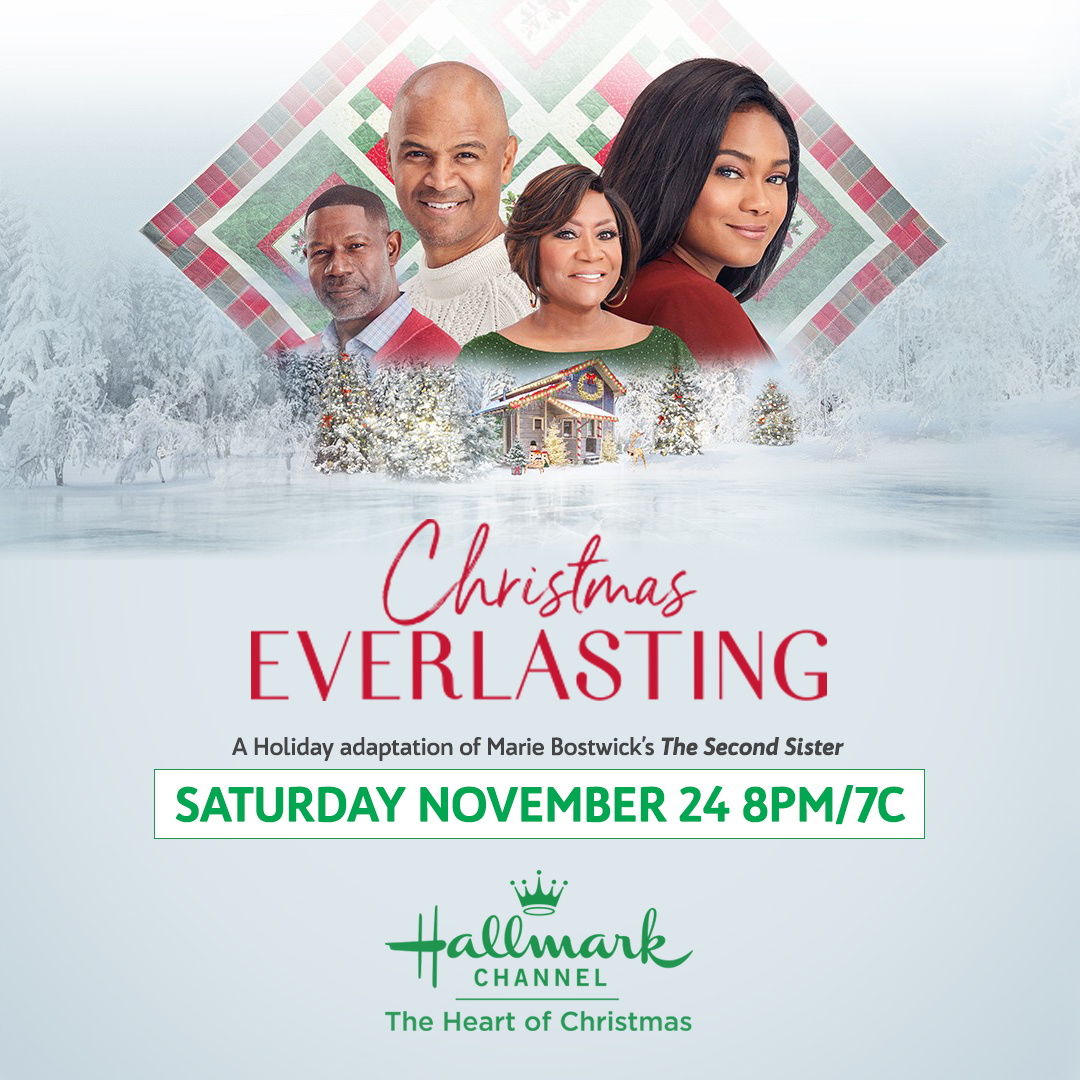 All the Details
Who: You, me, Patti Labelle, all our friends, maybe a few strangers!
What: A virtual Premier Watch Party
Where: On my Facebook page! @mariebostwick
When: Saturday, November 24th. 8pm Eastern, 7pm Central, Mountain (check your local listings), 8pm Pacific
Why: Do you really need an excuse to watch a heartwarming movie, get into the Christmas spirit, and possibly win one of the commercial break giveaway* goodies?
All the Giveaways
About those goodies. During every commercial break, I'll choose the name of at least one lucky winner at random. We've got an amazing lineup of prizes including plenty of books (some signed by the Christmas Everlasting cast!), some quilterific prize packages featuring Deb Tucker's amazing rulers and exclusive, not-yet-in-store fabric collections from Island Batik, a Wisconsin cheese platter (because who doesn't love cheese), cocoa mugs custom made for watching Christmas movie watching, and much more.
So start working on those Christmas quilts, mix up some cider punch, plus sweet and savory snacks inspired by the The Second Sister, then invite some friends over to watch Christmas Everlasting on the Hallmark Channel on November 24th. Be sure to meet up with me during the premiere for the Watch Party on Facebook. And make sure everyone has read the book beforehand! You can buy it here.