This post may contain affiliate links. Full disclosure policy
THIS POST MAY CONTAIN REFERRAL LINKS. IF YOU CLICK THROUGH AND TAKE ACTION, I MAY BE COMPENSATED, AT NO ADDITIONAL COST TO YOU.
As you may have ascertained by now, I love soup. I love making it, and eating it, and serving it to family and friends.
Soup is basically love in a bowl.
That's why I chose to create a soup and salad supper menu for the guests at my watch party last weekend, so they'd know how much I loved them.
I only offered one big green salad, topped with gorgeous roasted butternut squash (I'll share that recipe next week). But there were three soups to choose from.  Okay, technically, it was a chili, a stew, and a soup, but they're all served in bowls so I think that counts.
Soups for the Win!
When feeding a crowd, I think it's wise to stick with tried and true recipes.  My vegetarian chili and chicken stew are both winners, so I felt confident about adding those to the menu.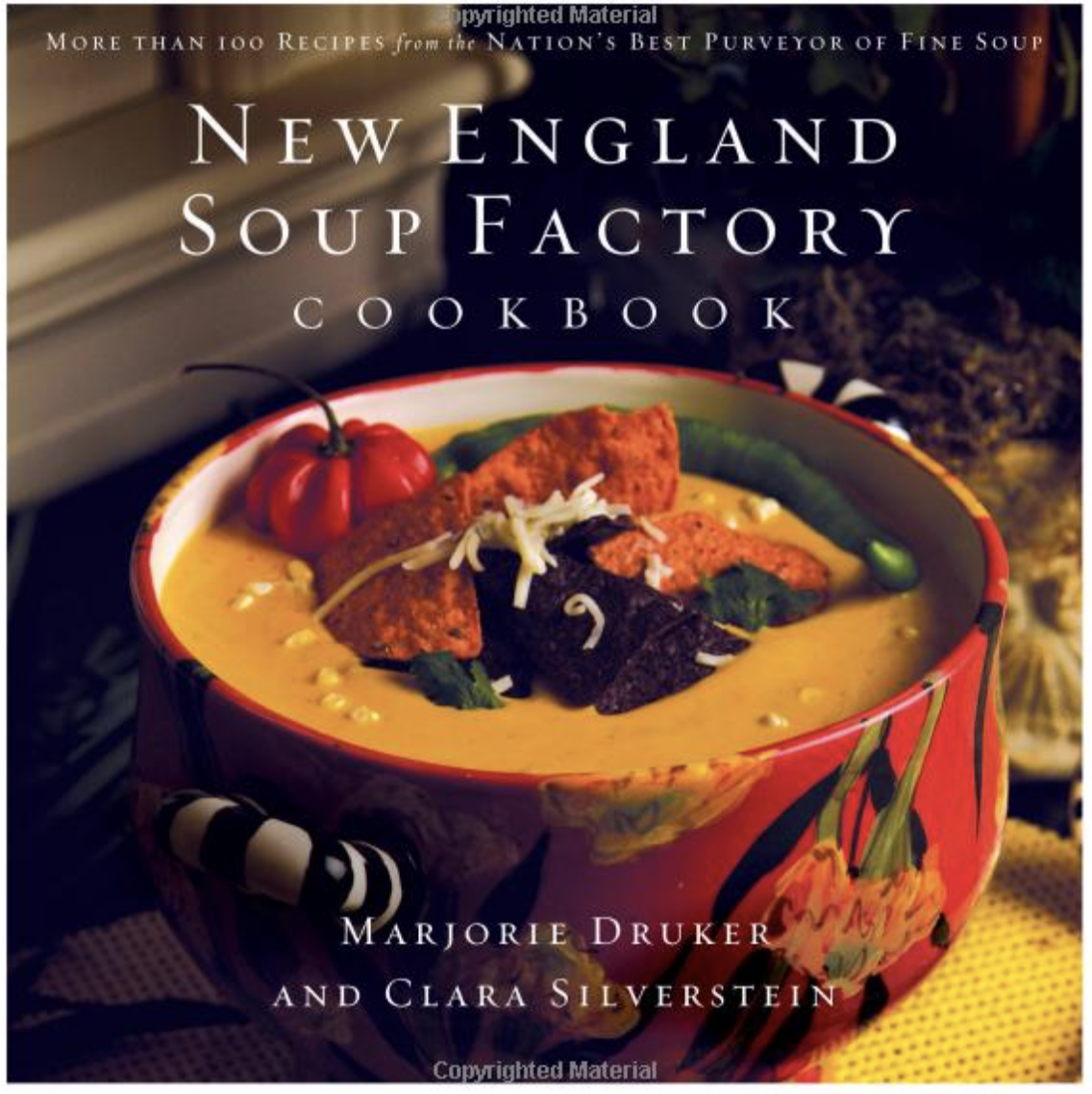 For the third choice, I decided to take a risk on a recipe I'd never tried before. After a bit of cookbook surfing, I settled on Creamy Wild Mushroom Bisque from one of my favorite sources, the New England Soup Factory cookbook.
(Actually, it wasn't that much of a risk. I've made dozens of recipes from this cookbook and have never been disappointed. They are universally stellar. If you like soup, you must get this cookbook. Seriously. You'll thank me later.)
Judging from the compliments and groans of pleasure –  I think my guests liked this as much as I did! I suspect I could have doubled the very generous recipe and still ended up with an empty soup pot.
No kidding, this was the Best Mushroom Soup. Ever.
Flavorful and Freestyle-Friendly
It was the divine mother of all mushroom soups, with the perfect balance and blend of flavorful, earthy mushrooms, fragrant thyme, and just a hint of sherry.
Oh, and another reason to love this incredible soup?
Though the flavor is beyond decadent, by substituting half and half for the light cream called in the original recipe, I was able to bring it down to just 4 WW Freestyle points per serving. Nice!
If you use fat free half and half, the points per serving are just 3. How great is that?
Here's how to make it.
Print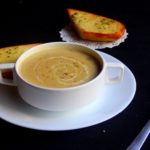 The best mushroom soup ever.
---
Author:

Prep Time:

15

Cook Time:

45

Total Time:

1 hour

Yield:

10

servings

1

x
---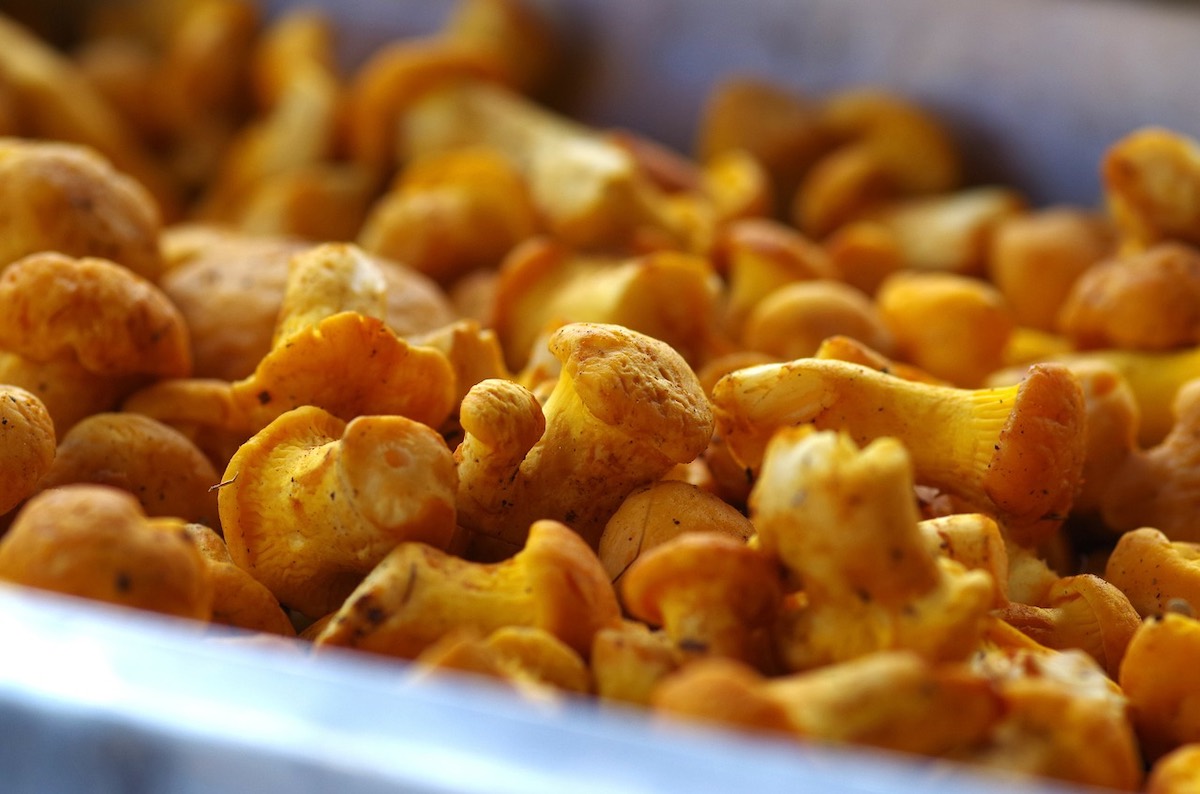 1 T salted butter                                                                      5 points
2 whole cloves garlic                                                             0 points
1 large Spanish onion, peeled and diced                           0 points
1 cup diced celery                                                                   0 points
1 lb shitake mushrooms, sliced                                           0 points
2 large Portobello mushrooms, sliced                               0 points
¼ lb chantrelle mushrooms, sliced                                    0 points
2 lbs Yukon Gold potatoes, peeled and quartered          20 points
6 cups fat free chicken stock                                                 0 points
2 t. fresh thyme leaves                                                            0 points
1 cup half and half                                                                   15 points*
Kosher salt, black pepper to taste                                         0 points
2 T dry sherry                                                                            2 points
2 t. Worcestershire sauce                                                        0 points
---
Instructions
Melt the butter over medium-high heat in a large stockpot. Add garlic, onions, and celery. Saute' for about 8 minutes. Add mushrooms and potatoes to pot. Saute for 5 minutes.
Add chicken stock to pot and bring to a boil, then turn heat down to medium and simmer until potatoes are cooked, about 30 minutes. Remove from heat.
Add thyme and puree the soup, either with a hand blender in the pot, or by batches in a regular blender or food processor. When soup is smooth, stir in the half and half, Worcestershire sauce, and sherry. Add salt and pepper to taste.
Serve hot with pretty sprinkle of fresh thyme to garnish.
Notes
Total points for recipe =  42, at 4 points per serving
* Substituting fat free half and haf would reduce the points for that ingredient from 15 to 5, making the soup just 3 points per serving.
Category:

soup

Method:

stovetop
Keywords: mushroom bisque, weight watchers freestyle, healthy soups