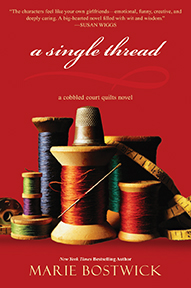 Cobbled Court Quilt Series – Book 1
Four Women, Stitched Together by Friendship . . .
Determined to overcome the despair that has engulfed her since her husband of twenty-five years walked out on their marriage, Evelyn Dixon takes a spur of the moment trip from her home in Texas to see the fall colors in New England. There, she falls in love with New Bern, Connecticut, a village that could have been lifted straight from a Currier and Ives print. Embracing her newfound impulsivity, Evelyn moves to New Bern and reawakens her long dormant dream of opening a quilt shop. But a shocking revelation about her health threatens to destroy Evelyn's dream before it begins. As she struggles with the newfound challenge, one by one three very special women come into her life, each at a crossroads, all needing the support the very special bond of friendship can provide.
Abigail Burgess-Wynne, the sixth wealthiest woman in the state, whose personal motto is "never complain; never explain," is a handsome, well-spoken widow in her sixties. Always ready to open her checkbook for any good cause that doesn't require her emotional involvement, Abigail is a much sought after guest in New Bern's more elevated social circles. She is an island unto herself—a situation that suits her to a tee.
Liza Burgess, an artistic, angry, and misunderstood nineteen-year-old, is Abigail's estranged niece, the daughter of the sister Abigail hadn't spoken to for forty years, not even after she found out her sister was dying. Now, after her mother's death, Liza's need for attention, love, and answers about her family, lead her to New Bern.
Margot Matthews, is a thirty-something marketing genius, but her sweet and guileless personality make her unsuited to survival in the corporate world. A company downsizing has left Margot jobless. Out of fiscal necessity, she moves to her weekend cottage in New Bern until she can find another position in the city.
When life's pendulum takes an unexpected swing, these four very different women come together; facing their fears, dealing with their pasts, defining their futures, and filling each other's gaps. Bound by a surprising thread of friendship, they stitch together new lives for themselves in a New England village readers won't soon forget.
November 2008 Levy Need to Read Title
Amazon | Book-A-Million | Barnes & Noble | IndieBound | Hickory Stick Bookshop
---
Also in the Cobbled Court Quilt Series