This post may contain affiliate links. Full disclosure policy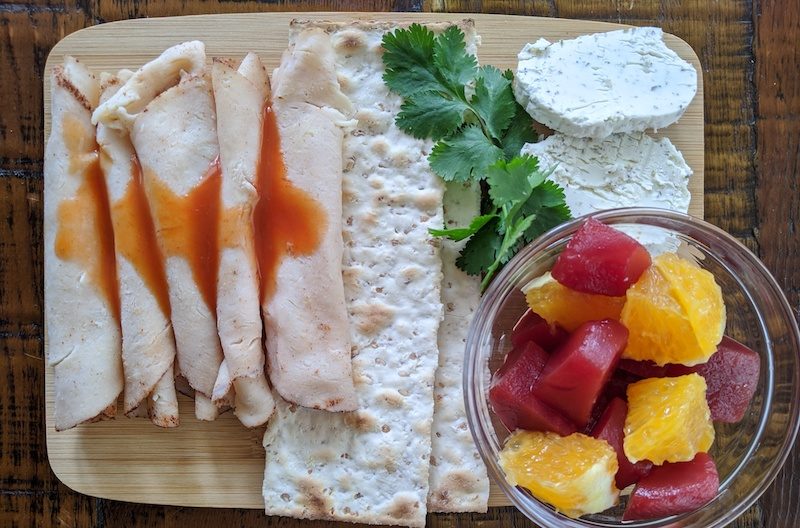 Until I met my friend, Sandy, I had not only never made a charcuterie board, let alone a slew of mini charcuterie boards. I couldn't even pronounce charcuterie! (If you're wondering, it's char-koot-er-ee.)
But Sandy has added so much that is good to my life. Charcuterie is only the beginning.
Moving to Oregon after fourteen years in Connecticut was a big change and a difficult adjustment for me. I've moved many, many times in my life, but fitting in and making new friends after a move is always hard, especially if your kids are grown.
I knew from experience that finding at least one good friend, someone I could really connect with, would make all the difference. I prayed hard for someone who was close to my age, fun, and who would like me back.
A New and True Friend
That prayer was answered when I met Sandy. But she was so much more than I had asked for. We have so much in common! Sandy has three grown kids who I'm crazy about and we attend the same church. She works from home running her highly successful blog, Reluctant Entertainer, so she understands the challenges of writing and running a business. If all that wasn't enough, our husbands have gotten to be friends as well.
Like all good friends, Sandy and I learn from each other. (I haven't turned her into a quilter yet, but just give me time.) She has taught me, and millions of others, that extending hospitality doesn't have to be difficult. Sandy's "epic charcuterie boards" are an internet sensation. They're a low-stress way to feed crowds of guests. They're also pretty, and creative, and lots of fun.
Not too long ago, I was at Sandy's house, enjoying one of these epic boards when I thought to myself, "wouldn't it be fun to eat like this every day?"
Then I realized that I could and my new obsession with "mini-boards" was born.
Introducing "Mini Charcuterie Boards"
Personal mini charcuterie boards are fun to eat, easy to prepare, and a perfect solution to the lunchtime rut. You know what I'm talking about, right? The same old sandwich, salad, or soup routine you've been stuck in for years.
Don't get me wrong – I love a big bowl of soup for lunch. I make a pot of soup nearly every Sunday afternoon and enjoy it for lunch several times during the week. But having the same lunch day after day can get pretty boring. Especially since I work at home, it's nice to treat myself to something fun, delicious, and even a little unexpected during my lunch break. And since I'm one of those people who enjoy the appetizer more than the main course, having a selection of bite-sized goodies to choose from really ticks off all the boxes for me.
Mini charcuterie boards are an ideal lunch option for people who work at home, but they'd be perfect for kids too – especially those picky eaters. Having raised one myself, I know that making food fun and visually appealing is key to getting healthy meals into food phobic kiddos.
The Construction of Mini Charcuterie Boards
So how do you make such a mini charcuterie board?
The first step is to find the right kind of board. That was the trickiest part for me. I wanted a board that inexpensive, lightweight, and truly sized for one. Most I found were just too big. I really would have liked something with a lip around the edge, but these little 6 x 8 bamboo cutting boards were a perfect size and a good buy.
Here's another option I found recently. They're about the same size and price, and the two-tone wood is pretty.
The Fun Part: Fillings
Once you've got your board, filling it up with a fun and delicious selection of adorable, healthy nibbles is as easy as pie and limited only by your imagination.
I generally start with some protein. Including an ounce of my favorite cheese in a beautiful presentation fills my cheesy cravings without overdrawing my bank of Weight Watchers points. But I also like to include some turkey or chicken breast for a zero-point protein option. A dollop of hummus or peanut butter is great for a vegetarian mini-board. A tablespoon of nonfat Greek yogurt mixed with a tablespoon of peanut butter made a great dipping sauce for this fruit mini-board.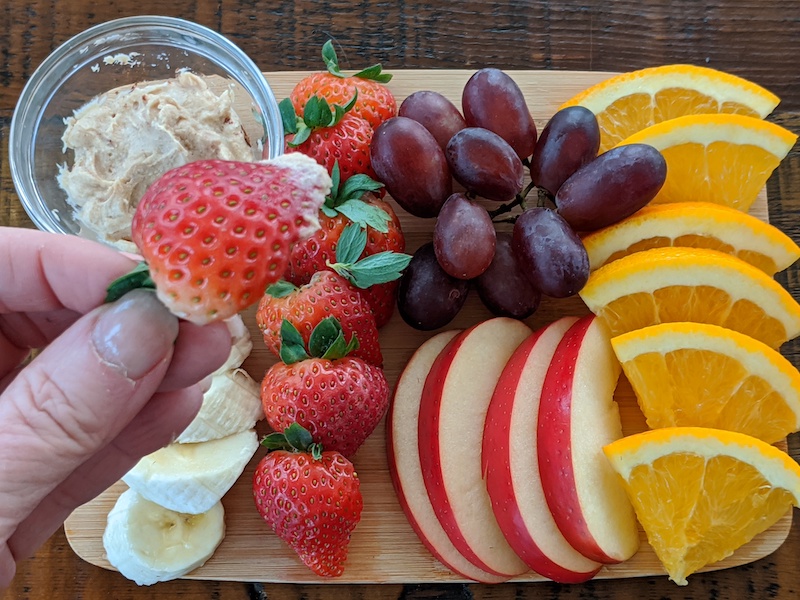 And Don't Forget the Sauce
Dipping sauces are a big thing with me. They add flavor and up the fun factor of my mini-boards. This mini-board with healthy veggies and some adorable little Two-Ingredient Dough Pigs in a Blanket were even more delicious with some honey mustard sauce on the side.
I like to use Ak-Mak crackers on my board because they're very Weight Watchers friendly, just 3 points for 5 crackers. But I also like Wasa Crispbreads. Pita bread wedges are nice too, or maybe some bagel chips. Having a lot of variety is key to an appealing mini-board.
Speaking of variety – keep it colorful! Eating the rainbow isn't just good for you, it adds to the pleasure of the meal and helps you feel satisfied. Add an assortment of bright, colorful fruits, vegetables, and sauces to your mini charcuterie boards. And if you've got parsley in the refrigerator, add a little garnish. Too often, we save those little extra touches for company but after a busy morning, you deserve a pretty lunch too!
Enjoy the Everyday
Which kind of brings me back full circle the place this post started – my friend, Sandy. The motto of her Reluctant Entertainer blog is, "Feast on life!" Personal charcuterie mini boards are a fun, easy, and delicious way to do exactly that, any day of the week.
Give them a try soon. And if you have a minute, email me a picture of your pretty mini-board. I'd love to see what you come up with!