This post may contain affiliate links. Full disclosure policy
THIS POST MAY CONTAIN REFERRAL LINKS. IF YOU CLICK THROUGH AND TAKE ACTION, I MAY BE COMPENSATED, AT NO ADDITIONAL COST TO YOU.
Someone recently wrote to ask an important question, "Marie, what's your very favorite cookbook?"
Answer: "Whichever one I just bought."
When I buy a new cookbook, I immediately race into the kitchen and start rattling those pots and pans, eager to try out those fabulous new recipes.  Every now and again, I end up being disappointed but usually not. As an experienced cookbook buyer (and experienced cook) a few minutes spent perusing the page is usually enough to tell me whether the recipes will end up tasting as good as the pictures make them look.
Like a lot of people, I do look for recipes online. When it's five o'clock and I'm staring into the refrigerator and wondering how I can turn a particular ingredient into dinner, online recipes can be lifesavers.  But, at the end of the day, I still love a big, beautiful cookbook with pretty pictures and pages I can touch, feel, flip through, and scribble notes in.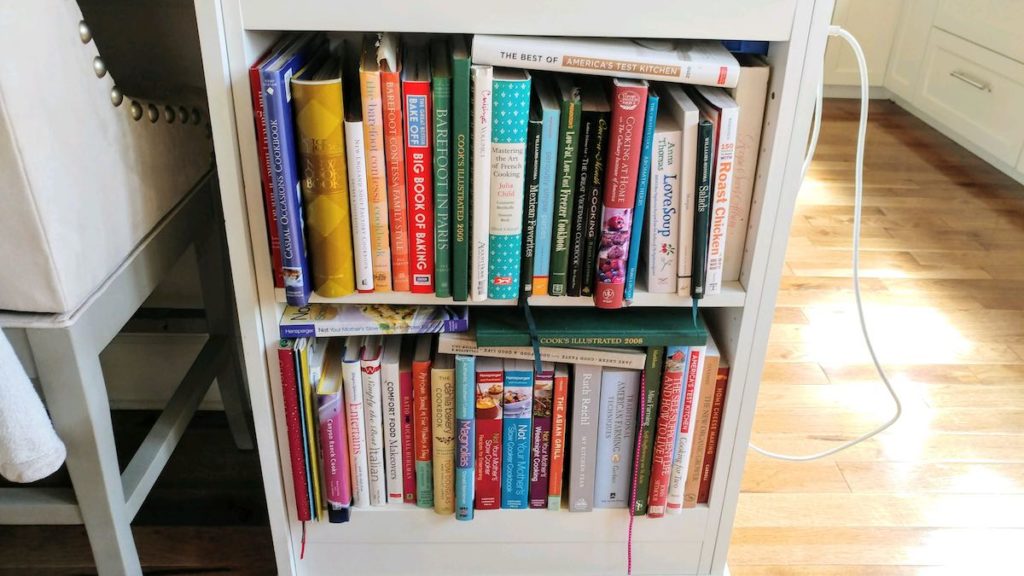 I also tend to drip a lot of stuff on those pages while I'm cooking. That's a big clue as to how much I liked a particular cookbook. The more drips and spills, the more I've used it, and the more I've loved it.
Earlier this month, while participating in a charity author luncheon during my Hope on the Inside book tour, I met Alana Chernila, a cookbook author. I'd been drooling over her gorgeous cookbooks even before I met her and absolutely knew I had to have one but hearing her speech and chatting with her really cemented the deal. She's delightful!
Alana has written three cookbooks so far. Honestly, I'd have loved to get them all. But since my suitcase was pretty full, I could only bring home one. I went with her newest, Eating From the Ground Up: Recipes for Simple, Perfect Vegetables.
I chose this book because I think vegetables are too often overlooked in cookbooks and, indeed, on dinner plates.
Vegetables tend to be relegated to the status of "sides", which is another way of calling them a culinary afterthought, playing a very distant third fiddle to what are usually considered the stars of the meal – entrees and dessert.  That's such a shame because vegetables are not only good for us, they're just plain good!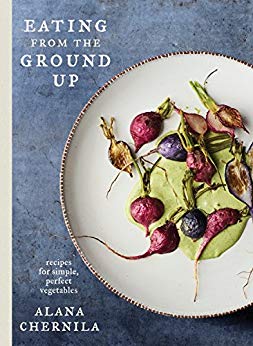 But I'm not sure I knew how truly, amazingly, mouth-wateringly good vegetables could be until I bought this cookbook!
It is fabulous and I'm simply obsessed with it! Not unpredictably, my copy of Eating From the Ground Up: Recipes for Simple, Perfect Vegetables is now my favorite cookbook. I have a feeling it will stay in that top spot for a very long time.
The recipes are terrific and the pictures of inspiring, but I also appreciated the little commentaries and essays that are included with each recipes. Alana Chernila is an excellent writer as well as an excellent chef. I enjoyed her conversational writing style and getting to know more about the background behind the creation of each recipe.
So far, I've made….
Roasted Asparagus with Yummy Sauce (she wasn't lying about the sauce. Yummy!)
Shredded Brussels Sprouts with Crispy Shallots and Pecans,
Swiss Chard Stem, Fennel, and Salmon Fried Rice,
Cauliflower Cheese,
Napa Coleslaw with Pecans and Peas
Every one was a winner. But even more exciting is the fact that I've only scratched the surface. There are SO many more recipes I want to try here!
Today I want to share a recipe that really intrigued me, starring the humble radish.
I don't know about you, but I've never had many ideas about what you could do with a radish. Sure, you can slice it up and put it in a salad, or maybe spread a little butter if you're feeling all fancy and French. But…apart from that, what else is there?
Plenty, as it turns out.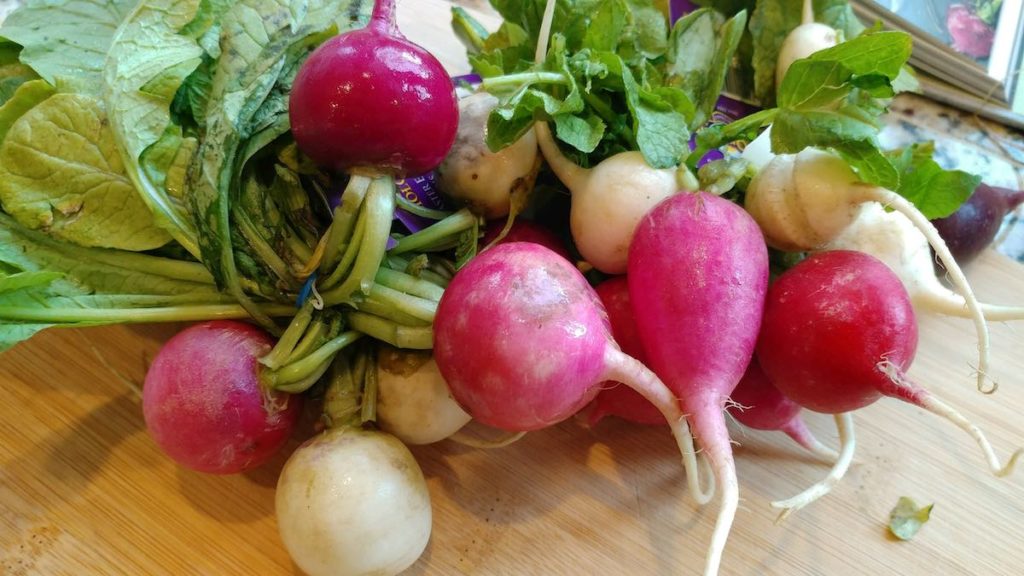 Did you ever consider roasting radishes? Neither did I. But after making Roasted Radishes with Feta Mint Sauce, I know that radish roasting will be a frequent addition to my culinary repertoire.
Radishes have a whole different flavor when they're roasted. They're much less sharp cooked. The taste is rich, mellow, and even a tiny bit sweet. The mint feta sauce is really a refreshing compliment to the radishes. On top of that, they are beautiful to look at! Put a plate of these in front of your dinner guests and people are going to sit up and take notice. Not bad for a humble "side".
Here's the recipe.
Print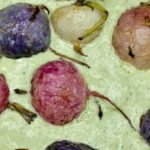 Roasted Radishes with Feta-Mint Sauce
---
Author:

Total Time:

40 minutes

Yield:

Serves 4
Description
Recipe is reprinted from "Eating from the Ground Up: Recipes for Simple, Perfect Vegetables." © 2018 by Alana Chernila. Photographs © 2017 by Johnny Autry. Published by Clarkson Potter/Publishers, an imprint of Penguin Random House, LLC.
"Roasted radishes are surprising — they get very juicy in the middle and sweet on the outside. Cooking radishes brings out an entirely different side of the vegetable, much mellower than the punchy bite of a raw radish. This is wonderful with standard cherry belles or French breakfast radishes, but it's also a great way to work with mixed bunches of all different colors. Amethyst, a bright purple variety, is especially beautiful roasted. This recipe makes more sauce than you need, but you'll be happy for the extra. Use it as a salad dressing, on other roasted vegetables or on grilled beef or lamb."
---
1½ tablespoons olive oil
3 bunches radishes (about 1½ pounds), greens removed, halved lengthwise
¾ teaspoon kosher salt
Sauce:
6 ounces cubed or crumbled feta
¼ cup olive oil
1 tablespoon fresh lemon juice
1 tablespoon red wine vinegar
½ cup (packed) fresh mint leaves
Freshly ground black pepper
Chicken or vegetable stock or water
---
Instructions
Preheat the oven to 425 F.
Roast the radishes: Pour the oil onto a rimmed baking sheet, tilting the sheet to spread it evenly. Place the radishes in the oil, turning to coat them, and then arrange each radish, cut-side down, on the sheet. Sprinkle with salt. Roast until the radishes are deeply golden on the cut side, 25 to 30 minutes.
While the radishes roast, make the sauce: Combine the feta, olive oil, lemon juice, vinegar, mint and several grinds of pepper in a blender. Blend until smooth, adding up to 3 tablespoons stock to make the sauce pourable.
To serve, puddle the sauce on a platter or four individual plates. Top with the radishes.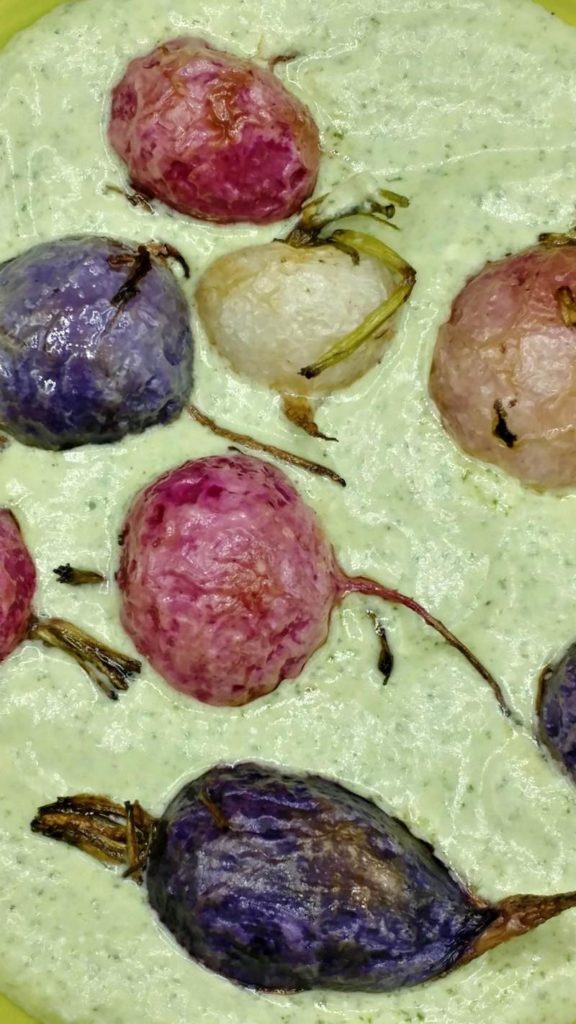 Prep Time:

10

Cook Time:

30

Category:

spring sides

Method:

roasting
Keywords: healthy sides, spring vegetables, weight watchers freestyle