This post may contain affiliate links. Full disclosure policy
THIS POST MAY CONTAIN REFERRAL LINKS. IF YOU CLICK THROUGH AND TAKE ACTION, I MAY BE COMPENSATED, AT NO ADDITIONAL COST TO YOU.
Have you been reading my newsletter or reading my Facebook posts over the last couple of weeks?
If so, you're undoubtedly aware that one of my books, The Second Sister, is being made into a Hallmark Hall of Fame movie with the title Christmas Everlasting.  (I've only posted about it around ten thousand times.)  It will air on the Hallmark Channel on November 24th, 2018 at 8pm Eastern Time, 7pm Central. I hope you'll watch it!
In fact, I hope you'll watch it with me! But more about that in a future post. Suffice it to say, plans are in the works. Stay tuned.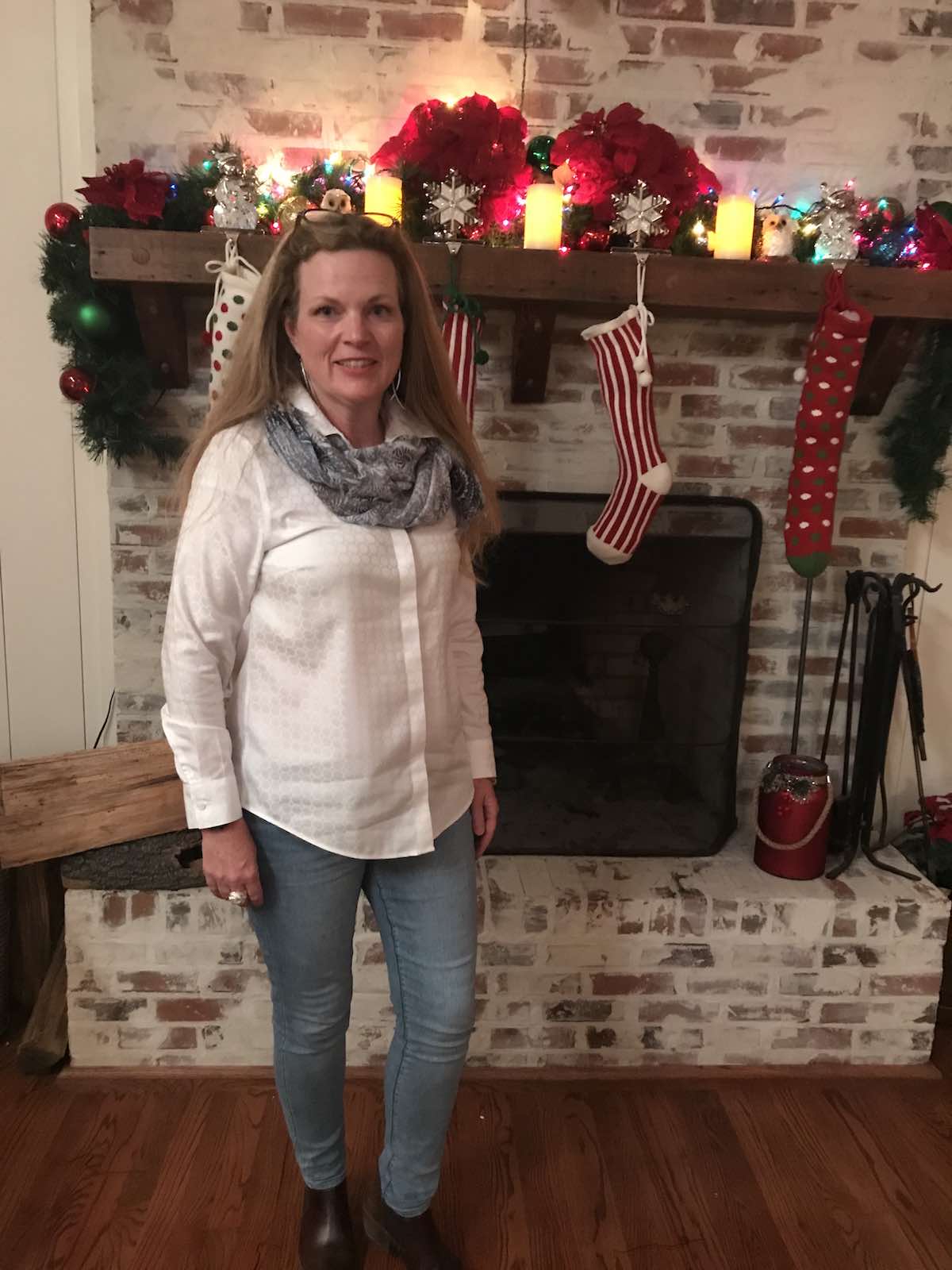 A Life Highlight and a Craft Project That Got Out of Control
Last week, I had the chance to visit the set during filming.
It was one of the best days of my life, one I will never forget. Seriously, I smiled so much that by the end of the day, my face hurt.
But, I'm getting ahead of myself.
My adventure into MovieLand began, as so many of my adventures do, with an overly ambitious crafting project, followed by a sleepless night, panic, and ripping out miles of seams while wondering how I get myself into these these situations!
Here's how.
I often have a companion quilt designed to go with my books.  Most of those quilts are created by my good friend, Deb Tucker, of Studio180 Design.  But Deb's calendar was very busy when The Second Sister was going to press, so I designed and made the companion quilt myself.
Just a few weeks ago, when I learned that the movie was about to start filming, I decided I wanted to give Lucy's Legacy to Tatyana Ali, the actress who is playing Lucy.
But then I thought, "If I'm going to give a quilt to Lucy, I really ought to have presents for the other actors."
I made four quilted table runners in one week, finishing the last one in the wee hours of the morning before catching my flight.
Fortunately, adrenalin and coffee is powerful combination. No sleep? No problem! When I arrived in Atlanta, I felt great.  It was a feeling that lasted all day and far into the night.
That day held so many memorable moments for me. But I will never, ever forget walking down a driveway on a hot, humid day in Georgia and getting my first glimpse of Lucy's "snow" covered lake house.
I felt like someone had pried open my skull and pulled out my brain. There was Lucy's house! Just like I'd pictured it!
I started to cry. But they were good tears, very good.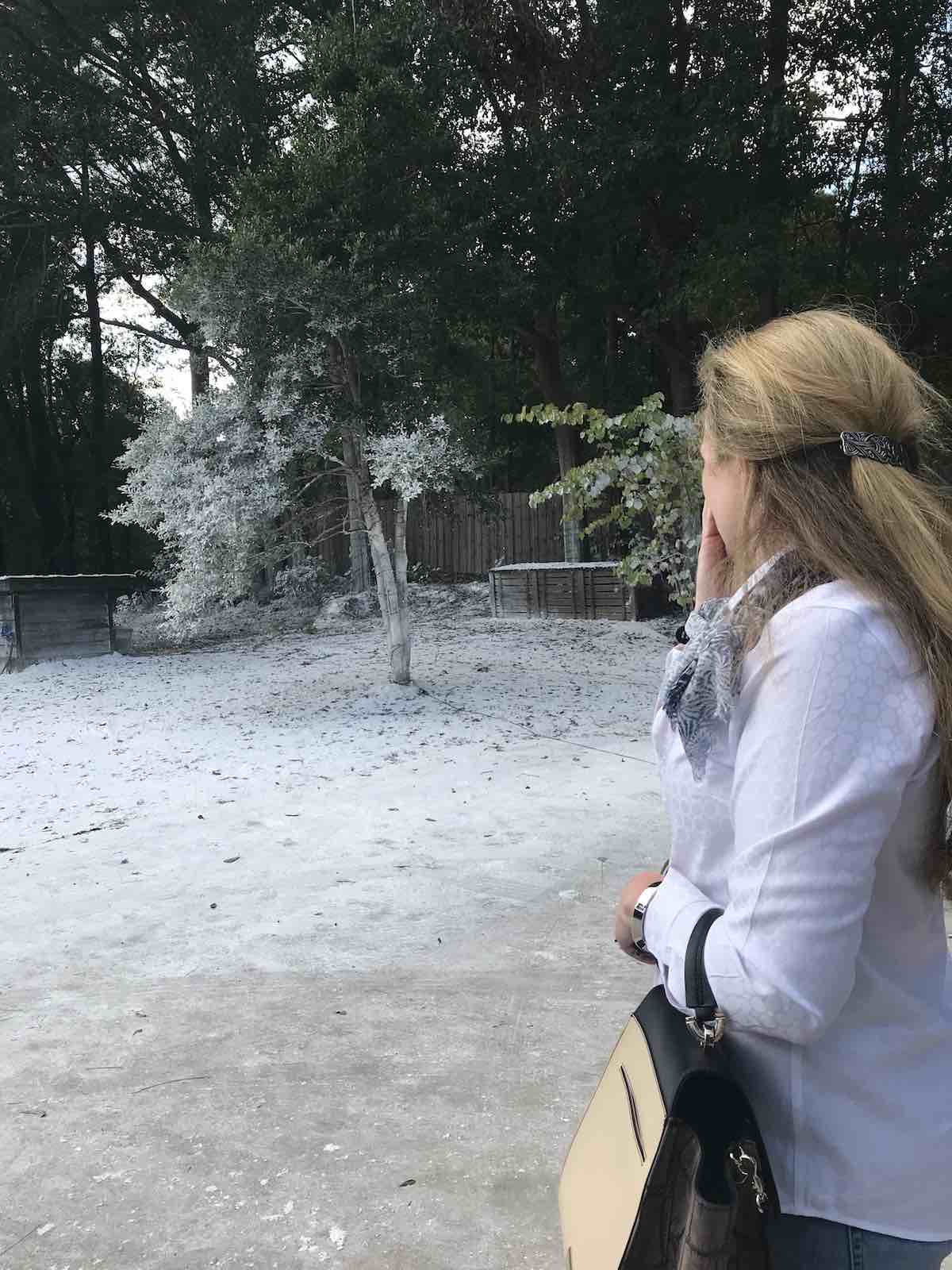 What I Learned About Movie Magic
Movie sets, I learned, are very busy places. And very crowded ones.  I don't know how many people were on the crew for Christmas Everlasting but at least one hundred. I still don't know what most of them do but I know they do it very, very well.
No detail, from making sure that an actor's sweater is pulled down to the exact same spot in every take, or making sure a turkey that was probably cooked days before looks like it just came from the oven, or the creating digital scenery that looks exactly like frosty windows when projected against a black background, was overlooked.
You've heard the phrase "movie magic", haven't you? I'm here to tell you that it's real. And the people at Hallmark know how to make it.
The first trick of visiting a movie set is finding a place to stand or sit where you won't be in the way. Between the cast, crew, camera, and ten gazillion types of equipment, it isn't easy.  But everyone was very polite and patient with me.
It was actually amazing how these incredibly busy people, working so hard to keep to a very tight shooting schedule, welcomed me like one of the family. I met the director, the producers, the makeup people, hairdressers, and costume designer.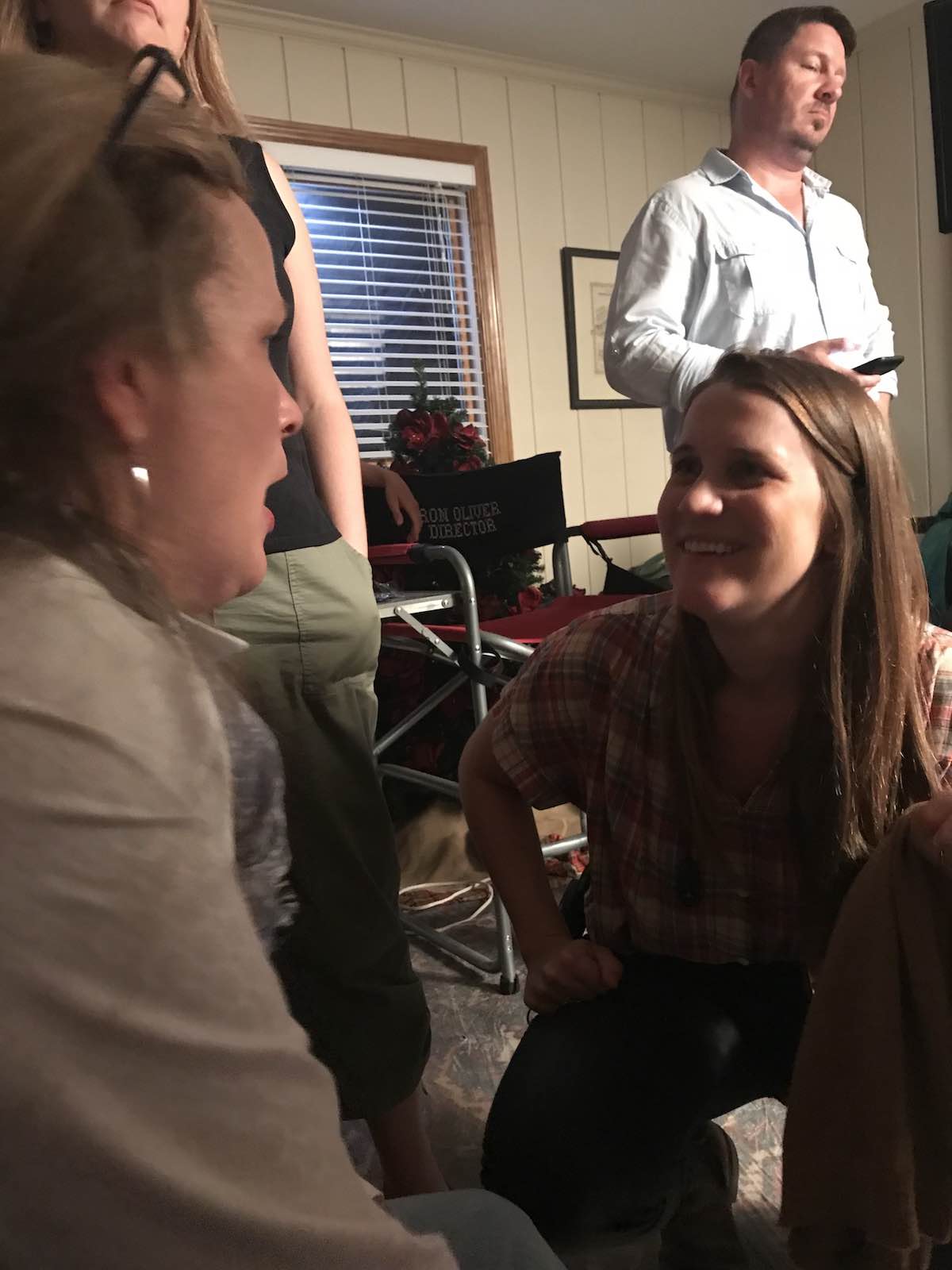 I definitely had a soft spot for the costume and wardrobe department. No surprise there, right? There's fabric involved. And sewing machines.  Also, one of the wardrobe people, Emily, shares my ridiculous RV obsession. Between takes, we had a teardrop trailer geek-out session.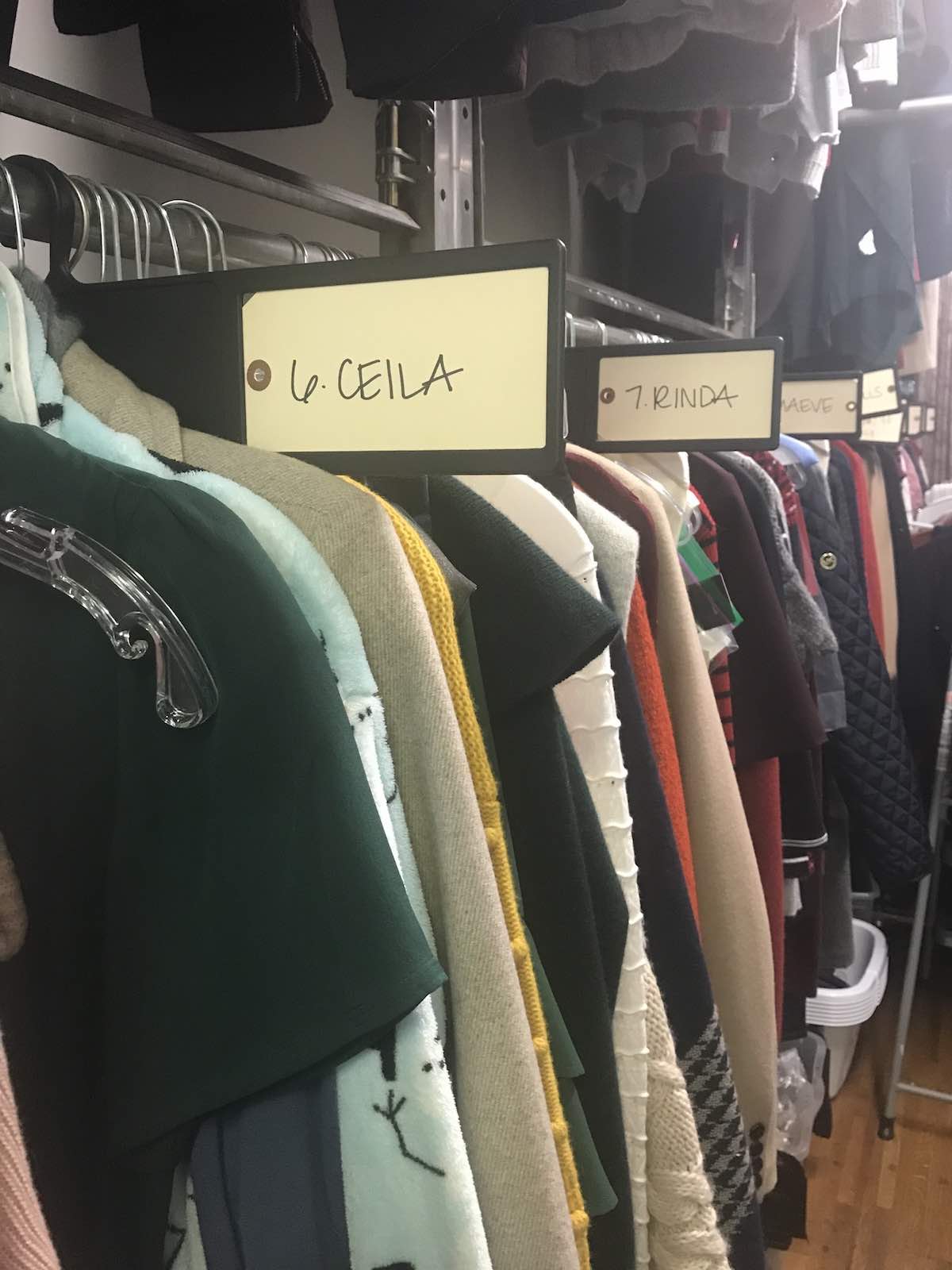 The wardrobe trailer was an actual trailer – an entire semi-trailer with a washer and dryer nicer than the one I have in my house and costumes double-hung from one end to the next.
There were also trailers for makeup, sound, lighting, props, and a bunch of other stuff I really didn't understand. They even had a big trailer with two huge slide-outs that transformed into an instant cafeteria that could seat at least eighty.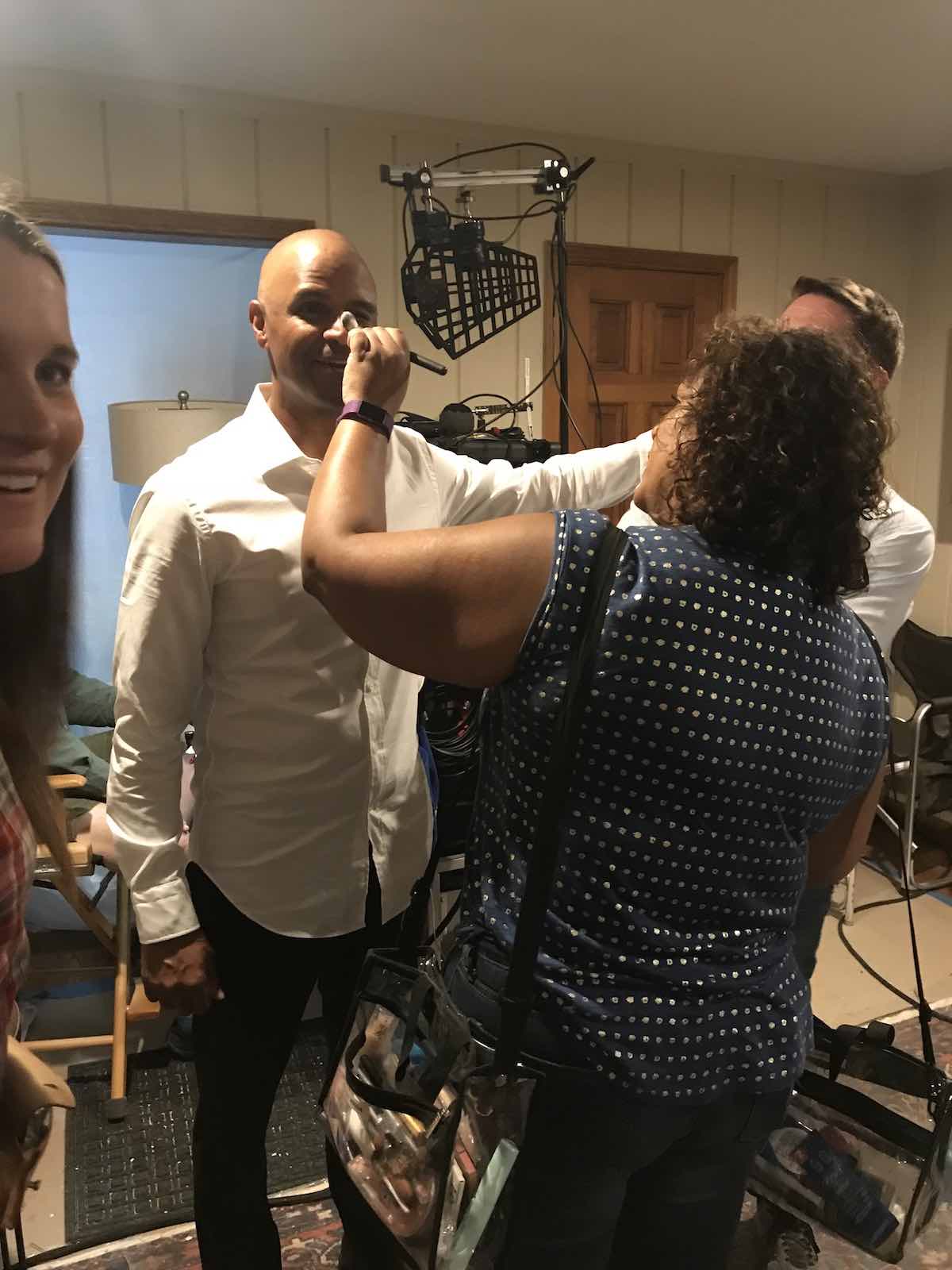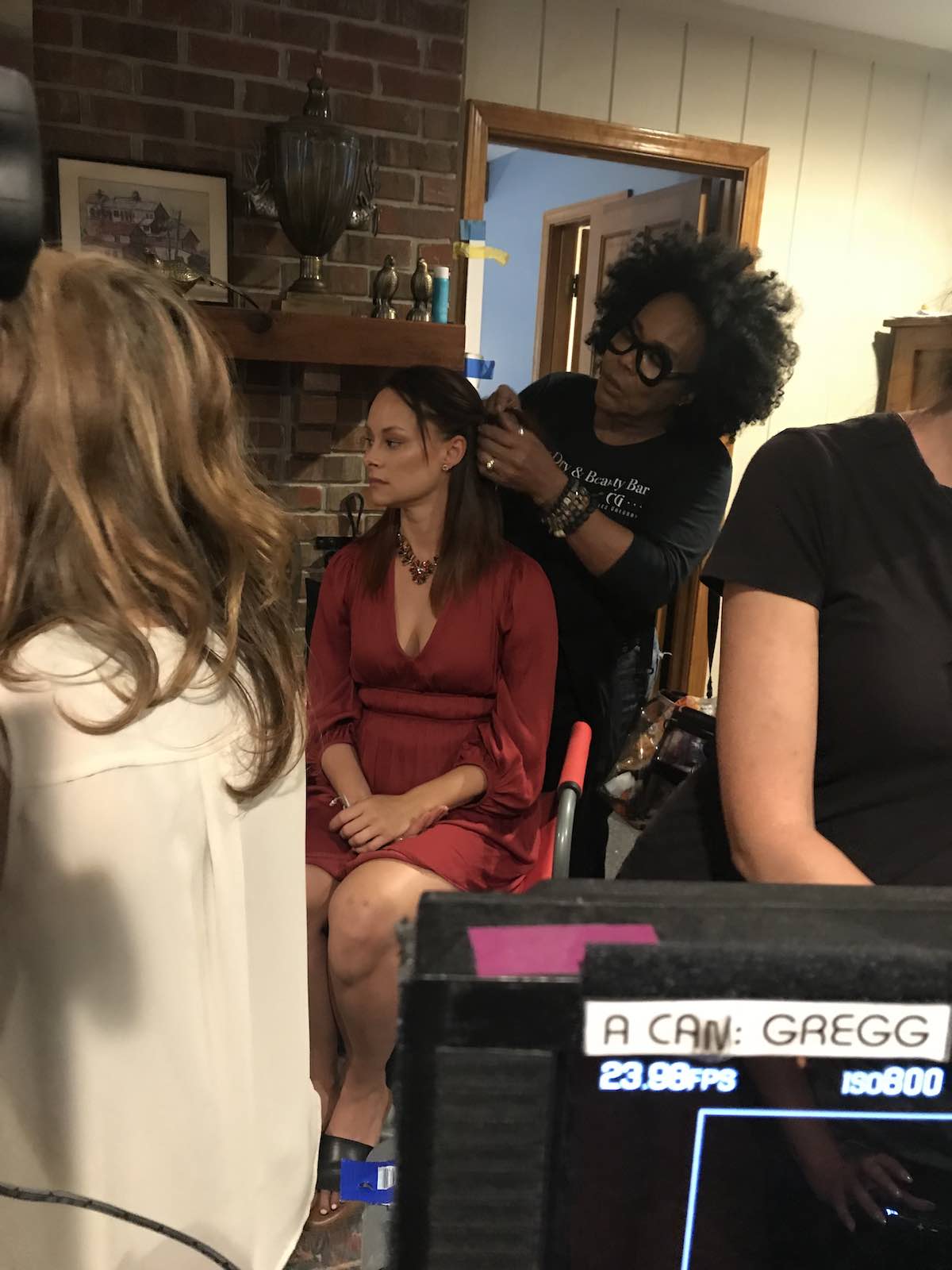 When Characters Come to Life
Everything they could possibly need was right there, almost like a little city unto itself.
Of course, I was absolutely thrilled to meet the actors who are bringing my characters to life.  Very cognizant of the fact that they all had a job to do, I bided my time, waiting for opportune moments to present my gifts.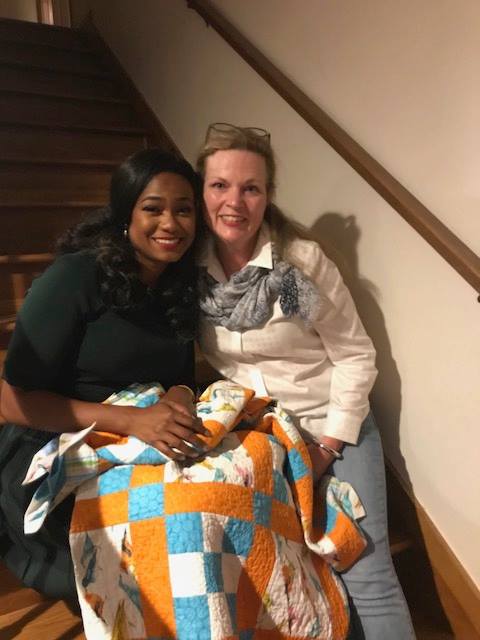 When I saw Tatyana Ali sitting quietly on some stairs between takes, I took a seat and gave her my quilt. When I said I'd made it myself and explained how it fit into the book and illustrated Lucy's character, we both teared up. Tatyana loves Lucy as much as I do.
The actresses who are playing Rinda, Daphne, and Celia were very much like the characters they portrayed – where you found one, you'd always find the other two. It was fun to see how they have bonded during the filming. And truly heartwarming to see how much they appreciated the table runners I made for them. I love the idea of them having a keepsake of this experience.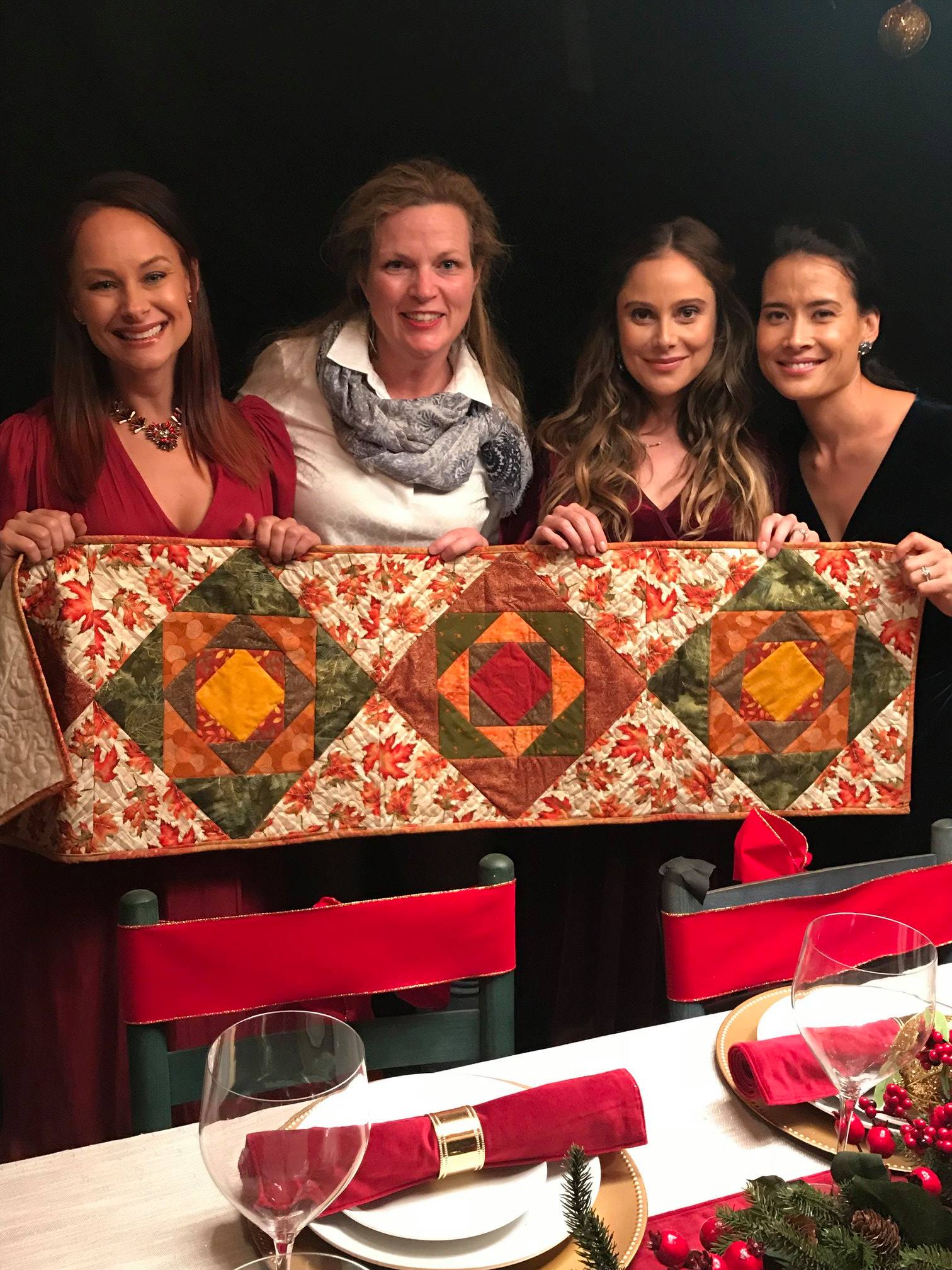 While I didn't sew a present for Dondre Whitfield or Dennis Haysbert,  I knew they were both golfers so I gave them each a golf ball Christmas ornament.  I really enjoyed spending time with them.  They're terrific actors but also kind and very down to earth. It didn't take five minutes for me to feel completely at ease with them.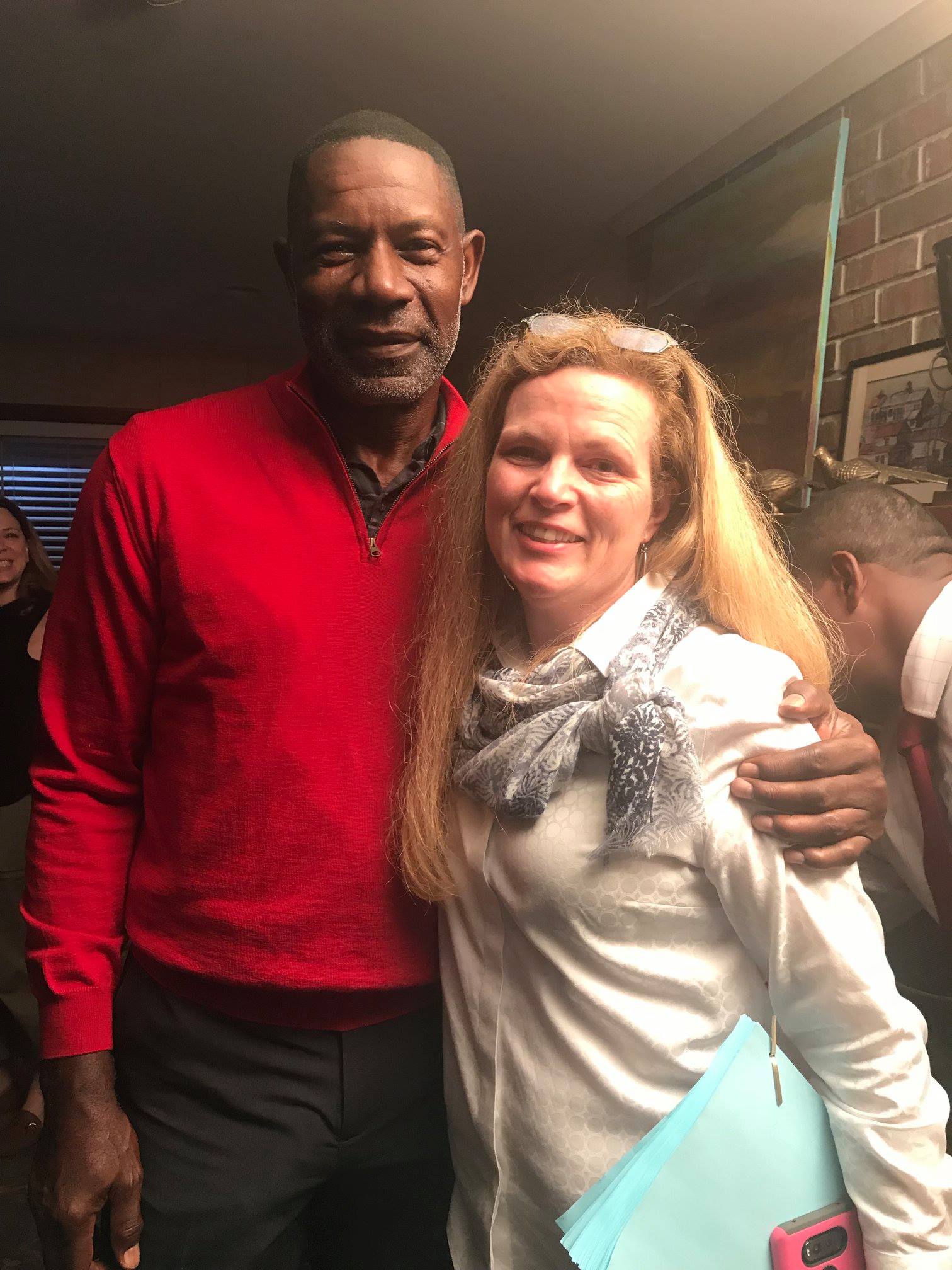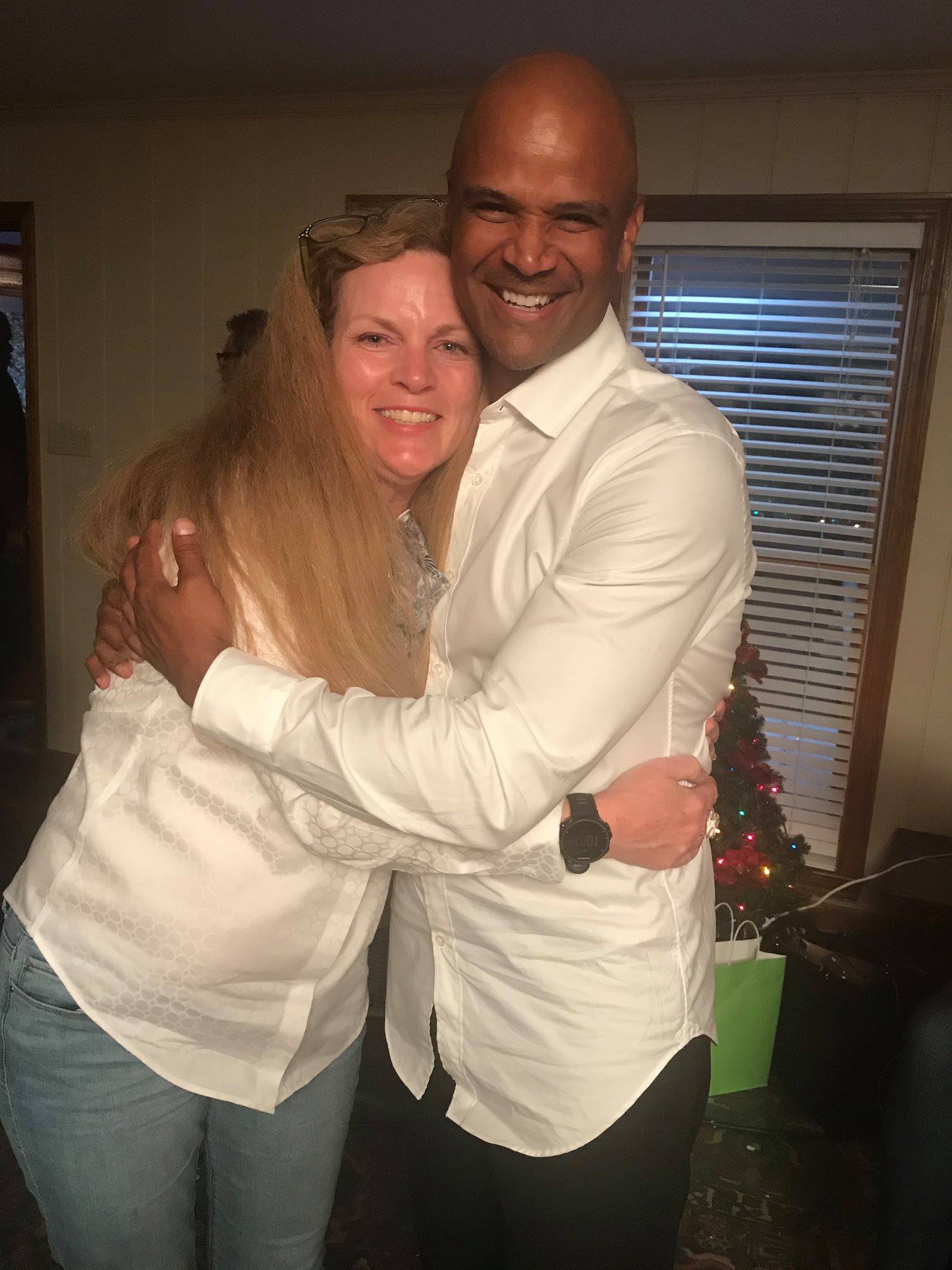 The last of my four table runners was reserved for the incomparable Miss Patti LaBelle. Honestly, I was more than a little star struck when I met her. Not because she is the least bit standoffish.  Quite the opposite. She couldn't have been nicer.
But still…I mean…
Patti LaBelle!!! I met PATTI LA BELLE!!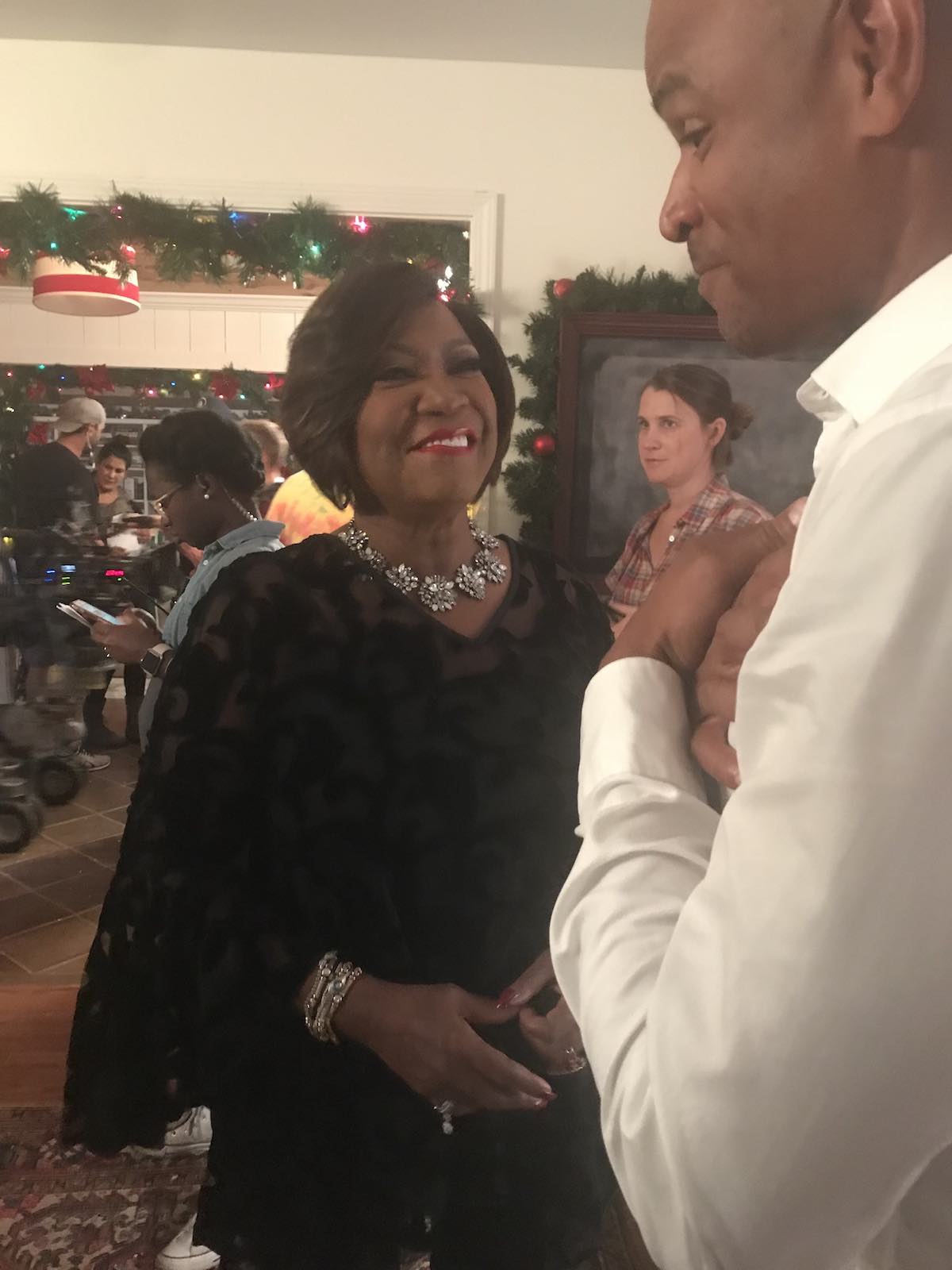 When Books Become Movies
It was a great day. A long day but a great one. One of the best of my life, a day I will never forget.
Seeing my book made into a movie has been a very emotional experience.  I knew going in that some storylines would have to be altered to fit the shorthand medium of movie versus book. Otherwise, movies based on books would be eight hours long.
Even so, the idea handing my book off to other people when I had worked so hard on it summoned up the kind of anxiety I felt when dropping my children off for their first day of school.
Would the people into whose care I was placing them take that responsibility seriously? Would they cherish them as I did? Recognize what made them so special and unique?
I needn't have worried. Yes, some storylines have been altered, edited, or added to. Some characters play smaller or larger roles than in the book. A few disappear entirely or are combined into a single character. But the themes that I care about most – the power of friendship, the bonds of family, the constancy of love, the need to forgive others as well as yourself, to embrace life wholeheartedly, are all there. That's what matters to me.
It was well after midnight when I got back to my hotel.  I was exhausted.  But the cast and crew were still on the set, still working.
As I turned out the lights and closed my eyes, the last thought that went through my mind was that the story and my characters were in very good hands.