This post may contain affiliate links. Full disclosure policy
THIS POST MAY CONTAIN REFERRAL LINKS. IF YOU CLICK THROUGH AND TAKE ACTION, I MAY BE COMPENSATED, AT NO ADDITIONAL COST TO YOU.
I love to entertain.  Always have.  I'd go so far as to say that I enjoy throwing parties even more than attending them.
But for a lot of women, the idea of entertaining at home is an intimidating, even frightening prospect.
I think that's because many people have the wrong idea about what it takes to entertain.  You don't need to have buckets of money, a fancy house in a fancy neighborhood, or the culinary skills of Martha Stewart to throw a good party.
Showing hospitality is simply about sincerely welcoming others into your home with a warm and open heart. It doesn't have to be complicated, or expensive. In fact, some of the best parties I've ever been to, or given, have been the simplest.
This weekend, I attended a party for one of my daughters-in-love, a soon to be a mother – for the fourth time! After three kiddos, her baby gear is pretty well worn out, so her mother decided to throw her a surprise baby "sprinkle".
It was a perfectly charming party that perfectly demonstrated the principles of easy entertaining.
SIMPLE, SERVE-IT-YOURSELF MENUS
The food was plentiful and delicious but the menu was simple. A big batch of homemade chili was the base for a variety of serve-yourself-toppings and guest were encouraged to customize their chili to their liking (and serve themselves!). Thing were rounded out with salad, mini loaves of store-bought cornbread, and a beautiful cake from a local bakery.
A bowl of sparkling apple cider punch was perfect for an October party. Lime flavored seltzer was available for those who didn't care for sweet beverages. Flavored popcorn from the store and a homemade cheese ball served with crudités gave guests something to snack on while waiting for the expectant mother to arrive.
Easy, right?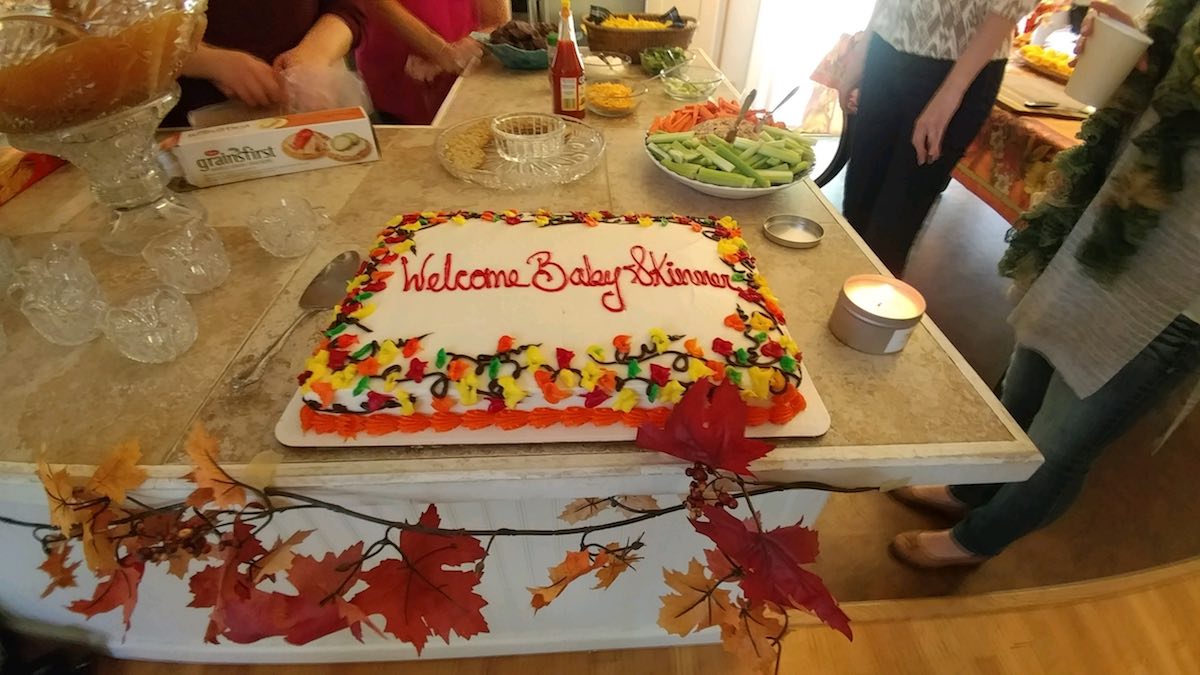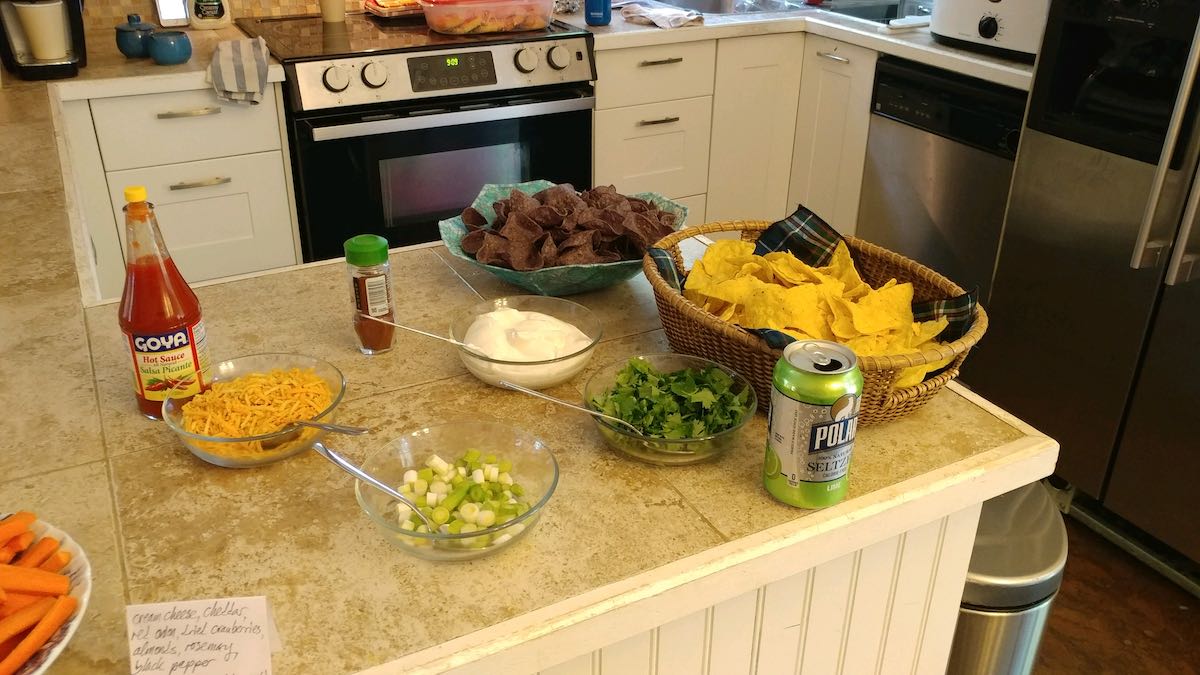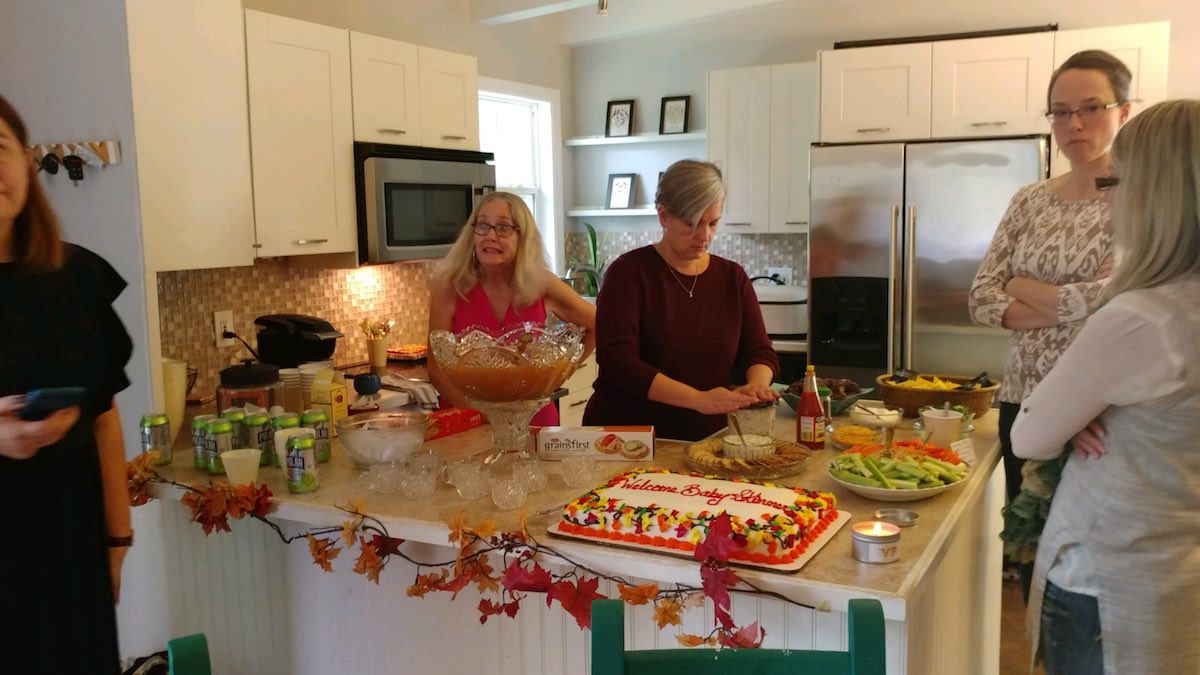 LET'S TALK ABOUT DECOR
As a self-confessed craft-o-holic, I confess to occasionally going overboard when it comes to party themes and decorations.
I'll tell you more about that next week, in regards to the upcoming rehearsal dinner for my youngest son's wedding. In an uncharacteristic moment of clarity, I realized that the decorations I was planning to make were going to give me a headache that was way, way out of proportion to the pleasure they would add to the occasion.
Look, if you have the time, talent, and inclination, there's nothing wrong with an over-the-top decorating scheme. Just know that you'll be doing it for you.
Unless the rest of your guests are also dedicated crafters, they probably won't appreciate or understand how much time and effort went into those four foot tall centerpieces woven from willow branches and unicorn eyelashes, or those hand-carved ice sculptures of the bride and groom.
Decorations should set the tone, not steal the show. They don't need to be complicated, wallet-emptying, or time consuming.
Consider the décor for my daughter-in-love's sprinkle. A pumpkin, a few candles, and some autumn leaves and lighting from a local craft store were used to create simple and simply charming fall-themed decorations. I just love the idea of using this adorable lineup of onesies to the decorate mantle!
Could this be any cuter? I think not.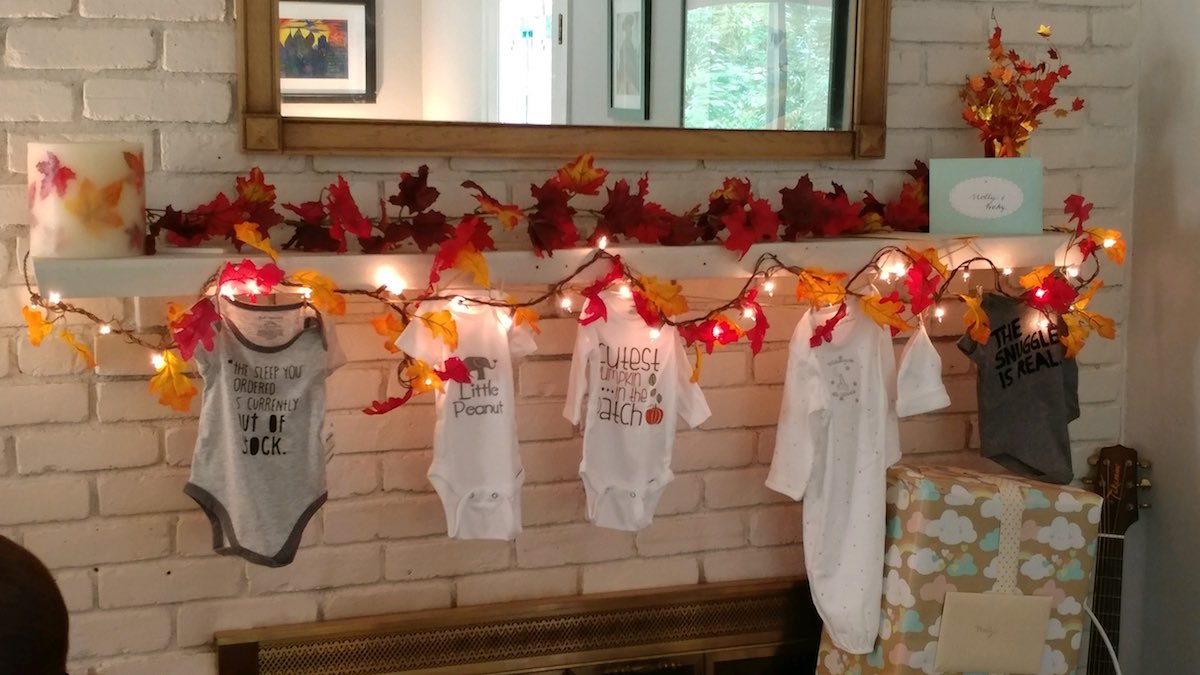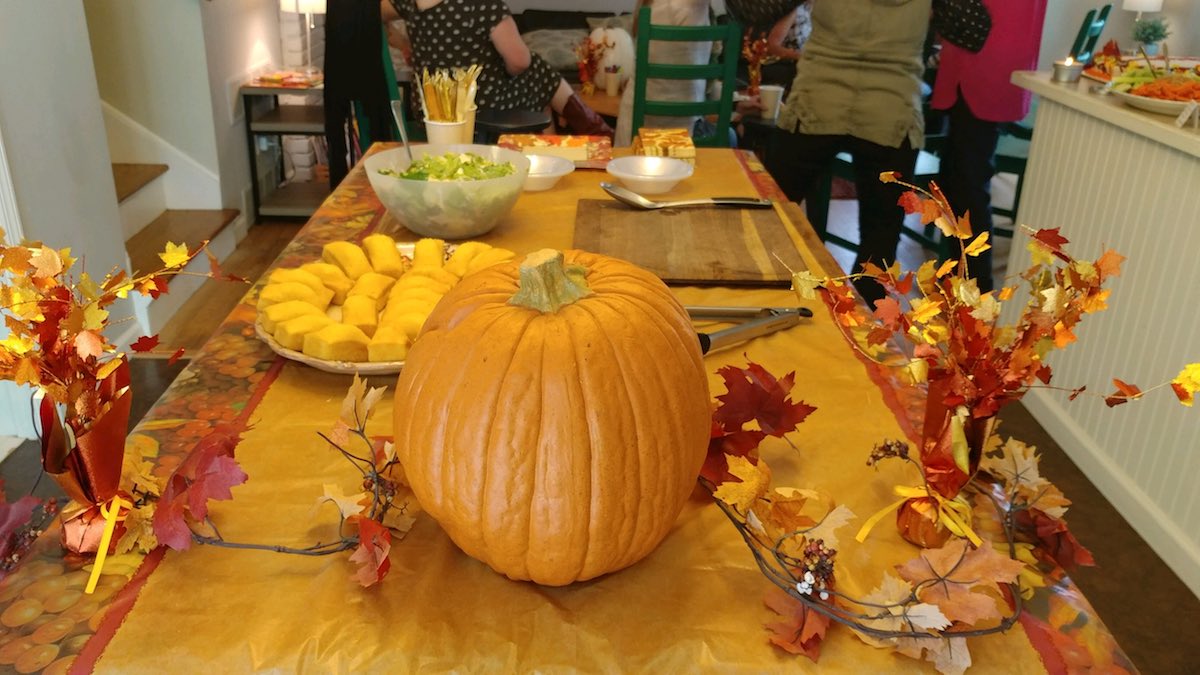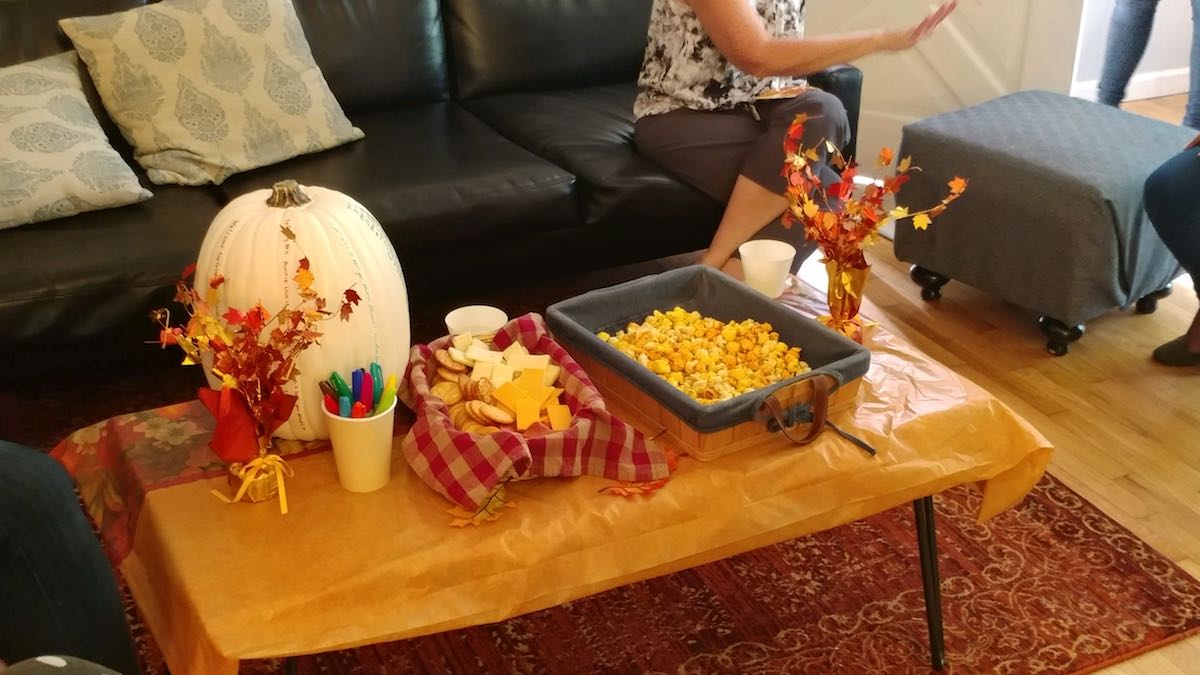 YOU DON'T NEED TO BE A ONE-WOMAN SHOW
One of the very best, very smartest principles of easy entertaining is this: many hands make light work.
If someone asks what she can bring, tell her. And if someone offers to help out in the kitchen, let her.
When I entertain, I actually like to reserve a few jobs for volunteers and not just because doing so makes my job easier.
Many people feel shy or uncomfortable at parties, especially if they don't know many of the other guests. But that discomfort tends to melt away if they've got a task to perform, role to play. Handing a timid guest an apron and a pile of carrots to peel can make the party more enjoyable for them and less stressful for you.
MORE SERVE-IT-YOURSELF IDEAS
I love the idea of choosing one dish and letting guests customize it just how they like it. That's why a serve-it-yourself bar is so appealing! Well, that and the fact that you don't have to mess with serving your guests or cooking up multiple dishes. Here are a few of my favorite ideas floating around on the internet!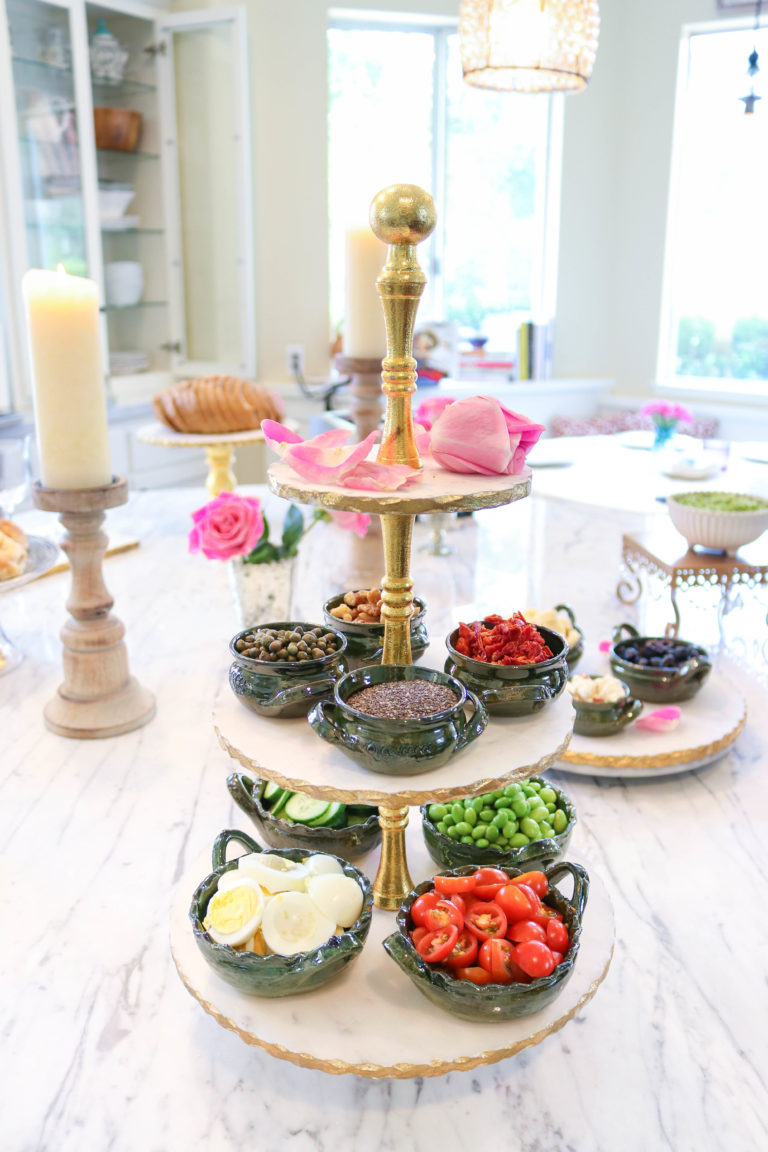 Image Credit: Happily Ever Adventures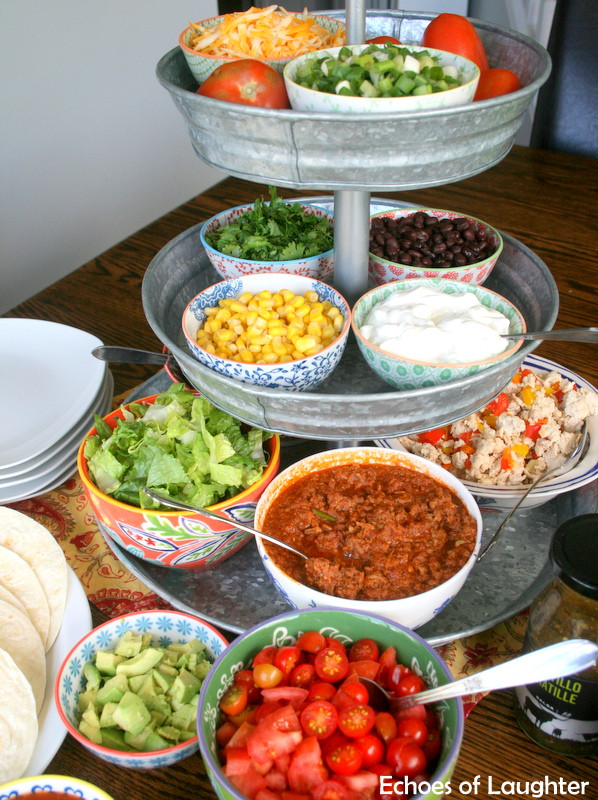 Image Credit: Echoes of Laughter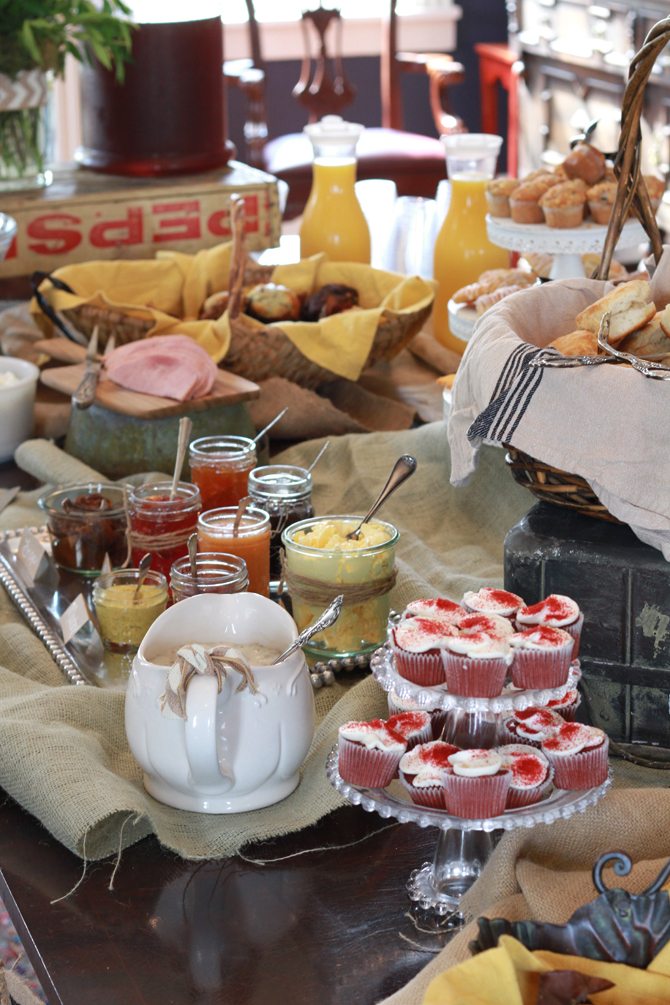 Image Credit: Southern Bite 
Image Credit: Half Baked Harvest