This post may contain affiliate links. Full disclosure policy
For all of you super organized ladies, you probably had your pumpkin Pinterest boards ready for action since August, so this post might be old news to you. But, if you are anything like me, and haven't had time to spruce your nest with bright orange pumpkins and autumnal glow, go ahead and keep reading this post. This one's for you.
So what's the big deal about pumpkins, anyway? Well, around the world, they are considered a symbol of the harvest season. For me, they remind me of childhood, and New England, and pretty wrapped pumpkin bread and too many pumpkin spice lattes.
This past week, I got to take three of my grand-darlings to a real-life pumpkin patch. We bought too many pumpkins to count and had the best time. Stay tuned for next week to see the fun kid-friendly crafts we did with them! (Spoiler alert: it was messy).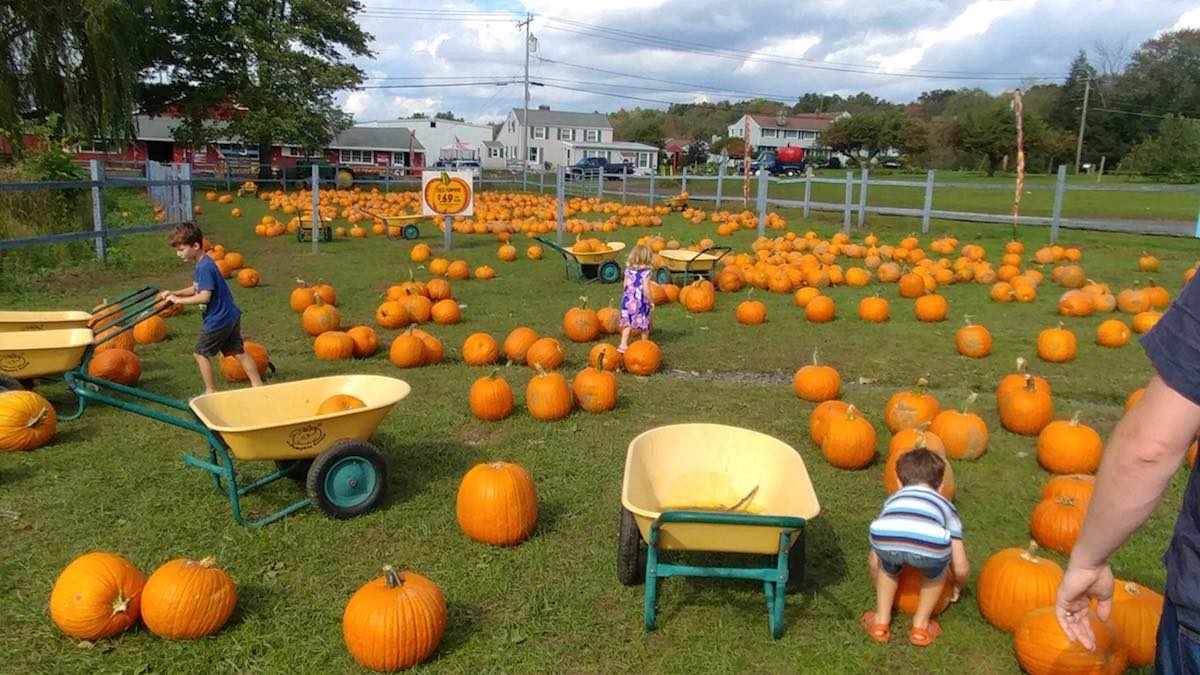 From Pumpkin Patch to Pinterest
The pumpkin adventure got me thinking about creating my own crafty pumpkin decor when I get home. I love the bright, punchy orange when the leaves are starting to turn and the green is starting to fade.
So how do I gracefully take that fun palette inside my home and on my front steps? I started perusing Pinterest and quickly came up with some criteria (I used the word criteria to make my endeavor sound more official):
The design "scheme" needed to be easy and quick.
It couldn't require any special equipment.
The colors can't be overpowering, especially inside the home.
A centerpiece for my table and for outside needs to be "semi" crafted so it looks custom and special.
There must be gold somewhere. Because, you can't have enough gold.
My daughter in law shared her ideas and I can't wait to try these when I get home! Instead of having her daughters farm for pumpkins in a field, they just went to Trader Joes. I'll have to take them to a real pumpkin patch next year.
The Prettiest Front Porch Pumpkins
For my daughter in law's front porch, she wanted to try something new this year. Her vision was tiered pumpkin topiaries with accents of greenery. She tucked filler branches of some local evergreen under the pumpkins to support and add pops of that pretty sage green color to complement the sunrise orange. She started out with the case concrete urns but decided it was too much going on (I still like them quite a lot!). So she opted for the version with just the pumpkins and no planter. Either way, what a beautiful Harvest display!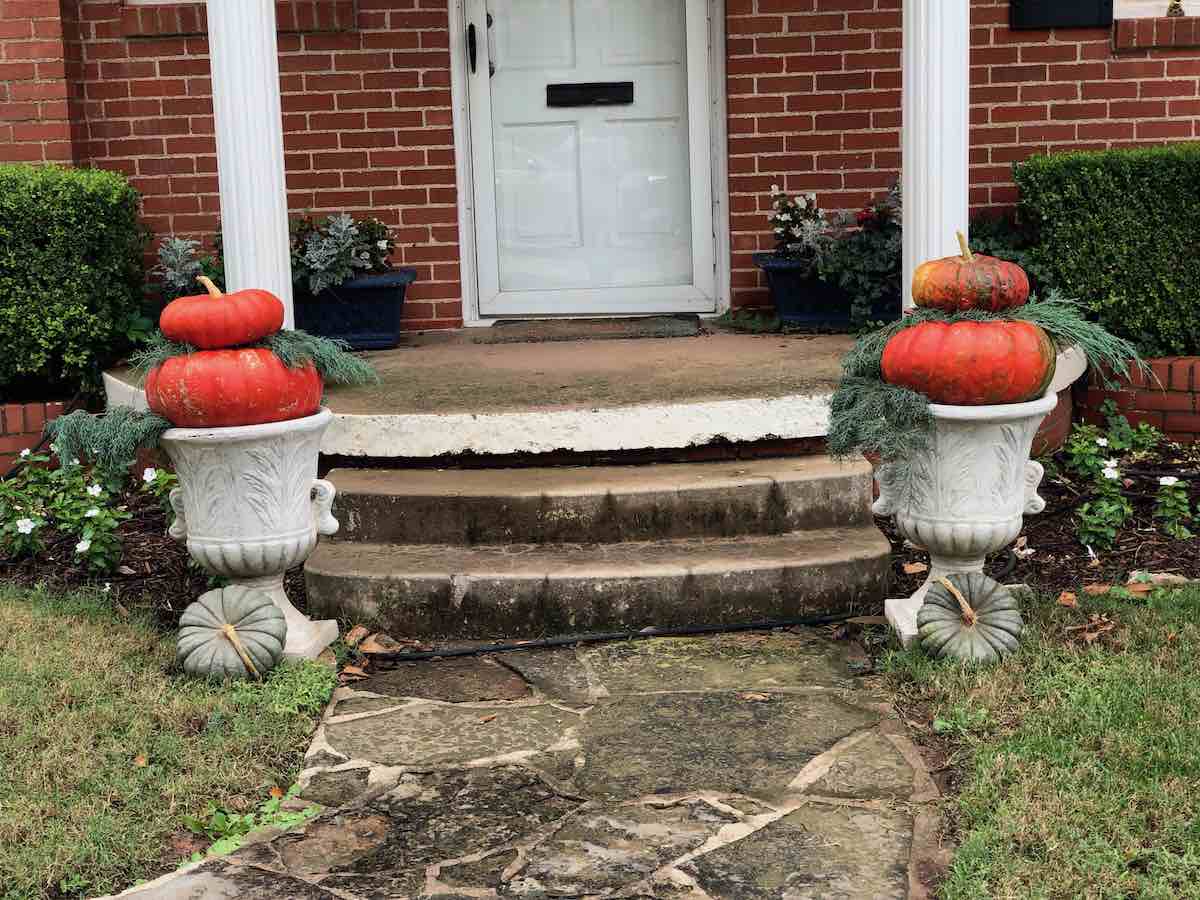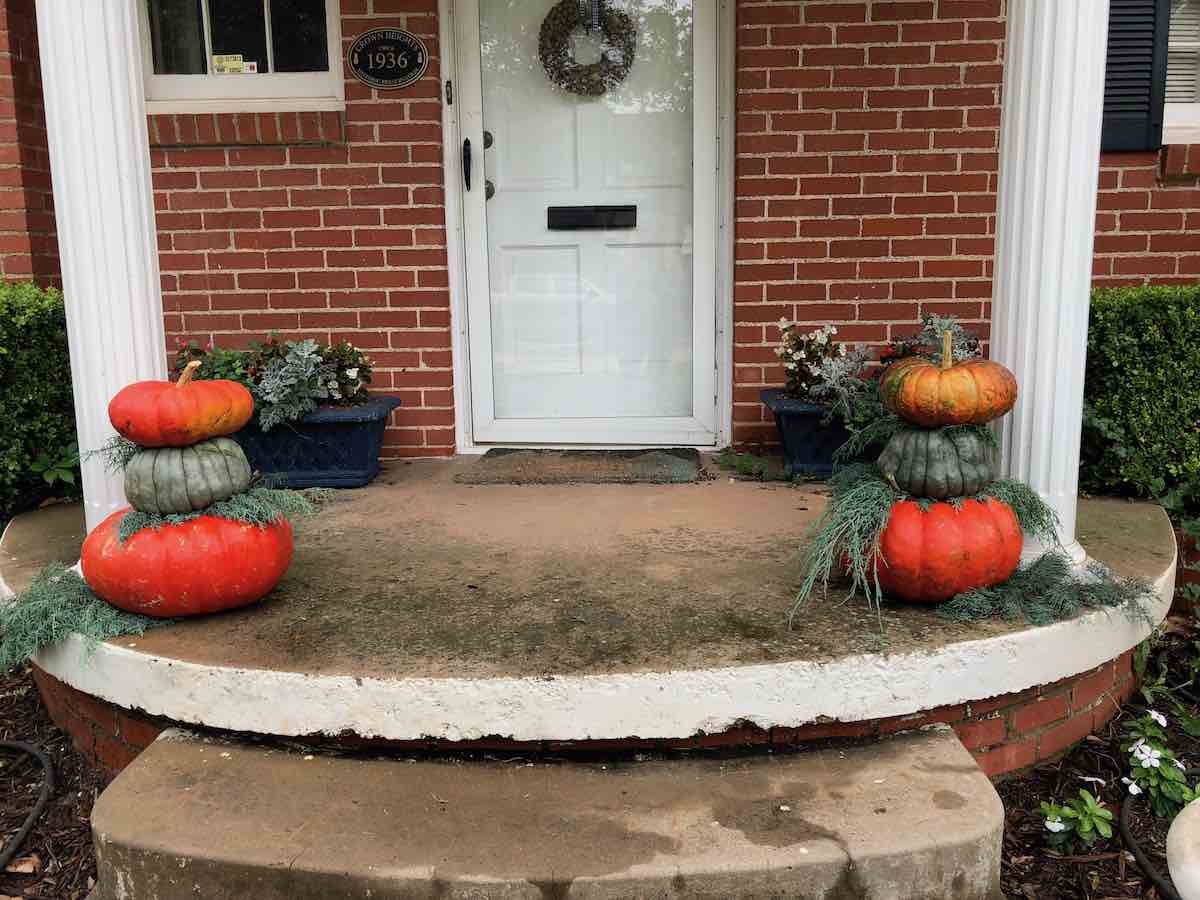 So for the table centerpiece, which ultimately ended up on her weathered teak side porch table outside, she wanted to use gold spray paint to add leaf accents on white pumpkins. First she used an actual leaf to trace it on yardstick folded in half. This looks a little complicated to me, but whatever.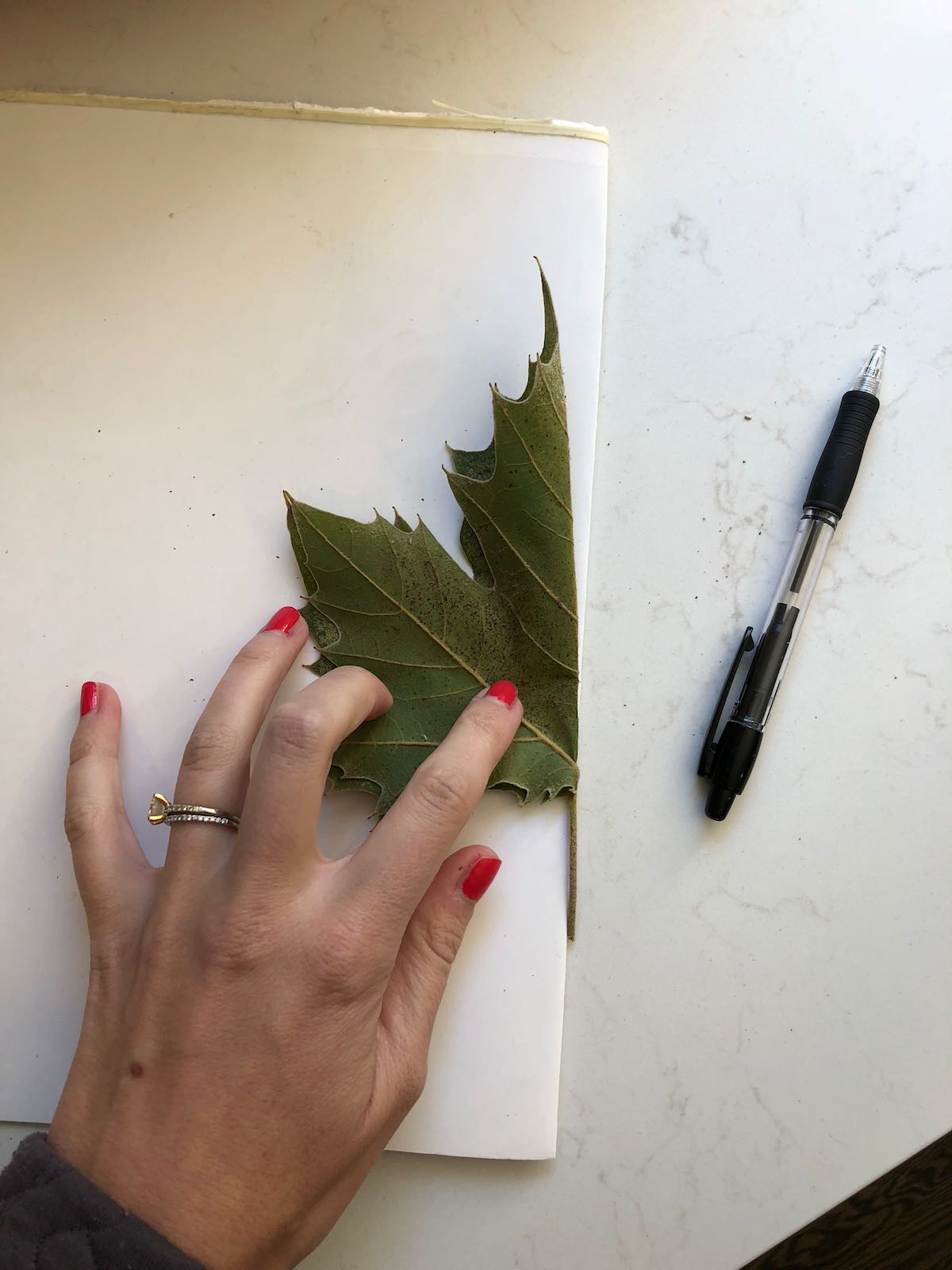 Ta da! A lifelike leaf shape. She then cut the stenciled leaf out.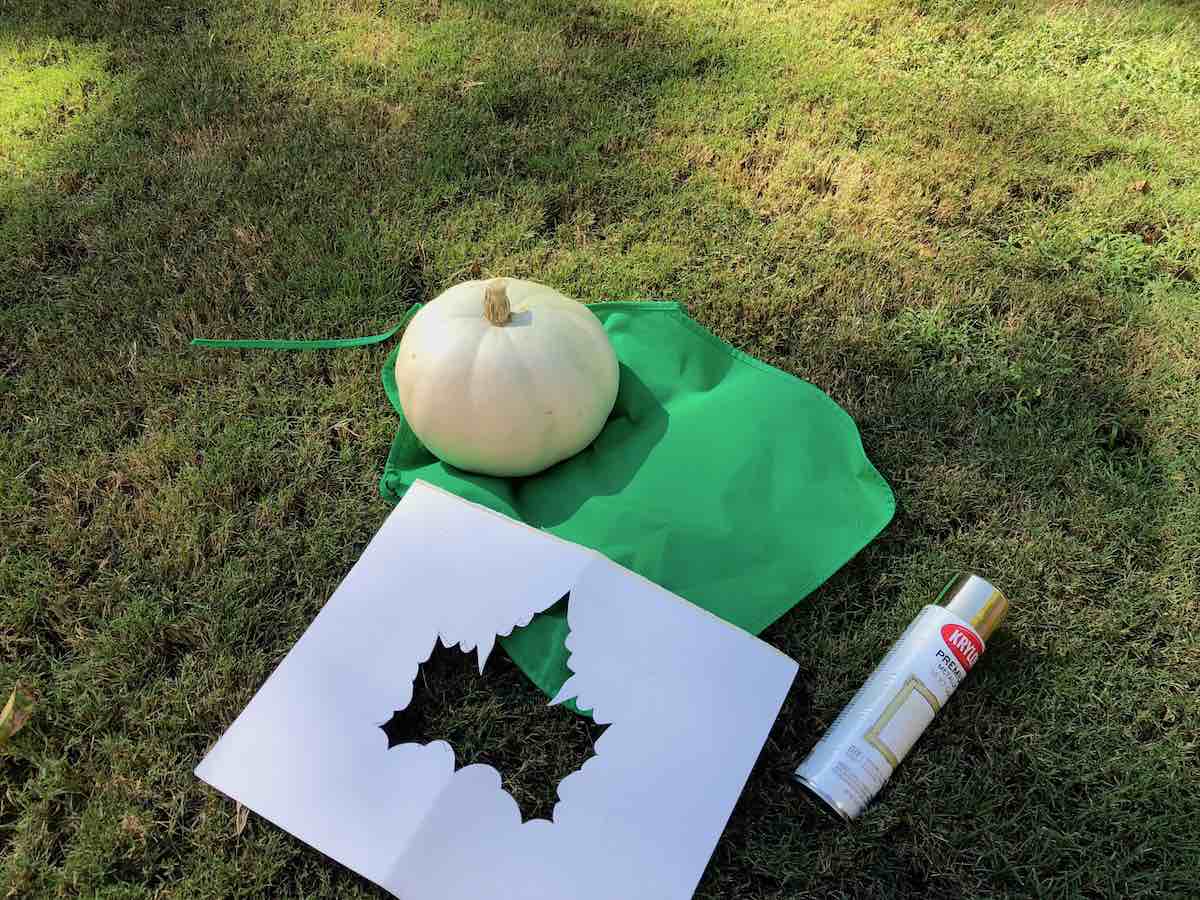 To add a playful element, she partially covered a few smaller pumpkins with painters tape to give it an asymmetrical, geometric pattern with gold.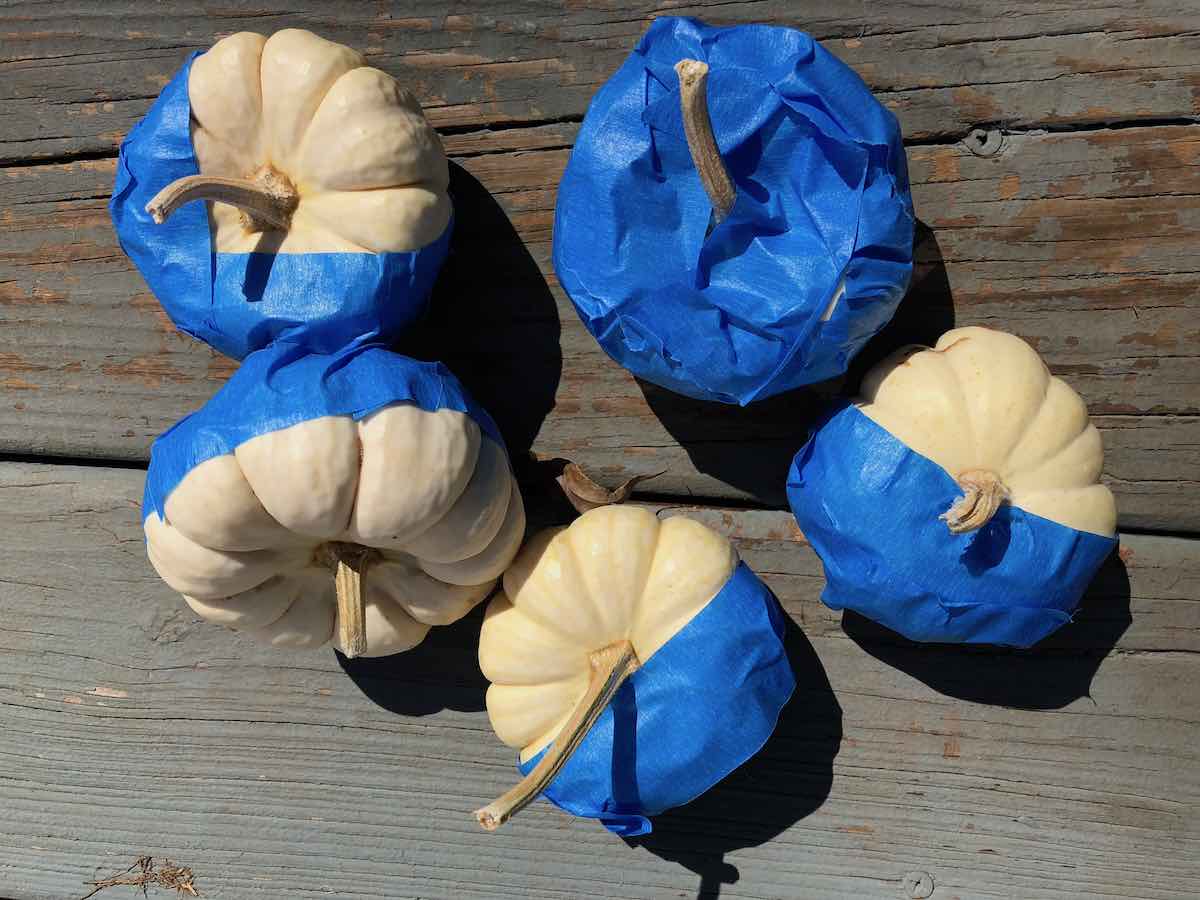 Everything is prettier spray painted gold, amiright?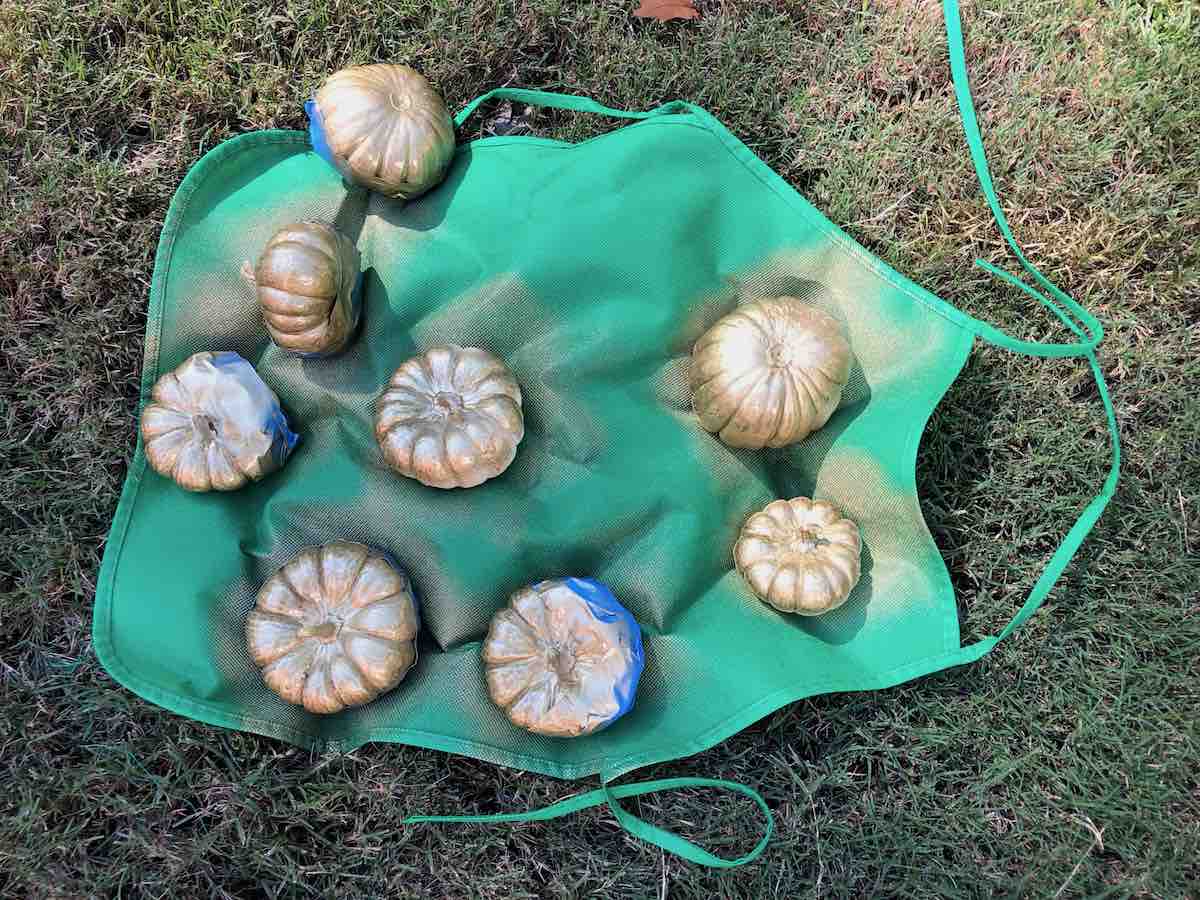 After they dried, she got to work arranging.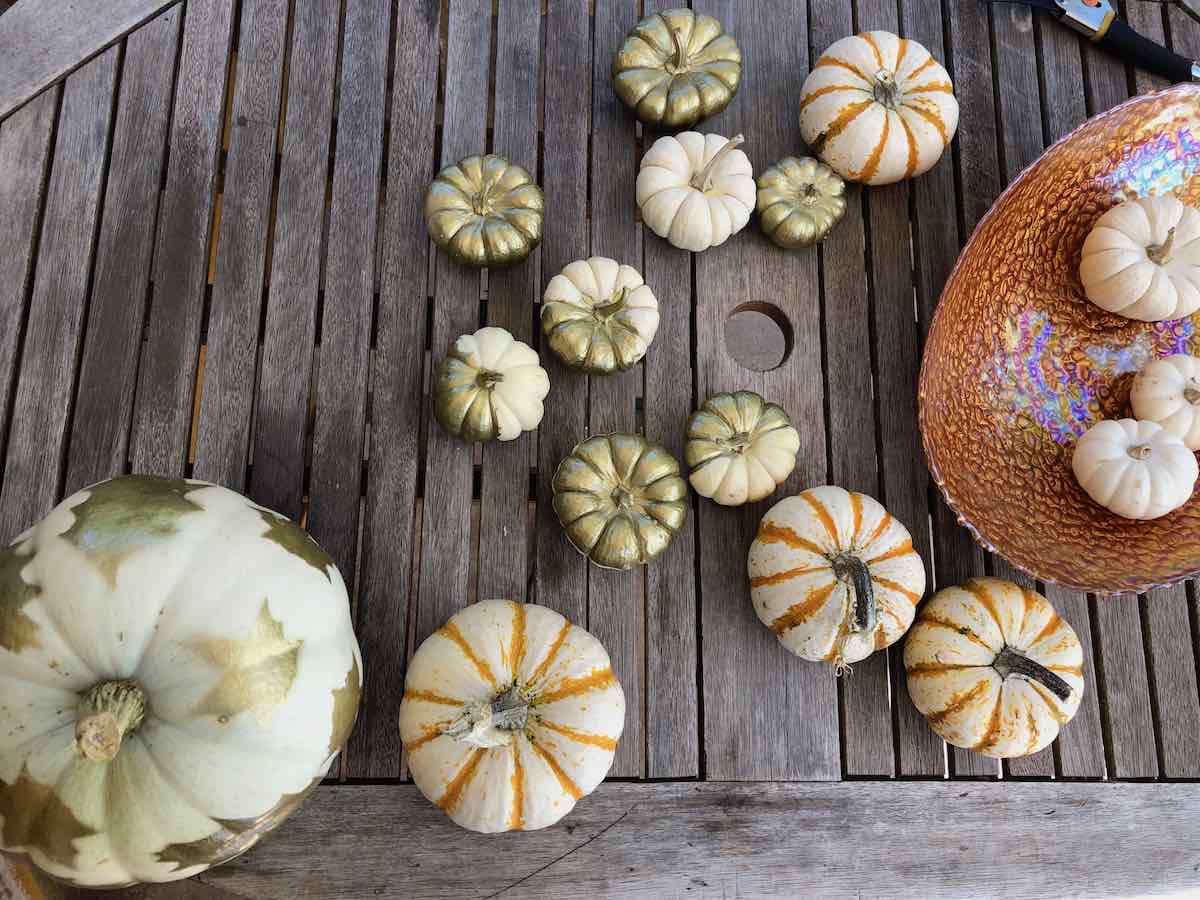 Looks pretty all together here! Wait until you see the picture with the pretty sage-green filler.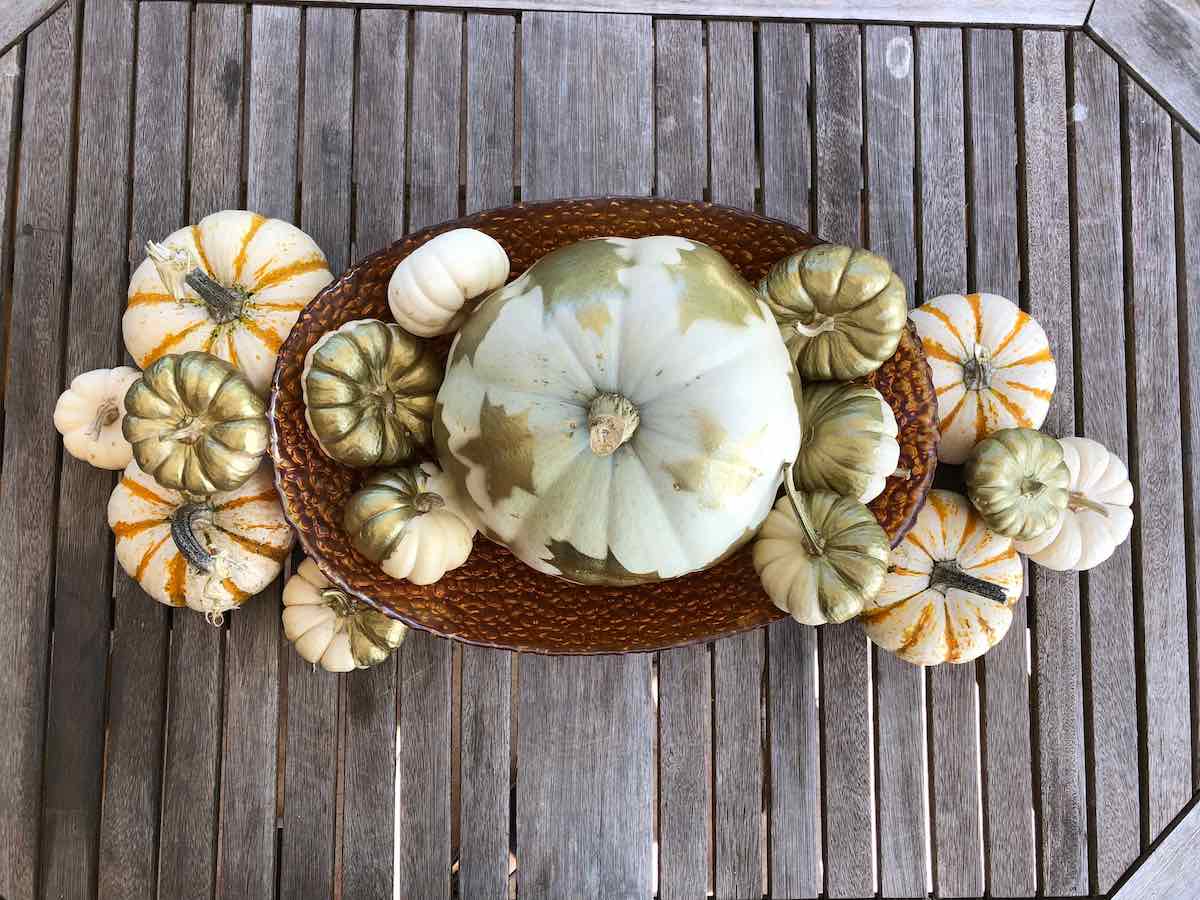 And…the final product.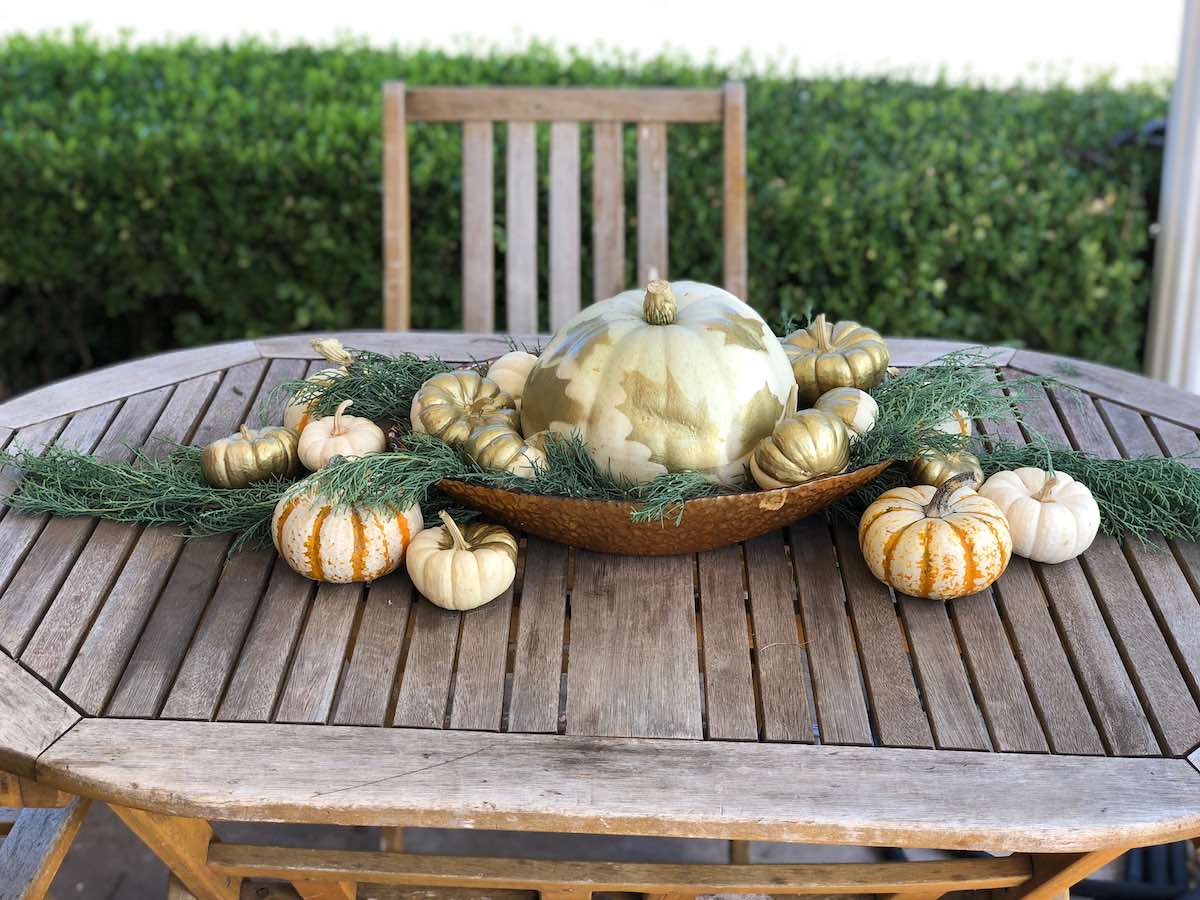 I. LOVE. THIS. The mix of natural pumpkin patterns, the fun gold accents, and the graceful evergreen make this a perfect centerpiece for autumn entertaining.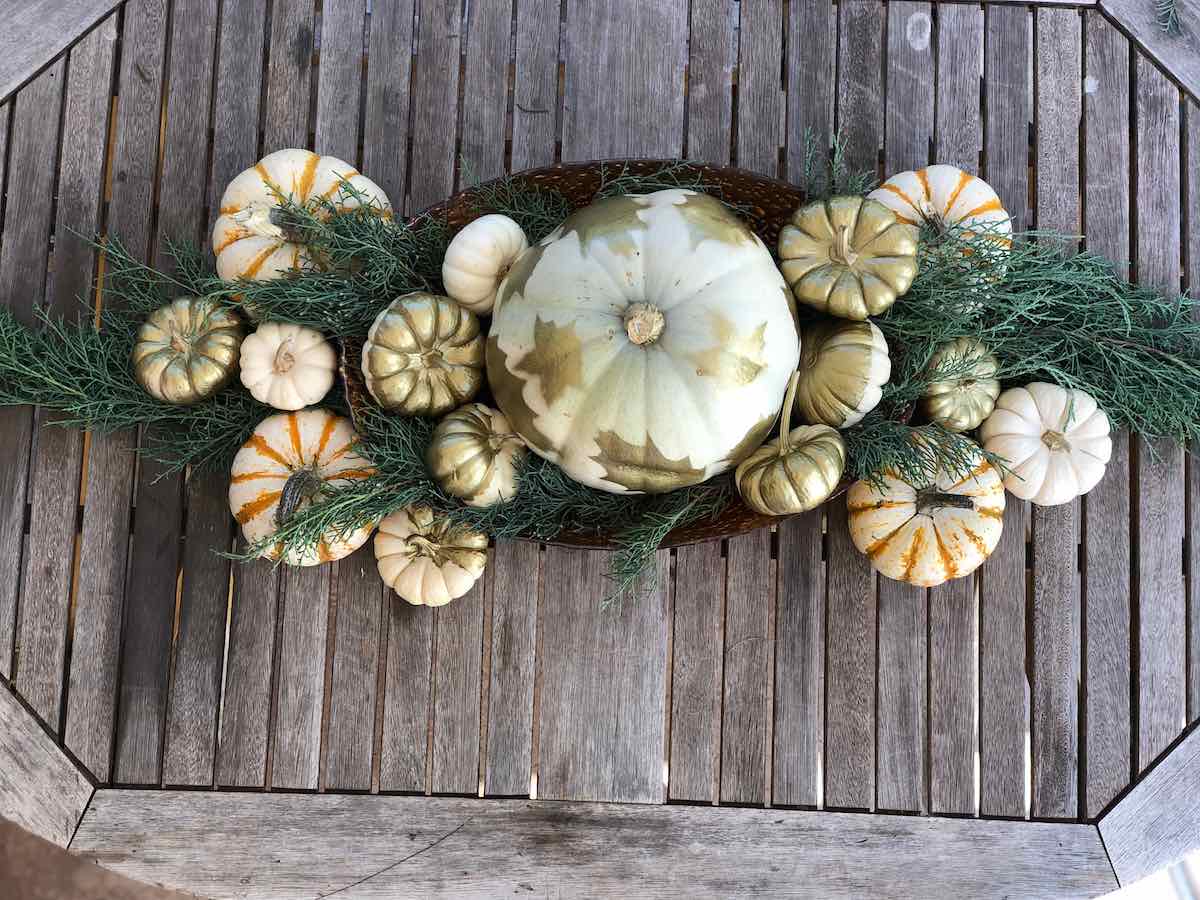 What pumpkin decor have you done this year? Or what do you plan to do? Please share! I would love to add your ideas to my Pinterest board.