This post may contain affiliate links. Full disclosure policy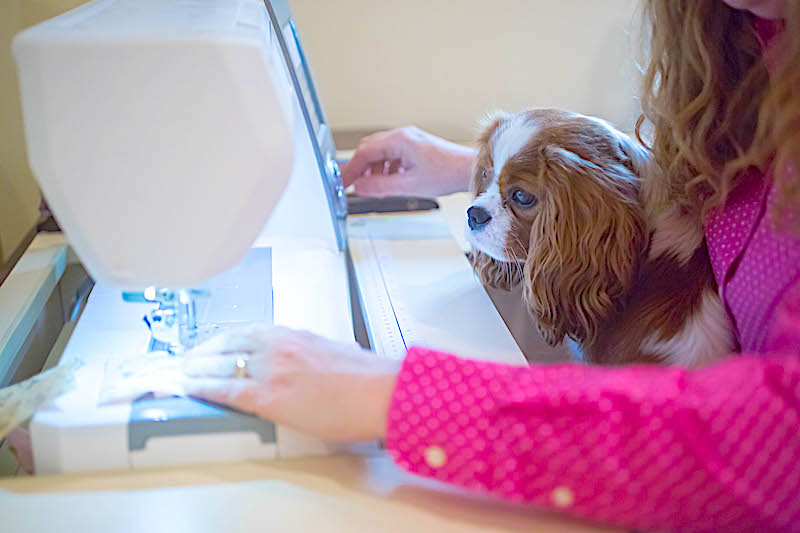 In the immortal words of John Lennon, "Life is what happens when you're making other plans."
According to my plan, this week was supposed to be a red-letter one for yours truly. Because my birthday, the first day of spring, the completion of the manuscript for my 2021 novel, The Restoration of Celia Fairchild, AND National Quilting Day were all falling in the same week, I was planning to celebrate. Big time!
I had it all planned out.
A spa day, a fabric shopping spree, a fancy dinner out with my husband, spending time sewing with friends. All of these were written on my calendar in ink.
But things are different this week. Well…That's life, isn't it? The things that happens while you're making other plans.
What can you do?
A Lot, As It Turns Out
Plan or no plan, I have decided NOT to let unforeseen circumstances get the best of me. I am going to celebrate March 21st, National Quilting Day, in style!
And how will I do that specifically? I'm so glad you asked!
The first way to celebrate National Quilting Day is so obvious that I'm not even going to count it as part of my Big 10. Setting aside some time to sit down and quilt is clearly a fantastic way to celebrate the holiday.
But if you'd like to make this year's National Quilt Day even more wonderful than normal day spent quilting (which, let's be honest, is pretty darned great all by itself), I've got 10 terrific ideas for ways to make March 21st an extra special holiday.
1. Love Your Local Quilt Shop
There's not a quilter on earth who doesn't love visiting a quilt shop! Celebrate the day by buying yourself a pretty fat quarter. Oh, what the heck. Go crazy! Buy two! Or ten! Or that really cool ruler you've had your eye on!
Now, I know that a lot of people may be avoiding retail spaces just now. I get that. If you don't feel safe visiting a brick and mortar store, then buying yourself a treat from an online quilt shop works too.
BUT, if you DO feel comfortable visiting your local quilt shop, you might want to do that. Our local retailers need our support during this difficult time. Lots of retailers are taking extra care with cleaning and hygiene measure to keep customers safe. You can always opt to buy gift cards through their website or on the phone to show your support.
My local shop is even offering curbside delivery for customers who don't want to come inside. You just call them, place your order, and they'll bring it out to the car. Be sure to check with your local shop to see if they're offering similar programs.
Showing my local quilt shop some love tops my list for the 10 BEST Ways to Celebrate National Quilting Day!
2. Sign Up For A Class
While you're at your local quilt shop, be sure to check out the schedule of upcoming classes and workshops. No matter how long (or short) a time you've been quilting, there's always more to learn. And if you're not going out these days, chances are good that your local quilt shop offers online signups on their website for classes scheduled later in the year.
Sadly, not everyone is lucky enough to have a local quilt shop. If that's the case for you, then consider signing up for an online class. I've taken several quilting and crafting classes with world-class teachers through BluPrint and I have really enjoyed them. The classes are well produced and easy to follow. Also, I can take them at my own pace and at a time that's convenient for me.
You can purchase individual classes or a get an annual subscription that entitles you to unlimited crafting classes. They even have a FREE 14-day trial subscription. Also, to celebrate National Crafting Month, BluPrint is offering 50% off on all classes and annual subscription until the end of March. Click here for the offer.

3. Sign Up For A Retreat
Another great way to celebrate the crafting season is to sign up for a retreat. Local quilt shops and quilt guilds usually offer retreats at very reasonable prices. But there are also hotels, resorts, and camps that are in the retreat business year-round. To find one in your area, do a Google search for quilt retreats in your state.
4. Virtual Sew-In
Virtual sew-ins are a terrific way to "get together" and quilt with friends from the comfort of your own home. This is an especially good option if you're trying to stay away from crowds.
All you need to do is pick a day and time, then put out the word to your Facebook or other online friends. Everybody starts quilting at the same time, stopping now and then to post pictures of what you're working on and enjoy the photos and comments from your online friends.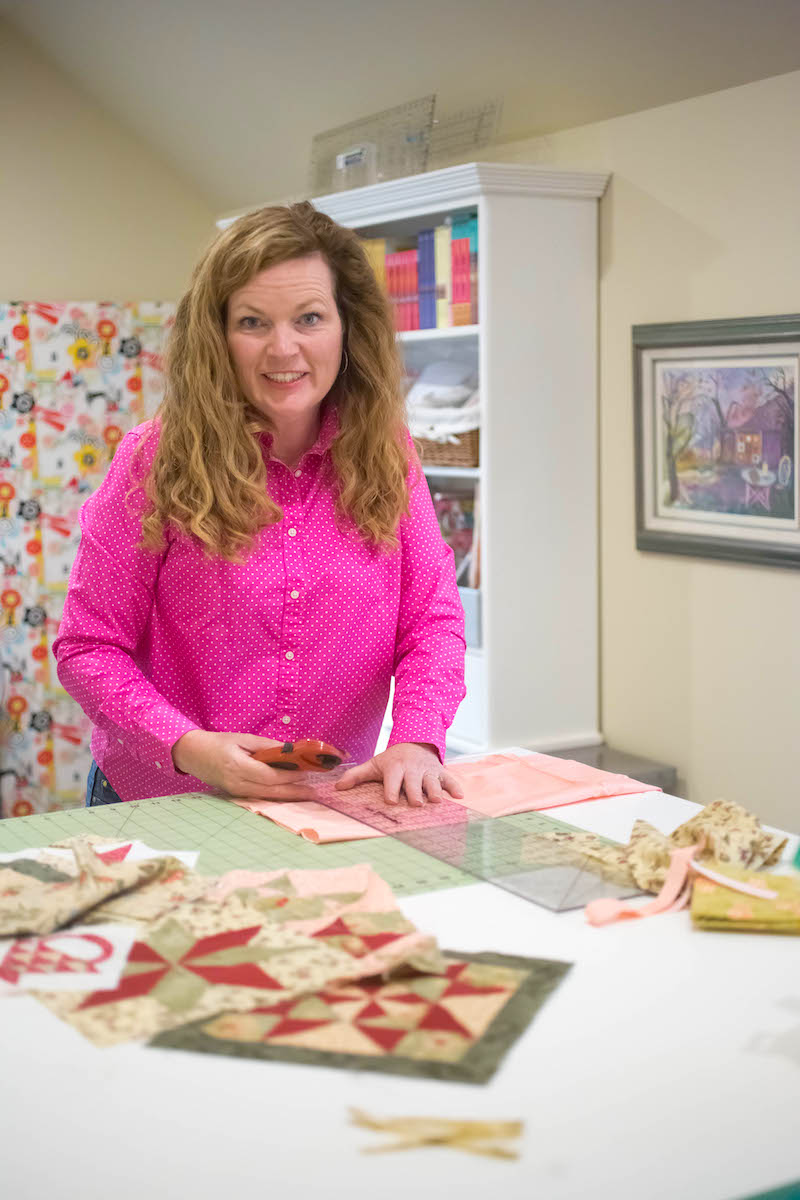 I've organized a Virtual Sew-In for my private Facebook group, the Cobbled Court Quilt Circle, for Saturday, March 21, 2020 between 9am and 12pm PST. We've got over 2,000 people in the group and dozens have already committed to sewing with me on National Quilting Day.
There's always room for more! If you'd like to join the fun, ask to join our circle.
5. Clean Out Your Sewing Room
Cleaning isn't something I generally consider a celebration. But quilting in a tidy space feels so good and revs up my creative juices. Also, I really do like petting all that pretty fabric while I'm tidying up. That's kind of a party all by itself, yes?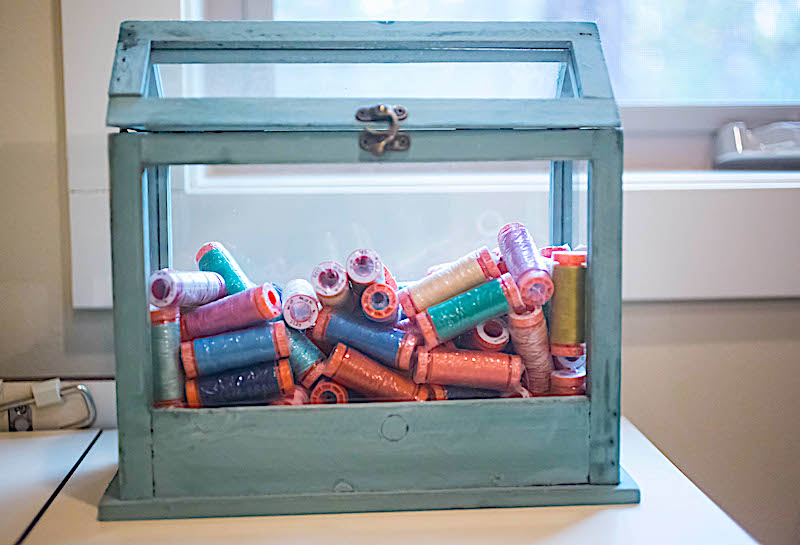 6. Fat Quarter Swap
Inviting a few friends over to share a dessert or a glass of wine and little communal stitching time is always fun. Asking everybody to bring a fat quarter to trade will add to the celebration.
If you're staying away from people right now, call up some friends and organize a fat quarter swap through the mail. What fun you'll have opening your mystery prizes!
7. Choose A UFO
Oh, dear. UFOs – also known as Unfinished Objects – are the bane of every quilter's existence. Choosing one to work on and devoting at least an hour of time to its completion is a very productive way to celebrate National Quilting Day.
You'll feel so good when you do!
8. Start A Round Robin
Call some friends and organize a round-robin project. It starts with a central block that makes the rounds of different quilting friends. Each quilter adds another border around the block before passing it on, creating a medallion quilt. You can make multiple quilts or a group quilt.
For more details, check out this blog post from AQS.
9. Make A Quilt For Charity
Making a quilt for a local or national charity is a wonderful way to share you quilt loving heart with the world. Local guilds often host charity quilt programs.
However, if you don't belong to a guild, you can still make charity quilts through organizations such as Quilt For Kids, which gives thousands of quilts to hospitals and children in need every year.
10. Start A Block Swap
I've participated in many block swaps over the years. It's a fun way to bond with your quilting friends. Best of all, you'll get enough blocks to make a whole quilt at the end!
To get started, decide on the number of participants (4, 12, 16, etc) and the size of your blocks. You'll need to determine if everyone will make the same block pattern – for example, all snowballs, or all LeMoyne Stars – or if everyone will make their own block around a central theme – flowers, Christmas blocks, etc. Finally, you'll need to decide about colors. Will you use solids? Batiks? 30's prints? Or just go scrappy?
Once you've established the rules and theme, everyone makes one block for every participant, including themselves. The finished blocks are then distributed to everyone in the group. It's fun to get together later and see what people did with the blocks.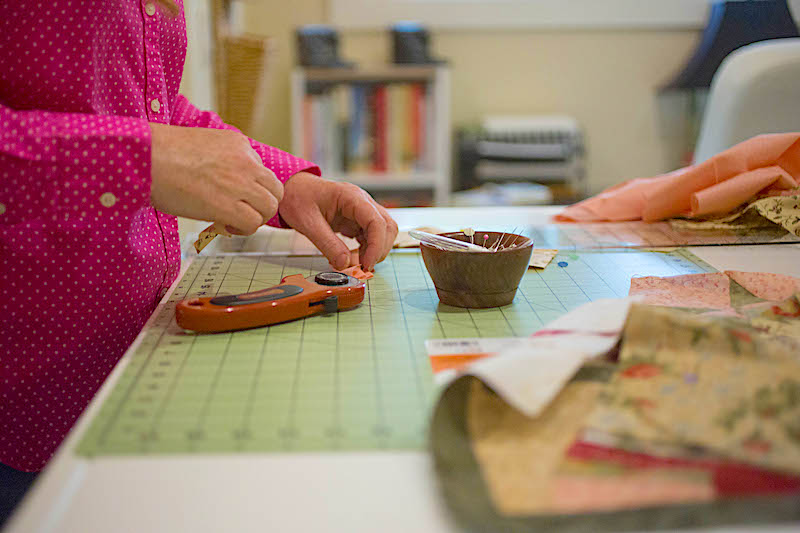 Maybe a good way to celebrate the National Quilting Day in 2021?
Bonus – Number 11!
Hmmm, as I was reading over my post, I realized that I neglected to mention one more fun and very important way to celebrate National Quilting Day wherever you are.
How about by reading a quilting themed novel?
No kidding, I almost forgot to add that one to the list. Well, that makes 11 Ways to Celebrate National Quilting Day. I really don't want to go back and edit the whole post, so we'll just call this one a bonus.
If you need suggestions on quilt themed novels to read, may I be so bold as to suggest any of the books from my Cobbled Court Quilt series? Hundreds of thousands of quilters (and non-quilters) have enjoyed these books. I think you will too. Click
here
to find out more. You can read them in any order, but if you want to start from book one, try reading
A Single Thread
and then go on from there.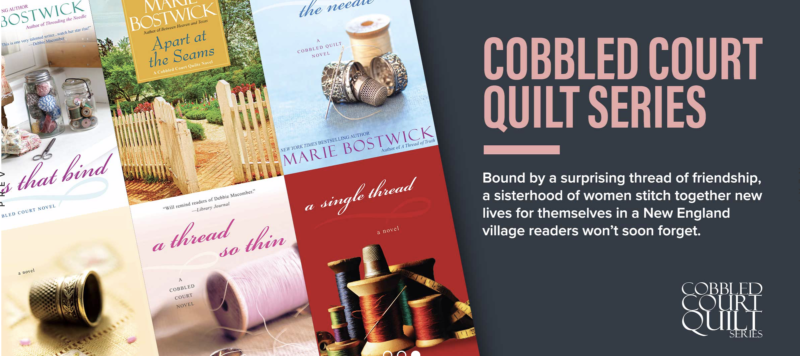 Celebrate National Quilting Day – The Most Wonderful Time Of The Year?
I do love Christmas. But National Quilting Day is a pretty terrific holiday and well worth celebrating.
Wherever you are – online, at home, or out in the community – there are a lot of wonderful ways to celebrate National Craft Month and National Quilting Day.
Pick out a few favorites from my list and enjoy the holiday!