This post may contain affiliate links. Full disclosure policy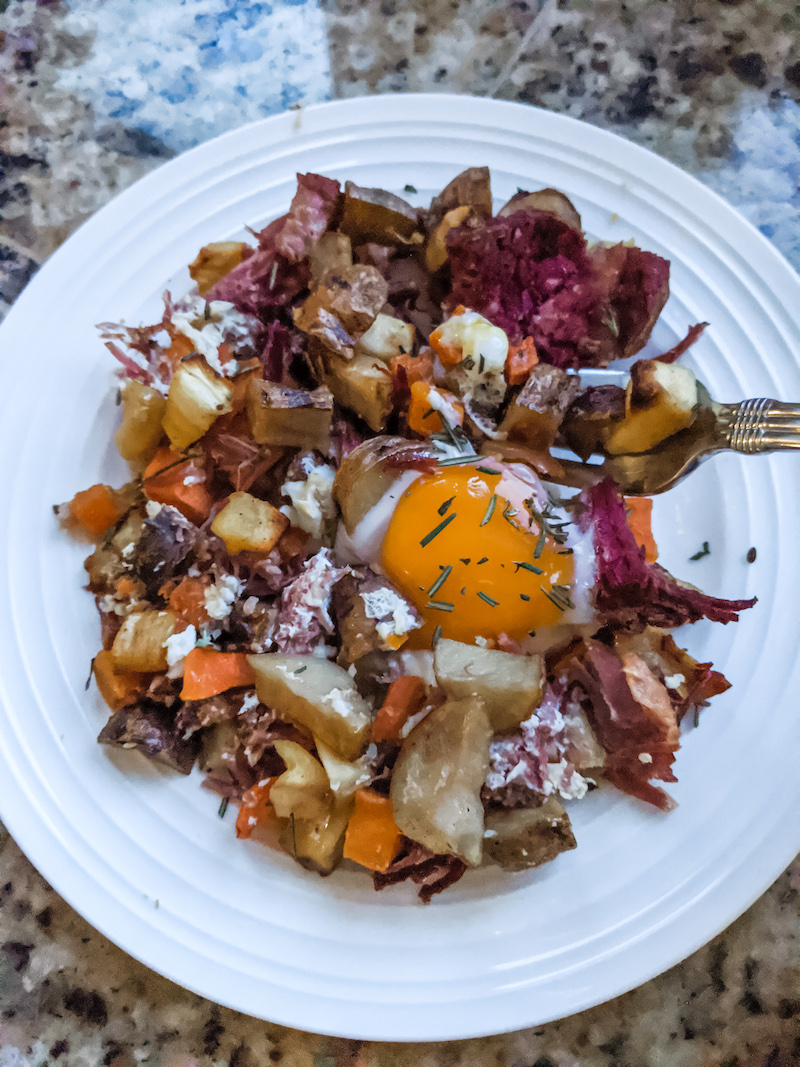 I've been lucky enough to visit Ireland on several occasions. On every trip, there has been at least one occasion when a tourist mistook me for native-born and asked for directions. It's an understandable mistake. As my mother has often said, I have the "map of Ireland" on my face.
I'm descended from a long line of McCormicks and McGuires, the former having hailed from County Tipperary. When my husband and I visited my ancestral home of Nenagh several years ago, we happened to be on the high street when school let out. I could have plucked any one of those kids who swarmed out of the schoolyard, plopped them down in my family, and nobody would ever have been able to tell they weren't mine. It was uncanny! Those little boys even had what we call "the McCormick ears", sticking out from their heads like car fenders.
My husband, too, is of Irish descent. His ancestors were Flynns and Duggans, hailing from County Clare. Both of us are American born and bred, but we're proud of our Irish roots as well and the hard-working ancestors who immigrated to this country so long ago.
But, as they say, everybody is Irish on St. Patrick's Day, right?
A Holiday for Everyone!
Irish roots or not, St. Patrick's is a holiday that's fun and easy to celebrate. It requires no gift-giving or over-the-top obligations when it comes to entertaining. Also, St. Patrick's Day is a well-timed holiday. Coming just at the end of winter, when we're sick to death of snow and ice and cold, St. Patrick's Day gives us a perfect excuse for a low-stress celebration. (And to drink green beer, if that's your thing.)
What's not to love? St. Patrick's Day is pretty much the perfect holiday.
This year, my husband and I will be celebrating with friends. There will be corned beef and cabbage, potatoes, and soda bread aplenty. I'm sure there will be plenty of beer as well, but since I'm not a beer drinker, I'll be bringing a bottle of Jameson's to share. I'm sure there will be music, too.
One of the things I loved most about our trips to Ireland was going to the pubs and singing along with those traditional songs. It's a shame that we don't do more communal singing here in America. It really does bring people together. (Hmmm…. Maybe the congress should go out for a beer and a few choruses of Molly Malone?)
But I digress.
Suffice it to say, I'm really looking forward to spending St. Patrick's Day with my friends. I've already pulled my green sweater out of the closet and have brushed up on the lyrics to Black Velvet Band and Whiskey In The Jar.
But I've also been celebrating a little early, taking advantage of corned beef season!
What Makes a Good Leftover Corned Beef Recipe
Corned beef is one of those things that probably isn't super good for us, at least not on a regular basis. But indulging once or twice a year isn't all that bad. It's all about balance, right?
In addition to keeping my corned beef consumption confined to March, I also try to create balance by preparing it with lots of delicious, healthy veggies. This time of year, my refrigerator is loaded with root vegetables, so making a hash with some leftover corned beef, potatoes, carrots, and parsnips is a good way to use what I have on hand.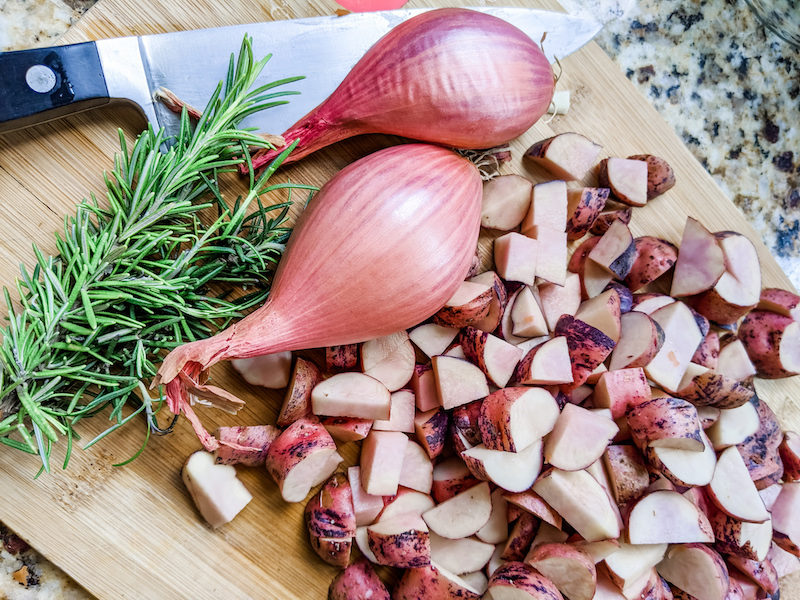 Corned beef hash with the traditional potato base is good, no doubt about it. But adding a variety of root vegetables adds a mixture of flavors that makes this recipe even better than the one I grew up eating. A hearty mélange of root vegetables can handle some fairly strong flavors, so I also added a generous helping of rosemary to my recipe.
Rosemary is one of those herbs that you either love or you don't. I'm definitely in the "love" camp. But if you don't care for it, you can easily substitute fresh thyme in your preparations. Thyme has a more subtle flavor than rosemary, but it will come through nicely and add a little complexity to the dish.
Getting to the Meat of It
This recipe calls for cooked corned beef. If you've never made corned beef before, you're in for a treat – corned beef is a lazy cook's dream! You can find ready to cook corned beef in the meat department of your local supermarket. Just take it out of the package, place the brisket (fat side up) in a heavy pot along with the seasonings from the package, cover with water (about two inches over the top of beef), and cook according to instructions.
I normally prepare my corned beef in a slow cooker. I cover with water, fat side up, and cook on high for 5 hours or low for 8. That's all there is to it. And most packages are are on the generous side, meaning you can slice and serve some plain but still have plenty of leftover corned beef!
That's where my Leftover Corned Beef with Root Vegetables Hash recipe comes in. Also an easy dish! You can eat it plain or top it with a poached, fried, or baked egg. I like the latter. I just make a well in the veggies, crack in the egg, and let it cook for about 12 minutes.
However, you serve it, my Leftover Corned Beef with Root Vegetable Hash will bring out your inner Irish. Give it a try!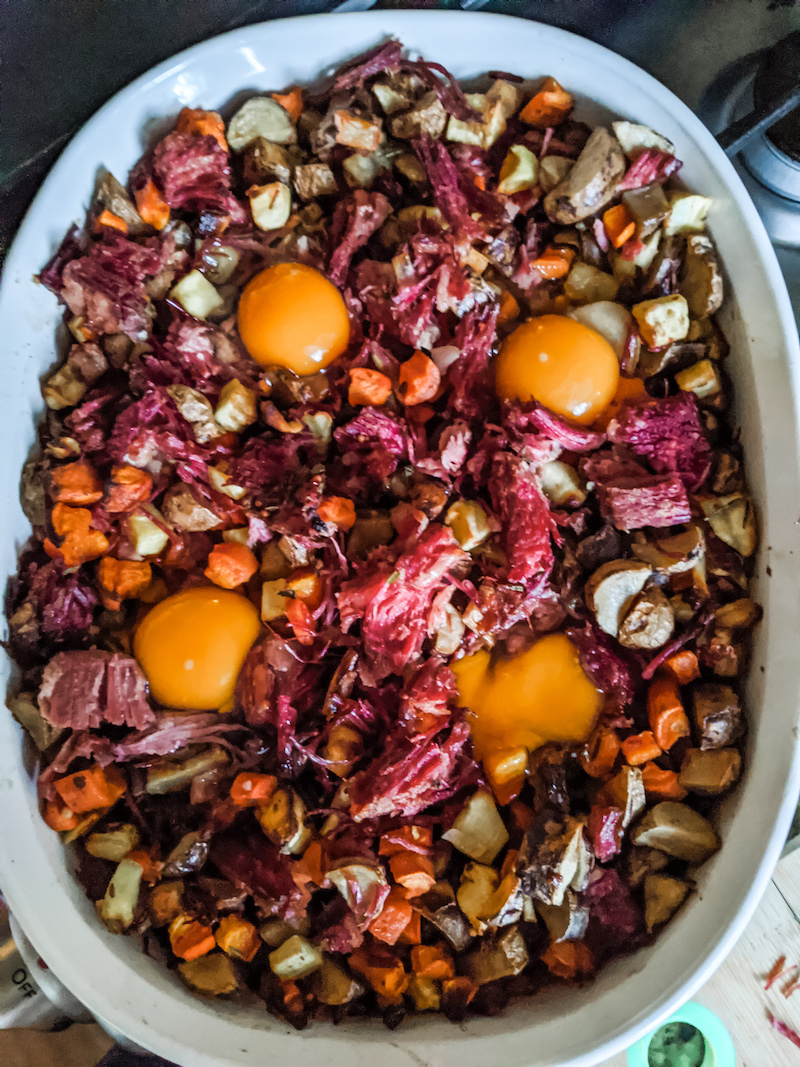 Print
Leftover Corned Beef Hash With Root Vegetables
---
Author:

Yield:

4

servings

1

x
1

lb potatoes (any type)

3

large carrots

3

parsnips

2

large shallots

2

t olive oil (herb flavored is good if you've got it)

1

T minced fresh rosemary (divided)

1

t garlic powder
Kosher salt
Fresh ground pepper
Cooking spray

12 oz

. cooked and diced corned beef

4

eggs (optional)
---
Instructions
Preheat oven to 375 degrees F. Wash and peel carrots and parsnips, cut into approximately ½ inch dice. Peel potatoes, if desired (I prefer to leave the skins on), cut into ½ inch dice. Peel and dice shallots.
Cover a rimmed baking sheet with foil. Place vegetables on baking sheet. Drizzle 2 T olive oil on vegetables. Using your hands, work oil through vegetables to evenly coat. Sprinkle garlic powder, half the minced rosemary, and salt and pepper to taste over vegetable mixture, then use hands to mix again. (Note: Corned beef is fairly salty, so be sparing when adding salt to vegetables.
Spread vegetables onto baking sheet in a single layer. Place baking sheet in preheated oven. Cook for 30 minutes, until vegetables are cooked through and beginning to brown, stirring twice during cooking.
Remove vegetables from oven and set aside. Spray a 9×13 baking dish lightly with cooking spray. Add cooked vegetables to dish, along with the corned beef. Mix with a spoon to distribute meat evenly among the vegetables.
* Optional Eggs. If you're baking eggs along with the hash, make four indentations in the hash, crack egg into the well before continuing the bake. (After 12 minutes in the oven, the whites will be cooked and the yolks will be runny.) You can also use a poached egg, fried egg, or skip this step and serve without the egg.
Place hash in oven and cook for 10 to 12 minutes. Remove from oven, sprinkle remaining rosemary over hash, and serve.