This post may contain affiliate links. Full disclosure policy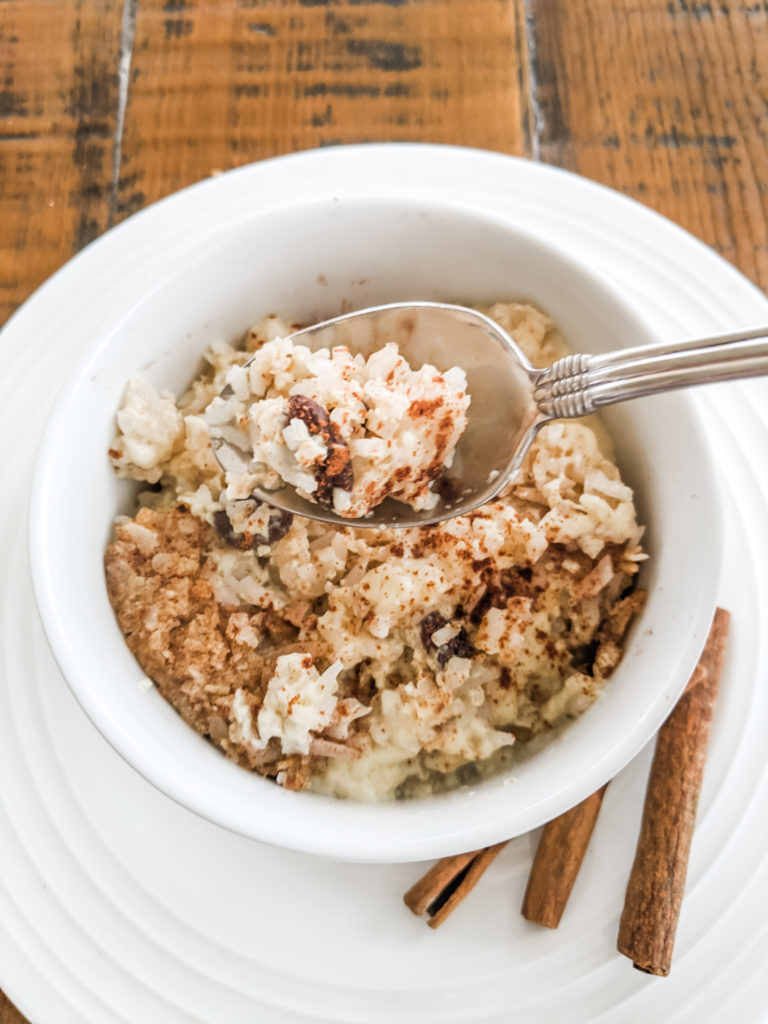 Like so many people, I'm staying close to home this week, trying to keep my forays into the community limited to only those activities that are truly necessary.
When it comes to cooking, that means I'm trying hard to make do with whatever I've got on hand rather than make extra trips to the grocery store. It's been a little challenging, to say the least. Over this last week, I've realized what a miraculous thing the modern supermarket is!
However, this week has also reminded me of earlier days.
When I was a kid, we didn't have big supermarkets. Grocery stores were the size of a house, not a football field! Our choices were limited by what was in stock and in season. Funny thing is, we didn't feel limited at the time.
Back to Simpler Times
When it comes to food, some of my childhood favorites were composed of very simple ingredients. Those limited choices we had back in the day didn't stop my mom from creating tasty and nutritious meals which I still remember fondly.
Another thing about cooking "back in the day"? My mom (and everybody's Mom) was careful to make sure that nothing went to waste.
All this has gotten me thinking about ways I can use what I have on hand to make tasty, nutritious dishes. It requires me to think about meal planning a little differently than I normally would, but it's actually been kind of fun. I really do love rising to a challenge!
In the coming weeks (or months, who knows?) you'll be seeing more of that kind of cooking here on the blog. I'll be adjusting my lens to focus on sharing delicious, healthy recipes using ingredients that you're likely to have on hand.
Today, I'm bringing out an old family favorite, my Best Baked Rice Pudding!
Turning Leftovers Into Dessert
If you've been following me for long, you know I don't post a lot of dessert recipes. It's not that I'm anti-dessert. In fact, I am most definitely in the pro-dessert camp! However, in consideration of my health and waistline, I do try to limit my dessert consumption.
But I had all this leftover rice. I couldn't let it go to waste, could I? After all, we're in the middle of a…
Okay, okay. Who am I kidding? You people are sharp enough to recognize a flimsy excuse when you read one, right?
Here's the truth. It's been a rough week. I needed a little cheering up and thought maybe you did too. And nothing is quite as cheery as a homemade dessert, right?
My Best Baked Rice Pudding is very cheery, and delicious, and incredibly easy to make. It's a good way to use up leftover rice and while using simple ingredients most people have on hand.
Easy Swaps – Whatever You Have on Hand!
What I love about this recipe is that it's really flexible. You can use raisins, dried cranberries, or whatever dried fruit you have on hand. And if you don't have any or simply don't like dried fruit, just leave it out. My Best Baked Rice Pudding will still taste delicious.
I prefer whole milk but if you only have 2% or skim that will work too (you might want to put in an extra egg though, just to add a richer flavor). I make mine with coconut but you can leave it out if you want. It only has a half cup of sugar, so it's not overly sweet. You can add a little more sugar if you prefer.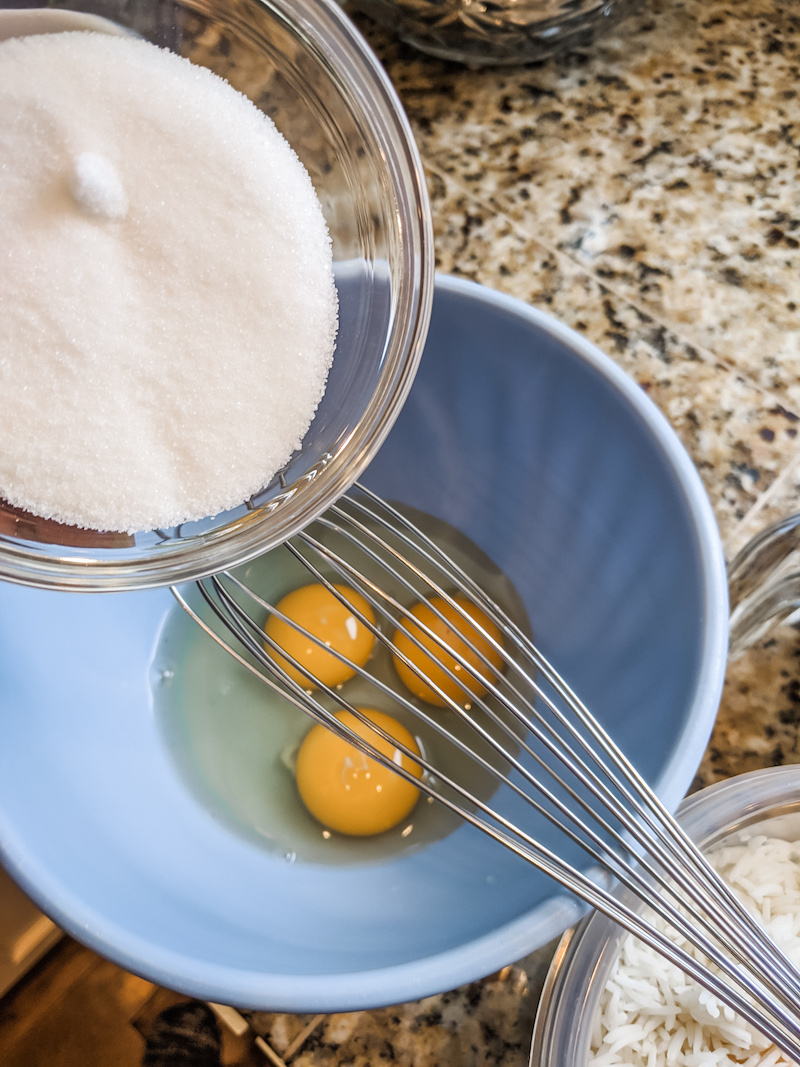 I also use almond extract but if you like vanilla that works too. You can even the flavoring out entirely if you don't have any in the pantry. I'd just add a little extra cinnamon in that case.
And if you only have 3 eggs? That'll work too. Maybe just use a little less milk.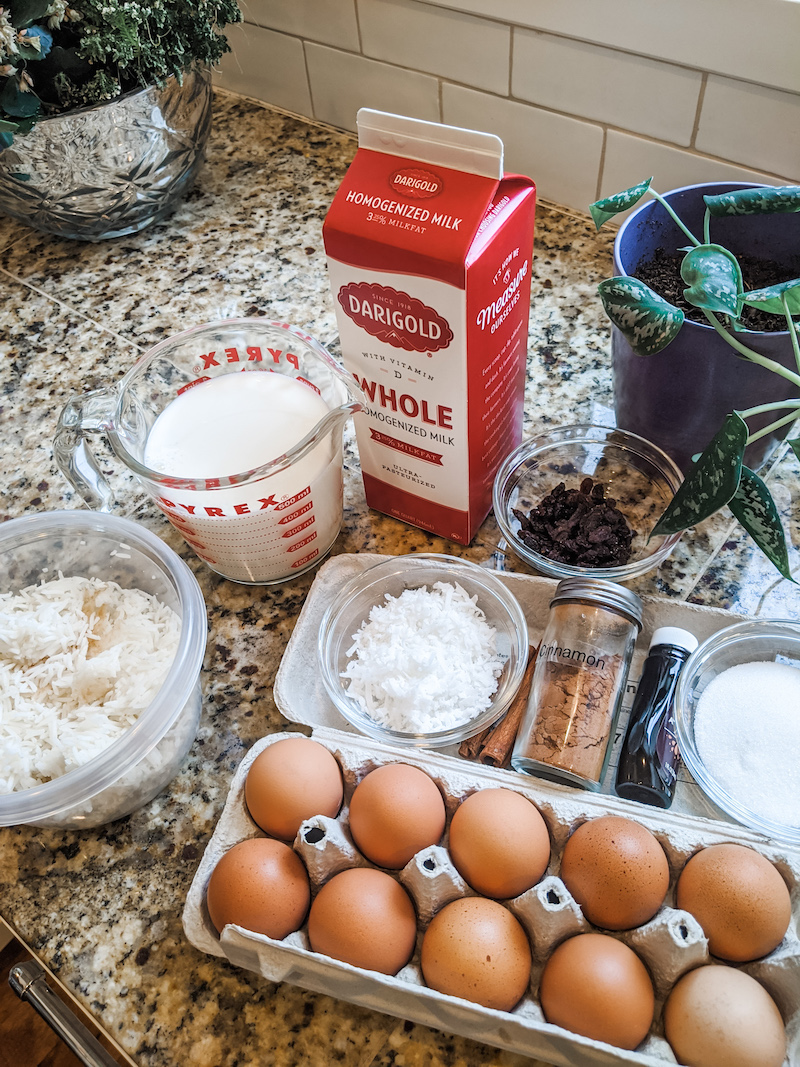 My Best Baked Rice Pudding – Perfect In A Stitch
See what I mean? My Best Baked Rice Pudding is really flexible and forgiving. Almost all the types and amounts of ingredients can be adjusted and it will still taste great.
However, my recipe really does require eggs. I know that some people may be having trouble getting fresh eggs right now. If that's the case for you, take a look at this stovetop rice pudding recipe I found on Num's The Word.
I really prefer the baked variety but I'm sure this would be tasty too. We do what we need to do in a pinch, yes?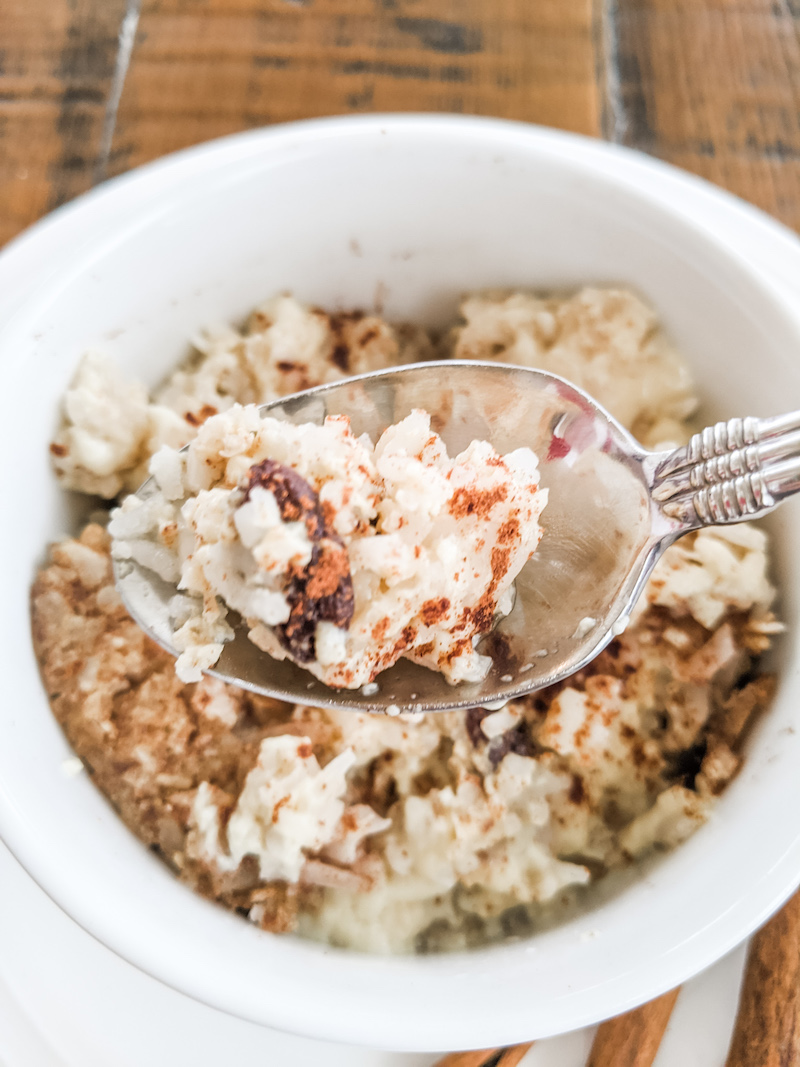 Right now, we need to be extra flexible in just about every aspect of life – even cooking. My delicious (and deliciously flexible) Best Baked Rice Pudding definitely rises to the occasion.
Give it a try today. And don't be afraid to put your own spin on it. Who knows? You might just stumble on a new family favorite!
Print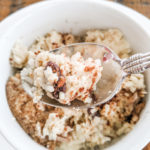 Best Baked Rice Pudding
---
Author:

Yield:

6

Servings

1

x
Description
Preheat oven to 350 degrees F.
In medium bowl, whisk sugar and eggs together until thick and creamy looking. Slowly pour in milk, whisking to combine.
Add extract and cinnamon, mix thoroughly. Stir in coconut, raisins or dried fruit of choice, and rice. Stir to combine.
Grease a medium sized ovenproof baking pan or casserole. Pour pudding mixture into dish.  Place pudding dish into a larger ovenproof baking pan. Fill larger dish with water so it comes about halfway up the sides of the smaller pudding casserole.
Bake in preheated oven for approximately 60 minutes, until the pudding is set and wiggles only slightly when the casserole is shaken. (Cook time may vary depending on depth of casserole dish)
Serve hot or allow to cool. Add an extra dash of cinnamon if you like. Store covered in refrigerator for up to 5 days.
---
4

eggs

1/2 cup

granulated sugar

2 cups

milk

½

t ground cinnamon

½

t vanilla or almond extract (I prefer almond)

¼ cup

coconut (optional)

1/3 cup

raisins or chopped dried fruit (I like dried apricots on cranberries too)

1 ½ cups

cooked white rice
---