This post may contain affiliate links. Full disclosure policy

Looking for a satisfying main dish salad that's bursting with flavor? Try my Blackberry and Grilled Rosemary Chicken Salad! Juicy blackberries, creamy avocado, tangy blue cheese, and savory grilled chicken tick off all the boxes. Especially when tossed with a gorgeous orange vinaigrette!
Blackberry and Grilled Rosemary Chicken Salad – Enjoying Nature's Little Gifts
Now that the boxes are sort of unpacked, I've been spending a little more time becoming familiar with our new house, including our yard. The pretty grounds were one of the main features that sold us on this property.
Until last week, I was so entranced by the lush expanse of lawn and towering cedar trees in the backyard that I didn't notice what was concealed behind a fence. Namely, a huge patch of blackberry bushes!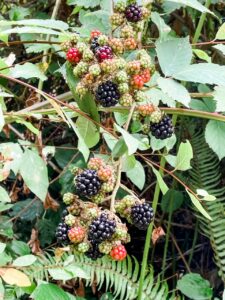 Having grown up in the Pacific Northwest, I am well aware that blackberries will take over your whole yard if you let them. I'll have to keep an eye on this patch and kept the creeping vines well cut back. But, what a wonderful surprise to find those bushes were simply loaded with luscious, ripe blackberries.
They're a little gift from nature that was mine for the picking! My brain started buzzing with all the possible uses for those beautiful berries – blackberry freezer jam (Recipe Girl has a good recipe for that), blackberry vinegar, and blackberry cobbler.
But what I got really excited about was dreaming up my own recipe for a main dish salad featuring fresh blackberries. Blackberry and Grilled Rosemary Chicken Salad with Orange Vinaigrette was the result.
It turned out even better than I imagined!
Another Little Surprise
Those fresh, ripe blackberries I stumbled across in my own backyard were the basis for this salad.
Later, a second wave of inspiration came from another little surprise our house's previous owner left behind. A small planter with a healthy little rosemary bush. I snipped off a few stems, went into the kitchen, and got to work!
What Do You Need to Make Blackberry and Grilled Rosemary Chicken Salad?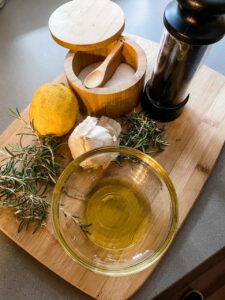 Fresh blackberries
Boneless Skinless Chicken Breast
Avocado
Blue Cheese
Spring mix or baby leaf lettuce
Orange
Olive Oil
White Balsamic Vinegar
Honey
Salt
Pepper
Shallots (optional)
Real-Life Cooking – Real-Life Plan B
When you publish a lot of recipes as I do, people can sometimes get one of two wrong ideas about you.
First, that you're such a fantastic cook that you never, ever miss a step in the kitchen. Second, that you hire other people to do the actual cooking for you. Friends, let me disabuse you of both those ideas!
I'm not a professional chef or even a professional blogger. I'm a lowly novelist and who enjoys sharing thoughts, essays, ideas, and recipes about the things that help me live every minute and love every moment of life.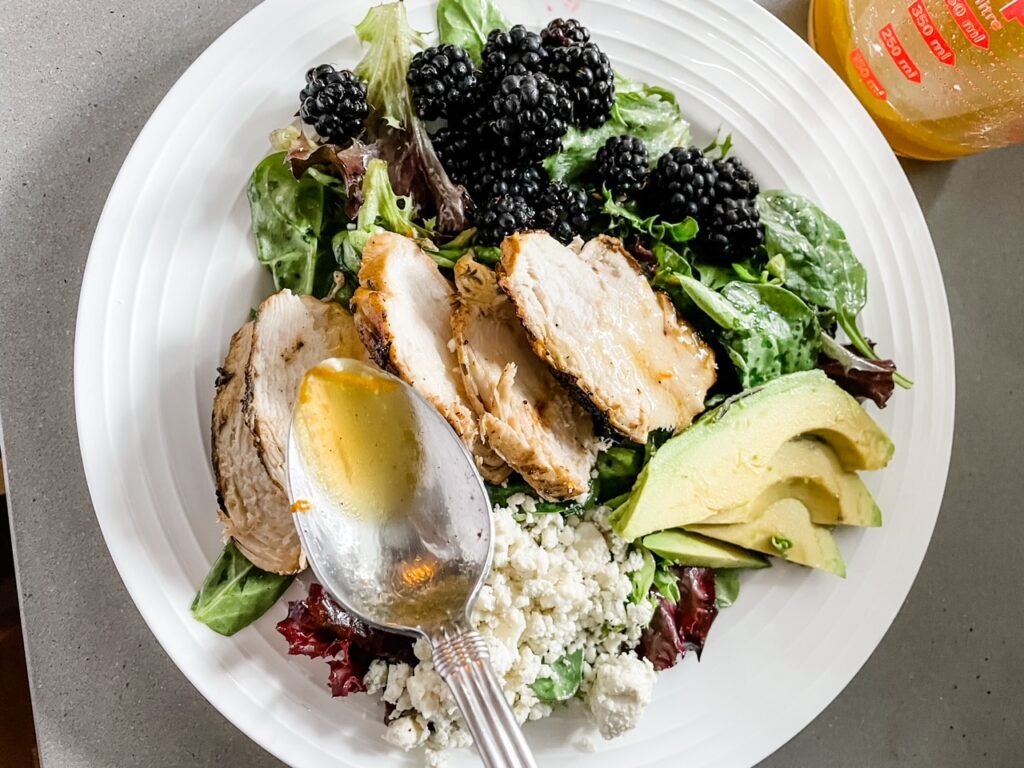 My enthusiasm for creating and cooking recipes that I feed my family is one of those things. When you see a recipe here, it's something that I've made myself in my very own kitchen. And with very few exceptions, the photos are taken by me on my phone.
Yep, the recipes I share with you are real-life cooking, in my real-life kitchen. I don't usually share my kitchen fails with you but, believe me, they happen.
Sometimes, a recipe just doesn't turn out to be as great as I'd hoped. Sometimes, I simply mess it up and have to start again. And sometimes, I mess it up and have to revert to Plan B.
Enter My Blackberry and Grilled Rosemary Chicken Salad
The making of my Blackberry and Grilled Rosemary Chicken Salad with Orange Vinaigrette was one of those times!
My original concept for this salad called for the inclusion of shallots sauteed in a little olive oil. I thought the mellow sweetness of caramelized shallots would pair beautifully with sweet, juicy blackberries, creamy avocado, tangy blue cheese, and grilled chicken in a rosemary marinade.
And I'm sure it would have! If only I hadn't gotten distracted when grilling the chicken and burned the heck out of those poor shallots.
Hey, kitchen fails happen to everybody. Don't beat yourself up about it. Just revert to Plan B. In this case, Plan B meant leaving the shallots off the salad.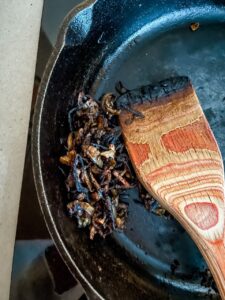 But I still think they'd have tasted great here. So if you're making my Blackberry and Grilled Rosemary Chicken Salad with Orange Vinaigrette, I encourage you to try it with the "optional" sauteed shallots.
Other Options
We just loved this salad! It was the perfect main dish salad for late summer.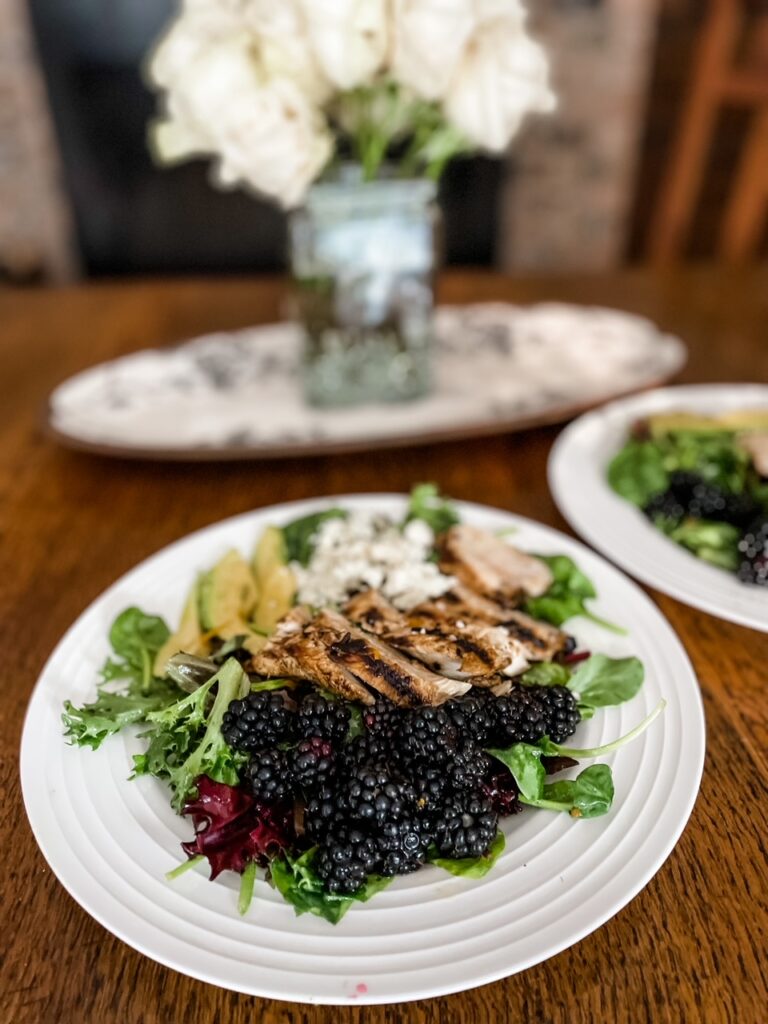 Later, as I was eating, it occurred to me that it would also make a terrific side salad if you left off the chicken. I think I'll be trying that later in the week.
You could also top it with grilled salmon or shrimp. And if blue cheese isn't your thing, substitute some crumbled feta. Or, if you don't feel like grilling the optional shallots, you could dice up a raw shallot and put it in the vinaigrette.
Summer's Bounty in a Salad
So, whether you pick them yourself or buy them locally, fresh blackberries are one of nature's lovely little gifts.
Enjoy them by making my Blackberry and Grilled Rosemary Chicken Salad with Orange Vinaigrette this week!
Print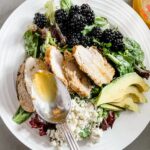 Blackberry and Grilled Rosemary Chicken Salad with Orange Vinaigrette
---
Author:

Yield:

2

servings

1

x
For the grilled chicken
1

chicken breast (

12 oz

)

2

T minced rosemary

2

T olive oil

2

T lemon juice

2 tsp

kosher salt

½ tsp

fresh ground pepper
For the salad
6 cups

spring mix, baby leaf, or other tender lettuce

1.5 cups

fresh blackberries
Grilled chicken

½ cup

crumbled blue cheese

½

ripe avocado, sliced
*1 large shallot, sauteed in olive oil until soft (optional)
For the vinaigrette (makes more than needed for recipe)
1

large orange, juice of (approximately

1/3 cup

)

2 tsp

fresh orange zest

½ cup

olive oil

2

T white balsamic vinegar (can sub rice vinegar)

2 tsp

honey

¼ tsp

kosher salt

1/8 tsp

fresh ground pepper
---
Instructions
Make the marinade for the grilled chicken. Whisk rosemary, olive oil, lemon juice, kosher salt, and pepper together in a bowl. Place chicken breast into a shallow dish or plastic zipper bag and pour marinade over the chicken. Marinade the chicken in the refrigerator for at least four hours or overnight.
Cook the marinated chicken on an outdoor grill on cast iron grill pan until the interior temperature reaches 165 degrees. Slice cooked chicken and set aside.
Make the vinaigrette. Whisk the orange juice, orange zest, olive oil, balsamic vinegar, honey, salt, and pepper together in a bowl. Taste and adjust seasoning. (Makes approximately one cup of vinaigrette. Reserve extra for another use.)
Make the salad. Place lettuce in large bowl and toss with ¼ cup of the vinaigrette. Place half the dressed salad onto each of two plates. Top each salad with half the grilled chicken, half the blackberries, half the sliced avocado, and half the blue cheese. Drizzle an additional tablespoon or two of the vinaigrette over the top of the salad.
Serve immediately.