This post may contain affiliate links. Full disclosure policy
As working remotely becomes common, more people are turning to coworking spaces. But is renting a coworking space right for you? Read on to learn about Coworking Spaces Pros and Cons.
My Coworking Experience
Like most writers, I've been coworking for a very long time, I just didn't know it.
Writing is generally a solitary pursuit. In an attempt to alleviate isolation, writers will sometimes work coffee shops, libraries, or other semi-public spaces. It's something I've done on and off for years, even though I've traditionally worked in my home office.
As internet connectivity has made remote work more common, the coworking industry emerged to serve people who work outside a traditional office setting. The Covid-19 pandemic accelerated that trend, as more and more people began working from home.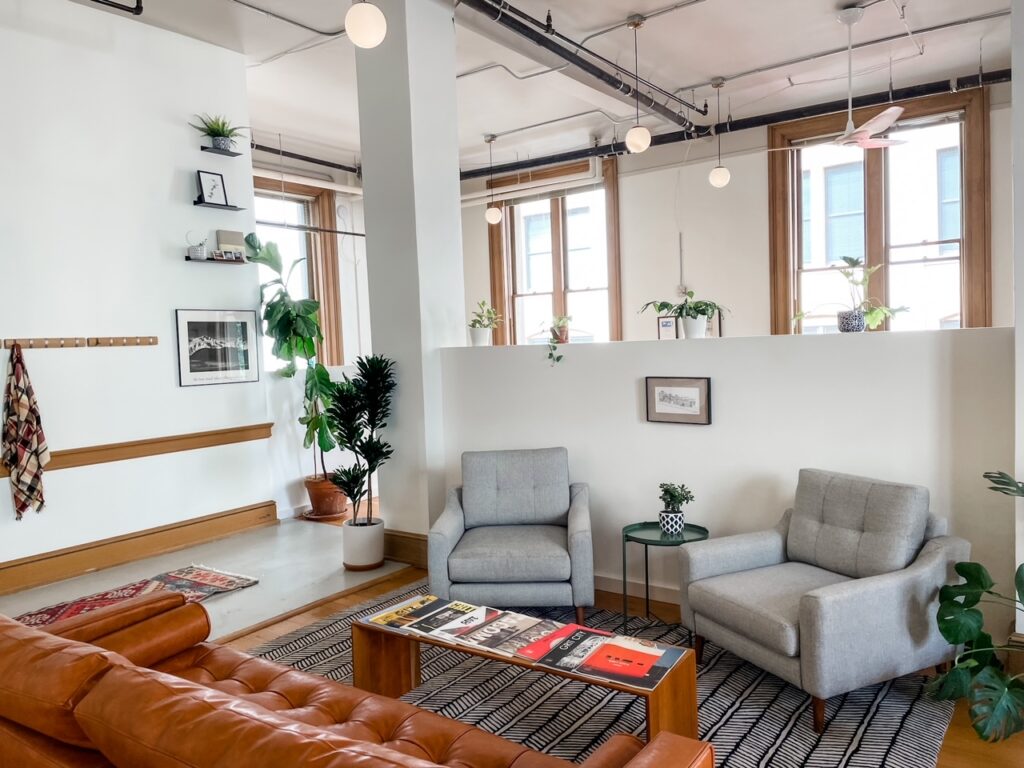 My reasons for exploring coworking were more personal. Because I knew working at home would be difficult during our house remodeling, I recently decided to rent a coworking space for the duration.
It's been an interesting experience so far and I've definitely encountered some coworking space pros and cons. Before we get into all of that, let's define our terms and talk about what coworking spaces can offer.
What is a Coworking Space?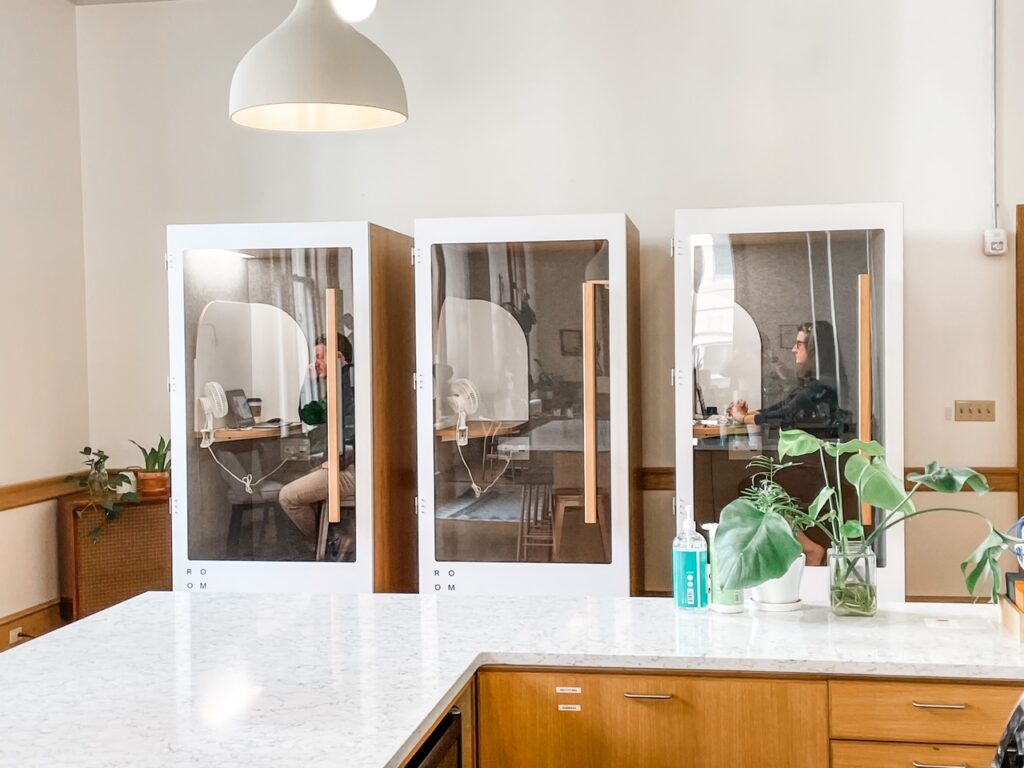 A coworking space is simply an office space that is shared by people or teams of people who don't work together or for the same company.
One of the largest and best-known coworking space companies is WeWork, which offers shared workspaces in more than 800 buildings in 120 cities. (You may recognize the name due to the controversy surrounding their failed IPO in 2019.)
There are many smaller companies and non-profits that develop and manage coworking spaces as well. Sometimes, individuals even go in together the share the expense of renting a workspace together.
Coworking spaces offered by coworking companies are the most common, so that's what I'm focusing on as I discuss coworking space pros and cons.
What Comes with a Coworking Space?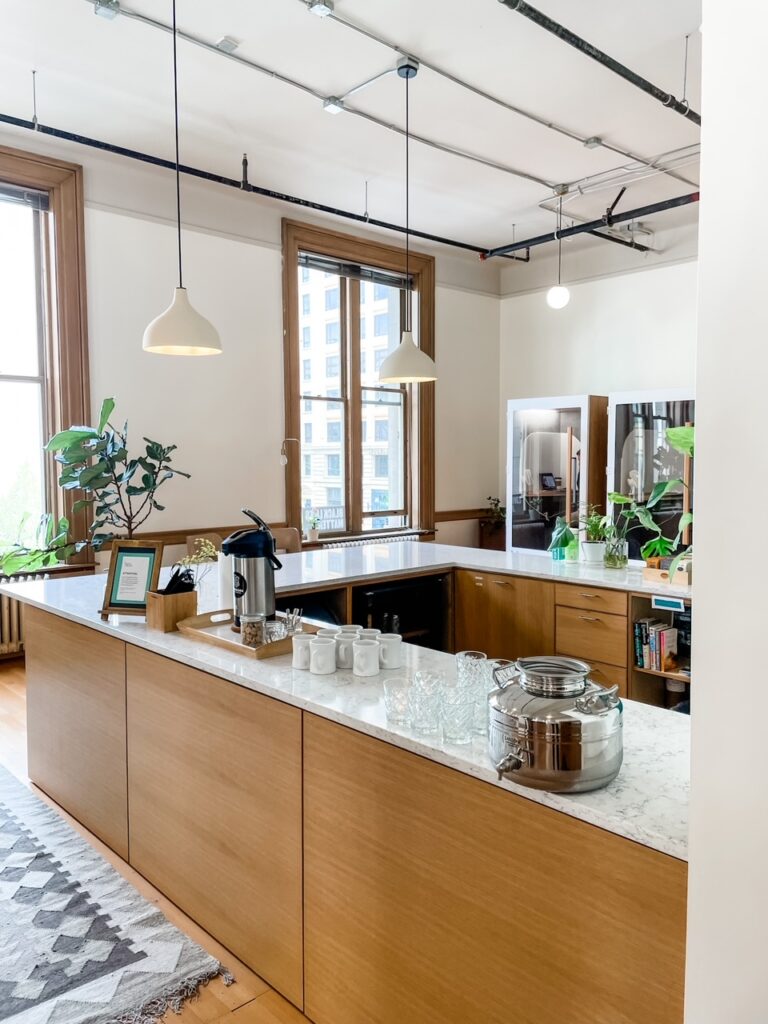 Along with actual an actual workspace, coworking spaces generally offer services that workers would find in most business offices.
Internet connectivity, coffee or other beverages, and access to a refrigerator and microwave are usually included. Some coworking spaces, including mine, have sound proof telephone booths available. It's also common to offer copying and printing or mailing services, usually for a fee. Most coworking space contracts also include conference room access for a certain amount of time each month, with the ability to purchase additional time.
Depending on the company, the perks that come with a coworking space can be varied. Yoga or fitness classes, networking opportunities, access to in-house massage (for a fee), and happy hour or other social activities may be offered.
What Kinds of Coworking Spaces are Available?
Most coworking space offer different types of workspaces and experiences at a variety of price points.
The most affordable option is often referred to as a "hot desk" membership. That gives you access to the coworking space during particular hours but doesn't include a reserved desk or workspace. You simply choose an available spot in a large, shared space.
That's the route I've gone. So far, it's working out well. My coworking space is fairly quiet and the price is reasonable. In my city, hot desk memberships range from $99 to $200 a month, depending on the company and type of access you choose – either 9 to 5 on weekdays or 24/7 access.
Another popular coworking space option is the "dedicated desk". You'd still be working in a shared space with other people around, but you would have a reserved desk that you can lock. This is helpful if you don't want to bring all your files or materials in every day. In some cases, it's also possible for two team members to share a desk. Dedicated desks can cost $300 a month on up, depending on the city and services included.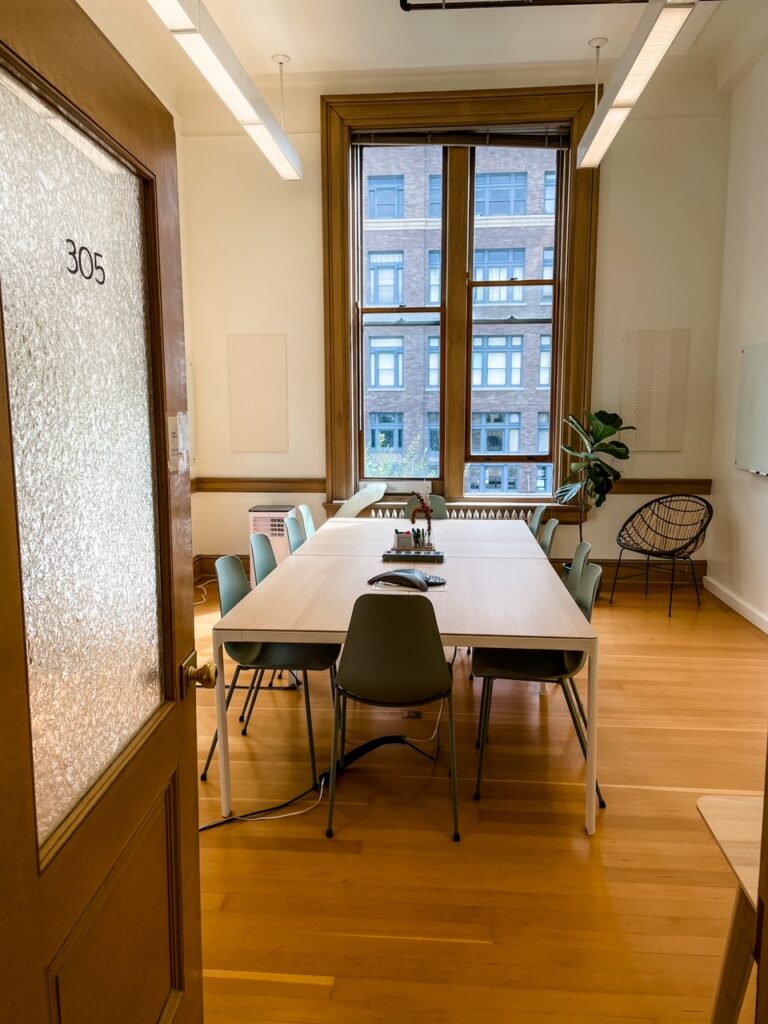 Some coworking spaces offer small private offices for individual workers, ranging from 50 to 100 square feet. Larger offices for small teams of workers or startup companies are usually available as well.
Depending on the size, private offices in coworking spaces can run into the high hundreds or low thousand range. They're still very affordable compared to most traditional office spaces, include all the necessary services to work or run a small business in one package, and can be a great choice for freelancers, start-ups, or small companies.
Coworking Spaces Pros and Cons
There's a lot to like about coworking. Even after the pandemic wanes, I think it's definitely here to stay. However, it may not be for everyone. Coworking definitely has its pros and cons.
The Downsides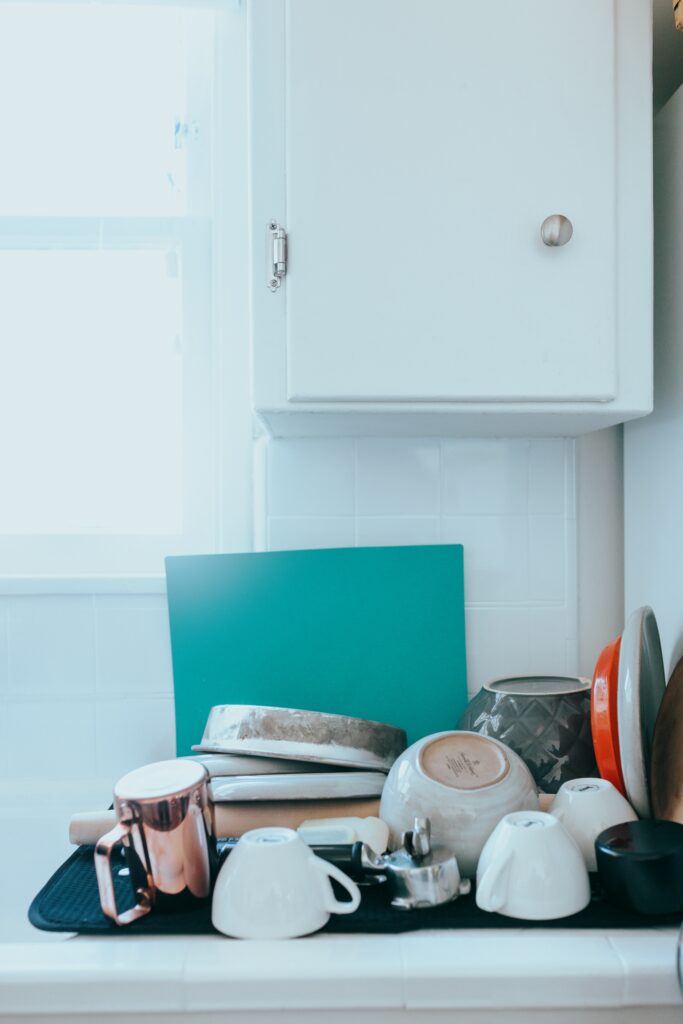 You have to share. Sharing space with other people is always mixed bag. They might sit in your favorite spot. Somebody might steal your lunch from the refrigerator (but probably by accident). They might talk loudly on cell phones or to each other, making it hard for you to concentrate. Personality conflicts are part of life. Depending on your level of tolerance for other humans, coworking may or may not work you.
It's not free. Most coworking spaces are for-profit enterprises, charging fees. If that bothers you or is out of reach financially, you might be better off working at home, or in your local coffee shop or public library.
You'll have to commute. In addition to paying for the actual coworking space, you'll have to spend money on gas, parking, and other costs of commuting. Also, getting back and forth to the office takes time that you may or may not want to spend.
Inconvenient Hours. Some coworking spaces offer their members round-the-clock access, though usually for an additional fee. Others may only be open on weekdays from 9 to 5. That's something to take into consideration before you rent.
Covid impact. With the emergence of the Delta variant of Covid-19, some coworking spaces may require people to wear masks. In the event of an outbreak, they might end up shutting down temporarily.
The Upsides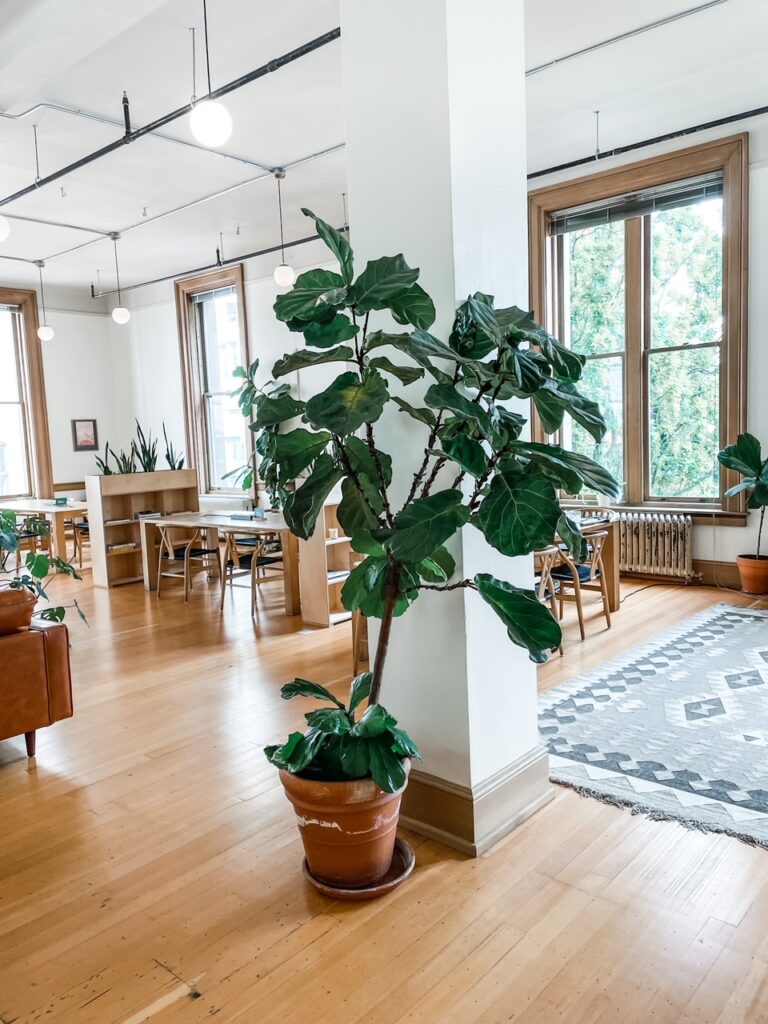 You get to share. During the pandemic, a lot of people learned what we writers have always known – working by yourself can get really lonely. Even if you're not working together, the presence of other people in a shared space can make you feel less isolated. If you're up for it, many coworking spaces offer social activities that can help foster community and provide inspiration or chances to network.
Improved focus. A lot of people find that working in an office setting helps them maintain focus and be more productive. I'm one of them! Over the last few weeks, I've realized that I can get more done in 4 hours at my coworking space than I would in my home office.
Boundaries between work and life. When you work at home, it can be difficult to separate your work life from your personal time. Renting a coworking space can make it easier to keep your work at work, making it easier to enjoy your free without always feeling like you're on the job.
More affordable than renting an office. When I decided I need to find a place to work beside my home office, I considered renting a small office in an office park. But joining a coworking space was much cheaper and easier. Not only was the rent less, but I also don't have to open my own accounts for internet and electricity, or buy office furniture.
Coworking spaces pros and cons abound and it's definitely not for everybody. But for me, renting a coworking space has been a positive experience.
I do look forward to working in my home office again once our remodeling is finished. However, I also suspect I'll continue to utilize my coworking space membership in the future, at least a couple of days per week.